BYU Football: Crushed by Utah, Could Conference Realignment Pour It On?
September 18, 2011
Jonathan Ferrey/Getty Images
While smarting over the worst loss to Utah since before the WAC/MWC era (1962-2010), could anything worse happen to BYU fans?
Two words: Conference Realignment
With the moves of Pittsburgh and Syracuse to the ACC and other pending Big East shifts, the dominoes are falling faster and there will be few if any chairs left at the almighty BCS table.
Now reports are circulating that Texas is ready to finalize joining with Oklahoma to apply to the Pac-12, taking Oklahoma State and Texas Tech with them as tag-alongs which will effectively kill the Big 12 as we know it.
Reports further indicate that the remaining Big 12 schools will work with the surviving Big East schools to form a league under a yet to be determined charter or umbrella.
Where does this leave BYU?  Some continue to tout how independence will somehow keep them viable, but others who look beyond the hype to the politics that govern the school know that the football program, at the very least, is likely on the chopping block.
Let's look at this realistically.  The LDS Church which governs and administers the affairs of Brigham Young University has made it clear such a high profile program only exists to be an exposure and missionary tool to showcase the Latter-Day Saint faith.
But how does a program like BYU fulfill such a mission outside of the confines of the BCS, which controls such an overwhelming majority of the TV channels and prime times for watching the college games?
While ESPN does some of what was questioned above, it still has its own limitations as to what and whom BYU can schedule.
With larger and larger so called super-conferences now obviously evolving with more restrictive scheduling policies for out of conference (OOC) games beyond late September, the options for BYU are much more limited than what most fans wish to imagine.
As it stands in the years ahead, BYU will be limited to scheduling games with the Pac-16, Big Ten, SEC and ACC to the first three Saturdays, as these leagues further peruse expanded nine and possibly even 10 game league schedules.
This will leave BYU only likely able to schedule C-USA, MWC and WAC opponents for eight to nine games during any given season.
If anything this further surmounts to the growing divide between BCS league affiliated schools and independents (Notre Dame), and other NCAA division 1/FBS affiliated institutions.
Is this for BYU going to fulfill the exposure mandate its governing LDS Church hierarchy desires, or just as importantly bring ESPN a return on their contractual investment?
Perhaps the biggest reason BYU AD Tom Holmoe pushed the independent option last year during the first realignments was because his options were to either waste away in the MWC and see the program perhaps fall further into mediocrity or better position the program for the additional realignment that came this year.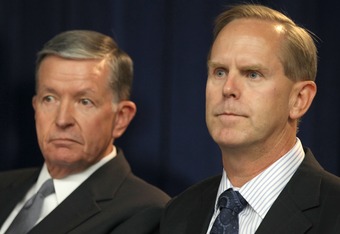 George Frey/Getty Images
Now, however,  Holmoe and the administration are confronted with the additional nightmare of a dead Big 12 and a Pac-16 that will NEVER consider a religious school like BYU.
Last year local as well as national sports writers were asking what the next move for BYU would be after Utah accepted the Pac-12 invite?
Now at this time many are asking the same thing.  There is little doubt that BYU has enjoyed the respect and common value it has found in its new WCC partners for basketball and Olympic sports.
Perhaps the unthinkable option that has crossed the mind of some but is too revolting to even think about is for BYU to drop its football program and continue its other sports in the WCC.  After all wouldn't this be to the best interests of the university and LDS Church leaders at this point?
While it would be crushing to fans like me, it has been a political issue now for close to two decades amongst the senior hierarchy of the LDS Church.
Back in 2000 the LDS Church, while announcing its two year Rick's Junior College in Rexburg, Idaho would be transformed into BYU-Idaho, the decision to drop all athletic programs came down.  This was sudden and without warning or further debate.
There are those within the senior ranks of the church's hierarchy that have long felt that BYU having a major football program has further eroded and diminished from the perceived role of state-run research universities, most notably Utah State University.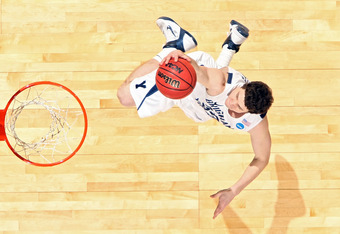 Doug Pensinger/Getty Images
This dates back to 1961 when BYU was included in the original WAC configuration and Utah State was left out, and some church leaders feel that BYU continuing in football will further erode the research and academic reputations of such nearby state operated schools.
One should notice that there is a large correlation between research universities and major conference football affiliations.
There is still further debate amongst leaders as far as exposures with missionary and fellowshipping activity, isn't it better for the LDS Church to have its student athletes attend other schools, particularly ones with BCS programs?
Similarly there are those in the leadership of the church that question the religions flagship university's role in providing players for the NFL, which is primarily a Sunday event league.  After all doesn't BYU have a strict policy in place about not playing on Sunday?
Isn't part of the debate of BYU going to a BCS league center around the school's inability to play on Sunday?
While I hate this idea as much as any BYU fan, I've held no illusion over the years that one day it could come down to this, particularly as I've seen the politics that govern BYU further work themselves out as the debate over its future role as a major teaching as opposed to major research university is worked out amongst the hierarchy of the church and the administrators who answer to them.
With the role of BYU football as an LDS Church exposure tool clearly threatened by the unfolding events of realignment, I'm sorry to say it is entirely possible it could go the way of LDS Church sponsored fraternities and sororities announced this past week.