Tennessee vs. Florida: Looking Back at Some of the Gators' and Vols' Past Stars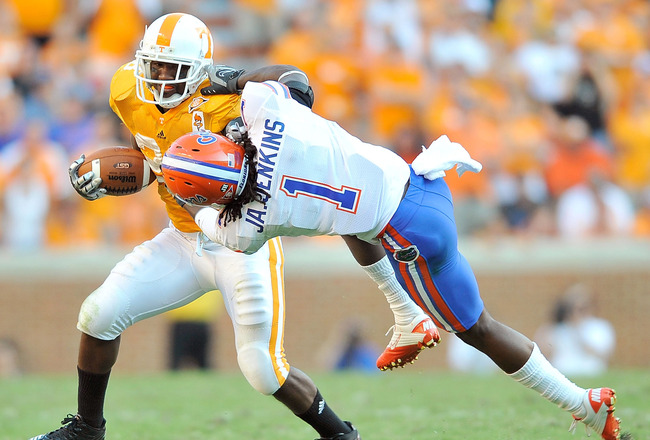 Urban Meyer and Steve Spurrier each know a little something about the Florida-Tennessee rivalry.
Grant Halverson/Getty Images
Though Tennessee has been down by its standards in recent seasons, there is little doubt the Volunteers and rival Florida Gators have had some great teams throughout the years.
And with great teams, of course, come great players.
Here is a look back at 10 of the most well-known athletes (five from each school) to have played for teams involved in this rivalry.
Tim Tebow, QB (Florida)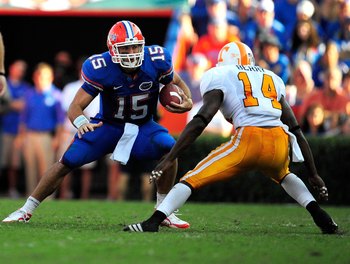 Florida's Tim Tebow and Tennessee's Eric Berry had a memorable collision at Florida Field in 2009.
Sam Greenwood/Getty Images
Tim Tebow played on Gator teams that went 4-0 against Tennessee.
Reggie White, DE (Tennessee)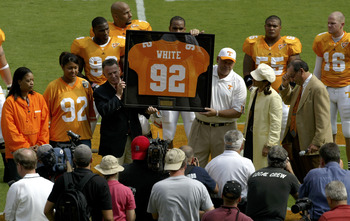 The late Reggie White was a Tennessee great.
Doug Pensinger/Getty Images
NFL Hall of Fame defensive end Reggie White played for Tennessee from 1980-1983.
However, during that time, the Gators and Vols did not play one another.
Emmitt Smith, RB (Florida)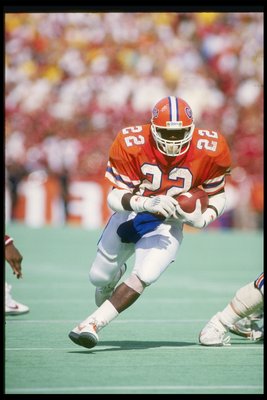 The NFL's all-time leading rusher is a former Gator.
Allen Steele/Getty Images
Like Reggie White, Emmitt Smith never suited up in the Florida-Tennessee rivalry, though had the future NFL rushing champ stayed at UF for his senior season, he would have faced the Vols in Knoxville.
Todd Helton, QB (Tennessee)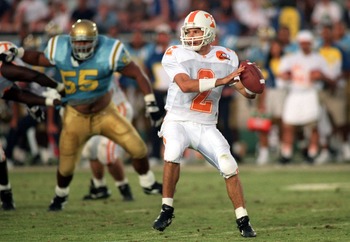 Shown playing against UCLA, future MLB All-Star Todd Helton was a quarterback for Tennessee
Stephen Dunn/Getty Images
A five-time All-Star and three-time Gold Glove winner, Todd Helton was the Vols' starting quarterback in 1994 when Tennessee was defeated 31-0 by the Gators in Knoxville.
Peyton Manning entered that contest late for a few snaps.
Danny Wuerffel, QB (Florida)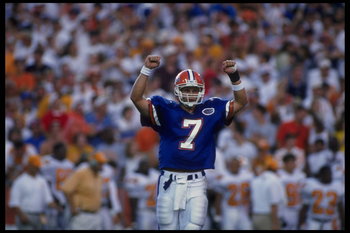 Danny Wuerffel struck this pose often in his Gator career against Tennessee.
Scott Halleran/Getty Images
With Danny Wuerffel in uniform, Florida went 4-0 against Tennessee from 1993-1996, averaging more than 42 points a game in those contests.
Peyton Manning, QB (Tennessee)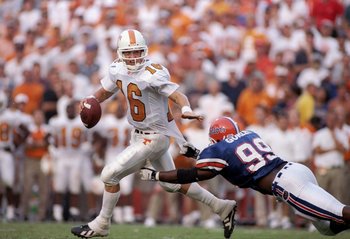 Peyton Manning played in four Florida-Tennessee games.
Scott Halleran/Getty Images
Gator fans like to joke that Peyton Manning went 0-4 against Florida during his college career.
Technically, that is correct, as his teams did go winless in those contests.
However, Manning started in only three of those games. He did see action late in the contest against UF as a freshman.
Wilber Marshall, LB (Florida)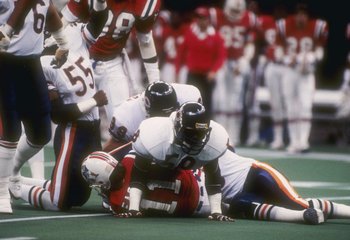 Seen here as a member of the 1985 Super Bowl champion Chicago Bears, outside linebacker Wilber Marshall is a former Gator.
Jonathan Daniel/Getty Images
One of the greatest players in Gator history, Wilber Marshall never did get to play against Tennessee.
Albert Haynesworth, DT (Tennessee)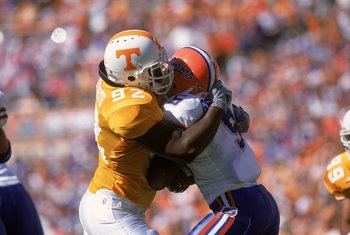 Alongside fellow defensive tackle John Henderson, Albert Haynesworth was unblockable at times as a Vol.
Craig Jones/Getty Images
Albert Haynesworth went 1-2 in his Tennessee career against Florida with none of the games decided by more than four points.
Fred Taylor, RB (Florida)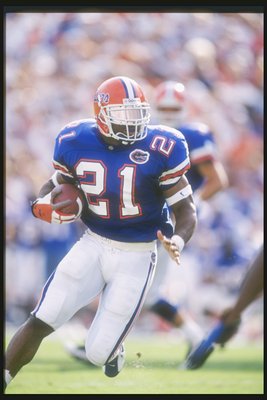 Recently retired NFL tailback Fred Taylor was a part of the Florida-Tennessee rivalry from 1994-97.
Andy Lyons/Getty Images
Fred Taylor went 4-0 against Tennessee, winning twice each in Gainesville and Knoxville from 1994-1997.
Arian Foster, RB (Tennessee)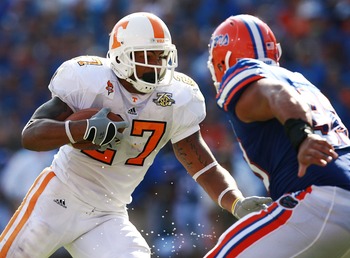 Arian Foster was on campus for five Tennessee-Florida games.
Doug Benc/Getty Images
Foster's first year in Knoxville saw him redshirt and also saw the Volunteers beat visiting Florida, 30-28.
However, Foster went winless the next four seasons against UF, including the 2007 game where former Gator linebacker Dustin Doe scooped up a fumble by Foster and took it 18 yards for a touchdown.
Keep Reading