Oregon Football: Power Ranking the 7 Most Dangerous Offensive Players All-Time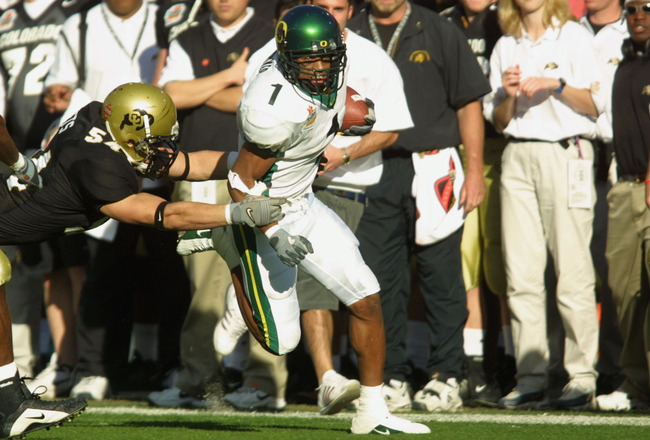 Jeff Gross/Getty Images
A lot changed for the Oregon Ducks when Chip Kelly came to the program in 2007 as offensive coordinator. Kelly, who is now the team's head coach, seems to have a way of taking good offensive players and making them great.
This list is dedicated to the most dangerous offensive players in Oregon history. But before we begin, we must define "dangerous."
Dangerous doesn't necessarily mean "best" or "fastest." This list is a ranking of the players who are most likely to take it to the house (or throw it to the house) at any moment, from anywhere on the field.
Disagree? Then post your Top 7 rankings in the comments section.
7: Keenan Howry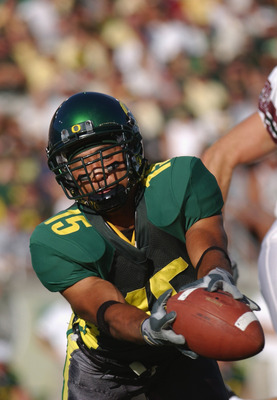 Otto Greule Jr/Getty Images
It's true that Howry benefited greatly from playing on the same field as quarterback Joey Harrington, but that doesn't take anything away from the individual effort that he made on every single play. He had hands like Stickum and wasn't afraid to run those crossing-routes through the middle of the field. He had guts.
Few will forget his season-saving punt return in the driving rain in the 2001 Civil War.
Oregon has had it's fair share of struggles with receivers dropping balls at key points (see Jaison Williams,) but Howry wasn't one of them.
Despite his small size, he had a way of finding openings in the defense and flashing his numbers for Harrington to hit.
6: Bobby Moore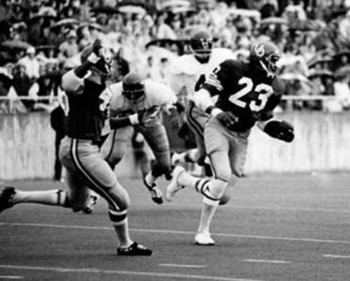 Potentially Oregon's most famous athletic alumni, Ahmad Rashād (or, "Bobby Moore," as he was known to the 1969-71 Duck faithful,) was dangerous as a wide receiver and a running back. He became an All-American in 1971 after permanently switching over to the latter.
Rashad was the fourth overall pick in the 1972 NFL Draft, drafted by the St. Louis Cardinals. Then, in 2007, he was inducted into the College Football Hall of Fame.
Everyone called him "The Greatest" at the time. Maybe he would still be the greatest today if he played under Chip Kelly—we'll never know.
All we do know is that his 2,306 rushing yards and 226 points stood as records for 18 years, and are still among the greatest today.
5: Jonathan Stewart
A combination of speed and power made Jonathan Stewart a dynamic and dangerous player from anywhere on the field.
Do you remember watching Stewart carry University of Houston Cougars with him down the Reliant Stadium field in 2005? That is when he became a candidate for this list. He then went on to dominate the Pac-10 and the Oregon rushing record books—until a guy named LaMichael James came along.
Stewart, along with former quarterback Dennis Dixon, ran Chip Kelly's acclaimed "Shred Offense" unlike any of the quarterback/running back tandems Oregon has seen since.
4: Joey Harrington
Let's be honest, Joey Harrington made Keenan Howry all that he was. Not to take anything away from Howry, but it was similar to the affect Peyton Manning has had on players like Austin Collie in his time with the Indianapolis Colts.
Harrington, like Manning in Indianapolis, had a way of making the receivers around him better. With a mediocre quarterback under center, Keenen Howry doesn't become Oregon's second all-time leading receiver.
When Joey was on the field, fans and teammates felt secure and safe—earning him the nickname "Captain Comeback." He gave Ducks Nation that same feeling that Denzel Washington gives movie-goers: peace. Everything is going to be okay. It's all under control.
Don't forget how good of a runner Harrington was either. It may not have been pretty, but he could get a tough first down or dive over the pile for a key touchdown (see 2001 Wisconsin game.)
3: Samie Parker
Speed, speed and more speed. Samie Parker could flat-out fly. He had a great arm in Joey Harrington tossing him the ball, but he was responsible for blazing past defensive backs on his way to home run touchdowns.
Imagine Parker playing under Chip Kelly. You have to believe that Kelly would find new ways to get Samie the ball in space as well as to utilize him as an over-the-top threat.
To back up the claim that he is No. 3 all-time on this list, he is 3rd on Oregon's all-time receiving yards list with 2,599. When Oregon got Parker the ball, everyone in Autzen believed that he might break it for touchdown. That's the definition of dangerous.
2: Dennis Dixon
Dennis Dixon is one torn ACL away from being the greatest Oregon Duck football player of all time. If his anterior cruciate ligament didn't snap against the Arizona State Sun Devils in 2007, there is no doubt in anyone's mind that he would have easily edged out Tim Tebow for the Heisman, led Oregon past Ohio State or LSU for the championship, and been drafted in the top 10 in the 2008 NFL Draft.
Outside of the BCS Championship loss of 2011, I don't think there is a single aspect of Oregon Duck football that fans and players wish they could go back to and take a mulligan on more than the way Dixon's 2007 season ended.
One part of Dixon's game that isn't recorded by the stat-keeper is his ball fakes. The way he hid the ball was often the key to gaining extra yards for Jonathan Stewart or allowing his receivers to get open. On many occasions he even faked out the cameramen (see 2007 Washington game.)
Not to pour salt in the wound, but if Mike Bellotti had taken Dennis Dixon out of the ASU game when the Ducks were up 35-16 in the fourth quarter, maybe Oregon would have a BCS title and Heisman Trophy in the Casanova Center.
1: LaMichael James
LaMichael James became Oregon's all-time leading rusher in the Cowboys Classic against LSU—eclipsing Derek Loville's mark of 3,296. James is only one game into his junior season. He won the Doak Walker award for the nation's best running back as a sophomore. That is unheard of.
His 1,731 yards in 2010 ranks as the best single season rushing effort ever by a Duck, and fifth all time in the former Pac-10 from 2000-2010.
His electrifying run against Tennessee in 2010 put fear in the hearts of even the great SEC defenses. Some teams have slowed him down, but everyone knows he's just a juke away from hitting a hole. When James hits a hole, there's a good bet your chance the defenses chance to stop him has already come and gone.
Keep Reading

Oregon Ducks Football: Like this team?