Miami Hurricanes Football: It's Been a Rough Year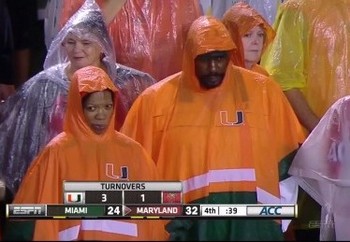 I arrived at the University of Miami's Coral Gables campus on Aug. 19, 2010 to begin my collegiate career. I am not an athlete, but I came in with expectations that the Division I program would excel. Unfortunately, that has not been the case.
Football reigns supreme at "The U" and of late, it has brought us the greatest embarrassment.
On Sept. 2—two weeks after my initial move-in—the Hurricanes won their season opener, 45-0, over Florida A&M. I was elated. I was proud. I walked with extra swagger for a whole week!
Sept. 9, 2010 marked the beginning of the torture. It has been a full year of poor decisions, bad luck, endless criticism and of course, LOSING! Here is a detailed chronology of what has happened between then and now.
September 2010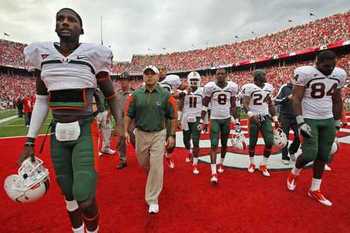 Sept. 11: Jacory Harris (left) leads the team out of "The Horseshoe" after their first loss of the 2010 season.
Sept. 9, 2010 - I was awakened hours before my 11:00 a.m. class by the school's marching band. "WTF?" I remember thinking. "There's no game scheduled for tonight!" I later realized that the unwelcome reveille was a final practice before my university's representatives departed for Columbus, Ohio, home of the No. 2-ranked Ohio State Buckeyes. Miami entered the game at No. 12.
Sept. 11, 2010 - The Hurricanes showed promise early on. The offense would be dysfunctional throughout the afternoon, but Miami led 10-3 with 13:05 remaining in the second quarter on the strength of an awesome kickoff return by Lamar Miller and a successful field goal attempt by Matt Bosher from 51 yards out.
Now, for the less memorable moments from my least favorite 2010 'Cane, Jacory Harris. He was intercepted FOUR times: thrice in Miami territory and once in the red zone. All four ensuing Buckeye drives began inside Miami's 30-yard line!
Although usually the strength of the team, the defense underperformed on the big stage. There were missed tackles aplenty as opposing QB Terelle Pryor accumulated nearly 350 yards between passing and running the ball, and accounted for two TDs. Those turnovers wound up being the difference—OSU scored 24 points directly following a Harris pick. The Hurricanes got blown away, 36-24.
I had attended a "watch party" with a couple of hundred other fans. The atmosphere was awesome when the 'Canes did something right, but most of the second half was not awesome—just smelly, crowded and uncomfortable.
Sept. 12, 2010 - Miami dropped five spots in the AP Top 25. They have not returned to No. 12 since.
Sept. 18-19, 2010 - A weekend without Hurricanes football. This dampened my optimistic mood. At the time, I was still foolish enough to believe that cheering for the Hurricanes could bring me more happiness than other activities. Given my high expectations, you can bet it was a difficult semester.
Sept. 19, 2010 - Being stagnant dropped Miami from No. 17 to No. 19 with a pair of road games on the horizon.
October 2010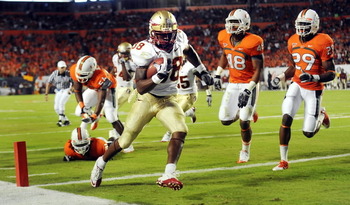 Oct. 9, 2010 - The Hurricanes were brimming with swagger after back-to-back victories versus Pittsburgh and Clemson. But Miami's fiercest rival, Florida State, came into Sun Life Stadium to make a statement. They let their actions speak for themselves.
Frankly, this game is just a blur to me (I know what you're thinking but no, I was not drinking). I mean to say that the Seminoles executed so many big gains—12 plays of 15+ yards—that I can hardly distinguish between them.
The defense was trounced, especially on the ground. I specifically recall the 90-yard touchdown run late in the 4th quarter that sealed the deal. It would be the lone time in the 2010 season that I left a Miami home game early.
As you may have guessed, Jacory struggled again. He completed barely 40-percent of his pass attempts and threw his ACC-leading ninth interception. Hurricane fans, myself included, were calling for his head.
Oct. 30, 2010 - Apparently the Virginia Cavaliers had a similar bounty because they slammed his noggin against the turf pretty hard during the 2nd quarter. Harris would not return to the game. In his place, Spencer Whipple and Stephen Morris took some snaps under center.
Whipple was a short-lived disaster: 2-6, 22 yards, 0 TD, 2 INT. He would not attempt another pass for the remainder of the season.
Morris, meanwhile, showed flashes of ability. He nearly led Miami back from a 24-point deficit. However, turnovers ultimately doomed the Hurricanes. Five interceptions proved to be a few too many and Virginia pulled off the upset, 24-19.
With the loss, Miami dropped to 5-3 overall and more importantly, 3-2 in the ACC. That proved troublesome because red-hot Virginia Tech stood at 6-2 (4-0) atop the ACC's Coastal Division. This meant that the Hurricanes no longer controlled their destiny. A win in their November 20th matchup would be pointless if the Hokies didn't slip up at least one additional time. Without winning the Coastal, Miami could not qualify for the ACC Championship Game or a BCS bowl game.
I learned all of this later that evening because I spent the afternoon enjoying myself on South Beach. Nice weather, nice food and nice people made my 2010 "beach days" a ton of fun. Needless to say, my 2010 game days didn't stack up.
Oct. 31, 2010 - Miami dropped from the AP Top 25. Their No. 22 ranking prior to the Virginia game hasn't been exceeded since.
Also, it was announced that Jacory Harris had suffered a concussion, putting his next start in jeopardy.
November 2010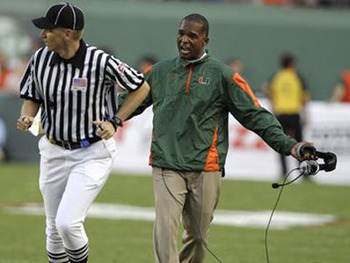 Nov. 20, 2010 - Morris took advantage with Jacory on the sidelines, leading the team to ACC victories over Maryland and Georgia Tech. Unfortunately, Virginia Tech rolled through their opponents, making the Sun Life showdown between the two a must-win for Miami if they hoped to fulfill their conference championship aspirations.
It just wasn't meant to be. The 2010 trends of overly aggressive quarterback play, poor communication and run-stopping inability were as prevalent as ever. Morris' third career start was by far his worst—the Hurricanes committed a season-high six turnovers, and Virginia Tech burned us for 251 yards on the ground.
Final score: Hokies, 31, Hurricanes, 17. The weak crowd of 40,101 for this pivotal game made it clear that the fanbase was fed up.
Nov. 27, 2010 - The same message was reiterated the following week when only half the seats were filled for Miami's final home game against South Florida. Morris started again and struggled again, giving head coach Randy Shannon no choice but to reinsert Harris to salvage what was left of the season.
He couldn't. Miami played conservatively—until the very end. Then, a classic "Jacory being Jacory" moment: the Hurricanes drove deep into USF territory with just five seconds remaining in regulation. The score was tied, 17-17. Matt Bosher was getting ready to split one through the uprights. But, in an unnecessary attempt to get him better field position, Harris threw into coverage. In the famous words of ESPN football analyst Cris Carter, "C'mon, man!"
Yes, the ball was intercepted, time expired with the score still even, and the Bulls won it in overtime. The Hurricanes finished with a 3-3 home record, their worst since 1997! That team was handicapped by scholarship reductions, and you could say the 2010 team suffered from "intelligence reductions." So, the decision-makers back on campus decided to dispose of the brain. Coach Shannon was terminated later that evening.
December 2010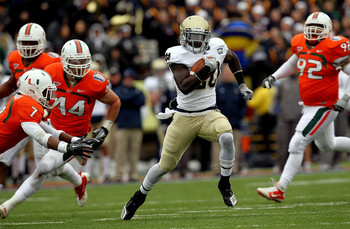 Dec. 5, 2010 - The Bowl Selection Committee paired Miami with the Notre Dame Fighting Irish in the Hyundai Sun Bowl to be played on New Years' Eve. Although the Hurricanes got a bit lucky with drawing a historically high-profile program to play, the selection serves as a reminder of how the season failed to meet expectations. Notre Dame was similarly coming off a less-than-stellar 7-5 regular season.
Dec. 12, 2010 - The athletic department chose Al Golden as the school's next head football coach. Sure, Golden appeared to be a decent fellow who quickly revitalized Temple's program, but he wasn't exactly one of those BIG names that most fans were hoping to hire.
Dec. 31, 2010 - While Golden watched carefully from a warm, toasty suite, offensive line coach Jeff Stoutland played head honcho for a single, snowy afternoon in Texas (yeah, you read that correctly). I would bet that he regrets having that experience.
The Hurricanes were blown away by the same old issues that hampered them in the regular season. Jacory Harris was awful—three interceptions in seven pass attempts. The defense surrendered a handful of long plays that either led directly to touchdowns or set up manageable field goals. Miami committed far too many penalties—10 of them, amounting to 106 yards. The game was effectively over by the time Morris took his place under center.
Notre Dame led 27-0 late in the1st half and 30-3 entering the fourth quarter! It was only hours away, but for me, 2011 couldn't have come quickly enough.
2011 NFL Draft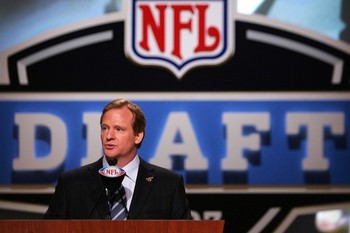 8 Miami Hurricanes were selected by NFL teams in April's draft.
April 29, 2011 - Five Hurricanes were taken on Day 2 of the draft: 2nd-rounders Orlando Franklin (OT) and Brandon Harris (CB), and 3rd-rounders Leonard Hankerson (WR), DeMarcus Van Dyke (CB) and Allen Bailey (DE).
April 30, 2011 - Another three made it to the pros on Day 3: 4th-rounder Colin McCarthy (LB), and 6th-rounders Richard Gordon (TE) and Matt Bosher (P).
2011 Recruiting Class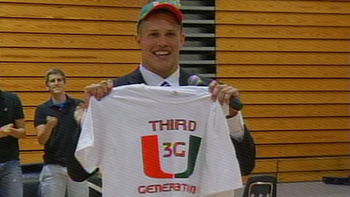 DE Anthony Chickillo was Al Golden's most coveted recruit.
Replacing them might prove to be a difficult task for Golden. His 2011 class featured fewer total commits (18) and fewer ESPN 150 players (3) than any of Randy Shannon's four classes.Like his predecessors, Golden mined the majority of his young gems from the South Florida region.
The key difference from years past, though, is that the class doesn't include a single five-star recruit.
Preseason Injuries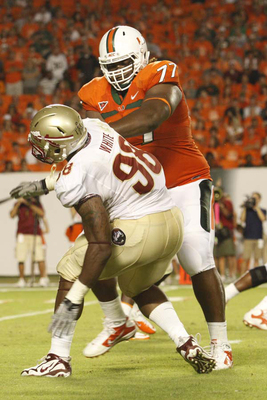 Seantrel Henderson was a Freshman All-American in 2010!
Aug. 8, 2011 - Offensive tackle Seantrel Henderson—the prize of the 2010 incoming class—underwent surgery to address his back issues. There is no timetable for his return.
Luckily, early rumors that he would miss the entire season appear to be false. Still, the freshman All-American has been ruled out for Miami's first four games. Given the way Hurricane quarterbacks struggled last season with his services, I feel the onset of nausea while imagining how they will fare in September.
The Nevin Shapiro Scandal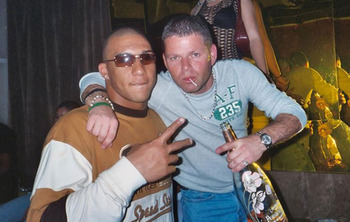 Nevin Shapiro with Kellen Winslow, Jr. (2003)
Aug. 16, 2011 - Oh yeah, and then there's this little story that dominated sports headlines for a couple of weeks this summer. The can of worms sprung open when Yahoo! Sports published their findings from an 11-month investigation, based on more than 100 hours of interviews with alleged, incarcerated Miami booster, Nevin Shapiro. He claimed to have provided improper benefits to approximately 72 University of Miami athletes between 2002 and 2010.
Aug. 25, 2011 - The school declared ineligible the 13 active Hurricanes named by Shapiro so that the NCAA could make a ruling before the season opener. The same tactic was used by Auburn University during midseason 2010 regarding their stud quarterback Cam Newton.
Aug. 30, 2011 - They got a ruling all right, but not a terribly favorable one. Eight of the named players were suspended: Travis Benjamin; Marcus Forston; Sean Spence; Adewale Ojomo and Jacory Harris for one game; Ray-Ray Armstrong and Dyron Dye for four games; and Olivier Vernon for six games.
Sept. 5, 2011 - Those absences impaired Miami on Monday night in their 2011 season opener against the Maryland Terrapins. With so many defensive starters missing, the Hurricanes didn't have enough speed to execute their zone coverage. QB Danny O'Brien kept attempting short passes, resulting in completion after completion after completion after completion.
In the end, Maryland won, 32-24. Not really how I envisioned the "Golden Era" beginning.
The unfortunate reality is that further punishment awaits. Violations are the norm in college athletics and the NCAA would do anything—even something that might make me and all Miami fans very, very, very sad—to fix that. What I'm alluding to here is severe punishment, possibly even the "Death Penalty!"
Granted, all further sanctions are pending the completion of a formal investigation. What's clear, though, is that there was an intent to cheat. Also, with disobedience running rampant across the nation, the NCAA is looking to make an example out of the Miami Hurricanes athletic program. Whatever the confirmed offenses, their ultimate verdict will be particularly cruel.
Looking Ahead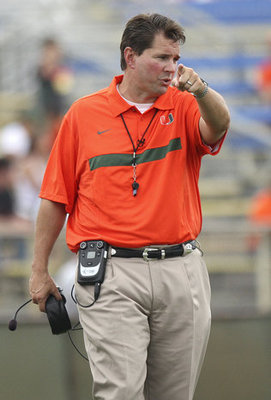 University of Miami head football coach Al Golden
Sept. 9, 2011 was the anniversary of my "rude awakening" and in my optimistic eyes, the end of a torturous year.
There will be no 'Canes football this weekend as the team prepares to take revenge on Ohio State on Sept. 17. That is when the calendar resets.
Because we are in between an embarrassing 2010 and an uncertain 2012, Hurricane fans have a lot invested in the present. No pressure, Al!
Keep Reading

Miami Hurricanes Football: Like this team?