Michigan State Football: Unit by Unit Breakdown, Defense, Part 2
September 2, 2011
Jonathan Daniel/Getty Images
I'm going to pick up where I left off and cover the defensive units as well as the special teams. Let's not waste any time!
Defensive Line
Defensive Coordinator Pat Narduzzi is blessed with the opposite problem of the offense. The strength of this defense is in the trenches with the defensive line. This unit is deep, experienced and chock full of NFL ready talent. It should be a real delight all season long. Spartan Nation has been awaiting a Mark Dantonio team to have a real dominant defense and because of the overwhelming wealth of the line, this may be the best of his tenure. 
It all starts dead center over the ball with junior DT Jerel Worthy (6'3", 305 lbs) who reminds me of an early Jerry Ball, back in the days when John Madden handed him multiple turkey legs on Thanksgiving. He's hungry and is going to be a real problem opposing coaches are going to have to prepare for. The other tackle is JUCO transfer Anthony R. White (6'2", 315 lbs) and fifth year senior Kevin Pickleman (6'4", 288 lbs) who is a boss in his own right. Running up the middle on these guys...just isn't going to happen.
Defense end will have a four man rotation, a really great problem to have. On one side redshirt freshman Marcus Rush (6'2", 250 lbs) and sophomore Denzel Drone (6'2", 262 lbs), meanwhile the other side is stocked in size and NFL caliber talent in sophomore William Gholston (6'7", 280 lbs) and junior Tyler Hoover (6'7", 290 lbs).
I cannot remember being more excited about a defensive line before. For Spartans that are also Lions fans, it's going to be a long season of defense presence in the trenches, as the Lions also have a dominant defensive line. Especially with all this depth, the Spartans should be able to keep fresh bodies moving at the end of the game.
The scariest part here is, unless someone goes pro (which is entirely possible) everyone is coming back NEXT season too!
Linebacking
Departures of a couple of legends in four year starters Greg Jones and Eric Gordon leave a couple of question marks for the linebacking unit coming into 2011. Not to take away anything from Jones and Gordon, they were both great players and exceptional tacklers, especially in the run game, but they did lack speed in the pass defense arena. That will now be a bona fide strength of this linebacking core coming into this year, adding youth and speed into the mix.
The MLB will be sophomore Max Bullough (6'3", 245 lbs) who has a classic Michigan State name and will occasionally part his time with sophomore TyQuan Hammock. Sophomore Denicos Allen (5'10", 220lbs) will split time with both outside linebacking positions providing depth, speed and an aggressive tendency to the field, coaches are also hoping for one more quality he hasn't shown yet, consistency. Junior Chris Norman (6'1", 227 lbs) is the only returning starter will be joined on the other side by junior Steve Gardiner (6'1", 222 lbs).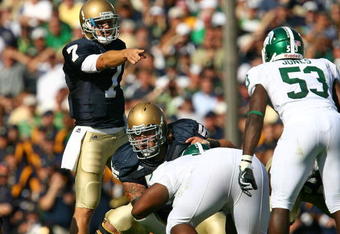 Jonathan Daniel/Getty Images
Depth and consistency are real concerns here, but there is talent in the wings. Narduzzi can only hope the defensive line creates enough pressure to take the load off a core that has yet to jell.
Secondary
Free safety, captain and only resident senior (this could be amazing!) on this defense Trenton Robinson (5'10", 195 lbs) anchors the secondary who is losing two very good players in Marcus Hyde and Chris L. Rucker. Coaches have been elated at the development of junior cornerback Johnny Adams (5'11", 170 lbs) who should be tough to throw against and a physical presence that almost can be left on an island.
From there the secondary gets light and inexperienced, which could be a real problem. SS will be played by sophomore Isaiah Lewis (5'10", 190 lbs) and the other corner will be a platoon with two sides of the ball star Tony Lippett (6'2", 189 lbs) who is a talented freshman, but has yet to really dig his feet into the defensive role, and sophomore Daqueeze Denard (5'11", 185 lbs).
Last year was the first time since the Saban era that the secondary wasn't a liability. I fully expect to take a slight step back this season—once again, hoping the defense line can shade over this subsequent weakness.
Special Teams
I have no qualms awarding punter Aaron Bates the MVP for last season. He single handily won two games with fakes and was a beacon of defense with his ability to corner teams into their territory as well as change field position with booming kicks. This will be a bigger void than you think, although, the Spartans historically have been known for a great kicking game. Redshirt freshman Mike Sadler has some big shoes to fill.
Kicker Dan Conroy hit his first 14 field goals on way to 15-of-16 overall last season. He is dependable, but not ready to be crowned the next Morton Anderson.
Keyshawn Martin will win games in the return game. He brought one back against Wisconsin that really turned the tide and I wouldn't be surprised to see a couple returns of that caliber this year. Larry Caper, Nick Hill and Bennie Fowler could all see time here as well, providing their own speed and excellence to the position. The return game is a real strength of the special teams unit and something opposing teams will have to plan for.
If you read this and missed the offense (part one), it can be found here: http://bleacherreport.com/articles/832120-michigan-state-football-preview-unit-by-unit-breakdown-offense-part-1
Thank you for reading! If you enjoyed this piece and would like more Zerfas in your life, head on over to my blog: www.ryanczerfas.blogspot.com