Michigan State Football: Unit by Unit Breakdown of the Offense, Part 1
September 2, 2011
Mike Ehrmann/Getty Images
Eleven wins. A share of the Big Ten Championship for the first time since 1990. The right to retain the all-mighty Paul Bunyan Trophy with a third-straight win against Michigan. An absolute demolishing of the Notre Dame Fighting Irish (OK, this may be an exaggeration). A final poll position of No. 14 in the nation.
Unbelievably, with a few weeks left in the regular season, Michigan State was legitimately in the conversation to play in the title game before being demolished by Iowa 37-6.
These are the numbers some Spartan fans are using to gauge their expectations in 2011.
If you're one of those people, you're going to be gravely disappointed, but not by the product on the field, because this team will be bigger, stronger, faster and more disciplined than last year's breakthrough sensation. But they are going to lose more games.
The schedule, plain and simple, is exponentially more difficult. There are only two real breaks for the Spartans: 1) A very tough game with Wisconsin is at home and 2) the team has two weeks to prepare for a new-look Michigan squad.
The bad news?
Four treacherous games on the road, including wins last year against Penn State and Illinois, which are now (away) games against Nebraska and Ohio State. Many people, because of the turmoil in Columbus, are chalking up the Ohio State game as a "W." The Buckeyes will be missing many players as well as the sultan of the sweater vest, but their backups are still as good as anyone in the country and far superior to Michigan State. It is what it is.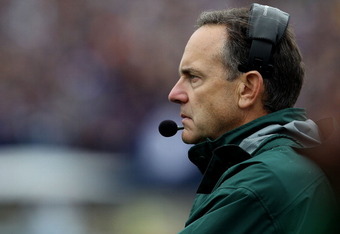 Jonathan Daniel/Getty Images
Coach Mark Dantonio in his fifth year at the helm is 33-19, and has done a tremendous job stabilizing a program that was wobbly and slightly embarrassing prior to his arrival. People will never forget when a coach slaps himself on national television, but years of mediocrity will be all but erased with only a few years of solid football. The Spartans have accomplished that mission and fully expect to reach for that upper echelon.
The biggest hole the Spartans face coming into 2011 is at the worst possible location: the offensive line.
Three offensive linemen (two tackles and a center) graduated from a unit that was less than impressive last year. Hypothetically, there is a tremendous upside to this situation. If the new group, who are billed as an extremely talented, yet young bunch, solidify quickly as a cohesive unit, the Spartans could repeat last year's success in the win column.
It's just not likely to happen so quickly. One can hope they are as good as advertised and look forward to strengthening at the position in the coming years. Then it won't even be necessary to have a top-notch quarterback, a plethora of smash mouth runners and a wedge of weapons in the receiving game—all things the Spartans posses in spades this season.
My concern is the wheels coming off up front, leaving the talent no time to operate. Quarterback Kirk Cousins is quite possibly the most accurate passer I've ever seen when he has time to set up, plant his feet and throw.
Will he have the time?
I project this team to go 8-4, with losses to Ohio State, Nebraska, Wisconsin and either Iowa or Northwestern.
The confusing part is, they will play better, yet go down in history as a worse team due to the inflated numbers and subsequent expectations derived from last season. I expect there will be a couple of blowouts again, but for the most part they will compete hard, make you proud and bring to the table everything you've come to expect in a Dantonio squad.
The Spartans are still ascending up the ladder, just not the Rose Bowl ladder…yet.
With that said, I'd like to break this down further, unit by unit, to get into the true grit of the upcoming season. Let's start with the offense.
Offense
The Spartans bring in a new, yet familiar face at offensive coordinator in Dan Roushar, who has been with Dantonio as an offensive line coach since Cincinnati in 2006. Roushar has been an offensive coordinator four previous times, most notably with Northern Illinois in the early 2000s.
The offensive philosophy, which mainly comes from Dantonio, will look very similar to the recent brand of smash-mouth football you've come to know and love from the Spartans. When the running game works, the play-action pass will set up a group of talented receivers, including three stellar pass catching tight ends.
Wall-to-wall, this might be the best group the Spartans have ever fielded at the talent positions. There are not the standouts like Plaxico Burress or TJ Duckett, but for the most part, the Spartans will enter every game this with an advantage at QB, RB, WR and TE.
Dantonio really has been hitting that recruiting trail.
Quarterback
The face of the Spartans is three-time captain and fifth-year senior Kirk Cousins. He has a great deal of talent around him, but there is no question that the success of this season falls on his academic, All-American, boy-next-door shoulders. If Cousins plays "pretty good," the Spartans lose three to five games this year, but if he improves and elevates his play up to the NFL-caliber fans and coaches alike have been hoping for, far greater things will get accomplished in East Lansing.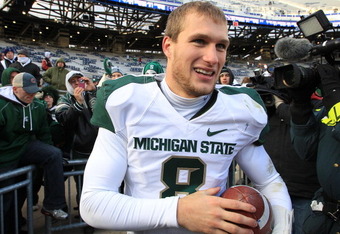 Hunter Martin/Getty Images
Cousins has been a breathe of stability at the quarterback position, joining only Jeff Smoker, Jim Miller, Drew Stanton and Dave Yarema as three-year Spartan starters.
His Achilles' heel has always been his footwork. Under pressure, he has a tendency to force throws off his back foot and/or not step into the pocket. Even former Michigan State great, QB Tony Banks, commented, "What I don't like about him is he appears to be skittish in the pocket...You have to be courageous, and at times, he doesn't look like he's courageous enough to me."  
The good news here is everyone on campus believes this problem can be attended to with enough blood, sweat and tears from the coaching staff, and the tireless leadership and work ethic of Cousins.
Another knock on Cousins has been the clutch factor. As in any situation over the duration of time, it's played out both ways. A few years ago, he made an unforgivable blunder throwing away the Notre Dame game, and last year his mistakes early against Alabama and Iowa led to disastrous deficits that couldn't be overcome.
However, he did also prove he could lead a team back. He had a rough start against Wisconsin, but rallied to lead the Spartans through their most impressive win last year. He also sparked furious comebacks against Notre Dame, Purdue and Northwestern. All in all, he tallied impressive second-half stats with a 70 percent completion rating, 11 touchdowns and only three interceptions.
Pundits, fans and teammates alike believe in Kirk Cousins. He's the kind of person you want on your team. It gave me chills with how well he represented Michigan State at the Big Ten Kickoff Luncheon. The team lives and will die with Kirk Cousins.
If he does get injured, his replacement, Andrew Maxwell, is highly touted and is rapidly raved about behind closed doors. However, he is incredibly inexperienced and hasn't shown much in what little play time he's received. 
Running Backs
Michigan State has three starting running backs. Edwin Baker (5'9", 209 lbs) is the stallion of the bunch, with all the speed, power and vision one would expect from a thoroughbred.  He did have the unmitigated gall to publicly set a goal of getting 2,000 yards and 21 touchdowns this season. Dantonio was quoted as saying, "It could be done…if you look what Javon Ringer accomplished…" But what he should have said was "shut up."
We saw how well that worked for Chris Johnson.
Larry Caper (5'11", 223 lbs) and Le'Veon Bell (6'2", 237 lbs) serve as reinforcements to Baker, and it's quite common that Dantonio will use whoever has the hot hand. Le'Veon Bell showed glimpses of New York Giant monster Brandon Jacobs last year with his huge frame and ability to plow people over or surprise them with deceptive speed. Larry Caper is a jack of all trades, offering more in terms of being a complete back with his ability to block and catch passes out of the backfield.
Redshirt freshman Nick Hill (5'7", 187 lbs) has made a lot of noise this spring with his speed and open-field ability. He could be the next DeAndra Cobb.
What a luxury to have such depth.
The Spartans will use converted defensive end Todd Anderson (6'2", 250 lbs.) as their fullback when the occasion calls for it.
Receivers
Historically, this has been a major strength of the Spartans (Burress, Rogers, Mason, Risen, Gibson, etc.) and it is no different this year. The receiving corps is slathered with experience, anchored by a trio of seniors: B.J. Cunningham (6'2", 223 lbs.), Keith Nichol (6'2", 222 lbs.) and Keyshawn Martin (5'11", 185 lbs.).
Cunningham is the rock of the bunch and will probably break a number of Spartan receiving records, Martin is an explosive game-breaker with unmanageable versatility and Nichol stands to be the most improved as he spent all summer working on explosiveness off the line and running routes. If he can harness the athletic prowess that has led him to be, unmistakably, the most talented player on the team, the Spartans will be tough to contain.
A couple other playmakers sure to make some noise are sophomore Bennie Fowler (6'1", 212 lbs.), who is cut in the mold of Martin, and freshman sensation Tony Lippett (6'2", 185 lbs.), who will see action on both sides of the ball.
Tight End Charlie Gantt stands to be the biggest loss for the Spartans on the offensive side of the ball because he was a complete tight end, mastering blocking as well as being a threat downfield.
With that said, they retain an excellent group of pass-catching tight ends. The most dangerous is third-string sophomore Dion Sims (6'5", 270 lbs.), who plays like a created player in Madden with every bar turned all the way up, most notably his size and speed. The main concern with Sims is if he can keep his head together, stay out of legal trouble (like most of last year) and stay on the field and/or out of Dantonio's doghouse.
Seniors Brian Linthicum (6'5", 245 lbs.) and Garrett Celek (6'5", 247 lbs), the starting tight ends, also had trouble staying on the field last year due to legal issues and injuries.
All three are liabilities in the blocking game, but are weapons of mass destruction offensively, which is the theme for this offense overall, apparently.
Offensive Line
This is the biggest liability of the team, returning only two starters, which could turn out to be the end-all, be-all of the 2011 Spartans. If last year's bowl game against Alabama was any indication, the Michigan State trenches may be moving in reverse as if they are on roller skates, crippling any hopes of running a play. The Spartans need, first and foremost, to have the ability to establish the run. Without that, there is no step two.
Solidarity can be found at the guard position with two returning starters. Four-time starter Joel Foreman (6'4", 310 lbs.) and Chris McDonald (6'5", 290 lbs.) hope to hold steady ground with a wildly inexperienced, yet talented group of incomers.
From here it gets a little dicey. Inexperience and group cohesion are grave concerns. Center is still a toss up between junior Blake Treadwell (6'3", 295 lbs.) or redshirt freshman Travis Jackson (6'3", 275 lbs).
Left tackle is also up for grabs between sophomore Dan France (6'6", 315 lbs.) and fifth-year senior Jared McGaha (6'6", 298 lbs). Redshirt freshman Skyler Burkland (6'7", 305 lbs.) is a monster and won his position outright.
There were a lot of bumps and bruises over camp. This unit has a feel of disarray to me and will ultimately be the demise of the team if they can't right the ship quickly. Even with all the position battles, this is not the kind of depth you want at the most important positions.
Part II covering defense and special teams can be found here.
If you liked this breakdown and want more from the mind of Ryan C. Zerfas, feel free to check out my blog, appropriately titled, www.ryanczerfas.blogspot.com