Notre Dame Football: The 6 Most Dynamic Upperclassmen on Defense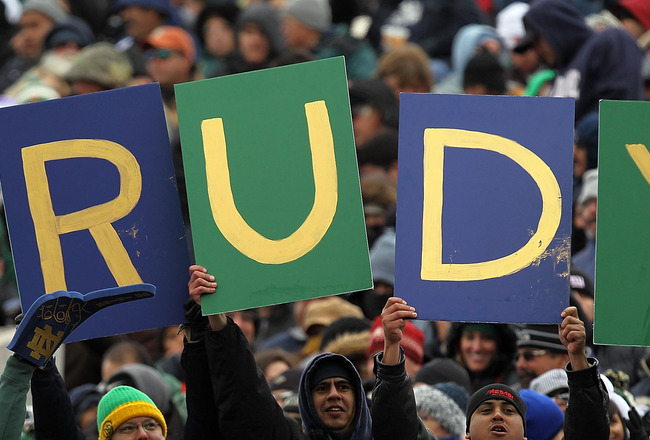 Ronald Martinez/Getty Images
Every year, the expectations at Notre Dame are soaring. As with most big-time programs, fans want a trip to a BCS bowl, anything less is considered a colossal disappointment.
During Charlie Weis' tenure, the hopes of the Notre Dame faithful rested upon the team's high-octane scoring ability. While the expectations this year are just as high as any other, the excitement has largely revolved around the stout defensive unit.
Even if the offensive production doesn't improve much (in my opinion it will because of better quarterback play and Brian Kelly's system is in its second year), the defense will keep the Blue and Gold in every game.
Although the team has been infused with young talent, these upperclassmen will have a major impact on the upcoming season. These players have all played plenty of downs for the Irish. All have exhibited solid performances on the field already, but the past is the past, these predictions are about how these players will size up this season.
Jamoris Slaughter (Sr.)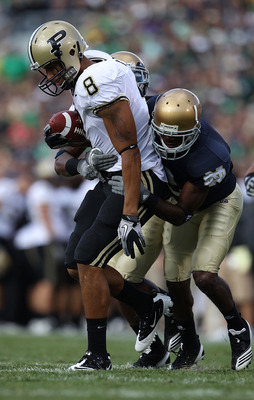 Jonathan Daniel/Getty Images
I already hear the clamor. How could I choose a player who might not even start at his position? Even if Jamoris Slaughter doesn't regain his starting role, he will be an invaluable contributor this season. In an article by Brian Hamilton of the Chicago Tribune, Hamilton quoted Brian Kelly as saying there will be equal time shared at the safety position.
Last season, Slaughter had a stint of bad luck as he was plagued with injury. His early season ankle sprain left the door open for the Vero Beach standout, Zeke Motta, to take over as the starter.
Motta developed quickly and played well in Slaughter's absence, but when healthy, Slaughter is a playmaker who gives the Irish firepower at the strong safety spot. As of now, Slaughter is more of a daredevil when compared to Motta, and he has no problem flinging his body around the field. Slaughter has the ability to make the big hit and cover large distances, but Motta is no pushover.
Motta has proven his worth as the last line of defense with solid tackling, both will get ample playing time.
Slaughter will get on the field early and often, and when he does, he will be one of the enforcers on defense, making receivers pay for trying to catch the ball over the middle.
Ethan Johnson (Sr.)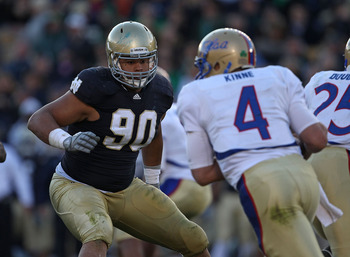 Jonathan Daniel/Getty Images
The defensive end spot, which is filled with a wide array of talent, is one of the deepest positions on Notre Dame's roster, offense or defense.
Ethan Johnson is set for a great season, but he is not the only upperclassmen on the line deserving of acknowledgement. Sean Cynwar has been a nice surprise and Kapron Lewis-Moore's evolution has been quite impressive. Lewis-Moore is probably the better pure tackler of the two (between Johnson and himself), and has tremendously improved his ability to shed blockers.
But Johnson, who has moved from defensive end to defensive tackle and back again, has exhibited an effective mix of strength and quickness. Johnson is an energetic defensive end that has the ability to accelerate past blockers and attack the quarterback. I expect Johnson, even with the talent at linebacker and defensive line, to lead the team in sacks this season (he finished second last season with five).
While the linebackers will get their shots at the quarterback, we can all agree Bob Diaco is no John Tenuta when it comes to blitzing, which leaves the d-line as the primary mode of attack.
Johnson's career at Notre Dame has been pretty good, but his potential leaves fans wanting much more from him. Unless a plethora of youngsters severely cuts into his playing time, Johnson will have a fantastic year for the Irish.
Gary Gray (Sr.)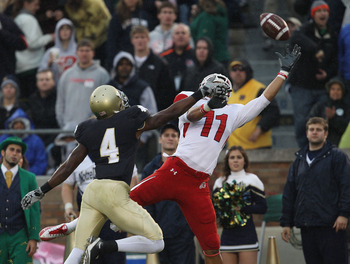 Jonathan Daniel/Getty Images
Gary Gray, a player whose future was at one time uncertain at Notre Dame due to personal reasons, has become one of the most important players on the whole roster.
Last season, Gray started every game for the team. At times, he even outshined his starting counterpart in Darrin Walls, who's now a member of the Atlanta Falcons.
Gray is a cover corner who has exhibited an extraordinary ability to shadow receivers and tackle. He finished 2010-2011 with seven broken up passes and 66 total tackles.
This season, Gray will be tasked with covering the opposing team's best wideouts, a job he seems ready for. If Gray can turn some of his deflections into inceptions, he will be one of the nation's best (although there should be no complaints when a corner breaks up a pass). Gray is set for another standout season and could possibly follow in the footsteps of Walls to the NFL.
Darius Fleming (Sr.)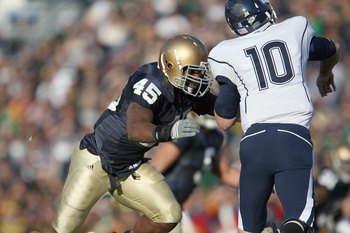 Jonathan Daniel/Getty Images
Darius Fleming has been an amazing addition to the Notre Dame team since stepping onto the field his freshman year. Fleming has consistently been a exceptional edge rusher, whether he was on the outside at linebacker or playing the role of an undersized defensive end.
Last season, he led the team with six sacks and registered 49 total tackles. I expect Fleming to have similar numbers again, but like last season, he will have a chance to show off his coverage skills.
Under Bob Diaco's system Fleming isn't only used to pressure the edge. With an improved defensive line, Fleming will get even more chances in coverage. He will use his speed to improve upon his four broken up passes last season, and he will get a few more opportunities to pick the ball off as well (he registered one interception in his career which came about last season).
In an article written August 11, by Megan Bastedoe of WNDU-TV, an NBC affiliate in South Bend, Brian Kelly was quoted as saying, "'He'll be one of the more explosive players in the country."' Coach Kelly went on to say that Fleming was robotic last year, which will change with Fleming being more experienced in Diaco's system. If Fleming could pull off that kind of season while playing so tense, just imagine how well he will play this season.
Harrison Smith (Sr.)
Jonathan Daniel/Getty Images
Harrison Smith, like Gary Gray, is another player whose future on the team was in question as recently as last season. Smith did well in a hybrid linebacker-defensive back role under Charlie Weis, but when he switched over solely to coverage, he severely struggled. At both nickelback and at safety, Smith looked lost.
At the start of last season, Coach Kelly commented that Smith wouldn't play for him if he couldn't play safety, but Smith decisively rose to the challenge. He led the team in interceptions with seven, including three picks versus Miami in the Hyundai Sun Bowl.
Smith may be the most athletic player on the team. His combination of speed and power makes him a force to be reckoned with. Kelly even mentioned him as a prospect for return duties. Now the only team captain because of Floyd's off the field issues, Smith will use his year of experience under Bob Diaco as a spring board for success this season.
Manti Te'o (Jr.)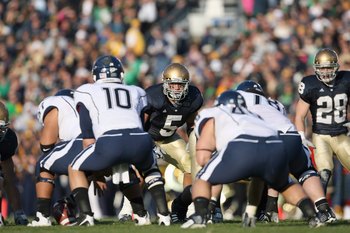 Jonathan Daniel/Getty Images
What Blue and Gold fan wasn't giddy at the thought of Manti Te'o playing for Notre Dame? And so far, the Hawaii product has yet to disappoint.
The high school standout was unfamiliar with an intricate John Tenuta defensive system in his first year, but his skills were too vast to keep him off the field. Te'o started 10 of Notre Dame's 12 games in his freshman campaign and made an appearance in the other two.
His power can be described best through annihilating hits on the opposition, some of which were so loud that they easily echoed throughout stadiums. In just his second year, Te'o inherited the position of defensive quarterback. His physical abilities are matched by his superior knowledge of the game.
Under Bob Diaco, Te'o ranked 18th in the FBS in total tackles with 133 and 12th in tackles per game with 10.23, leading his team in both categories. While this list is filled with talented prospects, no one on Notre Dame, or possibly in all of college football, has a ceiling quite as high as Te'o.
Keep Reading

Notre Dame Football: Like this team?