Oregon Ducks Football: Best Defensive Linemen of All-Time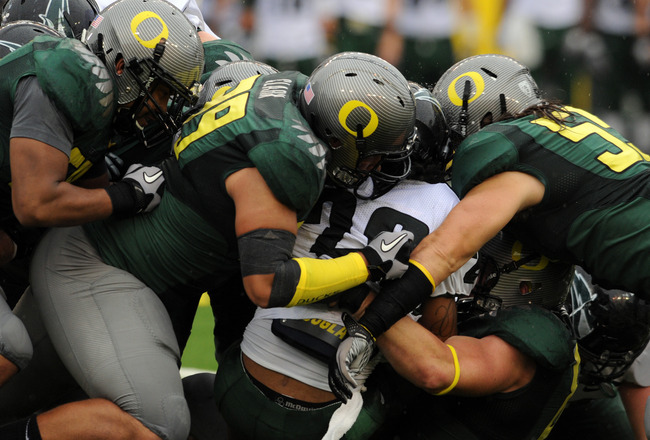 Steve Dykes/Getty Images
We are now to the fifth part of a series chronicling every position in Oregon Ducks football.
Looking at the great defensive linemen, Oregon has featured many NFL players and college stars alike.
(Note: Rankings are based off of statistical performance with the Ducks, as well as leadership ability and performance in professional football. Feel free to comment below if you agree or disagree with any of these choice.)
For quarterbacks: click here
For running backs: click here
For receivers: click here
For offensive linemen: click here
For linebackers: click here
For defensive backs: click here
For special teams: click here
Honorable Mentions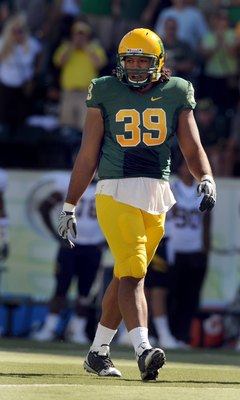 Steve Dykes/Getty Images
Will Tukuafu: Tukuafu didn't have the size to be a solid player in the NFL, but he made his presence felt while in college.
Romeo Brandison: Brandison is in the top-10 in career tackles for loss, and was an absolute beast during his tenure in Eugene.
Ra'Shon Harris: Harris was very highly touted coming out of high school (top-50 according to many scouting sites) and did not disappoint with the Ducks. Harris is currently a member of the Pittsburgh Steelers.
10. Matt Brock
In an illustrious career with the Ducks, Brock earned his way into the record books in quarterback sacks and tackles for loss.
Brock played extensive minutes for all four years he was with the Ducks and went on to play eight seasons in the NFL.
(Apologies for the poor picture quality)
9. Mike Walter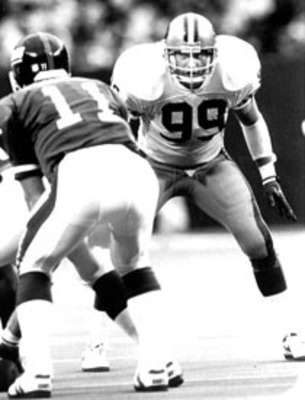 He would be higher on this list had he played a full four seasons with the Ducks.
If you look up his statistics, you'll be impressed.
8. Kenny Rowe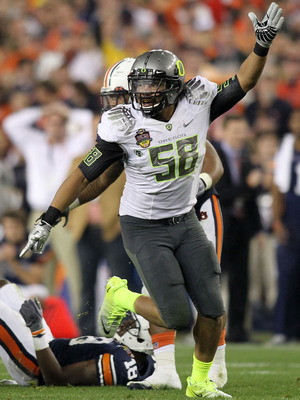 Jonathan Ferrey/Getty Images
Rowe is without a doubt a huge fan favorite.
Numerous pages on Facebook (Death Rowe) have been made in his likeness, and he finished his Oregon career in emphatic fashion.
Rowe was not drafted, but he will likely be on an NFL roster for the beginning of the season.
7. Brandon Bair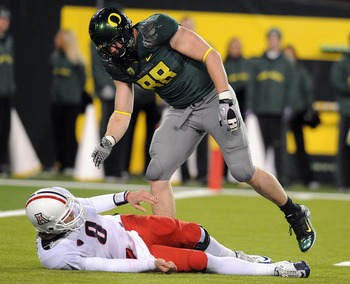 Steve Dykes/Getty Images
It's fitting that Bair is next on this list.
After coming to Oregon with intentions of playing TE, Bair was switched over to the defensive side of the ball.
He put on more than 50 lbs. and became a terror for offensive lineman.
At a towering 6'7", Bair used his height as a weapon.
6. Igor Olshanksy
Stephen Dunn/Getty Images
Igor is another Duck who would be much higher on this list had he chose not to forgo his senior season.
After beginning his career in San Diego, Olshansky is now a starter for the Dallas Cowboys.
Also, I've yet to find a Ducks player with a better name.
5. Devan Long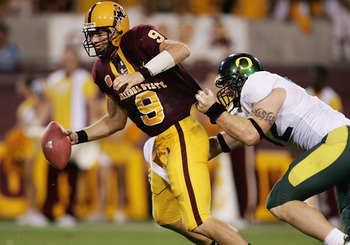 Jonathan Ferrey/Getty Images
If you look at the numbers alone, it would be easy to argue Long as the best Ducks lineman of all time.
He is at or near the top of every statistic for his position, and he made it look good.
As a Duck, he earned All-Pac-10 honors three times.
4. Saul Patu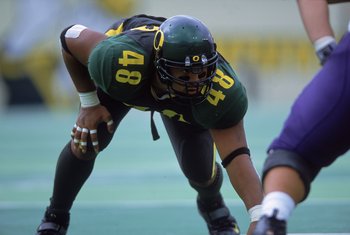 Otto Greule Jr/Getty Images
Saul Patu, for those of you who don't remember, was an absolute sack machine.
Patu is second all-time in sacks as a Duck, and first for defensive linemen.
Patu was never able to hold a career in the NFL, playing the majority of his time in arena football.
3. Vince Goldsmith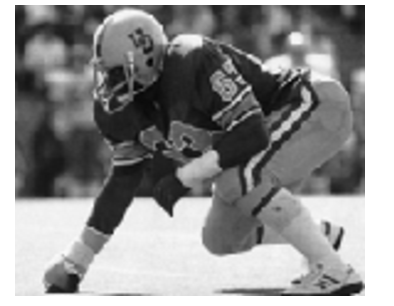 At 5'11" and 230 lbs., Goldsmith did not exactly have the build of today's defensive tackles.
With the Ducks, Goldsmith was twice voted Pac-8 all-conference.
In 1995, the Register-Guard included him to their Oregon All-Team.
2. Nick Reed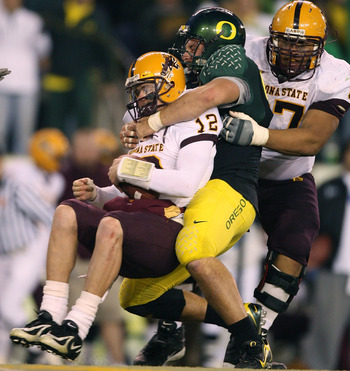 Otto Greule Jr/Getty Images
While not as small as Goldsmith, Reed also dealt with playing small on the line.
His quick feet and ability to get around a blocker made Reed a nightmare for offensive linemen to defend.
After four seasons with the Ducks, the Seattle Seahawks drafted Reed.
1. Haloti Ngata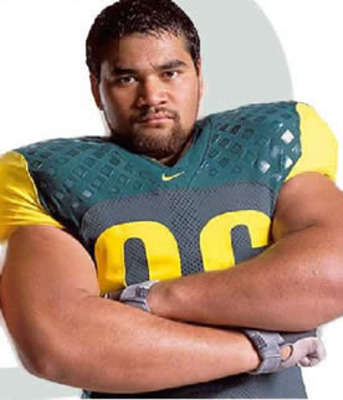 Ngata is, without a doubt, the greatest defensive lineman in Oregon Ducks Football history.
I might even go as far as to say he is the best defensive player in Oregon history.
A unanimous 5-star high school, it was a bit surprising when Ngata decided to sign with Oregon.
In three seasons, Ngata found his name throughout the record books, and his legacy is still felt.
Keep Reading

Oregon Ducks Football: Like this team?