Notre Dame Football: Is the Irish's Season Opener Skip Holtz's First Interview?
August 9, 2011
Streeter Lecka/Getty Images
In an article written nearly nine months ago, I predicted Brian Kelly would not make it past his current five-year contract at ND.  At the time, Urban Meyer was coaching his last season at the University of Florida and Skip Holtz was beginning his coaching stint at University of South Florida.  Since then, Meyer has stepped down and is the top contender to be head coach at Ohio State during the 2012 season. 
That leaves Skip Holtz. 
After an 8-5 season, beating teams like Utah, USC and Miami, Irish fans have much hope. With all the year end success, the question remains: Do I still believe Kelly will coach past his contract?  The answer is no.
Notre Dame history shows two recent, previous head coaches—Tyrone Willingham and Charlie Weis—both having better first-year records than Kelly.  Weis had an even better second year.  Notre Dame fans have hope based on the strong ending of the season, but what if Kelly goes 8-5 again?  Will the Notre Dame faithful have the same hope?  What if Kelly has a worse season? 
I predicted last summer that Rich Rodriguez would be fired (paragraph 10), and there are similar characteristics between Kelly and Rich Rod.  Both moved from successful Big East schools to top-tier programs and both did not adjust, superimposing their old system on their new school.  Rich Rod is gone and the Wolverines have gone back to the Michigan way. 
Though I hope Kelly has a different fate, I believe he will follow a similar path as Rich Rod.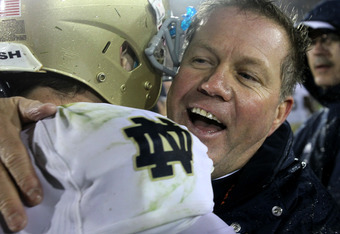 Stephen Dunn/Getty Images
Notre Dame's season opener against Skip Holtz's South Florida Bulls could be Holtz's first interview for the Notre Dame head coaching position. 
Why Holtz?
1. Bloodlines: Holtz's father was the last head coach at Notre Dame to win the national championship.  From observing his coaching career so far, he seems to be a chip off the old block.  If Holtz gets the head coaching job, expect father to have more influence, too.
2. Notre Dame family: Holtz was a player and coach at Notre Dame.  His father, Lou Holtz, did not want him to be offensive coordinator, but instead of trading places with Mark Richt—who was the offensive coordinator at Florida State—Lou hired his son. Skip knows the passion and tradition of Irish football inside and out as a former player and coach.  He will also bring back the "Notre Dame Way," much like Brady Hoke has brought back the Michigan way to UM.
3. Head coaching experience: Having already been head coach at two schools and demonstrating success, Holtz already has shown that he can lead a Division I program.
It is a moot point if the Irish blast the Bulls to the sky and romps them in the first game, but if Holtz's team wins or hangs with the Irish until the end, it could be a good first interview if Kelly does not have success at Notre Dame.