USC Football: Ohio State NCAA Case Is a Travesty Compared to USC
July 9, 2011
Jamie Sabau/Getty Images
Today Ohio State responded to the April 25 NCAA Notice of Allegations and decided that vacating all 2010 wins was sufficient to prevent further sanctions, and this is a joke. 
Here are Ohio State NCAA documents and related materials.
The Buckeyes' case is built around no one knew except head coach Jim Tressel, so the university is not to blame.  But USC was hammered because assistant coach Todd McNair should have known based on a two-minute phone call at 1:30 a.m. after Reggie Bush stopped playing football at USC.
The NCAA said that the USC compliance department was inadequate because it did not follow-up on the incomplete car registration form of Reggie Bush. This was a part of the loss of institutional control finding against the Trojans in June 2010. Former NCAA enforcement official and current head of the OSU compliance department, Doug Archie, admitted they "don't follow up car-registration forms that are often incomplete or inaccurate, and only spot-check car values."
The USC NCAA report stated that heightened security is required for high profile athletes.  Archie also said, "there is no extra scrutiny of star athletes who may be targets of rogue boosters or fans . . . . We treat all of our student athletes the same."
Ohio State admits the violations took place in 2009 also but should not have to vacate any games because no one at OSU knew about them.  Even the NCAA admits no one at USC knew about Bush in 2004, yet it vacated games.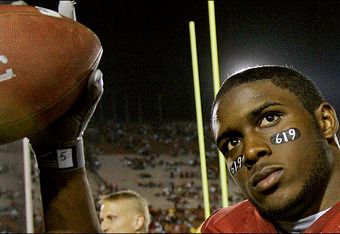 Ohio State claims the person giving extra benefits is not a "representative of its athletic interests" as a mitigating factor.  Of course, Lloyd Lake and Michael Michaels were not associated with USC in any way.
The Buckeyes admit they are a "repeat violator," but don't believe it applies to them. 
The NCAA has already decided there is no "failure to monitor" or "loss of institutional control" for Ohio State even though there are major violations by at least six athletes over a period of several years, and a head coach who lied to the NCAA and covered up ineligible players for an entire season. 
USC received the dreaded LOIC for two athletes.
Several media sources have identified potential additional Ohio State violations that were not included in the NOA.  These include:
It is not clear if the NCAA is investigating any of the above allegations since it disappeared from Columbus before these reports were made.
It took the NCAA four years to investigate the Bush case, and Ohio State's multiple players and growing list of violations can be done in a few months.
Of course, the NCAA has been letting Ohio State get away with violations for years.
The fact the NCAA continues to rush towards its August 12 hearing, combined with the absence of any failure to monitor or loss of institutional control allegations, shows it is going to let Ohio State off with lesser sanctions.
The NCAA already looks like a fool for the way that it was played by Ohio State's AD Gene Smith and Big Ten commissioner Delaney to allow five ineligible top football players to participate in the Sugar Bowl using an incorrect interpretation of the NCAA championship game exception.
Apparently the NCAA is prepared to look even more foolish when it decides the Ohio State case, and the school recognizes this with its light self-imposed sanctions.
Don't be surprised when the NCAA gives out a few scholarship reductions and maybe a one-year bowl ban to go along with the 2010 vacated wins.  Of course, OSU AD Smith says he will fight anything in addition to the vacated wins and the NCAA has to "justify it." 
It appears Smith doesn't believe the new April 2011 no precedent direction applies to Ohio State.  You can't blame him.  Nothing else in the USC case seems to apply to the Buckeyes.
P.S. Pete Fiutak of CollegeFootballNews.com makes a very good case for why Ohio State has to take ownership of its football problems.