Ohio State Football: Buckeye Compliance Fallacy and NCAA Enforcement Role
June 6, 2011
On March 8 The Ohio State University (OSU) President Gordon Gee said of the school's compliance department, "I want to thank our folks in athletics who have done a tremendous job in dealing with some serious issues and have done it precisely the way I would expect."
At this same press conference, when asked if he was considering firing football coach Jim Tressel, Gee said, "No. Are you kidding?  Let me be very clear. I'm just hopeful the coach doesn't dismiss me."
A lot has happened since then, including the resignation of Tressel.  But, as recently as June 1, Gee said, "We legitimately have the best compliance system in the country."
Gee's statements about OSU's compliance department are a fallacy, and the NCAA has relied on this mistaken trust to allow the school to get away with violations for many years. 
The above were highlighted in a June 3 article at SportsByBrooks.com detailing that the OSU President previously knew of faulty compliance with associated documents to prove it.
OSU wanted some of its best athletes to play in the Sugar Bowl, although they were ineligible for selling memorabilia. Athletic Director Gene Smith then told the media at the announcement of the players' suspensions on December 23 that the compliance department could have done more:
We were not explicit with these young men that you cannot resell items that we give you. They stated in their interviews with us and with the NCAA that they felt those items were theirs, that they owned them, that they could sell them to help their families. … We were not explicit, and that's our responsibility to be explicit.
This is false, according to former OSU Buckeye and current San Francisco 49er Thaddeus Gibson. Gibson said that he and his teammates received specific instruction and discussion regarding the NCAA rule in question, and Smith and the coaches talked about it a lot. 
Of course, the five OSU top athletes got to play in the Sugar Bowl and won the game, although it may be vacated later by the NCAA.  The decision to allow them to play may have been helped by the NCAA connections of Smith, who is also the head of the NCAA basketball selection committee.
A November 2010 audit of the OSU Compliance Department found that it was doing an inadequate job of monitoring the use of cars, uniforms and equipment by athletes as reported by Jill Riepenhoff and Mike Wagner of The Columbia Dispatch. 
The Dispatch reported: "Records obtained in May show that football players continue to submit incomplete forms, lacking sales prices, dates of purchases, co-signers and other required information."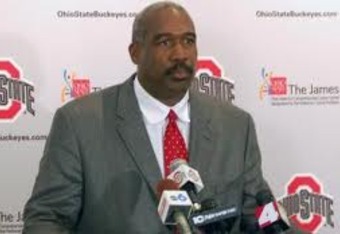 Former NCAA enforcement official and current head of the OSU Compliance Department, Doug Archie, defended his department in this same article but admitted they "don't follow up car-registration forms that are often incomplete or inaccurate, and only spot-check car values."
The NCAA said that the University of Southern California (USC) Compliance Department was inadequate because it did not follow-up on the incomplete car registration form of Reggie Bush. This was a part of the loss of institutional control finding against the Trojans in June 2010.
Page 18 of the USC NCAA report states:
The committee notes that the line for the license plate number was left blank as was the line to specify where the automobile was purchased. There was no effort on the part of the institution to follow up with student-athlete 1 to obtain this information, which forms a component of Finding B-7, lack of institutional control.
On May 27, Matt Hayes of THE SPORTING NEWS reported deals were constantly made between Archie and car salesman Aaron Kniffin:
"Doug Archie has called me well over 50 times," Kniffin said. "This year alone, I've talked to him 25-30 times. You can print out your Verizon (phone) bills; his numbers are right there calling me."

When asked why Archie, who did not immediately respond to voice mail messages, said he only spoke to Kniffin once and denied that the deals were approved by OSU compliance, Kniffin said, "That's something you'll have to ask him. I've got records of it."
Archie also said, in a statement sure to upset Paul Dee, that "there is no extra scrutiny of star athletes who may be targets of rogue boosters or fans . . . . We treat all of our student athletes the same."
Page 3 of the NCAA USC report stated:
Universities may not hide their heads in the sand and purport to treat all programs and student-athletes similarly when it comes to the level of scrutiny required. The more potential there is for big payoffs to student-athletes once they turn professional, then the more potential for illicit agent and third party involvement in the provision of significant cash and other benefits. In turn, heightened scrutiny is required.
In her annual evaluation of Archie, senior associate athletic director Miechelle Willis wrote of his 2009 job performance that Archie knows "what it takes to keep our program out of jail."

A high standard, indeed.
Ohio State has a history of problems during Tressel's coaching reign that were mostly overlooked by the NCAA because it relied on the school's compliance department.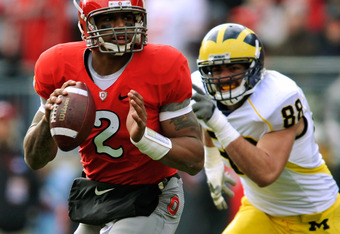 Jamie Sabau/Getty Images
Sports Illustrated detailed the eight-year pattern of violations under Tressel in its May 30 article, a day after Tressel resigned. OSU was made aware of details of the story the week before.
Former athletes have confirmed an environment where rules are broken, and some players feel that they don't apply to them.  The Ohio State campus publication The Lantern reported on May 25 that Ray Small tells all: Ex-Buckeye says he sold memorabilia, some players don't think about the rules.
The Lantern also reported:
Former OSU basketball player Mark Titus wrote Tuesday on his blog, Club Trillion, that the perks within the football program are far from a secret. "Any OSU student in the past five years could tell you that a lot of the football players drive nice cars," Titus wrote. "You'd have to be blind to not notice it."

"Everywhere you go, while you're in the process of playing at Ohio State," Small said, "you're going to get a deal every which way."
Kirk Herbstreit, Chris Spielman, Robert Smith and others have taken heat for similar comments.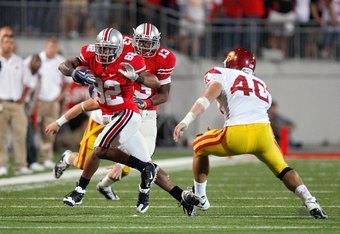 Gregory Shamus/Getty Images
Ohio State's Compliance Department has six full-time positions to monitor its 1,100 athletes.  It is adding two new positions that were authorized last December to keep up with other major athletic departments.
In comparison, USC currently has a Vice President of Athletic Compliance and nine staffers for only 260 scholarship athletes and far fewer total athletes than OSU. 
But, the Trojans had only two compliance officers during the Reggie Bush years, which is consistent with some other Pac-12 schools.  Stanford University has four compliance staffers, but it has 36 sports compared to only 19 for USC.
The NCAA took four years to investigate USC after a Yahoo report and found unrelated violations involving a total of three athletes in three different sports. 
The NCAA concluded that the cause was the small compliance staff ignoring the fact that the other 99 percent of the student-athletes complied with the complex NCAA rules.  USC was commended in the NCAA report for the very good NCAA rule education program for student-athletes, and cooperating with the NCAA.
The NCAA has no guidelines or standards for the number of compliance staff at a college.  Citing the number of compliance officers at USC as a reason for loss of institutional control is a cop out and indicative of how little proof they had of any actual lack of control on USC's part.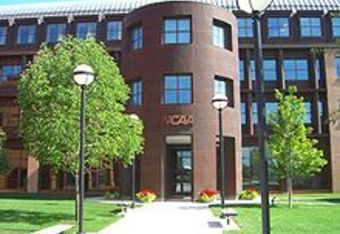 The NCAA is not interested in reality. They want to see compliance as theater. Ohio State has always put on a show and USC didn't.
In recent years, there have been over 375 secondary violations reported by OSU.  The NCAA has allowed OSU to classify its own violations without questioning them.  The NCAA has not given OSU penalties for these violations even though the number is staggering and far exceeds any other school.
Compare this to Lane Kiffin at the University of Tennessee who had a handful of secondary violations in his one year there.  He alone has been accused of failure to monitor the football program by the NCAA with a hearing next week to determine if he receives penalties that may preclude him from recruiting or suspension from some games.
Ohio State seems to operate under the principle of violate, then report … violate, then report … violate, then report … and the NCAA will rubber stamp it if they like your compliance department.
It has worked well for OSU.  The Buckeyes put on a good show for the NCAA and had a big enough compliance staff so that the NCAA's 38 employee enforcement staff accepted whatever they did until now.
If USC and Boise State have a lack of institutional control, then how can the NCAA not find the same for OSU?
Certainly anyone with common sense looking at the facts would make that finding. But, this is the NCAA and they have been a party to OSU's violations by ignoring them for so many years.
So, Buckeye fans, there is hope.  The NCAA passed a rule on April 28, just before the USC and Coach Todd McNair appeals were denied, to allow past precedent to be ignored.
The fact that the NCAA COI is rushing to a hearing in August instead of completing a full investigation of all the potential violations (the NCAA took four years in the USC case to combine as many violations as possible) is another good sign for the Buckeyes.
While your growing number of violations may have a lot more athletes and a head coach who covered up ineligible players for an entire season and lied to the NCAA, you will likely not receive anything close to the football sanctions that USC received for its one athlete who received money from someone not connected to the university.
But, do not fool yourselves that your compliance department and administration didn't play a role along with the NCAA's poor oversight.
P.S.  Since this article was first published Pryor quit the team and there have been stories of his additional alleged violations.  However, even more troubling is the fact that OSU's head of compliance, Doug Archie, has been receiving a free car in exchange for OSU season tickets.  He is not the only one at OSU to receive one, but for a person in his job to put himself in an apparent conflict of interest position is hard to believe.  While this is not a NCAA violation, that is part of the problem because it should be.  At a very minimum this reflects very poor judgment on his part, and that is not appropriate for someone in his role.