South Carolina Football 2011 Season Preview: Weeks 1 and 2
July 6, 2011
Mike Zarrilli/Getty Images
Vs. East Carolina—Saturday, Sept. 3 (7:00pm ET)
Throughout the 1980s and 1990s, they were regular foes. 
But the last time South Carolina faced the East Carolina Pirates, Britney Spears was "wholesome," Y2K wasn't a joke and 9/11 was still just an emergency number.
The 1999 season was also veteran coach Lou Holtz's first season at the helm.  South Carolina lost to the Pirates by a mere 18 points, which actually made this one of the more even-handed losses in what would become the worst season in the history of Gamecock football (0-11, 0-8 SEC).
Thankfully, much has changed since then.
South Carolina looks to be heavily favored over an inconsistent East Carolina team that struggled last year against non-Conference USA opponents.  
The Prediction
This will be South Carolina's first Saturday opener since 2007 and their first game ever at Bank of America stadium.  (Technically, however, East Carolina will be the home team.)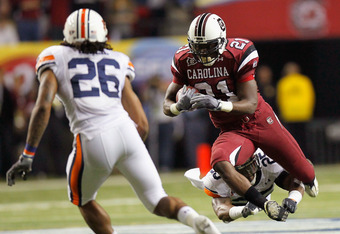 Kevin C. Cox/Getty Images
So while the atmosphere might not feel quite right to those of us who have become spoiled by the Thursday night prime-time showdowns on ESPN, the win we take back down I-77 should more than make up for it. 
East Carolina scores a lot of points (16th overall in FBS), but they also give up more than almost any other team in college football (119th overall).  Returning QB Dominique Davis threw for almost 4,000 yards last year.  Too bad for the Pirates their defense is shoddier than a French car.    
With deep talent on both sides of the ball and a long season ahead, look for conservative shot-calling from Steve Spurrier and a smorgasbord of personnel.  Star RB Marcus Lattimore will get a handful of carries, but Kenny Miles, Alshon Jeffery and Jason Barnes should have breakout games, too. 
In the end, East Carolina won't be able to do much but sit back and marvel at an explosive, healthy Gamecock offensive attack.      
South Carolina 34, East Carolina 10.
at Georgia—Saturday, Sept. 10 (4:30pm ET)
Mike Zarrilli/Getty Images
We don't like to admit it, but deep down every Carolina fan knows that as goes the Georgia game, so goes the rest of the year. 
At a point in the season when Clemson is still tip-toeing through the tulips at noontime with non-conference cupcakes, South Carolina is taking on a perennial preseason SEC East favorite in a game that has been nationally televised since the Clinton administration.     
Mark Richt has been on the hot seat at Georgia for what seems like forever, and the conventional wisdom this year holds that the Georgia Bulldogs are ready to rise from the ashes of last season.
Aaron Murray might just be one of the best QBs Georgia fans have ever seen, but with the loss of highly-touted offensive linemen Brent Benedict and A. J. Harmon, most observers agree that the Bulldogs OL is severely damaged.
The Bulldogs will be coming off an emotional season opener against Boise State in Atlanta, and they could well face South Carolina with one game already in the hole.  For the first time since the early 1990s, Georgia is in serious danger of becoming a second-tier SEC program—and they know it.  They also know that South Carolina is somewhat responsible for their fall from SEC East dominance. 
This is a grudge match, pure and simple.  Add to that a healthy dose of border-state hatred and this game figures to be one of the best we've seen in a long time.
Whenever Georgia fans start complaining about how tough it is to play in the SEC, you know all is not well in the city Michael Stipe built.      
The Prediction
This, simply, is a must-win for South Carolina.  The game will be close, the play-calling will be intense, and the Georgia Bulldogs will be silenced.
At least there won't be any obnoxious barking in Athens after Week 2.
South Carolina 21, Georgia 17