College Football Bowl Projections: 7 Eligible Teams by Virtue of a Weak Schedule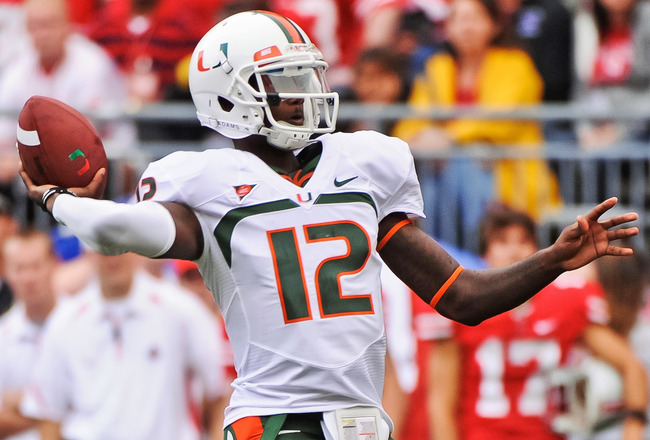 Jamie Sabau/Getty Images
Everybody gets a ribbon.
That's one way to describe the current bowl system in the FBS. Out of the 120 teams in the FBS, there are 35 postseason bowl games. That means 70 teams—or more than 58 percent of the entire FBS—will play in a bowl game at season's end.
What kind of reward system is that? Rewarding mediocrity is the name of the game, it seems.
Because so many teams make a bowl game, we're forced to accept some pretty weak teams in the "postseason" in college football. And as the money payouts for these bowl games reach record highs, teams are willing to do almost anything these days to reach bowl eligibility—including padding their schedule with powder-puff opponents.
Here is a list of teams that will find themselves playing in a thirteenth game this season simply because they have chosen to take the lowest road possible and the path of least resistance.
Miami Hurricanes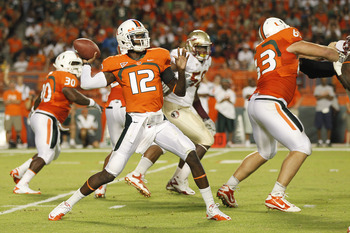 Joel Auerbach/Getty Images
Wait a sec. Don't the Hurricanes have Ohio State on their schedule this year? Isn't that a "tough" game?
No question there.
But other than Ohio State, Miami's non-conference schedule includes Kansas State, South Florida, and FCS Bethune-Cookman—all games which the Hurricanes should win. Before we even look at the ACC part of the schedule, the Hurricanes have at least three wins.
The way the rest of Miami's schedule lines up, finding another three wins shouldn't pose too much of an issue—as long as the Hurricanes don't implode in 2011.
Games against Virginia and Duke should add to the win total, and the fact that Miami has Boston College late in the season at home (versus traveling to a possibly cold Boston in late November) could very easily give the Hurricanes a fourth-straight bowl trip at the end of the 2011 season.
Texas Tech Red Raiders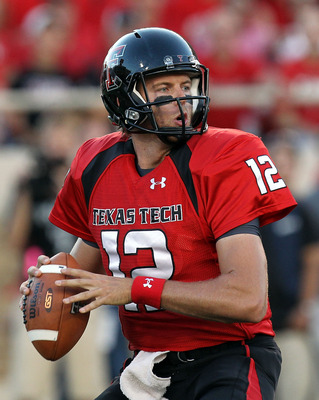 Ronald Martinez/Getty Images
A new day is dawning in the Big 12, and for some that could be a very good thing.
One of the teams that stands to benefit from the changes—most notably the fact that every Big 12 team now plays all nine Big 12 opponents—is Texas Tech.
The Red Raiders have a pretty weak three-game non-conference schedule, which includes Nevada, New Mexico, and FCS Texas State.
If you combine those three games with the fact that Tech is also going to face such Big 12 teams as Iowa State and Baylor, their bowl eligibility picture begins to come into focus. Even if Texas Tech is nowhere near being mentioned in the Big 12 race this year (as expected), the should still coast into a 12th-straight bowl game on the weakness of their schedule.
Connecticut Huskies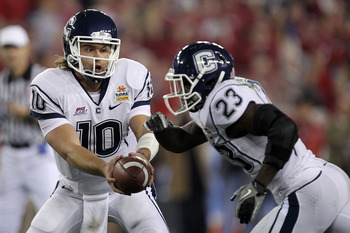 Ronald Martinez/Getty Images
After posting their third-consecutive 8-4 season in 2010, and earning the school's first-ever BCS bowl trip, one might expect a team like Connecticut to take a step back—especially after losing their head coach to a new gig at Maryland.
But UConn will stick to the tried and true method of Connecticut scheduling in 2011, and play against some pretty awful teams in their non-conference schedule.
With opponents like Iowa State, Buffalo, Western Michigan, Vanderbilt, and FCS Fordham, it's a little easier to understand why Connecticut is 33-19 over the past four seasons: the non-conference schedules are usually good for at least four wins per year.
Don't expect to see Connecticut in another BCS bowl this season. But the Huskies playing in a thirteenth game is about as close to a sure thing as you can get in college football.
Northwestern Wildcats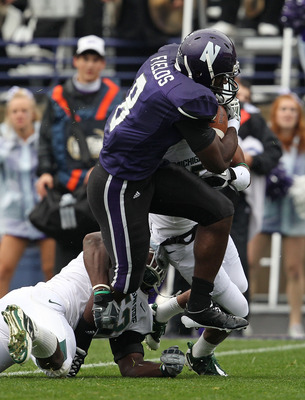 Jonathan Daniel/Getty Images
Pat Fitzgerald is working hard to change the attitude and expectations surrounding Northwestern football.
After guiding the Wildcats to three-straight bowl games for the first time in the program's history, Fitzgerald is clearly on a path to continue that streak. The Wildcats' weak 2011 schedule with certainly be a big boost towards that goal.
Northwestern begins the 2011 season with a trip to Boston College. After that, FCS Eastern Illinois and Army both gave games against Northwestern before the Wildcats begin their Big Ten schedule.
Northwestern catches a bit of a break in their conference slate, as they have been lumped in with Indiana, Illinois, and Minnesota in the Legends Division. Additionally, before the season is out, Northwestern will also host Rice in a non-conference game on November 12.
If you're a betting man, put your money on the Wildcats extending their school-record bowl streak to four straight years.
Navy Midshipmen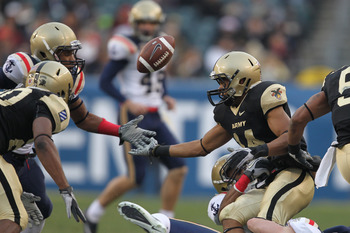 Hunter Martin/Getty Images
While we're loathe to ever criticize Navy (or Army, or Air Force) simply based on their commitment to our nation, it's hard to overlook Navy's schedule when it comes to bowl eligibility.
If you're an independent in football, and your name doesn't start with Notre or end with Dame, a weak schedule is the name of the game. This season won't be much different for the Midshipmen under the leadership of Coach Ken Niumatalolo.
If the 12 games on Navy's 2011 schedule, only two come against programs from BCS Automatic Qualifying conferences. If you throw Notre Dame into the mix, that makes three. The rest of Navy's schedule in comprised of games against teams like FCS Delaware, Western Kentucky, Troy, and San Jose State.
With a schedule like that each year, Navy's consistent eight-to-ten wins per season starts to become less and less of an amazing feat, and more and more a given.
If Navy doesn't play in a bowl game after taking on this embarrassingly weak schedule, they don't deserve to be playing on the same field as teams like Notre Dame or South Carolina.
Texas Christian Horned Frogs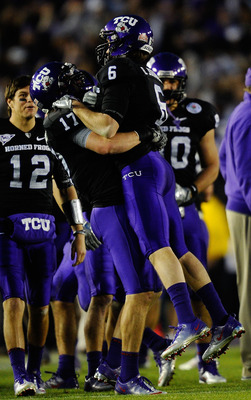 Kevork Djansezian/Getty Images
It seems a little odd to talk about last season's Rose Bowl champions as a team that will need to ride a weak schedule into a bowl game in 2011, but that's exactly the position in which TCU finds itself.
Last year was truly magical for TCU fans, and a 13-0 season capped with a thrilling victory over Wisconsin in the Rose Bowl was the near-perfect ending.
But even Horned Frog season ticket holders will be reaching for their programs this year as the TCU lineup will almost completely different from a year ago. Andy Dalton isn't the only loss the Horned Frogs will need to contend with, and only a small handful of 2010 starters return for this season.
TCU also has to contend with the addition of Boise State to their conference schedule in 2011, and TCU will be on the road at Boise—where the Broncos haven't lost a conference game since the 1990's.
The good news is that the rest of TCU's schedule shapes up nicely for a bowl berth come December.
Highlighting (or rather lowlighting) the 2011 schedule are teams like Baylor, Louisiana-Monroe, FCS Portland State, and perennial MWC pushovers UNLV, Wyoming, and Colorado State.
TCU also will begin the season ranked high enough that eight or more wins should be enough to garner some pretty decent bowl invitations.
Mississippi Rebels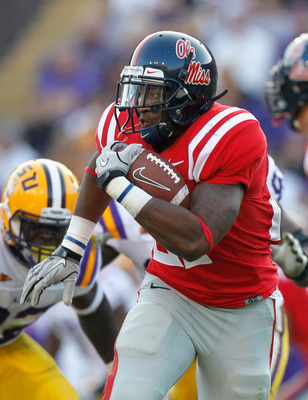 Kevin C. Cox/Getty Images
To be clear, Mississippi isn't the only SEC program with a weak schedule in 2011, and they probably don't even qualify as the weakest schedule in the SEC. After all, weak scheduling is a way of life in the SEC, and finding more than a single tough non-conference game each season is probably enough to get your expelled from the conference.
But Ole Miss is probably the one SEC team that will need to rely on the weak schedule to earn a bowl berth in 2011.
After two-straight Cotton Bowl appearances in 2008 and 2009, the Rebels stepped off the cliff in 2010, winning just four games. Were it not for a few weak non-conference opponents last season, the win total for Ole Miss would probably have been even lower, as three of the four wins in 2010 came against Tulane, Fresno State, and Louisiana-Lafayette.
The 2011 schedule for the Rebels looks to be a similar selection of weakness, with FCS Southern Illinois, Fresno State, and Louisiana Tech on the docket. Hopefully, the Rebels will be able to avoid a loss to an FCS program (Mississippi was upset by FCS Jacksonville State in week one last season, 49-48), which should go a long way towards a bowl berth in 2011. Additionally, Mississippi doesn't have to contend with SEC powers like South Carolina or Florida this season, giving the Rebels a little more wiggle room in the loss column.
Keep Reading