Lane Kiffin and USC Subject to Witch Hunt by Tennessee, SEC and NCAA
June 9, 2011
Joe Murphy/Getty Images
This weekend, the NCAA Committee of Infractions (COI) will hear the Tennessee Volunteers and Boise State Broncos cases. 
While there are a lot of issues with both of these cases, the goal of Tennessee for their football program is to maximize penalties against former head coach Lane Kiffin and therefore USC, where he is currently the football head coach. The NCAA appears perfectly willing to accommodate.
The loss of institutional control allegation against Boise State is ridiculous, but no more than the lack of that finding on the SEC's Tennessee for violations in multiple sports that were overlooked by the athletic department or the Big 10 Ohio State Buckeyes growing list.
Tennessee Athletic Director Mike Hamilton resigned this week.  At least he recognized that there was a loss of control by the school and he was responsible, even if the NCAA does not.
During the year that current USC football head coach Lane Kiffin was the head coach at Tennessee, a handful of secondary recruiting violations were committed.  Here is a breakdown of these six secondary violations, including related analysis by ConquestChronicles.com.
During that time, Kiffin was never disciplined by the university, even when they became aware of some of these violations and later accused him of failing to follow direction, which would be insubordination if true.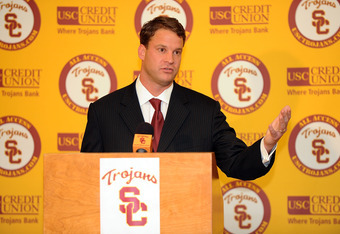 Harry How/Getty Images
However, Kiffin abruptly left Tennessee for his dream job at USC, and the Tennessee administration and their fans have turned on him with a vengeance ever since then. 
He informed the Tennessee AD Hamilton when he was hired that he would leave the school only if offered the USC head coaching job. 
But Tennessee fans take their football pretty seriously and were greatly offended by Kiffin's departure regardless of the reason.  How dare he prefer USC over Tennessee?
It is also no secret that SEC commissioner Mike Slive hates Kiffin, and unlike the Pac-10 commissioner, who did nothing to help USC, he will be present at the NCAA hearing this weekend to defend Tennessee and most likely help convict him.
The Tennessee administration and fans were surprised and relieved to receive the NCAA February, 21, 2011 notice of allegations that did not contain any university failure to monitor or loss of institutional control over the football program.
But, it did accuse Kiffin of "... failure to promote an atmosphere of compliance within the football program and failure to monitor the activities regarding compliance of several assistant coaches have also been made against a former head football coach, and permitting a football recruiting intern to make impermissible contact with high school staff during a recruiting visit."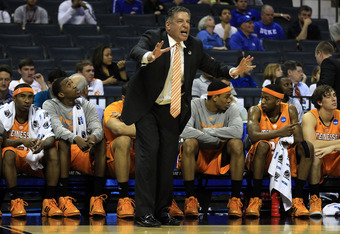 Streeter Lecka/Getty Images
The "failure to monitor" allegation is usually considered a major violation by the NCAA.  Therefore, it appears that Tennessee has gamed the NCAA and gotten their revenge on Kiffin, because a major violation will likely result in sanctions against him. 
Guess they took their cue from Ohio State who suckered the NCAA into misinterpreting their own rule and letting five ineligible players participate in the Sugar Bowl last January.  Ohio State's AD Gene Smith lied about the education provided by his own compliance department, and head coach Jim Tressel lied to the NCAA about not knowing these players committed violations and were ineligible for the entire season.
Of course, Ohio State also has had over 375 secondary violations in recent years with no sanctions from the NCAA, and the media has discovered numerous major violations during the past six months that shows there is a lack of institutional control.
Not to forget that Tennessee's six football secondary violations likely puts them in the middle of the SEC during that time, which isn't bad for a first time college head coach in his first year in that conference.
Tennessee basketball violations are far more severe than the football ones. Where was the Tennessee administration while they were going on? Do you really expect people to believe that they ignore basketball and pay attention to only football?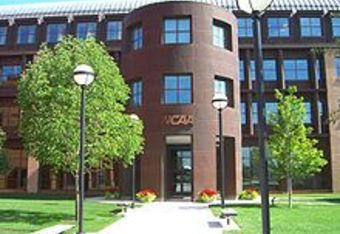 ConquestChronicles.com has detailed the many Kiffin accusations by Tennessee to the NCAA that make no sense in this story.  Here are some highlights.
After reading through the 26 page notice of allegations, a few glaring omissions simply didn't pass the smell test as to why Kiffin is being charged with a failure to monitor, but the UT football program is not.

On October 10, the UT director of football operations, David Blackburn, allegedly informed Kiffin and intern Steve Rubio that Rubio was not allowed to enter the St. Thomas Aquinas property.

It's alleged that on October 12, Kiffin disregarded Blackburn's warning and allowed Rubio to accompany him on to the St. Thomas Aquinas property.

In spite of the alleged blatant insubordination, Kiffin remained employed at UT  for over three more months before leaving for USC.

In those three months, Kiffin never received any disciplinary action from Tennessee for his insubordination and subsequent violations.

Is it reasonable to expect no consequences for employee insubordination that results in a willful and blatant violation?

If Tennessee wants to claim they weren't aware that Rubio accompanied Kiffin to St. Thomas Aquinas, they have a difficult case to make that there was no way they could have or should have known of that violation.

After all, Blackburn was aware they were going to visit St. Thomas Aquinas, so a simple follow-up conversation with the both of them would've clarified their actions. It he wants to claim Kiffin lied, just how does he discover the lie in January, but couldn't discover the lie in October?

The fact that Tennessee never extended disciplinary measures on Kiffin for insubordination and purposeful violations is telling. They either chose to become complicit in the violations by their silence, or were negligent in their monitoring of his activities.

Yet, no failure to monitor issued against the University.

Blackburn covered his behind by forewarning Kiffin, but he's not out of the clear if he never followed up. After all, having a system in place to prevent cheating is only half of the equation, according to the NCAA. The other half is establishing an effective system of monitoring and enforcing the athletic department's policies.
Another aspect that simply doesn't pass the smell test and reeks of a preferential treatment is in the area of the University monitoring phone calls.
Between 2007 and 2009, the NCAA discovered 96 impermissible telephone calls to 12 different recruits and/or their family members in the basketball program.

In January, the football program was alleged to have made 16 impermissible calls over a six-day period of time (This means that Kiffin and his staff. for some unexplained reason picked less than a week to violate the phone call rules but did it right the rest of the time. Eight of the 16 calls were for one minute or less.).

Yet, no failure to monitor charges against the University, who is supposed to be regularly monitoring all phone logs of coaches and recruiters. The fact these calls went undetected within the athletic department for over two years suggests insufficient monitoring by the compliance department was taken place.

Intern Steve Rubio was presumably forewarned by David Blackburn, along with Kiffin, to not set foot on the property of his alma mater, St. Thomas Aquinas.

Not heeding the alleged warning given to him, Rubio apparently disregarded Blackburn's warning and set foot on the property of St. Thomas Aquinas. Hence, the failure to monitor charges against Kiffin.

If Rubio was not forewarned by David Blackburn to not step foot on the property of St. Thomas Aquinas, can Tennessee claim they provided sufficient monitoring when failing to inform an employee of a potential violation involving him?

Today, all of the coaches/employees involved in the allegations pertaining to Tennessee football are no longer at the school, with the exception of one.

Steve Rubio.

Not only is there no mention made of Rubio being disciplined by UT for insubordination in regards to a directive aimed at him by his superior, but he has since been given a promotion by the University of Tennessee when hired by new coach Derek Dooley as the director of player personnel.

We now know that just four days after Bruce Pearl's teary public admission of wrongdoing that he willfully committed another secondary violation.

Given that, coupled with Rubio's promotion, can it be said that the University of Tennessee is serious about ridding its department of flagrant violators, or more concerned with minimizing the repercussions of those same violators previous actions?
USC's AD Pat Haden fully supports Lane Kiffin based on his actions at USC, and he will be a character witness for him at the hearing if allowed.  Even the media that has been critical of him recognizes that Kiffin's behavior is very different at USC.
You have to wonder what was so different at Tennessee and why? There is certainly another side to the story and Kiffin, and his attorney will pursue it in the courts if necessary.
The most likely sanction on Kiffin is a show cause notice that will prevent him from recruiting for a year.  But this is the NCAA, and they have been known to issue unprecedented sanctions and could do much worse to punish him for these few secondary violations including adding game suspensions.
Of course, this doesn't affect Tennessee at all, since he is no longer the head coach there, but it could significantly impact USC.  Don't get me wrong.  They will get some football related sanctions also, but much less by blaming Kiffin.
The NCAA has made an example of USC, with the harshest sanctions next to the SMU death penalty in the history of college football.  These sanctions seemed excessive compared to other schools who received lesser sanctions for more severe violations involving multiple athletes receiving money from the university and/or boosters, unlike USC, with one athlete receiving money from someone not associated with the school in any way.
USC is on probation with scholarship reductions of 10 per year for the next three years.  That means USC can only sign 60 percent (15) of the allowed recruiting class compared to all other Division I schools.
Kiffin and his USC staff are outstanding recruiters with top five classes the past two years despite the USC sanctions.  However, the head coach is critical to the recruiting and also developing and implementing game plans.
 Josephine Potuto (past ties to Oregon) and Missy Conboy (Notre Dame) are on the COI again, and since they were two people who were responsible for the USC findings and sanctions, the decision looks to go against the Trojans.
So, the effect of Tennessee's revenge and the NCAA buying their story will be to penalize the USC football program again. 
But, this is consistent with the fact that the NCAA penalties levied on USC already harm only the players who were mostly in junior high school when violations were committed.
So, not only does the NCAA often get the findings wrong, but they punish the wrong people… again.
P.S. On Aug. 24, the NCAA COI will clear Lane Kiffin of any major violations. So nice to see the NCAA get one right.