Big Ten Breakdown: Purdue Boilermakers, Part 3 (Schedule & Breakdown)
June 1, 2011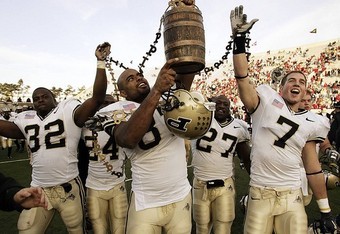 Big Ten Breakdown: Purdue Boilermakers, Part 1 (Overview and Offense)
Big Ten Breakdown: Purdue Boilermakers Part 2 (Defense and Specialists)
Impact Freshmen
 Both Rivals and Scout ranked Purdue's 2011 recruiting class last in the Big Ten. Part of the reason for that was the size of the class, as the Boilers only had 15 commits. However, in terms of average recruit ranking, Indiana was the only school Purdue topped on both websites.
Further complicating this, Purdue brought in three JUCO transfers. While JUCO transfers are not a bad way to build a team, by a coach's third year, one would hope that coach would be able to depend on player's developed within his program.
That said, there are a couple of players within this class who could contribute immediately.
Most notable is Robert Kugler out of Pittsburgh. Rivals lists him as a tight end, while Scout thinks he is a defensive end. At 6'3", 240 lbs., he could work his way into either position. Moreover, those happen to be two of the three positions where the Boilermakers have the most immediate need.
With a listed 40 time of 4.85, he is a bit slow for a tight end. My guess is that he will end up at defensive end where, aside from a couple of inches, he is reminiscent of a recent Purdue tight end/defensive end prospect. 
Another player that could get right into the mix is running back Akeem Hunt. Hunt hails from Covington, Georgia. Though he is a little under playing weight—5'10", 170 lbs.—he is a solid player that chose Purdue over some pretty impressive and established programs.
Intangibles
 I acknowledge that most of the "intangibles" that I consider come directly from some of the more notable theories of Phil Steele. In effect, if you feel that Phil Steele is full of wind, then many of my intangibles are decidedly irrelevant.
That said, two of the more notable Phil Steele theories have to do with injuries and experience on the offensive line.
In the case of injuries, Steele's basic theory is that a team that loses a substantial portion of its roster to injuries in one year, has as many or more wins the next year. If considered logically, it does make sense as injuries in one year lead to advanced development in players that wouldn't otherwise gain playing time.
As already mentioned, in this respect, Purdue was decimated last season. In 2010, the Boilers lost 32 starts or 12.1 percent of their potential starts. The closest any other Big Ten team was to this total was Indiana with 24 starts lost.
Another theory is that returning experience on the offensive line is arguably more valuable than returning experience anywhere else on the team. In my opinion, this is common sense as games are won and lost in the trenches, not on the periphery. Nevertheless, most people love the players that score the touchdowns.
Once again, in this respect, the Boilers return four starters, two of whom are two-year starters.
Something else to consider is that Purdue was two wins away from the magical number six and bowl availability. Then consider that their last two games of the year (and last two losses) came by a total of seven points. The Boilers did have one close win on the year (Northwestern by three), but in terms of close games and the game hanging on the balance of one play, PU came out on the losing end.
Overall, for teams like Ohio State, the intangibles mean the difference between 10 or 12 wins; a conference championship or a national championship. However, for teams like Purdue, it could be the difference between going to a bowl or staying home.
For the last two seasons, Danny Hope has gotten smacked by intangibles. This year, things are poised to turn around.
Schedule
 09/03: Middle Tennessee. Purdue is the favorite.
09/10: At Rice. Purdue is the favorite.
09/17: Southeast Missouri State (FCS). Heavy Favorite.
09/24: Open
10/01: Notre Dame. Heavy underdog.
10/08: Minnesota. Slight favorite.
10/15: At Penn State. Underdog.
10/22: Illinois. Underdog.
10/29: At Michigan. Underdog.
11/05: At Wisconsin. Heavy underdog.
11/12: Ohio State. Heavy underdog.
11/19: Iowa. Underdog.
11/26: At Indiana. Favorite.
Best Case Scenario
 Purdue makes the right choice and starts Rob Henry at quarterback. From the very beginning, the offense looks like it will have to be reckoned with.
The defense is not dominant, but it is solid and a few playmakers—Kawann Short, Dwayne Beckford—step up to fill the role that Ryan Kerrigan held for three seasons.
They destroy their first three opponents as they head into their rivalry game with Notre Dame. Though the Irish win, it is closer than many at first expected.
After beating Minnesota handily, Purdue struggles at Penn State. However, they surprise a lot of people with a win over the Illini. At a respectable 5-2, the Boilers head into their toughest stretch of the season.
After dropping three straight, PU surprises Iowa and win a close one to get themselves to bowl eligibility for the first time since 2007.
They proceed to beat Indiana for the Old Oaken Bucket, and finish at 7-5.
This gets them invited to the Texas Bowl, where they take on a mid-tier team from the Big 12.
Worst Case Scenario
  The Boilers start Robert Marve in the opener. Though they win their first three, Marve is mediocre. In effect, they spend the first three games playing musical chairs with their two quarterbacks.
Things still aren't settled as they head into the Notre Dame contest. Consequently, the Irish shut down the Boilers' erratic and disjointed offense.
Meanwhile, the defense is so-so and lacks any big playmakers.
Purdue loses a close one to Minnesota, after which the wheels fall off the cart. They lose the next six, and their rivalry game against Indiana is also a battle of two teams without a conference win.
PU manages to beat the Hoosiers, but at 4-8, it is evident that Danny Hope is squarely on the hot seat.
My Prediction
 This year, I really like the intangibles that Purdue brings to the table. Danny Hope is due for some good luck and in 2011, I think he will get it.
Though the Boilers will miss Ryan Kerrigan, there is a good amount of potential in the young defensive squad. Between Kawann Short, Dwayne Beckford and Ricardo Allen, I am confident at least one player will step up and be the playmaker that PU needs.
On the offense, the second best thing next to an experienced quarterback is an experienced offensive line. As previously mentioned, it was a testament to the line play that the Boilers, despite everything working against their offense, still had a respectable running game.
On top of that, in a conference that had a number of quality first-year quarterbacks in 2010, Rob Henry might wind up finishing with the most distinguished career. Keep in mind, unlike all of the other first-year starters, Henry was thrown into action and did not have first-team reps during the August practices.
Finally, out of the four teams that comprise the preseason bottom of the conference—Indiana, Minnesota, Purdue and a team to be named later—Purdue has the best chance to fulfill their best case scenario.
In the end, that is exactly what I think they will do. They will win all the games they are supposed to win, take one minor upset (Illinois) and secure one fairly substantial upset, which, (unfortunately) I have as coming at the expense of the Hawkeyes.
At 7-5, they will go the TicketCity Bowl, where they will play a mid-level team from Conference USA
Big Ten Breakdown: Indiana Hoosiers, Part 1 (Overview and Offense)
Big Ten Breakdown: Indiana Hoosiers, Part 2 (Defense and Specialists)
Big Ten Breakdown: Indiana Hoosiers, Part 3 (Schedule and Final Breakdown)
Big Ten Breakdown: Minnesota Golden Gophers, Part 1 (Overview and Offense)
Big Ten Breakdown: Minnesota Golden Gophers, Part 2 (Defense and Specialists)
Big Ten Breakdown: Minnesota Golden Gophers, Part 3 (Schedule and Final Breakdown)