Big Ten Breakdown: Minnesota Golden Gophers, Part 1 (Overview and Offense)
May 2, 2011
Team Overview
It's easy to say it now, but Tim Brewster might have been the worst head-coaching hire in recent Big Ten history, and that's saying something.
I'm not saying other coaching hires haven't had worse outcomes. After all, look at Rich Rodriguez's mess in Ann Arbor.
I'm saying that at the time of his hiring, how many people really thought that this excitable, hyperbolic tight ends coach could get the Gophers "back to the Rose Bowl?"
Maybe quite a few, as the guy was quite the salesman. However, it was always evident that he wasn't much of a football coach or, at the very least, wasn't ready to be the head man.
Regardless, Brewster has been fired, and the era of Jerry Kill has begun.
Unlike Brewster, Kill has both offensive and defensive coordinator experience, as well as head-coaching experience at four different schools. He left all but one of his HC gigs with a winning record, the one exception being Emporia State, where his teams went 11-11.
Also, personality-wise, Kill is the antithesis of Brewster. Brewster was all flash, high fives and Twitter accounts. Kill is no-nonsense through and through.
It will be a few years until we can say how successful a hire Kill is. Nevertheless, right now, as Kill prepares his Gophers to begin the 2011 season, one can safely say that this was the right coaching hire at the right time.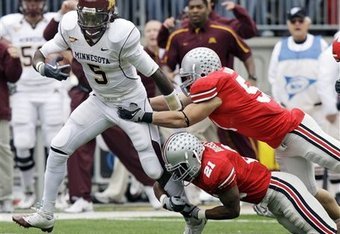 Offensive Overview

2010 scoring offense: 23.2 PPG (10th in the conference), total offense: 361.3 YPG (10), rushing YPC: 3.63 YPC (10), passing efficiency: 129.15 (7).
Average scoring offense conference ranking over last five years: 8.6
Best scoring offense conference ranking over last five years: Fourth (2007)
Worst scoring offense conference ranking over last five years:  11th (2009)
Returning Starters: OL Chris Bunders, OT Ed Olson, TE Eric Lair, RB Duane Bennett, RB DeLeon Eskridge, WR Da'Jon McKnight, WR MarQueis Gray (who will move back to QB)
Open Positions: OL, WR, QB
Offensive Breakdown
Unlike Brewster, who, during his four years at Minnesota, went through three different offensive schemes, Kill knows exactly what he wants to accomplish.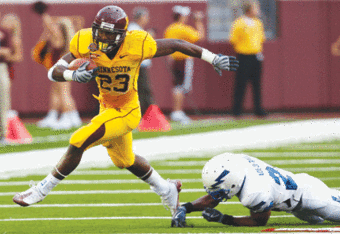 His primary weapon is the read option out of the spread, but he does use pro sets as well. He wants to establish the run, and he looks to do that both through the running back and a dual-threat quarterback.
Last season, his Northern Illinois Huskies rushed on 63.8 percent of their 910 offensive plays. In 2009, they rushed on 65.9 percent of their plays.
By establishing the run, he wants to draw the safeties into the box, at which point he looks to pass for big yardage.
The 2010 Huskies were near the top of the Mid-American Conference in passing plays over 20 and 30 yards, though they were near the bottom of the conference in passing attempts. Moreover, NIU quarterback Chandler Harnish had the most yards per attempt in the conference by a full one yard per completion.
Of course, Harnish was also the most efficient passer in the MAC and had the second-highest completion percentage. It is unlikely that Kill will be so fortunate with his quarterback this season.
Generally speaking, Kill has inherited a group of players with skill sets that are well suited to his offense. Furthermore, due to the protean tendencies of the Brewster offense, these players are about as used to scheme overhauls as players can be.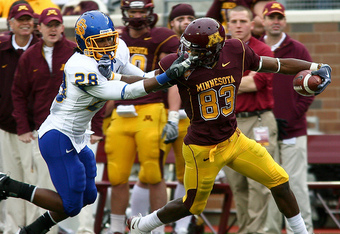 There are just a few things that will have to get sorted out. 
Quarterbacks
As the offensive breakdown attests, this O will begin and end with the running game, and this running game will begin and end with the quarterback.
This season, that quarterback will likely be junior MarQueis Gray, who literally has Gopher fans pissing themselves. In respect to Gray's potential, one can understand the excitement.
Gray is 6'4", 230 pounds, and has been clocked running the 40 in 4.5 seconds. When he was recruited, Rivals ranked him as the third-best dual-threat quarterback prospect in the country. He chose the Gophers over Illinois, Iowa, Michigan State and Oregon, among others.
Perhaps this is a premature comparison (it is), but think of Denard Robinson, except big and durable enough to take a licking.
He is such a good athlete that he was the Gophers' second-leading receiver last year despite never playing the receiver position in his life. The thinking was that leaving his athletic ability on the bench behind now-departed four-year starter Adam Weber was a waste.
Now he is back at quarterback, but there is still one big problem. In 23 career passing attempts, he has completed only 34.8 percent of his throws. Then there was that 2009 Insight Bowl gaffe. His spring game was a notable improvement but still wasn't great.
Word is he has stepped up into a leadership role and is a film room rat.
Behind Gray is 265-pound redshirt sophomore Moses Alipate. Alipate has yet to generate any statistics in college ball, and the fact is he is more suited to Tim Brewster's pro-style offense than Kill's spread option. Also, redshirt freshman Tom Parish will compete for the second-string spot.
In the end, if Gray gets injured, Minnesota is in big trouble.
If he stays healthy and becomes an adequate passer, the Gophers could have a dangerous offense.
He does not have to match Chandler Harnish's 64.7 percent completion rate. If he can complete 56 to 58 percent of his passes and avoid interceptions, his legs and his receivers should be able to do plenty of damage.
Still, jumping from 34.8 percent to 56 percent is a big leap. This is especially true when one considers that Kill's passing game is predicated on the long ball rather than possession.
In Kill's offense, Gray has almost as much potential as any individual signal caller in the Big Ten, but right now, it is still just potential.
Big Ten Position Group Ranking: 9
Running Backs
The Gophers have a number of options at running back.
Seniors Duane Bennett and DeLeon Eskridge have been sharing carries for three years. Moreover, sophomore Donnell Kirkwood and redshirt freshman Lamonte Edwards will be in the mix.
With two extremely experienced players coming back, one would usually figure said position group is solid. The problem is that in three years and a combined 704 carries, they have only managed 3.86 YPC.
Furthermore, in 120 carries against ranked teams, they have only eked out 2.75 YPC.
Yes, a substantial portion of that lack of production had to do with Tim Brewster's chameleon-like offense. Still, it is also evident that while either back might be able to do well in the right system, neither of them is a game-changer.
Kirkwood was the most impressive back in the spring game, but he primarily played against the second-team defense. Edwards drew rave reviews for his work early in the spring, but he missed the last two weeks of practice with a sore knee.
Jerry Kill insists that all of the backs will see playing time this year. While that may be true, Minnesota.big10rant.com feels that Bennett and Eskridge will likely be the workhorses of the group this season.
It is also notable that Bennett is a very good pass catcher. In his career, he has 61 receptions for 638 yards.
Generally speaking, unless one of the underclassmen steps up and outperforms the seniors, this is a solid group that can shine if Gray opens up opportunities for them. However, they are not going to make their own opportunities.
Big Ten Position Group Ranking: 10

Receivers and Tight Ends
The Gophers' top receiver will be Da'Jon McKnight. He was their top pass catcher last season and will be one of the best in the conference in 2011.
If Gray can become more accurate, McKnight will cause a lot of problems for opposing secondaries and should vie for all-conference honors.
McKnight sat out much of spring with a left knee injury, though it isn't anything that will keep him out an extended period of time.
As Gray was Minnesota's second-leading receiver last season, his position change leaves a substantial void after McKnight. This void was made even larger with the transfer of sophomore receiver Bryant Allen, the only other returning receiver that played notable minutes last year.
In effect, the grand total of receptions made in 2010 by returning receivers not named Da'Jon McKnight is two.
The most likely receivers to gain playing time are junior Brandon Green; JUCO transfer Ge'Shun Harris; sophomores Victor Keise and A.J. Barker; and former quarterback J.D. Pride.
Green was a fairly notable prospect in 2008, and he had a good freshman season, catching 20 passes for 298 yards. He took a step back in 2009 and then lost most of 2010 with a knee injury. He is still rehabbing from the injury but is expected to be 100 percent by August.
Harris is a big body that had a ton of offers from a lot of middling programs.
Keise and Barker are the owners of the two aforementioned returning receptions (one each).
Then there is Pride, who saw there wasn't going to be any room at quarterback and went the opposite direction of Gray.
At tight end, the Gophers have a very good senior in Eric Lair. Last year, he caught 39 passes for 526 yards. The problem is Jerry Kill's offense is not big on the tight end. It much prefers wide receivers and H-backs. Last season, at NIU, he had two tight ends with eight catches apiece. In 2009, his top pass-catching tight end had five receptions.
In effect, unless Lair can transition to H-back (unlikely), his productivity might take a dive this year. Still, if Kill can do some substantial tweaking, he's got talent in Lair.
As for that H-back, sophomore Mike Henry or junior Ed Cotton are the best bets, though both of them display less H-back versatility and are more cut out of the old-school fullback mold.
The final tally is that McKnight is very good and Lair is a talent, though he might wind up being an underutilized talent. After that, there are only a lot of bodies with very little experience.
As with Gray, if McKnight gets injured, the Gophers will be in trouble. On the other hand, if another receiver can step up to offset McKnight, this group will be very dangerous.
Big Ten Position Group Ranking: 10
Offensive Line
Due to a slew of injuries that ravaged the Gopher offense this spring, it is hard to get a handle on exactly what the offensive line would look like if the football season were to start tomorrow.
According to twincities.com's Gopher blog, the line would be (from left to right) sophomore Ed Olson, senior Chris Bunders, senior Ryan Wynn, senior Ryan Orton and redshirt freshman Jimmy Gjere.
The sixth lineman appears to be redshirt freshman Sean Ferguson, who has recently made a position change from defensive line. He is currently working in the right tackle spot, over which he would be competing with Gjere, who has been out with injuries.
This will be Bunders' third year as a starter, while Olson will be starting his second year. Orton has started games throughout his career, while Wynn started one game at tackle in 2010 and started all 13 games in 2009.
Though it is heartening to see that there is experience there, it is notable that Orton and Wynn have reached the starting lineup only to be bumped out.
If inexperience wasn't enough of a worry, there is the fact the 2010 offensive line—which was fairly experienced—didn't fare especially well.
Again, it is difficult to assess just how they did given Brewster's coaching and scheme changes. Nonetheless, that doesn't change the fact that with experienced running backs and an experienced quarterback, the Gophers had the second-worst rushing offense in the conference in 2010.
This year's line should have a much different dynamic because Kill's offense is so different than Brewster's. While the line play will be key, much as with Michigan's line last year, the primary goal will be speed and opening holes rather than physical domination.
Regardless, there is nothing like experience and cohesiveness with an offensive line, and there is very little here to inspire confidence.
The line may come together and be formidable, but at this point, there is no reason to think it will.
Big Ten Position Group Ranking: 12 
Coming tomorrow: Defense and Specialists
Big Ten Breakdown: Indiana Hoosiers, Part 1 (Overview and Offense)
Big Ten Breakdown: Indiana Hoosiers, Part 2 (Defense and Specialists)
Big Ten Breakdown: Indiana Hoosiers, Part 3 (Schedule and Final Breakdown)