College Football Rankings 2011: Preseason Top 25 Heading Into Spring Football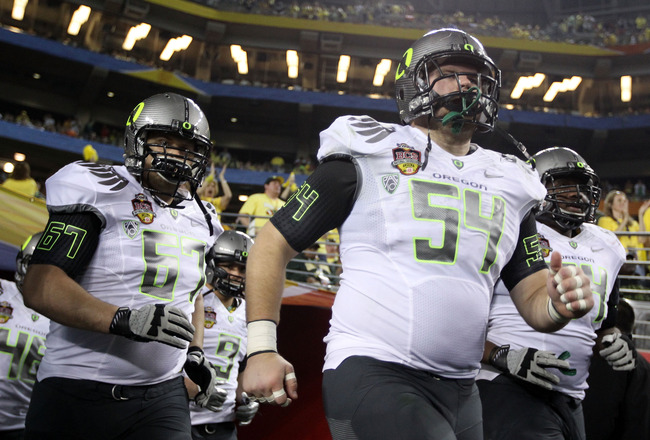 Christian Petersen/Getty Images
It's nearing the end of March, which means that sports fans are only paying attention to a few things in the sports world right now: the NFL lockout, MLB Opening Day, the NCAA tournament and the final stretch of the NBA regular season.
But diehard college football fans have got something else on their minds. And that something else is spring football.
With most schools recently beginning their road to the 2011 season, the anticipation and excitement is in the air. We can't wait until September when we can grab a case of beer, fire up the grill and tailgate all day before watching our teams kick off their journeys to what we hope is a national championship.
Before that happens, though, we have to get a general sense of where our favorite teams are headed, which is precisely why I'm here today.
Here is my preseason top 25 heading into spring football.
25. Michigan Wolverines (2010: 7-6)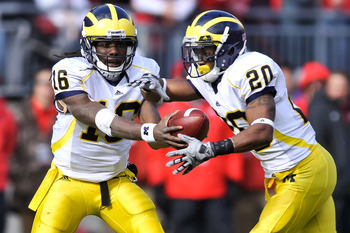 Jamie Sabau/Getty Images
2010 Finish: Unranked
Michigan got destroyed by Mississippi State in the Gator Bowl to conclude its 2010 campaign, but Rich Rodriguez got the boot from Ann Arbor and the culture is changing for the Wolverines.
New head coach Brady Hoke turned around the Ball State and San Diego State programs relatively quickly and could do the same at Michigan, where he was previously an assistant coach from 1995-2002.
It won't be easy, though, as Hoke's first task will be to fix Michigan's horrendous defense, which finished as the No. 108 overall defense in 2010.
24. Auburn Tigers (2010: 14-0)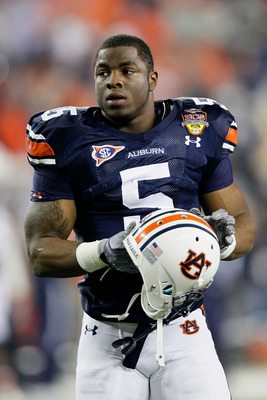 Kevin C. Cox/Getty Images
2010 Finish: No. 1 (national champions)
When Cam Newton and Nick Fairley both decided to declare for the 2011 NFL draft, it was doomsday for Auburn, as the school lost its top two players almost simultaneously.
And while those losses will certainly hurt (and that's an understatement), the Tigers may have to worry about a bigger issue: their offensive line. Auburn loses four starting offensive linemen, including All-SEC center Ryan Pugh and All-American left tackle Lee Ziemba.
Though that can be addressed with their No. 3 recruiting class that was heavy on O-linemen, those guys will be young and may not be immediate, solid starters.
With inexperience all over the place on offense, it could and should be Michael Dyer's time to shine for Auburn.
23. Virginia Tech Hokies (2010: 11-3)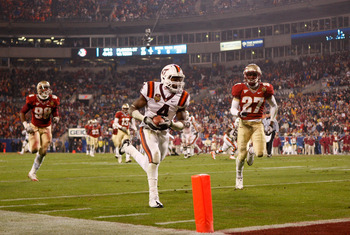 Streeter Lecka/Getty Images
2010 Finish: No. 16
Virginia Tech will have to replace arguably its three best offensive players—Tyrod Taylor, Darren Evans and Ryan Williams—and that certainly won't be easy to do.
But Logan Thomas will take over at quarterback and has drawn comparisons to Cam Newton, while the shifty and elusive David Wilson should ease the losses of Evans and Williams. He'll be running behind an offensive line with four senior starters as well.
Plus, the Hokie defense returns seven starters and should be very good once again, and the ACC isn't expected to be a real tough conference in 2011.
22. Georgia Bulldogs (2010: 6-7)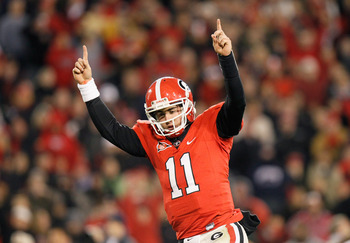 Kevin C. Cox/Getty Images
2010 Finish: Unranked
A.J. Green will be gone next season, but Georgia quarterback Aaron Murray is the real deal.
He threw for more than 3,000 yards, accounted for 28 touchdowns and ranked 14th in the nation in pass efficiency last season...as a freshman.
Watch out for Murray in 2011. He should be the SEC's best quarterback with Ryan Mallett and Cam Newton now moving on to the NFL, and Georgia's signing of the nation's top running back recruit, Isaiah Crowell, will make him even more dangerous.
21. Arkansas Razorbacks (2010: 10-3)
Kevin C. Cox/Getty Images
2010 Finish: No. 12
Knile Davis is still a stud at running back and could be one of the nation's best backs in 2011, but Ryan Mallett was one of the nation's top quarterbacks while at Arkansas and he's moved on to the NFL.
Can Tyler Wilson fill his shoes, or will he struggle? The chances of it being the latter—and the Razorbacks' tough schedule—are the main reasons why the Razorbacks are this low, despite having one of college football's best receiving corps.
The key to Arkansas' success, however, may not lie on the offensive side. The defense returns eight starters from a unit that got much better as the 2010 season progressed, and it could determine how the team's 2011 campaign plays out.
20. Florida Gators (2010: 8-5)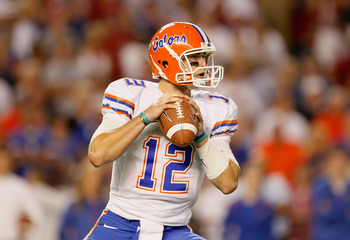 Kevin C. Cox/Getty Images
2010 Finish: Unranked
Even if Florida doesn't deserve to start the season ranked based on last season's disappointing performance, you know the Gators probably will anyway.
They're always stockpiled with talent, and Will Muschamp's offensive system under new offensive coordinator Charlie Weis will be a much better fit for the players there than Urban Meyer's spread attack.
Florida's season will largely hinge on how well John Brantley adjusts to the new offense, but the Gators have the right players in place for him to succeed.
19. Nebraska Cornhuskers (2010: 10-4)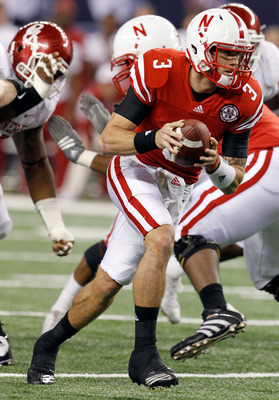 Tom Pennington/Getty Images
2010 Finish: No. 20
It'll be the first season for Nebraska in the Big Ten, and a big question is how the Cornhuskers will deal with a tough conference slate that includes home games against Ohio State, Michigan State and Iowa, as well as road games at Wisconsin and Penn State.
But there's a more troubling uncertainty: Who will be the team's quarterback?
There was a bit of a revolving door between Taylor Martinez and Cody Green last season, and the Cornhuskers have two promising incoming freshmen—Bubba Starling and Jamal Turner—at that position who could compete to be the starter.
If Nebraska wants to succeed in 2011, they'll need to find some consistency behind center, because the team lost Roy Helu on offense as well as Eric Hagg and Prince Amukamara on defense.
18. Notre Dame Fighting Irish (2010: 8-5)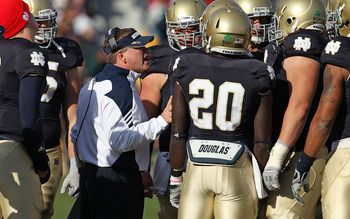 Jonathan Daniel/Getty Images
2010 Finish: Unranked
It seems inevitable lately that Notre Dame will have huge preseason expectations but only leave Fighting Irish fans with disappointment at season's end.
But one thing about Brian Kelly is that he showed constant improvement every year at Cincinnati and in his first year at Notre Dame.
Though Michael Floyd's suspension clouds expectations a bit, the Fighting Irish looked impressive in their Sun Bowl victory over Miami and finished the 2010 season on a four-game winning streak.
That momentum could carry over into 2011, especially when you consider that Notre Dame returns nine offensive starters and eight defensive starters from last year's squad.
17. West Virginia Mountaineers (2010: 9-4)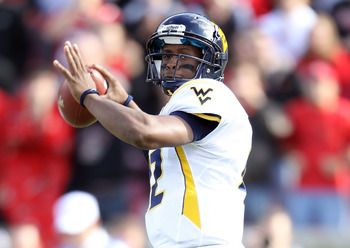 Andy Lyons/Getty Images
2010 Finish: Unranked
Do-it-all back Noel Devine won't be at West Virginia for the 2011 season, but the Mountaineers are getting a heck of a "replacement": Oklahoma State offensive coordinator Dana Holgorsen.
He helped develop a ridiculous passing attack with the Cowboys, and his addition to the Mountaineers staff should help a WVU team that really struggled to put points on the board last season.
Plus, we can't overlook the success WVU quarterback Geno Smith had last season. He threw for 2,400 yards and 24 touchdowns with just seven interceptions, and could explode now that Holgorsen's calling the plays.
16. Mississippi State Bulldogs (2010: 9-4)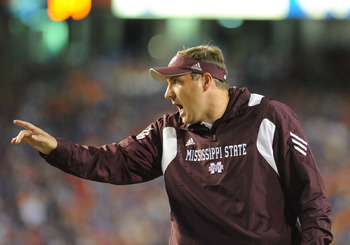 Al Messerschmidt/Getty Images
2010 Finish: No. 15
Has anyone done a better job of turning a program around than Dan Mullen? Mississippi State wasn't expected to make much noise in 2010, but the Bulldogs wound up going 9-4, including a 52-14 dismantling of Michigan in the Gator Bowl.
Mississippi State's success was largely because the team ran for 215 yards per game last season, and they should keep that up in 2011 as the team returns seven offensive starters, including dual-threat quarterback Chris Relf.
The Bulldogs also return one of the SEC's best defenses, with seven defensive starters coming back to a unit that ranked 15th in the nation in run defense and 21st in scoring defense in 2010.
15. Michigan State Spartans (2010: 11-2)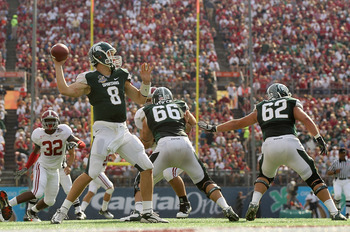 Mike Ehrmann/Getty Images
2010 Finish: No. 14
On the surface, it's hard to be optimistic about Michigan State after the team's awful season-ending showing against Alabama in the Capital One Bowl, but the Spartans don't lose much on defense outside of Greg Jones and Eric Gordon.
They also return an underrated quarterback in Kirk Cousins and two studs at running back, Edwin Baker and Le'Veon Bell, which should give the school one of the better offenses in the Big Ten.
Even with some quality talent coming back, Michigan State's 2011 season won't be easy, with road games against Iowa, Ohio State, Notre Dame and Nebraska.
14. TCU Horned Frogs (13-0)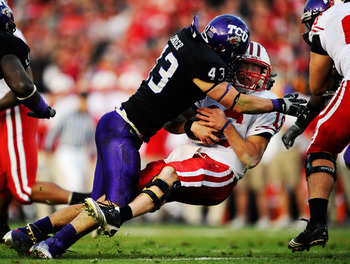 Kevork Djansezian/Getty Images
2010 Finish: No. 2
TCU had the nation's No. 1 defense in 2010, and that unit, though it might have a different look, is still expected to be a top-20 or even top-10 caliber defense again next season.
But the Horned Frogs may have a bigger problem on their hands. They will lose four-year starting quarterback Andy Dalton as well as wide receivers Jimmy Young and Jeremy Kerley, and only return 10 total starters.
This could be a rebuilding year for TCU unless some youngsters step up, but linebackers Tanner Brock and Tank Carder should keep this squad at the top of the Mountain West.
13. Wisconsin Badgers (2010: 11-2)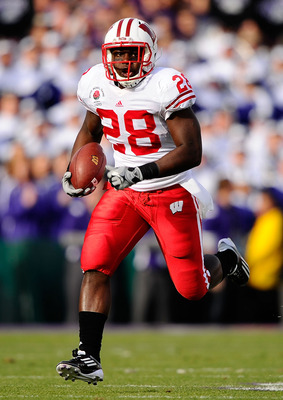 Kevork Djansezian/Getty Images
2010 Finish: No. 7
Quarterback Scott Tolzien, offensive linemen John Moffitt and Gabe Carimi, running back John Clay and defensive end J.J. Watt—they're all stellar players...and they all need to be replaced.
The good thing for Wisconsin, though, is that running backs Montee Ball and James White are coming back, and they could very well be the nation's best running back tandem in 2011.
The Badgers will be dangerous if that's the case, especially when you consider that they have a favorable schedule, with just four true road games.
12. South Carolina Gamecocks (2010: 9-5)
Streeter Lecka/Getty Images
2010 Finish: No. 22
South Carolina running back Marcus Lattimore returns for his sophomore season, and that dude's a stud. He'll be joined by wide receiver Alshon Jeffery to give the Gamecocks one of the SEC's—if not the nation's—most explosive offenses.
But will it be Connor Shaw or the up-and-down Stephen Garcia at quarterback? No one's really sure, as Steve Spurrier can't seem to stick with one or the other for the long haul.
While QB might be a bit of an issue, how the Gamecocks will deal with the departure of several key players from their strong defensive front could be an even bigger one.
No. 1 overall high school prospect and South Carolina signee Jadeveon Clowney will have to make an immediate impact for the Gamecocks.
11. Missouri Tigers (2010: 10-3)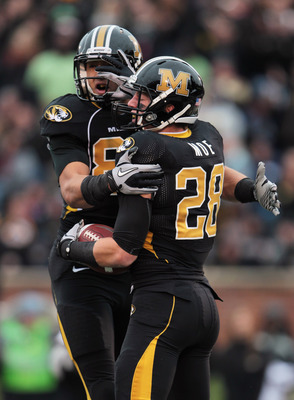 Jamie Squire/Getty Images
2010 Finish: No. 18
A Blaine Gabbert return would push Missouri even higher, but he's headed for the NFL and it'll be tough to replace his production right away.
The good thing about the Tigers, though, is that they return 10 other starters on offense, so the team's next quarterback—whether that's James Franklin or Tyler Gabbert (Blaine's brother)—will have plenty of experience around him.
Among the returning offensive stars are receiver T.J. Moe and the best pass-catching tight end in college football, Michael Egnew.
Missouri will also return seven defensive starters and gets a huge boost with the addition of junior college defensive tackle Sheldon Richard, one of the most highly touted JUCO prospects in the nation.
10. Boise State Broncos (2010: 12-1)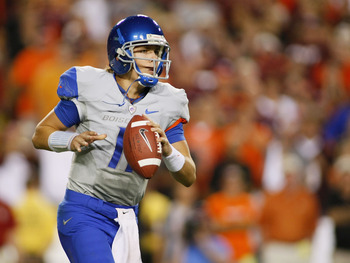 Geoff Burke/Getty Images
2010 Finish: No. 9
Boise State is headed to the Mountain West, which recently has been a much tougher conference than the WAC and could give the team more opportunities to slip up as they attempt to make it back to the BCS.
But even with the loss of wide receivers Titus Young and Austin Pettis, the Broncos will have a heck of an offense once again in 2011, thanks to the returns of Kellen Moore and Doug Martin. All indications are that Boise State should have no shortage of scoring next season.
One often overlooked aspect of Boise State's recent success, however, has been the team's stellar defensive play, and the Broncos did lose several key players on the defensive side, including both starting safeties.
How well that unit fares in the MWC could be a bigger factor than anything the Broncos do on offense.
9. Oklahoma State Cowboys (2010: 11-2)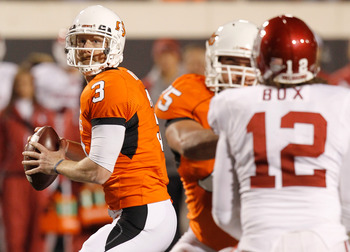 Tom Pennington/Getty Images
2010 Finish: No. 13
Both Justin Blackmon and Brandon Weeden decided to return to Oklahoma State for another season, which could mean big things for the Cowboys in 2011.
Those two combined to form the nation's No. 2 passing attack and No. 3 scoring offense in 2010 and should be equally dangerous next season.
Though Kendall Hunter is gone and offensive coordinator Dana Holgorsen is no longer with the program, OSU has the talent and experience to get it done in the Big 12.
Offense shouldn't be an issue, but the Cowboys will have to find a way to replace six defensive starters from a unit that was much better than its 2010 stats might indicate.
8. Stanford Cardinal (2010: 12-1)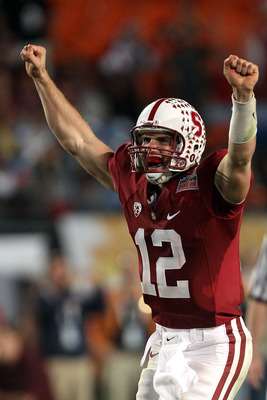 Streeter Lecka/Getty Images
2010 Finish: No. 4
Andrew Luck decided to return for another season at Stanford, which was absolutely huge for the Cardinal, and David Shaw should help ease the loss of head coach Jim Harbaugh.
But not all is right for Stanford, as the team will have to replace three starters along the offensive line and seven from what was a very good defense in 2010.
Thanks to a top-20 recruiting class, the Cardinal will still be good next season, especially in a weaker Pac-12, but they might not be one-loss good.
7. Ohio State Buckeyes (2010: 12-1)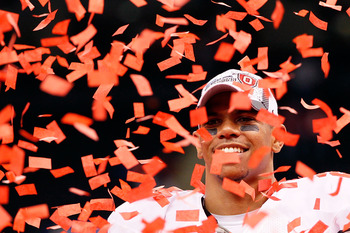 Kevin C. Cox/Getty Images
2010 Finish: No. 5
It's Ohio State football, so we know a couple of things from the get-go: The defense will be there, and the talent will be there.
But Terrelle Pryor, DeVier Posey and a couple of other key players will miss the first five games of the season because of that suspension, and they might be a bit rusty once they do actually step on the field.
The good thing is that the Buckeyes' schedule is relatively easy at the beginning of the season (with four of their first five games at home), and the only game that should give the team any real trouble is against Michigan State on Oct. 1.
If Ohio State can weather the storm without Pryor, Posey and company, then the Buckeyes should be in line for another Big Ten title.
6. Texas A&M Aggies (2010: 9-4)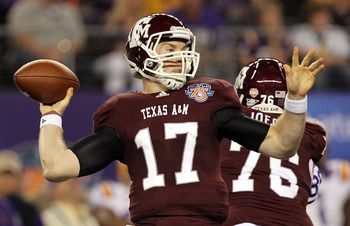 Ronald Martinez/Getty Images
2010 Finish: No. 19
Cyrus Gray is coming back to Texas A&M, and so are playmaking wide receiver Jeff Fuller and 10 total offensive starters, including Ryan Tannehill, who now has almost a full season at quarterback under his belt.
On the defensive side, the Aggies remain largely intact as well. Though Von Miller will be missed, nine starters are coming back and the team should only improve in its second season in the 3-4 system.
A huge road game at Oklahoma and a home game against Oklahoma State could determine how Texas A&M's season plays out, but things appear to be looking up for A&M.
5. LSU Tigers (2010: 12-1)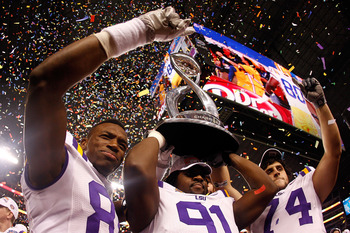 Chris Graythen/Getty Images
2010 Finish: No. 8
Aside from Patrick Peterson, Kelvin Sheppard and Drake Nevin—three huge losses, yes—LSU will be returning most of its key starters on both sides of the ball. In fact, those are the only three guys who won't be back in 2011.
And the Tigers will return even more starters on offense, with 10 players coming back to play for Les Miles.
Though quarterback play was a huge issue in 2010, the Tigers did recently sign highly touted junior college prospect Zach Mettenberger, who could step in right away as the team's starter.
Also, the addition of Steve Kragthorpe as LSU's offensive coordinator could open up what was a very boring offense in 2010.
4. Florida State Seminoles (2010: 10-4)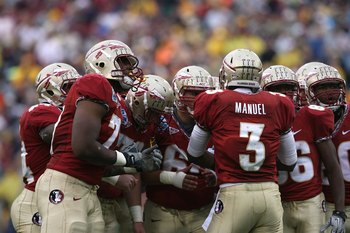 Doug Benc/Getty Images
2010 Finish: No. 17
Not only does Florida State have 18 starters (nine on each side of the ball) coming back, the Seminoles have one of the nation's top recruiting classes, which is filled with guys who can step in and contribute immediately.
The biggest question mark surrounding this team, though, will be E.J. Manuel and whether or not he can step in and replace Christian Ponder's production. But Manuel played well when filling in for Ponder last season and should keep the Seminoles right on track in 2011.
Florida State has a favorable ACC schedule, avoiding Virginia Tech, Georgia Tech and North Carolina during the regular season, and the Seminoles could be a legit national title contender if they knock off Oklahoma at home on Sept. 17.
3. Oregon Ducks (2010: 12-1)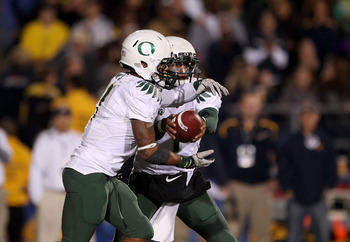 Ezra Shaw/Getty Images
2010 Finish: No. 3
With Darron Thomas and LaMichael James back in Eugene, there's no reason to expect much of a drop-off in production from Oregon's No. 1 scoring offense of 2010.
Or is there?
The Ducks will lose their top two wide receivers and three starting offensive linemen, which means that offense might not be as explosive in 2011, though it'll still be very good or even great.
Perhaps the biggest issue for Oregon, however, is its defense, as the team loses several defensive stars, including Casey Matthews.
The Ducks' season opener against LSU could set the tone for the rest of the season.
2. Alabama Crimson Tide (2010: 10-3)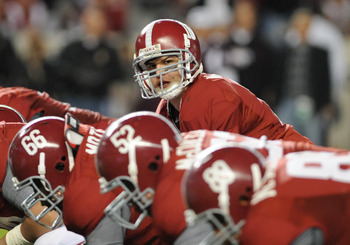 Al Messerschmidt/Getty Images
2010 Finish: No. 10
Alabama will lose Marcell Dareus, Mark Ingram, Julio Jones and Greg McElroy, but the Crimson Tide are stockpiled with talent.
It's not really a question of if players will step up in their absence—rather, it's a question of who will fill their shoes.
If A.J. McCarron can play as well as McElroy did, then Alabama could very well be the favorite to win the national championship.
1. Oklahoma Sooners (2010: 12-2)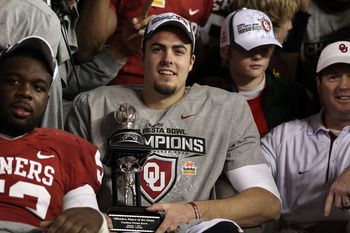 Christian Petersen/Getty Images
2010 Finish: No. 6
The Oklahoma Sooners are undoubtedly the No. 1 preseason team in college football.
They return 18 starters in 2011—including Landry Jones and Ryan Broyles on offense and Travis Lewis on defense—and will bring back a whopping 29 players who have started at least one game on either offense or defense in their careers.
Oklahoma has a ridiculous amount of talent and even more experience, which always bodes well for a team's chances of competing for a national title.
To do that, though, Jones will have to play like a Heisman Trophy contender and the Sooners will have to take care of Florida State on the road on Sept. 17.
Keep Reading