Boise State Football: 10 Greatest Players in Broncos History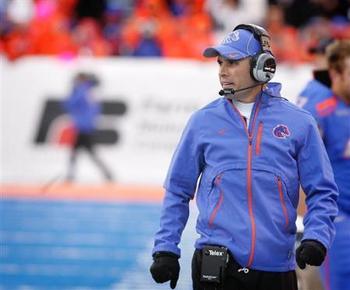 Over the past decade, the success of Boise State has continued to grow and has put them in the national spotlight over the past few years.
With the success the program has had, it has seen its far share of star players come through the program.
Since Coach Chris Petersen has taken over, the program has truly moved to new heights. Year in and year out, Boise is being viewed as a dark horse for the national championship.
Here are some of the players that have helped build this program up.
10. Jared Zabransky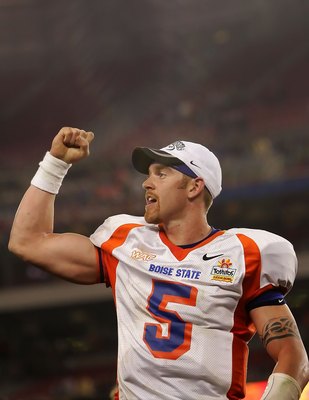 Jonathan Ferrey/Getty Images
Years at Boise State: 2002-2006

Career Accomplishments: While Zabransky does not hold career numbers at Boise, he was a winner.
He led the Broncos to two undefeated seasons as a starter and won a BCS game over Oklahoma.
Also, in 2006, Zabransky was named a semifinalist for the Davey O'Brien and Maxwell Awards.
9. Ian Johnson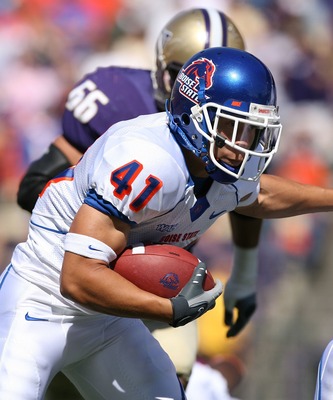 Otto Greule Jr/Getty Images
Years at Boise State: 2005-2008

Career Accomplishments: Johnson will be most famously remembered for his Statue of Liberty run that sealed the Fiesta Bowl victory for Boise State.
Johnson was not only a first team All-WAC player but also landed on first team All-American lists.
Once his career was over, Johnson put up over 3,800 yards from scrimmage and 47 touchdowns.

8. Austin Pettis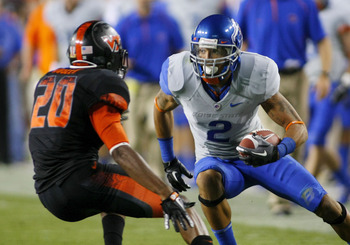 Geoff Burke/Getty Images
Years at Boise State: 2007-2010

Career Accomplishments: Another Bronco player that is fresh off of campus is Austin Pettis.
Titus Young was not the only receiver to crack the record books. Pettis caught 39 career touchdowns, which is a new school record.
He was a second-team All-WAC player in his sophomore season and then followed up by moving to the first team in his next season.
7. Kyle Wilson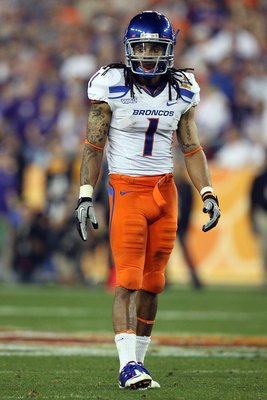 Jed Jacobsohn/Getty Images
Years at Boise State: 2005-2009

Career Accomplishments: Kyle Wilson is another Bronco player to take his collegiate success to the Pros. Wilson was a first-round draft pick by the New York Jets but had a terrific college career.
He was named to the All-WAC first team in both 2008 and 2009 and ended his career with eight interceptions and three kick return touchdowns.
6. Ryan Clady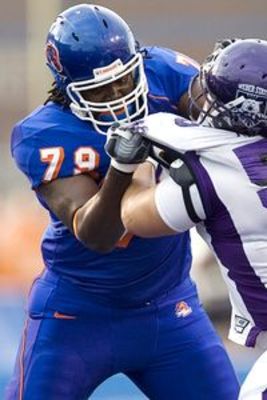 Years at Boise State: 2004-2007

Career Accomplishments: Clady not only had success in college but has moved on to find success at the NFL level. He was named first-team All-WAC and was a cornerstone for the offensive line.
Clady also helped lead the Broncos to a Fiesta Bowl victory over Oklahoma.
5. Kyle Brotzman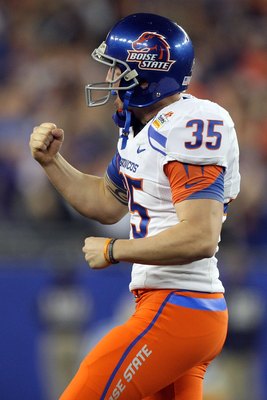 Jed Jacobsohn/Getty Images
Years at Boise State: 2006-2010

Career Accomplishments: While many college football fans may remember Brotzman for his two misses that cost Boise an undefeated season in 2010, he will go down with career record for most career points in NCAA history.
Throughout his time in Boise, Brotzman was consistent and steady. He is the best kicker to attend the school.

4. Titus Young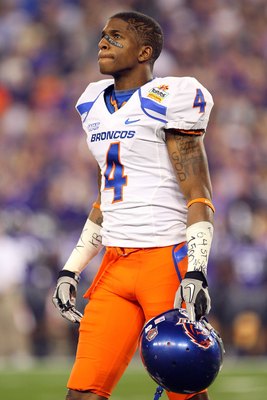 Christian Petersen/Getty Images
Years at Boise State: 2007-2010

Career Accomplishments: Titus Young just wrapped up his college career and landed in the Boise State record books with the most career receiving yards.
In 2009, Young was the only player in the WAC to achieve first-team honors twice; once for receiving and for kick returns.

3. Cedric Minter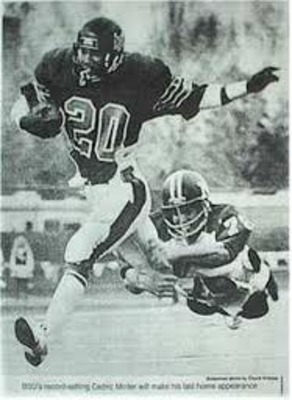 Years at Boise State: 1977-1980

Career Accomplishments: While most of the players on this list are from the past decade, Minter still holds the Boise State record for career rushing yards.
He displayed a great blend of strength and speed and would go on to a career in the CFL.
2. Randy Trautman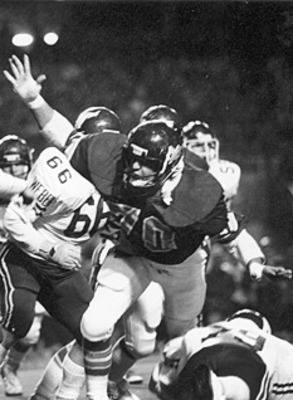 Years at Boise State: 1978-1981

Career Accomplishments: Trautman is the only Boise State player to be in the College Football Hall of Fame.
A monster on the defensive line, Trautman dominated at Boise and moved on to the NFL.
He would later be drafted by the Washington Redskins in 1982.
1. Kellen Moore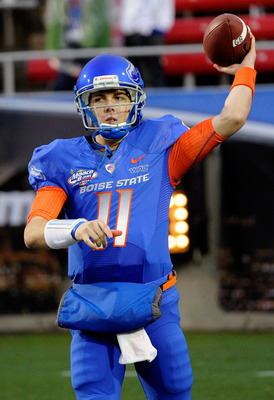 Ethan Miller/Getty Images
Years at Boise State: 2007-Present

Career Accomplishments: Moore joined Boise State in 2007.
Since getting on campus, Moore is already the career leader in passing yards and passing touchdowns and still has his senior season.
Throughout his college career, Moore has been named to All-American teams and will be a Heisman front runner in 2011.

Keep Reading

Boise State Football: Like this team?