NCAA Football: BCS Alternative Tournament Round 1 Results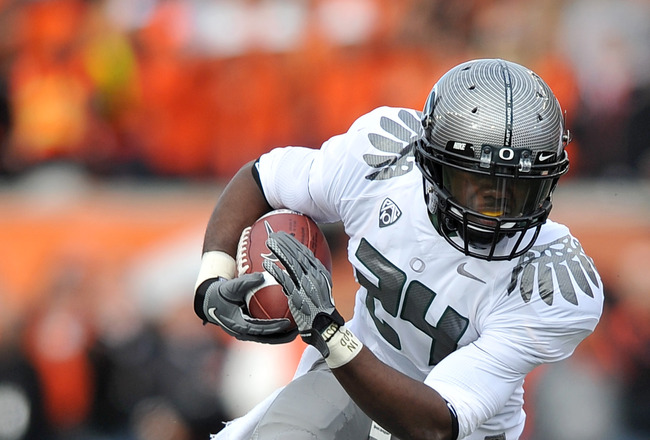 How did Lamichael James and Oregon fare against their first-round tournament matchup? Details inside.
Steve Dykes/Getty Images
Some readers may remember the article from last week regarding a plan I outlined for a college football tournament. For those who didn't read it, it is available here.
Now that Whatifsports.com has updated for 2010 teams, I can simulate the matchups. For any questions regarding seeding, see the article linked to. And remember, each game was simulated only once (because each game is only played once, so this allowed for possibility of upsets along the way that wouldn't happen the majority of the time). So don't say "There is no way Team X would beat Team Y" because they did in one simulation.
I am not implying they are the better team. They actually won the single simulation I ran. Here is a review of who faced who in the first round.
#16 Central Florida at #1 Auburn
#9 Ohio State at #8 Connecticut
#13 LSU at #4 Stanford
#12 Boise State at #5 Wisconsin
#11 Michigan State at #6 Oklahoma
#14 Missouri at #3 TCU
#10 Arkansas at #7 Virginia Tech
#15 Oklahoma State at #2 Oregon

Auburn Tigers 27 Central Florida Bulls 13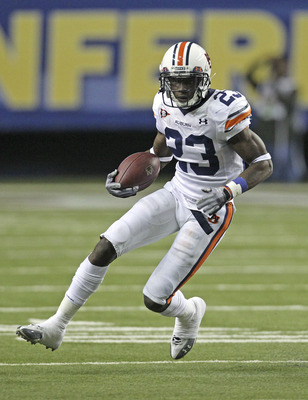 Onterio McCalebb was the player of the game as Auburn defeated UCF by 14
Mike Zarrilli/Getty Images
#16 Central Florida at #1 Auburn

Auburn lead 27-0 after three quarters, thanks to a rushing touchdown each from Cam Newton and Onterio McCalebb as well as a passing touchdown by Newton. UCF attempted to come back late against the reserve defense, scoring two fourth quarter touchdowns, but it wasn't enough. Auburn won this game, easily.
Player of the Game: Onterio McCalebb, RB Auburn, 12 carries, 159 yds. 1 TD
Ohio State Buckeyes 40 Connecticut Huskeys 17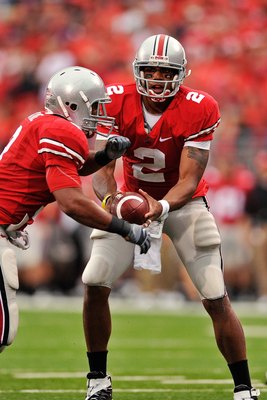 Buckeye quarterback Terrell Pryor won player of the game honors in the romp over the Huskies
Jamie Sabau/Getty Images
No. 9 Ohio State at No.8 Connecticut

Jordan Todman got a six yard TD carry early in the first quarter and it looked like the Huskies might be able to pull it off. But the Buckeyes scored 27 unansewered points and went into halftime up 20. Dave Teggart would cut the lead to 17 with a 48-yard field goal early in the third quarter, but the Buckeyes stormed ahead to get the win. They held Jordan Todman to 79 rushing yards on 22 attempts while forcing Zach Frazer to throw two interceptions. Meanwhile, Terrell Pryor had 286 passing yards and two touchdowns, as Ohio State won easily.
Player of the Game: Terrell Pryor, QB Ohio State 23-37 286 yds. two TDs, 17 rushes, 35 yards
Stanford Cardinal 29 LSU Tigers 24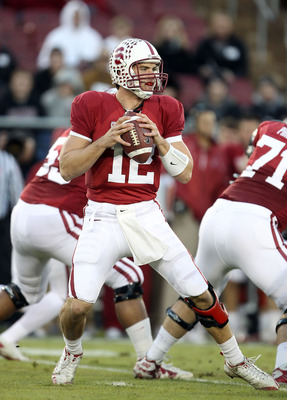 Andrew Luck dominated, leading Stanford to a victory over LSU and a berth in the quarterfinals
Ezra Shaw/Getty Images
No.13 LSU at No.4 Stanford

Tigers running back Michael Ford opened the scoring with a 31-yard touchdown run with 9:49 to go in the first quarter. Cardinal running back Stepfan Taylor answered with a 39-yard score of his own. Jordan Jefferson would complete a pass to Deangelo Peterson, putting LSU up 14-7 after one quarter. LSU would go up 24-13 with 4:58 in the first half, but Nate Whitaker made a 32-yard field goal to pull the Cardinal within eight at halftime. Whitaker would nail another kick before Andrew Luck completed a 16-yard pass to Griff Whalen putting Stanford up for good. This was the closest game yet in this tournament though.
Player of the Game: Andrew Luck, QB Stanford 25-42 345 yards, 2 TDs


Boise State Broncos 47 Wisconsin Badgers 18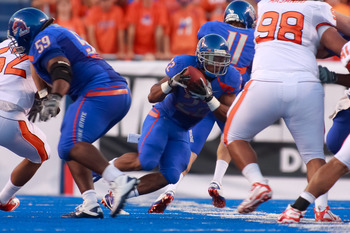 Doug Martin helped Boise State upset Wisconsin in our tournament
Otto Kitsinger III/Getty Images
No.12 Boise State at No.5 Wisconsin
This was the first true upset of our tournament, and it wasn't even close. Boise State scored the first 20 points of this contest, and went into halftime up 23-3. Doug Martin ran for 167 yards and two TDs while Kellen Moore was 22-34 for 300 yards and two TDs. They also forced Badgers QB Scott Tolzein to throw two INTs.The Broncos dominated in this one, easily pulling off what was only an upset based on seeding.
Player of the Game: Doug Martin, RB Boise State 21 rushes, 169 yards, 2 TDs, 3 receptions, 11 yards, 1 TD
Michigan State Spartans 35 Oklahoma Sooners 28
Edwin Baker led the Spartans to the victory over the Sooners
Hunter Martin/Getty Images
No.11 Michigan State at No.6 Oklahoma
This game was tied at 28 late in the fourth quarter, but Edwin Baker broke loose for a 58-yard touchdown run, putting the Spartans up 35-28, a lead they would not relinquish. It was Baker's third rushing touchdown of the day, and Michigan State upset the higher-seeded Sooners.
Player of the Game: Edwin Baker, RB Michigan State, 22 carries, 160 yards, 3 TDs
TCU Horned Frogs 37 Missouri Tigers 23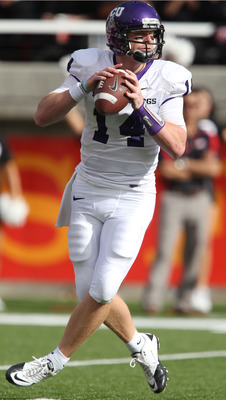 Dalton led the Horned Frogs to an easy victory over the Tigers
George Frey/Getty Images
No.14 Missouri at No.3 TCU

The Tigers went up 3-0 early on a Grant Wessel 31-yard field goal, but the Horned Frogs scored on an 11-yard run by Ed Wesley and never looked back, winning 37-23. Andy Dalton was 22-33 for 321 yards and three TDs through the air as the TCU won in a romp. They will move on to the quarterfinals.
Player of the Game: Andy Dalton, QB TCU, 22-33, 321 yards, 3 TD
Arkansas Razorbacks 36 Virginia Tech Hokies 20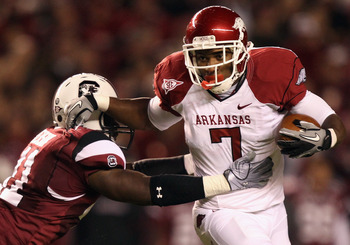 Knile Davis's big day led the Razorbacks to the upset
Streeter Lecka/Getty Images
No.10 Arkansas at No.7 Virginia Tech

After the Hokies had a 21-yard touchdown pass to tie the game at seven late in the first quarter, Arkansas scored 16 unanswered points to lead 23-7 roughly halfway through the third quarter. Virginia Tech would get a score on a 53-yard reception by Marcus Davis, but it was too little too late. Arkansas would add 13 more points after that. Ryan Mallet was 30-39 for 342 yards through the air, and Zach Hocker made five field goals.
Player of the Game: Knile Davis, RB Arkansas, 25 att, 113 yards, 2 TD, 4 Rec, 39 YDs
Oregon Ducks 58 Oklahoma Sooners 28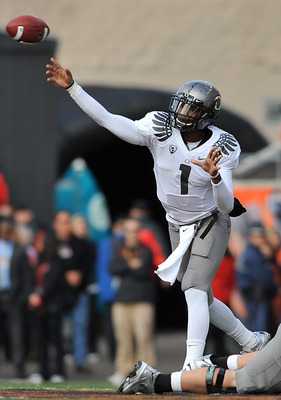 Darron Thomas led the Ducks to the blowout
Steve Dykes/Getty Images
No.15 Oklahoma State at No.2 Oregon

This one started out close, as it was tied at seven after a quarter. But Oregon outscored the Cowboys 28-14 in the second quarter to lead 35-21 at halftime. This was capped off by a 15-yard touchdown pass by Darron Thomas with 24 seconds to go in the half. This was a mere minute after Brandon Weeden completed a 29-yard touchdown pass to Justin Blackmon to cut the Ducks lead to 21-14. In the second half, Oregon pulled away, nailing two field goals in the third quarter. Oklahoma scored a touchdown with 13:54 to go in the fourth quarter to cut the lead to 41-28, but Oregon would score 17 straight points to put this one in the bag. LaMichael James had 144 yards on the ground for one TD, while Kenjon Barner had 98 yards and two scores.
Player of the Game: Darron Thomas, QB Oregon 18-28, 301 yards, 4 TDs
Next Week's Quarterfinal Matchups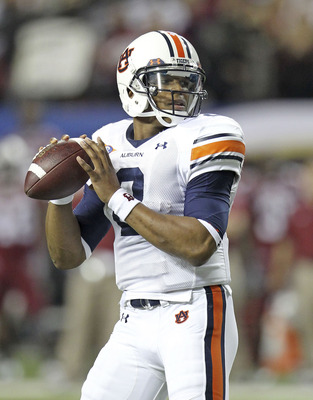 Can Cam Newton lead Auburn to victory over Ohio State? Stay tuned.
Mike Zarrilli/Getty Images
Next week, the quarterfinals will be simmed and posted on Saturday, December 25th. Here are the matchups:
#9 Ohio State at #1 Auburn
#12 Boise State at #4 Stanford

#11 Michigan State at #3 TCU
#10 Arkansas at #2 Oregon
Stay tuned to the Simulated NCAA Football Tournament.

Keep Reading