Urban Meyer Replacement: Was Dan Mullen Key To Gators Success All Along?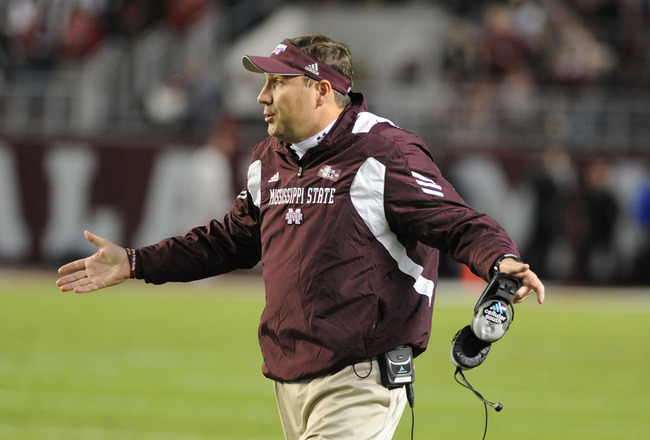 Al Messerschmidt/Getty Images
An Urban Meyer replacement? As crazy as it may sound, it would appear that the University of Florida will be looking for a new head coach after Meyer resigned as head coach of the Gators earlier Tuesday.
Among the top candidates to replace Meyer is former Urban assistant and current Mississippi State head coach Dan Mullen.
Given the Gators' relative struggles since Mullen left and Meyer's sudden retirement, it must be asked: was Dan Mullen the brains behind Urban Meyer's success all along? Or was he just fortunate to work for Meyer?
We're giving you five reasons why Mullen is the brains of the outfit, and five reasons why he's not. Then, we'll figure out, based on those reasons, whether or not Mullen was the genius.
5. Why He Wasn't: Too Early To Know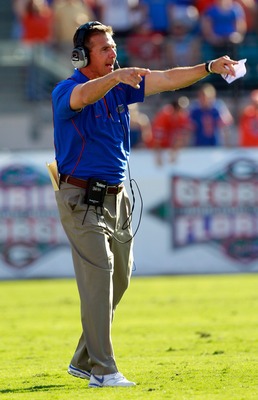 Sam Greenwood/Getty Images
Urban Meyer was a college head coach from 2001-2010. He compiled a 103-23 record.
Mullen has been a head coach for two seasons. He's 13-11 as the Bulldogs head coach.
The fact is, we don't know whether Mullen was the brains behind Meyer yet. It's still too soon to decide something like that.
Come back in five years, and we'll see where we stand.
5. Why He Was: Chip Kelly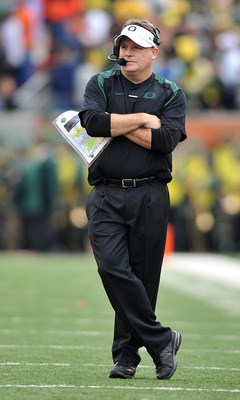 Steve Dykes/Getty Images
Kelly and Mullen are kindred spirits. Both hail from New Hampshire (Along with Gary Crowton, but he doesn't count. Why? Look at LSU's offense this season, that's why.), they're good friends and both are intelligent men who love to run the spread offense.
Kelly was offensive coordinator at Oregon under Mike Belotti; Mullen was the offensive coordinator at Florida under Urban Meyer.
Kelly was the brains behind Oregon's success in the latter half of the decade, while Mullen has shown during his stint at Mississippi State that he was the brains at Florida.
Given the similar career arcs of these coaches, it stands to reason that Mullen was the reason for his success.
4. Why He Wasn't: 2009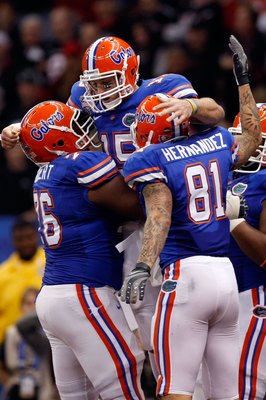 Kevin C. Cox/Getty Images
Last season, Mullen was already gone to Mississippi State. Yet, despite his absence, the Gators rolled to a 13-1 record and ended the season ranked third in the nation.
As for Mullen? The Bulldogs went 5-7 last year, not really much of an improvement over years prior.
If Mullen was the brain, why didn't Florida take the hit last season, right after he left?
4. Why He Was: The Quarterbacks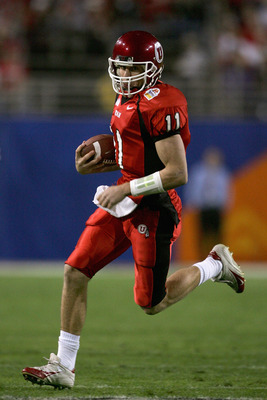 Harry How/Getty Images
At both of Urban Meyer's first two stops, Mullen was the quarterbacks coach. He churned out incredibly successful players on a constant basis, ranging from Josh Harris at Bowling Green, to Alex Smith at Utah and Tim Tebow at Florida.
For those who don't remember Smith as a college quarterback, let me remind you. He was the pocket passer who was so frustrated with the offense that he nearly quit Utah football.
Mullen, the quarterback coach and therefore the guy who should take credit for the quarterback's success, turned Smith from a disgruntled kid into one of the most dangerous quarterbacks in college football history, and made Smith into a first overall pick.
As an offensive coordinator at Florida, Mullen looked at the unique talents of Tim Tebow, and developed an offense specifically for him, making him one of the greatest college players in history.
3. Why He Wasn't: The Recruits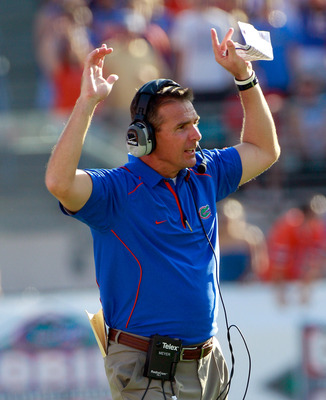 Sam Greenwood/Getty Images
When Mullen left after the 2008 season, people began to notice that the offense sputtered ever so slightly in 2009.
Come 2010, the offense stalled on a weekly basis and people began to credit Mullen for the team's success.
But what they're failing to recognize is the natural dip in production that occurs when a coordinator takes his services elsewhere.
It takes time to break in a new offensive coordinator, especially for an offense as involved as Florida's.
So, before you claim that it was Mullen that was the source of the Gators' power, perhaps you should factor the drop into the equation.
3. Why He Was: Meyer's Record wIth Mullen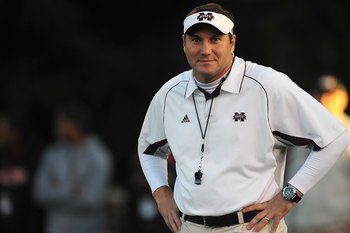 Rick Dole/Getty Images
It's hard to do a conclusive analysis on the actual stats here, because Mullen was with Meyer from the start of his head coaching career until 2008.
But, perhaps that's the point.
Perhaps the fact that Mullen called the shots and ran the offense was the reason for Urban Meyer's success.
Maybe Mullen's record will get better and better as he builds Mississippi State (or Florida) into a power. But the fact is, everywhere Meyer was successful, Mullen was there.
2. Why He Wasn't: John Brantley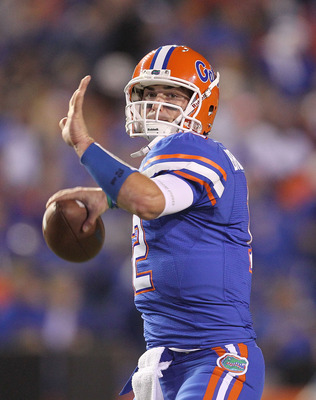 Mike Ehrmann/Getty Images
For those of you quick to blame Meyer for this season's struggles, consider quarterback John Brantley.
Brantley is the polar opposite of former Gator and Meyer disciple, Tim Tebow; he's slow, immobile and not dynamic. He's a pocket passer through and through.
Much of Florida's struggles in 2010 can be chalked up to Brantley's struggles.
Why did Meyer start Brantley? Why didn't he recruit a quarterback better suited to his system?
He did. His name was Cam Newton.
2. Why He Was: The 2010 Season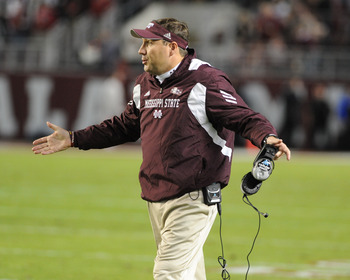 Al Messerschmidt/Getty Images
Despite Florida's stellar recruiting classes and their advantage in terms of resources, the Gators finished 2010 with a 7-5 record.
Mississippi State, meanwhile, has just recently started to have recruiting classes that rank in the top 25 in college football (Right when Mullen started coaching, how weird!).
Not only did the Bulldogs finish with a better record than Florida, at 8-4, they also beat the Gators. At Florida.
I think that tells us all we need to know about the brains of the operation.
1. Why He Wasn't: Tim Tebow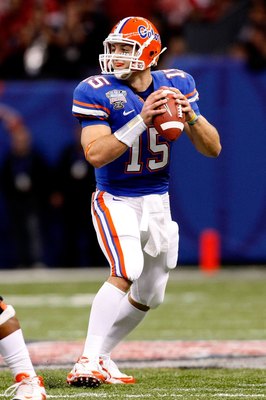 Kevin C. Cox/Getty Images
Okay; so you don't buy that the precipitous drop-off from the Gators in 2010 was due to Mullen not being there. Good. Because it wasn't Mullen that was noticeably absent; it was Tim Tebow.
Yes, Football Jesus' presence in the huddle was more missed than any coaching Mullen or Meyer can do. He was such a sublime talent, perfectly suited for Mullen and Meyer's system, that his absence was bound to create a slump in 2010.
If you want to find the reason for Meyer's successes at Florida, one need look no further than Tim Tebow.
1. Why He Was: The Offense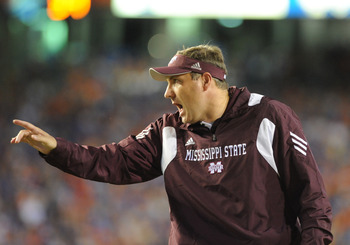 Al Messerschmidt/Getty Images
How do we know the Gators offense from 2006 through 2008 was Mullen's? Urban Meyer changed it. This season, Florida hardly used the option part of the spread for most of the year.
Some of that can be attributed to the quarterback, but the Gators used multiple players at the position over the course of the year; why not just pick someone better suited to the option?
Perhaps because Meyer didn't know how to run it without Mullen there to help.
The Verdict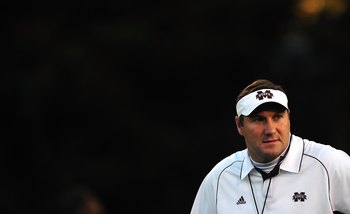 Rick Dole/Getty Images
While Meyer was certainly an excellent coach in his own right, he owes much of the credit for his success to former pupil, Dan Mullen.
Mullen built the quarterbacks that Meyer profited from, including Alex Smith and Tim Tebow. He designed an offensive scheme specific to Tebow's strengths and was one of the most widely coveted future head coaches while at Florida.
But, perhaps most convincing, was the 2010 season, in which Mullen continued to build his program despite a lack of talent in the upper class ranks while Meyer sputtered and stumbled all season, despite having top tier recruiting classes in recent years.
While Mullen's got logic on his side, the truth is, we just don't know yet.
As we said earlier, Mullen hasn't been a head coach long enough to know for sure if he can hack it. The next couple of seasons should show us what we need to know to make the decision.
Keep Reading

Florida Gators Football: Like this team?