Ranking College Football's 25 Hardest Schedules for 2014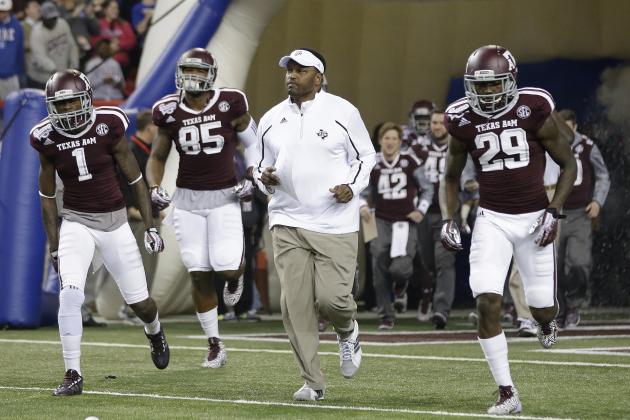 John Bazemore/Associated Press
Texas A&M coach Kevin Sumlin and the Aggies have a difficult road in 2014.
With national signing day squarely in the rearview mirror, college football officially enters the dark days, where fans only hope of sanity is to re-watch games recorded throughout the 2013 season.
If you failed to think ahead, you're stuck counting the hours until that first spring practice report, which always breeds optimism regardless of how a team is shaping up. Another offseason exercise is looking at the schedule and picking out which games you're most excited about.
Certain dates ought to be circled months in advance, because despite the goal of remaining on the couch all day long on each and every Saturday in the fall, commitments arise and it's important to know which weekends are off-limits.
As for your own team, odds are that you've at least taken a glance at the 2014 schedule. Ranking the 25 hardest requires educated guesses and inexact science, since we don't actually know how good every team is going to be. A road game at Florida looked pretty tricky last August, but then we saw Georgia Southern handle the very same task.
We all have an idea about which teams we think will be strong once again in 2014, and it's that idea that helps shape our list of the 25 most difficult schedules in college football. The Pac-12 and SEC both appear to be strong at the top and relatively deep, and the Big 12, ACC and Big Ten conferences all seem to be on the rise.
In short, there are very few easy schedules in college football these days. But from a starting point of about 40 teams, we've narrowed it down to the 25 who have the most difficult paths next season.
All schedules via fbschedules.com
Begin Slideshow

»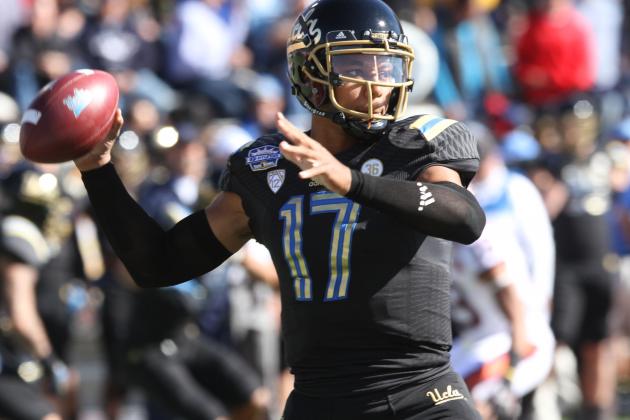 Victor Calzada/Associated Press
QB Brett Hundley
Notable Out-of-Conference Games: @Virginia, Texas (neutral site)
Notable Pac-12 Matchups: Arizona, Oregon, Stanford, USC, @Arizona State, @Washington

Given the number of quality opponent's on UCLA's schedule in 2014, the season actually sets up pretty well. The Bruins will be tested right off the bat with a less-than-neutral site game against Texas, who could be decent if David Ash returns to top form.
It's the Pac-12 slate that puts the Bruins on the list, however, as Jim Mora's squad could potentially face up to six ranked teams, and likely two or three that will be in the Top 10. But quarterback Brett Hundley will only find himself away from home on back-to-back weeks once during the season, and the games are against California and Colorado.
The most difficult stretch will likely be the final two games, where the Bruins play host to rival-USC and then welcome in Stanford six days later. If Hundley and the offense are clicking and the team manages to win all of its games up to that point, the pressure will be more intense than anything UCLA has felt in years.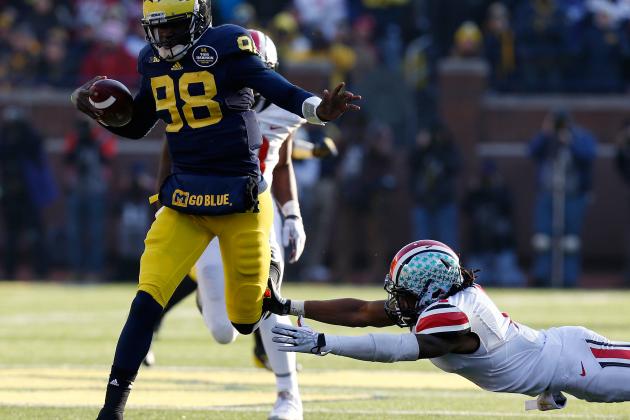 Gregory Shamus/Getty Images
QB Devin Gardner
Notable Out-of-Conference Games: @Notre Dame, Utah
Notable Big Ten Matchups: @Michigan State, @Ohio State, @Northwestern, Penn State
Prepare yourselves, Wolverines' fans, for the amount of Appalachian State jokes you'll hear in advance of the 2014 season. Although the Mountaineers probably won't provide the same threat they did in 2007, it's still an interesting game to open the year.
We'll really find out about Brady Hoke's club a week later when it travels to South Bend to take on Notre Dame, and a home date with Utah could also be interesting.
Within the Big Ten, the Wolverines will miss both Wisconsin and Nebraska, but games against Ohio State and Michigan State are on the road. Both the Buckeyes and Spartans figure to be in the Top 10 when the season begins, although quarterback Devin Gardner and company will get a bye week before taking on Mark Dantonio's team in East Lansing.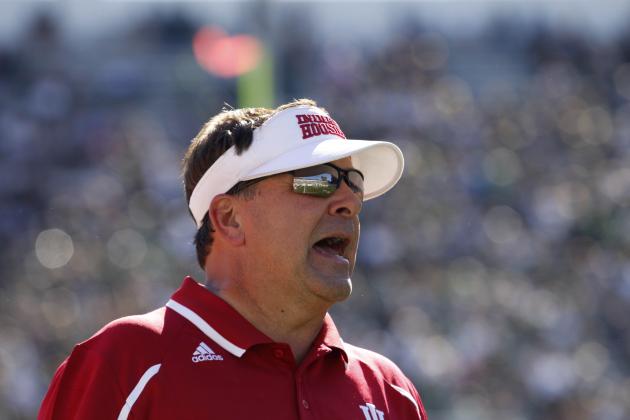 Al Goldis/Associated Press
Indiana coach Kevin Wilson
Notable Out-of-Conference Games: @Missouri, @Bowling Green
Notable Big Ten Matchups: @Ohio State, @Michigan, Michigan State, Penn State
Before Missouri and Indiana squared off in 2013, many thought the game would be a good test for two teams in need of a spark. Then the Tigers went on to capture an SEC East title, and the return trip to Columbia looks rather daunting. Bowling Green is no slouch, either.
After the Hoosiers fight their way through the out-of-conference slate, they'll face a Big Ten schedule that slowly ramps up in level of difficulty. A bye week separates games against Michigan State and Michigan, but after that, it's all uphill.
Following the tilt in Ann Arbor, the Hoosiers will face Penn State, Rutgers and Ohio State in consecutive weeks. Not only will winning more than a pair of games in September be difficult, but the back end of the schedule doesn't let up in any way. If Indiana hopes to take a step forward in 2014, it will have to do so by knocking off some giants.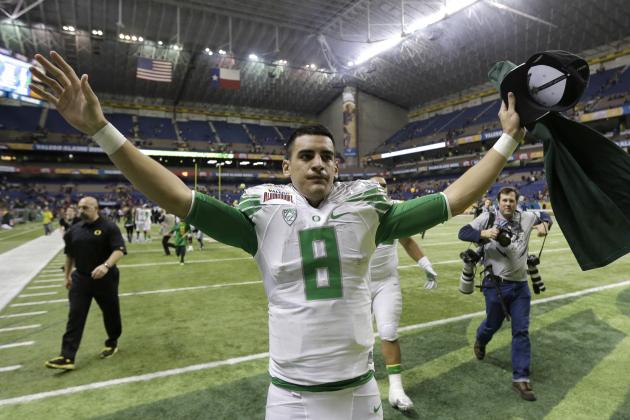 Eric Gay/Associated Press
QB Marcus Mariota
Notable Out-of-Conference Games: Michigan State
Notable Pac-12 Matchups: @UCLA, @Oregon State, Stanford, Washington
College football fans won't have to wait until early November to find out how good the Oregon Ducks are like they did in 2013. This time around, Mark Helfrich and company will be tested early on when reigning Rose Bowl champion Michigan State travels west to Autzen.
After that, the schedules relaxes a bit, and a road date with UCLA even comes with two extra days to prepare. But as long as the Stanford Cardinal are on the schedule, no Duck fan will feel too confident about going undefeated.
There's also the Civil War, which will see quarterback Marcus Mariota and the Ducks on the road at Reser Stadium to take on the Beavers, who lost a heart-breaker in 2013, 36-25. If this ends up being the year that Oregon breaks through the curse of strong teams with rugged defenses, you can bet that Mike Riley and company would love nothing more than to add a surprise loss to the record in late November.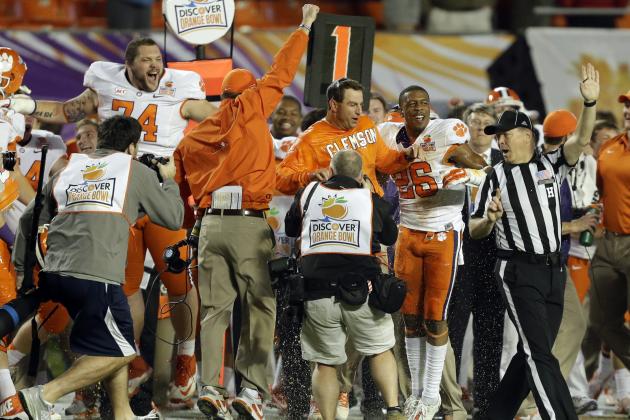 Wilfredo Lee/Associated Press
Clemson celebrates an Orange Bowl victory.
Notable Out-of-Conference Games: @Georgia, South Carolina
Notable ACC Matchups: @Florida State, Louisville, @Georgia Tech
Just like they were in 2013, the Clemson Tigers will be at the forefront of the college football world to begin the 2014 season when they travel to Georgia and Florida State for two of their first three games. Splitting the contests is probably the best fans can hope for, although an 0-2 start is possible.
After that, the Tigers will face an easy conference slate, with games against Louisville and Georgia Tech being the only major tripping points.
To close out the season, Dabo Swinney's club will travel to rival South Carolina to take on the Gamecocks. If the Tigers can play their best football at the beginning and end of the season, they could be in decent shape when the final polls are released. But with a whole new cast on offense, the Tigers could be facing some difficult times next year.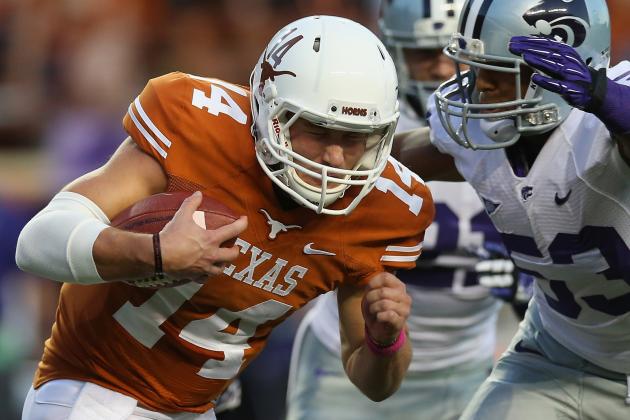 Ronald Martinez/Getty Images
QB David Ash
Notable Out-of-Conference Games: BYU, UCLA (neutral site)
Notable Big 12 Matchups: Oklahoma (neutral site), Baylor, @Oklahoma State, @Texas Tech, @Kansas State
The second half of Texas' 2014 schedule is much easier than the first half, but it's those initial six contests that give the Longhorns a spot on this list. New head coach Charlie Strong's team will play UCLA, Baylor, Oklahoma and BYU all before mid-October, so even notching three or four wins there won't be easy.
The schedule then relaxes a bit, although trips to Texas Tech and Kansas State are no sure thing. The second-to-last game is at Oklahoma State, but it remains to be seen what kind of team the Cowboys will be next season.
Should teams like Baylor, Oklahoma State and Texas Tech all play to their potential, the schedule quickly becomes one of the toughest in the nation. As it stands, it looks pretty daunting even in February.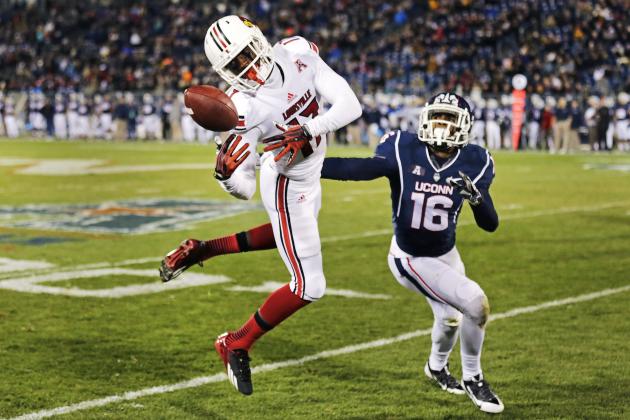 Charles Krupa/Associated Press
WR James Quick
Notable Out-of-Conference games: @Notre Dame, Kentucky
Notable ACC Matchups: @Clemson, Florida State, Miami (Fla.)
One thing we know for sure: There will be no more jokes about Louisville's schedule now that the Cardinals are a part of the ACC. If the 2013 slate was one of the easiest in college football history, the 2014 lineup is an almost complete reversal.
It starts with the out-of-conference games, where the Cardinals will take on Notre Dame in South Bend and host Kentucky. Though the Wildcats have been awful in recent years, they still aren't a team you can simply overlook.
In the ACC, notable matchups include a trip to Clemson and home games against Florida State and Miami. It's not exactly life in the SEC West, but the schedule is exponentially more difficult than it's been in recent years, so it'll be interesting to see how the Cardinals fare in the post-Teddy Bridgewater era.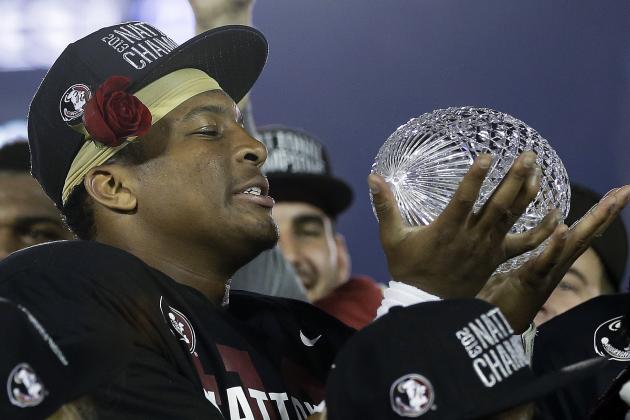 David J. Phillip/Associated Press
QB Jameis Winston
Notable Out-of-Conference games: Oklahoma State (neutral site), Notre Dame, Florida
Notable ACC Matchups: @Louisville, @Clemson, Miami
Much like Louisville, there's little chance of Florida's State's schedule being the butt of jokes in 2014. Even the out-of-conference slate is tougher than what some teams will face in an entire season.
The year begins with a neutral-site contest versus Oklahoma State in what figures to be a thriller. Home games against Notre Dame and Florida may not be terribly scary, but the Irish and Gators are noteworthy opponents capable of putting up a fight.
The reason the Seminoles aren't a bit higher on this list is the ACC portion of the lineup, where road trips to Louisville and Clemson along with a home date against Miami appear to be the only stumbling points. Both the Cardinals and Tigers have some question marks entering the season, and the Hurricanes must find a solution at quarterback. Still, Florida State's road in 2014 is much rockier than it was last season.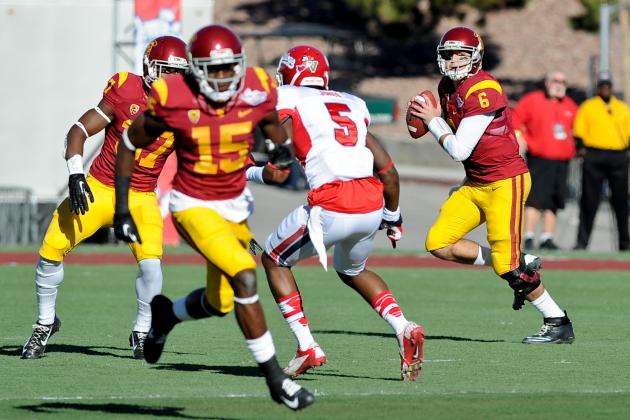 David Cleveland/Associated Press
QB Cody Kessler in the Las Vegas Bowl
Notable Out-of-Conference games: @Boston College, Notre Dame, Fresno State
Notable Pac-12 Matchups: @Stanford, @UCLA, @Arizona, Arizona State, Oregon State
The USC Trojans play Fresno State, at Stanford and at Boston College to open the season, so we're likely to find out right away what Steve Sarkisian's team can accomplish in 2014. Unfortunately, the schedule doesn't really get any easier.
The Trojans will then have home games against Oregon State and Arizona State before taking a trip to Tuscon to face Arizona. The season concludes with a game at UCLA followed by a visit from Notre Dame.
There's a stretch in late October where the Trojans will face Colorado, Utah, Washington State and California, but everything that surrounds those four games looks tough. Sarkisian will have to rely on quarterback Cody Kessler to take that next step, or get help from redshirt freshman Max Browne, if he wants his stay in Los Angeles to get off on the right foot.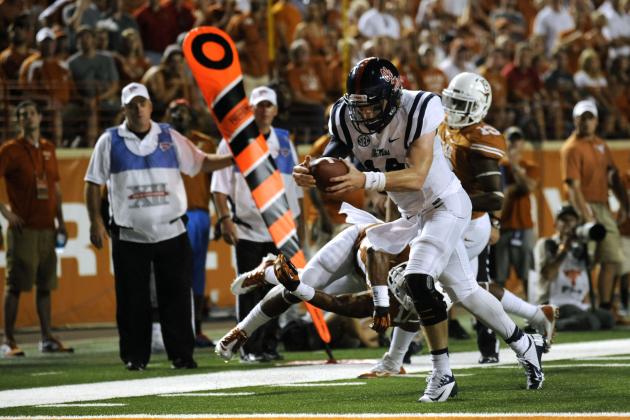 Brendan Maloney-USA TODAY Sports
QB Bo Wallace
Notable Out-of-Conference games: Boise State (neutral site)
Notable SEC Matchups: @LSU, @Texas A&M, Alabama, Auburn
The first SEC team to crack the list is Ole Miss who, all things considered, could have it a lot worse, as you'll see in the remaining slides. But in the grand scheme of things, it's still a difficult schedule that could have the Rebels struggling to get to seven or eight wins.
It starts off with a neutral-site contest against Boise State, followed by games at Vanderbilt, Louisiana-Lafayette and Memphis. It would be ideal for coach Hugh Freeze's squad to start 4-0 given what comes next.
After the visit from Memphis, it's games against Alabama, Texas A&M, Tennessee, LSU and Auburn all in consecutive weeks. There's nothing difficult the rest of the way, but that five-game stretch is as brutal as you'll find in the country.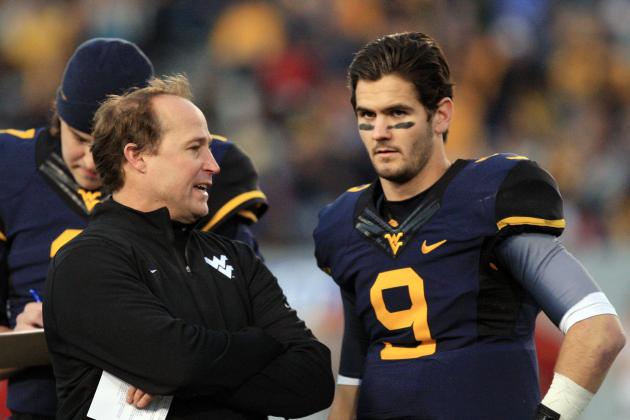 Chris Jackson/Associated Press
West Virginia head coach Dana Holgorsen
Notable Out-of-Conference games: Alabama (neutral site)
Notable Big 12 Matchups: @Oklahoma State, @Texas, Baylor, Kansas State, Oklahoma
Getting back to their winning ways of 2012 won't be easy for the West Virginia Mountaineers, not with one of the most difficult schedules in the country. Start with a season-opener against Alabama, which figures to be in contention for a national title once again.
A date with Oklahoma on Sept. 20th will be challenging, especially if Sooners' quarterback Trevor Knight continues his hot play from the Sugar Bowl. After a bye week and a visit from Kansas, the schedule gets downright nasty.
Dana Holgorsen's squad will face Texas Tech, Baylor, Oklahoma State, TCU and Texas all in consecutive weeks before a bye week and games against Kansas State and Iowa State close out the season. There's no breaks along the way, and with several Big 12 teams on the rise, most notably the Sooners, West Virginia must be ready to go each and every week or risk suffering another underwhelming campaign.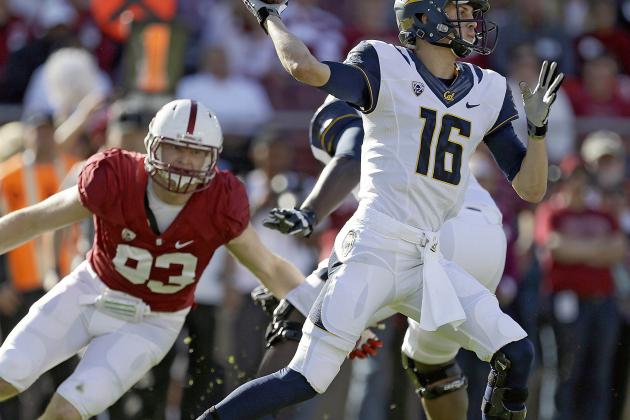 TONY AVELAR/Associated Press
QB Jared Goff
Notable Out-of-Conference games: @Northwestern, BYU
Notable Pac-12 Matchups: @USC, @Arizona, @Oregon State, Stanford, Oregon, UCLA, Washington
Quarterback Jared Goff was the lone bright spot in an otherwise dismal 2013 season for Cal, which notched just one victory. Getting back on track will require Goff's continuing development, but it's a near-impossible task given who the Bears will be facing in 2014.
You'll notice both Northwestern and BYU in the out-of-conference lineup and neither team will give Cal an easy win. But conference play is where the real challenges are, as the Bears will travel to USC, Arizona and Oregon State.
And yet, things get even more difficult at home, as Sonny Dykes' and company will play host to Stanford, Oregon, UCLA and Washington, all teams likely to be ranked next season. Turning things around won't be easy and the task is doubly hard with one of the toughest schedules in the country. If nothing else, Bears' fans will get to see a number of great teams play in their home stadium.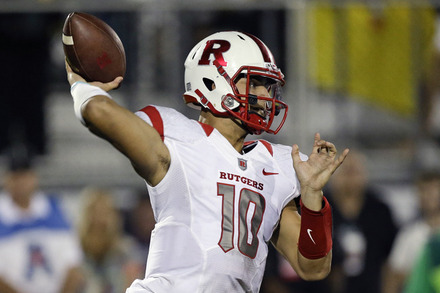 John Raoux/Associated Press/Associated Press
QB Gary Nova
Notable Out-of-Conference games: @Washington State, @Navy
Notable Big Ten Matchups: @Michigan State, @Nebraska, @Ohio State, Michigan, Penn State, Wisconsin
Welcome to the Big Ten conference, Rutgers. You have games at Washington State and Navy on the schedule, which should be chewy appetizers in advance of main course that would be difficult for even the most seasoned competitive eaters to take care of.
In the Big Ten, Rutgers will travel to Michigan State and Ohio State, two teams who could be ranked in or near the Top 5. The Scarlet Knights will also pay visit to Nebraska, and welcome Michigan, Penn State and Wisconsin out to New Jersey.
That's a total of eight games that are dicey at best, meaning Rutgers will have to play with a major chip on its shoulder to not end up at the bottom of the barrel in year one in their new conference. If the Scarlet Knights can manage to knock off a few ranked teams, they'll look right at home and earn respect from their peers. But that task will be difficult with one of the hardest schedules in the country.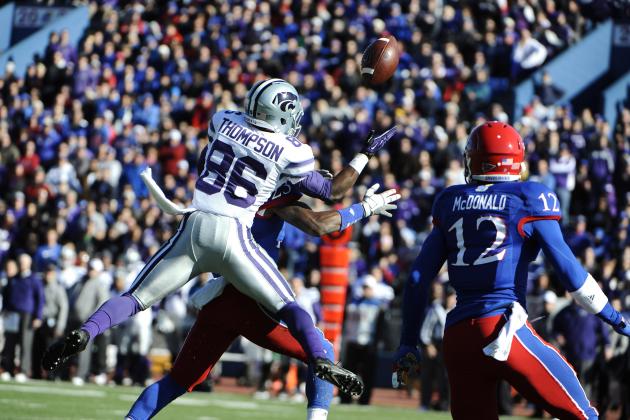 John Rieger-USA TODAY Sports
CB Ronnie Davis covered by Kansas State's Tramaine Thompson
Notable Out-of-Conference games: @Duke
Notable Big 12 Matchups: @Baylor, @Kansas State, @Oklahoma, @Texas Tech, Oklahoma State, Texas, TCU
In years past when a team like Duke appeared on the schedule, most fans would mark down a win and move on without giving the game a second thought. But Kansas has been unable to dominate anybody in recent years, and the Blue Devils are coming off a 10-win season.
So in addition to a difficult out-of-conference test, the Jayhawks will face perhaps the toughest in-conference schedule of any Big 12 team. That means trips to Baylor, Kansas State, Oklahoma and Texas Tech along with home games against Oklahoma State, Texas and TCU.
There isn't a single team in the country that could look at the lineup and feel completely confident in any one game. The Bears and Sooners have a chance to be in the Top 10, and both the Wildcats and Red Raiders could be ranked depending on how things shake out in September. For a team that typically struggles to notch more than a couple Big 12 victories, things aren't getting any easier in 2014.
Geoff Burke-USA TODAY Sports
Head coach Mike London
Notable Out-of-Conference games: UCLA, @BYU
Notable ACC Matchups: @Duke, @Florida State, @Virginia Tech, Louisville, Miami
The Virginia Cavaliers' 2014 season begins with a bang as the team faces UCLA and Louisville in two out of its first three games. The last team to travel east to Virginia was Oregon, who laid a 59-10 beatdown on the Cavaliers last September. UCLA will be looking to make a similar statement.
Then there's BYU, a team that will be out for revenge after dropping their contest against Virginia in 2013. A road trip to Duke will have its own set of challenges, and the schedule ends with Georgia Tech, Florida State, Miami and Virginia Tech. How's that for a closing act?
Fans of nearly every team will hope for a bowl game at the very least, and Virginia is no exception. But with difficult games both in and outside their conference, the Cavaliers may have to settle with trying to score a major upset at some point along the way, and then calling it good.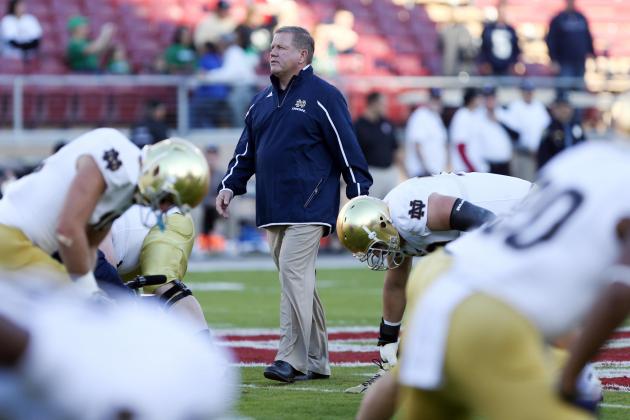 Kelley L Cox-USA TODAY Sports
Notre Dame coach Brian Kelly
Notable Matchups: @Florida State, @USC, @Arizona State, Louisville, Michigan, Stanford
Notre Dame is pretty much an honorary member of both the Pac-12 and ACC at this point, at least in football. The Fighting Irish will take on Florida State, Louisville, Syracuse and North Carolina from the latter conference, and USC, Stanford and Arizona State from the Pac-12.
By playing several teams from two different power conferences, Notre Dame will be in the spotlight almost every week. The downside, of course, is an incredibly difficult schedule. The Seminoles will likely be ranked number one to open the season, and both USC and Stanford will have a number next to their names as well.
The rivalry game with Michigan is always exciting, and Louisville will be looking to notch a landmark win in its first year as a member of the ACC. Beating Notre Dame is one way to do exactly that. Because several of these teams have question marks, Notre Dame wasn't boosted up into the Top 5 of this list. But when all is said and done, Brian Kelly's squad may just have the toughest schedule in the nation.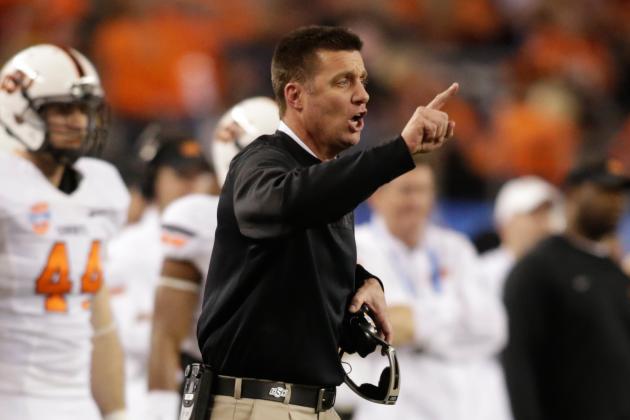 Tim Heitman-USA TODAY Sports
Oklahoma State head coach Mike Gundy
Notable Out-of-Conference games: Florida State (neutral site)
Notable Big 12 Matchups: @Baylor, @Oklahoma, Texas, Texas Tech
In what is already a highly anticipated matchup, Oklahoma State will square off with defending national champion Florida State to kick off its 2014 season. That game alone is what puts the Cowboys on the list of hardest schedules, because their conference slate isn't as tough as some of the other Big 12 teams.
The only truly difficult road trips will be to Baylor and Oklahoma, while home games against Texas and Texas Tech also look challenging. However, the Cowboys will be facing the Longhorns, Bears and Sooners in three straight weeks to end the season.
Much like 2013, we won't know too much about Mike Gundy's club until it reaches November. The difference this time around is that the Cowboys open up against the best team in the country, making their 2014 schedule one of the toughest around.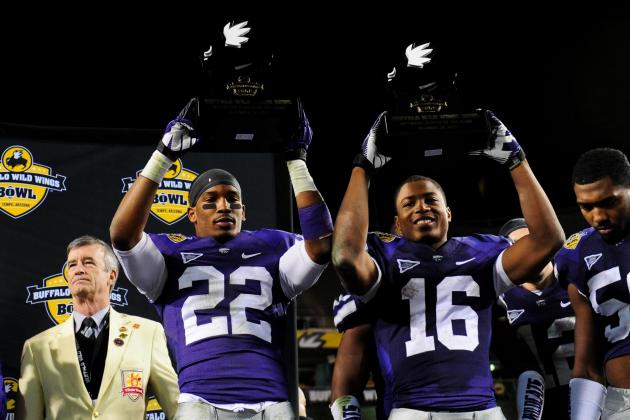 Matt Kartozian-USA TODAY Sports
Kansas State dominated the Buffalo Wild Wings bowl.
Notable Out-of-Conference games: Auburn
Notable Big 12 Matchups: @Baylor, @Oklahoma, @TCU, Oklahoma State, Texas, TCU
Kansas State has a really intriguing schedule in 2014, and it's one that could reveal the Wildcats' true colors by the middle of September. A paycheck game against Stephen F. Austin kicks off the schedule, followed by the always dicey trip to Ames, Iowa to face the Iowa State Cyclones.
After a bye week, they'll face the Auburn Tigers on a Thursday night in a game that will draw eyeballs all around the country. An upset would immediately make Bill Snyder's team a contender in the Big 12, while a blowout loss would likely signal a mediocre season.
The other tricky aspect of the schedule comes in late November, when the Wildcats will play Oklahoma, Texas, Oklahoma State and TCU in consecutive weeks. Because of a monster out-of-conference game and a brutal Big 12 lineup, Kansas State is the near the top of the list of the hardest schedules in 2014.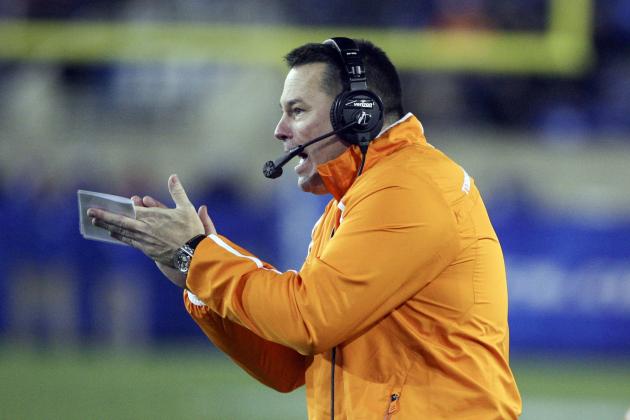 Mark Zerof-USA TODAY Sports
Tennessee coach Butch Jones
Notable Out-of-Conference games: @Oklahoma
Notable SEC Matchups: @Georgia, @South Carolina, Alabama, Missouri
If Butch Jones really does have the Tennessee program on the verge of a return to prominence, as many seem to think, 2014 will be the year to prove it.
Utah State and Arkansas State are must-win games to open up the schedule, because a trip to face the Sugar Bowl champion Oklahoma Sooners comes next.
Then, when SEC play begins, the Volunteers will travel to Georgia and South Carolina while also playing host to Alabama and Missouri. Believe it or not, tougher roads through the best conference are out there, but that won't make Vols fans feel any better. In an effort to get things back to where Phil Fulmer had them, coach Jones will have to travel on an extremely rocky road.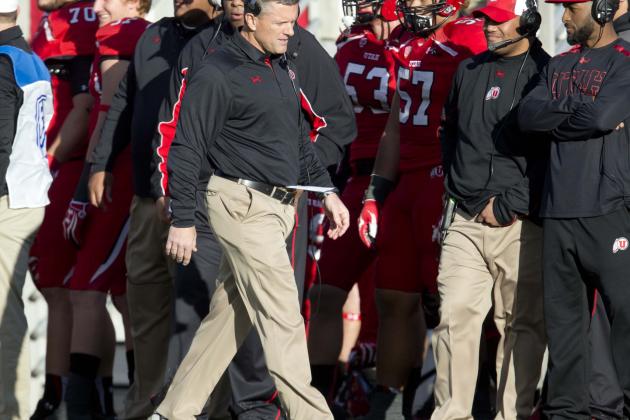 Russ Isabella-USA TODAY Sports
Utah coach Kyle Whittingham
Notable Out-of-Conference games: @Michigan, Fresno State
Notable Pac-12 Matchups: @Arizona State, @Stanford, @UCLA, Oregon, USC, Arizona
When the Utah Utes made the move to the Pac-12 conference, they didn't bother with the insurance option that could have allowed them to go back to the Mountain West should things not work out. Even though that terrible joke wasn't ever an option, we're wondering if Kyle Whittingham is feeling a bit of buyer's remorse.
Because if he's not, he probably hasn't looked at the team's 2014 schedule, which has games against Fresno State and Michigan in the very first month. Once conference play begins, the road presents even more obstacles.
Starting on Oct. 4th, the Utes will play UCLA, Oregon State, USC, Arizona State, Oregon, Stanford and Arizona all in a row with only one bye week in the middle. Without the starting quarterback position locked down, Utah may be in for a tough season. The defense always plays hard, which may lead to an upset similar to the one against Stanford in 2013. But unless the offense finds some playmakers, this brutal schedule appears to have the upper hand.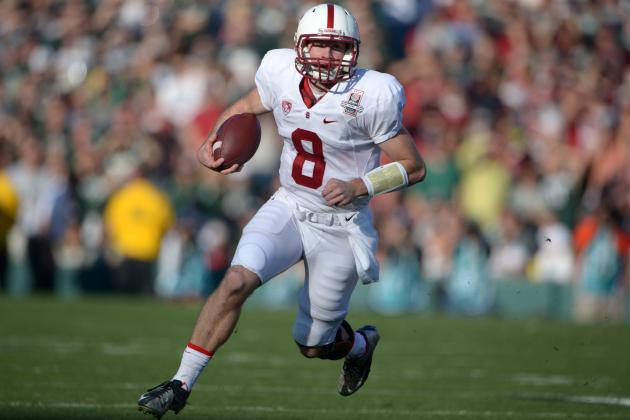 Kirby Lee-USA TODAY Sports
QB Kevin Hogan
Notable Out-of-Conference games: @Notre Dame
Notable Pac-12 Matchups: @Oregon, @UCLA, @Washington, @Arizona State, USC, Oregon State
Stanford is a back-to-back Pac-12 champion, but the two-year run may come to an end in 2014. You could say that no matter what, because anything is possible in college football, but the Cardinal's brutal schedule makes it all the more likely.
A road trip to South Bend to take on Notre Dame highlights the non-conference slate, but that's been there for years. The Cardinal's in-conference draw is what puts them in the top five for the hardest schedules in the country.
They'll play at Cal, but that's the only easy road game on the whole schedule. Visits to Oregon, UCLA, Washington and Arizona State are all tricky, and neither USC nor Oregon State will head to Palo Alto incapable of putting up a fight. If David Shaw's team is to win another conference crown, it will have to play better football than it has at any point over the past five seasons.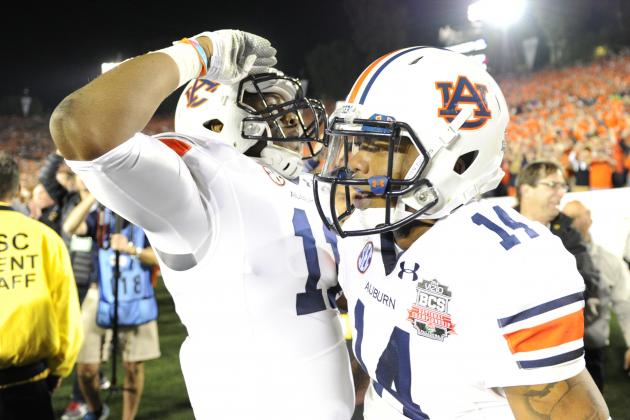 Kirby Lee-USA TODAY Sports
QB Nick Marshall
Notable Out-of-Conference games: @Kansas State
Notable SEC Matchups: @Alabama, @Georgia, LSU, South Carolina, Texas A&M
Auburn came out of nowhere in 2013 to win the SEC and make it to the national championship game. In order to repeat, they'll have to not only traverse the difficult waters of wearing the conference crown, but they'll also have to make it through one of the hardest schedules in the nation.
A non-conference trip to Kansas State doesn't look scary on paper, but Bill Snyder's team will be ready to go and the stadium named after him will be rocking. Then, the Tigers will face five of the best teams in the SEC, including trips to Alabama and Georgia.
You don't think Nick Saban is already planning his revenge for what happened in the 2013 Iron Bowl? Gus Malzahn's team will also play host to LSU, South Carolina and Texas A&M. Make no mistake, if the Tigers make it back to Atlanta to defend their conference title, they'll most certainly have earned it.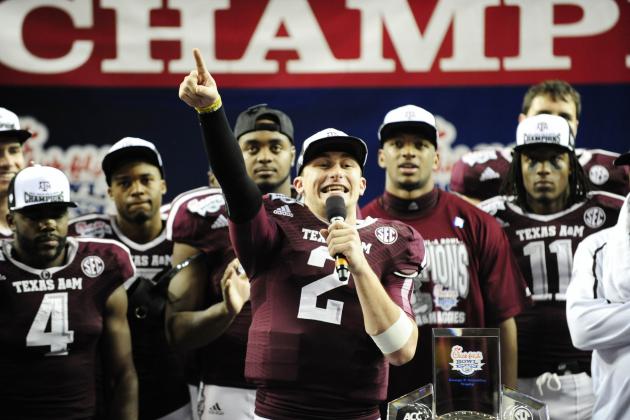 Kevin Liles-USA TODAY Sports
Texas A&M has seen the last of Johnny Manziel.
Notable Out-of-Conference games: @Southern Methodist
Notable SEC Matchups: @Alabama, @Auburn, @South Carolina, LSU, Missouri
Texas A&M has the luxury of not having to face an elite opponent in non-conference play in 2014. In fact, the Aggies won't face a single team from a major conference outside the SEC. Some will now scoff at the notion of Kevin Sumlin's team having the third-hardest schedule next season, but those people probably skipped over who the Aggies will play in the SEC.
It begins with a trip to South Carolina on the first Thursday night of the season, and gets even more difficult in mid-October when the team takes on Ole Miss and Alabama in consecutive weeks. The final three weeks, however, are as difficult as any stretch in recent memory.
The Aggies will play at Auburn, and then they'll host Missouri and LSU to close out the schedule. Beating any one of those squads would make most teams' entire seasons. Texas A&M will face all three, without any easy games in between. If the post-Manziel era is to get off to a good start, young players will have to mature in a hurry to be ready for the tough schedule.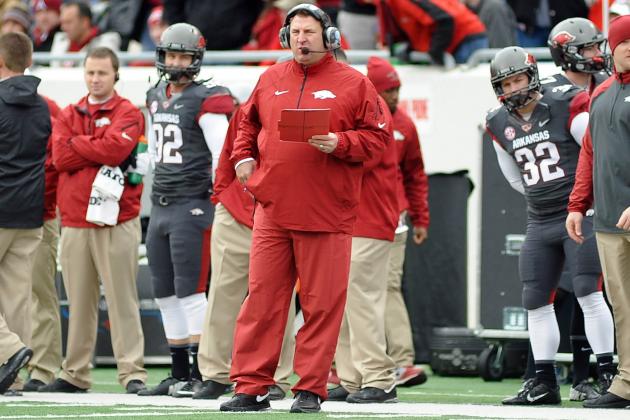 Justin Ford-USA TODAY Sports
Coach Bielema
Notable Out-of-Conference games: @Texas Tech, Northern Illinois
Notable SEC Matchups: Texas A&M (neutral site), @Auburn, @Missouri, Alabama, Georgia, LSU
Much of this list depends on which teams you think will be good in 2014. Even more important is what you think of each conference. We happen to think the SEC will remain rather salty, which is why Arkansas lands at number two.
The 2014 schedule opens up with a game at Auburn, which would be difficult for anybody. A breather against Nicholls State follows, and then it's a trip to Texas Tech and a home game against Northern Illinois. Those four contests will say a lot about the Razorbacks; unfortunately, that's only the start of the madness.
After that it's games against Texas A&M, Alabama and Georgia. LSU, Ole Miss and Missouri round out the schedule, which is as difficult as they come. There are virtually no breaks, and for a team struggling to keep its footing in the SEC, it's almost unfair. But that's the nature of college football, and it's what coach Bret Bielema signed up for when he made the move from the Big Ten.
Kim Klement-USA TODAY Sports
Coach Will Muschamp
Notable Out-of-Conference games: Florida State
Notable SEC Matchups: Georgia (neutral site), @Alabama, LSU, Missouri, South Carolina
Debating whether Arkansas or Florida has the tougher schedule is pointless, as decent arguments can be made for both sides. You'll get no qualms here if you think the Razorbacks have a rockier road. Ultimately, the edge was given to Florida on this list because of its game against Florida State.
The defending champs will be returning key players from every unit, including the reigning Heisman Trophy winner, Jameis Winston. But don't let that fool you into thinking the SEC slate is somehow easy. Spoiler Alert: it's not.
In fact, the Gators' conference schedule is brutal, with the worst stretch coming in late October against LSU, Missouri and Georgia. But there's also a trip to Alabama and a home game against South Carolina. There are only a few sure wins in the SEC to begin with, but aside from missing Auburn, it's hard to imagine a more difficult all-around schedule than the one Florida faces in 2014.