Big 12 Football: What We Learned in Week 13
November 24, 2013

Ronald Martinez/Getty Images
A small slate of games in Week 13 doesn't mean there's not a lot to talk about. 
Oklahoma State shook up the Big 12 and BCS standings with a 49-17 blowout over Baylor that all but officially knocks the Bears out of the national title picture. Meanwhile, the Cowboys take the lead in the conference race and become an interesting BCS title outsider with two weeks of football left to be played. 
Oklahoma coach Bob Stoops became the program's all-time winningest coach after beating Kansas State 41-31. Stoops surpasses Barry Switzer with 158 victories. 
And Iowa State finally notched a conference win with a 34-0 shutout over Kansas on senior night. So what did we learn in the Big 12 in Week 13?
Baylor lost because of matchups and injuries, not because it's a fraud
Losing 49-17 is rough no matter how you analyze it. As David Ubben of Fox Sports Southwest noted Saturday night, Baylor's last four losses in Stillwater have come by an average of 33 points, but no one should have expected the Pokes to keep pace with that average. Not with this Baylor team. 
Clearly, there's room to grow with Baylor as a program. But does last night's loss validate the narrative that the Bears are a fraud? Not. Even. Remotely. 

Ronald Martinez/Getty Images
Baylor won't use the injuries to wide receiver Tevin Reese, running backs Lache Seastrunk and Glasco Martin, linebacker Bryce Hager and lineman Spencer Drango as excuses, and they shouldn't be. But did it hurt not having them available last night? Of course. 
Also, Oklahoma State matches up well defensively with the Bears. The Cowboys have the defensive backs to stay with Baylor's receivers vertically and the speed on the entire starting 11 to go sideline to sideline. That was one of the keys to the Cowboys pulling the upset. 
Oh, and Pokes quarterback Clint Chelf went out and had the game of his career. No big deal. 
Oklahoma State beat Baylor in every way imaginable—plus it got a few breaks. That's not implying the Cowboys were lucky; sometimes it's just your night.
Case in point: Baylor quarterback Bryce Petty had what surely looked like a touchdown run in the first quarter, but tripped inside the Oklahoma State 10-yard line. Two plays later, running back Shock Linwood fumbled and the Pokes recovered. Then, in the fourth quarter and with Baylor at the Pokes' 2-yard line, the snap went over Petty's head and Oklahoma State returned the fumble for a touchdown. 
Sometimes, things are all like  ̄\_(ツ)_/ ̄.

But that doesn't mean Saturday's win was a fluke. The Cowboys were better prepared and Mike Gundy and his staff called an excellent game. Instead of knocking down Baylor a peg or 10, more focus should be given to Oklahoma State. 
Oklahoma State's defense gave the performance of the season 
Releasing former defensive coordinator Bill Young and promoting Glenn Spencer was an interesting offseason move for Gundy. It's almost impossible to say it's not paying dividends now, though.
Oklahoma State has been strong defensively all season, and it is one of the best units in the country at forcing turnovers. Once the offense caught up to the defense, the Pokes became a terrifying team. It all came together Saturday night. 
The Cowboys held Baylor, the No. 1 offense in the country, to a season low in points and rushing yards. Oklahoma State also forced four three-and-outs (Baylor had just seven heading into Week 13) and three turnovers. 
Normally, it's Baylor who forces opponents to go outside their game plan to catch up, but that's what Oklahoma State did to the Bears. Other than Kansas State, no other team has been able to limit Baylor offensively the way Oklahoma State did.
The game ball absolutely should go to Spencer. 
Tyler Lockett is absurd and in the conversation as one of the Big 12's best receivers
This is more of a reminder than something learned for the first time, but Kansas State wide receiver Tyler Lockett is insanely good. 
The junior had 12 receptions for 278 yards (a school record) and three touchdowns in the loss to Oklahoma, most of which came in the first half.

Jasen Vinlove-USA TODAY Sports
Those numbers speak to the weirdness that was Manhattan, Kansas, on a cold November afternoon. The Wildcats passed for 348 yards on the arm of Jake Waters and rushed for only 24 yards on 22 attempts. Conversely, Oklahoma ran for 301 yards. 
Eyewitness reports confirm that, during the game, the North and South poles flipped, black became white, up became down and nobody knew what they were watching. 
Lockett has had some absurd games this season in losing efforts. He reeled in 13 passes for 237 yards in a 31-21 loss to Texas in September, and seven receptions for 113 yards in the season-opening loss to North Dakota State.
Lockett has already surpassed the 1,000 yards receiving mark this season. Just think about the numbers he'd put up if he was on a pass-heavy team. 
Other happenings from around the Big 12
Best offensive performance: It's a toss-up between Chelf and Lockett. Both were exceptional and deserve recognition. Chelf gets the edge because he played the best game of his career in a crucial game on a big stage. Also, he caught a double-pass [swoon.]
Best defensive performance: How do you single anyone out for Oklahoma State? That entire unit played lights out. For the sake of choosing a name, let's go with safety Daytawion Lowe. He led the team in tackles (10) and had a pass break-up. He also did a nice job staying with Baylor's receivers down the field all night. 
Best Open-Field Tackle: The turf monster against Bryce Petty. Solid form, head up, just like they teach in practice.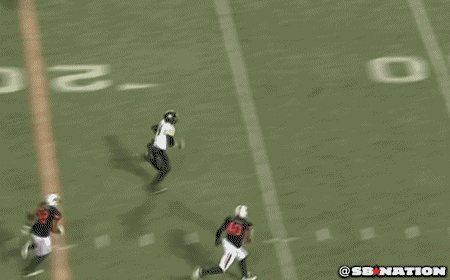 Via SBNation
Worst punt: Kansas State. Not only did the Wildcats punt from their own end zone, but the ball traveled a mere 30 yards into the wind—which Oklahoma's Jalen Saunders caught on the run and returned 30 yards. The ball was placed at the K-State 3-yard line, the previous line of scrimmage. There was, literally, no net gain on the punt.
Coldest-looking stadium shot: Iowa State's Jack Trice Stadium. Here's a photo an hour before kickoff against Kansas. Weather reports had the wind chill in the single digits. 
And here's former Missouri wide receiver T.J. Moe providing some context to just how cold it gets in Ames. 
Ben Kercheval is the lead writer for Big 12 football. You can follow Ben on Twitter @BenKercheval.