The University of Southern California Trojans tumbled out of the Top 25 after a 10-7 loss to Washington State in Week 2, but head coach Lane Kiffin announced he's sticking with Cody Kessler as his starting quarterback.
USC's official athletic department Twitter feed broke the news on Monday:
USC head coach Lane Kiffin has officially named Cody Kessler the starting quarterback.

— USC Trojans (@USC_Athletics) September 9, 2013
Neither Kessler nor fellow signal-caller Max Wittek was effective against the Cougars, but Kiffin is going with the more athletically dynamic sophomore against Boston College over the pocket-based Wittek, who gained experience as a starter late last season.
According to Arash Markazi of ESPN Los Angeles, Kiffin will not discuss his decision with the media today and will instead comment on the situation through a YouTube video:
Kiffin will not address the media today about his QB decision. The school will post a video of Kiffin explaining his decision on YouTube.

— Arash Markazi (@ArashMarkazi) September 9, 2013
The program has posted that video, which you can see here:
Kessler has been uninspiring to say the least to start the 2013 campaign, completing just 10 of 19 passes for 95 yards, a touchdown and an interception in the opening 30-13 victory over Hawaii.
That was followed by an even poorer performance on Saturday, when Kessler tossed a costly pick-six to Washington State defensive back Damante Horton. The critical miscue came with only 27 seconds left in the first half.
It's not as though Wittek did anything to make a strong case for himself either.
While his teammate went 8-of-13 for 41 yards and an interception, the stronger-armed Wittek was only 3-of-8 for 13 yards and a game-sealing pick—also nabbed by Horton.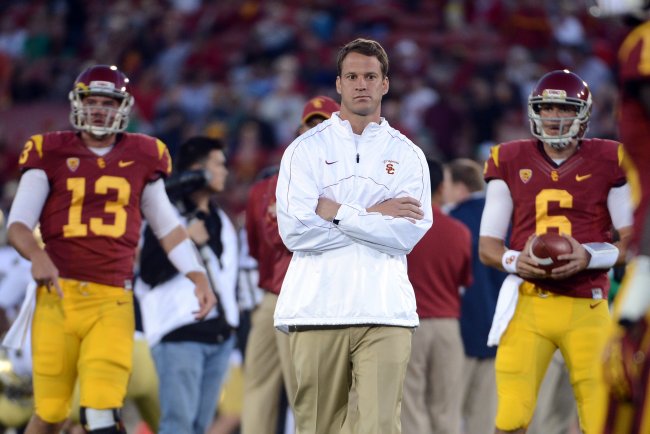 Harry How/Getty Images
Who gives the Trojans the best chance to win in 2013?
According to Markazi, the team's longest pass against Washington State was eight yards, and the 54-yard total passing was the lowest in a game since 1998. Kiffin was less than enthusiastic at this news.
"I've never heard of stats like we had today," he said. "That's very discouraging and obviously that falls on me."
The decision to stick with Kessler is sure to spark discussion among fans. Bleacher Report's Michael Felder offered a fitting description for the situation:
Gonna be interesting. RT @USCFootballNews: It's official. Cody Kessler is #USC's starting quarterback.

— Michael Felder (@InTheBleachers) September 9, 2013
Kiffin has to be feeling the heat after being serenaded by The Coliseum crowd to chants of "Fire Kiffin" in the midst of USC's disappointing loss.
Naming a starting quarterback isn't likely to have a positive effect on Kiffin's job safety, though it's possible Kessler will play better knowing he is the starter against Boston College.
Turning to true freshman Max Browne, who was 247Sports.com's No. 1-rated pro-style quarterback coming out of high school, could be USC's next move if Kessler's struggles continue.
However, Kiffin seemed to dismiss that possibility, per ESPN LA 710's Mark Willard:
Kiffin on Max Browne: "Max has a great future. Ideally we'd like to redshirt him. Look forward to him competing for the job this spring."

— Mark Willard (@Mark_T_Willard) September 9, 2013
So, it looks as though Kessler is the man for the time being.
Barring a massive improvement throughout the season, though, Kiffin's job is likely in jeopardy, and Browne seems like a great candidate to take over under center in 2014.