Picks, Predictions and Prognosis for Every Week 2 Big 12 Football Game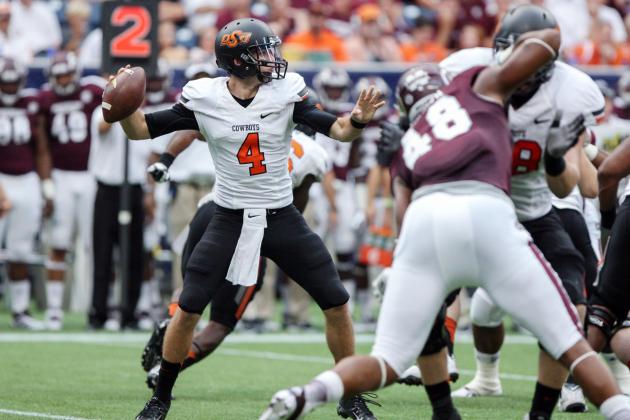 Troy Taormina-USA TODAY Sports

Week 1 was, all things considered, a mixed bag of results for the Big 12, highlighted by Oklahoma State's win over Mississippi State and lowlighted by the conference going 2-2 with FCS teams.
And Week 2 brings another large round of cupcakes for Big 12 teams to munch on. Maybe this time there won't be any, ahem, "reversal of fortunes" of which to speak.
While many of the games in Saturday's slate look to be snoozers, Big 12 play does get underway with West Virginia traveling to Oklahoma. Texas also has a big nonconference game on the road at BYU.
So, it's time to crank out some predictions. Let's get to 'em.
(All rankings reflect the latest Associated Press poll.)
Ben Kercheval is the lead writer for Big 12 football. You can follow him on Twitter @BenKercheval.
Begin Slideshow

»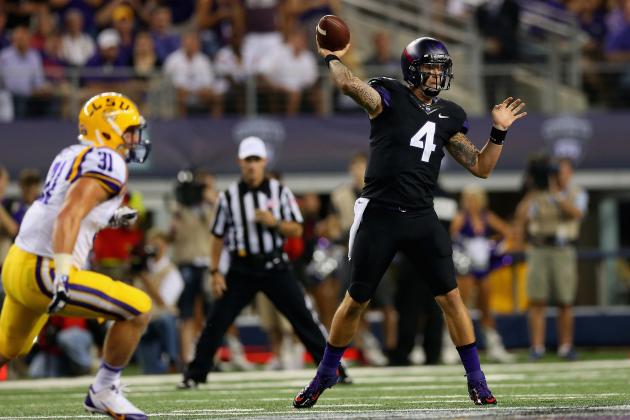 Ronald Martinez/Getty Images

Saturday, Sept.7 at noon ET
There were no cupcakes for TCU in Week 1 when the Horned Frogs took on LSU in AT&T Stadium in Arlington. Although Gary Patterson's team came up short, there were some encouraging signs that they could hang with (what appears to be) a top-10 team.
Things get significantly easier in Week 2 against Southeastern Louisiana. Quarterback Casey Pachall will get a chance to shake off a rusty start to the season and gain some more confidence in the passing game. Trevone Boykin should get plenty of reps too, as this one shouldn't be close.
Barring a hangover or a peek ahead to Texas Tech, that is.
As for defensive end Devonte Fields, Patterson told reporters Monday that he is still serving a two-game suspension—although it may not necessarily be the first two games as he doesn't want him coming back cold against the Red Raiders.
Take that for what it's worth.
Score Prediction: TCU 1,000, SE Louisiana 7
Bob Levey/Getty Images

Saturday, Sept. 7 at noon ET
Other than Dan Mullen's glorious visor hair, Oklahoma State's much-improved defensive effort was the highlight of the Cowboys' 21-3 win over Mississippi State in Houston.
Oklahoma State moves on to UT-San Antonio this week, where the loud and intimidating crowd at the Alamodome will provide a new challenge for Mike Gundy's team.
(Note: I'm joking, but we're still working with B/R folks on getting a comic sans font inserted for sarcasm purposes. The timeline for that is...TBD.)
Anyway, OSU quarterback J.W. Walsh emerged as the starter in Week 1, and the offense incorporated a lot more option-based plays. Gundy said during Monday's coaches teleconference that there would be no plans to rotate Clint Chelf into the game, so it looks like this is Walsh's job to lose going forward.
Score prediction: Oklahoma State 35, UTSA 6
Jerome Miron-USA TODAY Sports

Saturday, Sept. 7 at 3:30 p.m. ET
To no one's surprise, Baylor scored the most points of any Big 12 team last week in a 69-3 win over Wofford (still love you, Terriers.)
The competition gets a little stiffer this week when Buffalo comes to Waco. The Bulls actually kept things somewhat interesting in Week 1 against Ohio State, and linebacker Khalil Mack is legit. Still, the amount of skill Baylor has on the offensive side of the ball should be too much for Buffalo to handle.
But the area I'm most interested in watching is how the Bears' pass defense looks against a team that doesn't run the ball 60 times.
Score prediction: Baylor 55, Buffalo 21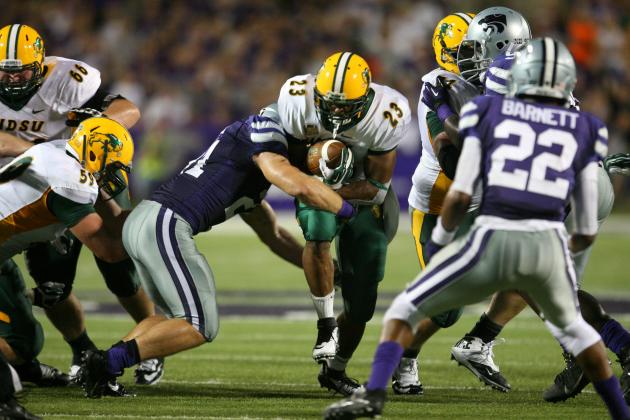 Scott Sewell-USA TODAY Sports

Saturday, Sept. 7 at 6:30 p.m. ET
Okay, so things didn't exactly go according to plan last Friday when Kansas State dropped its season opener against North Dakota State.
And by "exactly," I mean not at all.
K-State gets a chance to rebound Saturday against Louisiana-Lafayette. While Bill Snyder is nowhere near ready to hit a panic button, expect some changes to be made for the Ragin' Cajuns. Primarily, quarterback Daniel Sams will see more playing time. Sams touched the ball just twice against NDSU, his first run going for a touchdown.
The Wildcats defense couldn't get off the field when it needed to, so they may have their hands full with ULL QB Terrance Broadway, a legit dual threat.
Score Prediction: Kansas State 27, ULL 17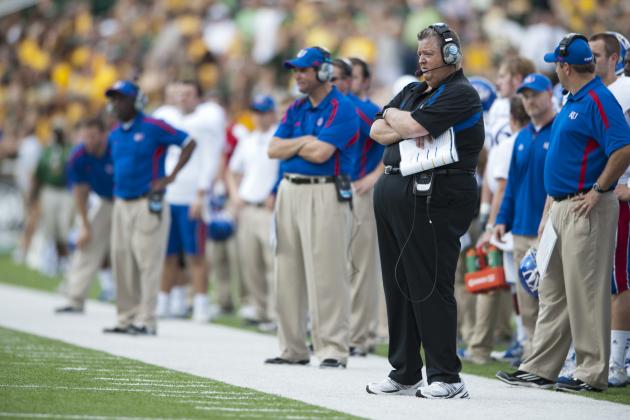 Cooper Neill/Getty Images

Saturday, Sept. 7 at 7 p.m. ET
After narrowly escaping the always underrated opponent bye in Week 1, Kansas enters Week 2 by hosting South Dakota at home.
The Jayhawks figure to look like an almost entirely new team this year with plenty of JUCO and transfer players coming in. After winning just one game a year ago, it can't get much worse.
Right?
The biggest question mark will be the passing game. Kansas didn't have a wide receiver last year who caught a passing touchdown. BYU transfer Jake Heaps could look to Oklahoma transfer Justin McCay to be a boost for the Jayhawks through the air.
Score Prediction: Kansas 20, South Dakota 13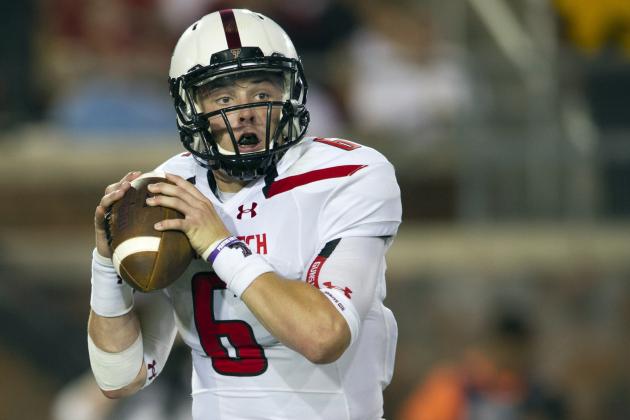 Cooper Neill/Getty Images

Saturday, Sept. 7 at 7 p.m. ET
The law firm of Baker, Mayfield and Kingsbury got off to a hot start in Week 1 by beating SMU on the road. The Red Raiders return home in Week 2 to take on FCS opponent Stephen F. Austin.
Mayfield appeared confident and poised in his first start as a freshman walk-on, but how he carries himself against the Lumberjacks will actually be interesting to watch. Does he continue to make good decisions, or does he slack off against a beatable opponent after getting a week's worth of praise?
My guess is he'll be just fine. Kliff Kingsbury has high expectations for his quarterbacks and makes no exception for Mayfield.
Score Prediction: Texas Tech 49, Stephen F. Austin 10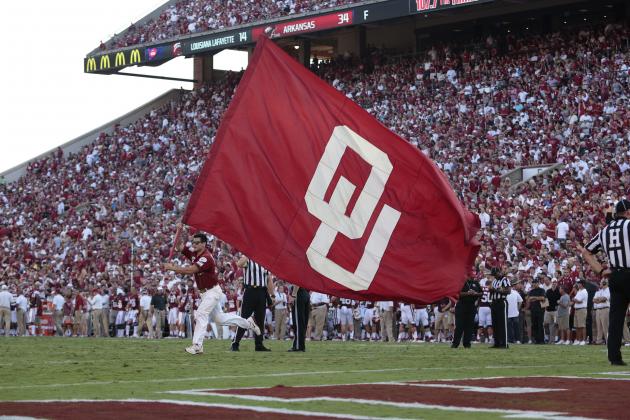 Brett Deering/Getty Images

Saturday, Sept. 7 at 7 p.m. ET
Oklahoma looked solid in its Week 1 victory; West Virginia did not.
Now, the Mountaineers travel from Morgantown to Norman, where they haven't been since 1982 when they came away with a stunning 41-27 win.
That score may be reversed this time around—and that's if WVU's offense can get it together after barely doing enough to get by against William & Mary.
Sooners quarterback Trevor Knight could cause a lot of problems for the Mountaineers defense if they're not disciplined enough to slow down the option attack. WVU's secondary still looked problematic in Week 1 against the Tribe as well.
Score Prediction: Oklahoma 42, West Virginia 21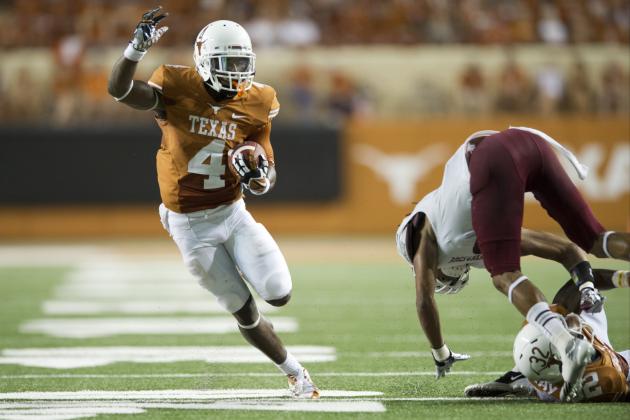 Cooper Neill/Getty Images

Saturday, Sept. 7 at 7 p.m. ET
It took nearly two quarters, but Texas finally stopped partying on Sixth Street and started playing football against New Mexico State. And once it did, the offense laid down a barrage of open-field plays and points.
Will the Longhorns be able to keep up that pace against BYU? There are certainly plenty of capable weapons to use, from Daje Johnson to Jaxon Shipley. Even running back Malcolm Brown came back from an injury-filled 2012 to have a big game in Week 1. The question is whether Texas can get off to a better start.
The interesting thing about UT in the past three seasons is it's actually been significantly better on the road from a win percentage standpoint than it has been at home. That should play in its favor again Saturday.
Score Prediction: Texas 28, BYU 24