Johnny Manziel Acted Like a 'Punk' vs. Rice, Says Brian Urlacher
September 3, 2013

Texas A&M quarterback Johnny Manziel is the talk of college football for both positive and negative reasons following his Week 1 performance against Rice. The defending Heisman Trophy winner has already rubbed a lot of people the wrong way, including former Chicago Bears linebacker and current Fox Football Daily analyst Brian Urlacher, according to Ross Jones of FoxSports.com.
As seen in this video, the future Hall of Fame linebacker was complimentary of Manziel's skills, but he clearly believes that some of his antics are unnecessary:
He's such a good football player. You saw in the second half what he did, three touchdown passes and ran it pretty well. It's just too bad he had to act like that. I'm pulling for the guy, I want him to do well.
Urlacher stopped short of calling Manziel a "punk" directly, but he believes that Manziel came off looking like one on Saturday:
I'm not saying he's a punk, but he acted like a punk in that game. Like his coach said, guys are going to come after him all season long.
Things haven't exactly gone smoothly for Manziel since he became the first freshman to win the Heisman last year, as his offseason was rife with scandals. One came in July when he left the Manning Passing Academy early after missing several scheduled practices. While it was eventually written off as a case of Manziel being ill, rumors persist that "partying" could have played a role in his absence.
More significant was the investigation surrounding Manziel potentially being paid for signing autographs. The NCAA was unable to find any hard evidence of that type of exchange occurring, so it reached a compromise with Texas A&M. Since the NCAA contended that Manziel should have known his autographs would allow others to profit, he was suspended for the first half against Rice.
Manziel took the field in the second half with the Aggies leading the Owls 28-21, and he didn't waste any time making an impact. Johnny Football's Heisman form was on full display, as he threw for 94 yards, rushed for 19 more and threw three touchdowns as well.
However, some of the other things he did on the field overshadowed his performance in the game, including a celebration in which he rubbed his hands together to signify money, as seen in this GIF courtesy of Bleacher Report: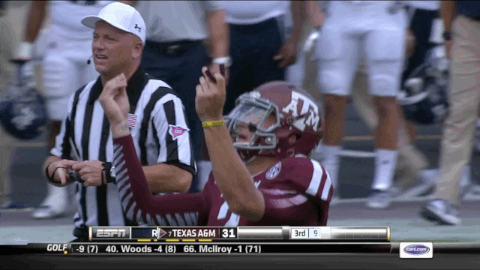 Manziel also seemed to reference the autograph scandal by making a signing motion in the direction of a Rice defensive player.
The worst offense came when referees flagged Manziel for unsportsmanlike conduct for arguing with Rice players. It didn't cost Texas A&M, as the game was well in hand, but head coach Kevin Sumlin certainly won't accept that type of behavior moving forward.
It's difficult to argue with Urlacher's assessment of Manziel. There is no question that he is an incredible talent, but he may have to turn down his bravado a bit if Texas A&M is going to reach its full potential this season.
Follow @MikeChiari on Twitter