Top Ground-and-Pound Offenses in College Football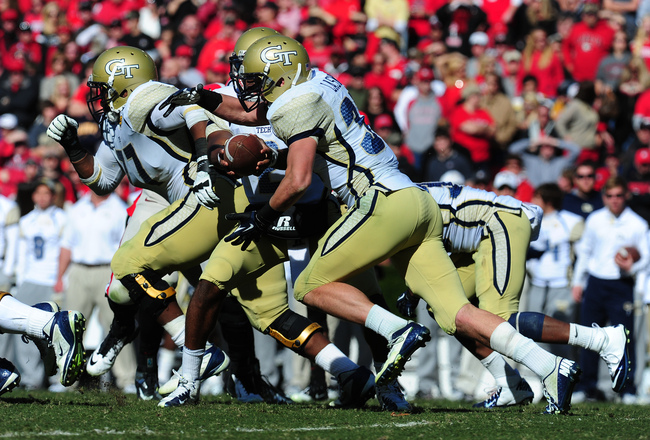 Scott Cunningham/Getty Images
There's a difference between teams that are good at running the football and teams that are good at pounding it.
Especially in this new-fangled eon of football, where "read option" is the weapon du jour, the difference between "ground attack" and "ground-and-pound" has never been quite so distinct.
Reading the defensive end then electing to dart in the opposite direction isn't hard-nosed football. It's smart football and it's good football, but physical it is not.
In an era when most terms opt to run away from opponents, however, some old-school BCS squads still run through them.
Honorable Mentions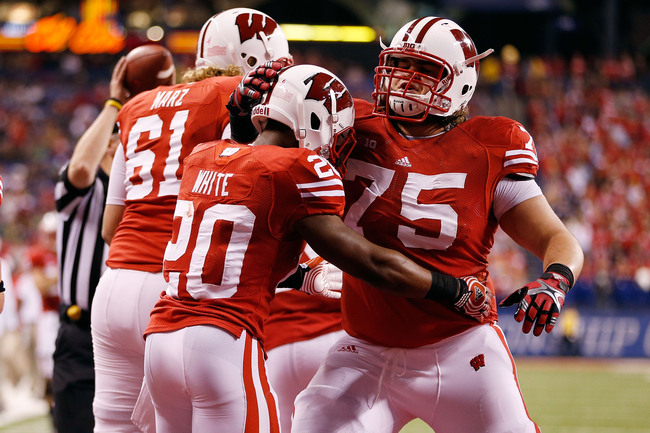 Gregory Shamus/Getty Images
LSU: The Tigers are certainly capable of making this list and might be as efficient as any ground-and-pound unit in America. But, with vertically inclined Cam Cameron now running the offense, LSU could be more disposed to the pass this season. It's scheme remains to be seen.
Michigan State: No team fed one tailback like the Spartans last year, who fed Le'Veon Bell an exorbitant 382 carries. But that number was borne more out of necessity than preference. Did you see MSU try to pass last year?
They'll get back to balance in 2013.
Wisconsin: The personnel was all recruited by Bret Bielema, so it's tailored to play a ground-and-pound system. Say what you will about Todd Gurley and Keith Marshall at Georgia, James White and Melvin Gordon can take any RB duo in the country. But new head coach Gary Andersen has never run a true ground-and-pound offense, so it's hard to predict the status quo.
Alabama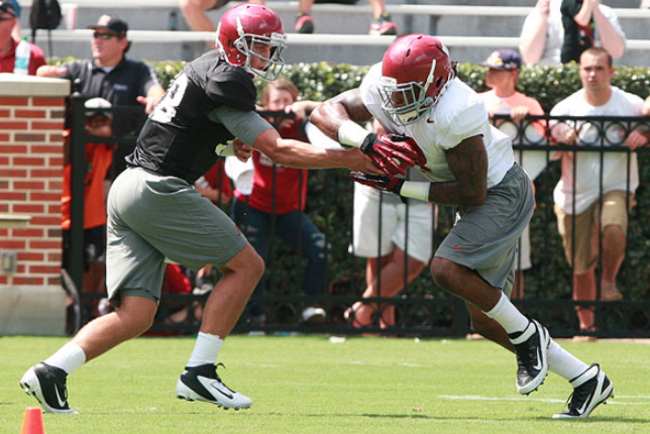 Photo Credit: 247Sports

The Tide almost missed this list, but not because they aren't good at pounding on the ground. They were almost omitted because they're too darn good through the air.
But that would have been a mistake. Even if the passing game doesn't rely on having a ground-and-pound attack, Alabama still has one. And it's probably the best in America.
Despite a rebuilt offensive line, Nick Saban is gonna ram the ball down opponents' collective throats. The Kouandijo brothers are animals, Anthony Steen still remains at right guard and sophomore center Ryan Kelly is, supposedly, the real deal. The way this team recruits, it will always be loaded up the gut.
And while T.J. Yeldon is, technically, a finesse back, he's willing and able to go between the tackles. He runs north-south with the same vigor he runs east-west, and he's a chore to take down when he has a full head of steam.
If and when blue-chip freshman Derrick Henry cracks the lineup, this ground-and-pound game will only get scarier.
Arkansas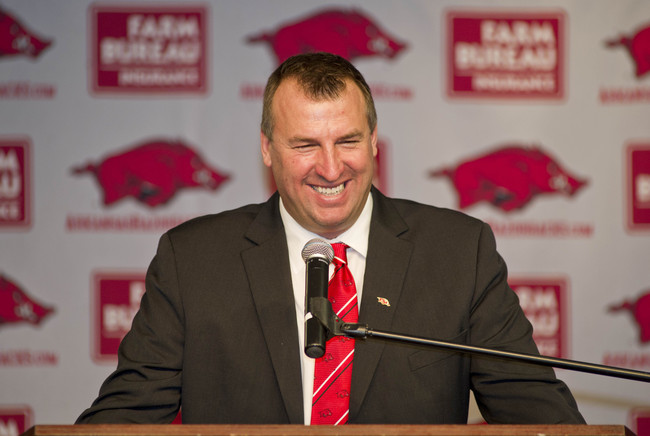 Beth Hall-USA TODAY Sports
Bielema personifies the ground-and-pound philosophy, and that embodiment translates to his on-field decisions.
One back was often not enough for him at Wisconsin, where the Badgers always had one of the most run-centric schemes in America. Some teams use the run to set up the pass, but the Badgers used it to set up the following run.
Just last year in Madison, Montee Ball (356) and James White (125) combined for almost 500 carries. Melvin Gordon's 62 pushed it over that benchmark, and together the trio gained 3,257 yards on the ground.
Expect Bielema to bring that same attitude to Arkansas, a team whose roster doesn't exactly favor the pass. Sophomore quarterback Brandon Allen needs time to get his feet wet, and a running game is a young QB's best friend.
With sophomore Jonathan Williams and (especially) blue-chip freshman Alex Collins in the backfield, Arkansas will try to pound opponents into submission, Bielema-style.
Whether it works against the SEC's NFL-redolent defenses remains to be seen.
Georgia Tech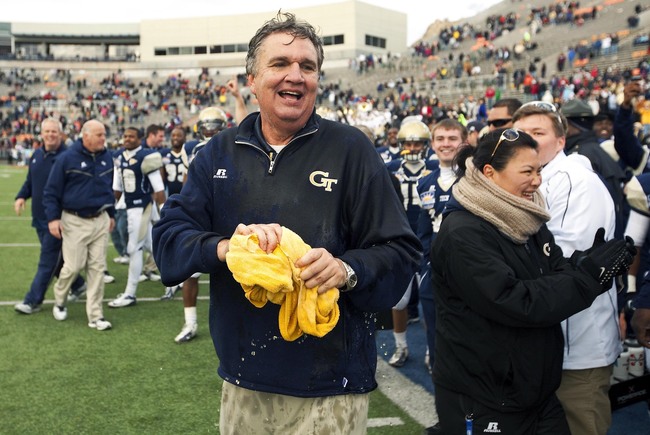 Ivan Pierre Aguirre-USA TODAY Sports
The triple option, as a BCS-conference ploy, is anachronistic. It's championed by smaller schools and independents, but the big boys think themselves above it.
Not Paul Johnson, though. The Yellow Jackets coach, who sharpened his sword at Georgia Southern and Navy, has brought the triple-option attack to ACC football—and with it he's found considerable success.
Georgia Tech went 20-7 in his first two years with the program and is 41-26 overall. Those numbers don't jump off the page, but as GT has fallen into a cycle of mere above-average play under Chan Gailey, they are welcome improvements.
Just last season, four different players had 95-plus carries, and six broke the mark of 50. By contrast, fewer than 200 passes were attempted by Georgia Tech quarterbacks.
Johnson is true to what he is—a pure option coach.
Kansas State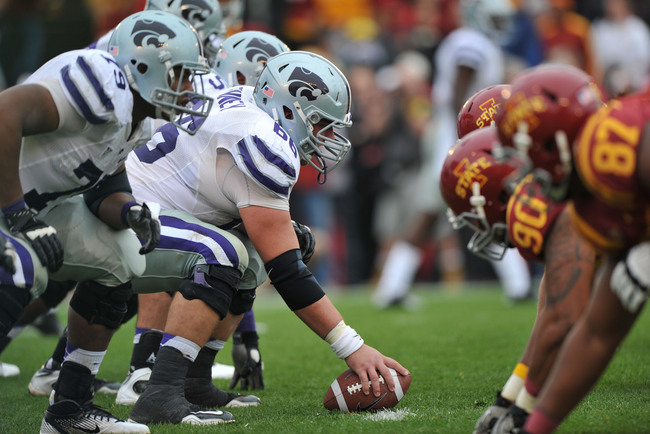 Peter G. Aiken-USA TODAY Sports
Collin Klein, a soon-to-be-future tight end, nearly won a Heisman playing quarterback in Bill Snyder's offense last season. That says everything you need to know about the physical attitude in Manhattan.
K-State is poised to be just as run-centric this season, regardless of who wins the job under center. Both Jake Waters and Daniel Sams are adept, if not elite, running the football, and both have no problems mixing it up with the big boys.
Past that, the entire offensive line returns, led by All-American candidate B.J. Finney at center. The Wildcats' strength is the offensive line, and the strength of that line is right up the gut.
John Hubert rushed 195 times for nearly 1,000 yards as a junior last season. Expect that production to go up even further in 2013.
Nebraska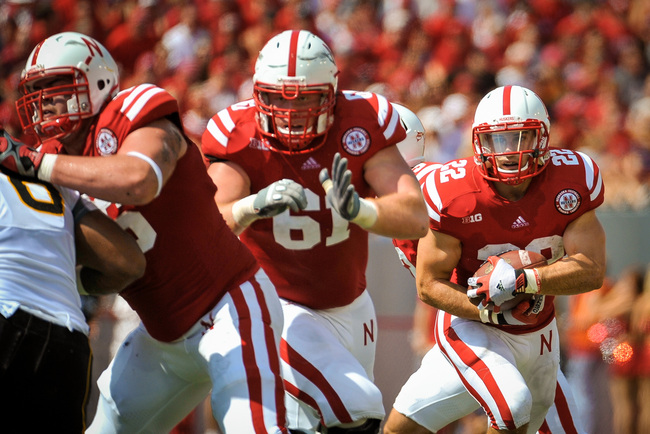 Eric Francis/Getty Images
It isn't the same exacting, Tom Osborne-led offense of Cornhusker lore, but the current version adheres to similar tenants: Beat the crap out of your opponent until it waves a white flag.
With guard Spencer Long and tackle Jeremiah Sirles—two of the best in college football—back in Lincoln, it should be more of the same for Nebraska this season, especially with Taylor Martinez and Ameer Abdullah in the backfield.
Martinez doesn't get credit as a ground-and-pound guy, but he's as tough as any player in college football. He'll stick his head into the line and make plays; and now, in his senior year, with nothing left to lose, he'll be even more aggressive than usual
He's improved as a passer and, with Kenny Bell in tow, the Huskers will be able to make some good things happen through the air. But that's not where they hang their hat.
Just because the Huskers can beat you both ways doesn't mean they prefer it.
Ohio State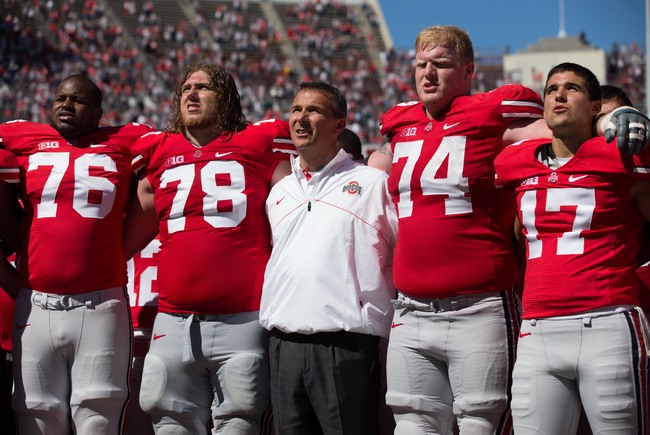 Greg Bartram-USA TODAY Sports
Urban Meyer's offense is classified as a "spread," but it has more ground-and-pound principles than people realize, especially given his personnel at Ohio State.
Unlike Oregon—the best rush offense in America, bar none—Ohio State has not been excluded from the list for that very reason. The Ducks' run game works because of speed and deception. The Buckeyes are capable of doing that, but prefer to just run you over.
That'll hold doubly true in 2013, when the wide receivers are a major question mark, but four starters return on the offensive line. Left guard Andrew Norwell is one of the best run blockers in America, and Braxton Miller (plus Carlos Hyde, starting in Week 4) can make things happen in any size hole.
They'll be playing ahead in most games this season, so expect the Buckeyes to put up huge carry and yardage totals on the ground.
Keep Reading