College Football Teams Bound to Take a Step Back in 2013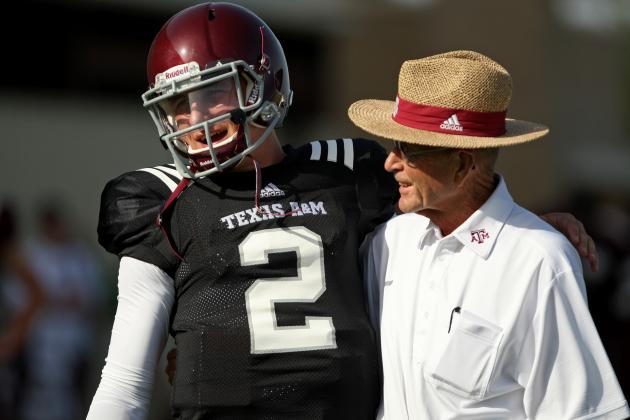 Troy Taormina-USA TODAY Sports

Every college football team in the country is looking to improve from a year ago, whether it's 1-11 Kansas or 11-2 South Carolina. Heck, even Alabama is looking to fine-tune some things after winning a second straight national title.
Unfortunately, not every team that had a great season last year is going to take that next step. Some teams lost too much talent, made changes to the coaching staff or simply weren't as good last season as their record indicated.
This year, a lot of teams that will regress are being picked to compete for a national title.
Begin Slideshow

»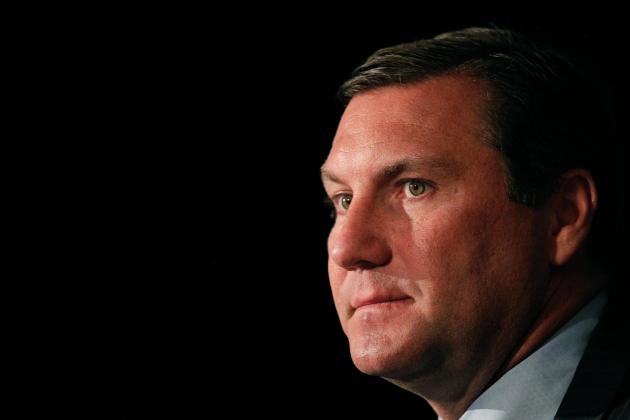 Marvin Gentry-USA TODAY Sports

Mississippi State won its first seven games last season and finished with an 8-5 record.
How does that happen?
The Bulldogs began to play tougher competition that exposed them to the point of no return. Struggles against top-tier teams have been a problem for Mississippi State under head coach Dan Mullen, as the team is a combined 1-12 against ranked opponents since 2010.
Unfortunately, there are five ranked teams on this year's schedule.
Besides the difficult docket, the Bulldogs have also lost their top two defenders, defensive backs Darius Slay and Johnthan Banks, to the NFL. And the offense lost its top three wide receivers in Chad Bumphis, Chris Smith and Arceto Clark.
Mississippi State has holes to fill and a steep hill to climb against ranked teams. Qualifying for a bowl game will be a challenge.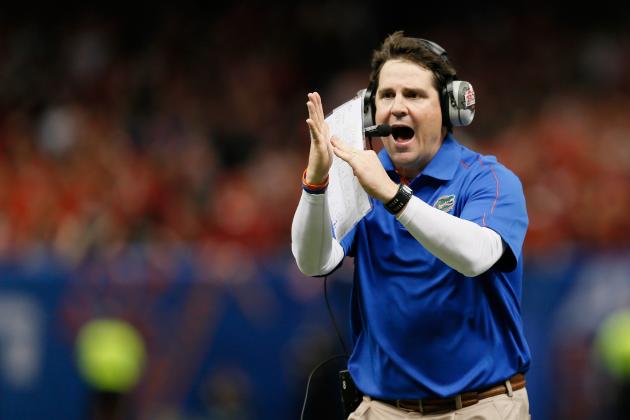 Kevin C. Cox/Getty Images

Florida won 11 games last year averaging just 26.5 points and 146.3 passing yards per game.
That's not going to happen again, as offenses are improving in the SEC.
Quarterback Jeff Driskel has the skill set to become an intriguing player, but has yet to put it all together, and Florida's wide receiver depth is limited to the point cornerback Loucheiz Purifoy is expected to spend time on offense.
The Gators will have an elite weapon in true freshman running back Kelvin Taylor, but one first-year player isn't going to make all of the offensive worries disappear. With Miami, LSU, Georgia, South Carolina and Florida State on the schedule, the Gators will take a step back. Unless, of course, the offense can overcome its struggles.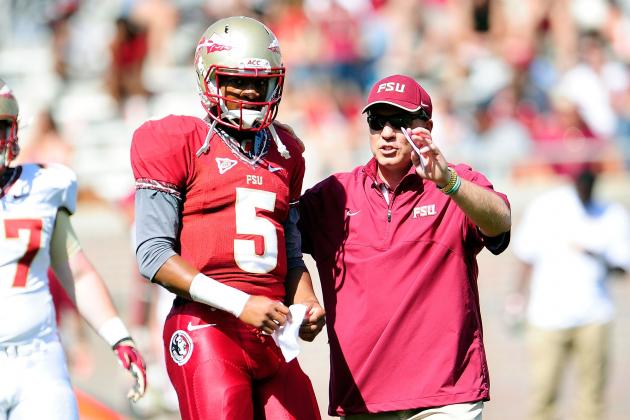 Stacy Revere/Getty Images

Disappointment is a feeling Florida State fans have learned to accept the last few years. Even though last season resulted in a 12-2 record and 31-10 BCS Orange Bowl victory over Northern Illinois, Florida State had national championship expectations.
Regardless of the talent, the Seminoles continue to lose at least one game they shouldn't each season. Last year, they lost 17-16 to North Carolina State. In 2011, they lost three straight games, including a 35-30 loss to unranked Wake Forest. And in 2010, they lost four times, with two of those losses coming against unranked North Carolina State and North Carolina.
Besides falling for the trap game, Florida State is also extremely young on both sides of the ball. It will have a new quarterback, new running back and will replace seven defensive starters. The schedule also isn't easy, with trips to Clemson and Florida.
The Seminoles will take a backseat to Clemson in the ACC.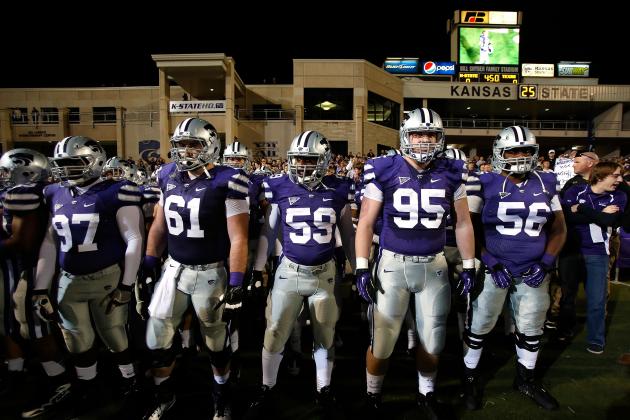 Jamie Squire/Getty Images

Head coach Bill Snyder led a team full of players nobody else wanted to 11 victories and the BCS Fiesta Bowl last season. It was the second straight season Kansas State has won at least 10 games. That's an impressive accomplishment.
However, this is the year when the Wildcats will be forced to deal with a drop-off in their recent success.
Quarterback Collin Klein is no longer leading the offense, and only one starter returns on defense. That's not a typo. The Wildcats lost their top five sack leaders, three of the five players who intercepted a pass and their top two tacklers.
Replacing a few key guys can be challenging for a coaching staff, but replacing nearly an entire defense? Forget about it.
Kansas State won't fall completely off the map, thanks to running back John Hubert, wide receiver Tyler Lockett and safety Ty Zimmerman, but the streak of seasons with double-digit victories is sure to come to an end.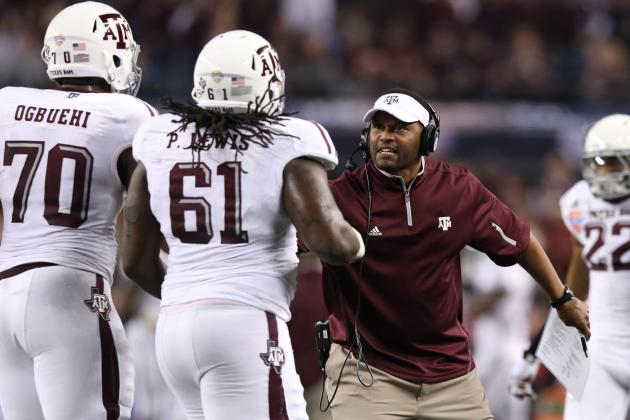 USA TODAY Sports

Expecting Johnny Manziel to play as well as he did last season is an unreasonable expectation. Not only is it asking too much from a young quarterback, but it also shows a lack of respect for the defenses in the SEC. Defensive coordinators have had months to prepare and will be willing to do anything to humble the young man on the field.
There's also a chance Manziel could miss playing time due to an ongoing NCAA investigation. There's absolutely no hope for the Aggies if he is suspended for any period of time.
But assuming Manziel checks out and everything is wonderful in College Station, is the defense really going to do its part? Last year, the Aggies ranked eighth in the SEC in total defense, allowing 392.9 yards per game. Replacing seven starters from that unit could be disastrous and is certain to keep opponents in games.
The overnight success of Texas A&M was a great story last season and caught everybody by surprise. What happens in 2013 may also shock a few people who think the Aggies are a national championship contender.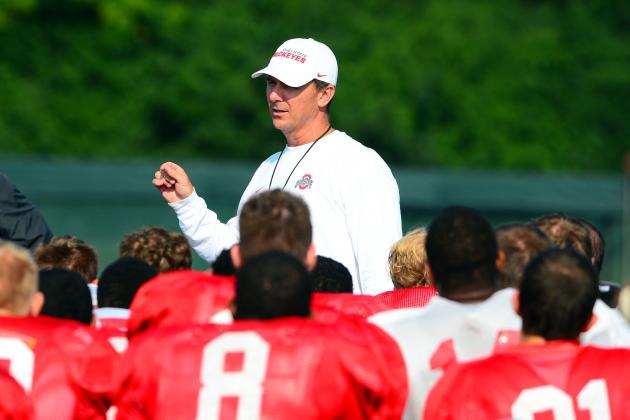 Andrew Weber-USA TODAY Sports

Well, uh, duh!
Ohio State is nearly guaranteed to take a step back this season. Of course, it will make progress by qualifying for a bowl game, but the chances of running the table for a second straight season are slim.
Sorry, Buckeyes fans.
Ohio State may be the most talented team in the subpar Big Ten, but that didn't stop California, Michigan State, Indiana, Purdue, Wisconsin and Michigan from nearly pulling off the upset last season. The Buckeyes escaped more close calls than Bruce Willis in a Die Hard movie and are sure to fall short in at least one contest this coming season.
It only takes one poor performance or a team outplaying you on a particular day for a loss to take place. Remember, only seven BCS programs have run the table since 2002.
The odds aren't in the Buckeyes' favor.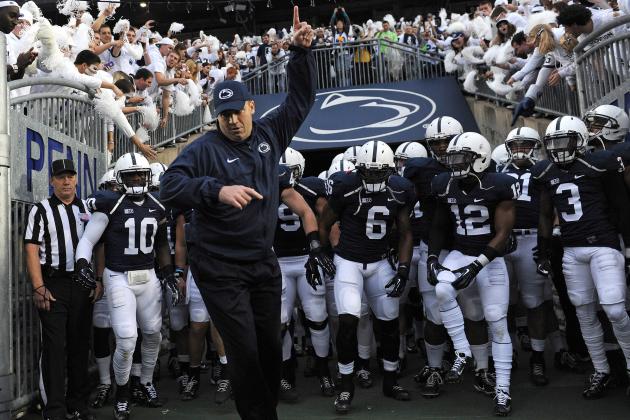 Patrick Smith/Getty Images

Penn State wasn't expected to win eight games last season and likely won't come close to that win total this year. Head coach Bill O'Brien is full of surprises and does a wonderful job with what he has, but the odds are stacked against him.
The Nittany Lions are working with a scholarship reduction each season due to NCAA sanctions. That creates major depth issues and will eventually adversely affect the overall talent of the team. Everybody on the roster is important, and the slightest injury is costly.
These sanctions continue to tighten as the four-year punishment drags out. Penn State will start a first-year quarterback in either junior college transfer Tyler Ferguson or freshman Christian Hackenberg, while the defense must replace six starters.
O'Brien did an incredible job last season, but he continues to fight an uphill battle that will likely get the best of him.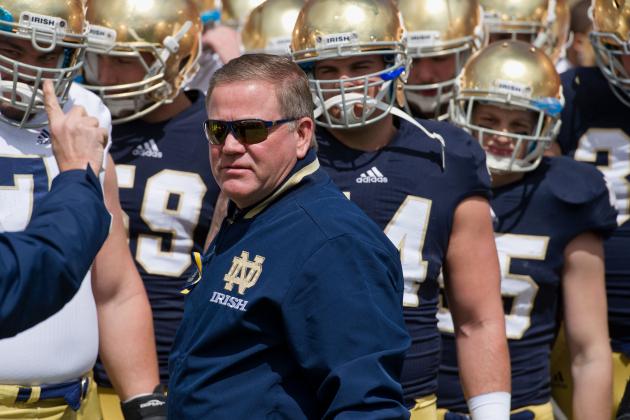 USA TODAY Sports

No, this does not mean that Notre Dame's undefeated regular season was a fluke. But much like Ohio State, expecting another magical season is a bit much.
While the Irish deserve respect for last year's run, there was a lot of luck involved. There was a questionable pass interference call against Pittsburgh, a questionable goal-line call against Stanford and a shocking last-second win against Purdue.
Notre Dame won five games by fewer than seven points last season.
Is it a sign of being a great team? Sure. But the constant struggle against mediocre programs is also a sign that there's a lot of improvement to be made. Losing quarterback Everett Golson, tight end Tyler Eifert and linebacker Manti Te'o is going to hurt that progress.
The Irish may push for 10 wins, but an undefeated season or another trip to the national championship will not happen.