Best- and Worst-Case Scenarios for Every SEC Team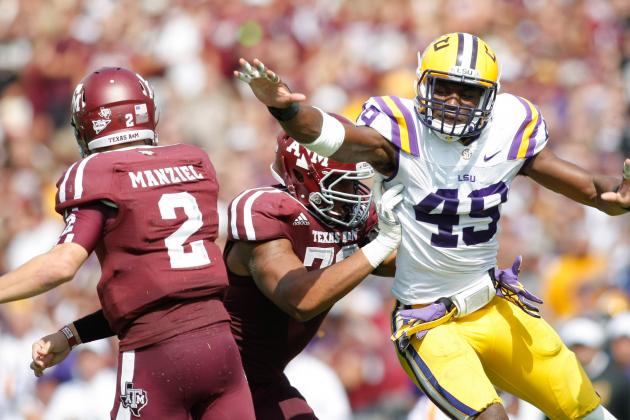 Brett Davis-USA TODAY Sports

Every college football fan spends time looking at the upcoming fall schedule and dreams up a perfect scenario that has his or her team celebrating a national championship. For many fans in the SEC, this is not quite as much of a dream scenario as it is a realistic goal.
When the SEC has won seven straight BCS championships, you might say the odds are in your favor if you root for an SEC team. The conference could just be a little top-heavy but if you run down the best-case scenarios throughout the conference, there are six schools that could make a run for a BCS title and four legitimate Heisman Trophy contenders to watch throughout the season.
We ran through the entire conference and came up with a realistic best-case and worst-case scenario for each school. These best-case scenarios may not translate to an undefeated season for everybody, but we also avoid the talk of significant injuries derailing a season from the start as well.
Take a look to see how your favorite SEC team stacks up under both situations, and then share your thoughts on any team with your own best- and worst-case scenarios in the comments.
Begin Slideshow

»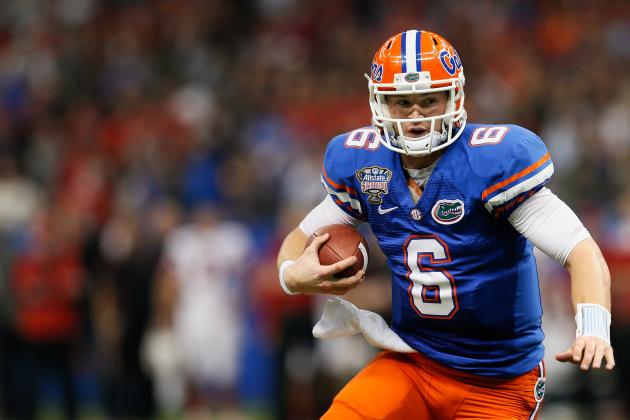 Kevin C. Cox/Getty Images

Best Case
The Gators find playmakers early in nonconference matchups against upset-capable Toledo and at Miami and roll in to SEC play with momentum to breeze by Tennessee, Kentucky and Arkansas before a road trip to LSU. The Gators sneak out of Baton Rouge with low-scoring, ugly win and follow up with a victory at Missouri heading in to a bye week. A victory over Georgia in Jacksonville sets the tone for the second half of the season and sets up Florida to afford a loss at South Carolina.
Florida ends the regular season with a home victory over ACC champion hopeful Florida State before playing for SEC title in Atlanta. The Gators nip Alabama in surprising fashion and advance to BCS Championship Game with a record of 12-1. Florida then gets by a scare from Big Ten champion Ohio State before pulling away for Will Muschamp's first BCS championship.
Worst Case
Florida wins an ugly and uninspiring opener against Toledo and is upset the following week at Miami. With pressure mounting, Florida finds a way to escape another upset bid at home at the expense of Tennessee and gets by Kentucky and Arkansas to hold a respected 4-1 mark heading to LSU. LSU sends Florida home with a loss and Missouri scores a nice upset at home to send the Gators into the bye week with a lowly 4-3 record and plenty of questions about the offense.
After the bye week, the Gators are upended by Georgia to drop to 4-4 overall. Florida avoids the Vanderbilt upset to keep bowl hopes alive, and it manages to get there with a win over Georgia Southern but ends the regular season with a disappointing 6-6 record following losses to South Carolina and Florida State.
Florida ends the year with a winning record though with a victory in the Music City Bowl over Georgia Tech.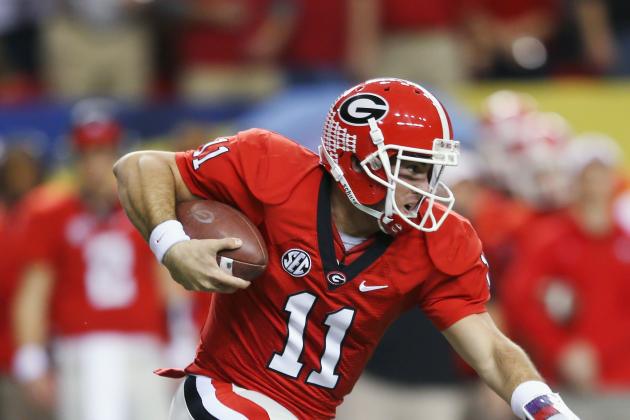 Mike Ehrmann/Getty Images

Best Case
This is finally the year for the Georgia Bulldogs. The road to an elusive BCS championship gets off to an eye-opening start with back-to-back wins at ACC contender Clemson and at home against South Carolina for a 2-0 start that places Georgia firmly in the top three of the polls.
After a bye week, the Bulldogs pile up yardage against North Texas and the following week Georgia pulls away from visiting LSU for the 4-0 start. They eventually get to their next bye week with a perfect 7-0 record heading in to the big SEC East battle against Florida in Jacksonville. Georgia wins a back-and-forth contest to put a stranglehold on the SEC East Division, and it caps a perfect regular season with easy victories over Appalachian State, Auburn, Kentucky and Georgia Tech.
In the SEC Championship Game, Georgia's Aaron Murray puts together his final Heisman push with a head-to-head victory over Texas A&M's Heisman Trophy quarterback as the Bulldogs finally come through in the SEC Championship Game after two straight crushing losses. The win clinches a spot in the BCS championship game and helps Murray win the Heisman Trophy. In the BCS National Championship Game, Mark Richt gets the best of Urban Meyer and Ohio State and continues the SEC's streak of BCS championship victories.
Worst Case
Georgia's defense cannot contain Clemson's Tajh Boyd as the Tigers put together an explosive offensive performance on the start of their own BCS hopeful season. Georgia once again struggles against South Carolina the following week to place Richt on another hot seat with a disappointing 0-2 start.
LSU drops Georgia to 1-3 and Butch Jones has Tennessee energized for a statement victory the following week to put Georgia's bowl hopes on life support. By the time the it faces Florida in Jacksonville, Georgia is sitting with a record of 3-4. Florida takes control in the SEC East with a victory over Georgia, but the Bulldogs recover to end the season with a four-game winning streak to end the regular season with a 7-5 mark.
That sends Georgia to the Music City Bowl to face a middle-of-the-pack ACC opponent. Georgia wins the game to wrap up an 8-5 season, well shy of meeting preseason expectations.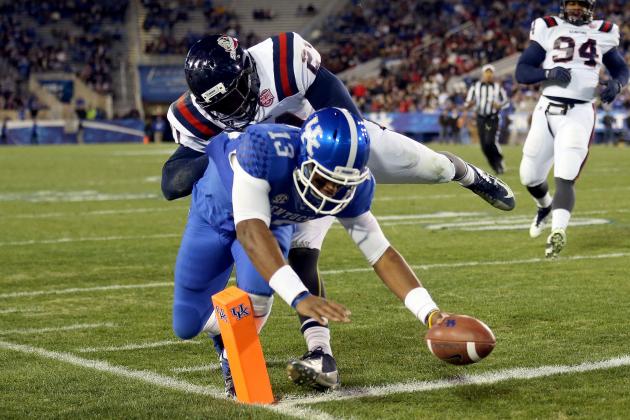 Andy Lyons/Getty Images

Best Case
Kentucky gets off to a reassuring start with a tough win over upset-minded Bobby Petrino and Western Kentucky in Nashville. The Wildcats then return home to pull away from MAC opponent Miami (Ohio) and build some momentum to carry over to the next week, when they host American favorite Louisville. Mark Stoops finds a way to put together the perfect game plan to rattle Teddy Bridgewater just enough for Kentucky to clip the rival Cardinals and improve to 3-0.
The good start, even under the best-case scenario, will be short lived as Kentucky drops to 3-3 with losses to Florida, South Carolina and Alabama following the bye week. Kentucky, needing just three more wins to become bowl eligible, manages to sneak in to the postseason by picking up wins against Alabama State, Vanderbilt and Tennessee.
Worst Case
Western Kentucky makes a statement with a victory over the Wildcats in Nashville and visiting Miami leaves Lexington with a close victory. Bridgewater puts together a Heisman highlight film against the Wildcats and drops Kentucky to 0-3 heading in to the bye week.
Losses to Florida, South Carolina and Alabama make for the most brutal portion of the season for Kentucky as the Wildcats stumble to 0-6. Kentucky picks up a victory over FCS Alabama State but drops the remainder of its SEC contests to finish the season with a 1-11 record.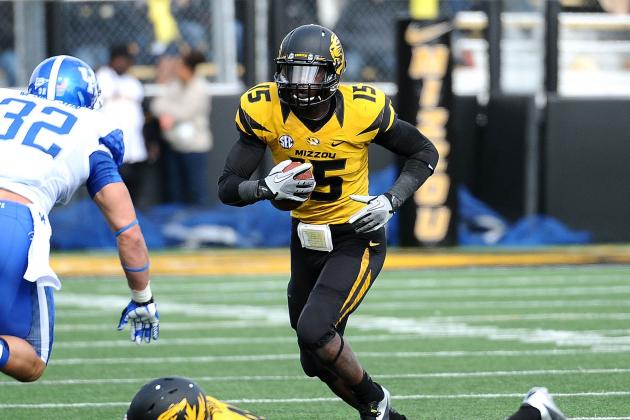 Dak Dillon-USA TODAY Sports

Best Case
Missouri gets off to a positive start with solid wins over FCS Murray State and Toledo. After the bye week, Missouri enters Big Ten territory, but the Tigers face Indiana so they leave with another convincing victory to improve to 3-0. Arkansas State gives Missouri an early scare in Week 4, but the Tigers manage to pull away with a couple of long touchdown plays starring wide receiver Dorial Green-Beckham. A hard-fought road victory at Vanderbilt all of a sudden has people talking about Missouri perhaps sneaking in to the SEC East race, but back-to-back losses at Georgia and at home against Florida keep the Tigers at a distance for now.
However, Missouri shocks South Carolina the following week and that allows Missouri to stay in the conversation. Wins against Tennessee, Kentucky and Ole Miss continue to keep Missouri in the hunt and Missouri caps the regular season with an upset over former Big 12 rival and SEC crossover opponent Texas A&M. The Tigers fall short of a trip to Atlanta, but their 10-2 season sends Missouri to a nice bowl game. Missouri pairs up with former Big 12 rival Nebraska in the Capital One Bowl and it becomes the DGB show.
Worst Case
Missouri is upset at home by Toledo to send the Tigers to 1-1 at the bye week. They rebound to improve to 3-1 before jumping in to SEC play but stumble immediately against Vanderbilt on the road. That is followed by three poundings by the top division contenders of Georgia, Florida and South Carolina to drop Missouri to 3-5. Missouri manages to sneak by Tennessee in a tight one and beats Kentucky to get to its next open week sitting one win shy of bowl eligibility.
Missouri is tripped up by an Ole Miss team that explodes on offense in a wild one, and Texas A&M ends its regular season with a road victory in Columbia. At 5-7 the Tigers are ineligible for postseason play.
Kim Klement-USA TODAY Sports

Best Case
South Carolina dominates ACC opponent North Carolina in Week 1, nearly shutting out the Tar Heels potent offensive attack. The following week South Carolina opens SEC play with another frustration of division rival Georgia in Athens. The win puts South Carolina on early pace to lead the SEC East and that continues the following week at home with another defensively sound performance against Vanderbilt.
A road trip to Central Florida gets scary in the second half, but Jadeveon Clowney forces a fourth-quarter fumble and returns it himself for a key touchdown to help the Gamecocks pull away. Wins over Kentucky, Arkansas and Tennessee provide little problem, but Missouri puts up a fight in late October. South Carolina manages to escape with another tight road victory and it heads in to its final bye week undefeated.
After a week to prepare for it, South Carolina defends its home turf against Florida to clinch a spot in the SEC Championship Fame. Before getting there the Gamecocks tune up against FCS Coastal Carolina and flex their muscles against ACC Atlantic Division champion Clemson, a battle of Top Five programs with BCS aspirations likely on the line. A win keeps South Carolina undefeated heading to Atlanta, where it manages to upset Alabama and play for its first BCS championship. Clowney wins the Heisman Trophy as defensive player and the Gamecocks go on to cap the season with their first BCS title with a victory over Notre Dame in the Lou Holtz Bowl.
Worst Case
North Carolina nips South Carolina in Week 1 with a late field goal, and Georgia makes a statement with a home win to drop South Carolina to a surprising 0-2 start. Vanderbilt puts another scare in to the Gamecocks but ultimately falls just shy of an upset bid. The same story plays out at Central Florida after the bye week to keep South Carolina at 2-2. The Gamecocks still have enough to get through the next stretch of the schedule and enter their final bye week sitting with a record of 7-2, but Florida upends the Gamecocks following the bye week to remove South Carolina entirely from the SEC East picture. Clemson then comes to town and wins the rivalry game to end the regular season.
At 8-4 the Gamecocks represent the SEC in the Chick-fil-A Bowl and square off against Florida State. South Carolina manages to play a tougher game and pulls out a close bowl victory..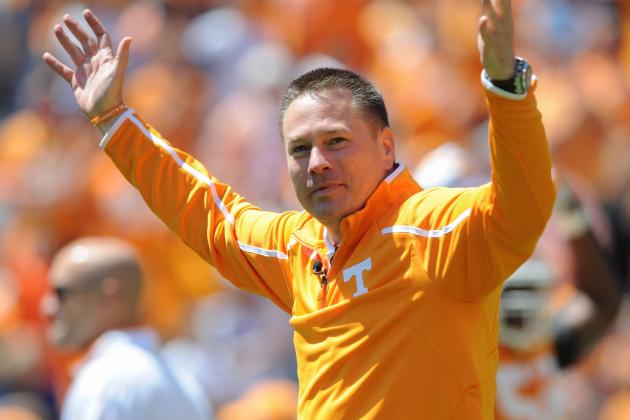 Randy Sartin-USA TODAY Sports

Best Case
Tennessee jumps to a nice 2-0 start with an easy win over FCS Austin Peay and a decent Western Kentucky squad coached by Bobby Petrino. Despite the positive energy in Knoxville, the next two games are rough ones with a blowout loss at Oregon and a loss at Florida the following week. Tennessee manages to stay above the .500 mark with a win against South Alabama the following week and even scores an upset over SEC East favorite Georgia heading in to the bye week.
After a bye week to rest up and prepare, Tennessee once again shocks the SEC by handing South Carolina a loss, and Neyland Stadium starts to feel like the good old days again. With momentum completely in its favor, Tennessee rolls in to Tuscaloosa and gives Alabama a respected fight but comes up short of one more eye-popping upset. Despite the loss, Tennessee is playing with confidence and ends the regular season with a four-game winning streak to put together a nice 9-3 regular season. That earns Butch Jones coach of the year honors and sends the Vols to the Outback Bowl to face Wisconsin.
Worst Case
Though Tennessee picks up wins against Austin Peay and South Alabama, the Vols are stunned by Western Kentucky as Petrino throws everything at a confused Tennessee defense. Along with blowout losses at Oregon, at Florida and at home against Georgia, Tennessee fans already start calling for a head-coaching change as the Butch Jones era stumbles to a 2-4 start entering the bye week.
Crushing losses to South Carolina and Alabama put the Vols on the brink of missing the postseason after the bye week. Tennessee manages to pull together for an upset win at Missouri and follows with a home win over Auburn to get people thinking Jones has begun to turn things around, but a loss at home to Vanderbilt eliminates Tennessee from postseason eligibility regardless of what happens the following week at Kentucky.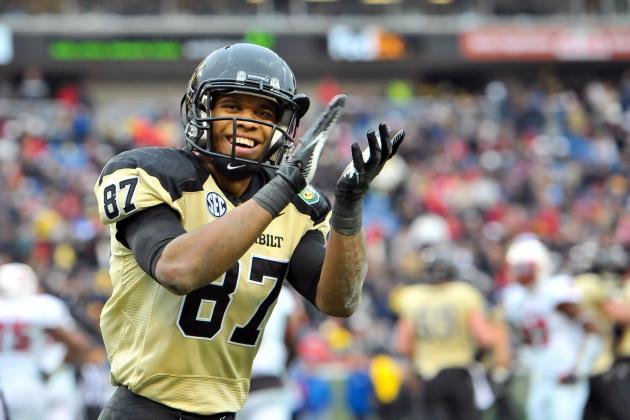 USA TODAY Sports

Best Case
Vanderbilt puts up a fight in Week 3 at South Carolina but is unable to pull the upset. Despite the loss to the Gamecocks, Vanderbilt gets off to a strong start with a 5-1 record heading in to its bye week. The highlight of the hot start will be a Week 1 victory at home against Ole Miss. After a bye week to prepare, Vandy upsets Georgia in Nashville but is unable to work some magic the following week against Johnny Manziel and Texas A&M. Vandy once again gives Florida all it can handle, but the 'Dores just cannot pull the upset this time.
At 6-3 the Commodores are already heading to the postseason, but they make a push for a 10-win season with wins against Kentucky, Tennessee and Wake Forest to close out the regular season. The Commodores head to a New Year's Day bowl game to represent the SEC in the Gator Bowl against the Big Ten's Michigan State Spartans and they pick up their 10th win of the season.
Worst Case
Vanderbilt plays tough but loses at home to Ole Miss in Week 1 and again two weeks later at South Carolina. The Commodores enter their first bye week sitting at 3-3 with wins against Austin Peay, UAB and UMass and a loss to Missouri. The back-to-back games against Georgia and Texas A&M result in losses, and a loss to Florida puts Vanderbilt on the brink of postseason ineligibility. Vanderbilt keeps those hopes alive with a win against Kentucky but comes up short against in-state rival Tennessee in Knoxville.
Despite the setbacks in 2013, James Franklin remains a hot name in the coaching rumor mills and he accepts a job offer at another program.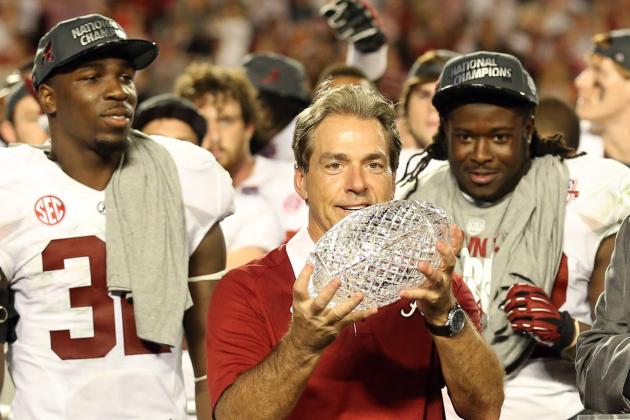 Matthew Emmons-USA TODAY Sports

Best Case
The two-time defending BCS champions set the tone early with a convincing victory over Virginia Tech in Atlanta in Week 1. The game serves as a notice to Texas A&M in Week 3 that the Crimson Tide are all business once again this season. After the early bye week Alabama travels to College Station in pursuit of revenge for the lone loss suffered in 2012 and it gets just that. Nick Saban has his defense up to the task of frustrating Heisman Trophy winner Johnny Manziel, and it forces him to make some uncharacteristic errors. Alabama plays clean offense and never turns the football over as it puts away Texas A&M in convincing fashion to send another national message to the college football world.
Alabama's streak of dominance never slows down in 2013, with big wins over Colorado State, Ole Miss, Georgia State and Kentucky never presenting much of a challenge. Arkansas is no contest either, and neither is Tennessee as Alabama reaches its next bye week undefeated and yet to face a real challenge.
LSU brings a good fight early in Tuscaloosa but lacks enough offense to truly provide a threat. Regular-season victories over Mississippi State, Chattanooga and Auburn are merely a routine on the way to another SEC Championship victory, this time over Jadeveon Clowney and South Carolina. Quarterback AJ McCarron puts together one of the top seasons with efficient passing and minimal turnovers and wins Alabama's second Heisman Trophy in school history. In the BCS championship game, Alabama faces Urban Meyer and undefeated Ohio State, and the Crimson Tide once again find ways to win as they force Braxton Miller to throw four interceptions and easily put away the Buckeyes for an unprecedented third consecutive BCS championship.
Having won three straight titles, Saban once again decides to pursue a new challenge and listens to potential NFL teams interested in a head coach. But Saban decides Alabama is still the best fit and he remains a mainstay in Tuscaloosa until retirement.
Worst Case
Even under the worst-case scenario, injuries aside, Alabama has a good season. The season opens with a slight scare from Virginia Tech in the second half, but Alabama still pulls away. The Aggies, though, pick up another win against the Tide and take the early lead in the SEC West race. Alabama opens its home schedule with convincing wins against Colorado State, Ole Miss and Georgia Southern before hitting the road to put away Kentucky. Alabama then pulls away from Arkansas at home and is given a scare from Tennessee. Still, Alabama is sitting with a record of 7-1 entering the bye week.
LSU manages to take advantage of a lagging Alabama team coming off a bye week and stuns the Tide with a 13-10 defensive victory, thus taking Alabama out of the SEC West title picture in surprising fashion. Alabama still ends the regular season with a 10-2 record with wins over Chattanooga and Auburn and becomes eligible for an at-large berth in a BCS bowl game. As Texas A&M plays for a BCS title, Alabama plays in the Sugar Bowl against Clemson, another at-large available for selection. Alabama still manages to win the game even in a worst-case scenario.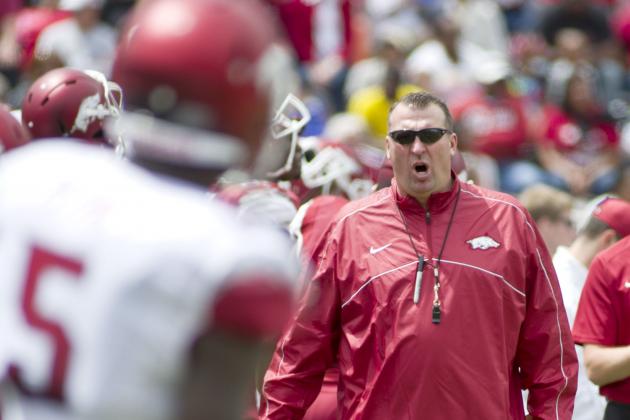 Beth Hall-USA TODAY Sports

Best Case
Bret Bielema turns things around quickly with a focus on the running game. The results pay off in the early going with Arkansas jumping out to a confidence-boosting 4-0 record against the likes of Louisiana-Lafayette, Samford, Southern Mississippi and Rutgers. Playing at home, Arkansas manages to upset Texas A&M in late September, but it follows that with three straight losses to Florida, South Carolina and Alabama.
Arkansas still manages to rebound and finish on a high note by picking up wins against Auburn, Ole Miss and Mississippi State to enter its regular-season finale rivalry game with LSU with a record of 8-3. The game ends up being a back-and-forth battle and Arkansas finds a way to come out on top for a 9-3 record. Bielema earns coach of the year honors in his SEC debut and takes the Razorbacks to the Outback Bowl to face off with his former team, Wisconsin.
Bielema gets plenty of verbal abuse from Wisconsin fans, but he gets the last laugh with Arkansas topping the Badgers for a 10-win season.
Worst Case
Arkansas still gets off to a 3-0 start, but it returns home from New Jersey with a loss to Rutgers. That leads to a miserable five-game losing streak with losses to Texas A&M, Florida, South Carolina and Alabama following. Arkansas rebounds off a bye week to defeat Auburn at home, but it splits the next two games against Ole Miss and Mississippi State and comes up on the losing end against LSU. At 5-7 the Razorbacks are ineligible for the postseason once again.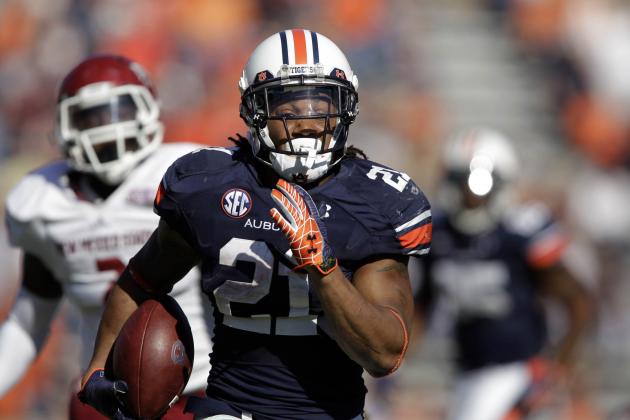 John Reed-USA TODAY Sports

Best Case
Auburn sees its young offensive stars rise to the call as leaders with Kiehl Frazier becoming more confident and effective in the passing game and Tre Mason leading the way on the ground once again. The Tigers also play with a new sense of energy and get off to a solid start with home wins over Washington State, Arkansas State and Mississippi State. A good start sends Auburn to LSU feeling confident. While it does not net a win this year, Auburn plays LSU tough and leaves Baton Rouge with some new respect around the SEC.
Good play continues after the bye week with wins against Ole Miss and Western Carolina, but the Tigers are unable to leave Texas A&M with a win. Auburn bounces back with a home win against Florida Atlantic and it splits road games at Arkansas and Tennessee before hosting Georgia. Though Auburn gives Georgia a scare early on, the Bulldogs manage to pull through for a win.
After a bye week, Auburn's season is made with a home upset of top-ranked Alabama. Alabama already had a spot in Atlanta locked up so the Crimson Tide still advance to play for an SEC title, but the loss puts Alabama's BCS championship plans on a different course and potentially snaps the SEC's BCS championship streak as a result.
Toomer's Corner remains the spot for postgame celebrations and is the scene for a wild party after the big win. At 8-4 Auburn goes on to play in the Independence Bowl, where it faces the ACC's Virginia Cavaliers for a rematch of the 2011 Chick-fil-A Bowl.
Worst Case
Washington State travels great distance and Mike Leach comes up with a master plan to upset Auburn in Week 1. The loss leads to a disappointing start for the Tigers, who lose to an Arkansas State team that comes through with big plays off turnovers. Auburn' struggles continue the following week as Mississippi State leaves town with another victory and Auburn drops to 0-4 with a loss at LSU.
After the bye week, Auburn recovers with a win against Ole Miss and wins a second straight by beating FCS Western Carolina. A road game at Texas A&M ends in another loss and things start to spiral out of control for Auburn. Though it tops South Alabama the following week, Auburn drops back-to-back road games at Arkansas and Tennessee before losing at home to a Georgia team that starts to put together SEC championship plans. After a week to figure out what to do, it is no use as Nick Saban and Alabama crush the Tigers, 42-0 to continue their march to another BCS title. The final record stands at just 3-9.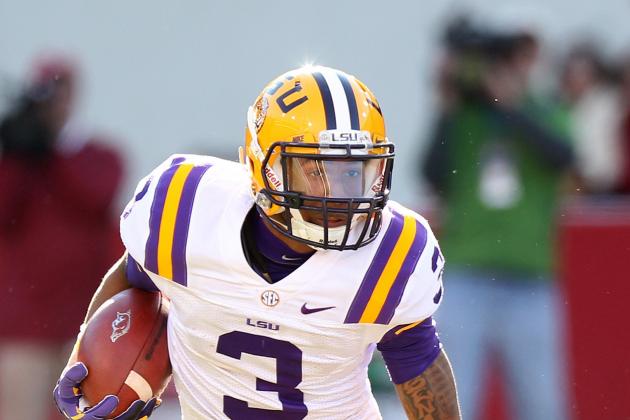 Nelson Chenault-USA TODAY Sports

Best Case
LSU starts the season on a high note by putting away a team capable of a run in the Big 12, TCU, in Cowboys Stadium. The big stage sets the tone for what could be a big season for the Tigers. Following the TCU victory LSU rattles off three more wins to arrive at Georgia with a 4-0 record. Georgia gets the upper hand this time around, but LSU battles back with four more wins entering its bye week. That includes a key home victory over Florida in mid-October.
After getting a week off, LSU comes through with a masterful plan to slow down Alabama's dominant run and edges the Crimson Tide in Tuscaloosa. Neither team manages to score 20 points and LSU's defense maintains the lead in a change of fortune from last year's meeting in Baton Rouge. The win helps LSU stand atop the SEC West Division as it enters another off week to prepare for Texas A&M.
The Aggies stroll in to Baton Rouge knowing the winner of the game is likely heading to the SEC Championship Game, but the wild atmosphere becomes too much to handle for a confident Aggies bunch. LSU's defense comes through and forces Manziel to get off his game and LSU pulls off the victory. A win over struggling Arkansas sends LSU back to the SEC Championship Game for a rematch with Georgia, which it manages to win this time.
At 12-1 the Tigers are back in the BCS championship game to face Ohio State. Les Miles finds a few tricks left in his bag and outwits Urban Meyer for all the marbles and LSU wins another BCS championship to keep the SEC BCS streak alive.
Worst Case
TCU, despite not having its top defensive player on the field, upsets LSU with a late touchdown drive. The win sends TCU off for a wild Big 12 run but also becomes a theme for LSU. The Tigers are good but not able to be great with losses to Georgia, Florida, Alabama and Texas A&M. LSU piles up wins against everyone else to end the regular season with a record of 7-5. As a result the Tigers are selected to play in the Gator Bowl with the SEC sending two teams to BCS bowl games and having a spot to fill on New Year's Day.
There, LSU faces Northwestern and the Tigers are able to once again pick up a win against non-elite competition.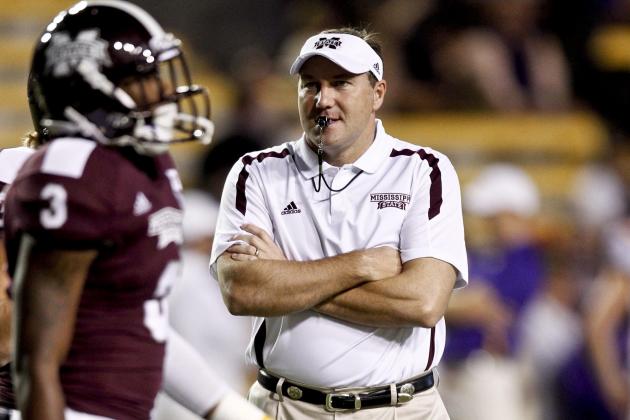 Derick E. Hingle-USA TODAY Sports

Best Case
Mississippi State jumps out to a fast 4-0 start, highlighted by a win over Oklahoma State in Week 1 in Houston and a road victory at struggling Auburn. After a bye week to rest up and prepare, the Bulldogs shock the SEC with a home win against LSU to send cowbell ringing to new heights in the process. There is no letdown the following week against Bowling Green, and the Bulldogs reach their next bye week feeling good at 6-0.
The second half of the season throws some challenges Mississippi State's way, and it is unable to continue playing at a high level against South Carolina, Texas A&M and Alabama in November. After a three-game skid, Mississippi State bounces back for wins against Arkansas on the road and at home for an Egg Bowl victory over Ole Miss.
At 9-3, Mississippi State is chosen to play in the Capital One Bowl against Nebraska. Mississippi State manages to avoid letting Taylor Martinez do enough damage with his legs and forces him to make some mistakes in a bowl victory.
Worst Case
Oklahoma State uses a highly potent passing offense to keep Mississippi State chasing all game in Houston and the Bulldogs start off the season with a blowout loss. Two weeks later they stumble at Auburn on their way to a 2-2 start. LSU comes to town after the bye week and hands Mississippi State another tough loss, but a rebound victory the following week against Bowling Green keeps Mississippi State at .500 entering the next bye week.
Though they beat Kentucky, Mississippi State continues to play poorly in losses at South Carolina, at Texas A&M and home against Alabama. A game at Arkansas gets away from Mississippi State to eliminate it from postseason eligibility. The painful season is brought to an end with an unfortunate loss in the Egg Bowl to Ole Miss.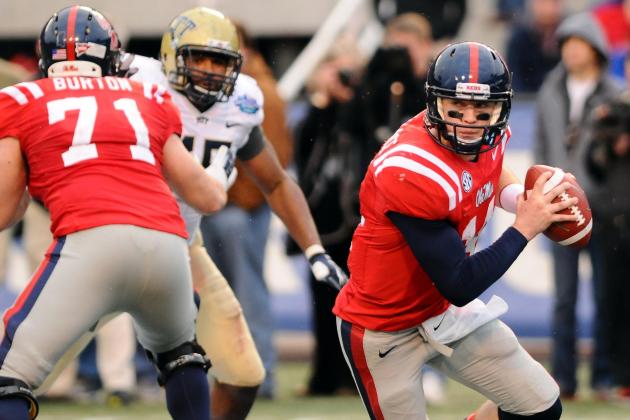 USA TODAY Sports

Best Case
Bo Wallace, now healthy, gets off to a fast start by leading the Ole Miss to a big Week 1 victory at Vanderbilt. The Ole Miss offense is the story of the early going as the Rebels put up big numbers against a stunned Vanderbilt defense in Week 1 and again two weeks later at Texas. Ole Miss manages to flip the script from last year's shootout loss to Texas and leaves Austin with a 3-0 start.
Ole Miss gets a dose of reality after a bye week when Alabama shuts down the Rebels in Tuscaloosa and Texas A&M manages to escape Oxford with a win two weeks after that. But Ole Miss rebounds with a nice win at home against LSU and reaches its second bye week with a record of 6-2 after blowing away Idaho.
That sets the stage for a great finish with Ole Miss winning three straight home games against Arkansas, Troy and Missouri before ending the regular season with a road Egg Bowl victory at Mississippi State. The surprising and young Rebels end the regular season with a record of 10-2 and are invited to play in the Cotton Bowl against Oklahoma State.
By the time the bowl game is played, Ole Miss has seen freshman stars like Robert Nkemdiche and Laquon Treadwell develop key roles on the roster and the Rebels are able to trip up Oklahoma State for an 11-win season.
Worst Case
Vanderbilt holds strong at home and frustrates Ole Miss in a Week 1 SEC opener. Two weeks later Ole Miss runs in to an inspired Texas squad and is unable to slow down the Longhorns in another high-scoring affair. At 1-2, the pressure is already on for Ole Miss to turn things around.
Losses to Alabama, Texas A&M and LSU are accompanied by a road loss at rebuilding Auburn, putting the postseason plans of Ole Miss on thin ice. While Ole Miss manages to string together three tough wins against Arkansas, Troy and Missouri, the postseason dreams are crushed with a loss to rival Mississippi State on Thanksgiving night. Ole Miss finishes the season with a record of 5-7 but hopes to see continued growth in 2014.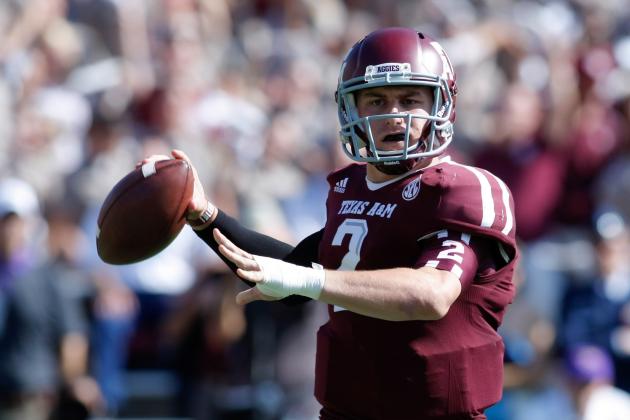 Brett Davis-USA TODAY Sports

Best Case
Texas A&M has had seasons in recent memory that failed to live up to preseason hype. 2013 proves to not be one of those disappointments. Johnny Manziel puts up solid numbers in the first two games of the season, but with the games well in hand, Kevin Sumlin opts to rest Manziel leading up to a Week 3 game against Alabama.
The most hyped game of the 2013 season lives up to the billing as top-ranked Alabama challenges and sets the tone in the first half, but Manziel goes off in the second half to hand the Tide a second loss in as many seasons of the SEC era at Texas A&M. The victory places Texas A&M on top of the college football polls for the first time since 1957.
From there it is business as usual for the Aggies. There is no hangover effect against SMU the next week and a road win at Arkansas has A&M sitting at 5-0 at the first bye week. The second leg of the season presents little threat and A&M reaches LSU in late November with a perfect 10-0 record and still sitting atop the polls. With everything on the line, Manziel and the Aggies pull away from Baton Rouge with a victory to clinch a spot in the SEC Championship Game, where they go up against Georgia.
In a battle of Heisman favorite quarterbacks, Manziel gets the upper hand by out-dueling Aaron Murray and Texas A&M hands Georgia a crushing third consecutive SEC Championship Game loss. The win clinches a spot in the BCS National Championship Game and leads to Manziel winning a rare second straight Heisman Trophy. In the BCS championship game, A&M goes up against another Heisman finalist, Braxton Miller, and Ohio State. Once again, Manziel gets the last laugh in a battle of talented quarterbacks and Texas A&M wins its first BCS championship.
Worst Case
Rice catches Texas A&M napping in Week 1. The Owls do not pull the upset but do expose some concerns for the Aggies right out of the gate. Nick Saban pays close attention to the film and designs a game plan intended to capitalize on those weaknesses and it pays off. Alabama shuts down Manziel Mania for one week and leaves College Station with a statement 23-7 victory. SMU comes to Kyle Field the following week and shocks everybody by scoring an upset against what is now a Texas A&M team experiencing some maturity concerns. The Aggies rebound the next week at Arkansas and start to put the pieces back together for the second leg of the season.
After avoiding another upset at Ole Miss, Texas A&M appears to have everything straightened out with four straight home victories to reach the next bye week with a record of 8-2. A road game at LSU sees the Aggies once again struggle against a solid defense, and the Tigers hand Texas A&M a second division loss, removing the Aggies from the SEC Championship Game picture.
The following week, at Missouri, it is the Tigers who come up with the big plays. Receiver Dorial Green-Beckham comes through with big catches in the second half to help the Tigers defeat Texas A&M and send the Aggies to the Capital One Bowl. There the Aggies face another former Big 12 member, Nebraska.
The Huskers and Aggies go back and forth for the entire game, but Taylor Martinez busts a big run in the fourth quarter that leads to a game-winning touchdown, dropping Texas A&M to a season record of 8-5.
Kevin McGuire is the host of the No 2-Minute Warning podcast and an analyst for Bleacher Report. Follow McGuire on Twitter and Google+.