10 College Football Teams That Wouldn't Trade Their QB for Johnny Manziel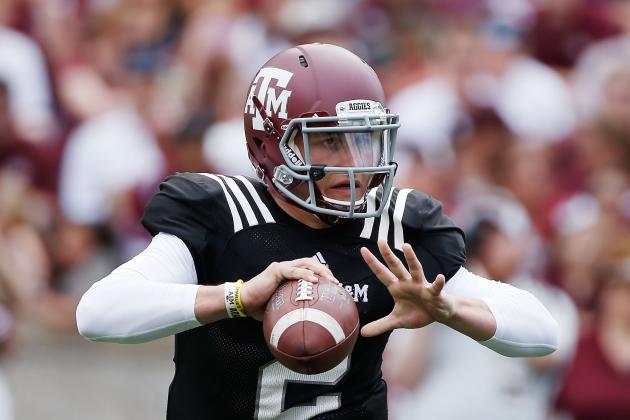 Scott Halleran/Getty Images

Johnny Manziel and his outgoing personality have taken over college football in a way this sport has never seen. His play on the field earned him a Heisman Trophy during his freshman year and has many wondering if a defense will figure him out, while his larger than life character off the field has the media memorized.
Offenses would kill to have Manziel because of his unique skill set that allowed him to break SEC and school records. Programs would also love to have him because of all the attention and excitement he brings to the university.
Although not every football team would be willing to trade for Manziel if given the opportunity.
Here are 10 teams that would stay with their current quarterback and not switch places with the most talked about college football player.
Begin Slideshow

»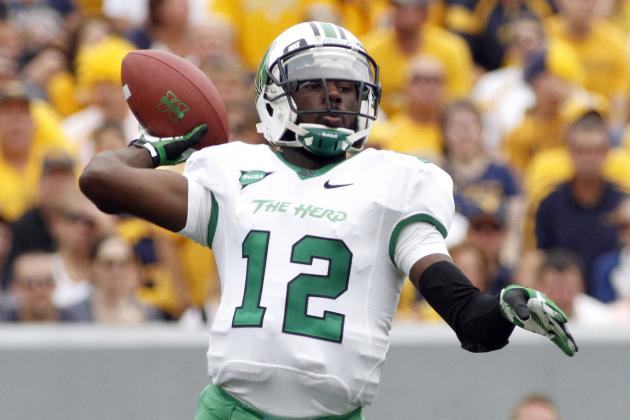 Justin K. Aller/Getty Images

Marshall only won five games last season, but don't you go blaming any of that on Rakeem Cato. Averaging 350 passing yards a game, Cato led the country in that category, while tossing 37 touchdowns.
The defense allowed 43 points per game, which was the reason the Thundering Herd failed to reach a bowl game for the second time in the last three years. Cato threw for at least two touchdowns in every game, averaged seven yards per pass and finished with only three games of less than 300 passing yards.
Manziel may be a more exciting player than Cato, but as far as production is concerned, Marshall has its starting quarterback. If the defense can find a way to improve after allowing an unusual amount of points, this team will be just fine.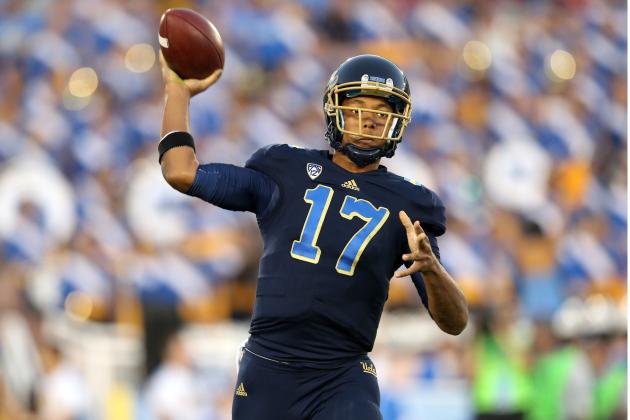 Stephen Dunn/Getty Images

Manziel surprised everybody last year because of his play and the fact he was a freshman, but what about Brett Hundley?
The freshman UCLA signal-caller finished with a 66.6 completion percentage, ran for 355 yards and was responsible for 38 total touchdowns. A Bruins team that very few were paying attention to before the season started managed to win nine games, including three against ranked opponents. He also threw for 3,745 yards playing behind an absolutely brutal offensive line that allowed him to be sacked 52 times.
Hundley isn't as explosive as Manziel, but he is just as effective and can make plays the same way the Texas A&M quarterback can. While he may never be given the same credit as the Heisman Trophy winner, he will continue to lead UCLA to success the next couple of years.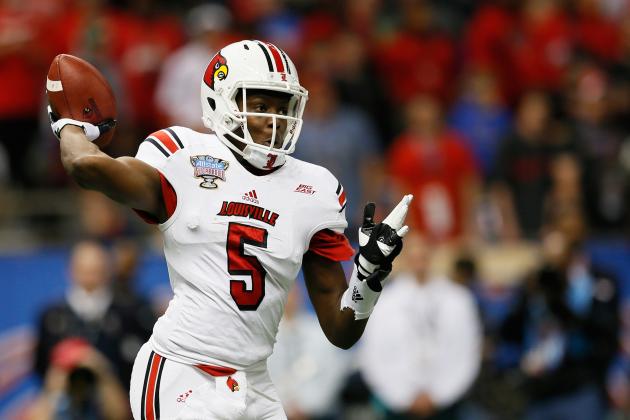 Kevin C. Cox/Getty Images

Teddy Bridgewater introduced himself to the college football world in last year's BCS bowl victory over the Florida Gators. The truth is, the young quarterback has been playing well his entire career.
The sophomore completed 68.5 percent of his passes and had 34 passing plays produce more than 25 yards. A total of 165 of his 287 completions produced first downs, and he threw 27 touchdowns to only eight interceptions. While Bridgewater is capable of making plays with his feet, he is incredibly accurate with the football and is more of a pocket-passer early on in his career.
Some will criticize the Louisville quarterback due to the lack of competition he faces in his conference. However, Bridgewater is the real deal and Cardinals fans wouldn't be willing to switch for Manziel if the opportunity popped up.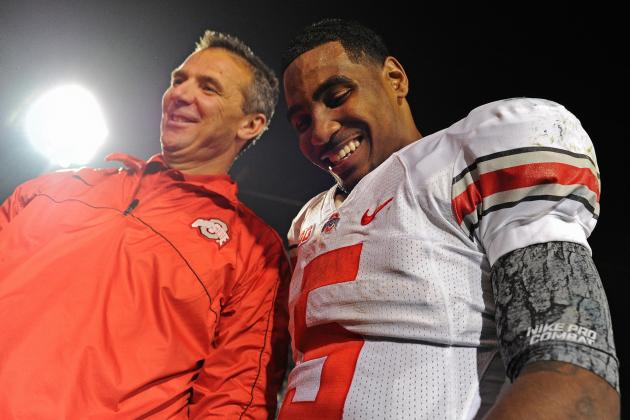 Patrick Smith/Getty Images

You criticize Braxton Miller because you don't think he can throw the ball with any consistency. Ohio State fans love him because he can shake your entire defense out of its shoes and juke his way in for a touchdown.
Breakdown the young man all you like, the kid can play the position and is just as explosive as Manziel will ever be. Racking up 1,271 rushing yards and putting together 14 runs of more than 20 yards, Miller is a constant threat to run, and he drives defenses mad. Sure, he needs to improve in the passing department, but last year showed he is a perfect fit with Urban Meyer and will likely only get better the longer he is in the system.
Not much of a difference between Miller and Manziel as far as playmaking ability, but the Buckeyes did finish with an undefeated record last season.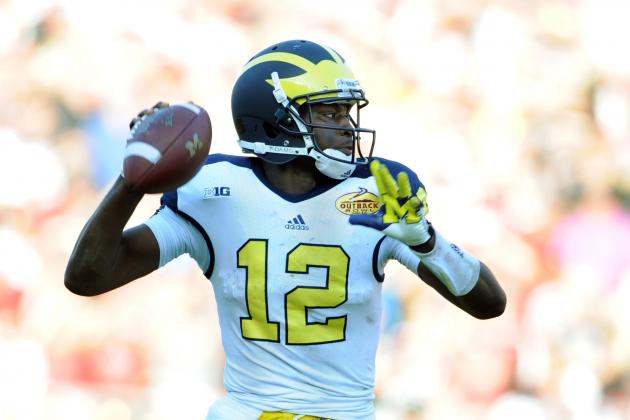 Al Messerschmidt/Getty Images

This may surprise some people. Manziel has proven himself in one year, while Devin Gardner has yet to even finish a complete season as a starter. To top it all off, we are talking about somebody who played wide receiver for most of his career.
Relax.
In just the few games Gardner played last year, he showed limitless potential. Putting the ball exactly where it needs to be, making plays with his legs and buying extra time in the pocket, Gardner could carry Michigan to a BCS bowl if the rest of the Big Ten isn't careful. He isn't a run-first quarterback like Denard Robinson was, and he throws a remarkable football for somebody who is considered a dual-threat player.
Gardner is that quarterback who will take that next step this season, and Michigan fans wouldn't trade it for the world.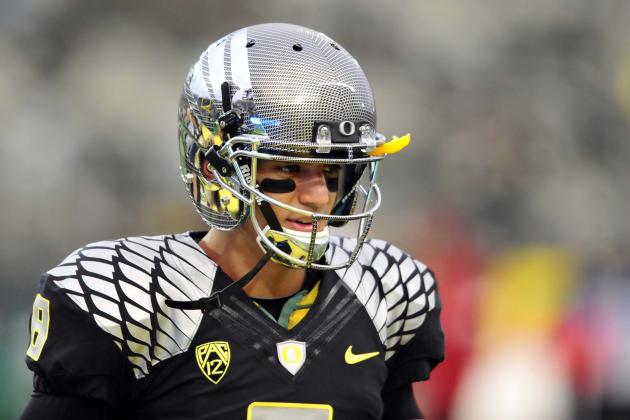 Steve Dykes/Getty Images

Let's pretend that Manziel didn't have the season he had last year. You would all be talking about the season Marcus Mariota had. Whether it was the 2,677 passing yards, 752 rushing yards or the 38 total touchdowns, Mariota was the ultimate playmaker for the Ducks.
Oh, and he happened to be a freshman.
Some would say that Mariota is a product of the Oregon offense and he couldn't put those numbers up if he was playing somewhere else. However, there have been plenty of Oregon quarterbacks and none have come close to having the season Mariota had. He is somebody you want with the ball in his hands, and he knows what to do with it once you put it there.
Oregon already has a Manziel-type quarterback and his last name is Mariota.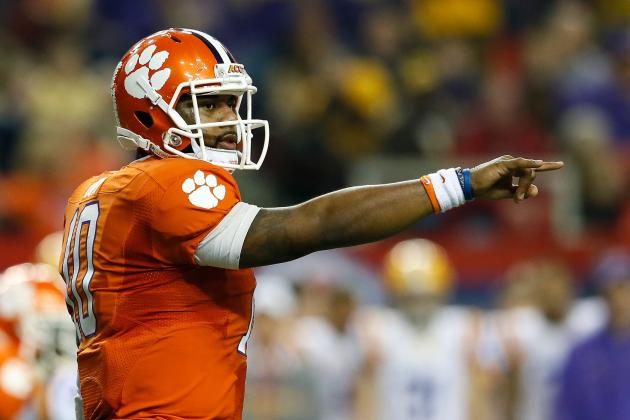 Kevin C. Cox/Getty Images

What if Manziel goes through a sophomore slump? SEC defensive coordinators figure him out a bit and the Texas A&M starter isn't the same anymore. With that being a realistic possibility, Clemson is a team that would keep its quarterback.
Tajh Boyd has been the model of consistency and there is no sign of him slowing down. He has thrown for 69 touchdowns and has surpassed 3,800 yards in each of the last two seasons. Simply shredding ACC defenses on a weekly basis, Boyd thrives in a Chad Morris offense and puts up incredible numbers each Saturday.
Clemson has been an offensive juggernaut the last couple of years and adding Manziel wouldn't change much. If there is going to be help for this program, Texas A&M should throw a few of its defensive prospects the Tigers' way.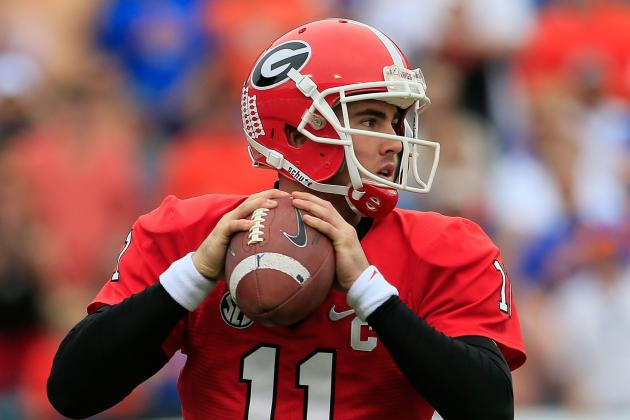 Sam Greenwood/Getty Images

While we are on the subject of consistency, it doesn't get much better than Aaron Murray. Being named a starter since his freshman year, the Georgia quarterback has thrown for more than 3,000 yards each season and 95 touchdowns in his career. On pace to reset the SEC record books, Murray gets the job done at a high level.
The No. 1 criticism is that he hasn't been great against ranked opponents or in big games. Always coming up short when it counts the most, Georgia fans find it hard at times to take the good with the bad. However, Manziel hasn't exactly won anything yet. Losing two games last season, it isn't a guarantee he will be able to live up to the pressure if Texas A&M is in the national title conversation.
Georgia will roll the dice and keep Murray around for another shot at the big dance.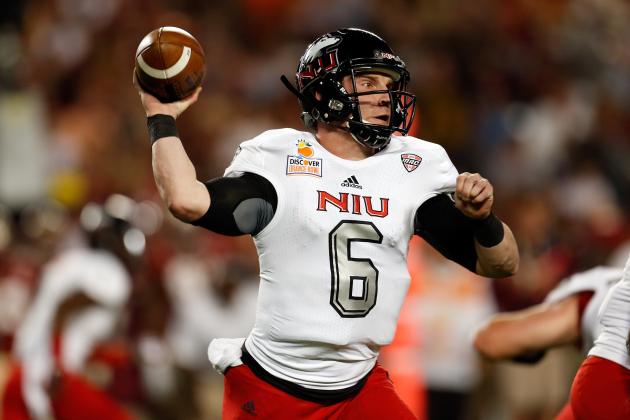 Chris Trotman/Getty Images

Northern Illinois already has a playmaker at quarterback in Jordan Lynch. While he may not be as polished in the passing game, he finished fourth in the country with 1,815 rushing yards and passed for more than 3,000 yards.
The main reason the Huskies managed to shock the world and reach a BCS bowl was because of Lynch at quarterback. Due to his playmaking ability and putting the team on his back, Lynch proved to be the real deal and somebody who defenses must be aware of at all times.
Northern Illinois will never be a championship contender, but there is nothing Manziel could do for this team that Lynch hasn't already done. Besides, after finishing with the most successful season in program history, trading Lynch for Manziel would be a slap in the face.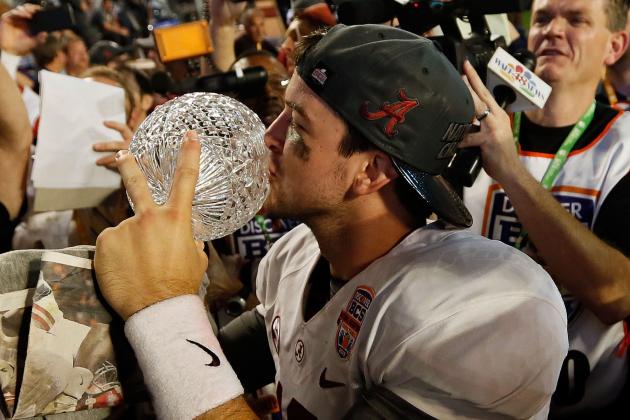 Kevin C. Cox/Getty Images

Two national championships. Do I really need to say anymore?
A.J. McCarron will never be the difference-maker that Manziel is, but he fits the Alabama team perfectly. He is a leader on and off the field and manages the game better than any other quarterback in the country. While he became more aggressive last season, McCarron really only makes plays while he has to, letting the running game wear down the defense.
This style of play may not be as exciting as what Manziel brings to the table, but McCarron has two championship rings. It also takes a special quarterback to put individual statistics to the side for the sake of winning games.
McCarron will go down in history as one of the best Alabama players in program history.