7 Most Innovative Offensive Minds in College Football Today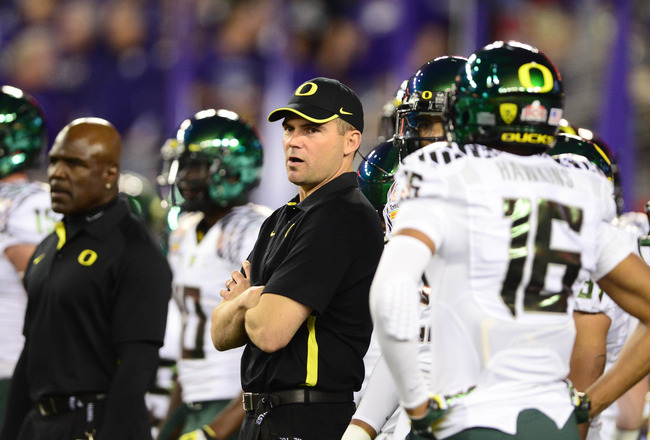 Mark J. Rebilas-USA TODAY Sports
There's no question we're living in an era where offense in king in college football. Gone are the days of those classic 7-3 battles where teams grind it out slowly, methodically until that long-awaited score is finally realized.
Today, 42-35 isn't uncommon, and with teams like Oregon running rampant around the nation and questionable defenses like, well, the entire Big 12, 60 points or more seems to happen more often than ever.
But where do these offensive fireworks displays originate? Who is responsible for the new wave of point-crazed football? These few men can claim much of the credit.
From offensive scheme designers to play-calling geniuses, we've put together the definitive list of the most innovated offensive minds in the college game today.
Rich Rodriguez, Arizona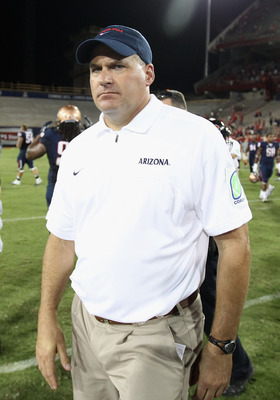 Christian Petersen/Getty Images
We'll be the first to admit that Rich Rodriguez's tenure at the University of Michigan was an unqualified bust. In three seasons, Rich Rod led the Wolverines to an abysmal 15-22 record, including a 3-9 finish in 2008—the worst finish in Michigan football's now 134-year history.
But the reasons for Rodriguez's failure at Michigan is part of the reason he makes it onto our list of innovative offensive minds.
During Rodriguez's career at West Virginia, the Mountaineers averaged nearly 32 points per game. West Virginia also increased its points-per-game average every year from 2003 onward under Rodriguez until his departure after the 2007 season where the Mountaineers averaged just shy of 40 points per game.
Rodriguez's style of spread, run-and-gun offense was instrumental in beginning the modern crazy of scoring a ton of points as quickly as possible. Rodriguez took an approach pioneered by Steve Spurrier, put it on steroids and built an entire program to support it. West Virginia went from mediocre, ho-hum Big East team to a perennial BCS contender in just a few years under Rodriguez.
He's now doing the same thing at Arizona. Once, in the very recent past, a laughing stock of the Pac-12, other teams are suddenly taking notice of the Wildcats and their team that scored 496 points in 2012 while beating teams like Oklahoma State and USC.
Clearly, Rich Rod can take his high-octane show on the road and make it work away from the back hills of Appalachia. So what was the deal with Michigan?
If West Virginia and Arizona—and even Division II Glenville State, where Rodriguez first built a winning program from next to nothing—are the incubators of Rodriguez's innovation, then Michigan is whatever the opposite of an incubator is. Michigan is an institution where changes take years or even decades, and even then, aren't easy. Michigan loves Big Ten football, and the West Virginia spread just wasn't "Michigan football" enough for Michigan fans and alumni.
Add in a wholesale change of recruiting strategy overnight, and suddenly there's a hodgepodge of players suited for different styles of football all trying to learn to play the spread while simultaneously trying to defend against the rest of the Big Ten and its grind-it-out style of play.
That's not a problem Rodriguez had at West Virginia, nor is it a program at Arizona. Take away the pressure placed on any Michigan coach and replace it with the time and resources needed to build that high-flying spread offense, and Arizona fans may very well be in for something special out in the desert.
Gus Malzahn, Auburn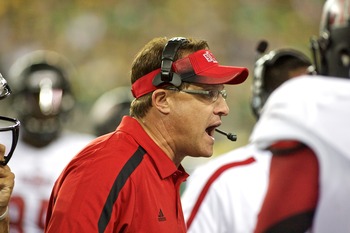 Craig Mitchelldyer/Getty Images
Gus Malzahn takes the reins at Auburn after the firing of Gene Chizik. Malzahn has just one season of head-coaching experience (2012 at Arkansas State where his Red Wolves went 9-3), Malzahn spent three seasons before that as the offensive coordinator at Auburn, guiding Cam Newton and Co. to the 2011 BCS National Championship.
If you're a fan of the hurry-up offense, you're going to love watching Auburn football under Malzahn. A true student of the game, Malzahn has become the professor of hurry-up football, even publishing the book on the subject.
Even with Malzahn's ability to run and seamless and highly successful hurry-up attack, we're not expecting Auburn to be winning any SEC titles in the very near future. But with his system firmly in place and assuming Auburn gives him the time he needs to build the program his way, the Tigers will be back before too long.
Mark Dantonio, Michigan State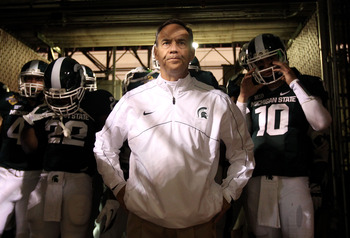 Christian Petersen/Getty Images
At first glance, there's nothing too spectacular about Michigan State's offense these days under Mark Dantonio. It is, in essence, just another standard Big Ten offense that relies on a power run game and an accurate pocket quarterback.
But anyone who has watched MSU over the past few seasons has seen a new little sping in the step of the "same old Spartans."
Dantonio isn't afraid to shake things up in the Big Ten these days. A conference which is trying to shake off the stereotype of being a stodgy, crusty old relic of football's past is getting a shot in the arm from teams like Michigan State and coaches like Mark Dantonio.
He's also not afraid to take a risk, possibly being branded a failure for taking stupid chances if those gutsy gambles don't work. But from fake punts to hook-and-lateral to last-second rockets to "Little Giants," Michigan State has provided some of the best college football highlights of the past few seasons.
And the MSU faithful have fearless Mark Dantonio to thank.
Chris Petersen, Boise State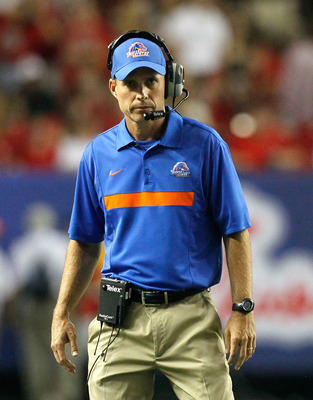 Kevin C. Cox/Getty Images
When you have a coach who has amassed a record of 84-8 over seven seasons, won five conference titles over that span, finished in the final Top 25 AP Poll six times, the top 10 four times and won two BCS bowls out of a non-automatic qualifying conference, there's clearly some method to the madness.
Chris Petersen's Boise State team has been the little program that could over much of the past decade, and were we talking about basketball, they'd be everyone's favorite Cinderella team. But since college football fans seem to hate Cinderellas, the Broncos find themselves as one of the most despised teams with a legitimate excuse to feel snubbed on an almost yearly basis.
But what is it about Petersen's Broncos that even have this program in a position to be part of the conversation?
Petersen—like the next coach on our list—was able to institute a system at Boise State during a time when no other contemporary team could do the same. The Broncos developed a fast spread offense fond of airing it out with deep passes while the rest of the WAC—then Boise State's conference—was still trying to figure out how to keep scores close with the rest of the nation. Petersen recruited the players he liked, even if they weren't all 6'4", 220-pound perfect specimens of football athleticism.
That was OK because no one else in the WAC was either. The result is that Boise State not only started to win games, it won a lot of games. Before you knew it, every kid who was just a little too small to play for Texas or USC wanted to play for Boise State.
Petersen then used his play-calling philosophy, best described with that apocryphal phrase of the Sioux tribe, "Today is a good day to die." Conservative play-calling isn't something Petersen knows how to do, and Boise State often goes for the throat when leading or goes for broke when trailing.
So far, that kind of mentality has been successful, especially with the talent Boise State has been able to attract.
Brian Kelly, Notre Dame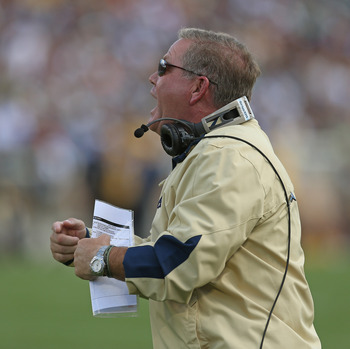 Jonathan Daniel/Getty Images
Much like what Petersen is doing at Boise State, Notre Dame's Brian Kelly made a name for himself doing with his team what the competition couldn't.
Back during his days as head coach at Division II Grand Valley State, Kelly recruited a group of players in the late 1990s that were every bit as fast as this FBS counterparts in the state of Michigan, but lacked only prototypical FBS size. Kelly benefited from a lack of any FCS programs in Michigan to drain the talent pool of "almost, but not quite" prospects and built an offensive juggernaut.
Kelly started those players as freshmen in 1999, and struggled through a 5-5 season—his only non-winning record while at Grand Valley State. Over the next four seasons, however, the Lakers were 48-6 thanks to a new-found ability to run a no-huddle spread against programs that were nowhere close to possessing the talent to stop it. The Lakers made three championship game apperances with two wins from 2001 to 2003.
Kelly left Grand Valley State with a 118-35-2 record, and proceeded to take his philosophy to Central Michigan, Cincinnati and Notre Dame, doing what he did at Grand Valley State each time: building something out of next to nothing.
Notre Dame is a bit of a different story than, say, Grand Valley State or Central Michigan. The Fighting Irish compete against teams every bit as talented as they, but Notre Dame is back on a winning path. Kelly, and his offensive coordinator Chuck Martin (who succeeded Kelly as head coach at Grand Valley State, winning two of his own national titles with a 74-7 mark over six seasons) have brought their play-calling ideals to South Bend: lean on the talent but use every tool in the box.
Dana Holgorsen, West Virginia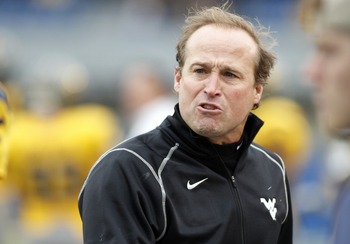 Justin K. Aller/Getty Images
Dana Holgorsen is the newest coach at West Virginia tasked with continuing the offensive legacy started by Rich Rodriguez. Holgorsen seems capable of doing just that, especially after his experiences with circus-like offense he ran as coordinator at Oklahoma State.
In just two seasons, Holgorsen has put together a program that has scored 1,002 points in just 26 games (or over 38 points per game). The only road bump in the master plan of competing for a national title was the 7-6 finish to the program's first season in the Big 12 in 2012.
Including his career as offensive coordinator at Texas Tech, Houston and Oklahoma State, Holgorsen has never been responsible for an offense that has scored fewer than 500 points in a season, other than West Virginia's 489 points in 2011. So what's his secret?
Using every thing under the sun in order to score points.
Holgorsen isn't shy about borrowing plays from other programs and tweaking them to fit his own style. Heck, he'll even outright steal a play if he thinks it will be successful.
At least Holgorsen cites his sources, as he did at the end of the 2012 Orange Bowl 70-33 thrashing of Clemson. Holgorsen used a play engineered by the Bob Stitt, head coach of Division II Colorado School of Mines. The modernized fly-sweep immediately became part of Holgorsen's playbook after Stitt showed it to him during an impromptu visit to Houston during Holgorsen's tenure as OC for the Cougars.
That's not the only borrowed play in Holgorsen's playbook, but it underscores his offensive philosophy: use what works, even if it isn't yours. In an era where coaches' egos are bigger than the massive stadiums in which their teams compete, that's not always an easy thing to admit. But Holgorsen clearly has other ideas.
Sometimes to be the best you need to emulate the best.
Mark Helfrich, Oregon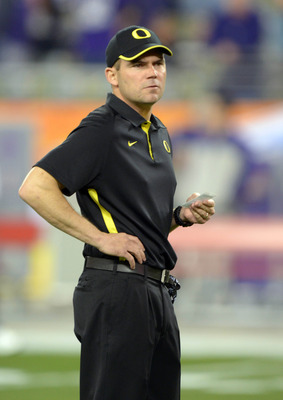 USA TODAY Sports
Finally, we come to perhaps the greatest offensive mind the college game today. Oregon's new head coach, Mark Helfrich, doesn't yet have a single game to his credit as the head man on the sideline, but he's one of the most experienced and innovative offensive geniuses anywhere in the nation.
Helfrich was hired by then-new Oregon head coach Chip Kelly to come to Eugene from Colorado to not only help solidify and implement Kelly's new offensive scheme. Kelly was taking over for longtime Oregon coach Mike Bellotti, who became Oregon's athletic director. Helfrich and Kelly then set about developing one of the most exciting college football offenses in history.
Best known for its lightening-quick pace combined with signals relayed by giant graphic posters held up on the sidelines, Oregon strives to snap the ball every 12 to 15 seconds. The big play, blitzkrieg style of offense, made possibly by the simplistic-yet-effective signaling scheme has allowed Oregon to simply steamroll other teams, most of whom walk off the field shell-shocked and more than a little bewildered.
Oregon games are often decided by halftime, and few teams score more frequently than the Ducks these days. Each of the past three season, Oregon has scored more than 600 points, and in 2012, the Ducks averaged a whopping 49.6 points per game. Oregon has been among the top three scoring offenses each of those three seasons—a feat matched only by Oklahoma State.
Don't count on Oregon missing a beat in 2013, either. Helfrich knows this system inside and out. Although he's sure to put his own stamp on things in Eugene this fall, Ducks fans can rest assured that Oregon will be back to its usual high-flying ways come August 31 when the season gets underway at home against FCS Nicholls State.
And our guess is, it'll be another innovative season of offense at Oregon with another 600-plus point season.
Keep Reading