College Football 2013 Preseason All-American and All-Conference Teams
John David Mercer-USA TODAY Sports
What will defending Heisman winner Johnny Manziel do for an encore in 2013?
A record number of underclassmen declared for the 2013 NFL draft, but that doesn't mean that college football has lost all of its great players.

There are still plenty of established big-name stars who are coming back for another season. There are also plenty of young, exciting, up-and-coming players who could be ready to have breakout performances this fall.
Here's a look at the top impact players who deserve preseason praise and recognition.
Begin Slideshow

»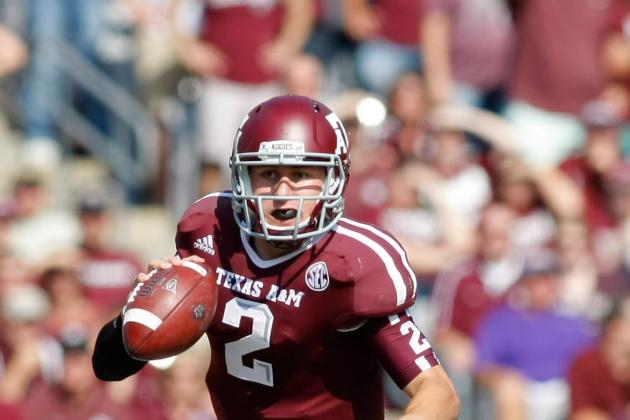 Brett Davis-USA TODAY Sports
Johnny Manziel
MVP: Johnny Manziel, Texas A&M

QB: Johnny Manziel, Texas A&M

RB: Todd Gurley, Georgia
RB: TJ Yeldon, Alabama

WR: Marqise Lee, USC
WR: Sammy Watkins, Clemson

TE: Austin Seferian-Jenkins, Washington

OL: Jake Matthews, Texas A&M
OL: Taylor Lewan, Michigan
OL: Cyrus Kouandjio, Alabama
OL: David Yankey, Stanford
OL: Gabe Jackson, Mississippi State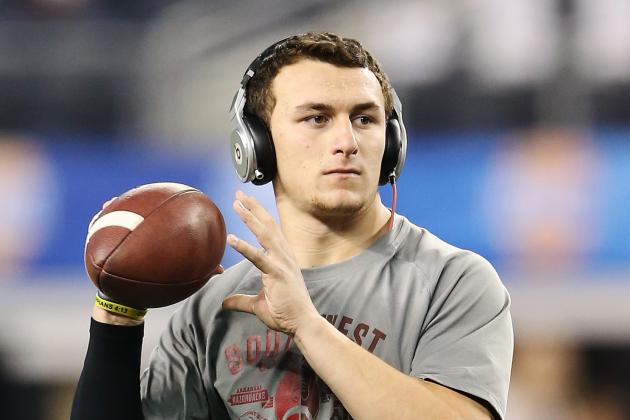 USA TODAY Sports
Johnny Manziel
Johnny Manziel proved in 2012 that he's the most exciting, explosive and electric offensive playmaker in college football.

Manziel displayed his outstanding natural playmaking skills during a dominant debut campaign, in which he threw for over 3,700 yards, rushed for over 1,400 yards and accounted for 47 touchdowns.

After leading Texas A&M to a surprising 11-win season and becoming the first-ever freshman to win the Heisman Trophy, the dynamic dual-threat quarterback is surely going to receive plenty of hype and publicity this offseason.
It will be very interesting to see if college football's new cover boy can live up to expectations in 2013.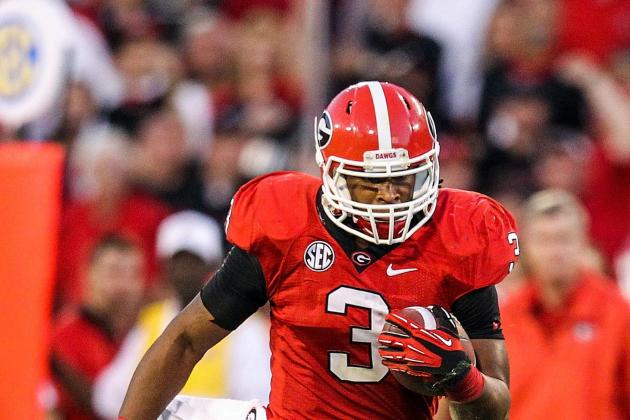 Daniel Shirey-USA TODAY Sports
Todd Gurley
Todd Gurley may not have put up the same type of numbers in 2012 that Adrian Peterson did during his outstanding freshman campaign back in 2004. But Gurley definitely had the same type of instant "wow" factor that we saw from Peterson during his first season.
Gurley took the SEC by storm. He rushed for over 1,300 yards, scored 18 touchdowns and played an integral role in Georgia's run to an SEC East division title.
The 6'1'', 218-pound sophomore is a remarkable physical specimen who possesses the combination of size, speed, power, vision, balance and toughness that no other running back in college football can offer.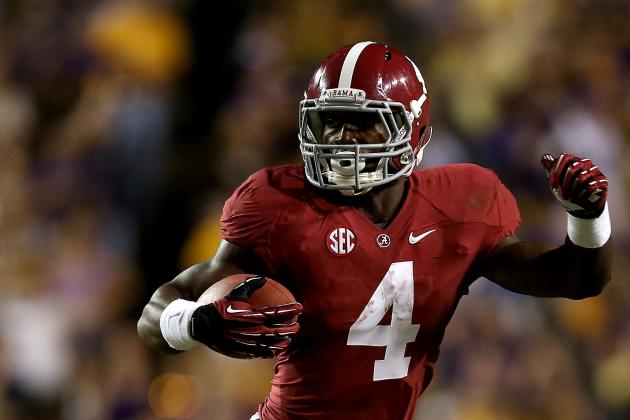 Matthew Stockman/Getty Images
TJ Yeldon
Alabama's offense has featured some terrific running backs in recent years such as Trent Richardson, Eddie Lacy and Mark Ingram. Now, TJ Yeldon is the latest Tide back who has everyone buzzing.
Yeldon arrived in Tuscaloosa last year as one of the most highly touted prospects of the 2012 recruiting class. It didn't take long for him to show why he was such a heralded high school player.
The 6'2'', 216-pound playmaker showed all the skills and physical tools it takes to become an elite back, as he rushed for over 1,100 yards and scored 13 touchdowns in his first season.
With Lacy gone, Yeldon will have even more opportunities in 2013 to show that he's one of the most special talents in college football.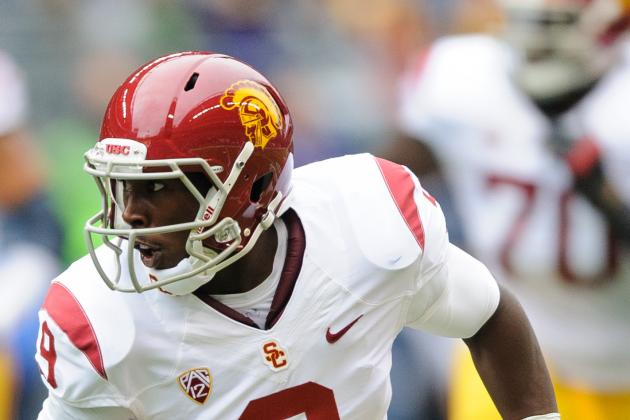 Steven Bisig-USA TODAY Sports
Marqise Lee
Whoever ends up as USC's new starting quarterback, whether its Max Browne or Max Wittek, will be lucky to have the best wide receiver in college football, Marqise Lee, at his disposal.
Lee put together a spectacular sophomore season in 2012. He led the nation with 118 catches, totaled over 1,800 yards of offense and scored 14 touchdowns.
The defending Biletnikoff Award winner would likely be a top-5 pick if he was eligible for the 2013 NFL draft. But instead, Lee will be back for one more season to continue to make life miserable for Pac-12 defensive backs.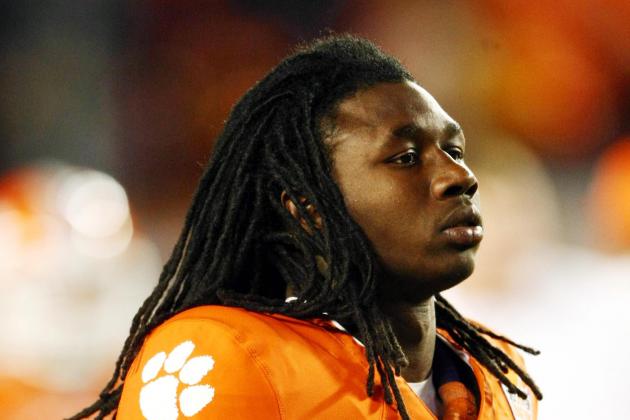 Douglas Jones-USA TODAY Sports
Sammy Watkins
As far as pure talent and natural ability is concerned, you could easily argue that Sammy Watkins is the best overall player in college football.
Sure, Watkins failed to live up to sky-high expectations this past season, as he followed up a fantastic freshman campaign with a so-so sophomore effort. Still, there's no doubt that he's got the chance to be one of college football's top impact playmakers in 2013.
Now that DeAndre Hopkins has moved on to the NFL, Watkins will become the focal point of Clemson's potent passing attack. The speedy 6'1'', 200-pound junior will team back up with QB Tajh Boyd to give the Tigers one of the most dangerous passing combinations in college football.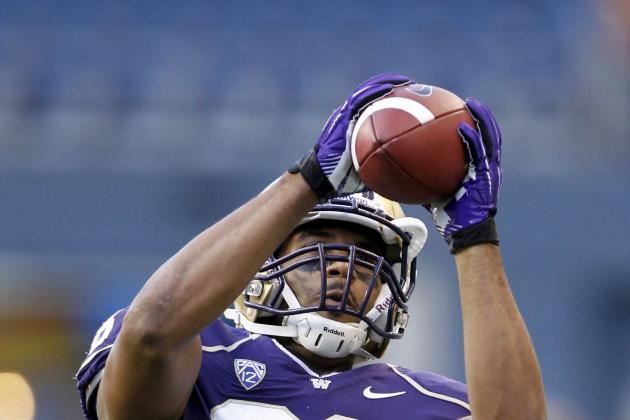 Joe Nicholson-USA TODAY Sports
Austin Seferian-Jenkins
With Tyler Eifert and Zach Ertz having moved on to the NFL, the title of best tight end in college football is now up for grabs. It appears that Austin Seferian-Jenkins is the most deserving candidate for that honor.
The 6'6'', 266-pound Seferian-Jenkins possesses incredible athleticism and agility for his size. He used his unique combination of size and skills to his advantage in 2012, when he caught 69 passes for 852 yards and seven touchdowns.
The former four-star recruit from Fox Island, Wash., is an absolute matchup nightmare for opposing defenses. In terms of catches per game, Seferian-Jenkins was the most productive tight end in the country last season, and he should repeat that feat in 2013.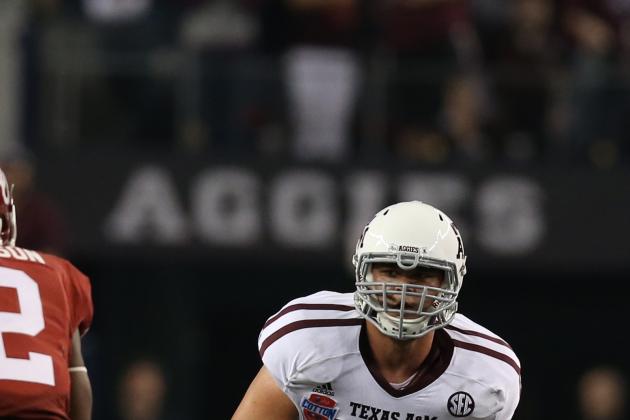 USA TODAY Sports
Jake Matthews
The Matthews family has produced some outstanding football players such as Hall of Famer Bruce Matthews, four-time Pro Bowler Clay Matthews Jr. and current Packers star Clay Matthews III.
The clan's new rising star is Bruce's son, Jake Matthews.
Matthews, a 2012 first-team All-SEC performer, declined the chance to be a top-15 pick in the 2013 NFL draft in order to return to Texas A&M for his senior year.
After watching former teammate Luke Joeckel take home the prestigious Outland Trophy this past season, the standout offensive tackle will be looking to claim the same prize in 2013.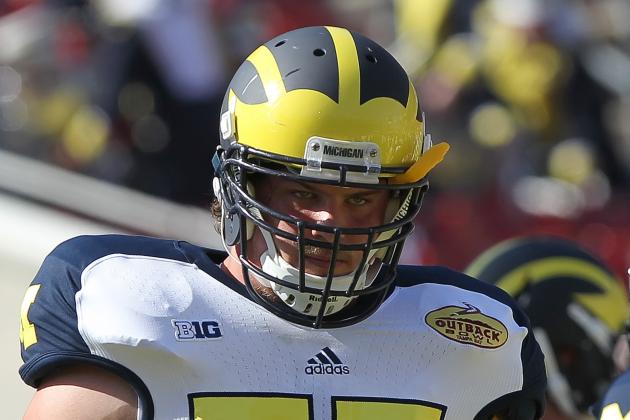 Kim Klement-USA TODAY Sports
Taylor Lewan
Taylor Lewan gave Michigan fans a pleasant surprise when he announced that he would be returning to Ann Arbor for his senior year, even though he was widely projected to be a first-round pick in the 2013 NFL draft.

Lewan's decision to come back is a bit puzzling, considering he really doesn't have much left to prove at the college level. Obviously, though, the big, powerful and agile 6'8'', 309-pound senior wants to taste the thrill of winning a Big Ten championship.
With Lewan returning as the offensive line leader at the all-important left-tackle spot, the Wolverines will definitely have a legitimate shot of competing for a conference crown in 2013.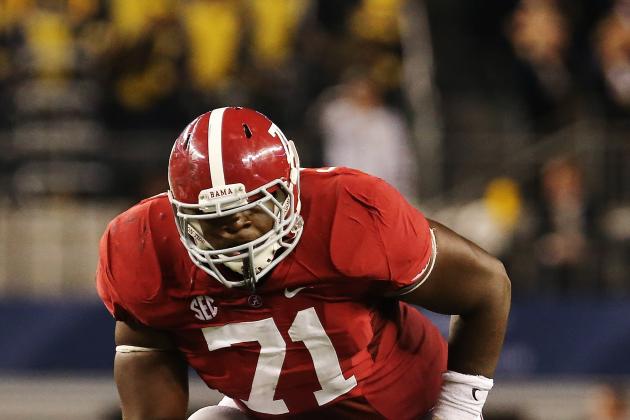 Kevin Jairaj-USA TODAY Sports
Cyrus Kouandjio
This offseason, the Alabama coaching staff is going to have to figure out how to replace three tremendous offensive linemen—Chance Warmack, Barrett Jones and DJ Fluker, who will all be playing on Sundays this fall. Luckily, the Tide have an emerging star in the trenches in Cyrus Kouandjio, who will help ease the loss of the talented trio.
Two years ago, Kouandjio arrived in Tuscaloosa as the premier offensive lineman prospect of the 2011 recruiting class. After showing some glimpses of his incredible potential as a freshman, the 6'6'', 311-pound Cameroon native really came into his own this past season.
Kouandjio now looks like he's ready to develop into a truly dominant force in 2013.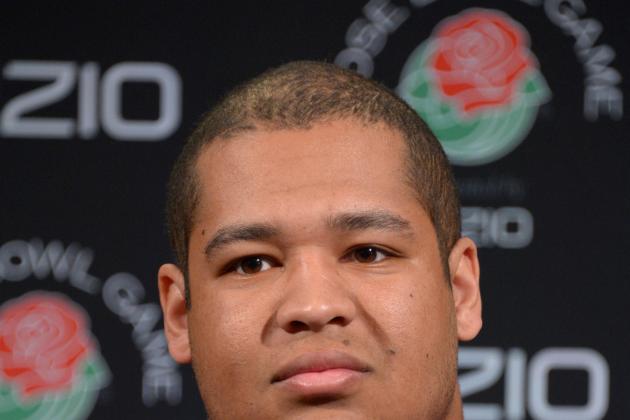 USA TODAY Sports
David Yankey
Stanford lost its two best offensive linemen, David DeCastro and Jonathan Martin, after the 2011 season, yet the Cardinal still had one of the best offensive lines in the Pac-12 this past season.
The group's leader was David Yankey, who stepped up in a big way in 2012, sliding over from guard and starting all 14 games at the left-tackle position that was left vacant by Martin.
The 6'5'', 311-pound Yankey is one of the most athletic and physically gifted linemen in the country, and he's shown that he's capable of excelling both inside and outside.
Yankey is surely a player that NFL scouts will be keeping a close eye on throughout the 2013 season.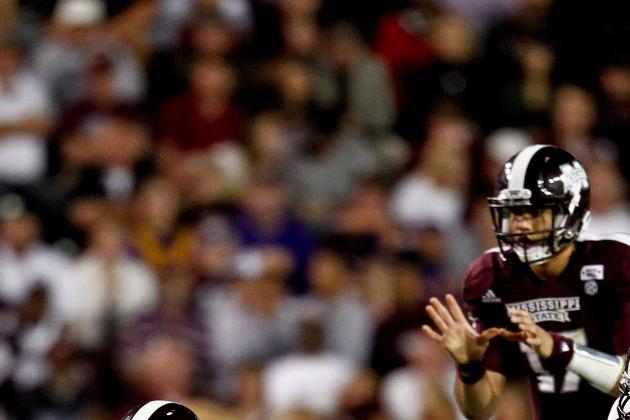 Derick E. Hingle-USA TODAY Sports
Gabe Jackson
This past season, the SEC was home to the best offensive guard in the country, Alabama's Chance Warmack. The conference will once again be home to the premier player at the position in 2013, as Mississippi State's Gabe Jackson will be looking to follow in Warmack's footsteps.
You couldn't build a much more perfect SEC guard from scratch than the 6'4'', 320-pound Jackson.
Size, power, agility, tenacity, fundamentally sound technique—he's got it all.
Jackson's truly the total package. Searching for flaws in his game is basically a pointless endeavor.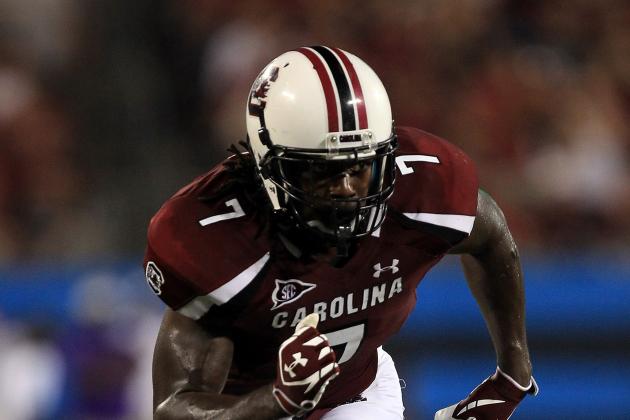 Streeter Lecka/Getty Images
Jadeveon Clowney
MVP: Jadeveon Clowney, South Carolina

DL: Jadeveon Clowney, South Carolina
DL: Louis Nix, Notre Dame
DL: Devonte Fields, TCU
DL: Will Sutton, Arizona State

LB: Ryan Shazier, Ohio State
LB: CJ Mosley, Alabama
LB: Kyle Van Noy, BYU

DB: Lamarcus Joyner, Florida State
DB: Jason Verrett, TCU
DB: Bradley Roby, Ohio State
DB: Craig Loston, LSU
Jeremy Brevard-USA TODAY Sports
Jadeveon Clowney
Jadeveon Clowney was the most hyped high school football recruit of all time. Clowney was featured on an ESPN The Magazine cover next to captions that read "future Super Bowl MVP" before he even graduated high school.
Clowney faced unprecedented expectations when he arrived at South Carolina in 2011. But the young star defender has handled the pressure better than anyone could have hoped.
The athletic freak has already developed into the elite pass-rusher that many thought he would be. Clowney racked up 13 sacks and 23.5 tackles for loss as a sophomore in 2012. It certainly wouldn't be surprising to see him top those totals in 2013.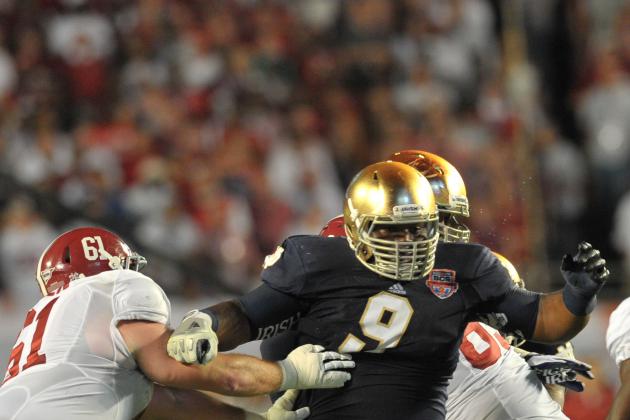 Matt Cashore-USA TODAY Sports
Louis Nix
Manti Te'o may have been the Notre Dame defender that everyone focused on in 2012. But the real foundation player of Notre Dame's dominant defense was DT Louis Nix.
Nix didn't receive nearly the same amount of attention as Te'o did, but he played just as big of a role in the unit's success.
He racked up 50 tackles, including 20 solo stops, 7.5 tackles for loss and two sacks, and he constantly ate up double-teams, which freed up Te'o and other Irish defenders to make plays.
The 6'3'', 340-pound chaos-causing tackle knows how to occupy blockers, and he also knows how to shed blocks, penetrate and make crucial negative stops in the backfield.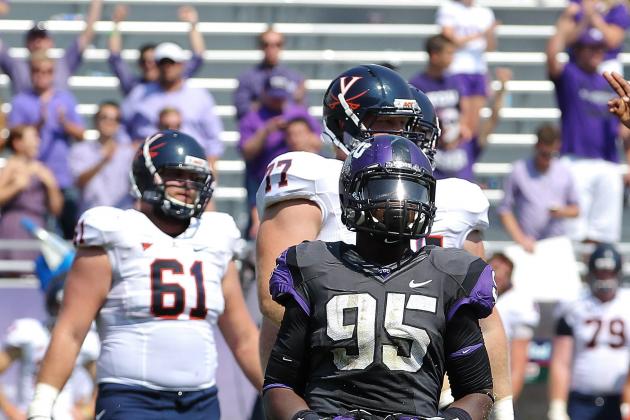 Kevin Jairaj-USA TODAY Sports
Devonte Fields
Arlington native Devonte Fields decided to stay close to home and play for TCU, even though the former four-star recruit received scholarship offers from more prestigious powerhouse programs.
After watching what Fields was able to accomplish during his first year with the Horned Frogs, it seems like he made the right decision.
The light, but explosive 6'4'', 240-pound edge-rusher proved to be a perfect fit for Gary Patterson's unique 4-2-5 defensive scheme in 2012.
Fields led the Big 12 with 18.5 tackles for loss and ranked third in the conference with 10 sacks. That performance helped him earn the league's Freshman Defensive Player of the Year award.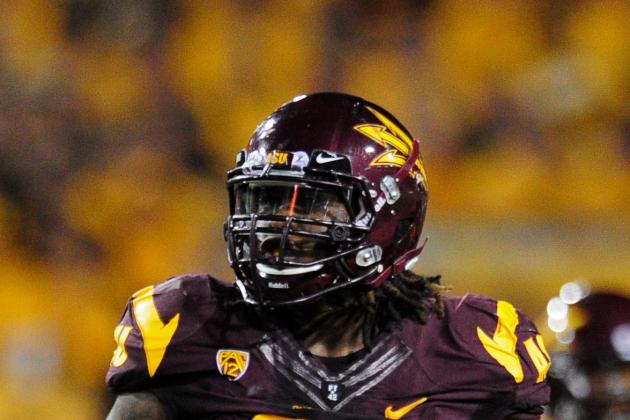 Matt Kartozian-USA TODAY Sports
Will Sutton
It's hard to argue that Will Sutton didn't deserve the Pac-12 Pat Tillman Defensive Player of the Year award in 2012.
Sutton emerged as one of the conference's most dangerous defenders this past season. He led the league with 23.5 tackles for loss, ranked third in the conference with 12 sacks, and tied for fifth with three forced fumbles.
What the 6'1'', 267-pound senior lacks in size, he makes up for with power, quickness, hustle and pure attitude.
The late Tillman would certainly be proud of how his fellow Sun Devil plays the game.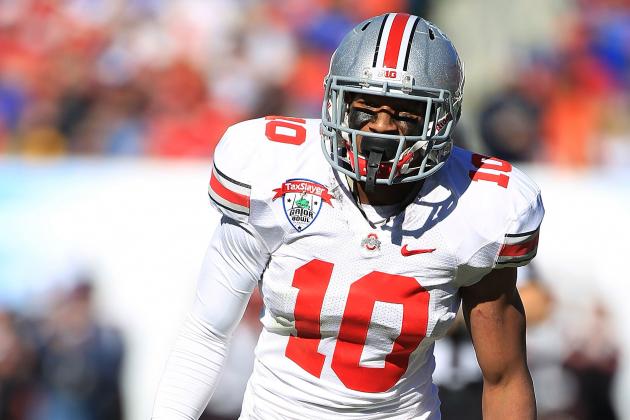 Scott Halleran/Getty Images
Ryan Shazier
In recent years, Ohio State has been home to some of the Big Ten's best linebackers such as James Laurinaitis, A.J. Hawk, Bobby Carpenter and Brian Rolle. Now, Ryan Shazier is the Buckeye 'backer that appears ready to take over the league in 2013.
Shazier had a stellar sophomore performance last season. He finished third in the conference with 114 tackles, which included 17 tackles for loss and five sacks, and he also had 10 pass breakups and three forced fumbles.
The 6'2'', 226-pound junior has the speed to fly around from sideline to sideline and make key stops all over the field. Shazier will be the Buckeyes' most valuable defensive playmaker in 2013, and he'll play a crucial role in the team's quest for a BCS title.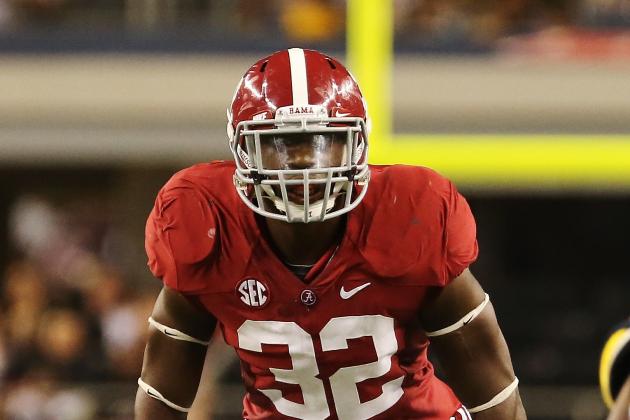 Kevin Jairaj-USA TODAY Sports
CJ Mosley
Alabama lost plenty of key pieces from its top-ranked defense such as Dee Milliner, Jesse Williams and Nico Johnson. But fortunately, the Tide will welcome back its most valuable defender from 2012—linebacker CJ Mosley.
Mosley developed into a dominant defensive leader this past season, and he really stepped up and became the type of linchpin that Alabama's defense needed. He led the team with 107 tackles, including 66 solo stops, eight tackles for loss and four sacks.
The 6'2'', 232-pound senior is one of the most athletic and instinctive defensive players in the country. Mosley should once again be the Tide's top defensive performer in 2013.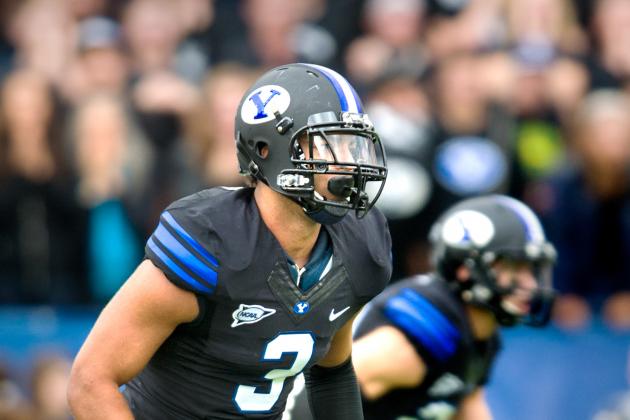 Douglas C. Pizac-USA TODAY Sports
Kyle Van Noy
Ezekiel Ansah may be the BYU player that everyone is talking about in these final weeks leading up to the 2013 NFL draft; however, Ansah wasn't actually the Cougars' best defensive player this past season. That honor belonged to LB Kyle Van Noy.
Van Noy was one of the most disruptive and productive defensive playmakers in the country in 2012. He totaled 13 sacks, 22 tackles for loss, eight quarterback hurries, five pass breakups and six forced fumbles.
The highly athletic 6'3'', 235-pound edge-rusher could have joined Ansah in the 2013 draft class and likely competed for the chance to be a first-round pick. But instead, he chose to return to the college ranks and continue his path of destruction.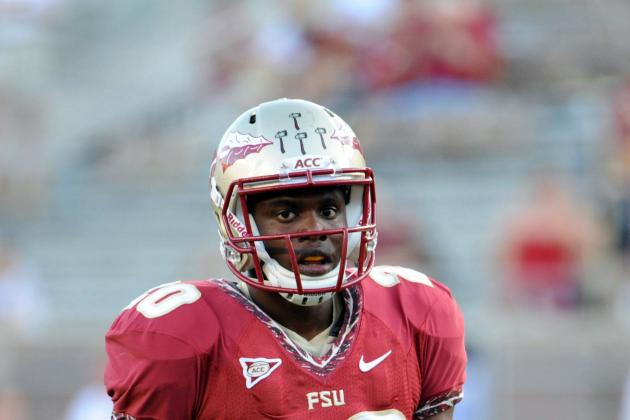 Melina Vastola-USA TODAY Sports
Lamarcus Joyner
At just 5'8'', 195 pounds, Lamarcus Joyner obviously doesn't possess the prototypical size that you look for in a star safety. Nevertheless, Joyner's small stature certainly hasn't prevented him from making a huge impact for the Seminoles defense.
The senior safety was the centerpiece of a secondary that ranked first in the nation in pass defense in 2012, allowing just 161 yards through the air per game.
Joyner has the type of range, instincts, physicality and coverage ability to develop into the best safety in the country in 2013. He'll once again be counted on to be a key leader for one of college football's most talented defensive units.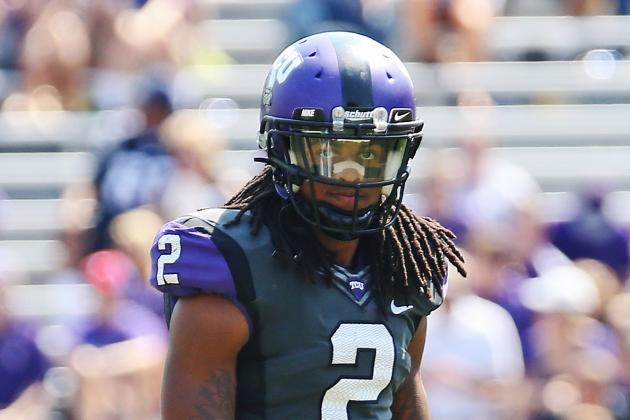 Kevin Jairaj-USA TODAY Sports
Jason Verrett
Since there were so many explosive and highly productive passing attacks in the Big 12 this past season, the TCU secondary got tested on a weekly basis in 2012.
The Horned Frogs defensive backfield was able to hold its ground, though, as it allowed just 6.5 yards per pass attempt. The key to the secondary's success was the play of CB Jason Verrett.
Verrett certainly proved that he was ready to play with the big boys in a BCS conference, as he handled the step up in competition without a problem. He tied for the league lead with six interceptions and led the conference with 16 pass breakups in 2012.
Now that he knows what to expect from opposing receivers, Verrett should be even better in 2013.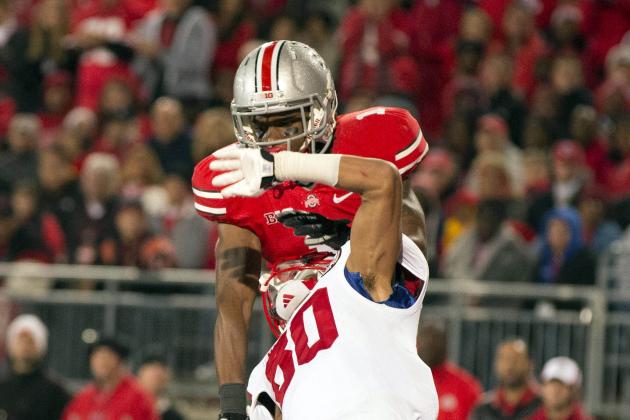 Greg Bartram-USA TODAY Sports
Bradley Roby
You should never just use stats to judge how good a defensive back really is. However, it's very hard not to be impressed by the type of numbers that Ohio State's Bradley Roby put up in 2012.
Roby finished his second season as a starter with 62 total tackles, including 40 solo stops, 17 pass breakups and he managed to score three touchdowns in three different ways (interception return, punt block return and fumble return).
The 5'11'', 190-pound junior may not be a true lockdown cover corner just yet, but he's clearly one of the most active and talented defensive playmakers in college football.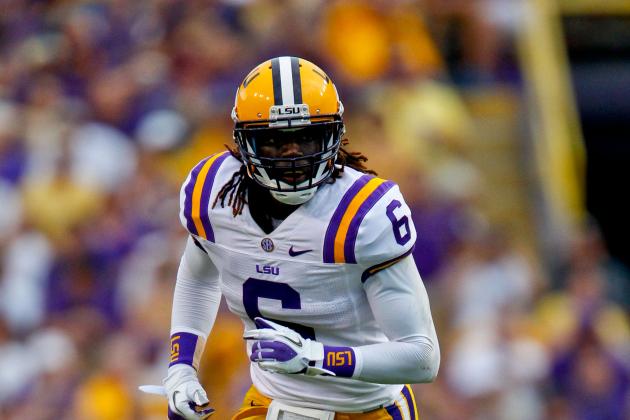 Derick E. Hingle-USA TODAY Sports
Craig Loston
LSU may soon have to switch its name to DBU, since its been producing so many star defensive backs such as Patrick Peterson, Tyrann Mathieu, Morris Claiborne and Eric Reid in recent years.
The latest defensive back that Tigers fans should get excited about is safety Craig Loston.
Loston put together a very strong first year as a starter. He totaled 55 tackles, picked off three passes and made plenty of bone-crunching hits.
After being overshadowed by his more heralded teammates this past season, the 6'2'', 205-pound strong safety has all the skills it takes to become one of college football's biggest breakout star defenders in 2013.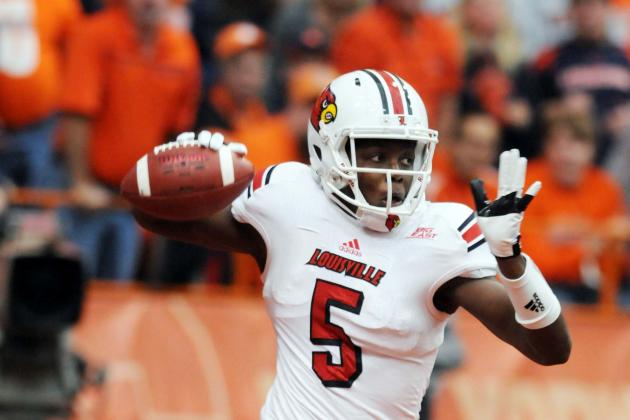 Mark Konezny-USA TODAY Sports
Teddy Bridgewater
QB: Teddy Bridgewater, Louisville

RB: Jeremy Hill, LSU
RB: Ka'Deem Carey, Arizona

WR: Josh Stewart, Oklahoma State
WR: Cody Hoffman, BYU

TE: Eric Ebron, North Carolina

OL: Josue Matias, Florida State
OL: Cyril Richardson, Baylor
OL: Hroniss Grasu, Oregon
OL: Gabe Ikard, Oklahoma
OL: Zack Martin, Notre Dame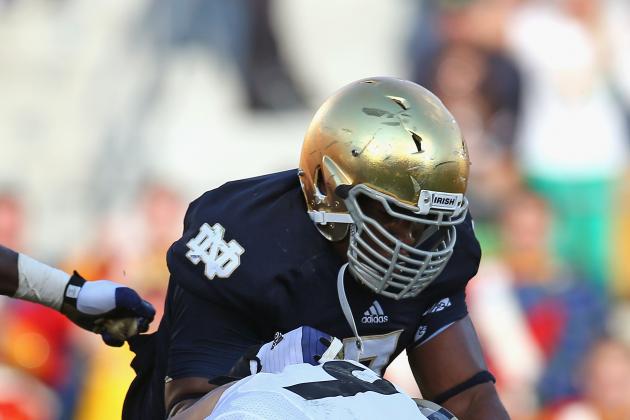 Jonathan Daniel/Getty Images
Stephon Tuitt
DL: Stephon Tuitt, Notre Dame
DL: Jackson Jeffcoat, Texas
DL: Timmy Jernigan, Florida State
DL: Scott Crichton, Oregon State

LB: Anthony Barr, UCLA
LB: Christian Jones, Florida State
LB: AJ Johnson, Tennessee

DB: Aaron Colvin, Oklahoma
DB: Ifo Ekpre-Olomu, Oregon
DB: Quandre Diggs, Texas
DB: Ed Reynolds, Stanford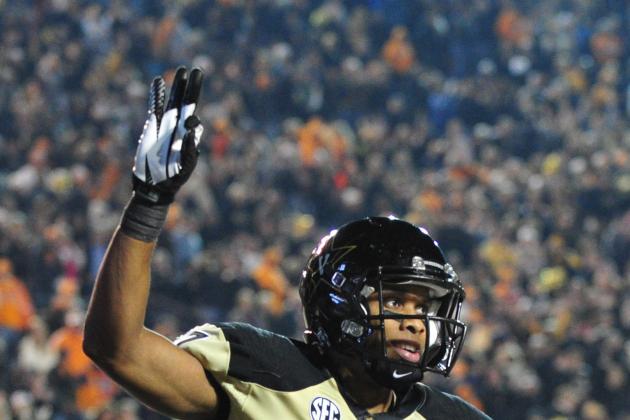 Don McPeak-USA TODAY Sports
Jordan Matthews
QB: Tajh Boyd, Clemson

RB: Lache Seastrunk, Baylor

WR: Jordan Matthews, Vanderbilt

TE: Kyle Carter, Penn State

OL: Xavier Su'a-Filo, UCLA

DL: Roosevelt Nix, Kent State

LB: Yawin Smallwood, Connecticut

DB: Loucheiz Purifoy, Florida

K: Chandler Catanzaro, Clemson

P: Kyle Christy, Florida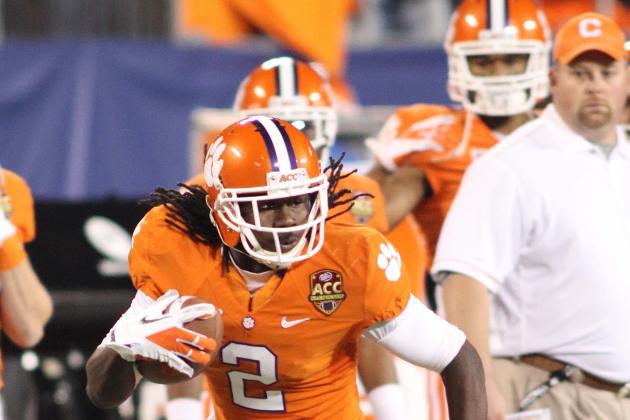 Jeremy Brevard-USA TODAY Sports
Sammy Watkins
MVP: Sammy Watkins, Clemson

QB: Tajh Boyd, Clemson

RB: Duke Johnson, Miami
RB: James Wilder, Florida State

WR: Sammy Watkins, Clemson
WR: Rashad Greene, Florida State

TE: Eric Ebron, North Carolina

OL: Josue Matias, Florida State
OL: James Hurst, North Carolina
OL: Cameron Erving, Florida State
OL: Morgan Moses, Virginia
OL: Brandon Thomas, Clemson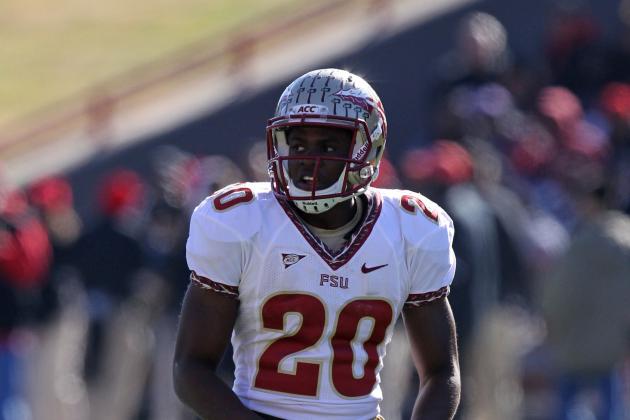 Mitch Stringer-USA TODAY Sports
Lamarcus Joyner
MVP: Lamarcus Joyner, Florida State

DL: Timmy Jernigan, Florida State
DL: Kareem Martin, North Carolina
DL: James Gayle, Virginia Tech
DL: Aaron Donald, Pittsburgh

LB: Christian Jones, Florida State
LB: Jeremiah Attaochu, Georgia Tech
LB: Denzel Perryman, Miami

DB: Lamarcus Joyner, Florida State
DB: Antone Exum, Virginia Tech
DB: Tre Boston, North Carolina
DB: Isaiah Johnson, Georgia Tech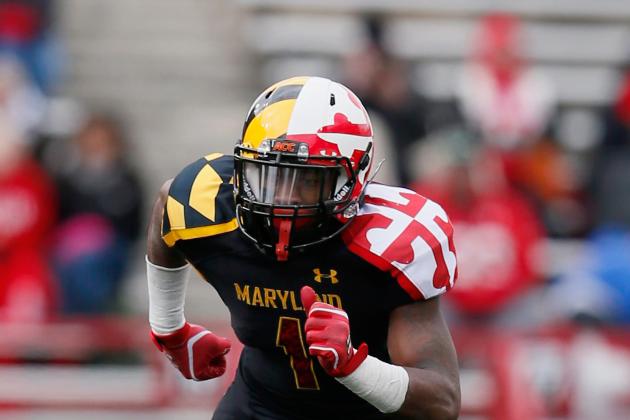 Rob Carr/Getty Images
Stefon Diggs
QB: Bryn Renner, North Carolina

RB: Devonta Freeman, Florida State
RB: Kevin Parks, Virginia

WR: Stefon Diggs, Maryland
WR: Quinshad Davis, North Carolina

TE: Jake McGee, Virginia

OL: Seantrel Henderson, Miami
OL: Russell Bodine, North Carolina
OL: Tre Jackson, Florida State
OL: Brandon Linder, Miami
OL: Jay Finch, Georgia Tech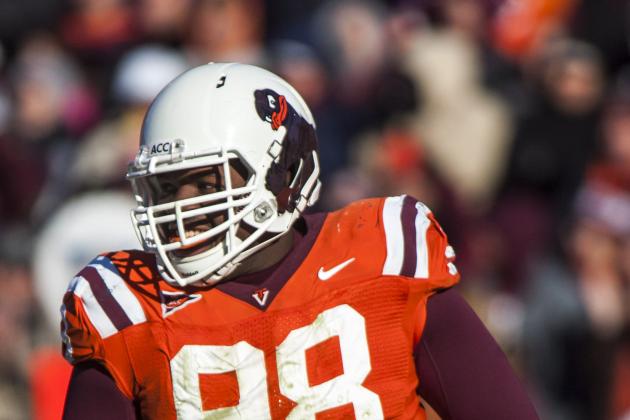 USA TODAY Sports
Derrick Hopkins
DL: Derrick Hopkins, Virginia Tech
DL: Darryl Cato-Bishop, NC State
DL: Vic Beasley, Clemson
DL: Nikita Whitlock, Wake Forest

LB: Jack Tyler, Virginia Tech
LB: Jabari Hunt-Days, Georgia Tech
LB: Kevin Pierre-Louis, Boston College

DB: Ronald Darby, Florida State
DB: Tim Scott, North Carolina
DB: Demetrious Nicholson, Virginia
DB: Kyshoen Jarrett, Virginia Tech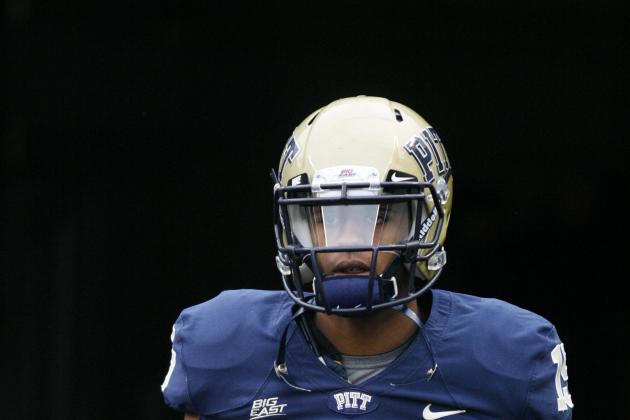 Charles LeClaire-USA TODAY Sports
Devin Street
QB: Logan Thomas, Virginia Tech

RB: Prince Tyson-Gulley, Syracuse

WR: Devin Street, Pittsburgh

TE: Nick O'Leary, Florida State

OL: Bryan Stork, Florida State

DL: Demonte McAllister, Florida State

LB: Stephone Anthony, Clemson

DB: Kyle Fuller, Virginia Tech

K: Chandler Catanzaro, Clemson

P: Will Monday, Duke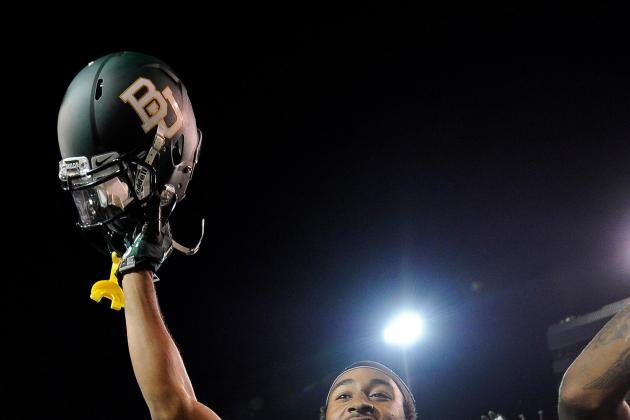 Jerome Miron-USA TODAY Sports
Lache Seastrunk
MVP: Lache Seastrunk, Baylor

QB: Casey Pachall, TCU

RB: Lache Seastrunk, Baylor
RB: John Hubert, Kansas State

WR: Josh Stewart, Oklahoma State
WR: Eric Ward, Texas Tech

TE: Jace Amaro, Texas Tech

OL: Cyril Richardson, Baylor
OL: Gabe Ikard, Oklahoma
OL: BJ Finney, Kansas State
OL: Mason Walters, Texas
OL: Le'Raven Clark, Texas Tech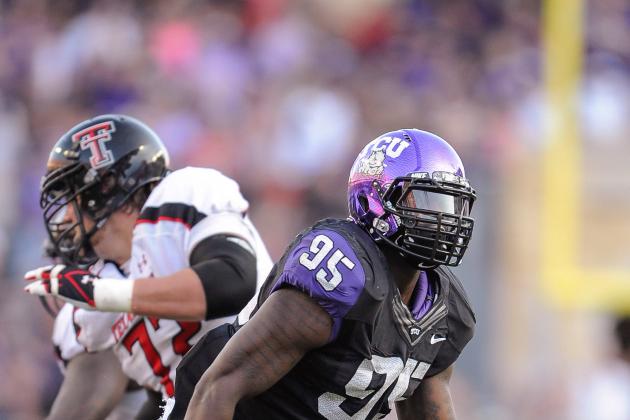 Jerome Miron-USA TODAY Sports
Devonte Fields
MVP: Devonte Fields, TCU

DL: Devonte Fields, TCU
DL: Jackson Jeffcoat, Texas
DL: Calvin Barnett, Oklahoma State
DL: Kerry Hyder, Texas Tech

LB: Jordan Hicks, Texas
LB: Bryce Hager, Baylor
LB: Isaiah Bruce, West Virginia

DB: Jason Verrett, TCU
DB: Aaron Colvin, Oklahoma
DB: Quandre Diggs, Texas
DB: Ty Zimmerman, Kansas State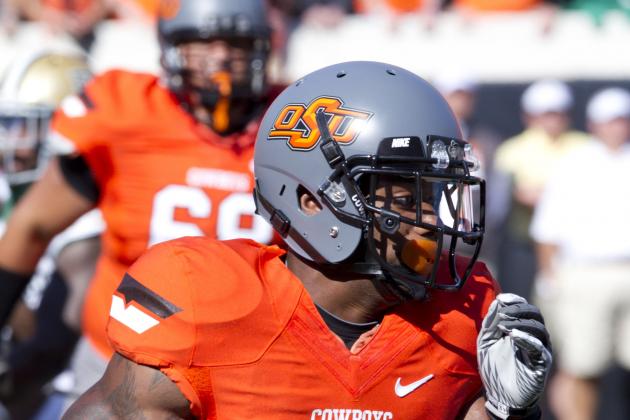 Richard Rowe-USA TODAY Sports
Jeremy Smith
QB: Blake Bell, Oklahoma
RB: Jeremy Smith, Oklahoma State
RB: Damien Williams, Oklahoma

WR: Mike Davis, Texas
WR: Jalen Saunders, Oklahoma

TE: Blake Jackson, Oklahoma State

OL: Cornelius Lucas, Kansas State
OL: Trey Hopkins, Texas
OL: Quinton Spain, West Virginia
OL: Bronson Irwin, Oklahoma
OL: Spencer Drango, Baylor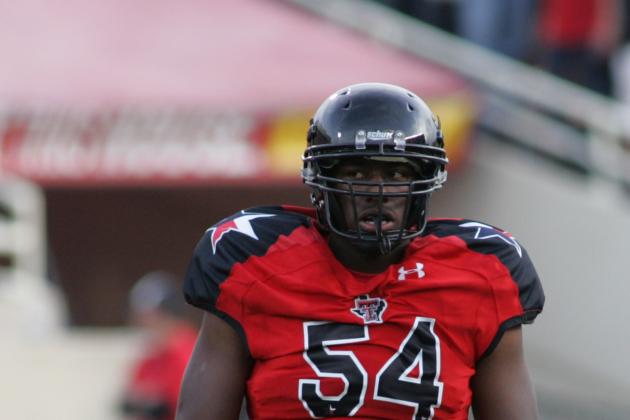 Michael C. Johnson-USA TODAY Sports
Dartwan Bush
DL: Dartwan Bush, Texas Tech
DL: Will Clarke, West Virginia
DL: Chuka Ndulue, Oklahoma
DL: Desmond Jackson, Texas

LB: Will Smith, Texas Tech
LB: Shaun Lewis, Oklahoma State
LB: Corey Nelson, Oklahoma

DB: Justin Gilbert, Oklahoma State
DB: Carrington Byndom, Texas
DB: Karl Joseph, West Virginia
DB: Ahmad Dixon, Baylor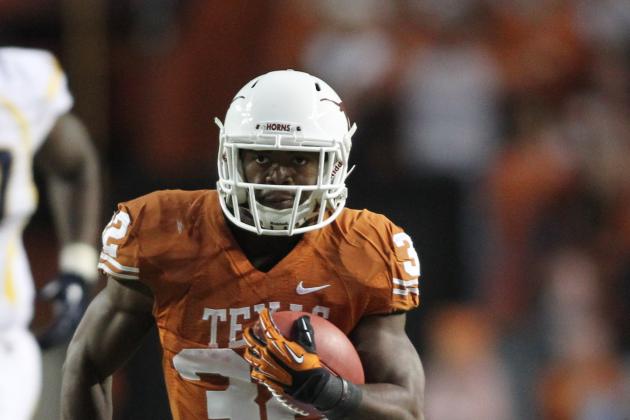 Tim Heitman-USA TODAY Sports
Johnathan Gray
QB: J.W. Walsh, Oklahoma State

RB: Johnathan Gray, Texas

WR: Tevin Reese, Baylor

TE: Jordan Najvar, Baylor

OL: Donald Hawkins, Texas

DL: Terrance Lloyd, Baylor

LB: Caleb Lavey, Oklahoma State
DB: Daytawion Lowe, Oklahoma State

K: Michael Hunnicutt, Oklahoma

P: Ethan Perry, TCU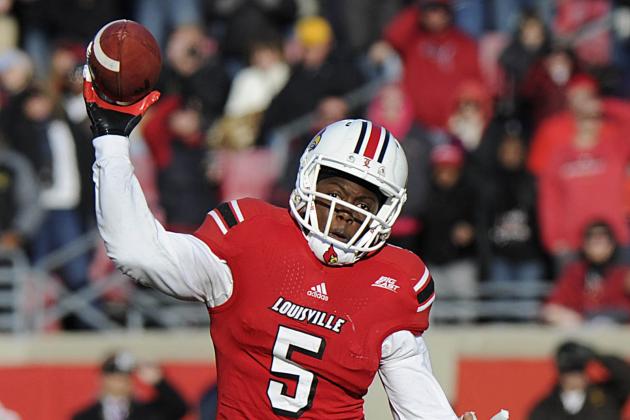 Jamie Rhodes-USA TODAY Sports
Teddy Bridgewater
MVP: Teddy Bridgewater, Louisville

QB: Teddy Bridgewater, Louisville

RB: Lyle McCombs, Connecticut
RB: Charles Sims, Houston

WR: Brandon Coleman, Rutgers
WR: DeVante Parker, Louisville

TE: Sean Price, South Florida

OL: Eric Lefeld, Cincinnati
OL: Antwan Lowery, Rutgers
OL: Austen Bujnoch, Cincinnati
OL: Torrian Wilson, UCF
OL: Kaleb Johnson, Rutgers
Jared Wickerham/Getty Images
Yawin Smallwood
MVP: Yawin Smallwood, Connecticut

DL: Aaron Lynch, South Florida
DL: Marcus Smith, Louisville
DL: Jamil Merrell, Rutgers
DL: Martin Ifedi, Memphis

LB: Yawin Smallwood, Connecticut
LB: Greg Blair, Cincinnati
LB: Preston Brown, Louisville

DB: Calvin Pryor, Louisville
DB: Hakeem Smith, Louisville
DB: Mark Joyce, South Florida
DB: Trevon Stewart, Houston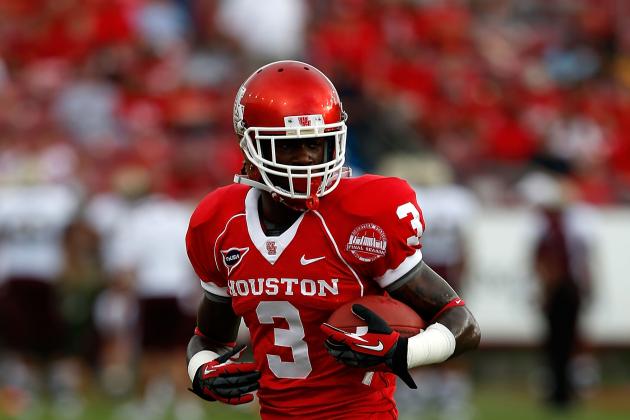 Scott Halleran/Getty Images
Deontay Greenberry
QB: Blake Bortles, UCF

RB: Dominique Brown, Louisville
RB: Storm Johnson, UCF

WR: Deontay Greenberry, Houston
WR: Anthony McClung, Cincinnati

TE: Ryan Hubbell, Louisville

OL: Jamon Brown, Louisville
OL: Quinterrius Eatmon, South Florida
OL: Kevin Friend, Connecticut
OL: Jordan McCray, UCF
OL: Jake Smith, Louisville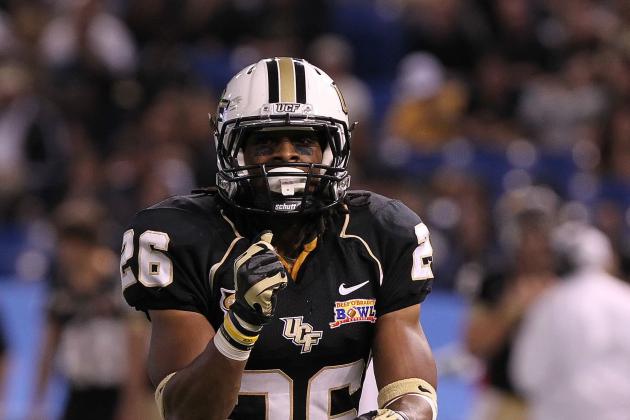 Kim Klement-USA TODAY Sports
Clayton Geathers
DL: Lorenzo Mauldin, Louisville
DL: Ryne Giddins, South Florida
DL: Victor Gray, UCF
DL: Tim Willman, Connecticut

LB: Derrick Matthews, Houston
LB: DeDe Lattimore, South Florida
LB: Nate D. Smith, Temple

DB: Clayton Geathers, UCF
DB: Terrell Floyd, Louisville
DB: Arryn Chenault, Cincinnati
DB: Lorenzo Waters, Rutgers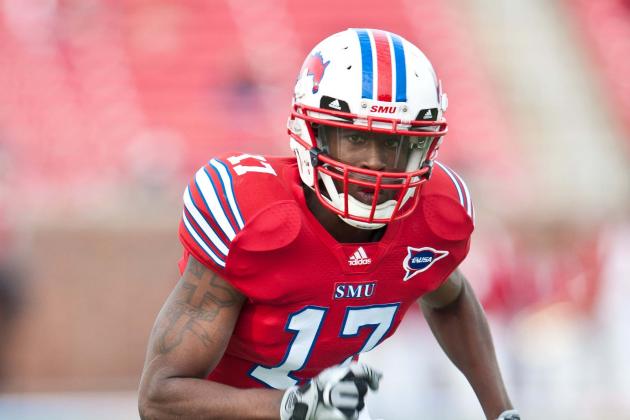 Jerome Miron-USA TODAY Sports
Jeremy Johnson
QB: Gary Nova, Rutgers

RB: Ralph David Abernathy IV, Cincinnati

WR: Jeremy Johnson, SMU

TE: Alan Cross, Memphis

OL: Rowdy Harper, Houston

DL: Elkino Watson, South Florida

LB: Jamal Merrell, Rutgers

DB: Byron Jones, Connecticut
K: John Wallace, Louisville

P: Riche Leone, Houston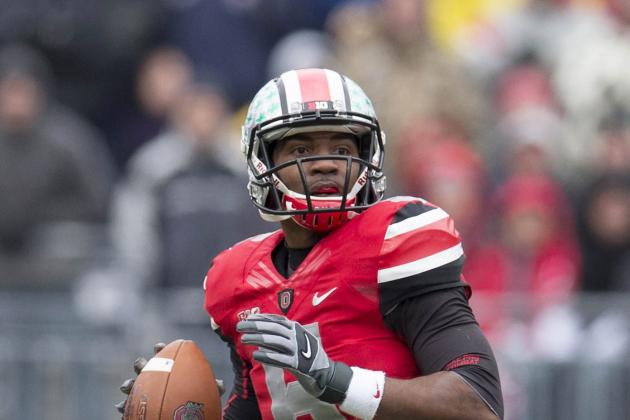 Greg Bartram-USA TODAY Sports
Braxton Miller
MVP: Braxton Miller, Ohio State

QB: Braxton Miller, Ohio State

RB: Ameer Abdullah, Nebraska
RB: Venric Mark, Northwestern

WR: Allen Robinson, Penn State
WR: Kenny Bell, Nebraska

TE: Kyle Carter, Penn State

OL: Taylor Lewan, Michigan
OL: Spencer Long, Nebraska
OL: Andrew Norwell, Ohio State
OL: Ryan Groy, Wisconsin
OL: Brandon Vitabile, Northwestern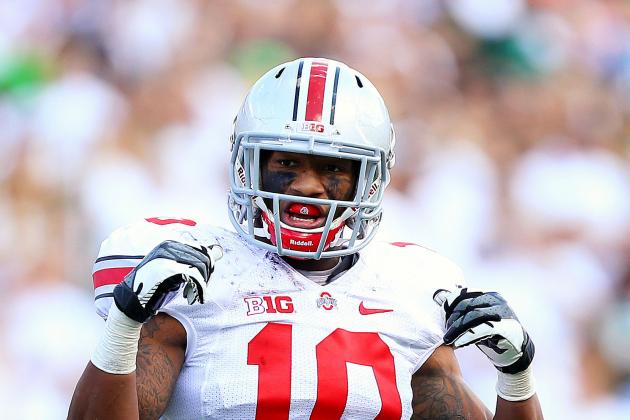 Mike Carter-USA TODAY Sports
Ryan Shazier
MVP: Ryan Shazier, Ohio State

DL: Tyler Scott, Northwestern
DL: Ra'Shede Hageman, Minnesota
DL: Deion Barnes, Penn State
DL: David Gilbert, Wisconsin

LB: Ryan Shazier, Ohio State
LB: Jake Ryan, Michigan
LB: Anthony Hitchens, Iowa

DB: Bradley Roby, Ohio State
DB: Darqueze Dennard, Michigan State
DB: Ibraheim Campbell, Northwestern
DB: Christian Bryant, Ohio State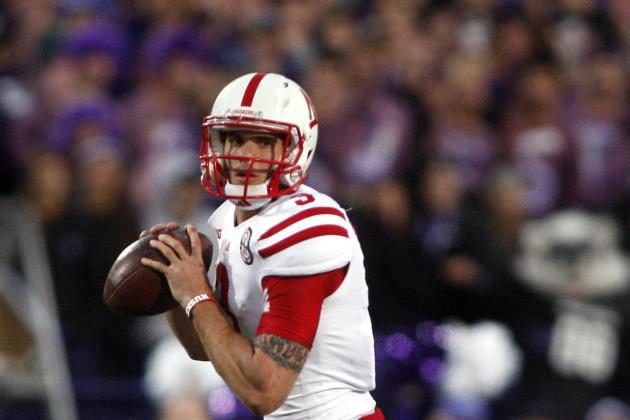 USA TODAY Sports
Taylor Martinez
QB: Taylor Martinez, Nebraska

RB: Carlos Hyde, Ohio State
RB: James White, Wisconsin

WR: Devin Smith, Ohio State
WR: Jared Abbrederis, Wisconsin

TE: C.J. Fiedorowicz, Iowa

OL: Travis Jackson, Michigan State
OL: Jeremiah Sirles, Nebraska
OL: Brandon Scherff, Iowa
OL: Jack Mewhort, Ohio State
OL: John Urschel, Penn State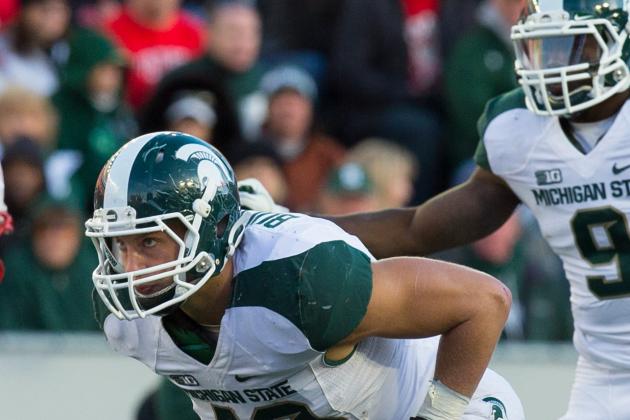 Jeff Hanisch-USA TODAY Sports
Max Bullough
DL: Jibreel Black, Michigan
DL: Adolphus Washington, Ohio State
DL: Ryan Russell, Purdue
DL: Marcus Rush, Michigan State

LB: Max Bullough, Michigan State
LB: Chris Borland, Wisconsin
LB: James Morris, Iowa

DB: Ciante Evans, Nebraska
DB: Dezmen Southward, Wisconsin
DB: Isaiah Lewis, Michigan State
DB: C.J. Barnett, Ohio State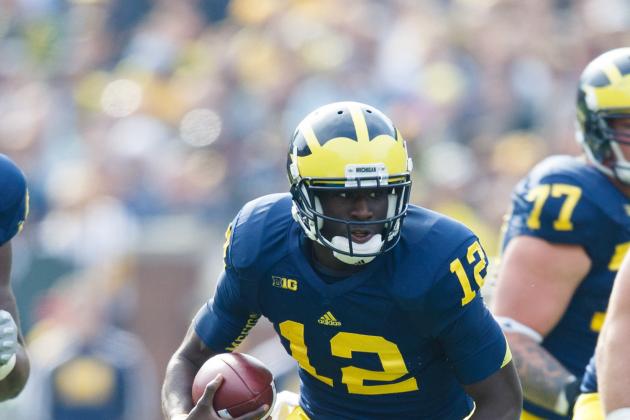 Rick Osentoski-USA TODAY Sports
Devin Gardner
QB: Devin Gardner, Michigan

RB: Zach Zwinak, Penn State

WR: Jeremy Gallon, Michigan

TE: Devin Funchess, Michigan

OL: Austin Blythe, Iowa

DL: Beau Allen, Wisconsin

LB: Damien Proby, Northwestern

DB: Blake Countess, Michigan

K: Brendan Gibbons, Michigan

P: Mike Sadler, Michigan State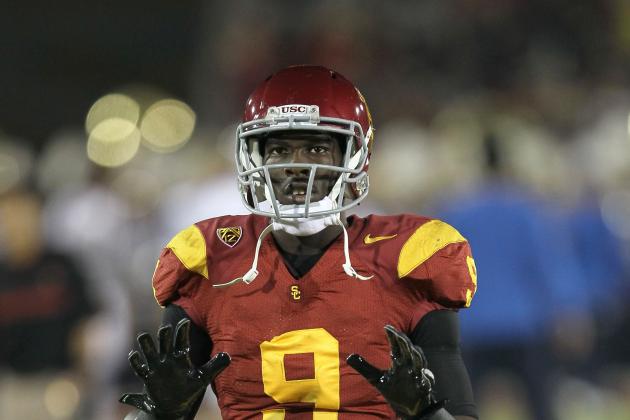 Stephen Dunn/Getty Images
Marqise Lee
MVP: Marqise Lee, USC

QB: Marcus Mariota, Oregon

RB: Ka'Deem Carey, Arizona
RB: De'Anthony Thomas, Oregon

WR: Marqise Lee, USC
WR: Austin Hill, Arizona

TE: Austin Seferian-Jenkins, Washington

OL: David Yankey, Stanford
OL: Hroniss Grasu, Oregon
OL: Xavier Su'a-Filo, UCLA
OL: Tyler Johnstone, Oregon
OL: Isaac Seumalo, Oregon State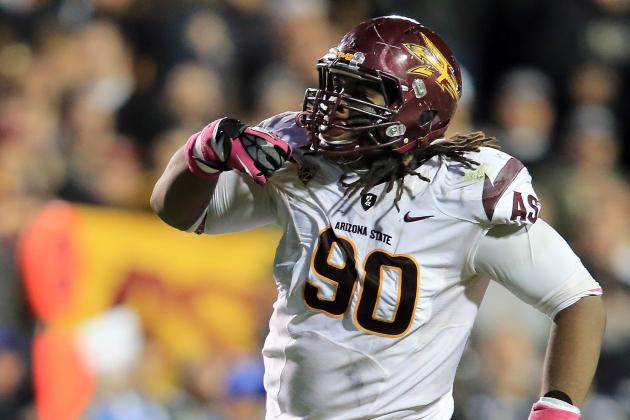 Doug Pensinger/Getty Images
Will Sutton
MVP: Will Sutton, Arizona State

DL: Will Sutton, Arizona State
DL: Scott Crichton, Oregon State
DL: Morgan Breslin, USC
DL: Ben Gardner, Stanford

LB: Anthony Barr, UCLA
LB: Hayes Pullard, USC
LB: Trent Murphy, Stanford

DB: Ed Reynolds, Stanford
DB: Ifo Ekpre-Olomu, Oregon
DB: Deone Bucannon, Washington State
DB: Tevin McDonald, UCLA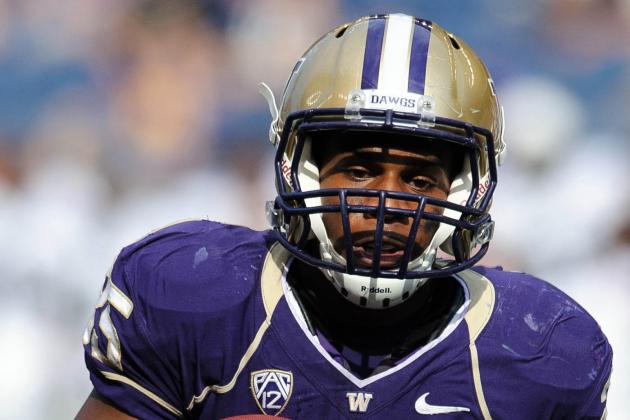 Steven Bisig-USA TODAY Sports
Bishop Sankey
QB: Kevin Hogan, Stanford

RB: Bishop Sankey, Washington
RB: Silas Redd, USC

WR: Brandin Cooks, Oregon State
WR: Kasen Williams, Washington

TE: Chris Coyle, Arizona State

OL: Jake Fisher, Oregon
OL: Kevin Danser, Stanford
OL: Max Tuerk, USC
OL: Evan Finkenberg, Arizona State
OL: Cameron Fleming, Stanford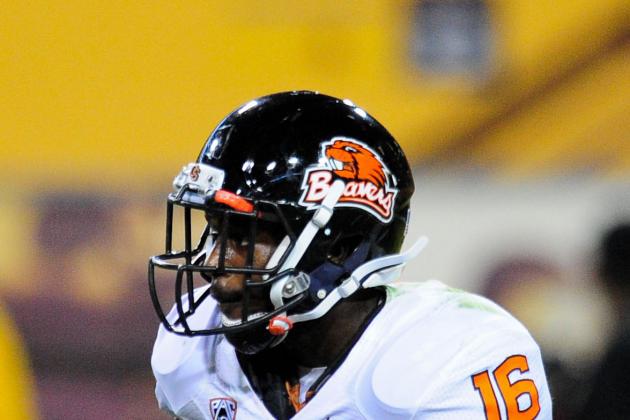 Matt Kartozian-USA TODAY Sports
Rashaad Reynolds
DL: Taylor Hart, Oregon
DL: Leonard Williams, USC
DL: Cassius Marsh, UCLA
DL: Henry Anderson, Stanford

LB: Jake Fischer, Arizona
LB: Eric Kendricks, UCLA
LB: Dion Bailey, USC

DB: Rashaad Reynolds, Oregon State
DB: Shaquille Richardson, Arizona
DB: Erick Dargan, Oregon
DB: Sean Parker, Washington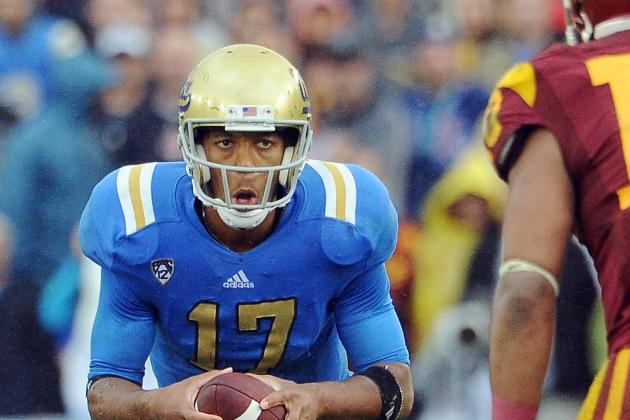 Jayne Kamin-Oncea-USA TODAY Sports
Brett Hundley
QB: Brett Hundley, UCLA

RB: Storm Woods, Oregon State

WR: Shaquelle Evans, UCLA

TE: Colt Lyerla, Oregon

OL: Kevin Graf, USC

DL: Arik Armstead, Oregon

LB: Marquis Flowers, Arizona

DB: Shaq Thompson, Washington

K: Trevor Romaine, Oregon State

P: Darragh O'Neill, Colorado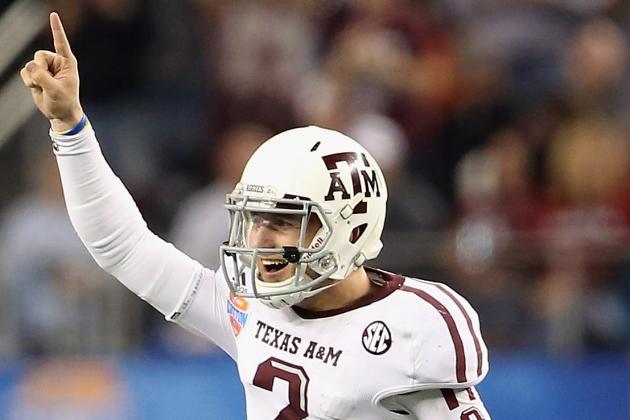 Ronald Martinez/Getty Images
Johnny Manziel
MVP: Johnny Manziel, Texas A&M

QB: Johnny Manziel, Texas A&M

RB: Todd Gurley, Georgia
RB: TJ Yeldon, Alabama

WR: Jordan Matthews, Vanderbilt
WR: Amari Cooper, Alabama

TE: Arthur Lynch, Georgia

OL: Jake Matthews, Texas A&M
OL: Gabe Jackson, Mississippi State
OL: Cyrus Kouandjio, Alabama
OL: La'El Collins, LSU
OL: Chris Burnette, Georgia
Jeremy Brevard-USA TODAY Sports
Jadeveon Clowney
MVP: Jadeveon Clowney, South Carolina

DL: Jadeveon Clowney, South Carolina
DL: Anthony Johnson, LSU
DL: Kony Ealy, Missouri
DL: Dominique Easley, Florida

LB: CJ Mosley, Alabama
LB: AJ Johnson, Tennessee
LB: Adrian Hubbard, Alabama

DB: Craig Loston, LSU
DB: Loucheiz Purifoy, Florida
DB: Ha'Sean Clinton-Dix, Alabama
DB: E.J. Gaines, Missouri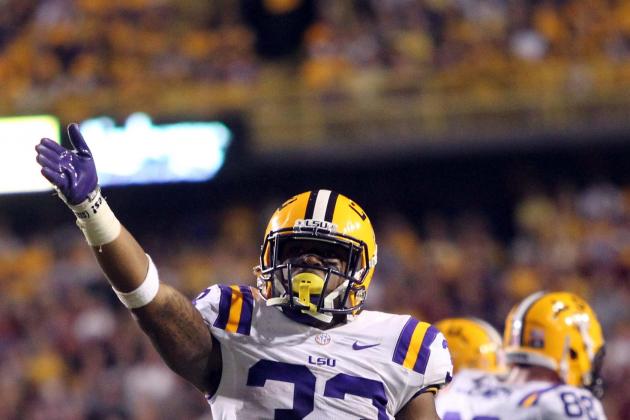 Crystal Logiudice-USA TODAY Sports
Jeremy Hill
QB: AJ McCarron, Alabama

RB: Jeremy Hill, LSU
RB: Ben Malena, Texas A&M

WR: Mike Evans, Texas A&M
WR: Donte Moncrief, Ole Miss

TE: Rory Anderson, South Carolina

OL: Antonio Richardson, Tennessee
OL: Jonotthan Harrison, Florida
OL: Trai Turner, LSU
OL: Anthony Steen, Alabama
OL: Travis Swanson, Arkansas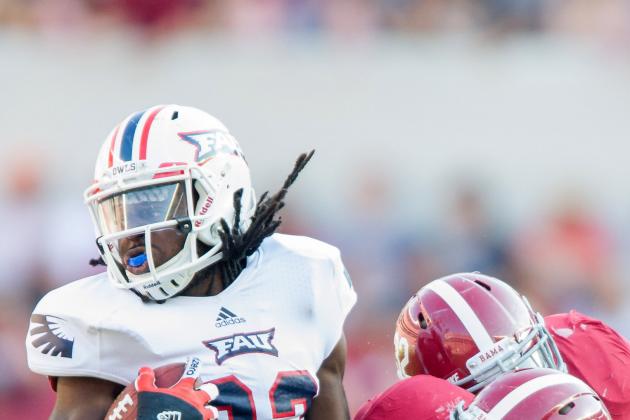 Michael Chang/Getty Images
Trey Depriest
DL: C.J. Johnson, Ole Miss
DL: Garrison Smith, Georgia
DL: Ed Stinson, Alabama
DL: Kelcy Quarles, South Carolina

LB: Trey DePriest, Alabama
LB: Denzel Nkemdiche, Ole Miss
LB: Lamin Barrow, LSU

DB: Andre Hal, Vanderbilt
DB: Deshazor Everett, Texas A&M
DB: Jalen Mills, LSU
DB: Marcus Roberson, Florida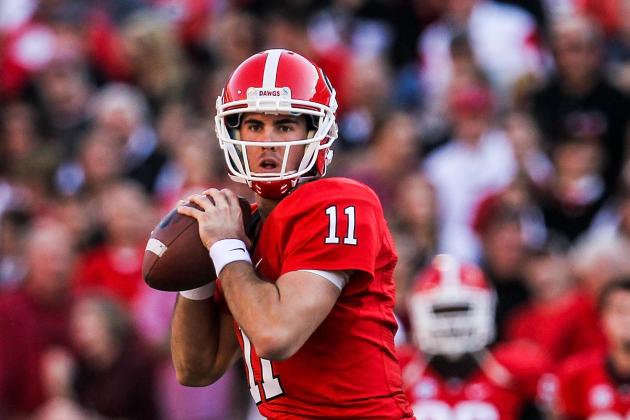 Daniel Shirey-USA TODAY Sports
Aaron Murray
QB: Aaron Murray, Georgia

RB: LaDarius Perkins, Mississippi State

WR: Malcolm Mitchell, Georgia

TE: Nehemiah Hicks, Texas A&M

OL: JaWuan James, Tennessee

DL: Chris Smith, Arkansas

LB: Jordan Jenkins, Georgia

DB: Charles Sawyer, Ole Miss

K: Carey Spear, Vanderbilt

P: Kyle Christy, Florida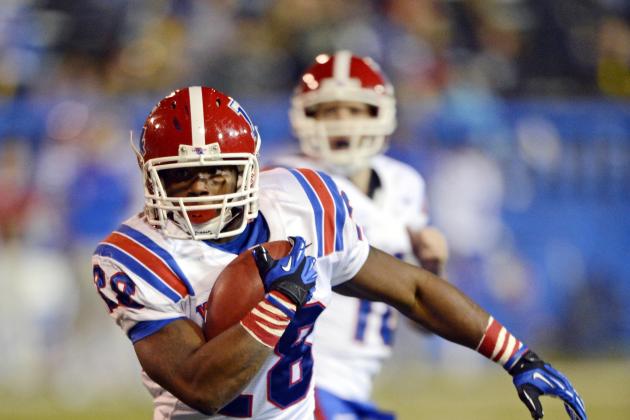 Bob Stanton-USA TODAY Sports
Kenneth Dixon
MVP: Kenneth Dixon, Louisiana Tech

QB: Rakeem Cato, Marshall

RB: Kenneth Dixon, Louisiana Tech
RB: Trey Watts, Tulsa

WR: Justin Hardy, East Carolina
WR: Ryan Grant, Tulane

TE: Gator Hoskins, Marshall

OL: Will Simmons, East Carolina
OL: Drew Carroll, Rice
OL: Josh Walker, Middle Tennessee State
OL: Cyril Lemon, North Texas
OL: Jon Hodde, Rice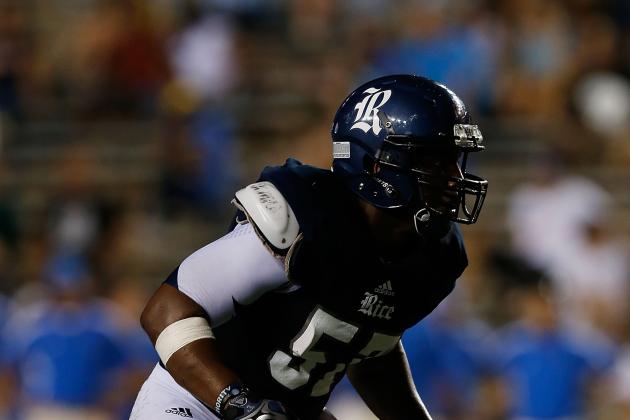 Scott Halleran/Getty Images
Cameron Nwosu
MVP: Cameron Nwosu, Rice

DL: Justin Ellis, Louisiana Tech
DL: Khyri Thornton, Southern Miss
DL: Cody Bauer, Rice
DL: IK Enemkpali, Louisiana Tech
LB: Cameron Nwosu, Rice
LB: Jeremy Grove, East Carolina
LB: Shawn Jackson, Tulsa

DB: Phillip Gaines, Rice
DB: Marco Nelson, Tulsa
DB: Adonis Armstrong, East Carolina
DB: Levander Liggins, Louisiana Tech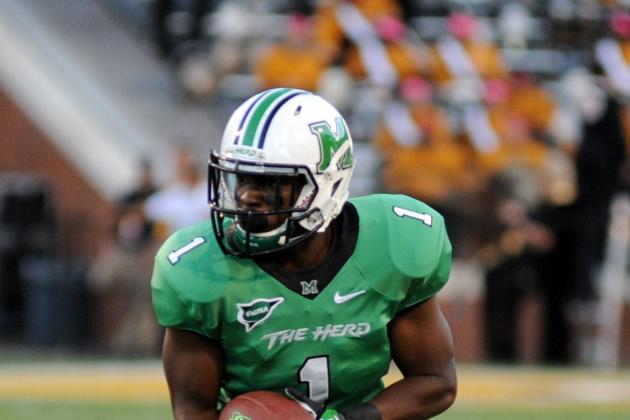 Chuck Cook-USA TODAY Sports
Tommy Shuler
QB: Cody Green, Tulsa

RB: Darrin Reaves, UAB

WR: Tommy Shuler, Marshall

TE: Nexon Dorvilus, Florida Atlantic

OL: Jordan Jeffries, Marshall

DL: Horace Miller, UTEP

LB: Derrell Johnson, East Carolina

DB: Deron Wilson, Southern Miss

K: Cairo Santos, Tulane

P: Tyler Williams, Marshall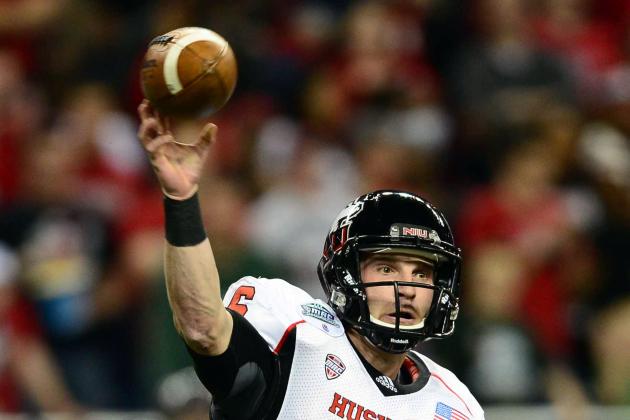 Andrew Weber-USA TODAY Sports
Jordan Lynch
MVP: Jordan Lynch, Northern Illinois

QB: Jordan Lynch, Northern Illinois

RB: Dri Archer, Kent State
RB: Beau Blankenship, Ohio

WR: Alex Neutz, Buffalo
WR: Nick Harwell, Miami (Ohio)

TE: Zane Fakes, Ball State

OL: Zac Kerin, Toledo
OL: Tyler Loos, Northern Illinois
OL: Dominic Flewellyn, Bowling Green
OL: Jordan Hansel, Ball State
OL: Nick Beamish, Central Michigan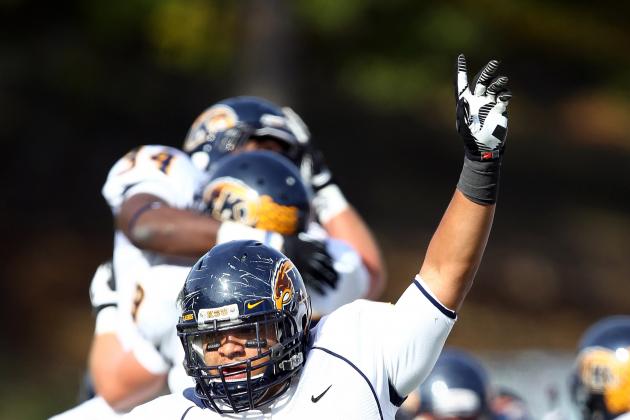 Danny Wild-USA TODAY Sports
Roosevelt Nix
MVP: Roosevelt Nix, Kent State

DL: Roosevelt Nix, Kent State
DL: Jonathan Newsome, Ball State
DL: Colby Way, Buffalo
DL: Joe Windsor, Northern Illinois

LB: Khalil Mack, Buffalo
LB: Chris Wade, Miami (Ohio)
LB: Gabe Martin, Bowling Green

DB: Dayonne Nunley, Miami (Ohio)
DB: Luke Wollet, Kent State
DB: Jimmie Ward, Northern Illinois
DB: Johnnie Simon, Western Michigan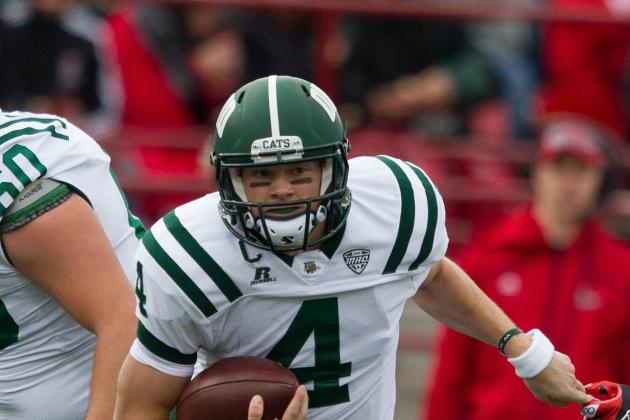 Rob Leifheit-USA TODAY Sports
Tyler Tettleton
QB: Tyler Tettleton, Ohio

RB: David Fluellen, Toledo

WR: Willie Snead, Ball State

TE: Alex Bayer, Bowling Green

OL: John Prior, Ohio

DL: Travonte Boles, Western Michigan

LB: Trent Voss, Toledo

DB: Jerry Gates, Bowling Green

K: Jeremiah Detmer, Toledo

P: Brian Schmiedebusch, Bowling Green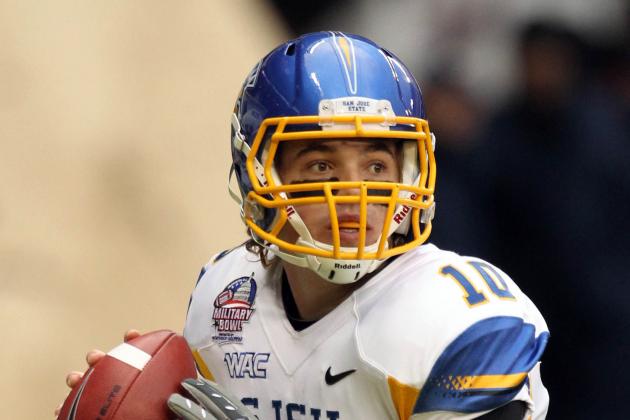 Mitch Stringer-USA TODAY Sports
David Fales
MVP: David Fales, San Jose State

QB: David Fales, San Jose State

RB: Adam Muema, San Diego State
RB: Kasey Carrier, New Mexico

WR: Davante Adams, Fresno State
WR: Noel Grigsby, San Jose State

TE: Crockett Gillmore, Colorado State

OL: Austin Wentworth, Fresno State
OL: Tyler Larsen, Utah State
OL: Charles Leno, Boise State
OL: Weston Richburg, Colorado State
OL: Bryce Quigley, San Diego State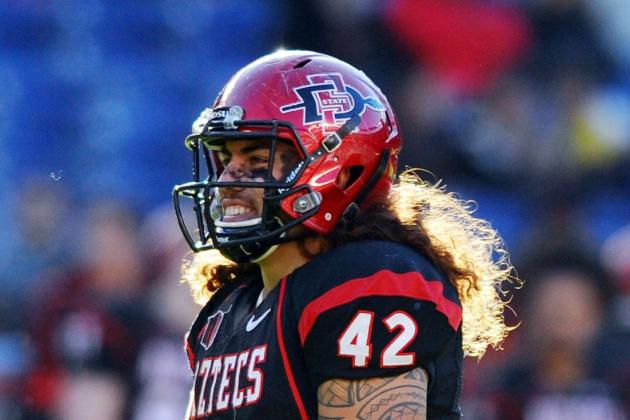 Christopher Hanewinckel-USA TODAY Sports
Jake Fely
MVP: Jake Fely, San Diego State

DL: Demarcus Lawrence, Boise State
DL: Brock Hekking, Nevada
DL: Travis Raciti, San Jose State
DL: Tyeler Davison, Fresno State

LB: Jake Fely, San Diego State
LB: Shaquil Barrett, Colorado State
LB: Keith Smith, San Jose State

DB: L.J. Jones, Fresno State
DB: Bene Benwikere, San Jose State
DB: Nat Berhe, San Diego State
DB: Jeremy Ioane, Boise State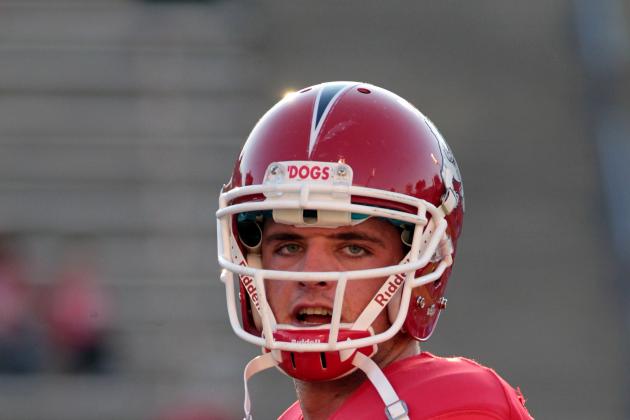 Cary Edmondson-USA TODAY Sports
Derek Carr
QB: Derek Carr, Fresno State

RB: Tim Cornett, UNLV

WR: Matt Miller, Boise State

TE: Holden Huff, Boise State

OL: Joel Bitonio, Nevada

DL: Andy Jennings, Fresno State

LB: Art Laurel, Hawaii

DB: Derron Smith, Fresno State

K: Austin Lopez, San Jose State

P: Ben Skaer, New Mexico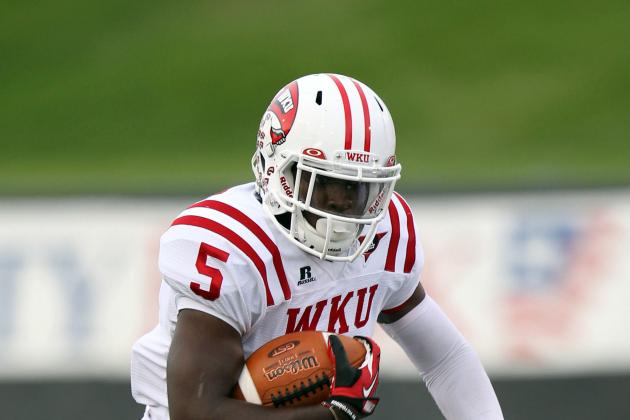 Nelson Chenault-USA TODAY Sports
Antonio Andrews
MVP: Antonio Andrews, Western Kentucky

QB: Terrance Broadway, Louisiana-Lafayette

RB: Antonio Andrews, Western Kentucky
RB: David Oku, Arkansas State

WR: J.D. McKissic, Arkansas State
WR: Je'Ron Hamm, Louisiana-Monroe

TE: Jacob Maxwell, Louisiana-Lafayette

OL: Andre Huval, Louisiana-Lafayette
OL: Josh Allen, Louisiana-Monroe
OL: Sean Conway, Western Kentucky
OL: Melvin Meggs, South Alabama
OL: Daniel Quave, Louisiana-Lafayette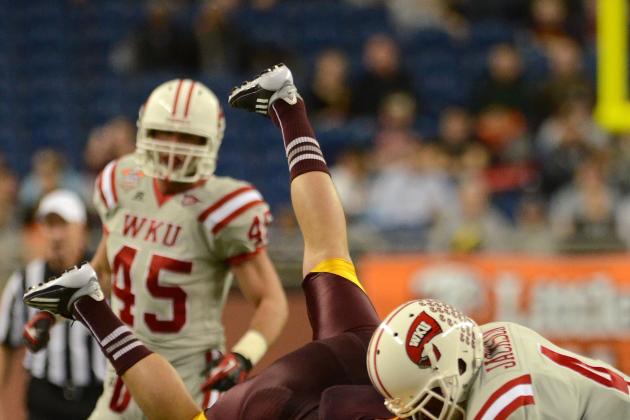 Mark A. Cunningham/Getty Images
Andrew Jackson
MVP: Andrew Jackson, Western Kentucky

DL: Ryan Carrethers, Arkansas State
DL: Christian Ringo, Louisiana-Lafayette
DL: Amos Draper, Arkansas State
DL: Alex Page, South Alabama

LB: Andrew Jackson, Western Kentucky
LB: Justin Anderson, Louisiana-Lafayette
LB: Qushan Lee, Arkansas State

DB: Jonathan Dowling, Western Kentucky
DB: Isaiah Newsome, Louisiana-Monroe
DB: Sterling Young, Arkansas State
DB: Tyrell Pearson, South Alabama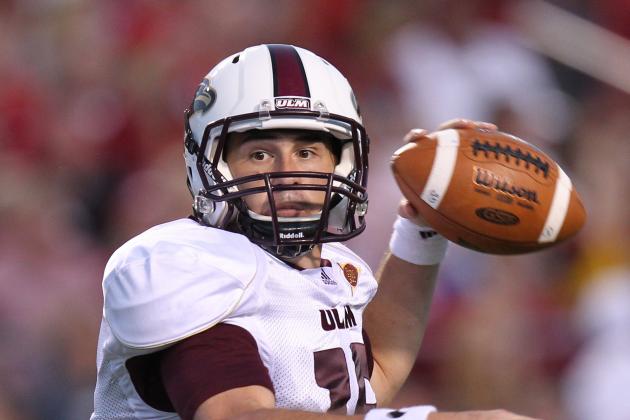 Nelson Chenault-USA TODAY Sports
Kolton Browning
QB: Kolton Browning, Louisiana-Monroe

RB: Alonzo Harris, Louisiana-Lafayette

WR: Eric Thomas, Troy

TE: Wes Saxton, South Alabama

OL: Charlie Tuttle, Texas State

DL: Gerrand Johnson, Louisiana-Monroe

LB: Enrique Williams, South Alabama

DB: Cam Thomas, Western Kentucky

K: Brian Davis, Arkansas State

P: Will Scott, Troy