Texas A&M Football: Realistic Expectations for Johnny Manziel in 2013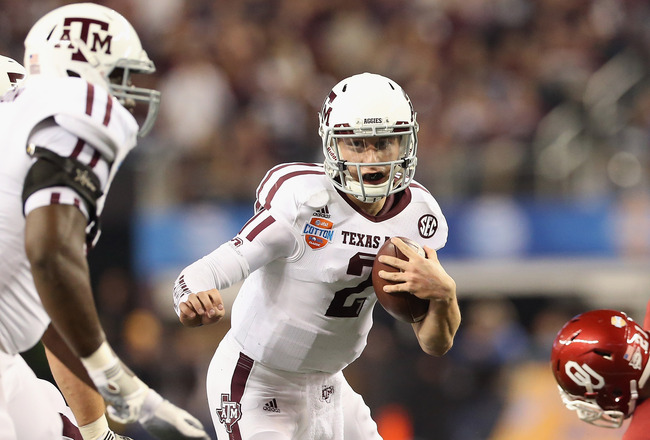 Ronald Martinez/Getty Images
Johnny Manziel shocked the college football establishment by winning the Heisman Trophy as a freshman in 2012. The question on everyone's mind is how Manziel will follow up on his stellar freshman campaign?
Manziel went from an unknown redshirt freshman to a household name in the span of one season. He is now one of the most hyped and followed athletes in America.
Now that he has won the Heisman, Manziel has a bigger spotlight on him than ever. In 2013 every single game he plays in will be covered my the national media.
It will be interesting to see how he responds to a bigger spotlight. How will he deal with the increased attention on his play during his sophomore year. Will Manziel suffer through a "sophomore slump?"
Will the Aggies' new offensive coordinator Clarence McKinney affect Manziel's overall play? How will the increased talent at the running back position affect his running statistics?
This is a look at what the fans should realistically expect from Manziel in 2013.
Spavital Effect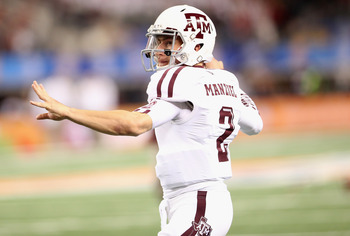 Ronald Martinez/Getty Images
Texas A&M head coach Kevin Sumlin went out and hired Jake Spavital from West Virginia, after Kliff Kingsbury left A&M to become the head coach at Texas Tech. Spavital will be the quarterback coach and co-offensive coordinator at A&M along with Clarence McKinney.
Spavital will be the passing game coordinator, while McKinney will be the running game coordinator and will call the plays. It should be an easy transition for Manziel from Kingsbury to Spavital.
Both Spavital and Kingsbury learned under Dana Holgerson so Manziel will not have to get used to new terminology or a new system.
Geno Smith completed 71 percent of his passes for 4,205 yards while under Spavital's tutelage at West Virginia in 2012. Spavital will help Manziel maximize his capabilities in the passing game.
Experience Matters

Johnny Football's touchdowns

There have been a lot of people inferring that Manziel will not be as successful in 2013 as he was in 2012 because defenses will now be ready for him. People are failing to take into account that Manziel will be much better in 2013 because he now understands the offense.
Manziel spent the first half of the 2012 season trying to figure how to run the offense. It was a regular occurrence to see him miss wide open receivers and to scramble with the football.
Towards the end of the season you could see Manziel progress in his understanding of the offense, and find the open receiver when the play broke down.
There is a direct correlation between Manziel's increased understanding in the offense, and Ryan Swope's production on the field. As Manziel developed a better grasp on the passing game, he began to find Swope wide open down the field more and more often.
In the first six games of the season Swope caught 20 passes for 299 yards and three touchdowns. In the next seven games he caught 52 passes for 614 yards and five touchdowns.
After a year in the system, Manziel should be approaching the level of familiarity where he simply reacts without thinking. He should know where to go with the football as a matter of reflex.
Manziel's passing numbers should go up in 2013 even though he lost three starting wide receivers to graduation.
Running Backs Will Change the Offense

Ben Malena proves A&M is ready for the SEC

The biggest difference between the 2012 Aggie offense and the 2013 Aggie offense will be the influx of talent and depth at running back. The Aggies will have more depth at running back than any team in the country in 2013.
Senior Ben Malena returns after rushing for 808 yards and eight touchdowns in 2012. Trey Williams returns after rushing for 376 yards and five touchdowns as a true freshman.
The big change is that Brandon Williams and Tra Carson are now eligible after sitting out the 2012 season due to the NCAA transfer rules. Brandon Williams was the best running back on the team during the 2012 Spring Practice.
At 6'0" and 192 lbs., "Slim" has the size and speed to be an impact player in the Southeastern Conference. He may be the fastest Aggie. Brandon Williams will give A&M another weapon out of the backfield.
Carson is a 6'0", 220 lb. power back. He should see ample playing time in the redzone and short yardage situations.
Malena, the two Williams and Carson should take carries away from Manziel. Aggie fans should expect to see the running backs have an increased role in the offense in 2013. Do not be surprised to see the aforementioned backs rush for 2,500 total yards in 2013.
Manziel Will Have Bigger Targets

Aggie TE Cameron Clear high school basketball highlights

Manziel will have a variety of huge targets to throw the ball to in 2013. The Aggie wide receiver and tight end positions could make up a formidable basketball team.
Mike Evans returns at the wide receiver spot with his 6'5" height. At the other outside spot JaQuay Williams was an early enrollee at 6'3" and 204 lbs.
Ricky Seals-Jones is a member of the 2013 recruiting class and will arrive in Aggieland in the summer. He has dominated his Texas high school competition with his 6'5", 220-lb. frame.
Kyrion Parker is a 6'3", 185-lb. wide receiver from Manvel who is part of the 2013 class along with Williams and Seals-Jones. Edward Pope is a 6'4", 185-lb. wide receiver who redshirted during the 2012 season.He was named the Aggies' scout team MVP during the 2012 season.
Cameron Clear was an early enrollee at tight end. He will use his 6'6", 280-lb. frame to seal the edge for the Aggie running game, but will also give Manziel a huge target in the middle of defense's zones.
With all of these big wide receivers, expect Manziel to throw a lot of fades and jump balls in 2013. He should be even more effective passing the ball in the red zone with the height mismatch that the Ags will present against every secondary they face.
Realistic Statistical Expectations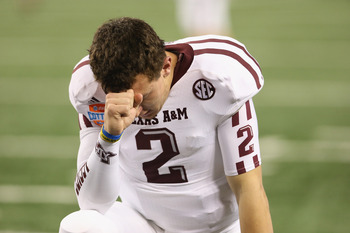 Ronald Martinez/Getty Images
In 2012, Manziel competed 68 percent of his passes for 3,706 yards and 26 touchdowns. He rushed for 1,410 yards and 21 touchdowns.
Manziel set the SEC season record for total offense. In 2013 Manziel may threaten that record again, but he will likely do it with more passing yardage and less yards gained on the ground.
Manziel had some typical struggles you would expect from a freshman during 2012 the 2012 season. He tried to force the ball into tight windows and had a few bad turnovers. As the season progressed he learned that sometimes it was better to simply pass the ball out of bounds.
With a better understanding of the offense in 2013, Manziel should pass for more yardage than he did in 2013. Do not be surprised to see Manziel riddle SEC secondaries for around 4,400 yards during his sophomore year.
With the improved running back depth, more of the Aggies' rushing yardage should come from the running back position that it did in 2012. Expect Manziel to rush for around 600 yards in 2013 as he develops into a better distributor of the football.
Manziel should account for 5,000 total yards of offense and around 45 touchdowns in 2013. He will just use his arm to move the ball more than he did in 2012.
Keep Reading

Texas A&M Football: Like this team?