Ranking the SEC's Best Backfields for the 2013 Season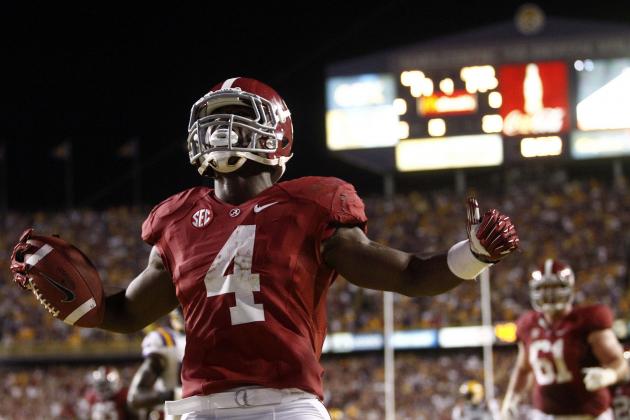 Crystal Logiudice-USA TODAY Sports

The SEC has a reputation for playing stifling defense, but the running game has been just as good over the years. Last season, a total of eight teams averaged at least 160 yards on the ground, and there were two that ranked inside the top 20 in the country.
When looking at the backfields in the SEC, there is just about everything you hope to see. There are your bruisers who want to run defenders over and pick up those tough yards. You have your playmakers that look to make defenders miss and end up on highlight reels.
However, the thing that arguably separates this conference from everybody else is the depth at the running back position. While most teams have just one great back, the SEC may have two or three guys who could legitimately be the starter.
There is still a lot of time between now and the new season, but it is never too early to peak at what the new year has to offer.
Here are the best backfields in the SEC heading into the 2013 college football season.

Note: All stats come from cfbstats.com unless otherwise noted. Also, rankings are put together based on a combination of experience, depth and past performance.

Begin Slideshow

»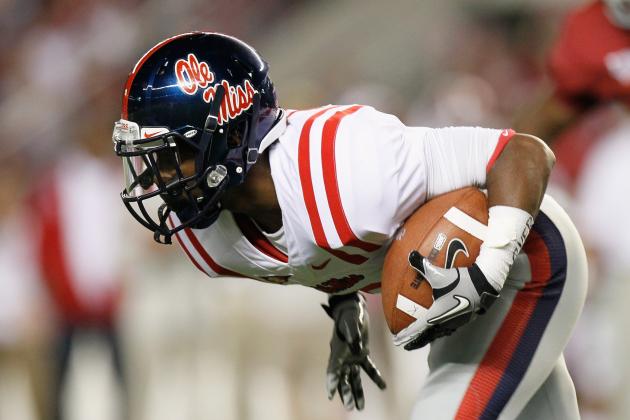 Kevin C. Cox/Getty Images

Main Guys That Make up the Backfield: Jeff Scott, I'Tavius Mathers and Jaylen Walton
Ole Miss surprisingly won seven games last season, and a lot of that had to do with a consistent running game. The Rebels averaged 174 yards on the ground, which was fifth in the SEC, ahead of LSU by less than a yard.
Scott is the returning leading rusher, as he racked up 850 yards and scored six touchdowns on 197 carries. He topped 100 rushing yards four times last season and displayed great ball skills, catching 22 passes as well.
I'Tavius Mathers should develop into a solid No. 2 back now that he had some playing time under his belt as a true freshman. He only touched the ball 27 times, but averaged over seven yards a carry.
Jaylen Walton is also a young runner who averaged five yards a pop and looks to have a bright future with the team.
When you add quarterback Bo Wallace to the mix (390 rushing yards and eight scores), the Rebels have a stable backfield heading into 2013 and should continue to surprise folks across SEC country.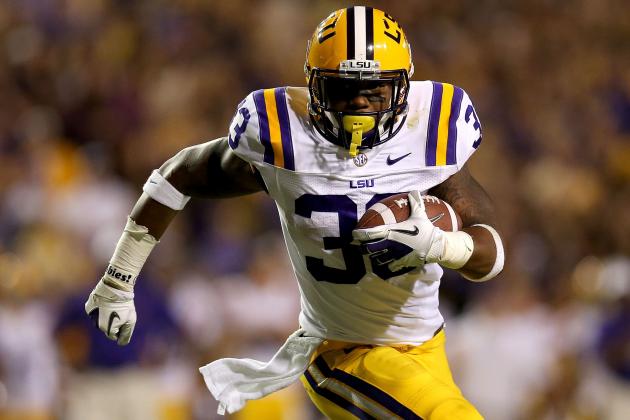 Matthew Stockman/Getty Images

Main Guys That Make up the Backfield: Jeremy Hill, Kenny Hilliard and Alfred Blue
If there was ever a running back by committee in college football, it would be the LSU Tigers. Without one true lead runner, a total of four guys received at least 71 carries, helping produce the sixth-best rushing offense in the SEC. Keep in mind, the offense was averaging more than 173 yards on the ground without the third-best runner from a year ago in Alfred Blue, who missed most of the season with a knee injury.
The Tigers found their new go-to runner in freshman Jeremy Hill. Hill came out of nowhere to average five yards a carry and led the team with 755 yards and 12 rushing touchdowns. His power-running style led to more than 100 rushing yards in four of the last seven games.
Kenny Hilliard finished second on the team with 464 yards and six scores. Much like Hill, Hilliard is a power running back who breaks tackles with ease and picks up extra yards after initial contact. Despite tacking a backseat last year, he still averaged over five yards a carry and scored two touchdowns in each of the first three games.
Blue should be ready to go once the 2013 season kicks off.
Due to the versatility and depth of this backfield, LSU has a reputation for being a run-first team and usually wears down defenses over the course of four quarters.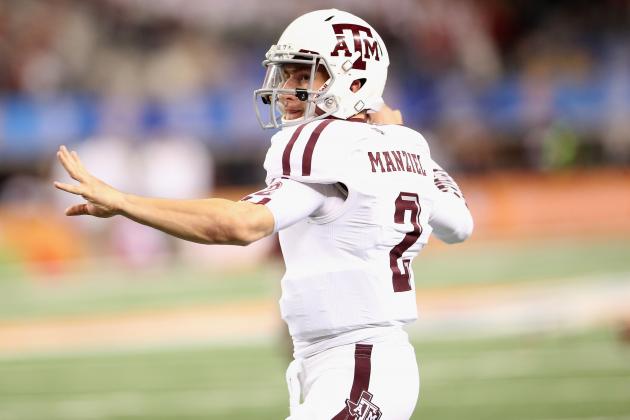 Ronald Martinez/Getty Images

Main Guys That Make up the Backfield: Johnny Manziel, Ben Malena and Trey Williams
With the amount of times quarterback Johnny Manziel runs the football, you can consider him part of the backfield. Not only were his 1,410 rushing yards the most in the SEC, but his 201 rushing attempts were more than T.J. Yeldon, Tre Mason and Marcus Lattimore. He cleared 100 rushing yards seven times and scored 21 touchdowns with his legs.
But while Manziel seemed like he was the only Aggie on the team last season, Ben Malena averaged close to six yards a carry and scored one touchdown in five of the final seven games. Although he only received more than 15 carries twice all season, he still racked up 808 yards and scored eight touchdowns.
Trey Williams is an interesting player because he was a true freshman last season and displayed why he was a top recruit in 2012. With his incredible speed and change of direction, he averaged more than 5.5 yards a carry and should see an increased workload with some playing time under his belt.
Texas A&M had the second-best rushing offense in the SEC last season, and could even improve on last year's total with Williams receiving more touches.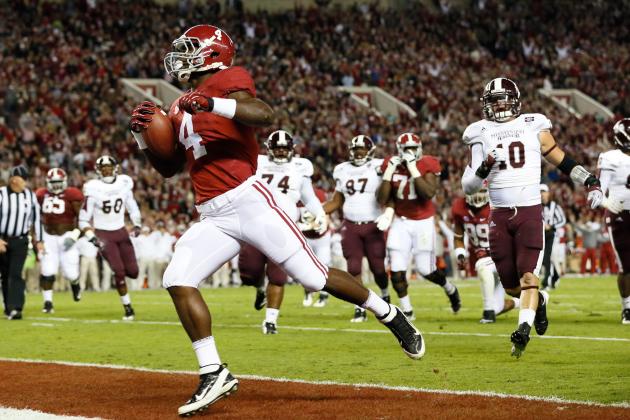 Kevin C. Cox/Getty Images

Main Guys That Make up the Backfield: T.J. Yeldon, Kenyan Drake, Jalston Fowler and Derrick Henry
Alabama lost lead running back Eddie Lacy to the NFL draft, but the Crimson Tide probably replaces the position better than anybody in college football.
Finishing 16th in the country with 227 yards on the ground a game, the production could be even better once guys get a chance to recover and adjust to their new roles.
Yeldon is likely going to be the lead back in this offense with Lacy gone. Due to his game-changing speed and ability to hit the home run, Yeldon had six runs that went for more than 20 yards, and he averaged more than six yards a touch as a true freshman. He is really the ultimate playmaker in the backfield, and he has nice ball skills as well.
However, Kenyan Drake is another quick back who showed some of his skills with limited carries. Receiving only 42 touches as a freshman last season, Drake still picked up 12 first downs and scored five touchdowns.
Jalston Fowler is the power runner who will be back on the scene after missing most of last year with an injury.
There is also an X-factor in Dee Hart. He has missed a ton of playing time due to knee injuries, but has shown glimpses of why he was a top recruit back in 2011.
Derrick Henry is a 5-star recruit at the running back position and is the all-time leading rusher at the high school level. While some may believe he will switch to the defensive side of the ball, he will be given every shot to succeed on offense.
The Crimson Tide are known for their incredible running game, and it will be just as good in 2013 as it was it in the past.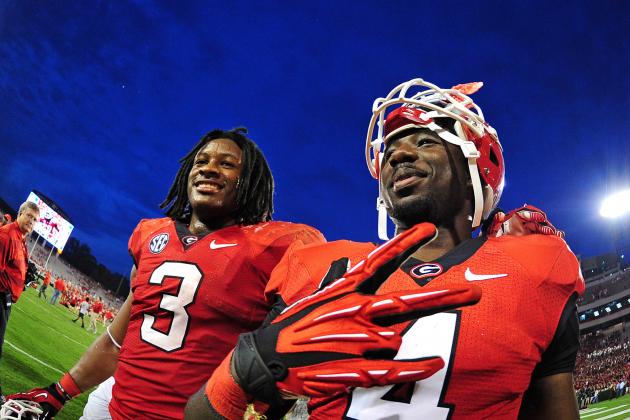 Scott Cunningham/Getty Images

Main Guys That Make up the Backfield: Todd Gurley and Keith Marshall
Georgia doesn't have many running backs it relies on, and quarterback Aaron Murray isn't going to scare opposing defenses with his legs. The Bulldogs are more of a one-two punch in the backfield, but the combination of Todd Gurley and Keith Marshall is arguably the best two-headed monster in all of college football.
Both running backs averaged a little more than six yards a carry last season, and they combined for 25 rushing touchdowns. Gurley rushed for 1,385 yards, and Marshall had 759 yards on far less carries. Both were true freshmen last season.
Both are more than capable of breaking the long touchdown run, but they bring other attributes to the table. Gurley has the size and speed to hit defenses with different looks, while Marshall is a pure speedster and can make a defender look absolutely silly in the open field.
This is very similar to the tandem the Crimson Tide had last season with T.J. Yeldon and Eddie Lacy. However, with both playing together for a season, this has the potential to be even better. This is the best backfield in the SEC, and there could be an argument made for the entire country.