How We Were Fooled into Believing 2012 Was the Year of the Offense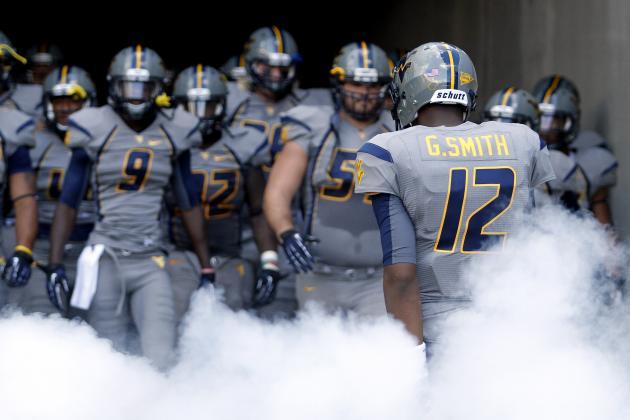 Justin K. Aller/Getty Images

Do you remember the time that Geno Smith was going to win the Heisman—for sure—and West Virginia was going to score its way all the way to the top of the charts?
Yeah…and how about that time that USC was going to ride Matt Barkley's golden arm and Marqise Lee's speedy legs to the BCS title game?
And don't you recall the most wonderful story of all, the one with the hard-running Ducks from Oregon zipping to a glorious foregone conclusion that included a late night meeting with a certain crystal pigskin?
Ah, the dreams of yards, points and championships…they're as old as the pigskin itself and as misleading as the concept of money equaling happiness.
Indeed, after decades of examples you would figure that some day we would learn that while it's thrilling to watch teams ring up a score board, really it's boring old defense that propels college football programs to championship seasons.
The following slideshow expounds on this age old theme and gives it a 2012 twist by presenting five ways we were fooled into believing that 2012 was the year of the offense.
It takes us back to August and September when a cornucopia oozing with points and yards still seemed liked the "good news" and the way to the "Promised Land" that included milk, honey, a BCS bowl and more.
But with the wisdom of December, hindsight and history firmly within our grasp; indeed, with a firm dose of reality shoved down our throats, we know now that 2012 is not the year of the offense.
No friend, 2012 is the year that the No. 1 nationally ranked scoring defense (Notre Dame) will square off with the No. 2 nationally ranked scoring defense (Alabama) for all the marbles (the national championship).
Oh yes, 2012 is the year of the defense.
Begin Slideshow

»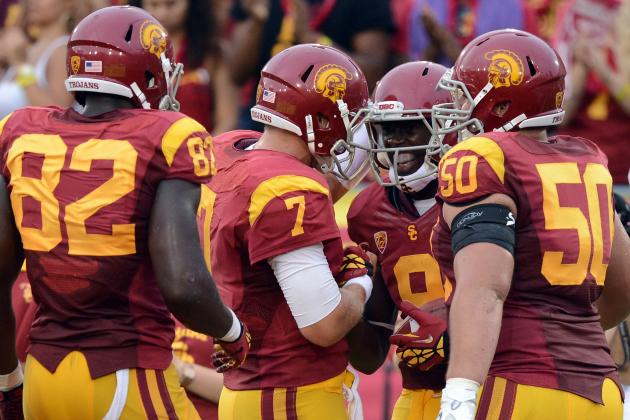 Harry How/Getty Images

With USC coming in at No. 1 in the AP's preseason offering and No. 3 in the Coaches' voting, the Trojans had convinced a wide swath of the football world that they were contenders in 2012.
What had lots of folks foaming at the mouth about USC coming into the season, and rightly so, was the return of QB Matt Barkley—who played brilliantly as a junior in 2011—and then a stable of speedy offensive skill players including Robert Woods and Marqise Lee.
What was missing from the total package, which most people weren't talking about, was the holes in a defense that finished the 2011 season ranked No. 45 in scoring and a dismal No. 102 vs. the pass.
Ironically, the Trojans finished the 2012 season ranked the same in scoring defense, No. 45, but what's more significant than the lack of improvement is the rank relative to other top teams this season.
Yes, isn't it interesting to note that none of the 10 teams that made BCS bowls this season ranked below No. 37 in scoring defense?
The point of this entire pointed point making is that USC garnered a top billing coming into 2012 despite the fact that it didn't play defense like an elite team.
Apparently the very real offensive strengths were going to make up for the very factual defensive weaknesses.
This would lead you to believe that offense was the key element to winning it all (or at the very least being ranked No. 1 in the nation) rather than defense.
In other words, we were being told, either directly or indirectly (or perhaps subliminally) that 2012 was the year of the offense.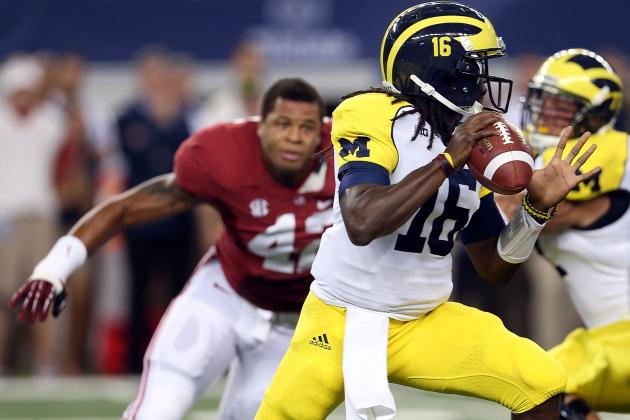 Ronald Martinez/Getty Images

Though we are all well aware that no primarily defensive player has captured the Heisman since Michigan's Charles Woodson did so in 1997, it still begs mention that there is a major disconnect between college football's MVP and its national champion.
Indeed, the Heisman goes to an offensive player while the BCS title goes to a team that nine times out of 10 plays defense more proficiently than it plays offense.
It's a league where we celebrate the best individual offensive player while we award the championship hardware to the best defensive team, a squad that always seems to triumph at the end regardless of who we consider the "MVP."
To illustrate, did you know that no team has won the national championship in the last five years with a final ranking worse than No. 12 in rushing defense?
Though it makes total sense that a defensive guy wouldn't be listed in the top 10 of preseason Heisman watch lists due to the fact that a non-offensive player isn't going to win the award (99.9 percent of the time); the omission still sends a clear message that this is an offensively driven game.
And 2012 is no exception to this rule.
Coming into this season did you see names like Notre Dame's Manti Te'o or even LSU's Tyrann Matthieu before he was dismissed from his team back in mid August?
No.
The list was as offensive as you would have expected from the "year of the offense."
USC's Matt Barkley, Oklahoma's Landry Jones, Florida State's EJ Manuel, Arkansas' Tyler Wilson, South Carolina's Marcus Lattimore, Wisconsin's Montee Ball, Michigan's Denard Robinson, Clemson's Sammy Watkins and yes, West Virginia's Geno Smith.
Definitely not the stuff that foretells a season that ends with the top two defenses in the land squaring off for the big, cheesy enchilada.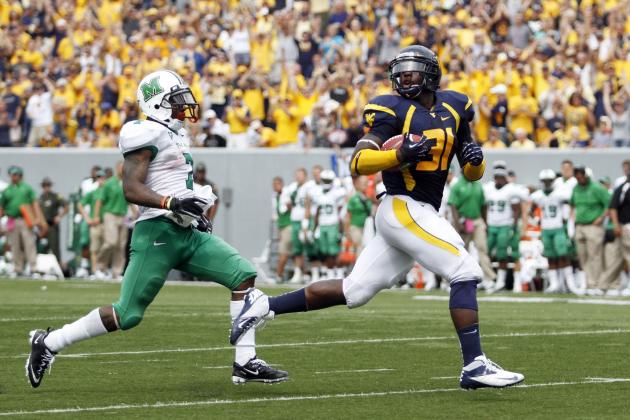 Justin K. Aller/Getty Images

Here's the deal: Lopsided victories over mismatched opponents aren't necessarily Heisman and national championship predictors.
Indeed, when you build your statistical resume on a slate of opponents that, with all due respect, are made of straw or sticks rather than bricks, you are setting yourself up for failure later in the season.
Unfortunately, Geno Smith and the 2012 Mountaineers are a good example of this type of logic.
After Week 6 of this season West Virginia was 5-0, ranked No. 5 in the nation and Geno Smith literally, had a "stranglehold" on the Heisman trophy. In many minds it was not Smith's prize to win, he already had it, so instead, it was his to lose.
But, before we move forward, let's remember the stuff the Mountaineer's foundation was made of.
First, you've got a 69-34 home win over Marshall. Second, a 42-12 victory over FCS James Madison. That was followed by a 31-21 narrow miss at home vs. Maryland.
Next came the two wild games that really got the WVU bandwagon rolling but in reality should have set off the alarm bells; the 70-63 score fest at home vs. Baylor and the 48-45 defensive juggernaut win over Texas in Austin.
In hindsight you can see that this wasn't necessarily the kind of resume that gets you to the Fiesta Bowl or BCS title game.
Speed ahead an agonizing seven games after the triumph over the Longhorns and we know now that not only did West Virginia lose the next five straight to finish 7-5 but Smith wasn't even invited to New York for the presentation of the 78th Heisman trophy.
Frankly it's an example that makes it easy to see how quickly and easily the "year of the offense" can morph into "how quick can you get me a defensive coordinator's phone number?"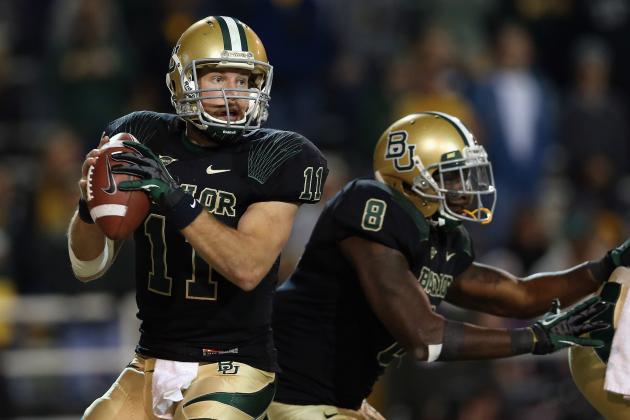 Ronald Martinez/Getty Images

Both the nature of the game of football and the media itself combine to make the offense the more exciting and marketable part of the game we love.
And therefore it's the point scorers, the yard-getters and the offensive playmakers that get the lion's share of attention in terms of media coverage.
Really, it makes sense and even the most zealous defensive loyalist will at some point tire of watching tackling and tipping replays, yearning only for a healthy heaping of delicious point scoring highlights.
Think about it, it's the whole reason a product like the NFL Red Zone channel is a marketable, money making product…clip after clip of teams scoring points, that's it.
Though it's all very logical as to why we should desire and respect defense, the end result is that when we think of football we get caught up in how many points can be scored and how many yards can be gain as opposed to who can shut who the hell down.
It's sexier, it's more provocative and frankly it's more entertaining.
And, to make it even more dangerous and alluring, we have the media shoving it down our throats, counting on us loving every moment of it.
"Did you see West Virginia beat Baylor 70-63?" she said, "But the Mountaineers have no defense!" he retorted. "Who cares, they could win it all with that offense!" She exclaimed with wild eyes and hands covered in wing juice…
The year of the offense…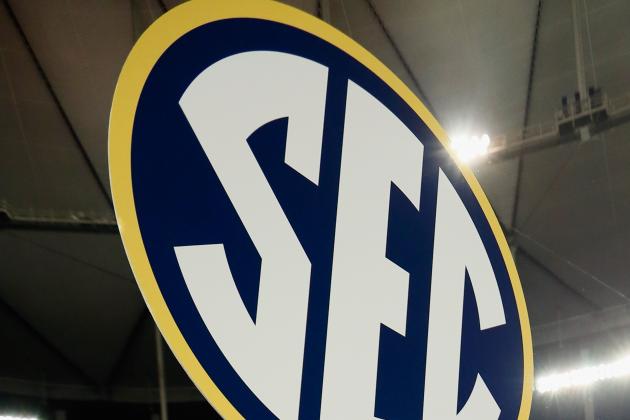 Kevin C. Cox/Getty Images

Perhaps the real reason that a large throng of the college football nation eagerly digests the concept of the "year of the offense" is that they are desperate to usher in an era of non-SEC dominance.
And that means a period of time in college football when something other than defense wins championships.
Indeed, maybe if we just click our shoes and say "I want the SEC to go away" over and over, we'll be magically transported to a land where big bad offenses rack up yards on stifling defenses and win consecutive championships despite what history says will happen…
Yes, perhaps there really is a way to win the whole ball of wax by becoming the antithesis of the 2012 Florida Gators, a team with an impotent offense and an opportunistic, greedy and miserly defense (the Gators are currently ranked No. 71 nationally in scoring offense and No. 3 in scoring defense).
Seriously, could a team like the 2008 Texas Tech Red Raiders (No. 3 in scoring offense and No. 74 in scoring defense) or the 2011 Baylor Bears (No.4 and No. 113 in scoring defense) really win it all with an offensive/defensive imbalance that is opposite of that of the SEC?
History tells us that the answer to that question is probably a flat "no."
To illustrate, the 2011 Alabama Crimson Tide ranked No. 21 in scoring offense and No. 1 in scoring defense. Furthermore, this season's Notre Dame squad ranks No. 75 in scoring O and No. 1 in scoring D while the 2012 Tide have earned a No. 15 rank in scoring offense and a No. 2 rating in scoring defense.
This all makes our impulse to walk blindly into the light that leads us down trail of an offensive way of thinking seem almost cult-like.
Yes, are we predestined to think offense is the truth, the light and the way when in fact we are only running further and further away from the gridiron glory we seek?
Oh the irony…