Big 12 Football: Winners and Losers in Big 12 Bowl Games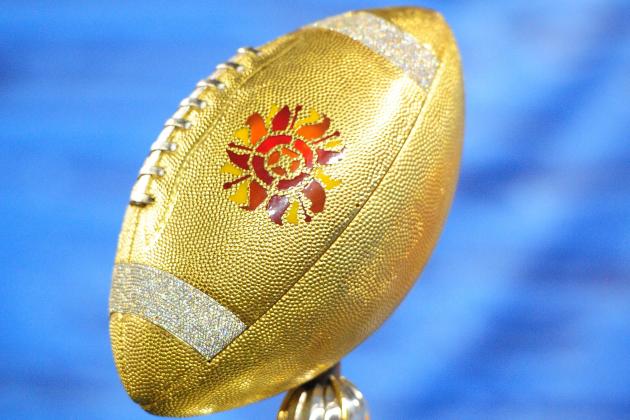 Mark J. Rebilas-USA TODAY Sports

Big 12 fans should be a happy bunch right now; nine of the conference's 10 teams are going bowling this winter.
Of course, not all fanbases are happy about their lot (we hear you, Sooner fans), but considering that the Big 12 went through conference realignment hell and still has no conference championship game, the Big 12 really flexed its muscle this year.
We go ahead and run down each of the bowls a Big 12 team plays in (starting with the earliest bowl) and decide whether or not that bowl is a winner or loser for that team.
Begin Slideshow

»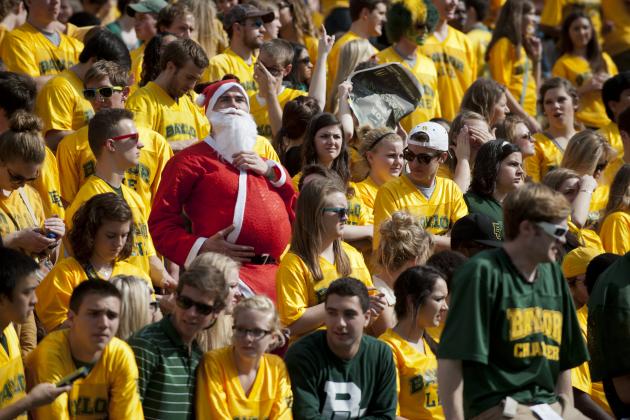 Cooper Neill/Getty Images

Baylor (7-5, 4-5) pulled off one of the upsets of the year when it beat No. 1 Kansas State 52-24. It also went 3-for-3 in its final three games of the regular season. Losing quarterback Robert Griffin III to the NFL was a huge loss, but Baylor just reloaded with a prolific offense under quarterback Nick Florence.
This will be the third straight year of bowling for Baylor, and while it's not the Alamo Bowl, the Holiday Bowl is a fantastic venue.
The Bears will have their hands full with the Pac-12 South champion UCLA Bruins.
Verdict: Winner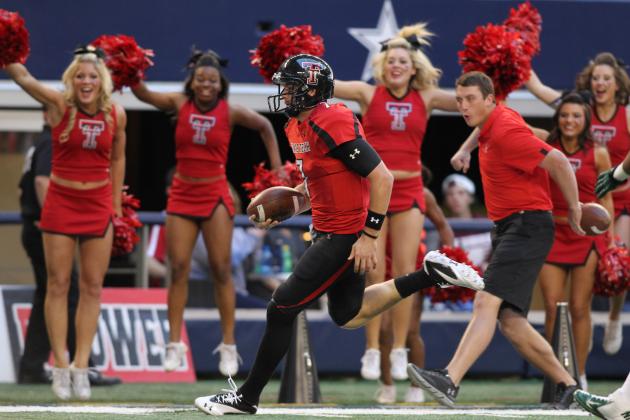 Tim Heitman-USA TODAY Sports

The Texas Tech Red Raiders (7-5, 4-5) are probably a little disappointed in how they ended their season; they lost four of their last five regular season games. At one point in the season (Week 9), Texas Tech was ranked as high as No. 14 in the BCS standings.
They'll go bowling in the Meineke Car Care of Texas Bowl on December 28 and face the Minnesota Golden Gophers (6-6, 2-6).
Minnesota finished last in the Big Ten's Legends division, and its signature wins are over Syracuse, Illinois and Purdue.
It's going to be hard for Red Raider fans to get up for this game, but at least Lubbock is only a one-hour flight to Houston.
Verdict: Loser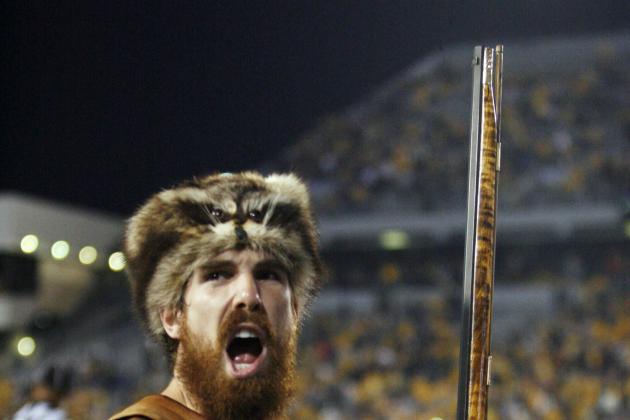 Charles LeClaire-USA TODAY Sports

Remember when West Virginia was ranked No. 5 by the AP in Week 7 of the regular season? Oh well. Instead of going to the Big Dance in Miami in January, the Mountaineers are headed to Bronx, New York to play in the Pinstripe Bowl on December 29.
The outdoor Yankee Stadium in December is not exactly going to woo Mountaineer fans who were dreaming of a warm tropical place in which to vacation. Understandably, the disappointment of what started out as a promising season for West Virginia (7-5, 4-5) is still lingering.
Playing a gritty Syracuse team (7-5, 5-2) with a definite in-state advantage in New York doesn't help matters, but what makes matters worse is that West Virginia is playing a conference team from the same conference that the Mountaineers fled from last year—the Big East.
Verdict: Loser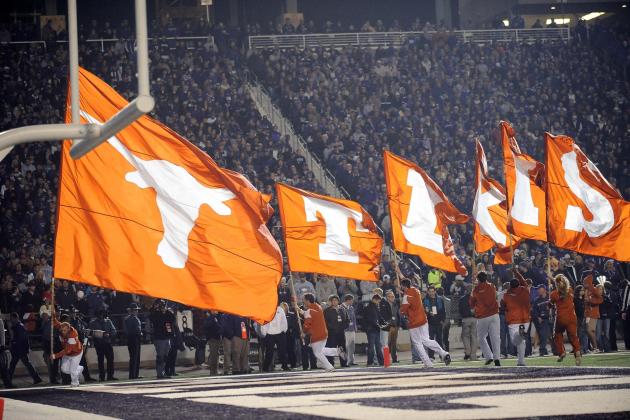 Denny Medley-USA TODAY Sports

It's not the Fiesta Bowl, but hey, the Alamo Bowl should work for Texas Longhorn fans since the Longhorns didn't get stuck having to face Texas A&M in the Cotton Bowl.
Texas (8-4, 5-4) had a decent season considering all of the defensive struggles the team faced, and while it's a bit of a consolation prize to go to the Alamo Bowl, it's still the third-best Big 12 bowl.
Texas will face Oregon State (9-3, 6-3) in what should be a close game in San Antonio.
Overall, Texas and its fans have to be satisfied considering some of the other bowl options that could have shaken out.
Verdict: Winner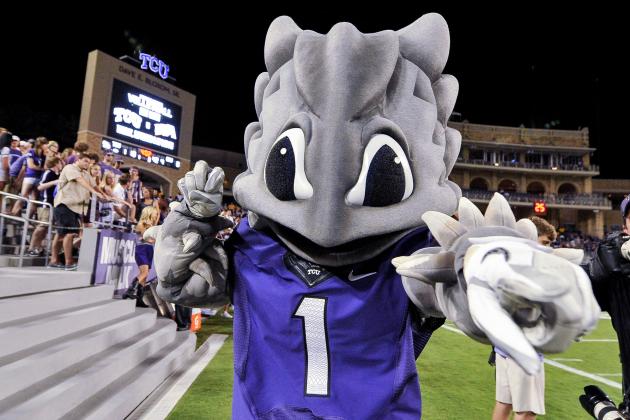 Jerome Miron-USA TODAY Sports

TCU (7-5, 4-5) did fairly well in its inaugural season in the Big 12.
The Horned Frogs will be traveling to Tempe, Arizona on December 29 to play the Michigan State Spartans (6-6, 3-5) in the Buffalo Wild Wings Bowl.
The Big Ten is down this year—having both Ohio State and Penn State bowl ineligible didn't help the conference one bit—and TCU has an opportunity to contribute to a potential Big Ten win-less bowl season.
TCU went BCS bowling twice in the past three years (2010 Fiesta Bowl and 2011 Rose Bowl), but last year, the Horned Frogs went to the Poinsettia Bowl, beating Louisiana Tech 31-24.
Michigan State will only be the second BCS team the Horned Frogs have faced in a bowl in the last five years.
Verdict: Winner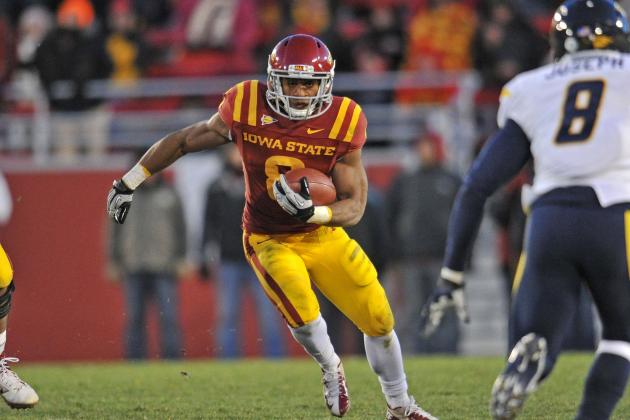 Peter G. Aiken-USA TODAY Sports

The SEC usually sends one of its teams to the Liberty Bowl, but believe it or not, the SEC didn't have enough bowl-eligible teams to fill its contracted bowl allotments.
Thank goodness for the Big 12 to save the day, right?
Iowa State (6-6, 3-6) gets a chance to travel down to SEC country and take on the Tulsa Golden Hurricane in a rematch—Iowa State beat Tulsa 38-23 earlier this year on September 1.
Memphis on New Year's Eve?
Verdict: Winner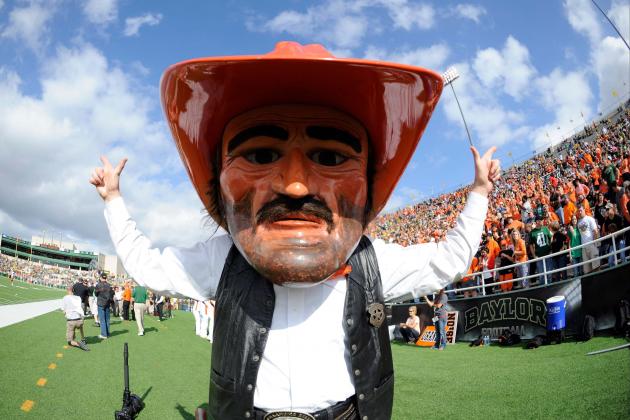 Jerome Miron-USA TODAY Sports

Alright, this isn't the Cotton, Alamo or Fiesta Bowl, the three bowls the Oklahoma State Cowboys have played in over the past three seasons.
And Purdue isn't Ole Miss, Arizona or Stanford, the Cowboys' last three bowl opponents.
But considering the Cowboys' (7-5, 5-4) overall record, this isn't such a bad bowl because it is played in the Cotton Bowl. Their opponent, however, leaves little for one to get excited over.
Purdue (6-6, 3-5) had three conference wins in the Big 12 over Iowa (4-8, 2-6), Illinois (2-10, 0-8) and Indiana (4-8, 2-6). Eeek.
There will be a lot of pressure to not be "that one team" that loses to a Big Ten bowl team, so the onus is on Oklahoma State's back. That a team is playing in a bowl against a team that most teams would be embarrassed to lose to makes this contest such a tough one.
Verdict: Loser
Jamie Squire/Getty Images

Once again, Bill Snyder is the miracle maker. The legendary Kansas State head coach's No. 5 Wildcats (11-1, 8-1) are going to Glendale, Arizona on January 3 to face the No. 4 Oregon Ducks in one of the best bowl games of the season.
We don't really need to explain why this bowl is just full of awesomeness, but we'll go ahead and touch on some of the highlights.
Each team has a Heisman candidate in Kenjon Barner (Oregon) and Collin Klein (Kansas State). Each team is ranked in the Top 5 and only has one loss. Each team has prolific offenses coached by brilliant minds in Chip Kelly and Bill Snyder.
This could be the BCS bowl of the year.
Verdict: Winner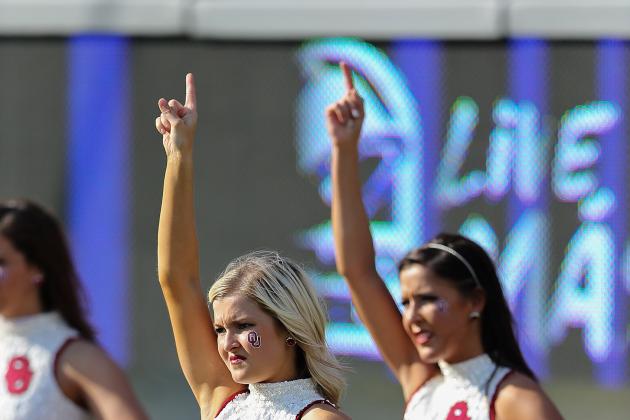 Kevin Jairaj-USA TODAY Sports

No. 11 Oklahoma (10-2, 8-1) faces former Big 12 foe No. 9 Texas A&M (10-2, 6-2) in the Cotton Bowl on January 4.
This is a great matchup, but the jubilee from both fanbases is probably tepid. Neither is going to a BCS Bowl. Moreover, facing a former conference foe sort of feels old and recycled.
The Aggies are 11-19 overall against the Sooners, but that was before quarterback Johnny Manziel was taking snaps for the Aggies, so this contest will be much different than previous contests.
Both Texas A&M and Oklahoma probably feel like they got jobbed by the BCS system (they did), and both wish they were playing in a BCS Bowl (they should be).
What we have are two snubbed teams with axes to grind so this could be an epic game. While the Cotton Bowl "wins" showcasing a great contest, I can't say the same for the Oklahoma Sooners.
Verdict: Loser