Tennessee Volunteers vs. Kentucky Wildcats: Live Scores, Analysis and Results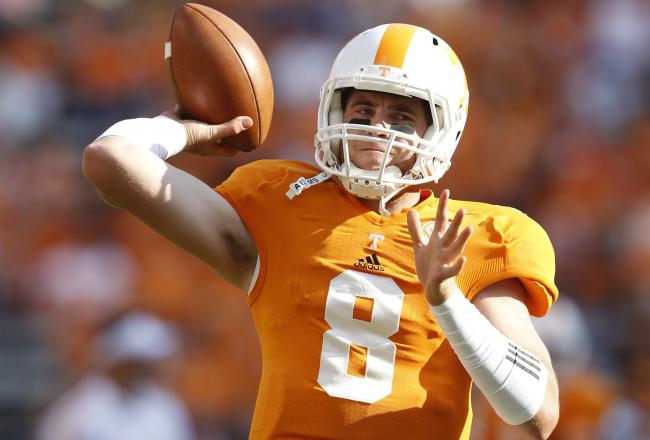 John Sommers II/Getty Images
Kentucky Wildcats 17, Tennessee Volunteers 37 — Final
The Tennessee Volunteers dominated the Kentucky Wildcats in the second half of the 107th edition of the Battle for the Barrel.
Tyler Bray led the Volunteers offense going 20-for-34 (58.8 percent) for 293 yards and four touchdowns. Cordarrelle Patterson, Justin Hunter and Mychal Rivera all looked like pro players going against a weak college team as receiving options. Marlin Lane and Raijon Neal were excellent running the ball as the entire Tennessee running game averaged 5.1 yards per carry.
On defense, Tennessee was able to dominate the second half with excellent play by A.J. Johnson and Jaron Toney. The Volunteers showed that there is a ton of talent on the roster this year in this game, but former coach Derek Dooley just couldn't get everything out of it.
All stats used are either from ESPN.com or cfbstats.com.
Scott Carasik is a Featured Columnist for Bleacher Report. He covers the Atlanta Falcons, NFL and NFL Draft. He is also the Falcons analyst at Drafttek, runs the NFL Draft Website ScarDraft.com and hosts Kvetching Draftniks Radio.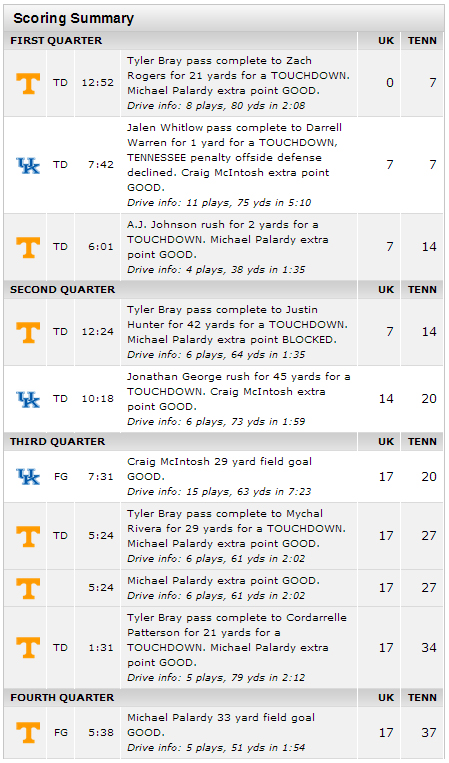 Final Box Score courtesy ESPN.
Taking over with just over four minutes left on the clock. All Tennessee had to do to win was run clock. And they did just that.
Kentucky Wildcats 17, Tennessee Volunteers 37 — Final
After taking over at the 24-yard line, a 15-yard facemask penalty helped the Wildcats move the ball. Then Jalen Whitlow followed up his almost picked pass with a 17-yard run.
The next two plays were a pair of short plays to set up a 3rd-and-12. On the 3rd-and-12, the Volunteers almost picked the ball off and caused a 4th-and-12. On what could be their final offensive play, the Wildcats failed to get the 12 yards and Tennessee takes back over at their own 40.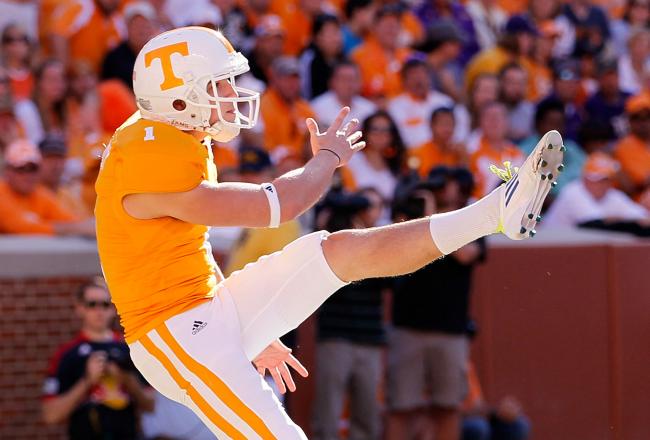 The very next play after the 4th down Marvin Lane completely flipped the field with a 45-yard run down to the Kentucky 21. A Raijon Neal run and an incomplete pass set up a 3rd-and-9 from the 20-yard line. On 3rd-and-9, Tyler Bray handed it off for a 5-yard gain and set up the final field goal.
Michael Palardy hit the 32-yard field goal to all but quelch the comeback.
Kentucky Wildcats 17, Tennessee Volunteers 37 — 5:38 4th Quarter
After another three plays set up a 4th-and-1, Joker Phillips said there was nothing to lose and went for it again. This time, Tennessee blew it up in the backfield for a two yard loss. Tennessee takes over at their own 34.
After the Vols pinned the Wildcats deep in their own territory, the Wildcats went with the standard pair of runs to set up a 3rd-and-5 from their own 10 which was easily converted.
Then another first down was gained easily by Raymond Sanders as he brought it to the 35-yard line. Another five yards on the next two set up a short third down again that Jonathan George caught a pass on for a first down out to the Vols 40-yard line.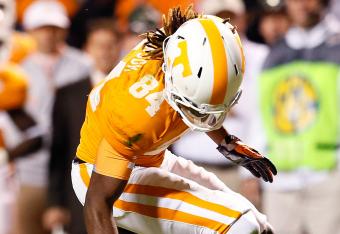 On 3rd-and-10, Tyler Bray just lobbed it up there so that Cordarrelle Patterson could make a play on it and he leaped for the 27 yard completion at the Wildcat 47. A pair of short runs later, and the Vols have 3rd-and-10 at the 47.
They finally got stopped by the Kentucky defense. If there was a time to comeback for the Wildcats, it's right now.
On 2nd-and-10 from their own 14 to start the 4th quarter, Tyler Bray opened it up with an efficient pass to Mychal Rivera for the first down. Bray, Rivera, Cordarrelle Patterson and Justin Hunter are going to be scary good in the pros.
Tyler Bray took over and launched a pass into the bench to close the third quarter out.
Kentucky Wildcats 17, Tennessee Volunteers 34 — End 3rd Quarter
Kentucky took over at their own 31-yard line and then got stuffed for no gain. Then, an incompletion on second down gives the Wildcats a 3rd-and-10 at their own 31. Another defensive lockdown on third down for the Volunteers is allowing them to run away with the game.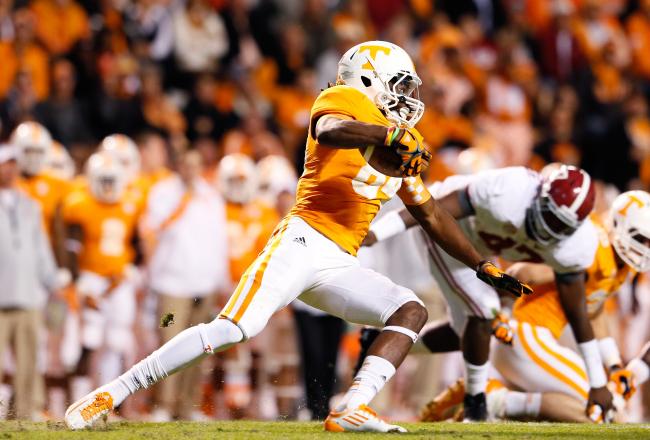 On 2nd-and-5 from the Wildcat 20-yard line, Tyler Bray hits Cordarrelle Patterson on a beautiful post route for the touchdown.
Kentucky Wildcats 17, Tennessee Volunteers 34 — 1:31 3rd Quarter
Taking over at their 21-yard line, Tyler Bray went deep for Zach Rogers on a play. Rogers got severely interfered with. Not a fan of just a 15-yard penalty for pass interference in college.
Then on a toss, Cordarrelle Patterson got 20 yards like it's nothing. His vision is scary good and as a whole he's just too much for the Wildcats to block. A pair of runs by Marlin Lane and Raijon Neal bring the ball to the redzone for the Vols.
Opening up at their own 20, Jalen Whitlow and La'Rod King got their signals crossed on the first play of the drive. Then the Tennessee defense forced just a five yards to be allowed on the next two for a three-and-out.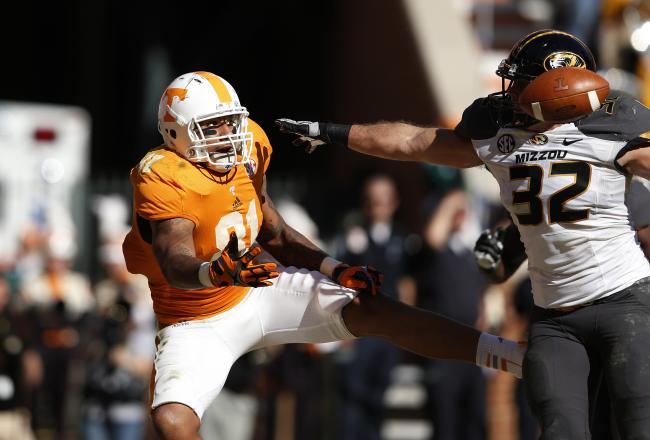 Jacob Carter gets another catch on 2nd-and-long situation to bring it to the 29. On 1st-and-10 from the 29, Tyler Bray hits Mychal Rivera for an easy touchdown pass.
Kentucky Wildcats 17, Tennessee Volunteers 27 — 5:24 3rd Quarter
Another low kick by Joe Mansour on the kickoff to give the Vols the ball at their own 39-yard line.
Tyler Bray got crushed on first down to force a deep incompletion. An efficient pair of passes to Jacob Carter and Cordarrelle Patterson later and the Vols have the ball 1st-and-10 at the Wildcat 43.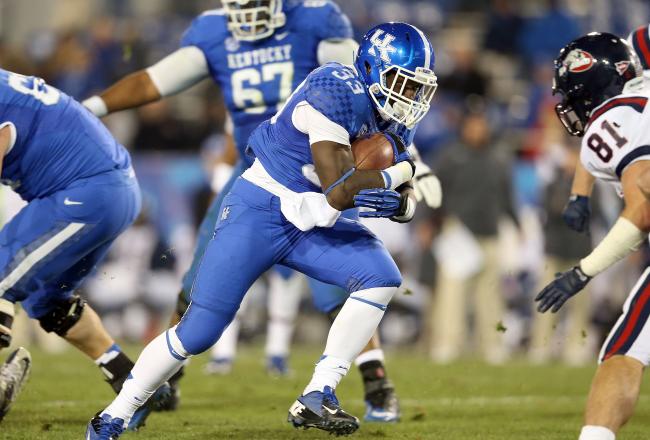 The tricks come out! Terrible reverse-pass play call that failed in more than one way to set up a third down that Jalen Whitlow hit Gene McCaskill for the first down on at the 10-yard line.
On 1st-and-goal from the 10, Whitlow hit La'Rod King at the 4-yard line. For 2nd-and-goal from the four, a false start penalty is what the Wildcats produced. Whitlow got sacked on the 2nd-and-goal from the nine to set up 3rd-and-goal from the 17 which also failed.
Kentucky ate a lot of clock on that drive trying to score but still wound up with just a field goal by Craig McIntosh is good.
Kentucky Wildcats 17, Tennessee Volunteers 20 — 7:31 3rd Quarter
After two plays gained a total of negative one yards, Kentucky had a 3rd-and-11 at the 37. On third down, they got stopped but still chose to go for it anyway. The 4th-and-11 play was a missed pass, but Whitlow threw it near an obvious defensive holding call for the first down.
And we are back from the half!
Taking over from their own 25, Jalen Whitlow missed Raymond Sanders on the first play of the half. After a seven-yard pass, Whitlow hit Tyler Robinson for a big 18-yard gain. The offense seems to move better with Whitlow in there than with Patrick Towles in there.
After a key out-route pass to La'Rod King, Kentucky has 1st-and-10 from the 14. A.J. Johnson gets a huge sack on Whitlow on the very next play though. Another short pass to La'Rod King sets up 3rd-and-15 from the 19-yard line.
Then Kentucky's Craig McIntosh missed the field goal to close the half out.
Kentucky Wildcats 14, Tennessee Volunteers 20 — Halftime
Jalen Whitlow is back in for the Wildcats and he's proving that he is a much better option for the Wildcats than Patrick Towles early. He's been efficient with his passes and very accurate on the actual throws. He's also showing some very good awareness by throwing it towards potential pass interference calls.
Add in some excellent rushing from Whitlow as well and the Wildcats have the ball at the Volunteer 28 with right around a minute left in the half.
Tennessee took over at their own 41 yard line after the stop. After a solid 5-yard run, Tyler Bray missed Zach Rogers deep. Then he got sacked and the Wildcats take over after forcing yet another three-and-out on the Tennessee offense.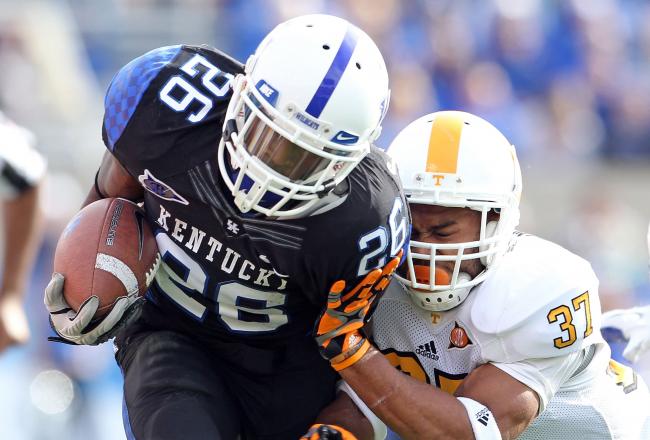 Taking over at their own 13, Patrick Towles came in. I hate two quarterback systems but let's see how this works.
He created a shorter third down and then hit Tyler Robinson for a 20 yard completion on that third down. Then after another couple of Raymond Sanders rushes set up a 3rd-and-1, Towles avoided a pair of tacklers and wound up getting the first down at midfield.
After another pair of runs by Sanders and Towles set up a short third, a close call on third down created yet another situation where the Volunteers stopped the Wildcats to force a short 4th down. Then Jordan Williams knocked Raymond Sanders down for a two yard loss. What a great defensive stop.
A pair of Marlin Lane runs and a short pass to Zach Rogers bring the Vols to right around midfield. Then the Kentucky defense locked down forcing another three-and-out on Bray. He is going to have to improve his accuracy on his throws.
He's 12-for-19 for 179 yards and two touchdowns, but he needs to be more efficient at hitting his crossing routes.
I don't understand the constantly terrible kickoff calls by Joker Phillips. Just kick it off deep and try to get the best field position.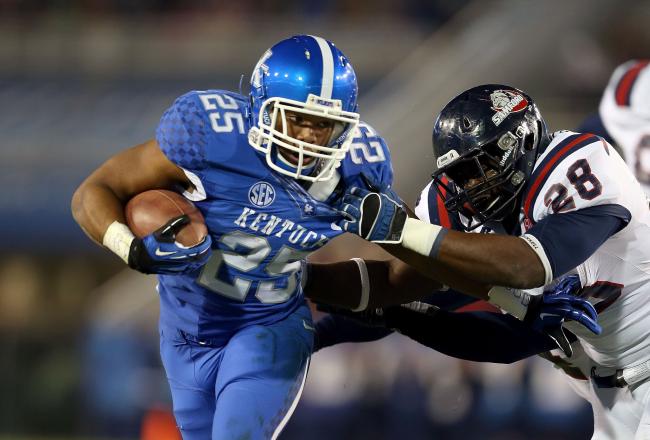 After taking over at their own 25, Kentucky got held to just seven yards on two plays to set up another third down. On the 3rd-and-3, Jalen Whitlow hit La'Rod King for the short first down. Then, on a flat route to La'Rod King, he caught it and brought it to midfield.
The Wildcats missed a deep pass and then Jonathan George ran right through the Tennessee defense untouched. He went 45 yards for a touchdown.
Kentucky Wildcats 14, Tennessee Volunteers 20 — 10:18 2nd Quarter
This article is
What is the duplicate article?
Why is this article offensive?
Where is this article plagiarized from?
Why is this article poorly edited?