Scouting and Breaking Down 5-Star QBs Max Browne vs. Christian Hackenberg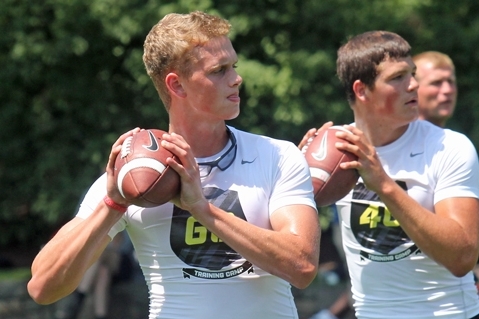 247Sports.com
Michigan fans, trust me when I say that I really do dig Shane Morris as a QB prospect and think he will be great for you in Ann Arbor. However, I have Max Browne and Christian Hackenberg as my top two QB prospects for this year, and this read will focus on those two guys.
As an evaluator and scout at heart, there are several traits, qualities, characteristics, skills or whatever you refer to them as that I look for in a QB. I want to break down both Browne and Hackenberg in each main QB category and give you who I think has the advantage.
This will be extreme fun, and if you want to know which of these two elite QB prospects has an advantage over the other, come inside and check this out.
Begin Slideshow

»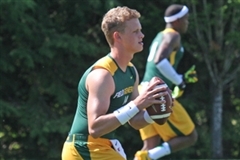 247Sports.com
Browne
Browne stands 6'5" and weighs just about 215 pounds. He has a very long frame with a lot of wire to it. He has made good strides in adding bulk every year in high school, and he could easily be 230 pounds before he leaves USC.
Hackenberg
At 6'4", 212 pounds, Hackenberg is slightly more compact than Browne is, and I think he has a thicker frame. Hackenberg also could leave Penn State in the 230-pound range, as he has a ton of physical growth potential.
Advantage: Browne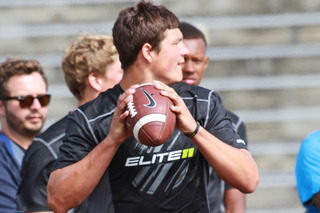 247Sports.com
Browne
The Washington native has good drop quickness, holds the ball neck to ear-high and maintains good balance in the pocket.
Browne's regarded as the most mechanically-sound QB in the country. He will need to work on his ball-handling and play-action fakes, but does show potential to work well under center. Browne could stand to improve his feet in the pocket.
Hackenberg
Hackenberg also has good mechanics, showing quick drops and the ability to set up in a hurry, but also plays with good balance at the top of his drops. He will have to improve his ball-handling, as his scheme doesn't require that of him right now. When Browne's feet are set, he's dynamic.
Advantage: Push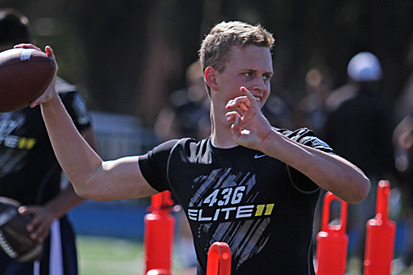 247Sports.com
Browne
Browne's compact mechanics allow him to get the football out with little wasted motion in a flash. He doesn't need to wind up to push the football deep, and he shoot to targets quickly. He has a very quick release of the football, and this is one Browne's best traits.
Hackenberg
The Penn State commit has a quick delivery and shoots the ball out from a 3/4 arm slot most of the time. He has a high release that he goes to at times, and it does appear to be natural.
Advantage: Browne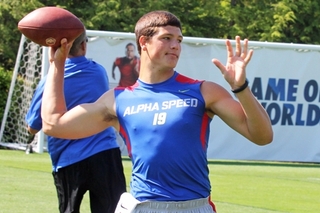 247Sports.com
Browne
Browne has the arm strength to attack all three levels of a defense. He doesn't have a cannon, and there are some QB's who may have more velocity on their balls than Browne, but he can push the football well all over the field. Browne also has excellent touch.
Hackenberg
When he wants to, Hackenberg can light up the field with flashes of a powerful arm. He can power throws downfield and intermediate to beat defenders, but he doesn't do this on a consistent basis. Hackenberg, like Browne, also has outstanding touch too.
Advantage: Hackenberg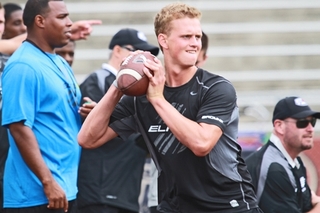 247Sports.com
Browne
The USC commit excels in ball placement. Browne has great accuracy to all levels of the field and can place footballs to targets at certain spots that no other QB in this class can. Whether he is set in the pocket or flushed on the move, Browne still can put on an accuracy clinic and throws with great anticipations.
Hackenberg
With his 3/4 delivery, Hackenberg is very good when he is in rhythm with his receivers, showing great anticipation. His accuracy also is top-notch thanks to Hackenberg's sound judgement, ability to fire into windows and lead targets.
Advantage: Browne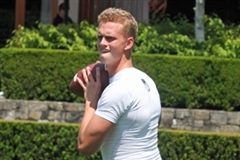 247Sports.com
Browne
A gym rat, Browne has excellent field vision and reads coverages well. He's a very heady and smart QB that can identify what's happening in the pre-snap phase, then mentally adjust his goals in the post-snap phase. He surveys the field, finds voids and makes sharp decisions to exploit them.
Hackenberg
Hackenberg sees the field well and has the ability to be to make quick, decisive reads. His decision-making is solid, but he does struggle to work through his reads at times and will make a bad throw into coverage at times. With more film work and reps, this should improve.
Advantage: Browne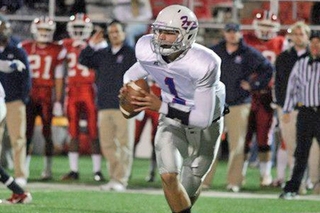 247Sports.com
Browne
I like Browne's poise and calm on-field demeanor, but his mobility isn't the best. Browne may have some problems escaping sacks in college and isn't a great athlete. He can throw on the run, but don't mistake him for a dual-threat QB any time soon. I liken his mobility to Tom Brady's.
Hackenberg
Penn State will see Hackenberg make a couple surprising runs in Happy Valley. He's a better athlete than Browne is and has superior mobility. Hackenberg can elude some rushers with quickness, and his poise is usually calm, as he doesn't appear rattled often.
Advantage: Hackenberg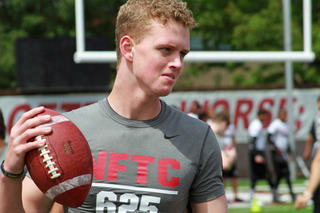 247Sports.com
In conclusion, these are two excellent QB prospects that I believe have the tools and mental acumen to be top-tier starting college QB's. Browne is committed to USC, while Hackenberg will likely stick with his Penn State pledge.
I didn't want to do anything to measure leadership and other intangibles, because I've never met either QB and I don't think those are things than can be tangibly judged. I will, however, say that I have read on several different occasions about Browne's terrific leadership traits.
As far as who I would personally take if I had to choose, I would tend to lean towards Browne, as he has better size, field vision and decision-making.
Edwin Weathersby has worked in scouting/player personnel departments for three professional football teams, including the New York Giants, Cleveland Browns and the Las Vegas Gladiators of the Arena League. He spent a year evaluating prep prospects and writing specific recruiting and scouting content articles for Student Sports Football (now ESPN Rise-HS). A syndicated scout and writer, he's also contributed to WeAreSC.com, GatorBait.net and Diamonds in the Rough Inc., a College Football and NFL Draft magazine.