Nebraska Football: Grading All 22 Starters from the Ohio State Game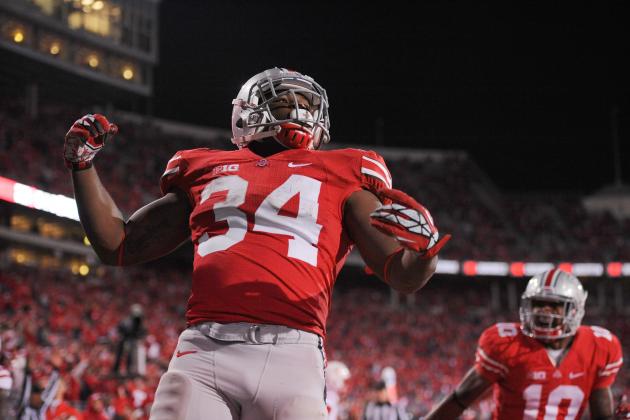 Jamie Sabau/Getty Images

Ohio State beat Nebraska 63-38 in Columbus, scoring more points than anyone else against a Bo Pelini-coached defense. Nebraska held a 17-7 lead in the second quarter and had prevented the Buckeyes from gaining a first down in the first quarter.
Things got worse from there, needless to say.
So let's take a look at the grades of each Nebraska starter on a scale of 1-10 (yes, I am officially outing myself as a soccer fan doing it this way) to get an idea of exactly where Nebraska struggled.
Begin Slideshow

»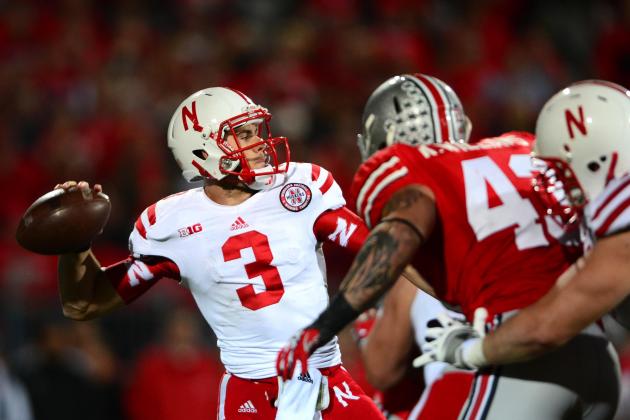 Andrew Weber-US PRESSWIRE

Taylor Martinez, QB, 5: Time to party like it's 2011. In what was a theme for Nebraska, Martinez reverted back to his pre-guru form on a number of occasions, making poor throws and poor decisions leading to turnovers. Martinez hadn't looked this bad since, well, the last time he was an underdog on the road in a conference game. And much (but not all) of the progress we had seen in the first five games of the season evaporated, with all three of his interceptions directly related to Martinez reverting to his poor mechanics from his pre-guru days.
Rex Burkhead, RB, 8: Burkhead's power and elusiveness seemed to be what Nebraska could rely on to keep Ohio State's defense on its heels. Once he went down and it became clear that he wasn't coming back in, Nebraska's offense became infuriatingly predictable. And given that Nebraska is pretty clearly outmatched physically on the offensive line against teams like the Buckeyes, that loss of balance on offense was simply fatal.
Andy Janovich, FB, 6: Janovich, as a freshman, has clearly impressed the coaching staff to earn a starting spot at fullback. But Mike Marrow, the much-heralded transfer, saw quite a bit of playing time, meaning that Janovich certainly hasn't locked the job down yet.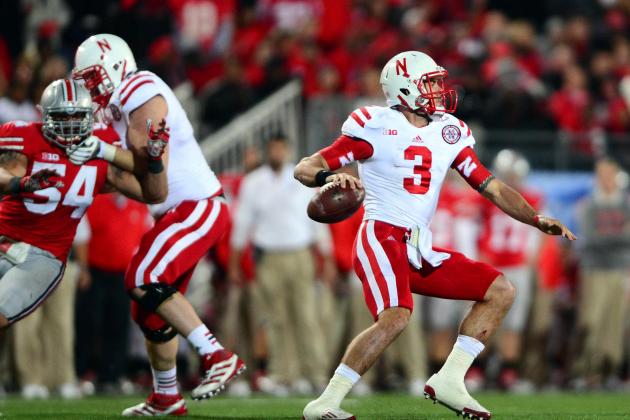 Andrew Weber-US PRESSWIRE

Brent Qvale, LT, 4: On a regular basis, Qvale was unable to protect the blind side of Taylor Martinez and unable to create creases for Nebraska to establish any kind of running attack, particularly when NU became one-dimensional in the second half. A false start penalty doesn't help his grade, either.
Seung Hoon Choi, LG, 5: Choi maintained a penalty-free game, but also failed to stand out or stand up to Ohio State's dominant defensive line showing in the second half.
Justin Jackson, C, 4: Jackson's failure to snap the ball when expected appeared to cause one of Nebraska's false-start penalties, downgrading his score from an already-disappointing night for NU's offensive line.
Spencer Long, RG, 5: Penalty-free, but the best returning offensive lineman did little to stand out from his linemates in a poor performance for the team.
Jeremiah Sirles, RT, 4: Responsible for one of Nebraska's false starts, as well as whiffs on incoming rushers that blew up plays repeatedly.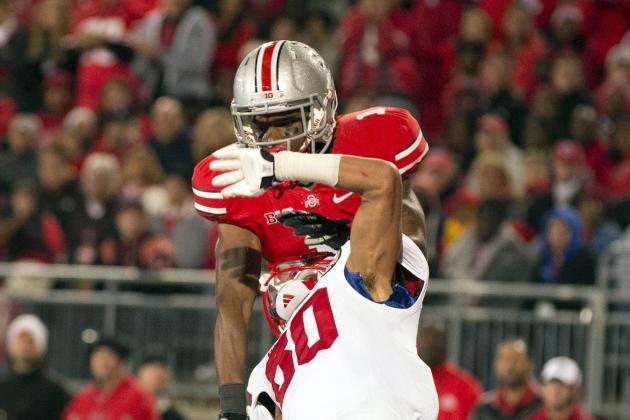 Greg Bartram-US PRESSWIRE

Kenny Bell, WR, 8: Only a sophomore, Bell is beginning to demonstrate he is one of the great wide receivers in the B1G. Bell had five catches for 133 yards, including an impressive grab over the middle followed by a tough run handling Ohio State's secondary.
Quincy Enunwa, WR, 6: Enunwa blocked well downfield as always, but missed a catchable pass in the end zone and was otherwise quiet in performance. Enunwa only had one catch for three yards.
Ben Cotton, TE, 6: Cotton did pull in a touchdown for Nebraska, one of his two grabs for 19 yards. But he also struggled along with the rest of the offensive line in providing protection for Taylor Martinez and running room for Nebraska's backs.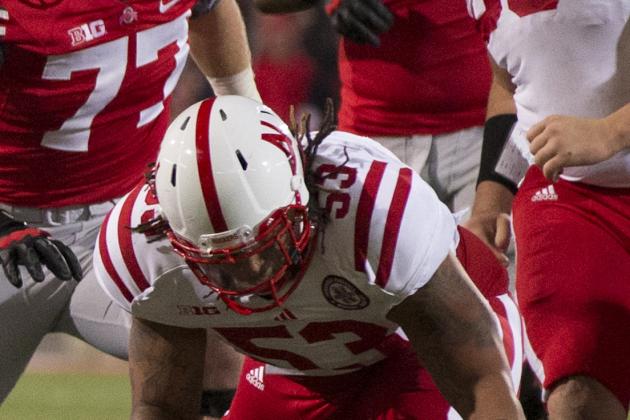 Greg Bartram-US PRESSWIRE

Eric Martin, DE, 7: If there was anyone who had a solid game on defense for Nebraska, it was Martin. He recorded nine total tackles and two sacks and seemed to be the only player able to cause Ohio State problems in the backfield.
Thaddeus Randle, DT, 6: A fumble recovery helps the score for Randle on an otherwise-anonymous performance for a defensive line that was well-beaten by Ohio State's offense.
Baker Steinkuhler, DT, 4: For the guy who was supposed to be Nebraska's standout on the defensive line, Steinkuhler simply did not make a significant contribution. He only recorded three tackles and was part of the defensive line that fell apart in the second half.
Cameron Meredith, DE, 5: For as well as Eric Martin performed on one end, Meredith underperformed on the other. He was unable to hold an edge and prevent Ohio State's quarterback counter plays from being successful and was flagged for a personal foul.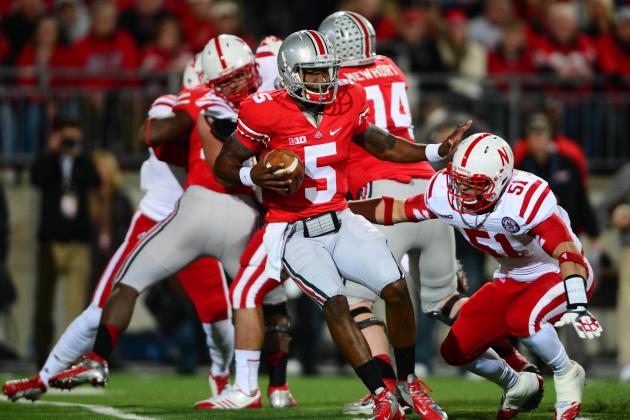 Andrew Weber-US PRESSWIRE

Will Compton, MLB, 6: Ohio State clearly targeted Compton as Nebraska's most dangerous linebacker and was effective in scheming him out of the game for long stretches. He was able to make some plays, particularly in a blitz situation, finishing the game with nine total tackles.
Alonzo Whaley, OLB, 6: Whaley held his own in a game where it was surprising to see him start, given the nature of the opponent. He ended the contest with eight total tackles.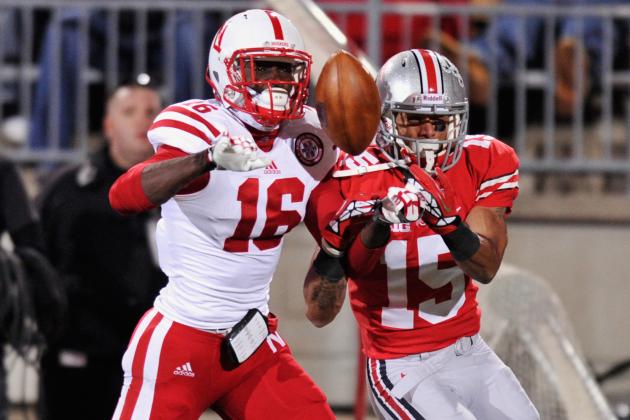 Jamie Sabau/Getty Images

Stanley Jean-Baptiste, CB, 6: It wasn't Nebraska's pass coverage that let NU down defensively, and Jean-Baptiste took advantage of his opportunity to play reasonably well.
P.J. Smith, S, 5: Smith did have eight total tackles, but much of the responsibility for slowing down Ohio State's quarterback counter fell on the safeties, and the Buckeyes tortured Nebraska with that play throughout the second half.
Daimion Stafford, S, 5: Stafford had a missed interception which could have affected the momentum of the game and struggled along with his fellow safeties to corral Braxton Miller.
Josh Mitchell, CB, 5: Mitchell has struggled throughout the season in both pass coverage, and both of those deficiencies were on display against Ohio State on Saturday.
Ciante Evans, NICK, INC: Evans' injury makes it difficult to judge his score overall, but Nebraska's struggles in his absence suggests he is an important part of Bo Pelini's plans.
If you'd like to contact Patrick to schedule an interview, provide feedback or get advice on which type of chocolate goes best with fresh fruit (spoiler alert: dark), then e-mail patrickrunge@gmail.com.
Or, you could always...Follow @patrickrunge