Tennessee vs. Georgia: Breaking Down QB Battle of Tyler Bray and Aaron Murray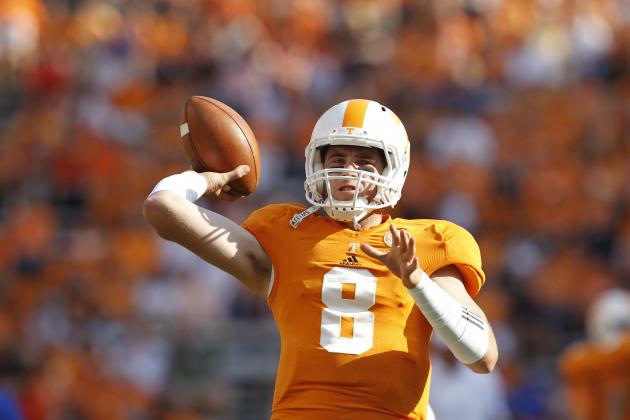 John Sommers II/Getty Images

With Florida having a week off, and teams such as Alabama and LSU playing cupcake games, the best game in the SEC in Week 5 will be between Tennessee and Georgia.
The Bulldogs are considered favorites to win the SEC East and return to the championship game, while the Volunteers are out to prove that this year is better than the last.
The quarterbacks, though, are the ones to watch. A battle between Tyler Bray and Aaron Murray should be very entertaining, as the SEC has produced solid quarterback play through the first month of the season.
Both quarterbacks have a possible future at the next level if they continue on the track they are on.
But, who is the better of the two at the moment?
Let's break down these two quarterbacks and see who has the advantage.
Begin Slideshow

»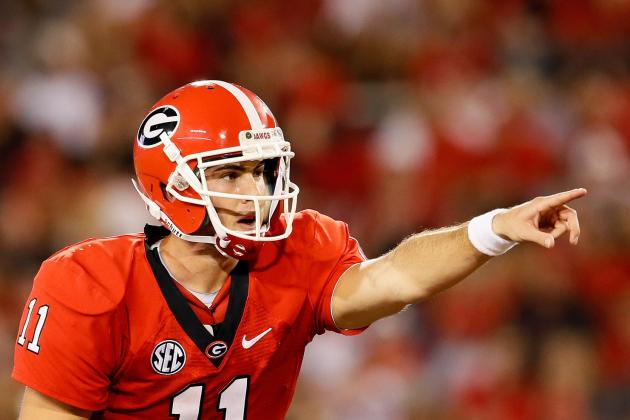 Kevin C. Cox/Getty Images

Aaron Murray
There aren't many throws that the junior quarterback can't make.
He has enough arm strength to really intrigue NFL scouts and is capable of making any throw on the football field. His throwing mechanics are as consistent as they come and he usually puts the ball exactly where it needs to be, whether on the intermediate routes or deep ball.
Tyler Bray
Much like Murray, Bray has a great deal of arm strength and is capable of throwing the football with a lot of velocity.
I would like to see him step into his throws a bit more, as he does tend to throw standing still. However, very few of his throws give defenders enough time to make a play.
His deep ball is excellent, as he has generated nine plays of more than 25 yards in the first four games.
Edge: Aaron Murray—Murray may not have a Matthew Stafford type arm, but he is capable of delivering the ball where it needs to be. Meanwhile, Bray still needs to work on his mechanics and on setting his feet when releasing.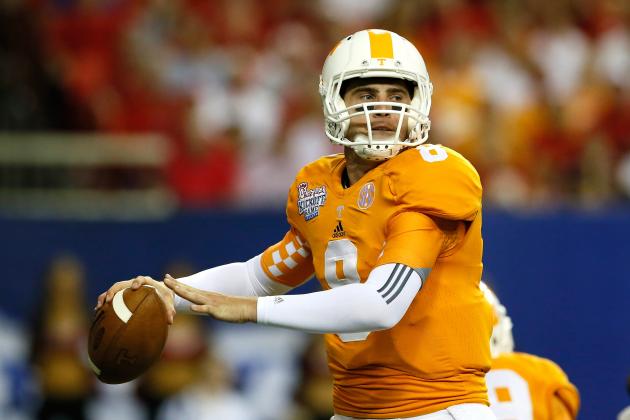 Kevin C. Cox/Getty Images

Aaron Murray
Usually the benchmark for an accurate college quarterback is completing at least 60 percent of your throws.
Murray completed less than that last season, but has improved his completion percentage to more than 66 percent in 2012.
Although he has thrown 16 interceptions since 2011, his footwork is one of the best in college football, which usually results in a nicely placed football.
Tyler Bray
This is the junior quarterback's third season as a starter for Tennessee and this will be the first time he has topped a 60 percent completion percentage. He is currently at 63.5 percent through the first four games.
Bray has only thrown nine interceptions since 2011. He has the tendency to force passes where they should not be thrown.
Despite the great timing with his throws, Bray still needs to work on developing more of a touch on his passes.
Edge: Aaron Murray—Bray takes too many chances with the football to be considered an accurate quarterback at this stage in his career.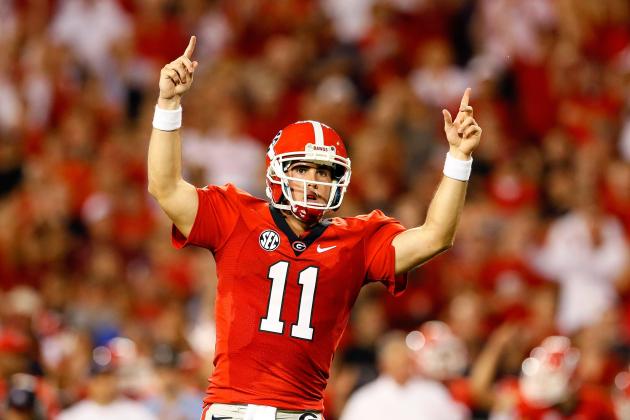 Kevin C. Cox/Getty Images

Aaron Murray
Judging by Murray being sacked 62 times since 2010, you would think the quarterback doesn't move around well in the pocket, but that has more to do with mediocre offensive line play than anything else.
The Georgia quarterback does a solid job of moving his feet, stepping up in the pocket and doing a good job of extending the play.
He is able to find receivers on the run and does a good job of setting his feet when throwing the ball.
Tyler Bray
Bray does a good job of sensing pressure and moves around well to buy a little bit of extra time.
He isn't the most athletic quarterback in the world, but he is quick enough to escape the pressure in the pocket.
He does a good job of keeping his eyes down field, but with his questionable decision making, pressure can be a bad thing for the junior quarterback, as he will force passes.
Bray is a quarterback that is best when staying in the pocket.
Edge: Aaron Murray—Murray is one of the best college quarterbacks at extending the play and buying extra time to throw the ball.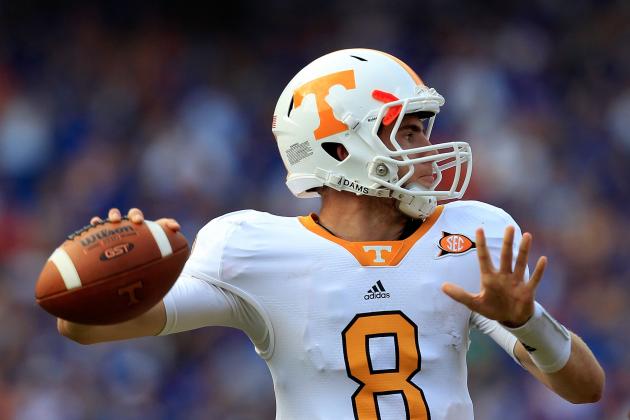 Sam Greenwood/Getty Images

Aaron Murray
The biggest knock on Murray is his lack of size.
At just 6'1" and 210 pounds, many NFL teams may shy away from the quarterback because he isn't the ideal height to become a legitimate starting quarterback.
However, with Russell Wilson, who is listed at 5'11", playing well for the Seattle Seahawks, this may not be held over his head as much come draft day.
And while it is a positive that Murray was able to take leadership of a big program such as Georgia as a redshirt freshman in 2010, he does have a 2-8 record against ranked opponents.
When you play against top tier teams in the SEC, scouts expect you to be able to produce in the big games, which the Bulldog starter hasn't done yet.
Tyler Bray
While Bray has ridiculous size at 6'6", he may be too confident with the football. There is not a throw that the quarterback doesn't think he can make, and that includes seeing a receiver in double coverage.
As far as Bray stepping up in the big moments, he missed many of the key games last season with a thumb injury. This forced the quarterback to miss games against teams like LSU, Alabama and South Carolina—contests that would have shown us a lot about his character on the field.
Edge: Tie—Both quarterbacks have question marks in this category and have yet to really prove themselves in big games.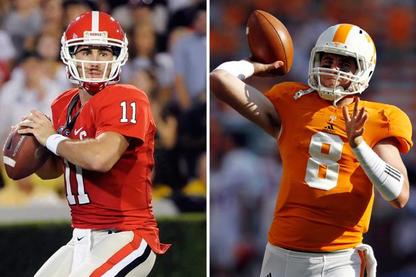 Photo Credit: timesfreepress.com
Tyler Bray reminds me a lot of Florida State quarterback E.J. Manuel. They both have all of the talent in the world, but have yet to fulfill anywhere close to their potential.
The Tennessee quarterback has the arm strength, size and is capable of making some of the toughest throws. But on the other hand, he still makes bad decisions with the football and still shows poor footwork that result in a lot of inaccurate passes.
Bray has often been compared to Jay Cutler, another quarterback that has all of the tools, but has yet to play with any consistency. That bad decision making can cost you many games.
Aaron Murray may not have as high of a ceiling as Bray, but as of right now, he is the more polished quarterback. He has the arm, the footwork and the football IQ. And he makes far less boneheaded decisions than Bray does.
Ask me this question in a year or two, and my thoughts may change.
But if both quarterbacks were to enter the 2013 NFL draft, it would be Murray that would likely end up being picked over Bray, the quarterback that plays for Tennessee.
And because of that, hopefully Bray returns for his senior season in Knoxville to work on a few things and improve his draft stock.