Power Ranking the SEC Quarterbacks After 4 Weeks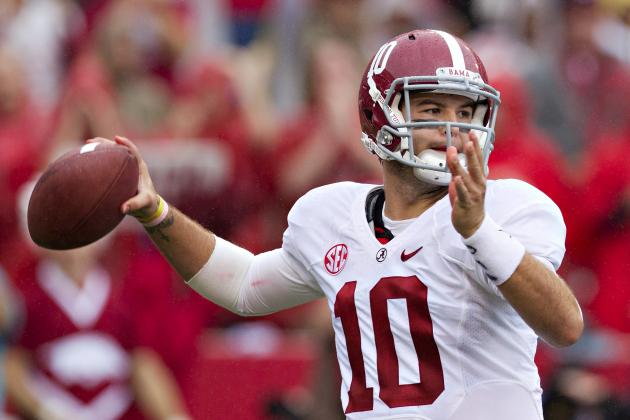 Wesley Hitt/Getty Images

The SEC is really known for three things: playing stifling defense, running the football and winning BCS National Championships. If you are looking for the sexy offensive production, this conference is not for you, as throwing the football is really a secondary option.
But this season, there must have been more passing plays added to the playbook, as a total of six SEC teams rank in the Top 50 in passing offense (via cfbstats.com). Four quarterbacks have over 100 pass attempts through the first month of games, and the conference is scoring points with ease.
There have been a few surprising quarterbacks step up and quietly make a name for themselves, while a future NFL prospect has seriously hurt his draft stock.
Here is how each SEC starting quarterback stacks up after the first month of the 2012 college football season.
Begin Slideshow

»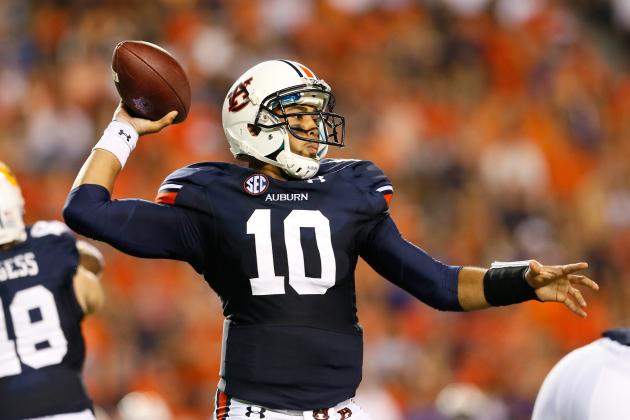 Kevin C. Cox/Getty Images

Before the season began, many believed that Kiehl Frazier had the skill set to become the next Cam Newton. Maybe with those huge expectations, the sophomore quarterback was destined to fail before his career even started.
The first-year starting quarterback is only completing 52 percent of his passes and has thrown seven interceptions. He has only completed one pass in the red zone all season long and doesn't look comfortable on the football field at all.
The good news is that Auburn as a team has been a disappointment, so we can't blame everything on the young signal-caller. Still, his upside remains, and hopefully, he can begin developing into the quarterback we all thought he was going to be before he took the field.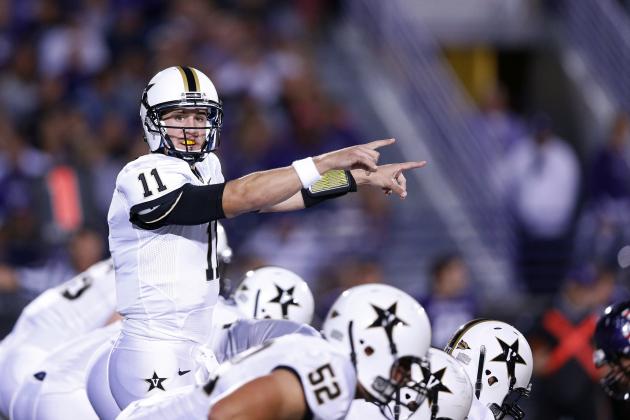 Joe Robbins/Getty Images

A couple of months ago, wide receiver Jordan Matthews said his quarterback was the best in the SEC.
My boy @jrodgers11 is the best qb in the SEC. Gonna rep us today at media day

— Jordan Matthews (@jmattjmattjmatt) July 17, 2012
Well, he has looked nothing like it early on, completing less than 55 percent of his passes and throwing for only two touchdowns in three games of playing time. He was even benched for a quarterback named Austyn Carta-Samuels back in Week 3 before gaining his starting job back.
Overall, Rodgers has a lot of improving to do before we can consider him anything close to his brother Aaron.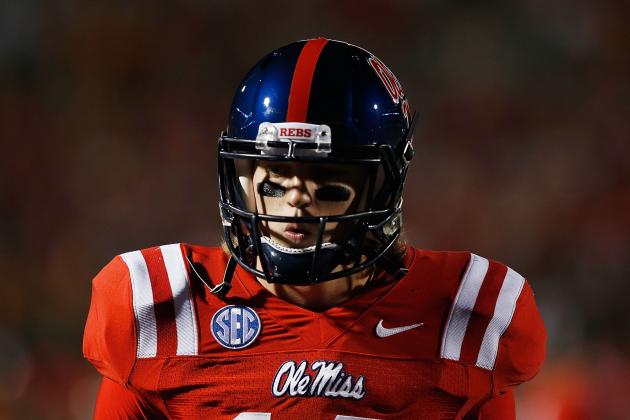 Scott Halleran/Getty Images

For a first-year starting quarterback, Bo Wallace hasn't played that bad. He has created nine plays that have resulted in over 25 yards, is completing 64 percent of his passes and has led the Rebels to a 3-1 start to the season. He is also doing a solid job of making plays with his feet, as he has rushed for 179 yards and two touchdowns.
But like all young quarterbacks, Wallace makes boneheaded decisions with the football, as he has thrown four interceptions on the year, three of which came against Texas. The season doesn't get any easier for Ole Miss, but with a solid running game to rely on, Wallace could surprise some people this year.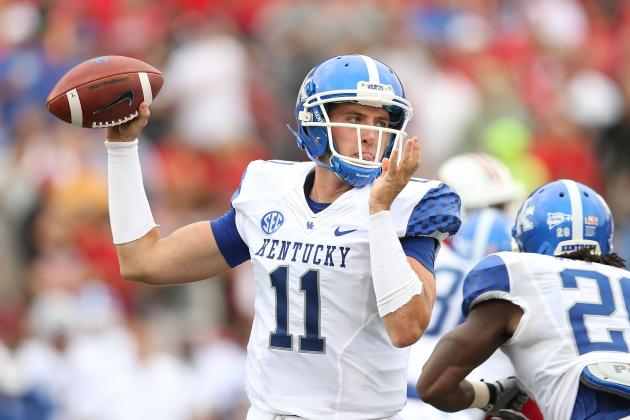 Andy Lyons/Getty Images

Maxwell Smith is doing a great job of completing 68 percent of his passes. He is also a perfect 12-12 inside the red zone and has produced 22 plays of 15 yards or more in just three games. And for what it is worth, he has thrown for the third-most yards among SEC quarterbacks with his 966 passing yards so far this year.
The bad news is that he threw four interceptions in the game against Western Kentucky, which certainly didn't help in the overtime loss to the Hilltoppers.
Smith has dealt with shoulder issues the past week, but if he can avoid the turnovers, the sophomore has a solid chance to move up this list a bit.
Wesley Hitt/Getty Images

There was a time when some considered Tyler Wilson to be the best NFL-ready quarterback in all of college football. He may still have some of those tools to be a solid NFL prospect, but the Razorbacks' season really hasn't helped his draft stock.
Once a team that was thinking national championship, Arkansas is now fighting just to become bowl eligible after a 1-3 start. While there are many fingers to point, Wilson hasn't exactly helped, as he is completing fewer than 60 percent of his passes, has thrown three interceptions and is dealing with injury issues.
If the Razorbacks are going to turn things around, it will start with the senior quarterback.
Ed Zurga/Getty Images

James Franklin has yet to play up to his potential, as he showed last season that he is one of the top dual-threat quarterbacks in college football. This season, the junior has had a hard time staying healthy and has yet to show us some of that big-play ability we saw back in 2011.
The good news is that he has the weapons around him to really step his game up moving forward. The bad news is that teams such as Alabama, Florida and Texas A&M remain on the schedule. Hopefully, we begin to see some of the old Franklin that many Missouri fans fell in love with last year.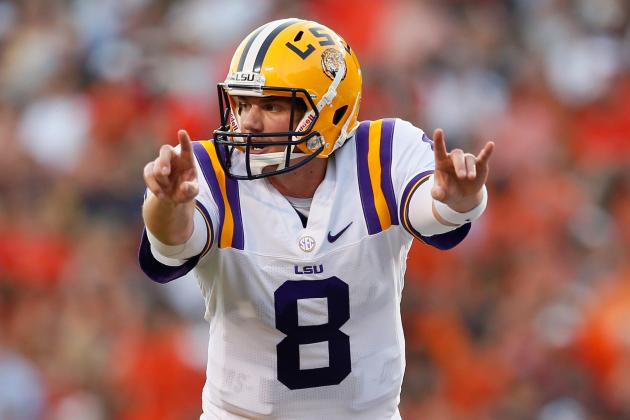 Kevin C. Cox/Getty Images

Remember when Zach Mettenberger was supposed to actually give LSU a passing game for the first time under head coach Les Miles? Well, after four games, the Tigers are ranked 101st in passing yards, which is 12th in the conference.
Mettenberger has the size, arm strength and accuracy to impress NFL scouts, but he simply isn't used enough to become a real factor in this offense. His 93 attempts are good for fifth in the SEC, and he is completing a solid 67 percent of those passes.
You would like to see the coaching staff open the playbook up a little bit more for the first-year starter, as he has the look of a possible game-changing quarterback.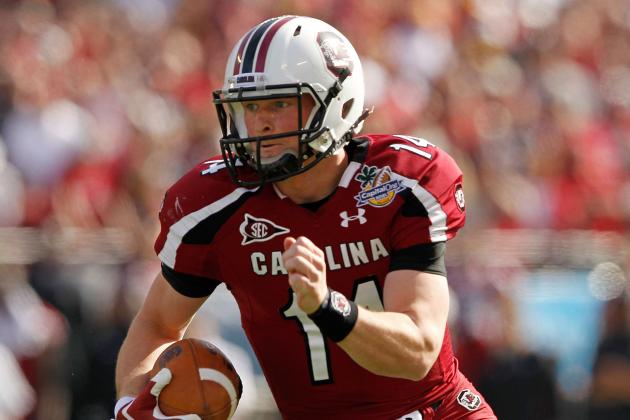 Mike Ehrmann/Getty Images

Much like Franklin, Connor Shaw has also been dealing with shoulder issues that have kept him sidelined for a while. He missed the entire second half of the Vanderbilt game and did not play at all against East Carolina in Week 2.
Still, when healthy, the junior is completing 76 percent of his passes and is averaging four yards a carry when making plays with his feet. He can continue to improve his decision making, but the second-year starter has shown that he is the perfect quarterback for head coach Steve Spurrier's offense. Now, the Gamecocks just need him to stop taking hits and remain healthy.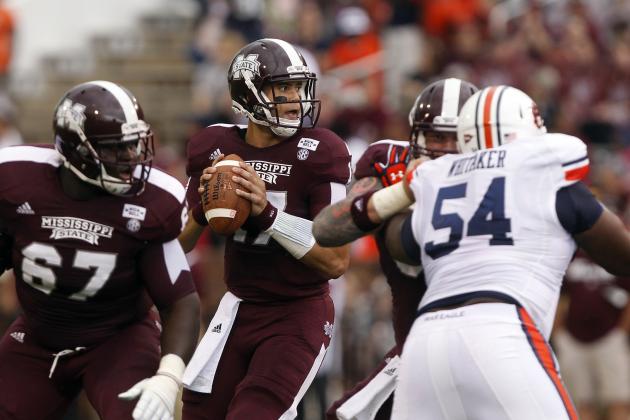 Butch Dill/Getty Images

Mississippi State has jumped out to a 4-0 start and has quickly become a ranked team. While you can give its aggressive defense a majority of the credit, quarterback Tyler Russell has done a good job of making plays in his first full year as a starter.
In just four games, Russell has generated 22 plays of over 15 yards, is completing 70 percent of his passes in the red zone and has eight touchdown passes to just one interception. I would like to see him improve his overall completion percentage of 55 percent, but the Bulldogs really can't complain with the way he is coming along.
This is a team and quarterback the rest of the SEC should watch out for as we enter conference play.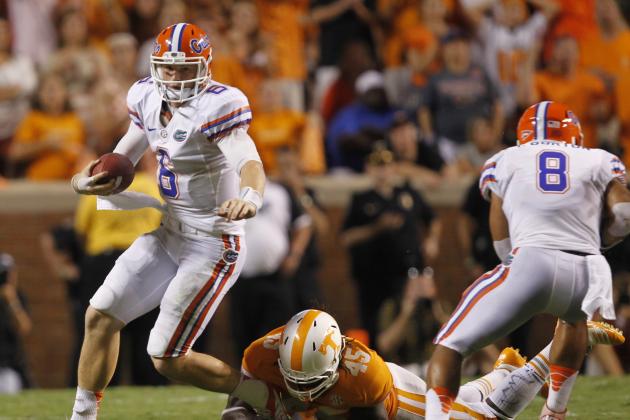 John Sommers II/Getty Images

If there is any quarterback on this list that can move up this list, it is certainly Florida Gators Jeff Driskel. Florida is ranked dead last in throwing the football, but that really has nothing to do with the sophomore quarterback. The Gators are a run-first football team that asks very little of Driskel unless they absolutely have to.
Still, he is completing 69 percent of his passes, is 10-for-12 throwing the ball in the fourth quarter and has thrown only one interception out of 79 pass attempts. What makes this quarterback even scarier is that he is beginning to make plays with his legs, as he has racked up 148 rushing yards in four games.
The more this first-year starter gets comfortable, the better this Florida team will be.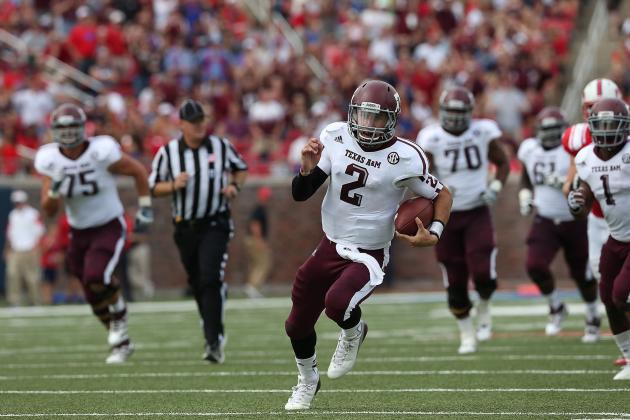 Ronald Martinez/Getty Images

Many Aggie fans were surprised when freshman quarterback Johnny Manziel was named the starter heading into the first game of the season. After three games, nobody in College Station is questioning the coach's decision any longer.
The young quarterback has played out of his mind to begin the season. He has scored 12 total touchdowns in just three games, is completing 67 percent of his passes, has yet to turn the ball over and has produced many big plays with his legs, as he also has 262 rushing yards.
It will be fun to see how the freshman responds to tougher SEC defenses, but he certainly looks like the real deal early on.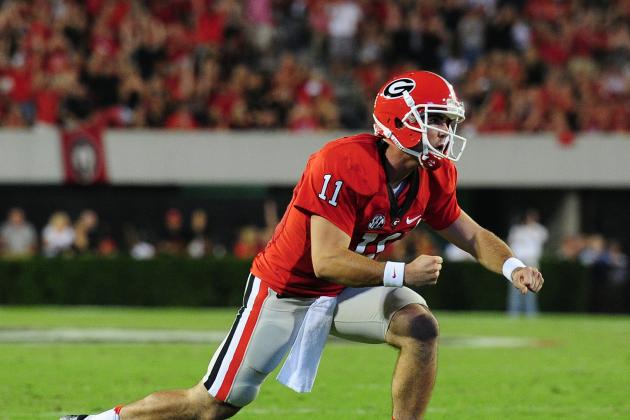 Scott Cunningham/Getty Images

Aaron Murray really made a name for himself last year when he threw for over 3,100 yards and 35 touchdowns. This season, he is off to exactly the same start, as he has thrown for over 1,000 yards and 10 touchdowns in the first four games.
The junior quarterback has created 14 passing plays over 25 yards and has helped produce the ninth-best scoring offense in the entire country. Of course, it must be nice to have a fantastic running game to lean on, but Murray is beginning to prove that the hype is real.
If he can continue these types of performances, he will not only become a Heisman candidate, but also be worthy of a first-round NFL draft pick.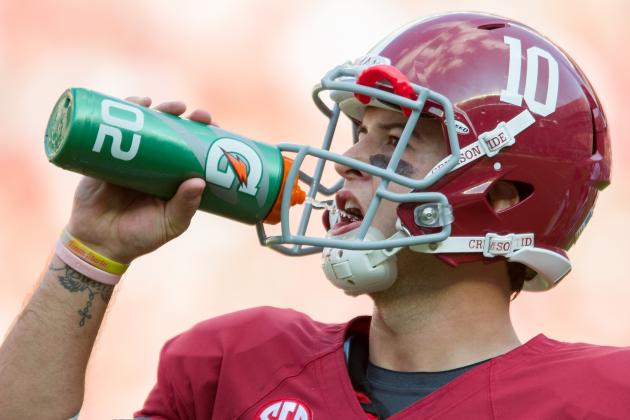 Michael Chang/Getty Images

AJ McCarron went from being a game manager last season to having many jump on the Heisman bandwagon early this season.
While there are certainly many candidates to choose from, you can make a solid case that the junior quarterback is the most valuable player on this Alabama roster. He has only thrown the ball 81 times but is completing 63 percent of his passes and has thrown 10 touchdowns. McCarron has also gone seven consecutive games without throwing an interception dating back to last season.
If Alabama remains unbeaten and he continues this impressive showing, Heisman consideration is not out of the question.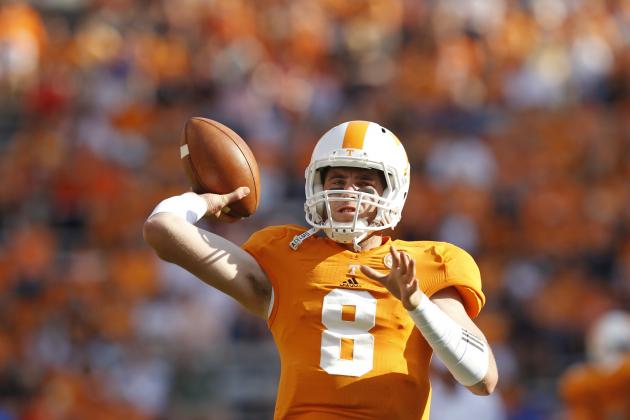 John Sommers II/Getty Images

This may surprise some, but Tyler Bray does not have a ridiculous running game to lean on like the other top quarterbacks in this conference do. The ground game has improved drastically since last season, but the 172 rushing yards a game are still ranked eighth in the conference, while the 4.45 yards per touch is good for 10th.
Bray has thrown for over 300 yards in three of the first four games, while he has also thrown at least two touchdowns in every game this year. His 325 passing yards per game average is good for second in the conference, and he has picked up 61 of his team's 102 first downs.
You can make a case that McCarron should be in this spot, but Bray is doing more with less and is getting the job done early on for his team.