Winners and Losers from Day 1 of SEC Media Days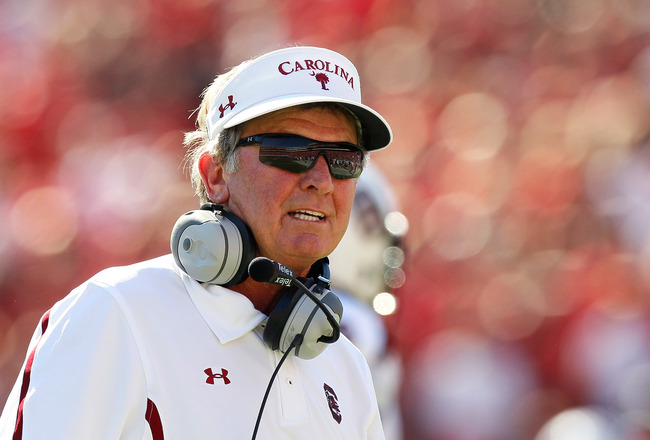 South Carolina head coach Steve Spurrier
Kevin C. Cox/Getty Images
The annual circus known as SEC Media Days hit the Wynfrey Hotel in Hover, Ala. on Tuesday, with South Carolina, Vanderbilt, Texas A&M and Missouri making the rounds.
There is never a shortage of story lines at this event, and Tuesday was no exception. Whether it be the revelation that the SEC's secret plans for a network aren't a secret anymore, or the always-entertaining Steve Spurrier or the surprisingly funny T.J. Moe, media days always produces its share of good times and bad.
Who were some of the winners and losers of SEC Media Days? SEC lead blogger Barrett Sallee was on scene and shares his thoughts in this slideshow.
Winner: SEC Commissioner Mike Slive
SEC commissioner Mike Slive
Aaron M. Sprecher/Getty Images
SEC commissioner Mike Slive again had reform on his mind at SEC Media Days, following up last year's Agenda for Change with a second edition to kick off the event.
Slive stressed the importance of pushing through legislation that would grant full cost of attendance scholarships for student athletes.
"It remains important for us to continue to focus on increasing the amount of a full scholarship to provide student-athletes with financial resources to meet the full cost of attendance," Slive said.
While Slive pushed for more money for student athletes, his conference will see more money in the future now that the not-so-secret "Project X" has become known to the public as "Project SEC."
Translation: The SEC Network is coming.
That's not too much of a surprise though. The addition of Texas A&M and Missouri added four of the top 31 media markets in the United States, which means Slive will be backing up the Brinks truck to the front doors of cable and satellite providers in the near future.
Winner: South Carolina Head Coach Steve Spurrier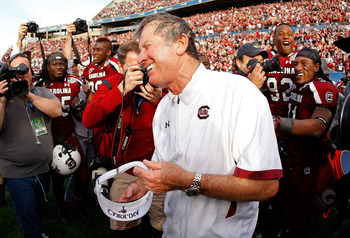 South Carolina head coach Steve Spurrier
Mike Ehrmann/Getty Images
Often times, Media Days is a time filled with coach speak, cliches and people talking a lot, but saying nothing.
That's not the case with the Head Ball Coach.
South Carolina head coach Steve Spurrier got things started with a bang in Hoover, slinging one-liner after one-liner.
One of which was in the direction of Oxford, Miss.
When asked about the fact that cross-division games favor Georgia and not his Gamecocks this season, Spurrier shot back.
"You think I make the schedule," Spurrier quipped. "If I made the schedule, Georgia would be playing LSU and we'd be playing Ole Miss."
Ouch.
Is it a shot? You bet. But it's a solid quote that came out of an event that typically is filled with extracurricular story lines and coach speak.
Bravo, Mr. Spurrier.
Loser: Ole Miss Rebels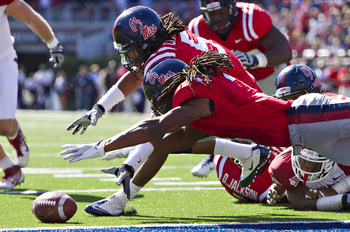 Wesley Hitt/Getty Images
The Ole Miss Rebels didn't take their turn on Tuesday, but they still became a punch line thanks to Spurrier's knock against them.
Spurrier insinuated that he would rather play Ole Miss than Arkansas, which is South Carolina's permanent cross-division rival for one more season.
It takes some talent...or some serious issues, to become a punch line within your own conference. But according to the Head Ball Coach, that's exactly what Ole Miss is these days.
Winner: Missouri Wide Receiver T.J. Moe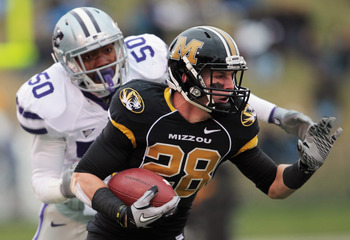 Missouri WR T.J. Moe
Jamie Squire/Getty Images
Steve Spurrier has some competition for the best joker in the SEC.
Missouri wide receiver T.J. Moe held court in the Internet/Radio room of the Wynfrey Hotel, and was the star of the day.
When asked if the SEC was truly the Southeastern Conference now, Moe suggested a new name.
"This isn't the Southeastern Conference," Moe said." It's the bottom right corner conference."
Not to be outdone, Moe was asked about new teammate Dorial Green-Beckham and if the true freshman wide receiver is ready to be a playmaker right out of the gate.
"If you look at LeBron James and take away about 40 pounds, that's Dorial," said Moe.
Consider that a ringing endorsement of Green-Beckham from a player that will be lining up beside him this fall.
Just how good was Moe? The assembled members of the media gave him a slow clap as he exited the room.
Loser: Missouri Wide Receiver T.J. Moe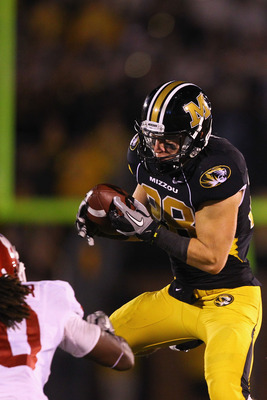 Missouri WR T.J. Moe
Dilip Vishwanat/Getty Images
Moe achieved the impossible and made both "winners" and "losers" with his performance.
He was great, don't get me wrong. But one quote may have been over the line...especially to other members of SEC offenses.
"In the Big 12, we put our best athletes on offense," Moe said. "In the SEC, they put their best athletes on defense."
Cam Newton, Trent Richardson, Tim Tebow, A.J. Green and Julio Jones may have something to say about that.
No knock against Moe. He was fantastic on the day. But this quote could be construed as a slight against SEC offenses, even though—in reality—he was trying to entertain.
It was a poor choice of words and it may make bad headlines, but I hope nobody holds a grudge against Mr. Moe.
Loser: Vanderbilt Head Coach James Franklin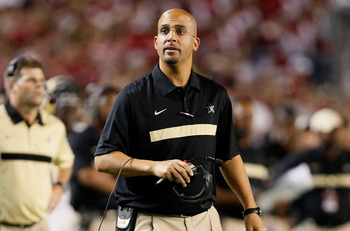 Vanderbilt head coach James Franklin
Kevin C. Cox/Getty Images
James Franklin is the type of head coach that Vanderbilt needs to be successful.
His high energy and tenacity on the recruiting trail has given the Commodores new life and a renewed sense of importance in the SEC East.
Franklin insinuated as much during his press conference.
"Last year, I walked down radio row, hit the mall and turned around without anyone wanting to talk to me," Franklin said.
That's great and all, but the second-year Vanderbilt head coach continued to harp on the desire for Vandy to earn respect in the SEC.
I think that already happened.
A 6-6 season in Nashville is mighty impressive, especially since four of those loses were by six or fewer points to established SEC powers.
Playing the respect card was something for last year. Vandy is already recognized as a team on the rise, and accepting that and wearing it with pride is the next step Franklin needs to make.
Winner: Texas A&M Head Coach Kevin Sumlin
Texas A&M head coach Kevin Sumlin
Stacy Revere/Getty Images
Texas A&M head coach Kevin Sumlin didn't hold back. The first-year Aggie head coach recognizes the knock against his team from last season that they couldn't finish football games, and job No. 1 for him is to fix things in house.
"When you're facing a bunch of top 10 teams, we have a ways to go based on where we were as a program last year and the things to clean up," Sumlin said. "We talk to our team all the time about our SEC schedule, the teams we're playing—Florida, Alabama, LSU. We need to worry about us first. We've got enough things in our own program right now that we have to get fixed before we start worrying about those games."
It's a season of change in College Station, and Sumlin knows it.
He already recognizes the weakness of his team and isn't afraid to say it, even if it is viewed as a knock against his players and/or the previous regime.
Keep Reading