Big Ten Football Tweets of the Week: Michigan's Hipster Left Tackles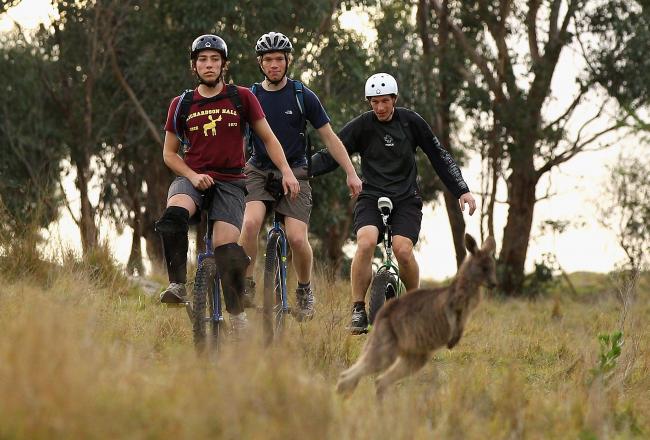 Michigan's next great linemen. And a wallaby or whatever that is.
Quinn Rooney/Getty Images
Every Friday on the Big Ten Blog, we'll bring you the best Big Ten-related tweets of the week.
Earlier, we brought you the incontrovertible proof that Michigan's star left tackle Taylor Lewan is a hipster. We not only stand by that claim, we now buttress it with evidence that Lewan's hipster nature is rubbing off on his backup as well. Behold, via Tom VanHaaren of ESPN.com: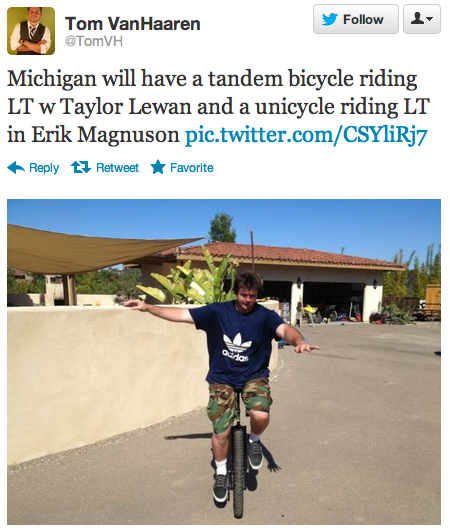 Unicycle. Camo shorts. Adidas shirt. HIIIIIIPSTERRRRRRRRRRRRR.
Montee Ball was watching the Miami Heat put the finishing touches on their NBA Championship—that's basketball, folks—and like many sports fans, Ball seemed to recall a certain ESPN commentator and his relentless criticism of Heat star LeBron James:
everyone on skip Bayless now lol

— Montee Ball (@M_Ball28) June 22, 2012
YOUTUBE BONUS: Skip Bayless doesn't care for GI Joe either.
Everyone's waiting on the release of EA Sports' NCAA 13, and EA is cannily leaking tiny detail after tiny detail, ramping up the anticipation. To that end, WHO-TV sports anchor Keith Murphy tweeted this screencap of an Iowa-Nebraska battle. And, uh...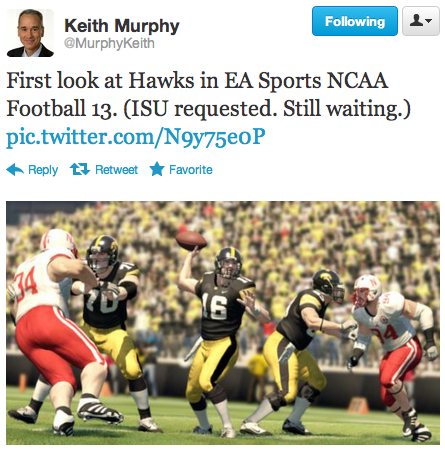 ...now look. Everyone seems more or less realistically rendered here. It's just that it looks like James Vandenberg has no idea how to throw a football. It just looks like he's about to short-arm it sideways like a five year old.
We know that's not how the game actually plays (it's not, right?), but still, weird angle there.
Last, the Jerry Sandusky trial sucks for everyone involved and we're not going to talk about anything case-related here. We will, however, take notice of Sandusky attorney Karl Rominger, who has taken to Twitter during his off-hours in a remarkable way.
As Onward State notes, he's constantly tweeting trivia questions and inviting followers to hang out with him at pool halls and bars in the area, which, well, he's allowed to do.
@zhtroll a guy named Joe Six pack said what?

— Karl E. Rominger (@karl_rominger) June 22, 2012
We don't envy Rominger for the job he's undertaking in this trial, but we do admire his ability to keep his sense of humor outside the court room.
This article is
What is the duplicate article?
Why is this article offensive?
Where is this article plagiarized from?
Why is this article poorly edited?