College Football's Most Dangerous Defensive End Duos for 2012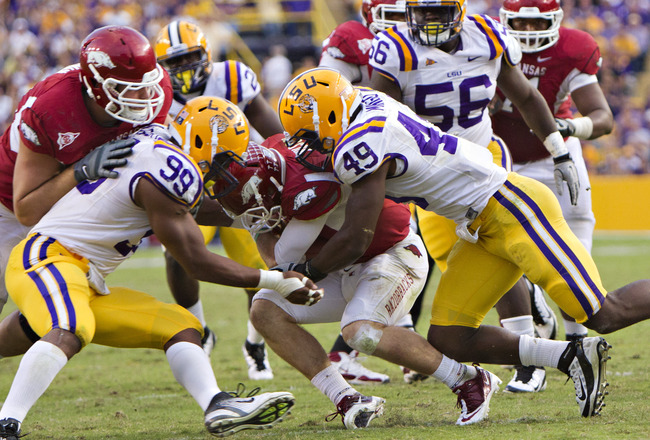 LSU's Sam Montgomery and Barkevious Mingo are a quarterback's worst nightmare
Wesley Hitt/Getty Images
In college football, it's no secret that offensive skill-position players such as quarterbacks and running backs usually tend to soak up most of the attention and accolades year after year. If you want proof of that, just head to your nearest convenience store and pick up one of the dozens of college football preview magazines this summer.

I doubt that you'll see too many defensive ends donning the covers or being mentioned among the Heisman hopefuls. However, just because they don't receive the same type of publicity as big-name offensive stars, that doesn't mean that top notch ends aren't just as valuable to a team's success.

In this year's NFL draft, seven of the 32 first-round picks were defensive ends, which goes to show you that pro franchise recognize how important pass-rushers are in today's pass-happy era of football.

The same thing is true in college.

Most teams would call themselves lucky if they had one premier pass-rusher to showcase on defense. However, there are a select few squads who are actually spoiled enough to have two standout edge-rushers that they can unleash.

So, which teams will be making life miserable for both offensive tackles and quarterbacks this season?

Here's a look at the most dangerous defensive end duos in college football for the 2012 season.
Sam Montgomery and Barkevious Mingo, LSU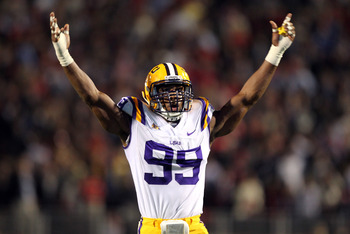 Sam Montgomery
Joe Murphy/Getty Images
In just the past seven years, LSU has had 11 defensive linemen taken in the NFL draft, including three players—Michael Brockers, Tyson Jackson and Glenn Dorsey, who were picked in the Top 15.
The Tigers are about to send two more highly coveted defensive linemen to the pros, but first, Sam Montgomery and Barkevious Mingo will again spend the 2012 season terrorizing quarterbacks.
You could make the argument that Montgomery and Mingo are the two best defensive ends in the country, and both appear destined to join the group of LSU defensive linemen who eventually became Top 15 draft picks.
Last year, the two junior ends combined for 19.5 sacks and 26.5 tackles for loss, and they were constantly causing havoc in opponents' backfields all season long.
Mingo and Montgomery seem like they're both primed to have All-American style campaigns this season, and they'll be the featured players on what should be college football's most talented and tenacious defensive line of 2012.
Alex Okafor and Jackson Jeffcoat, Texas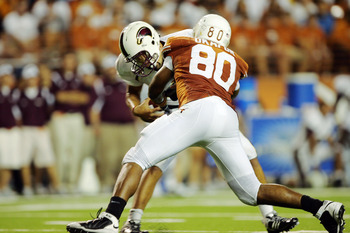 Alex Okafor
Brian Bahr/Getty Images
LSU isn't the only school that could have two defensive ends taken in the first round of the 2013 NFL draft. Scouts will also be paying close attention to Texas' talented tandem of Alex Okafor and Jackson Jeffcoat this season.
Okafor and Jeffcoat were two of the premier pass-rushers in the Big 12 last season, as they combined for 15 sacks and 35 tackles for loss in 2011.
The scary part is, Okafor, a 6'4'', 260-pound senior, and Jeffcoat, a 6'5'', 250-pound junior, are only begging to tap their real potential, and both should perform at an even higher level in 2012.
Both players could stand to bulk up a bit this offseason to allow them to be more sturdy against the run, but their athleticism and pass-rushing prowess is unquestioned, and they should embarrass plenty of Big 12 offensive tackles this season.
I had both Okafor and Jeffcoat rated in the Top 20 of the recent watch list I put out for the 2013 NFL draft, and I think that each of them has the potential to develop into truly elite pro prospects over the course of the 2012 season.
Bjoern Werner and Brandon Jenkins, Florida State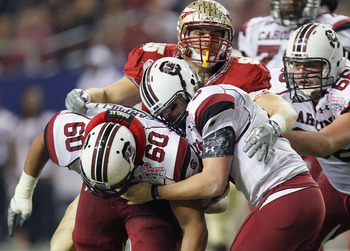 Bjoern Werner
Kevin C. Cox/Getty Images
After putting together a sensational sophomore season in 2010, in which he tallied 13.5 sacks and 21.5 tackles for loss, Florida State DE Brandon Jenkins entered this past season as one of the most hyped defensive players in the country. However, Jenkins failed to live up to expectations in 2011, as he faced constant double teams and chip blocks.
The 6'3'', 265-pound senior did still manage to notch eight sacks and 12 tackles for loss, though, and he was aided by the emergence of fellow end Bjoern Werner on the other side of the line.
Last year, Werner displayed the type of overwhelming power and strength that proved to be just too much for many offensive linemen to handle, as the German native racked up seven sacks, 11 tackles for loss and eight quarterback hurries.
Now, offenses won't be able to double-team and focus on stopping Jenkins all that much in 2012, as Werner will certainly make them pay if they do.
Jenkins and Werner complement each other extremely well, and they'll once again be two of the centerpiece players of a Florida State defense that should be one of the strongest units in college football this season.
William Gholston and Marcus Rush, Michigan State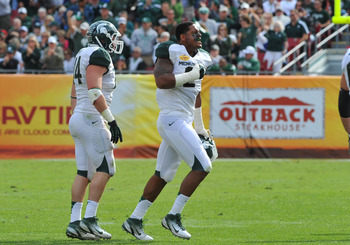 William Gholston and Marcus Rush
Al Messerschmidt/Getty Images
William Gholston might just be the most intimidating defensive lineman in college football this season, and if he can play with the same type of reckless abandon while learning how to not cross the line and earn personal foul penalties, he's going to be an absolute force to be reckoned with in 2012.
Last year, Gholston emerged as Michigan State's most consistent defensive lineman, and he enjoyed a breakout campaign, racking up five sacks and 70 total tackles in 2011.
The 6'7'', 275-pound junior's sheer size is enough to scare off many offensive linemen, but when you add his incredible burst off the edge and crushing power, he's got the type of rare total physical package that you just don't see very often.
Teams will certainly be looking for a way to neutralize Gholston and keep him out of the backfield this season, which should help free up his counterpart Marcus Rush to make plenty of plays of his own.
Rush, a 6'2'', 250-pound sophomore, may not be as big or as scary as Gholston is, but he's got the type of talent to put together another highly productive campaign in 2012.
After redshirting in 2010, Rush stepped out onto the field last year and proved his worth immediately by notching four sacks and 58 total tackles.
Michigan State could have the best defense outside of the SEC this season, and both Gholston and Rush will undoubtedly be two of the key defensive playmakers for the Spartans in 2012.
Jadeveon Clowney and Devin Taylor, South Carolina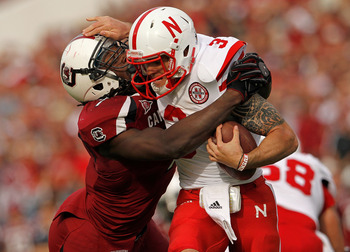 Jadeveon Clowney
Mike Ehrmann/Getty Images
Jadeveon Clowney arrived at South Carolina as one of the most publicized high school football recruits of all time, so it wasn't surprising to see Clowney immediately become an instant impact player for the Gamecocks defense as a freshman in 2011.
Last year, Clowney proved that his high school hype was legitimate by notching six sacks and 11 tackles for loss in his first year of action.
The 6'6'', 256-pound sophomore is one of the most gifted and skilled defensive lineman in the country, and now that he's gotten a taste for what SEC competition is really like, he should be ready to take the next step to stardom in 2012.
Clowney will again be joined up front by fellow end Devin Taylor.
Taylor is a 6'7'', 260-pound senior who looks just as much like a power forward as he does a defensive end. "Too Tall" Taylor packs a lot of athleticism and explosion into his big frame, which he showed last season when he racked up 42 tackles and six sacks.
Both ends have the type of speed and burst off the edge to consistently fly around tackles and penetrate into the backfield, and both Clowney and Taylor know how to find their way to the quarterback.
While South Carlina's front-four will miss versatile lineman Melvin Ingram, the No. 18 pick in the 2012 NFL draft, with Clowney and Taylor both back, the Gamecocks will have the type of speed on the edge that they need to keep offenses in check all season long in 2012.
Corey Lemonier and Nosa Eguae, Auburn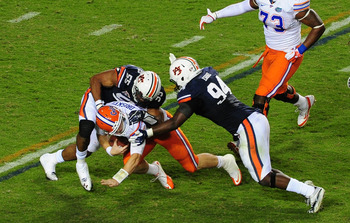 Corey Lemonier and Nosa Eguae
Scott Cunningham/Getty Images
Auburn's defense as a whole left a lot to be desired last season, as the Tigers ranked 11th in the SEC in both total defense and scoring defense, giving up an average of 408 yards and nearly 29 points per game.The largely inexperienced unit did feature a few bright spots, though, and defensive ends Corey Lemonier and Nosa Eguae were two of them.
Last season, Lemonier led the team with 13.5 tackles for loss, 9.5 sacks and 15 quarterback hurries, while Eguae finished the year with six tackles for loss and 12 quarterback hurries.
Although, Eguae's sack total wasn't impressive, the 6'3'', 258-pound junior was still a menace to quarterbacks all season.
Eguae has the type of physical makeup to be a star in the SEC in 2012, but it's Lemonier who will likely garner the most attention this season. The 6'4'', 240-pound junior is a well sculpted physical specimen who possesses terrific strength and outstanding explosion.
Both players will be playing on Sundays some day soon, but before that, they're going to be the key pieces of an Auburn defensive line that should be one of the strongest front-fours in not just the SEC, but the entire country this season.
John Simon and Nathan Williams, Ohio State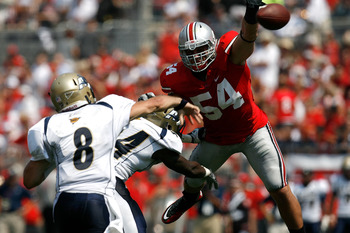 John Simon
Kirk Irwin/Getty Images
When DE Nathan Williams went down for the year with a knee injury in the first game of the 2011 season, the Buckeyes needed someone to step up and lead the way up front, and fellow end John Simon proved to be just the player for the role.
Last season, Simon truly came into his own and he became one of the most disruptive defensive lineman in the Big Ten, as he led the Buckeyes with seven sacks and 16 tackles for loss in 2011.
The 6'2'', 270-pound senior appears to have a future playing on Sundays, but before he takes the leap to the pros, he's going to once again be the key leader of the Buckeyes' talented defensive front-four in 2012.
With Williams set to return to the lineup this season, and with supremely talented defensive tackle Johnathan Hankins back to control the interior, Ohio State should have one of the most stout defensive lines in the country this season.
Simon will be the key to the unit's success, and if he can build on his 2011 campaign and put together another dominant effort this season, it doesn't look like opponents are going to have much consistent success against the Ohio State defensive front in 2012.
Wes Horton and Devon Kennard, USC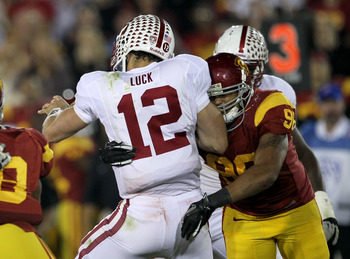 Wes Horton
Stephen Dunn/Getty Images
USC will have to replace its sack leader Nick Perry, who declared for the 2012 draft after notching 9.5 sacks and 13 tackles for loss in 2011. The good news is the Trojans will benefit from having Wes Horton and Devon Kennard, who should be able to make up for the loss of the talented first-round pick.
Like Perry, Horton will likely hear his name called early on in the draft next year, and Kennard should intrigue scouts as well, as he has the physical makeup and skill set to easily make the transition to 3-4 rush linebacker in the NFL.
Last year, the two senior ends combined for six sacks and 8.5 tackles for loss, but they'll now be counted on to be even bigger producers in 2012.
Horton is a big, physical end, who has the anchor strength to stifle blockers and make plays at the line of scrimmage in the run game, while Kennard is an athletic and explosive edge-rusher who can beat almost any offensive tackle off the snap.
While the Trojans will definitely miss Perry, along with departed defensive tackles DaJohn Harris and Christian Tupou, USC will still have the type of pass-rushers it needs to strike fear in the hearts of quarterbacks in 2012.
James Gayle and J.R. Collins, Virginia Tech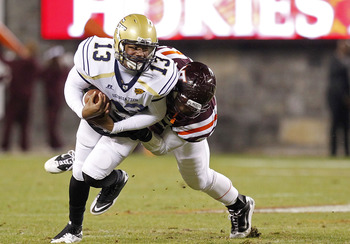 James Gayle
Geoff Burke/Getty Images
Virginia Tech has had some absolutely dominant defenses during coordinator Bud Foster's tenure, and this season, Foster will have all the right pieces to put together another standout unit.
Two of the most important players on Virginia Tech's defense will be defensive ends James Gayle and J.R. Collins.
Last year, Gayle and Collins each stepped into the starting lineup and excelled, as they combined for 13 sacks and 22 tackles for loss.
The two junior ends are some of the most explosive defensive linemen in the ACC, and they'll once again be the focal points of a pass-rush that finished first in the conference with 41 total sacks in 2011.
Now that Gayle and Collins have a feel for what it takes to be a starter week in and week out, they should feel comfortable enough to really let loose in 2012. They could be poised to each put up double-digit sack campaigns this season.
Kapron Lewis-Moore and Stephon Tuitt, Notre Dame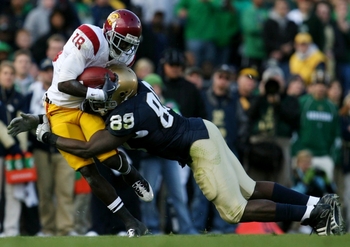 Kapron Lewis-Moore
Jonathan Daniel/Getty Images
Notre Dame experienced a big blow this offseason when sophomore defensive end Aaron Lynch, who was the team-leader with 5.5 sacks in 2011, decided to transfer to South Florida.
While Lynch will certainly be missed, the Irish still have two talented pass-rushers, Kapron Lewis-Moore and Stephon Tuitt, on the ends of their three-man defensive line.
Lewis-Moore is an experienced veteran who has been a reliable starter for the last three seasons. The 6'4'', 306-pound senior has racked up six sacks and 13.5 tackles for loss during his time in South Bend.
Tuitt, on the other hand, is coming off an impressive freshman campaign, in which he had 30 tackles and two sacks. The former 5-star recruit looks like he has a bright future ahead of him, and it's easy to say that the 6'6'', 295-pound sophomore is one of the most talented young defensive linemen in the country.
With Tuitt and Lewis-Moore flanking tackle Louis Nix III in 2012, Notre Dame should have one of the strongest and most active defensive lines in college football this season.
Walter Stewart and Dan Giordano, Cincinnati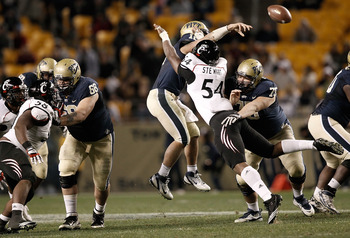 Walter Stewart
Jared Wickerham/Getty Images
Cincinnati lost some key defensive pieces such as DT Derek Wolfe and LB J.K. Schaffer, but the Bearcats will bring back two of the best defensive ends in the Big East, Walter Stewart and Dan Giordano.
Stewart enjoyed a breakout campaign in 2011, notching six sacks and 11 tackles for loss last year, while Giordano put together an impressive season of his own, totaling 34 tackles and five sacks.
Both seniors are strong, athletic pass-rushers who can penetrate into the backfield on a consistent basis and get to the quarterback.
The Bearcats will certainly miss Wolfe and fellow departed defensive tackle John Hughes in the middle of their defense, but with Stewart and Giordano remaining on the outside, Cincinnati should still have one of the best defensive lines in the conference in 2012.
Keep Reading