The Main Takeaway from Every Top 25 Teams' Spring Game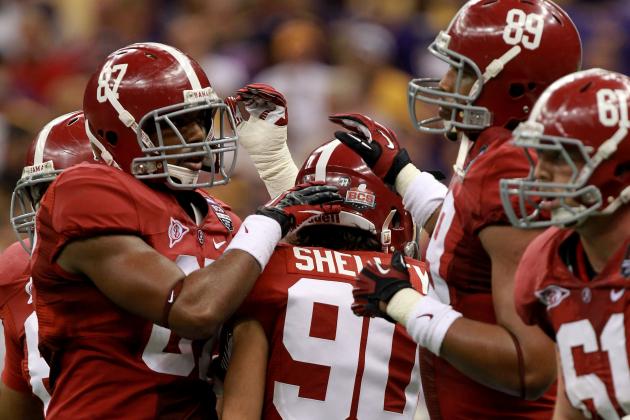 Ronald Martinez/Getty Images

College football has moved past the spring practice portion of the season, and we're now about to enter the dog days of summer.
You know, that time of year where there's almost no college football news, save for the odd arrest, crazy injury while body surfing or other random negativeness.
That means now would be a pretty good time to take stock of the successes—and maybe even the failures—of our teams following spring ball.
What questions were answered? What questions remain? And in the end, what did we learn?
As usual, we'll try to help you on your journey of college football discovery. Here, we'll look at the one main thing we took away from spring football from the Top 25 college football teams.
Begin Slideshow

»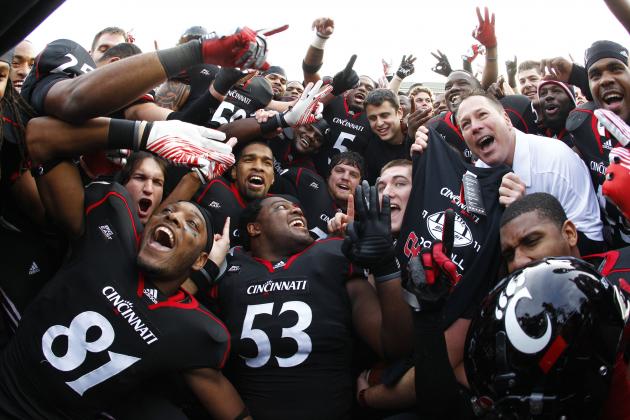 Tyler Barrick/Getty Images

It's a little hard to comment on the Cincinnati spring game, considering the Bearcats were chased indoors by a little rain.
Rather than carrying on a traditional spring game in the rain, head coach Butch Jones opted for a practice inside.
With just 11 combined starters returning from 2011, including only four on offense, it's clear Jones has his work cut out for him.
The Bearcats had a strong spring and escaped without any season-ending injuries. That being said, our main takeaway from Cincy's spring was the fact that we're left totally unexcited about Cincinnati—and the Big East as a whole—as we approach 2012.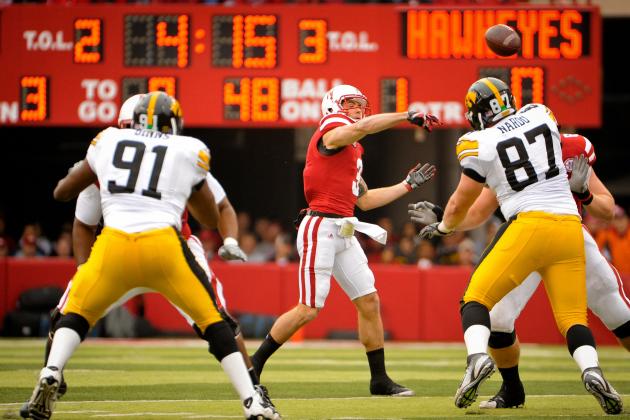 Eric Francis/Getty Images

Nebraska opted to not go with a spring game this year, which hampers our ability to take something away from it.
We are anxious to see if Taylor Martinez can improve his ghastly completion percentage from his first two seasons. In addition, his touchdown-to-interception ratio must get a lot better if Nebraska has any hope of competing for a Big Ten title in 2012.
Last season, Nebraska's passing game ranked 104th in the FBS. Hopefully, Martinez and company can take the next step in their evolution in the Big Ten, realizing that a strong passing attack is a necessity if a team is to break out of the middle of the conference pack.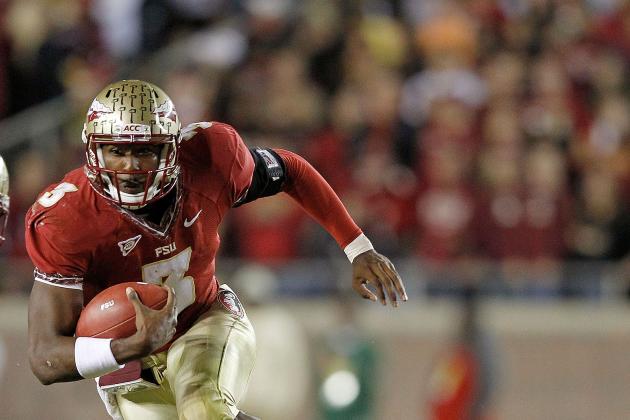 Mike Ehrmann/Getty Images

Finally, a bona fide spring game!
Florida State failed to live up to its lofty expectations last season. There are many reasons for this perceived failure, but no team can be truly successful without a top-tier defense.
One clear takeaway from the Florida State spring game was the outstanding play of the first-team defense.
Neither of the offensive units had much success moving the ball in the first half of the game, but rather than drum up concern for the Seminoles offense, we should extend our praise to the Florida State defense.
It was constant pressure on the quarterback, jamming up the line of scrimmage and tight downfield coverage that prevented any offensive fireworks during the first half.
There were only seven offensive points scored by each team during the first half, and the defense allowed a combined 32 rushing yards.
Our takeaway from this spring game is that the Florida State Seminoles are going to have one heckuva defense this fall.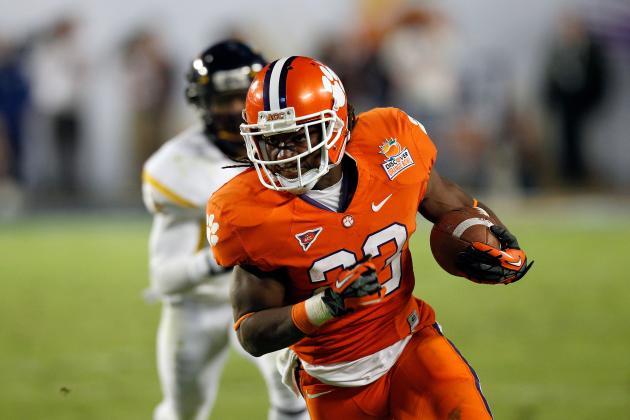 J. Meric/Getty Images

As the old saying goes, "Defense wins championships."
It's precisely the defensive concerns that will likely keep Clemson from winning a championship this season—ACC or any other kind.
Last season, Clemson had a porous secondary (which is putting it nicely) and didn't show much improvement over the course of the season.
While we can all hope there has been some progress made during the spring, it's already clear that the Tigers are woefully thin at both the cornerback and safety positions. It's very possible that pass defense could again be a weak spot for Clemson in 2012.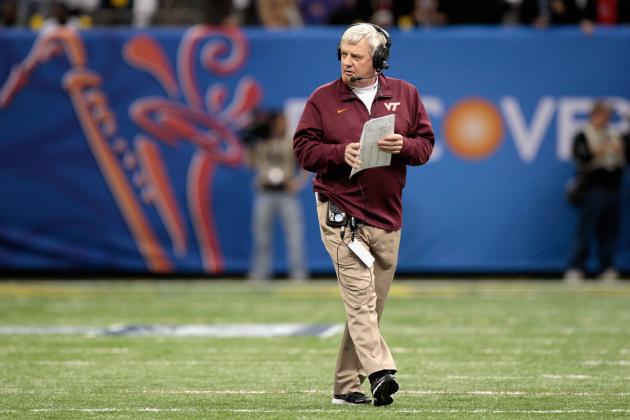 Chris Graythen/Getty Images

Just a quick glance at Virginia Tech's 2012 roster will tell even a casual observer one thing: The 2012 Hokies will be very young and very inexperienced.
With just three returning starters on offense, Virginia Tech will likely need to capitalize on the Beamerball mentality to stay competitive in the ACC moving forward.
Unfortunately, Mother Nature got involved in the Virginia Tech spring game, causing a lengthy delay before the game was eventually canceled.
That means we won't have a chance to see Virginia Tech as a team until this fall.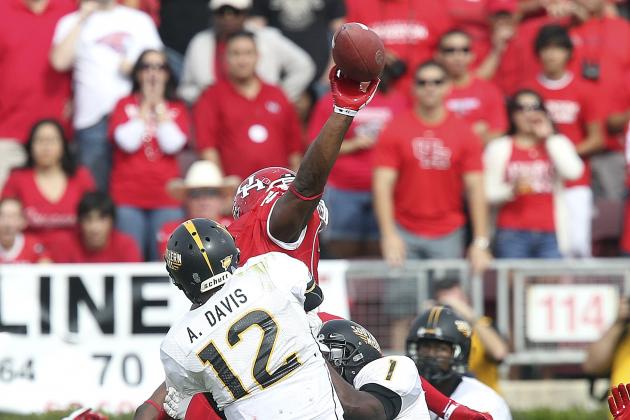 Bob Levey/Getty Images

It's sometimes difficult to really view unheralded non-AQ programs' spring games with complete objectivity and in great detail.
But since we're just looking for broad strokes anyhow, we can't help but comment on one giant impact this spring, brought to our attention at Southern Mississippi.
Austin Davis' contribution to the Golden Eagles' 2011 success cannot be understated.
While Southern Miss will return six offensive starters, the loss of signal-caller Davis will have a major impact moving forward. Combined with the massive losses on defense (just five returning starters), Southern Mississippi will have a difficult time replicating 2011's C-USA title run.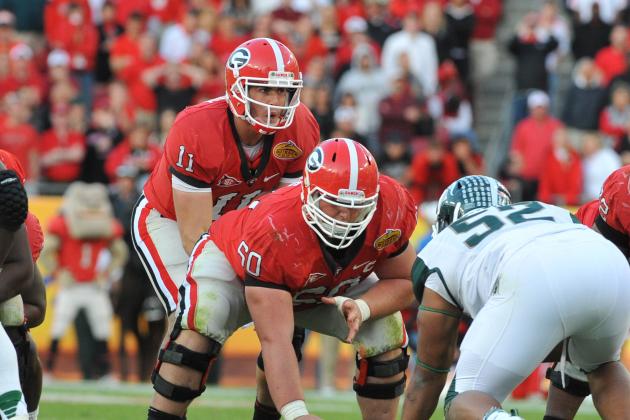 Al Messerschmidt/Getty Images

As rightfully excited as Georgia fans are for 2012, it's not all sunshine and bunnies for the Bulldogs' plans on running through the SEC East for a second straight trip to Atlanta in December.
While Aaron Murray is continuing his journey to becoming one of the great quarterbacks in the nation, it looks as if it's possible he'll have a moderate obstacle in his path this fall: his own offensive line.
After some shaky play at times this spring, the youthful Bulldogs front five have a long way to go this offseason before we're ready to say they'll be able to stand up to the relentless pressure of SEC defenses.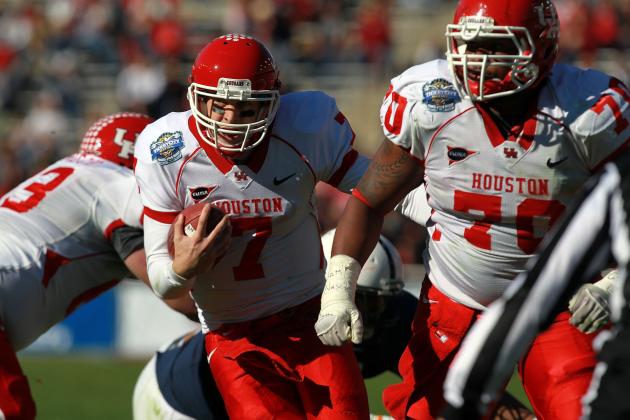 Ronald Martinez/Getty Images

You really shouldn't need any help with figuring out the major storyline from Houston's spring practices.
Houston Cougars plus Case Keenum equals a pretty decent football team.
Houston Cougars minus Case Keenum equals a pretty bland, mediocre-at-best Conference USA also-ran.
Keenum made Houston what it was last season almost singlehandedly. Without Keenum (and, it's worth mentioning, without head coach Kevin Sumlin, now at Texas A&M), Houston won't be mentioned in the same breath as the BCS this season.
Not even close.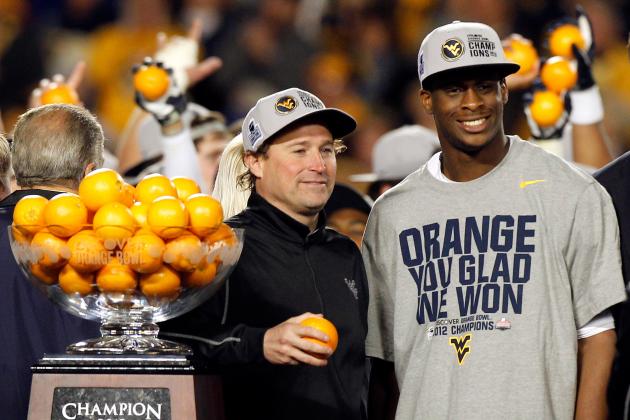 J. Meric/Getty Images

Moving to a new conference is never as easy as it sounds.
Beyond moving past the terrible, acrimonious divorce from the Big East, West Virginia has to figure out a way to put a winning product on the field in the Big 12. West Virginia wasn't all that stellar last season in the lowly Big East (seriously, losing to Syracuse?). The Big 12 is a much different animal, and the level of competition might surprise many Mountaineers fans.
That being said, it appears as if the West Virginia offense is up to the task of putting up tons of yards and gobs of points against their new conference opponents.
We got a small taste of the high-flying Dana Holgorsen-engineered offense in the Orange Bowl, and if there's one coach who knows how to beat up on Big 12 defenses, it's Holgorsen (who is best known for his development of the Oklahoma State offense).
But like so many other teams in the Big 12, it looks as if the defense might be the soft underbelly for WVU.
Don't worry, West Virginia fans. There are plenty of Big 12 teams with soft defenses. But the problem here is WVU's defense doesn't do a single thing that can set it apart from the rest of the conference. If West Virginia truly hopes to compete for a conference title sooner rather than later, we're going to need to see some improved play from the defense on the whole (from Matt Moro and Brodrick Jenkins in particular).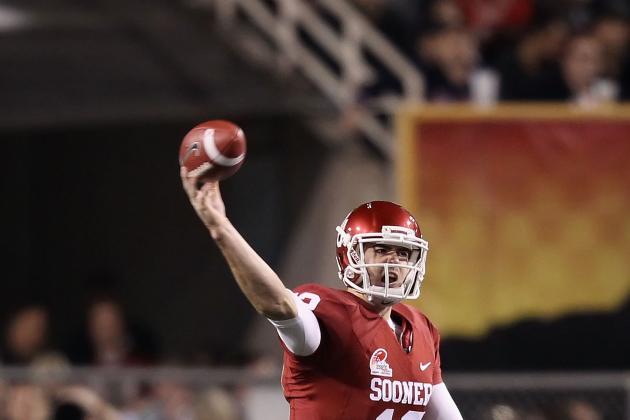 Christian Petersen/Getty Images

Oklahoma was the consensus No. 1 team in the nation last fall, and the Sooners were clearly a bust as the season wore on.
The shocking home loss to Texas Tech was just the beginning, as the Sooners eventually fell to both Baylor and Oklahoma State before winding up with a consolation trip to Tempe for the Insight Bowl.
Just like last season, however, there's plenty of reason for hope headed into 2012. On paper, Oklahoma looks to be an easy pick for a Top Five team. Not only does Bob Stoops have 15 returning starters, but starting quarterback and All-American hopeful Landry Jones will be back in Norman taking the snaps.
There's nothing about Oklahoma's spring that jumps right out and bites you, either in a negative or overly positive way. So it's safe to say that Oklahoma's prospects for a return to Big 12 glory (not to mention the BCS) will depend a lot on how well Jones can forget about the mistakes of last season.
If the Sooners defense can refrain from putting Jones and the offense behind the eight ball so often in 2012, you can expect the Sooners to be the easy favorite to win the conference.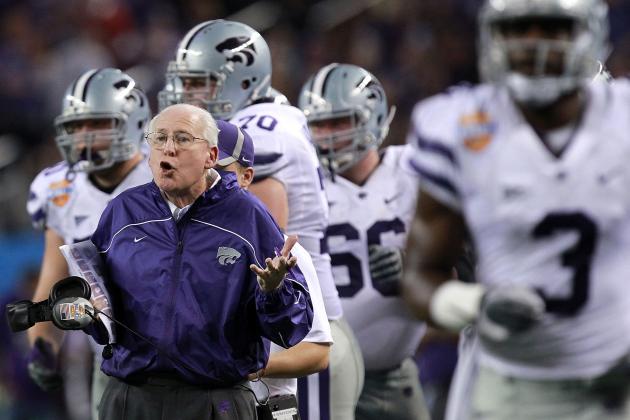 Ronald Martinez/Getty Images

Kansas State had a magical 2011 and achieved levels of success no one thought possible when the season began.
But as successful as the Wildcats were last year, they never really broke out as one of the true greats, mainly due to the uninspired, rather one-dimensional offense.
Spring ball this year has been clearly focused on one thing: diversity of play-calling.
Bill Snyder has certainly done a great job, again, in rebuilding the program, again. Now, the next step is to create a talented team with depth, not only on the roster, but in the playbook.
With so many offensive starters returning (eight), Snyder knew what he was going to have even before the first drills of spring. Now that we've completed spring ball, it's clear that tops on the list will be adding a stealthy passing attack to an already strong running game.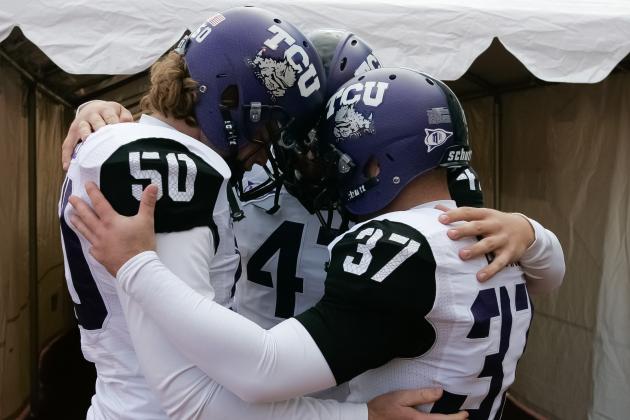 Otto Kitsinger III/Getty Images

It's hard enough to move from the ranks of the non-AQ programs into the competitiveness of a conference like the Big 12.
Now do it with just five returning offensive starters and a lingering drug scandal.
Gary Patterson has a lot to deal with right now, but one thing that he can rest assured of is the strength of his offensive backfield.
While it's too soon to call TCU a run-first team for 2012, it certainly looks as if the running game will feature heavily in the Frogs' inaugural Big 12 season. Not only is junior quarterback Casey Pachall back, but featured ball-carrier Ed Wesley also returns for his senior campaign in Fort Worth.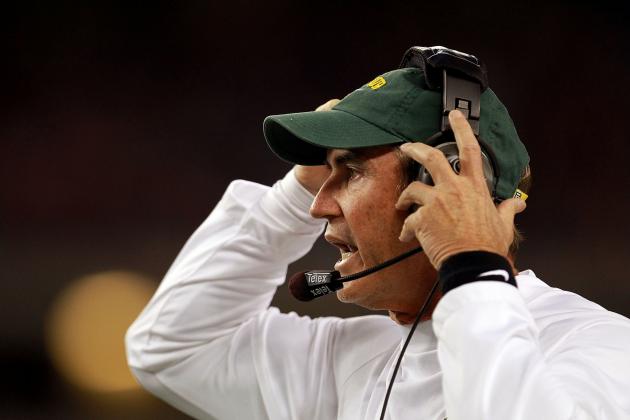 Ronald Martinez/Getty Images

When Robert Griffin III was making his historic run to the Heisman Trophy last season, there was the belief that a player like RG3 meant more to his team's success than any other player on the field.
That's likely true, especially now that we've had our first glimpse of Baylor sans RG3.
Baylor certainly has a lot of momentum right now, and Art Briles is smart enough to know he has to capitalize on that momentum if Baylor is to have any staying power. But in the meantime, the Bears are going to have to figure out a way to succeed, not only without Griffin, but with the players left over from last season's RG3 love-fest.
The Bears are returning 15 starters, and there's plenty of room for hope in 2012. But anyone hoping for a Big 12 title and BCS trip for Baylor this season will be sorely disappointed. It's clear that the loss of Griffin will be felt too acutely in Waco.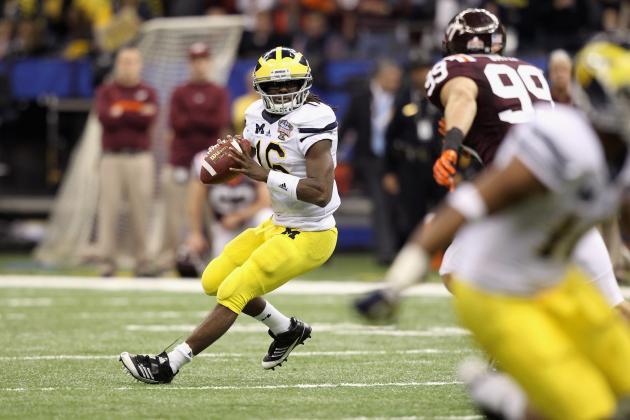 Matthew Stockman/Getty Images

Michigan is emerging as an early favorite in the Big Ten for 2012.
There seem to be a lot of things going the Wolverines' way right now, including a favorable conference home schedule in the Legends Division, a weak Leaders Division and the returning talent Brady Hoke has to work with in 2012.
Key among the returning starters is obviously Denard Robinson.
From everything we've seen this spring, it's evident that there has been some emphasis placed on working some sort of consistent passing attack into the Michigan offense. Denard has been weakest when throwing the ball, and it's precisely his relative inability to throw the ball with any accuracy that has left opposing defenses free to cheat up a corner or extra linebacker to contain him while he opts to run with the ball.
While we can't yet say for sure whether or not Robinson will turn into a true quarterback in 2012 (although we're guessing not), the Michigan run towards the Big Ten title and Rose Bowl berth will depend on his ability to work the passing game into his repertoire.
If he's successful, Michigan might not only be a Big Ten title contender, but Alabama could have more than it bargained for come Week 1.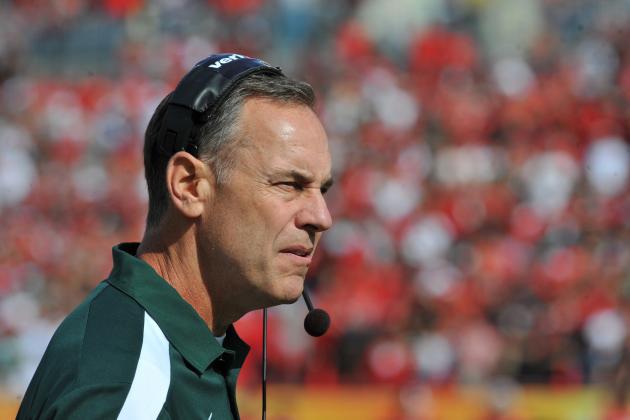 Al Messerschmidt/Getty Images

We can't really tell you what we've taken from MSU's spring game mainly because it hasn't happened yet.
Michigan State is a little behind the national schedule, as the spring game will take place on April 28 in East Lansing. But we can tell you what we expect to see from the Spartans next Saturday.
It's easy to look at the roster and pick out the fact that, with so many new faces, it will be downright daunting to try to repeat as Legends Division champions in 2012. But what you won't see is the hidden depth that MSU has now—depth that it has lacked for much of the past two decades.
Mark Dantonio is slowly but surely building Michigan State into a Big Ten powerhouse, and each season will bring a few more small steps towards the ultimate goal of perennial contention for a conference title.
If Michigan State is able to find some stability, particularly with the passing game, it's not completely out of the realm of possibility we'll see Sparty making another run towards Indianapolis in December.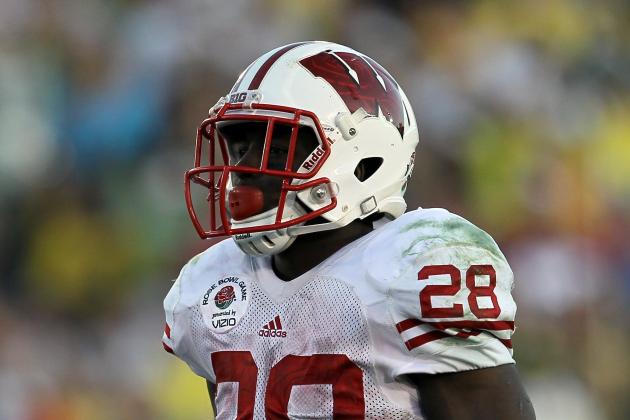 Stephen Dunn/Getty Images

Yet another spring game we've yet to see will take place at Wisconsin.
Not only will the game not take place until this upcoming Saturday, but we're unlikely to see the one star we're all anxious to get a look at: Montee Ball.
Diehard Wisconsin fans remember Lee Evans and a wicked knee injury he suffered during a spring game. Apparently, the Wisconsin coaching staff isn't taking any chances with Ball by risking a season-ending injury in what amounts to a glorified practice.
But Ball's absence from the game may tell us more than anything he could do on the field this Saturday. Because the coaches are holding him out, it's clear that Ball will be the centerpiece to the Badgers' 2012 offense and Big Ten title defense.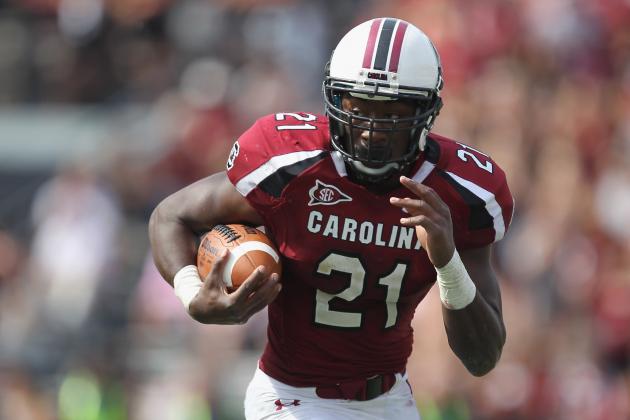 Streeter Lecka/Getty Images

There was one overriding element to South Carolina's spring game: the return of Marcus Lattimore.
While we didn't expect to actually see Lattimore play in the game—which we didn't—that doesn't mean he wasn't one of the major focuses of the pregame and postgame pressers.
Lattimore says that he feels he's ahead of schedule in his rehab and is "almost there" when it comes to returning to full strength and abilities.
So while we're excited about a number of things—Connor Shaw completing six of seven passes for 128 yards and two touchdowns, with solid performances from his backups, showing some impressive depth for SC—it's the return of a player that could be the nation's leading rusher in 2012 that has the Gamecocks poised to make a lot of noise in the SEC East this season.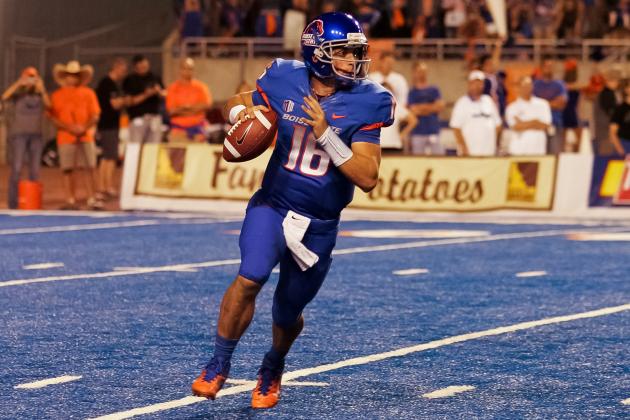 Otto Kitsinger III/Getty Images

What could Boise State fans possibly have to look forward to after the departure of the all-time winningest starting quarterback in FBS history?
As it turns out, quite a bit.
Kellen Moore may be gone, but don't count out the Broncos just yet. Presumptive starter Joe Southwick was impressive in Boise State's spring game, and the Broncos even showed off some depth at quarterback with true freshman Nick Patti.
While there are still some questions about the special teams (big surprise), it seems the two biggest question marks for the Broncos after being hit hard by graduations—quarterbacks and defensive line—have been satisfactorily answered for now.
Not only can you rest easy that Boise State won't completely fall off the map this season, there's also a lot of reason to be hopeful for the future.
There's still a lot that needs to be done before Boise's August 31 opener at Michigan State, but at least we know head coach Chris Petersen has a little something to work with this season.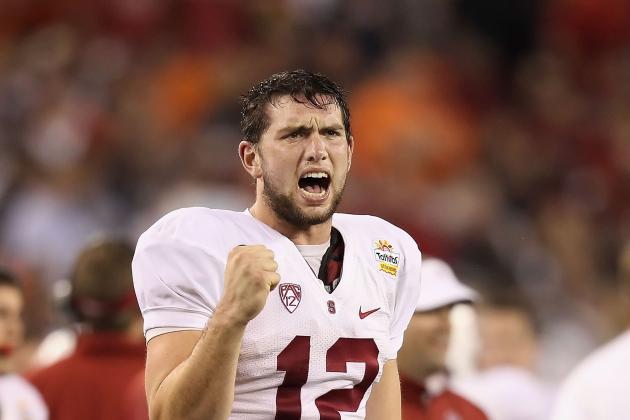 Christian Petersen/Getty Images

Did it really surprise anyone that the Stanford defense defeated the offense in the spring game this season?
We were struck by two things about Stanford's 2012 spring game. First, and perhaps not surprisingly, the quarterback battle between Josh Nunes and Brett Nottingham hasn't been resolved quite yet. We likely won't know who will be taking the snaps for the Cardinal until late August.
The second thing was the fact that Stanford held the spring game at Kezar Stadium in Golden Gate Park in San Francisco and attracted only 5,000 fans.
While Andrew Luck was in attendance, it's clear that there's a distinct lack of fan excitement about the Cardinal's prospects in 2012.
Without Luck at quarterback, who really blames them?
Stephen Dunn/Getty Images

In contrast to Stanford, there couldn't possibly be more excitement surrounding USC's prospects for the upcoming 2012 season.
While we were disappointed to see so little of Matt Barkley and not see Robert Woods (ankle) at all, we pretty much know where those two players stand. They're good. Darn good.
As USC finally gets back to the business of chasing down championships, the biggest surprise to most will be the defensive secondary. The tight coverage provided by the corners will come in handy next season in Pac-12 play, and USC will go unchallenged in the conference by most teams.
A Top Three preseason ranking for the Trojans won't be out of line this fall. Now, if we could only get USC to actually have a spring game where it allowed tackling, we'd be all set!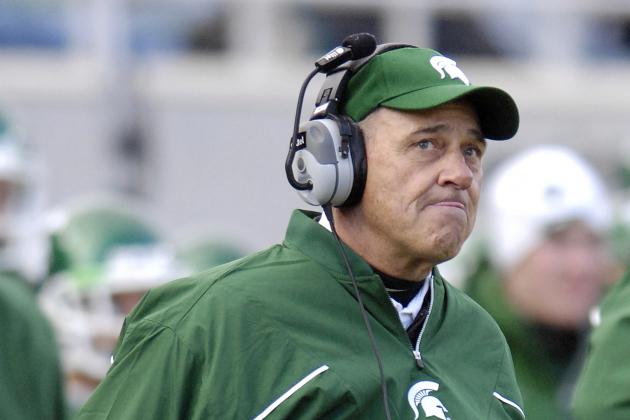 S. Levin/Getty Images

The annual Red-White spring game at Arkansas had a distinctly different feel this year.
And we all know why.
We could talk about Tyler Wilson's performance (31-of-41 for 467 yards, two touchdowns and no interceptions), or how Wilson's Red team completely dominated its White counterparts, or the three receivers with over 100 yards.
But that would all be stuff no one really wants to talk about when it comes to Arkansas' football program.
So, if you'll allow, we'll sidestep gushing about how awesome Wilson looked and talk about Arkansas' surprise hiring of John L. Smith as head football coach.
When the more than 45,000 Razorbacks fans filed into Donald W. Reynolds Razorbacks Stadium to watch the spring game, there probably wasn't anyone who was thinking Smith would be the next head coach.
After all, Smith had just signed a deal with FCS Weber State to take over the program, and Smith's last head coaching experience was with Michigan State, where he was 22-26 over slightly less than four seasons before being fired.
Smith's contract is for 10 months, leading many of us to wonder if his position as head coach is temporary. But, reading through the official release, there's no mention of the word "interim." Smith is simply the "head coach."
If Smith can bring some stability to the program, and if the Hogs perform as well as we all expect next fall, that 10-month contract may be extended, saving Arkansas the trouble of going through yet another coaching search.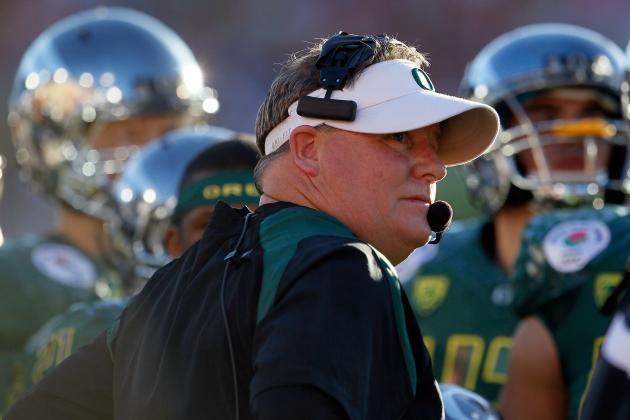 Jeff Gross/Getty Images

Oregon is another program that has yet to hold its final spring practice, and the spring game is scheduled for April 28.
So what are we going to be looking for on Saturday?
With all of the new blood running around in those glow-in-the-dark uniforms, we definitely need to see some consistency. Not so much consistency from one play to the next, but consistency from previous years to 2012.
Since Kelly's arrival at Oregon, he's developed one of the most potent offenses anywhere in the nation. Key to the Ducks' success has been the Oregon zone-read offensive play set. The zone-read isn't the easiest set to pull off effectively, as it requires not only a smart quarterback who can make quick decisions, but also an offensive line that can give him the time to do so.
If the new Oregon quarterbacks can effectively run zone-read plays, pushup practices should get under way soon.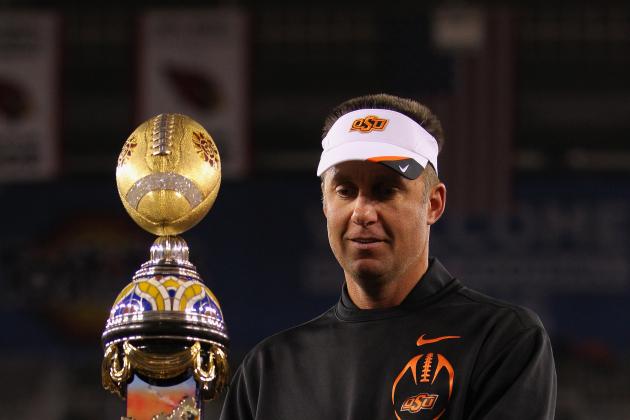 Doug Pensinger/Getty Images

Oklahoma State, like so many other teams these days, didn't have a spring game, per se. Instead, the "Orange and Gray Spring Football Finale" was just 75 situational plays.
We get it. If we lost the bulk of our offensive talent, we wouldn't want to broadcast it to the world either.
With just five offensive starters returning, Mike "I'm a Man" Gundy has his work cut out for him. Not only is the quarterback position not set in stone yet, there are a lot of other question marks left up in the air on the offensive side of the ball.
The chief problem so far has been the lack of one true leader emerging from the Oklahoma State offense. Until the offensive unit gels, we're going to reserve the right to withhold any prediction on how productive this new Cowboys offense can be in 2012.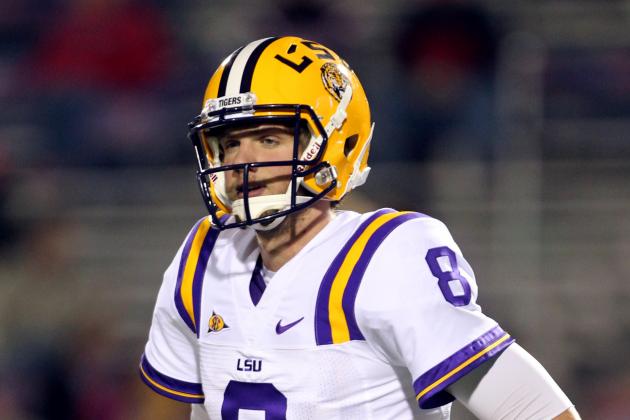 Joe Murphy/Getty Images

Louisiana State treated us to one of the earliest spring games in the country, putting its 2012 roster on display way back on March 31.
The biggest thing everyone wanted to see was presumptive starting quarterback Zach Mettenberger. Is he for real, or are we doomed to another season of quarterback woes?
After an afternoon of absolutely airing it out, the answer is...probably.
Mettenberger completed 14 of 25 passes for 270 yards and two touchdowns. Not exactly lights-out, but decent enough to allay some of the nagging concerns about QBs in Baton Rouge.
But even if Mettenberger isn't the next gift from the heavens, keep in mind that he'll be protected by some impressive talent with a good deal of experience. LSU returns four-fifths of the offensive line from last season, and we're sure to see a Top Five ranking for the Tigers come time for preseason polling.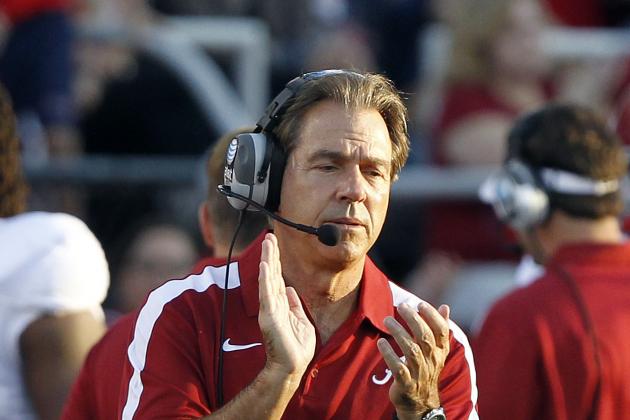 Butch Dill/Getty Images

Alabama's "A-Day" spring game attracted a national television audience on ESPNU. That gave every one of us an opportunity to see if the defending BCS national champions will be any good next season.
News flash: They will be.
If you thought losing the majority of starters from last season's championship team would hamper Nick Saban's ability to make a run back to the BCS in 2012, you thought wrong. It's clear that Alabama has enough talent stocked on the shelves to last quite some time, as even the freshmen on the field impressed.
In particular, we were looking for someone to step into the pretty giant shoes left empty by the departure of Trent Richardson. To our surprise, and the excitement of Crimson Tide fans across the nation, it's entirely possible those shoes will be filled by a freshman!
True freshman and early enrollee T.J. Yeldon was easily the biggest headline of the 2012 A-Day game.
Not only does he possess some impressive strength for a true freshman, he's got speed, agility and a nice pair of hands too. In one highlight-reel play, Yeldon took a short pass over the middle, ran through one defender and then proceeded to outrun everyone else on the field en route to the end zone.
Again, he's a true freshman.
That leaves us wondering: What else does Nick Saban have in store for 2012?