Big Ten Football: Why Danny O'Brien Will Decide Big Ten Championship in 2012
March 21, 2012

Rob Carr/Getty Images
Danny O'Brien is on a whirlwind spring break tour of college campuses and football camps all over the eastern half of the country.  The former Maryland quarterback has two years of immediate eligibility left, and Wisconsin and Penn State are among the final suitors.
However, there are other possible destinations for O'Brien, including Vanderbilt and Mississippi.  If O'Brien wants to play football for a middling team in the toughest conference in college football, then he will head to one of these Southern schools.
But if he wants to be a winner, the options are there in the Big Ten Leaders Division.  Make no mistake about it, Danny O'Brien is the most important recruit of the 2012 recruiting class.
With Ohio State out of the mix, this decision from O'Brien will determine not only who wins the Big Ten Leaders Division, but also the Big Ten Championship and Rose Bowl berth. Let's take a look at how the options could play out:
Option No. 1: Wisconsin
My feelings on immediate transfers are on the record, but the rules are what they are and Wisconsin is entitled to play by those rules.  Especially when the supposed leader of the program Jon Budmayr cannot avoid the injury bug and stay on the field as a reliable option.
Plus, last season was magical with another transfer from the ACC, Russell Wilson.  Just like Wilson, O'Brien would be moving from one pro-style offense to another, as the new offensive staff in Madison is not changing the Badger offensive philosophy.
Although O'Brien did not put together impressive numbers as a sophomore, his freshman season proved how competent he can be in running the pro-style offense.  O'Brien threw for nearly 2500 yards with 21 touchdowns and 8 interceptions in that first season.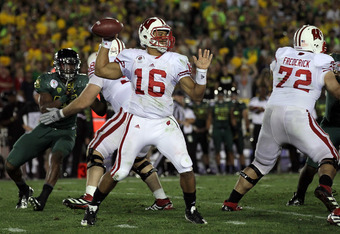 Stephen Dunn/Getty Images
Although perhaps not holding the same poise as Wilson had as an incoming senior, he will be welcomed by a similar offense ready to roll over its competition.  The biggest piece of that offense returned for his senior season, as RB Montee Ball will likely make a legitimate run at a Heisman this season.
Add RB James White and WR Jared Abbrederis to the mix, and the pieces are there to explode on offense once again.  Even without the same offensive coordinator, O'Brien has to like what he sees, including two straight conference championships and Rose Bowl game appearances.
With O'Brien on board, Wisconsin will be guaranteed another season of play-making in clutch moments.  With those plays will come close wins that surprisingly eluded the Badgers in East Lansing and Columbus last season.
Penn State will not be able to keep up while still trying to figure out which quarterback will lead that offense.  Illinois is adjusting to a new coaching staff.  Indiana is a few years away.  Purdue will also be struggling to find a quarterback and will not find the consistency that the Badgers will have with O'Brien.
As a result, O'Brien could be the third quarterback to lead Wisconsin to a third straight Rose Bowl.  An unprecedented achievement, but well within his reach if he goes to Madison.
Option No. 2: Penn State
Although Bill O'Brien struggled to make massive inroads in his first recruiting class while leading Tom Brady and the New England Patriots to a Super Bowl, he has already secured some high-level recruits for 2013.  In the interim, O'Brien wants a quarterback to mold into the next Tom Brady immediately.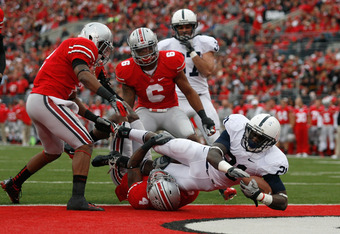 Kirk Irwin/Getty Images
Danny O'Brien (no relation) probably has more chance of becoming an elite quarterback than either of the current options Rob Bolden or Matt McGloin.  Bolden and McGloin have had two seasons to show that they have the talent to take the next steps, and both seem to squander every opportunity.
Rather than try to figure out that mess, perhaps O'Brien (the coach) goes to his namesake O'Brien (the quarterback) and just goes in a new direction for the new regime.  With two years under the tutelage of the Penn State coaching staff, Danny O'Brien will likely be in the best position to get drafted and become an NFL quarterback by learning from an NFL caliber offensive staff.
Although not as decorated as Montee Ball, Penn State also has a strong offensive line and a talented young RB Silas Redd.  With Redd pacing the way early in the season, O'Brien will have time to get on the same page with WR Justin Brown and the tight ends, who will play a major role in the Nittany Lions offense.
Before scandal rocked Happy Valley last season, the Nittany Lions were 8-1 and facing-down two huge games against Ohio State and Wisconsin to determine the fate of the season. That loss was to Alabama, which turned out to be a pretty good team.
After grabbing a huge win in Columbus, all the marbles were on the table in Madison. But Penn State could not hang with the Wisconsin offense. That could change this year with O'Brien in the mix.
That game will take place in front of 106,000 friendly fans in Happy Valley this year.  As will the showdown with the Buckeyes, who are eliminated from division title contention.  Purdue, Illinois, and Indiana cannot hang with Penn State, assuming O'Brien is leading the offense.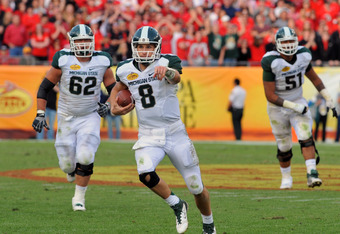 Al Messerschmidt/Getty Images
With a win over Wisconsin, Penn State only has to finish tied with the Badgers to head to Indianapolis.  That is a goal that can and will be achieved if O'Brien decides that he wants to improve his professional future and redeem a program, community, and state in the next two years.
Option No. 3: SEC School
You may be asking how this outcome would decide the Big Ten race, but no Danny O'Brien in Madison or in Happy Valley would also determine the Big Ten race.  It just would not end up favorably for Wisconsin or Penn State.
If O'Brien decides to take his talents to battle the toughest gauntlet in college football, then Wisconsin will need to rely on Budmayr while Penn State will need to figure out which likely mediocre quarterback has the best potential to lead the team. 
Both teams will still be better than most Leaders division teams, but the cross-divisional games would be a nightmare.  That would open the door for an upstart like Purdue to put everything together and steal the division title.
However, even if Wisconsin or Penn State manages to hold off the charges of Purdue and possibly Illinois, the conference championship game will not be pretty.  Michigan State, Michigan, and Nebraska will all be ready to shut down a one-dimensional Badgers offense while also scoring enough points to make life difficult on the other quarterback options.
Instead of celebrating late December and early January in Pasadena, the Badgers and Nittany Lions will watch some team from the Legends division enjoy all that glory.  O'Brien has the capability to put either of these teams over the top, and the Legends division certainly must hope he suits up for the SEC in 2012.
The Danny O'Brien sweepstakes are on.  All that is on the line is a Big Ten Championship and a Rose Bowl berth.  It will be interesting to see if either Wisconsin or Penn State can lure the best prize of 2012 into their programs.