The Top 50 College Football Quarterbacks for 2012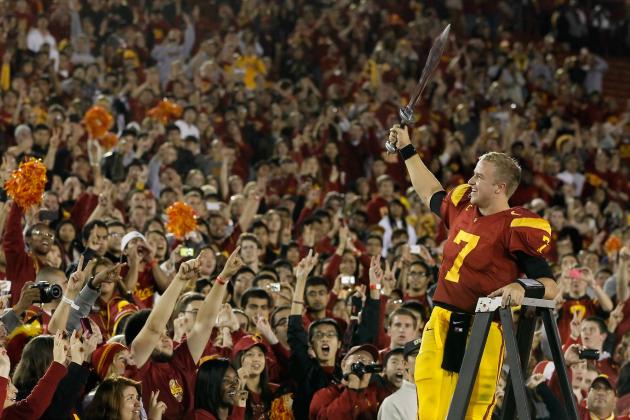 Jeff Gross/Getty Images

The 2012 college football season is slowly, but surely heading our way.
This past season, quarterbacks such as Robert Griffin III, Andrew Luck and Russell Wilson dominated the headlines, but they are all gone.
So which guys will be the top signal-callers in 2012?
There are a few in the Pac-12, several in the ACC and a couple of rushing quarterbacks from Big Ten country that all earned spots on this list.
The quarterback position is, arguably, the key position for every football team, but these guys thrive under that pressure.
Begin Slideshow

»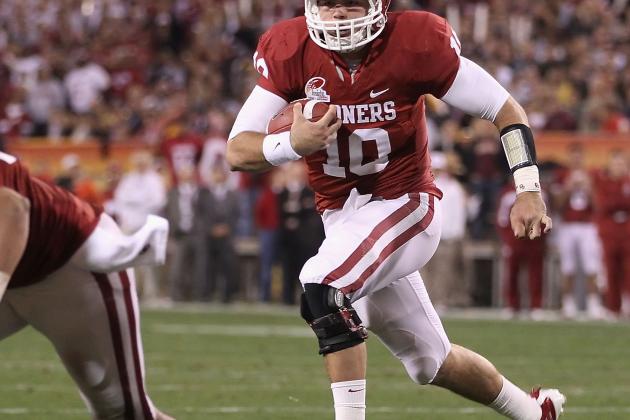 Christian Petersen/Getty Images

The Sooners are the only team that boasts two guys on this list.
Bell is the first.
His has a knack for finding the end zone on the ground, finishing last season with 13 rushing touchdowns in limited action.
Of course, he had as many interceptions as he did completions in 2011, thus he barely made the cut.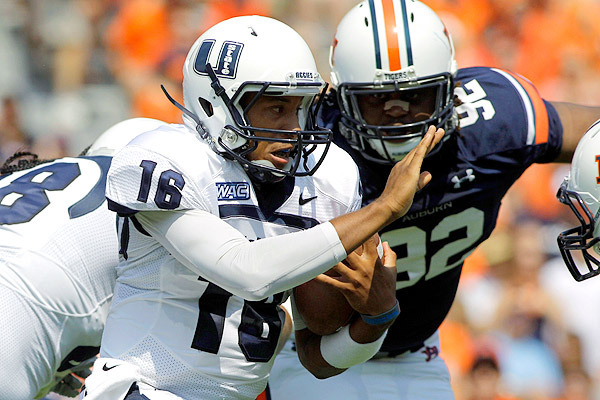 Keeton was only a freshman last season and missed four games with an injury.
That said, he threw 11 touchdowns and only two interceptions when he was healthy.
His ability to rush the ball adds another dimension to the Aggies' offense, and if he can stay healthy in 2012, he has a good shot at improving significantly on last season's numbers.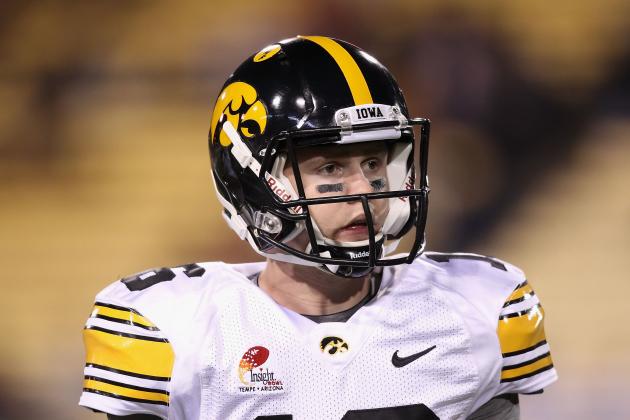 Christian Petersen/Getty Images

Vandenberg put together a pretty solid season in 2011, gaining more than 3,000 yards through the air and 25 touchdowns to go with just seven picks.
While he loses some key targets in 2012, his ability to make plays when needed earns him a spot on this list.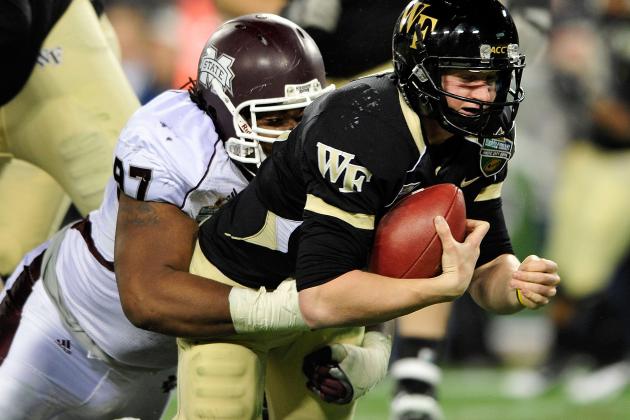 Grant Halverson/Getty Images

As a sophomore, Price amassed more than 3,000 yards and completed 60 percent of his passes.
With another year to work in the system and some key talent returning, he will have a better season in 2012.
Chris Givens, his primary target, is departing for the NFL, but Price and the Demon Deacons should emerge near the top of the ACC again in 2012.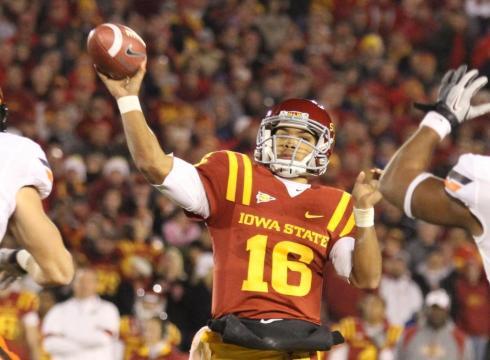 Barnett is not the most accurate quarterback in the country, completing only half of his passes last season.
However, he was only a freshman and will make some progress going into the 2012 season.
His ability to run the ball is a great weapon, and with a little practice Barnett will be a solid option for the Cyclones in 2012.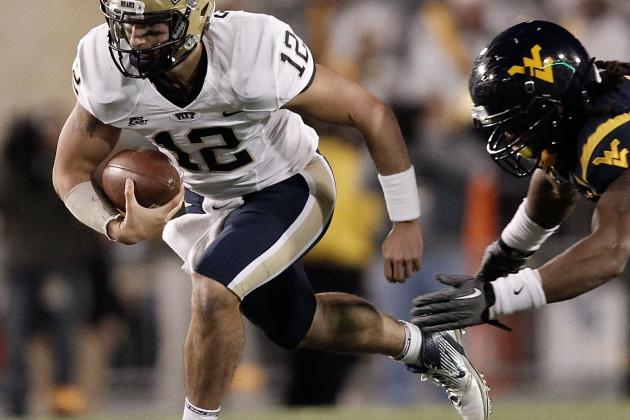 Jared Wickerham/Getty Images

Under new head coach Paul Chryst, Sunseri will flourish.
Chryst has been incredible during his time at Wisconsin as offensive coordinator, and much of that offensive genius will transfer to Pitt.
Sunseri has the tools to be a difference-maker, and in Chryst's pro-style offense he will put up big enough numbers in 2012 to make Pitt a factor in the Big East race.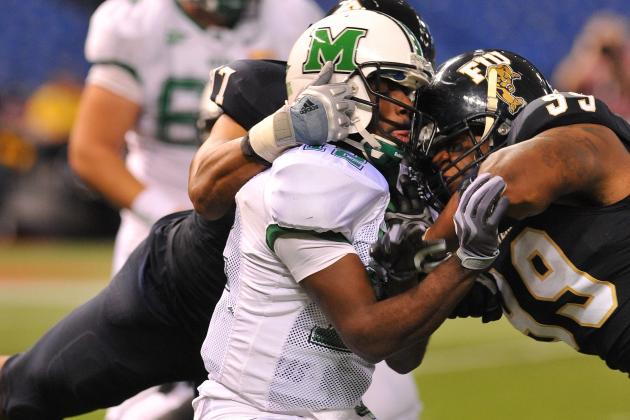 Al Messerschmidt/Getty Images

Cato was in his first season in 2011 and definitely had his growing pains, tossing 11 picks to only 15 touchdowns.
However, he has the athletic ability and arm to produce in a big way, and he demonstrated that in the Thundering Herd's bowl victory over FIU when he completed almost 70 percent of his passes, including two touchdowns.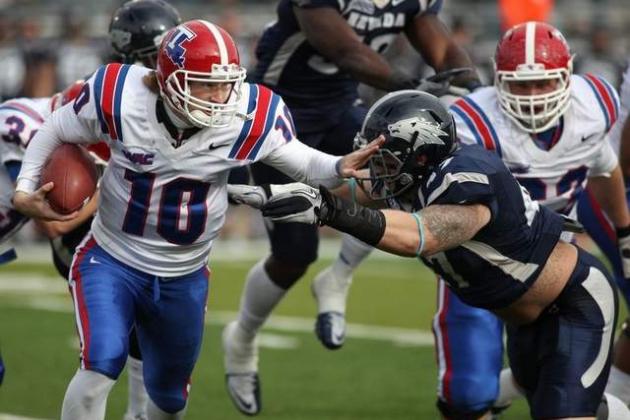 In the six games before Cameron started playing quarterback for the Bulldogs in 2011, they were 2-4.
The games in which he appeared were a different matter, as they went 6-1 and wound up with the 2011 WAC title.
He has the ability to avoid pressure and make the big play and will have La. Tech near the top of the conference again in 2012.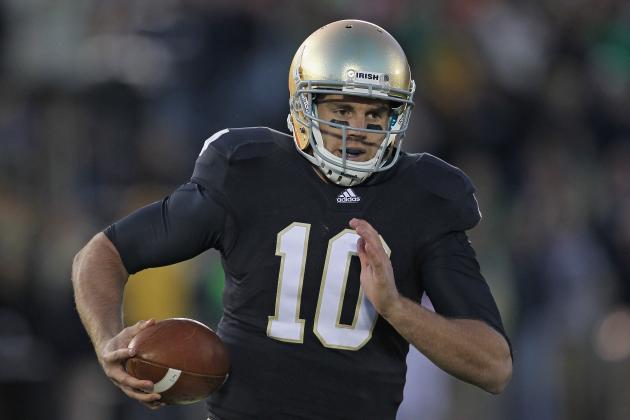 Jonathan Daniel/Getty Images

Crist was not the answer in South Bend.
Not even close.
However, a change of scenery and another year of maturity may be just what the doctor ordered.
The opportunity to work with Charlie Weis lured Crist to Kansas, and under his tutelage he will flourish.
The Big 12 is definitely a quarterback conference, and Crist will be a solid option this season.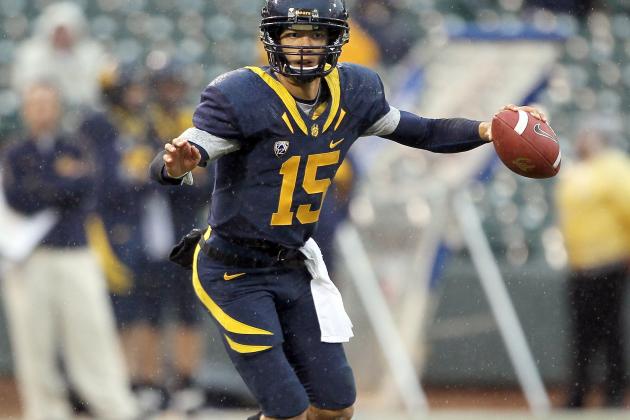 Ezra Shaw/Getty Images

Maynard struggled to make good decisions at times in 2011, racking up 12 touchdowns to go with only 17 touchdowns.
That said, he showed flashes of brilliance.
The Golden Bears generally have at least one explosive superstar at one of the offensive skill positions, and if Maynard can take advantage of that, he will put up some big numbers.
His best option may be half-brother Keenan Allen, who just happens to be one of the most explosive wide receivers in the nation.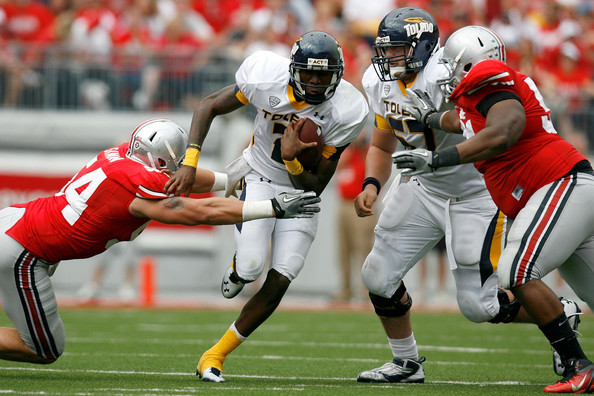 Owens was a force when healthy and finished the season with a whopping 72 percent completion percentage.
He also scored 19 total touchdowns and threw only three interceptions.
It's tough to see him having a worse season next year, and with the talent the Rockets have returning, it's likely he will put up even better numbers.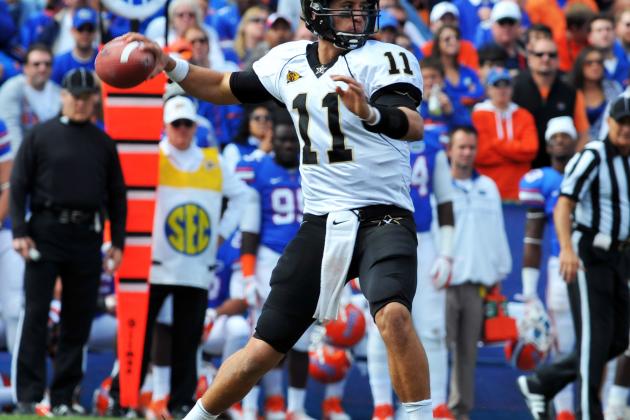 Al Messerschmidt/Getty Images

If Rodgers gets the nod in 2012, expect him to show some major progress.
His season in 2011 was nothing special, with only nine touchdowns and 10 interceptions.
However, performances such as his 297-yard outburst against Florida leads me to think he has the talent and just needs a little more seasoning to turn into a solid quarterback.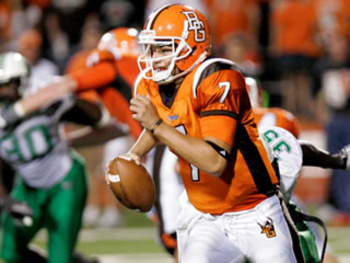 Last season was Schilz's sophomore season, and he was a force for the Falcons.
He completed 60 percent of his passes for more than 3,000 yards and tossed 28 scores.
His ability to make the difficult throws has improved, and he will cut down on his interception total this season after another spring and fall practice.
He is less than mobile and has difficulty moving outside the pocket, so much of his success will hinge on the Falcons offensive line.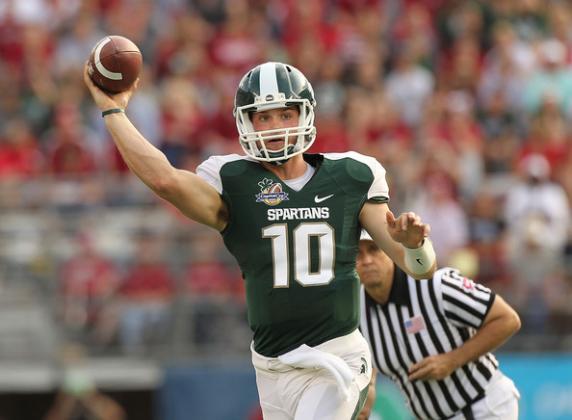 Maxwell has performed well in limited time under center.
The Spartans have plenty of holes on offense, including at the receiver position, so Maxwell will have to step up if Sparty is going to be successful in 2012.
Having been able to sit and learn the system for two seasons will be a big plus for Maxwell, and if he performs half as well as the departed Kirk Cousins, he deserves a spot on this list.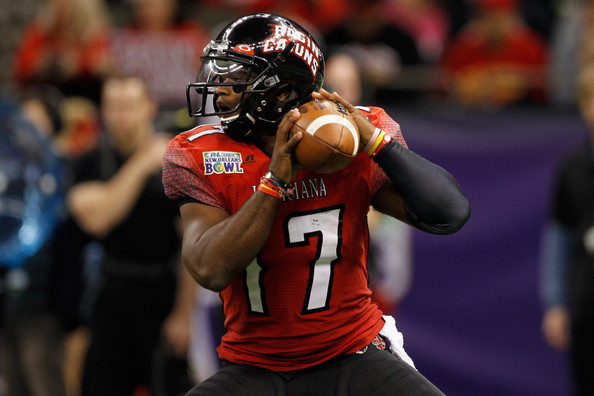 Gautier finished last season with a 23-to-6 touchdown-to-interception ratio.
He led the Ragin' Cajuns to a bowl win in their home state of Louisiana.
He has his primary target, Javone Lawson, returning, and there is no reason to expect fewer than 3,000 yards through the air from him in 2012.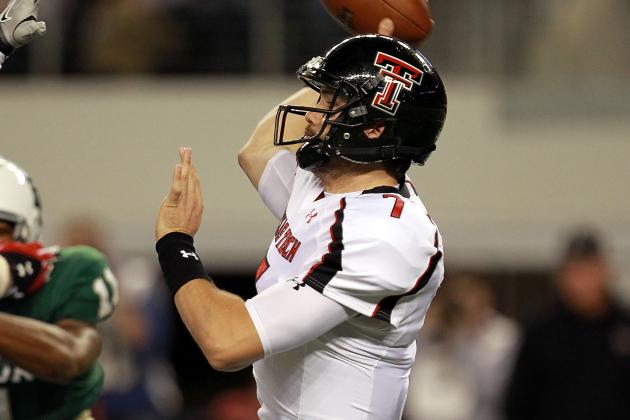 Ronald Martinez/Getty Images

This is more a product of the pass-friendly system that Doege operates in than anything else.
He completed over 68 percent of his passes, but averaged only 6.89 yards per attempt.
Given the system Doege operates in, we can expect another season of 4,000-plus yards.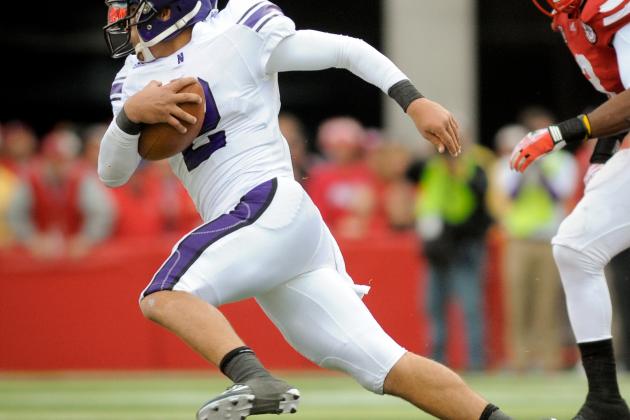 Eric Francis/Getty Images

Colter emerged as a solid option at QB after starter Dan Persa went down.
Should he emerge as the starter for Pat Fitzgerald next season, it's obvious he has the tools to make some noise in the conference.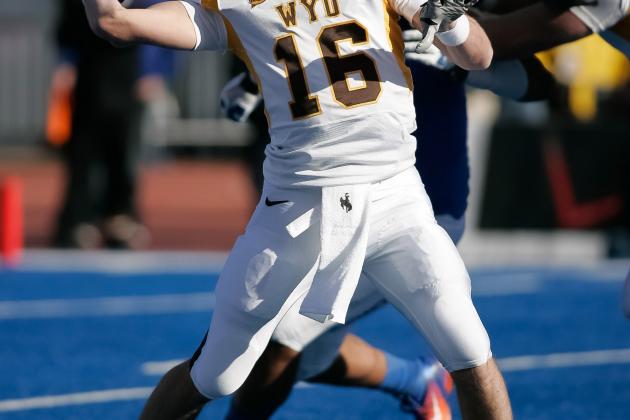 Otto Kitsinger III/Getty Images

This young man is talented.
As a freshman last season, he was effective for the Cowboys, throwing 20 touchdowns passes and rushing for 10 scores.
With a year of practice and study, he will be even better in 2012 and may actually make the Wyoming football program relevant.
Kevin C. Cox/Getty Images

Washington, while not the most prolific passer in the history of the game, can do some exciting things.
In Paul Johnson's run-only offense Washington has flourished, and with his speed and athleticism he will continue to do so in 2012.
He will improve on his 25 touchdowns total, breaking the 30-score mark in 2012.
Now if he can just get that completion percentage above 50 percent, we might be on to something.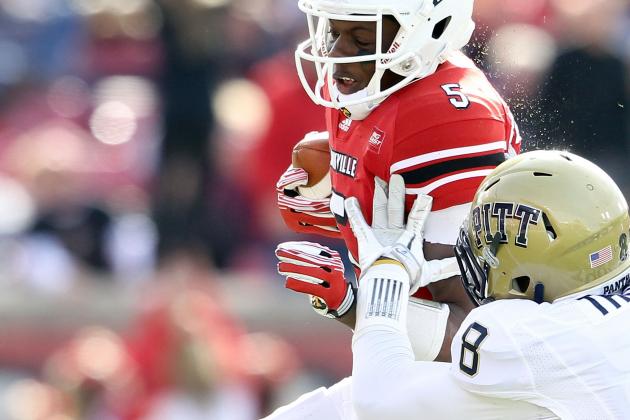 Andy Lyons/Getty Images

The wunderkind of the Big East in 2011, Bridgewater has the chops to be the best in the conference in his second season.
His interception numbers will go down, as he will have another season under his belt, and the experience to help him make better decisions.
He finished with more than 2,100 yards in 2011 to go with 14 scores through the air.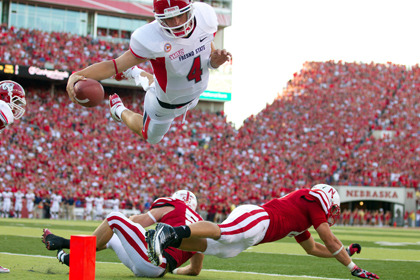 As evidenced from this picture, Carr has the athletic ability to make some tremendous plays.
In just his second season at Fresno State, Carr accumulated more than 3,500 yards passing to go with 29 total touchdowns.
Coach Pat Hill is gone, so Carr may need to adjust to a new system, but he definitely has the tools to make the adjustments necessary.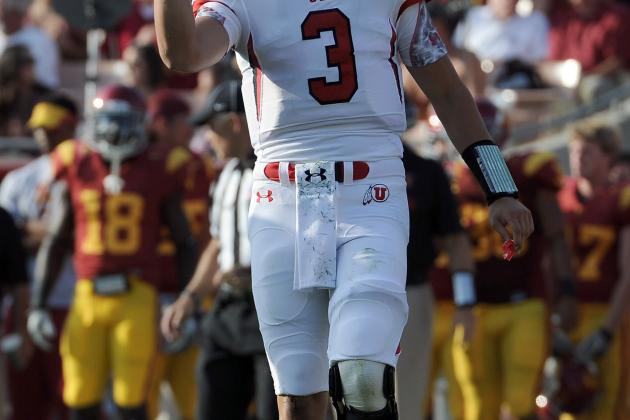 Harry How/Getty Images

This is, of course, contingent on how well Wynn performs coming off a season-ending shoulder injury in 2011.
The Utes eventually figured things out in 2011, with the defense stiffening up and running back John White IV turning into a pretty solid option on offense.
Wynn is capable of leading this quad to second place in the Pac-12 South.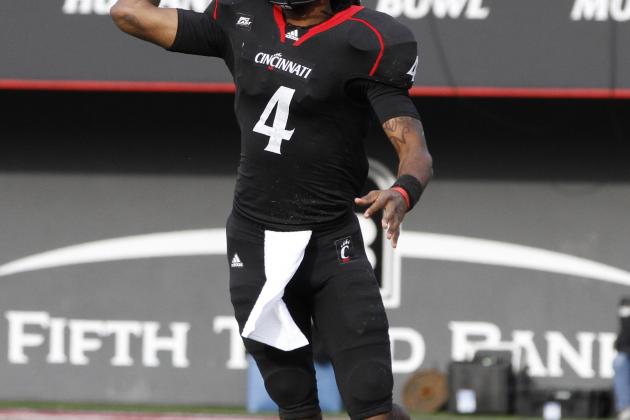 Tyler Barrick/Getty Images

Legaux filled in admirably for starter Zack Collaros in 2011, eventually settling in and performing better after tanking in his first two games as a starter.
He is the Bearcats' best option at quarterback in the upcoming season and has shown that he has the ability to win games.
His ability to move the pocket and extend plays give him an extra edge, and given the chance to start from the beginning of the season, he will put up some big numbers.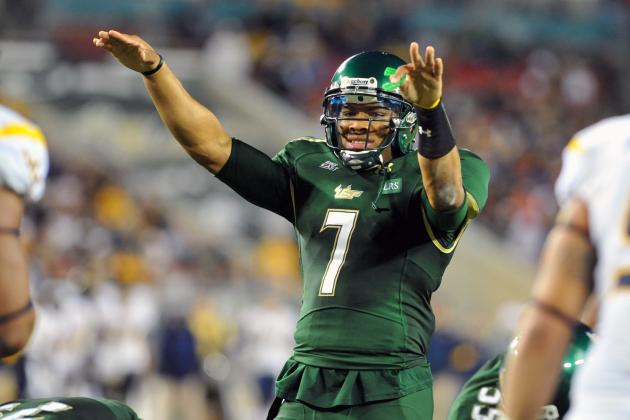 Al Messerschmidt/Getty Images

Daniels has been a bright spot for a USF program that does not have many good things going for it.
His numbers are not excellent—he only completed 59 percent of his passes in 2011—but he has the ability to change games through the air or with his legs.
In his final collegiate season, Daniels and the Bulls have a great opportunity to win the depleted Big East.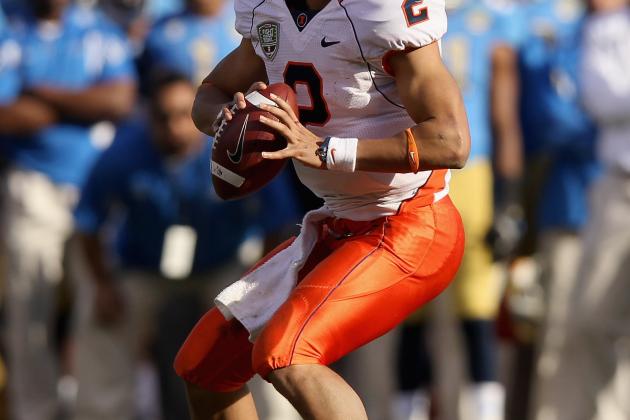 Ezra Shaw/Getty Images

Scheelhaase tossed only 13 touchdowns in 2011 but had to deal with a less-than-adequate offensive line.
He was sacked 34 times.
In 2012, with a new system and new head coach, Scheelhaase will look to rebound and progress in his third year as the Illini starter.
With a little bit of protection, this guy will put up some big numbers next season.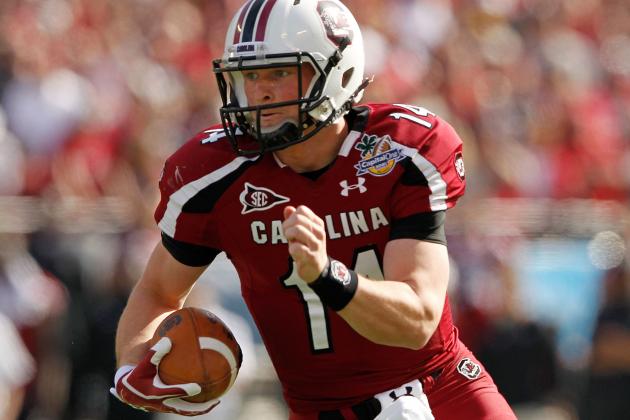 Mike Ehrmann/Getty Images

Shaw filled in admirably in 2011 for the departed Stephen Garcia.
Shaw scored eight times on the ground and is a constant threat to make a play with his legs as well as his arms.
He will not have receiver Alshon Jeffery to bail him out in 2012, but he will have running back Marcus Lattimore back from injury to help distract attention from the passing game.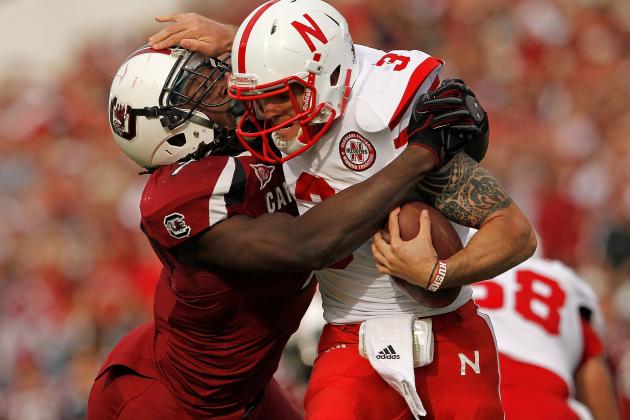 Mike Ehrmann/Getty Images

Martinez has his moments.
He struggles at times to pass the ball and seems to have a tough time shaking off a bad pass and bouncing back.
All that said, he is one of the best rushing threats at this position and will be a huge asset to the Huskers again in 2012.
In order for the Cornhuskers to compete in the Big Ten in '12, Martinez is going to need to improve on his completion percentage from 2011, which checked in at 56 percent.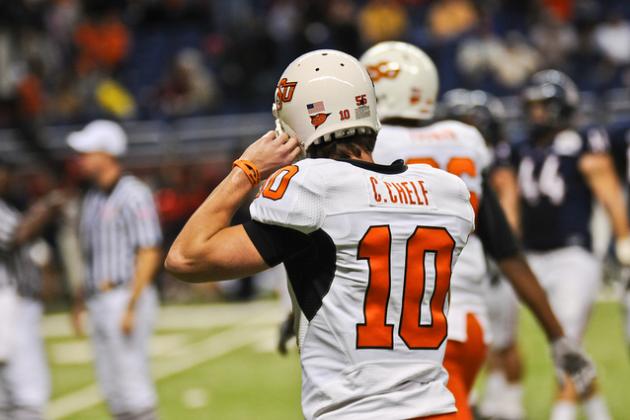 You may be wondering why a guy who has not received significant playing time makes this list.
It's simple, really.
The system.
Chelf has seen limited action—49 attempts in two seasons, to be exact—but he completed 34 of them, including five touchdowns and one interception.
Mike Gundy's system is conducive to great numbers for whatever quarterback takes over, and Chelf should have a solid grasp of the system going into his third season.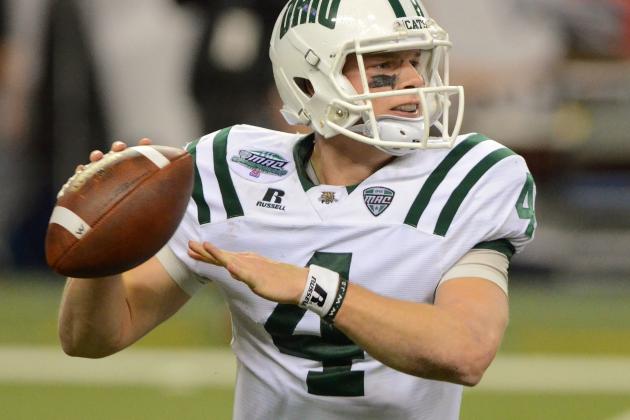 Mark A. Cunningham/Getty Images

Tettleton appeared poised beyond his years in the Bobcats' 24-23 win over Utah State in the Idaho Potato Bowl.
The guy tore up the MAC, gaining more than 3,300 yards through the air and scoring 38 times on the season.
Expect him to have an even better season in 2012 and lead the Bobcats back to the top of the conference.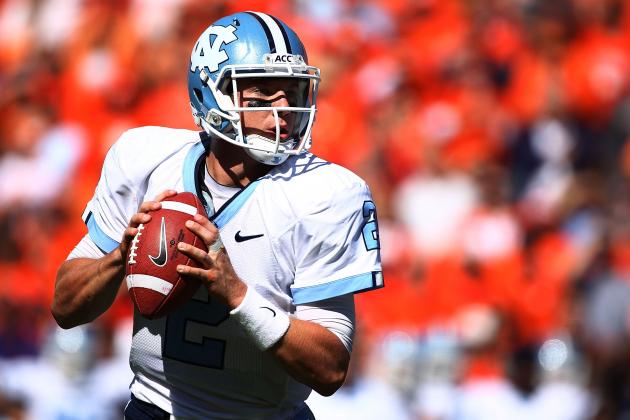 Scott Halleran/Getty Images

Renner burst on the scene for the Tar Heels last season, taking over for the departed T.J. Yates.
Renner proved to be a reliable option for UNC, throwing for more than 3,000 yards and tossing 26 touchdowns passes.
Coupled with running back Gio Bernard next season, this backfield is going to be scary good.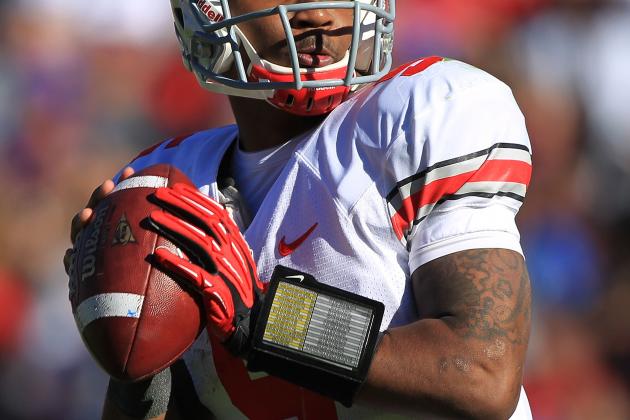 Scott Halleran/Getty Images

Ohio State fans should be thrilled with Miller's progression throughout 2011.
He struggled in the Buckeyes' bowl game but otherwise demonstrated that he is capable of leading this offense and making big plays when needed.
He is incredibly quick and athletic and started making better reads as the season moved along.
Urban Meyer has brought in a ton of talent, and if he does not decide to redshirt Miller to preserve his eligibility, Miller will compete for Big Ten player of the year.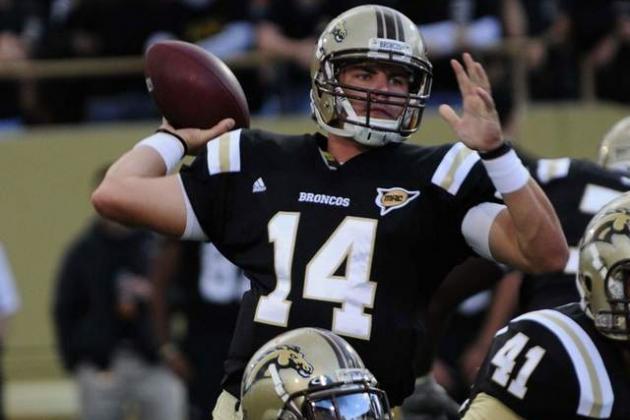 Alex Carder was the best quarterback in the state of Michigan last season.
However, he was helped by the presence of Jordan White, one of the most dynamic receivers in the nation.
In 2012, he has the opportunity to improve his draft status and emerge as a solid option heading into the next level on Sundays.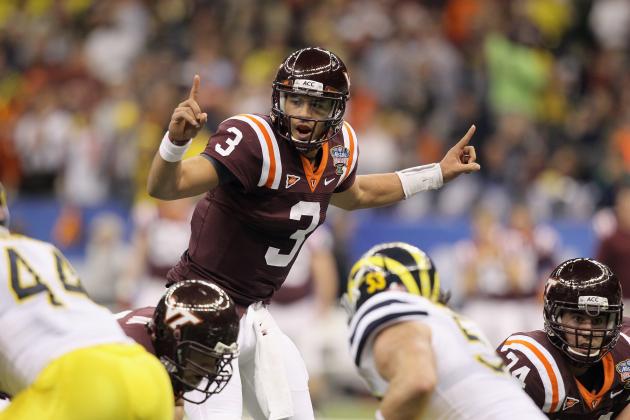 Matthew Stockman/Getty Images

Thomas has the tools and ability to produce big-time for Frank Beamer's squad.
His production may suffer a bit with the departure of his backfield mate, running back David Wilson.
If he can bring down his interception numbers, he will be a top-20 quarterback in 2012.
Without those adjustments, he remains a little lower.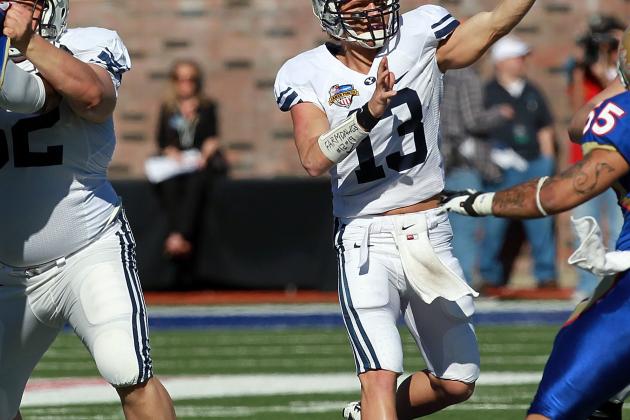 Ronald Martinez/Getty Images

BYU won six of the seven games that Nelson started in 2011.
In five of those wins, he threw at least three touchdowns, and in the fifth he had a pair of scoring strikes.
This BYU offense is young and talented, and Nelson is the catalyst.
Expect big numbers from him in Bronco Mendenhall's system in '12.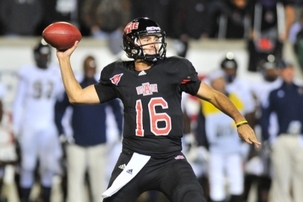 Ryan Aplin is a guy you may not have heard about, but you definitely should follow in 2012.
He scored 29 total touchdowns in 2011, and threw for more than 3,500 yards.
He has progressed every season, putting up better numbers every year, and there is no reason to expect that trend to come to an end this season.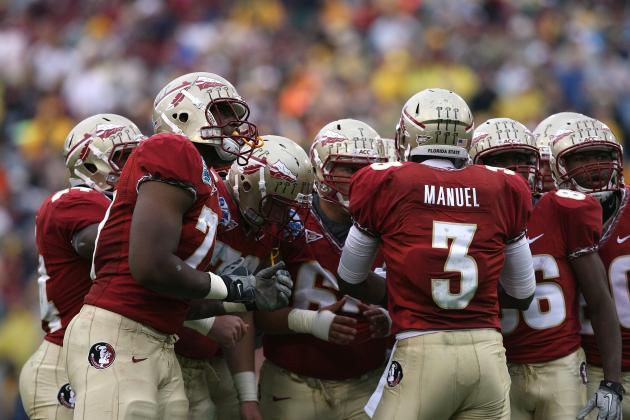 Doug Benc/Getty Images

Manuel and the 'Noles seemed to take a shot to the teeth from Oklahoma and took a dive for a short time in 2011.
However, Manuel picked it up in his last five games, not throwing a single interception after tossing eight through his first seven.
Next season, the ACC has a glut of good quarterbacks, but Manuel has the ability and personnel surrounding him to emerge as the best of the bunch.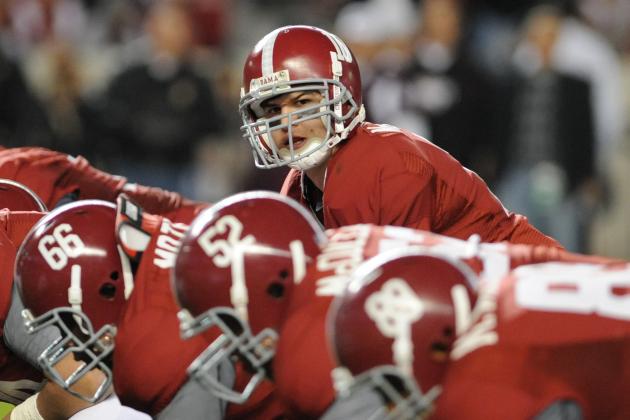 Al Messerschmidt/Getty Images

McCarron has talented receivers, a great coach and loads of talent at running back.
Though the focus was on 'Bama's stout defense in 2011, McCarron and his ability to pick up the slack left by departing stars on offense will be a big story in 2012.
He demonstrated the ability to make plays in the BCS title game and has the arm to make difficult throws when needed. See here.
If the Tide are going to contend again this season, McCarron will have to build off his performance near the end of last season.
I think he will.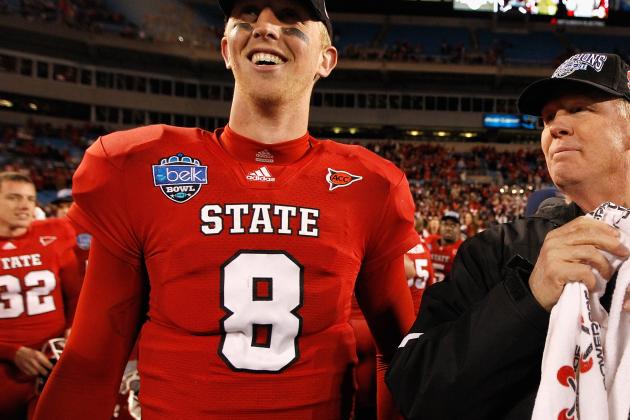 Streeter Lecka/Getty Images

Glennon proved to be a better-than-serviceable option for the Wolfpack in replacing the departed Russell Wilson.
While he did throw 11 interceptions, he also scored 31 times through the air, including a five-touchdown performance in a win against Maryland.
The Wolfpack have some solid talent returning, and Glennon will have a chance to improve on his numbers in 2012.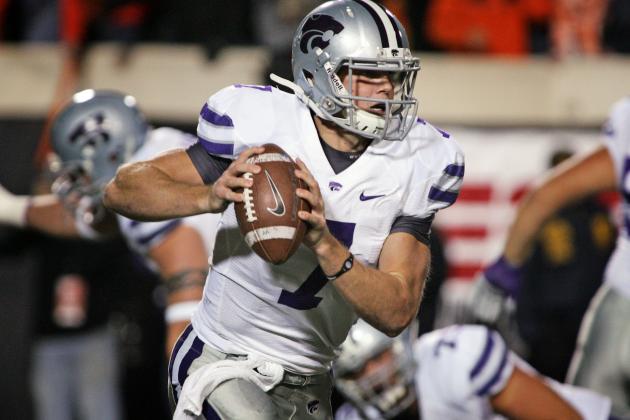 Brett Deering/Getty Images

Klein is not the best passing quarterback in the Big 12, but he put up points, mainly using his legs.
He finished near the top of the heap in rushing touchdowns last season with 27 and totaled 40 touchdowns in all.
His ability to move the pocket and create positive yardage out of broken plays make him a threat to break a big play at all times, and his strength gives him the ability to push into the end zone in goal-line situations.
Bill Snyder has the 'Cats rolling again, and Klein is a key part of that success.
Mike Ehrmann/Getty Images

In spite of one of the worst plays of the season—seen here in all it's ineptitude—Boyd had a great season in 2011.
He has the ability to make just about any throw and the weapons to do some damage.
He scored 38 times last season and was the catalyst for Clemson's success on offense.
The Tigers have some issues on the offensive line to figure out, and this will limit Boyd's effectiveness somewhat, but he will still have a pretty solid season.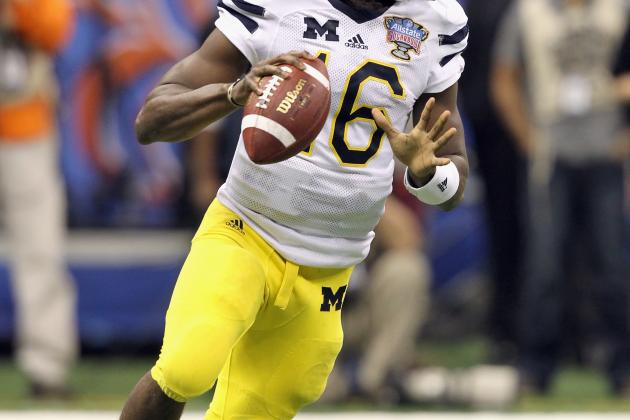 Matthew Stockman/Getty Images

We all know about Robinson.
He is incredibly apt when creating off a broken play, but struggles to find rhythm in the passing game at times and designed run plays are not all that effective.
All that said, he showed flashes of brilliance in the passing game, such as the fourth quarter against Notre Dame and the Wolverines' win over Ohio State.
If he can continue to build off those performances and continue to thrill with his rushing ability, Robinson will be a top-10 quarterback next season.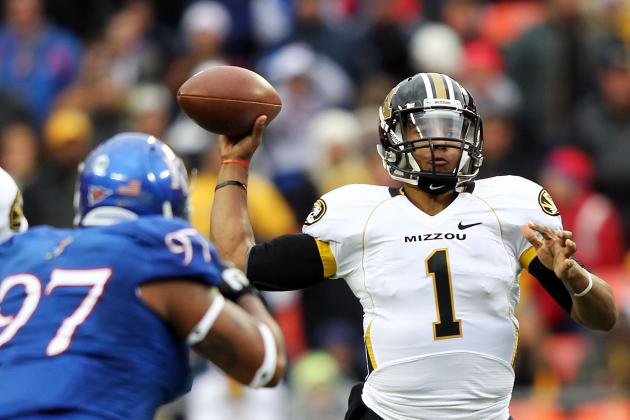 Jamie Squire/Getty Images

Franklin scored 36 total touchdowns in 2011 and will look to continue that success in a new conference in 2012.
The Tigers are jumping to the SEC and will need Franklin to perform at his best in order to have anything remotely approaching a successful season in 2012.
His mobility and ability to make great decisions make him a threat to score from anywhere on the field, and he showed the ability to progress as the season went on.
Expect a decent season from Franklin in spite of the conference swap.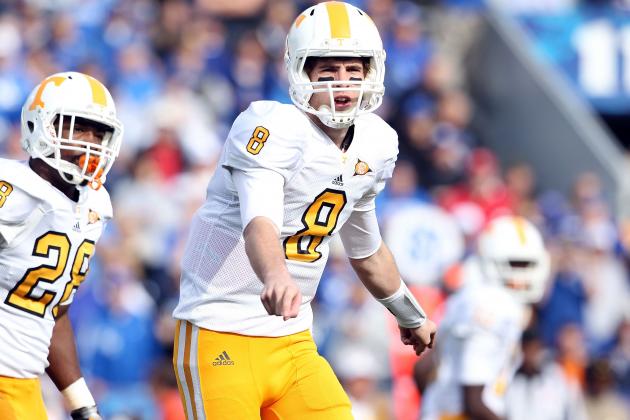 Andy Lyons/Getty Images

Before going down with injury, Bray looked like one of the most talented young quarterbacks in the country.
Tennessee, under his leadership in 2012, will get things turned around and could go from worst to near the top in the SEC East.
Bray has a big arm and the talent surrounding him to have a huge season.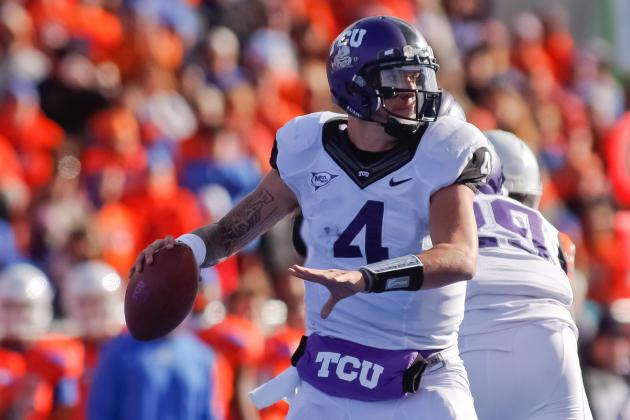 Otto Kitsinger III/Getty Images

This guy surprised many last year by filling in admirably for the departed Andy Dalton and leading the Frogs to the MWC title.
Pachall, in spite of his questionable hairstyling decisions, proved to be a great option for Gary Patterson's squad in 2011.
He completed nearly 66 percent of his passes last season, scoring 25 times through the air and tossing only seven picks.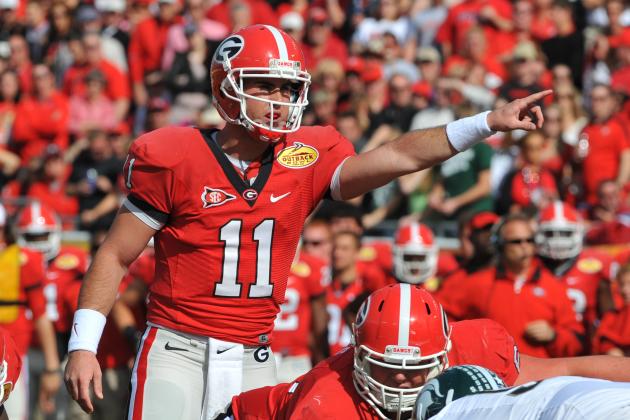 Al Messerschmidt/Getty Images

Murray is going to be good in his third season at QB for the Dawgs.
The man is easily at least the second-best player at the position in the SEC, and there is an argument that he has accomplished what he has with less talent that Arkansas' Tyler Wilson.
The Bulldogs still have some issues to figure out offensively, but with Murray under center, Mark Richt's squad will make a run at the top of the SEC East again.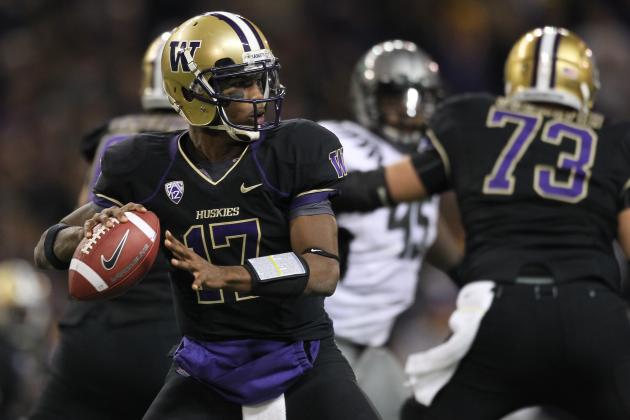 Otto Greule Jr/Getty Images

This guy is so underrated.
The Huskies have very little else in the way of top-shelf talent with running back Chris Polk bailing for the draft, but Price is as dynamic as they come.
Last season as a sophomore, Price scored 36 total touchdowns, including seven in the Huskies Alamo Bowl appearance.
With another year of spring practice under his belt, this guy will be lethal in the fall.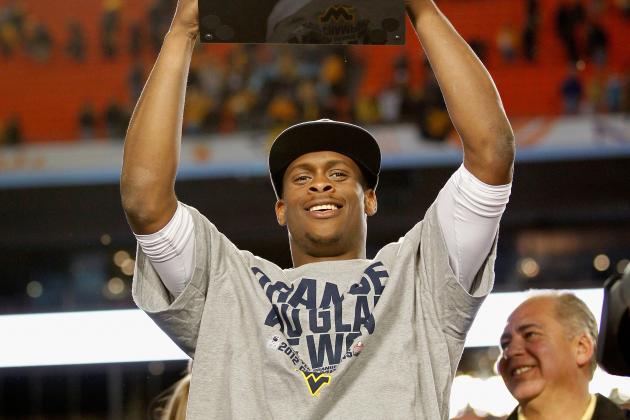 Mike Ehrmann/Getty Images

Smith and the Mountaineers torched Clemson in the Orange Bowl, 70-33.
Geno had a ridiculous seven scores in this game and racked up 433 yards of offense.
The Mountaineers are moving to the Big 12, and in Dana Holgorsen's system he is flourishing.
This season, with weapons such as Tavon Austin and Stedman Bailey returning as well, he will put up monster numbers in a conference not know for its defensive prowess.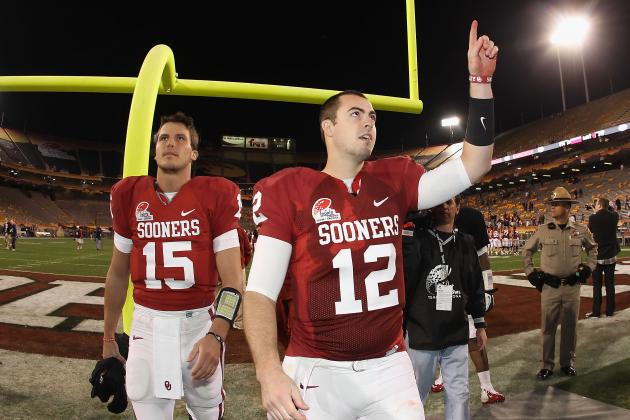 Christian Petersen/Getty Images

If Jones can figure out how to limit his interceptions, he will be a Heisman candidate in 2012.
He threw multiple picks in five games last season, and wound up with 15 on the season.
His production is excellent, as he gained more than 4,400 yards through the air in 2011, and completed 63 percent of his attempts
The Sooners have solid talent at wide receiver and a solid ground game to reduce the pressure on Jones.
Keep an eye on him this year; he will figure out some of those issues and put up huge numbers.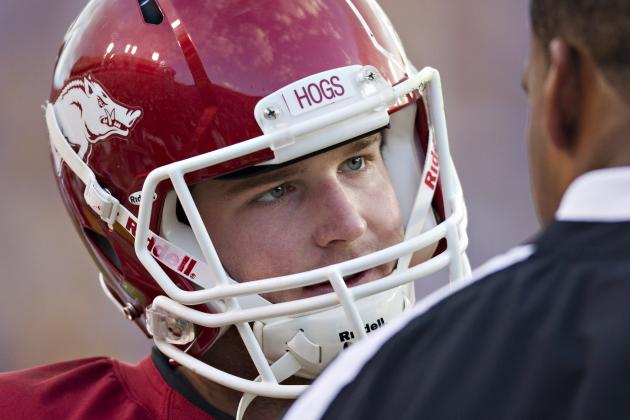 Wesley Hitt/Getty Images

Wilson will be one of the top Heisman contenders in 2012.
The Hogs have tons of talent at receiver and running back, and Knile Davis will be back from injury to take some pressure off the passing game.
Wilson showed the ability to make all the difficult throws in 2011 and, with another season under his belt, will put up some monster numbers in '12.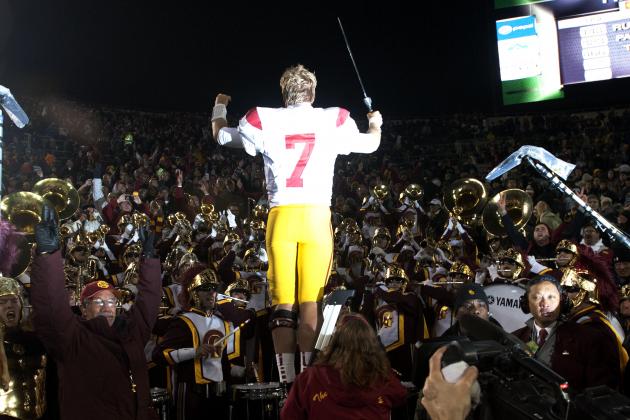 Steve Dykes/Getty Images

You would be hard-pressed to find anyone who knows anything about college football that would deny that Matt Barkley will be the top quarterback of 2012.
The kid makes great decisions and has some incredible weapons at the offensive skill positions.
He completed 69 percent of his passes in 2011 with 39 touchdowns through the air and only three picks.
While the Trojans' offensive line will not be quite as strong as last season, Barkley will improve on those numbers in 2012.