Power Ranking Every College Football Head Coach Going into 2012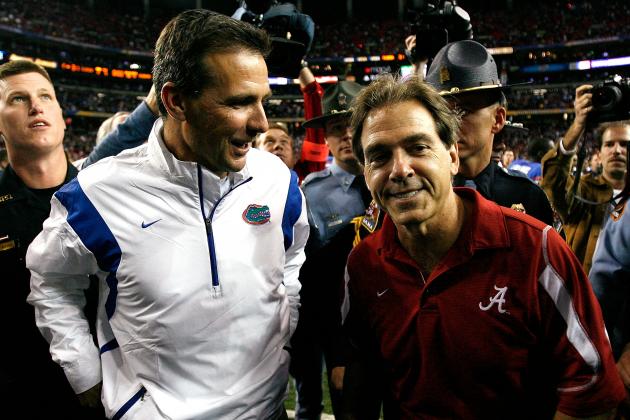 Kevin C. Cox/Getty Images

Who are your top 120 coaches in college football?
Many debate on which factors make up such an entertaining argument. Everybody has their own preference, but winning at the end of the day always cures everything.
The following rankings are intended for the upcoming season and not just what they have done over the long haul of their careers.
Looking at the past and into the future, these 120 coaches are ranked in my eyes as who I would want leading my program right now.
Note: South Alabama, Massachusetts, Texas State and UTSA are all brand new teams and I do not feel it is fair to rank their coaches just yet. Still, I welcome you all to rank your own top 120 and debate on which coaches you feel are the best in America.
Begin Slideshow

»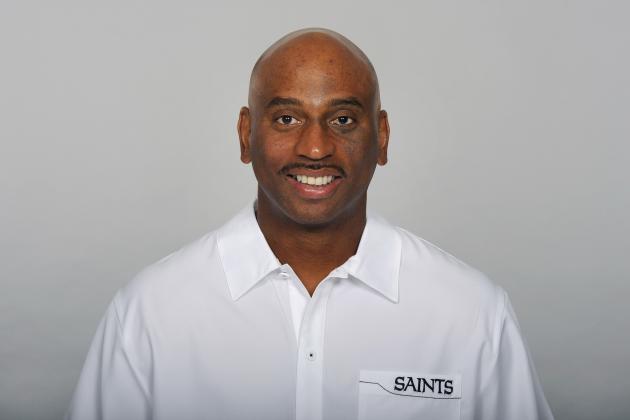 Handout/Getty Images

Curtis Johnson doesn't necessarily deserve the bottom spot in these rankings, but the former Vandal receiver is not exactly walking into the best of situations.
Tulane has gone 9-28 for the last three seasons which believe it or not is abysmal, but college football doesn't fear Tulane right now and it is going to take a whole lot of magic for the Green Wave and Johnson to see any immediate success.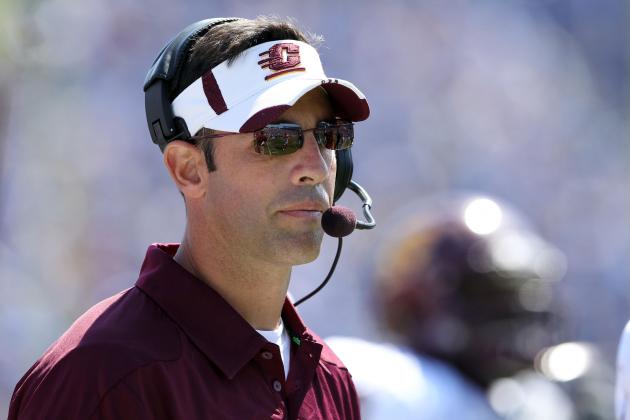 Andy Lyons/Getty Images

Career Record: 6-18
The Chips won 28 games before Dan Enos arrived in Mount Pleasant, but things have been anything but as of late.
Going 6-18 in your first two seasons equals the hotseat and the MAC is not a conference where you should be struggling. Every other season (outside of NIU perhaps in terms of consistency) there is a team that comes out of nowhere to become a serious threat.
Central Michigan was once considered contenders in the conference but at the moment they are bringing up the bottom.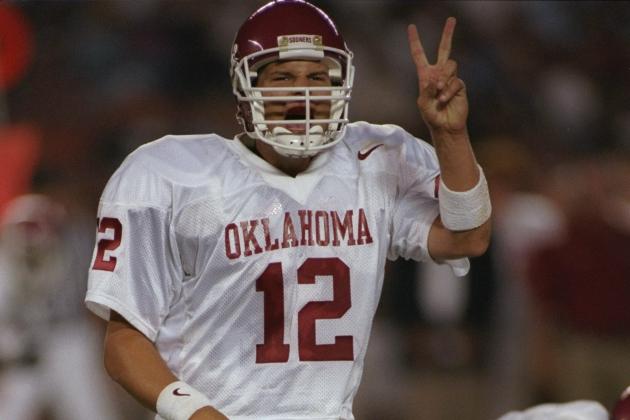 Todd Warshaw/Getty Images

Justin Fuente has never coached a single game in his life as the one in charge, but the former Boomer Sooner signal-caller is looking to improve upon a three-year stretch where the Tigers have gone just 5-31.
Career Record: 6-20
Jeff Quinn cannot go 5-19 in his first two seasons and just expect to be ranked on my list. The Bulls are not your prototypical non-AQ powerhouse (or even relevant MAC squad) and they will need to prove some of the naysayers wrong this season (like myself).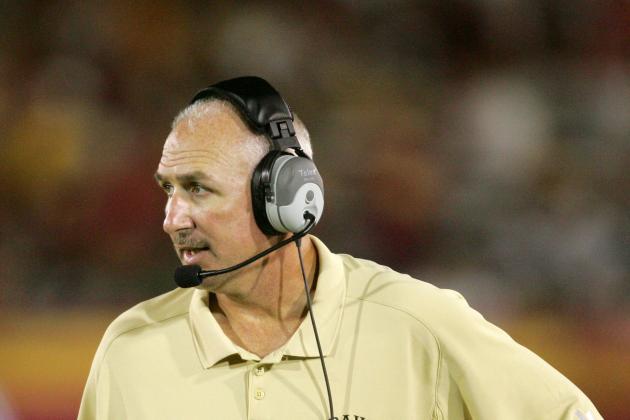 Kevin Terrell/Getty Images

Career Record: 19-43
I have nothing against any of these coaches especially since all have overcome a lot to get their shots at the collegiate level, but there is a reason why programs have to let go of a few.
A scoreboard keeps tracks of the score of a game and as we know there will be some losing teams and programs that are much tougher to build than others.
Idaho is one of those programs and it is unfortunate since Robb Ackey could be in his final season.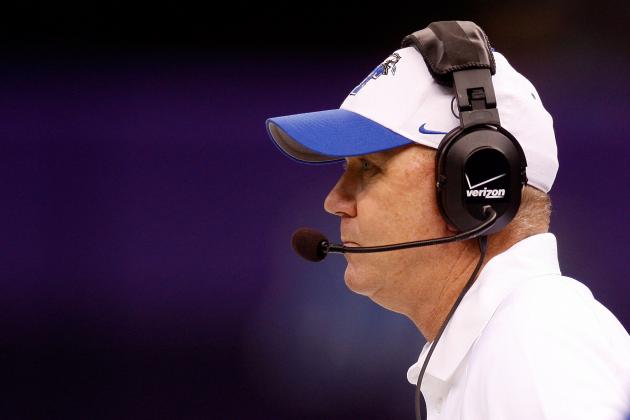 Chris Graythen/Getty Images

Career Record: 35-40
Middle Tennessee State is not known for their football (three bowls since 1961, five total) and it is never good news when you go from a bowl game to a 2-10 season.
That is exactly what the Blue Raiders did and Stockstill won't be around much longer if they cannot compete in the Sun Belt.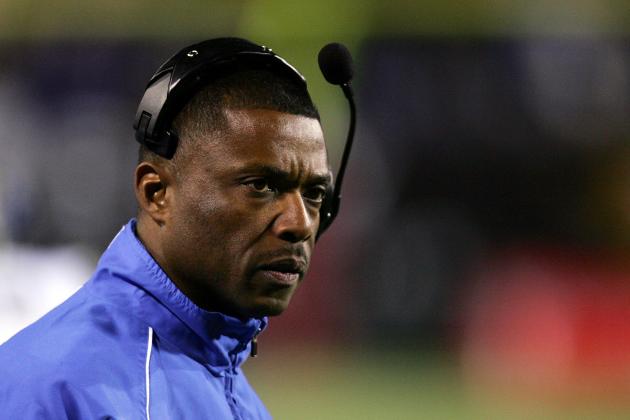 Ethan Miller/Getty Images

Career Record: 9-30
The New Mexico State Aggies have taken their lumps in the non-conference slate in recent years (5-10) and the overall budget is not a good one.
The record has been horrid for three straight seasons and I am unsure if the Aggies can just become bowl eligible by the flip of a switch.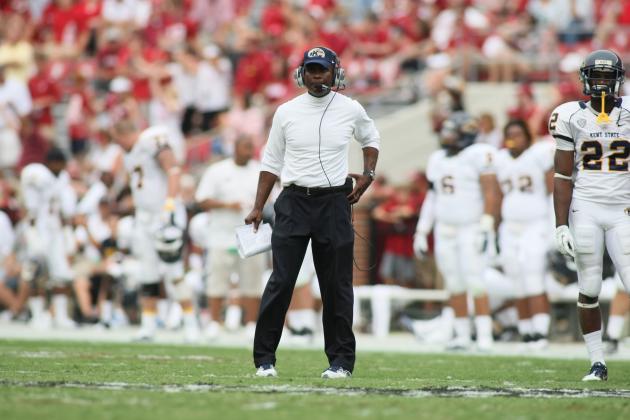 Greg McWilliams/Getty Images

Darrell Hazell went 5-7 in his first season at Kent State and as a receiving coach for the majority of his career, the Golden Flashes are looking for a push to the postseason.
Still the experience factor hurts him a tad, though he is a bit of an unknown at this point.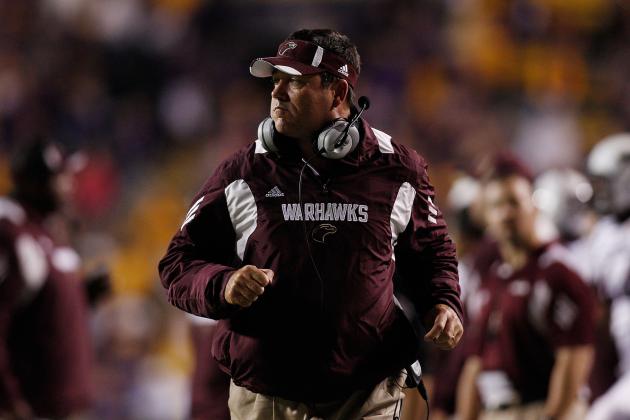 Chris Graythen/Getty Images

Career Record: 38-74
Toddy Berry is waiting to get the Warhawks into their very first bowl game, but they struggled this past season after seeing Florida State, TCU and Iowa in the non-conference slate.
Still, Berry had success at Illinois State before struggling mightily at Army. I wouldn't write him off yet since the Sun Belt is a fluid changing conference where there is no mortal lock team that dominates.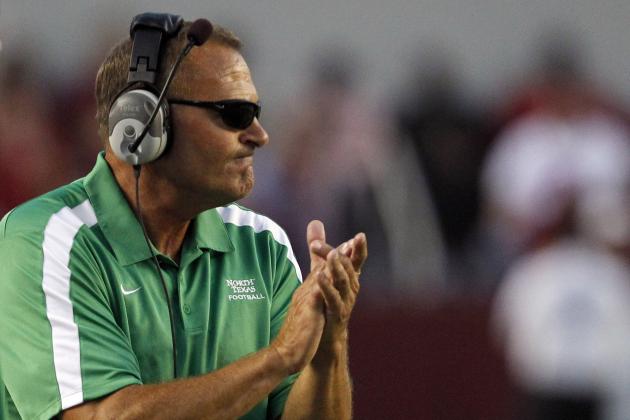 Butch Dill/Getty Images

Career Record: 61-92
Dan McCarney is the same coach that had Iowa State excited about football, but taking over the program of North Texas is not exactly a man's No. 1 wish.
Despite taking off four seasons away from the game, he went 5-7 in his first season. That is not bad in the Sun Belt, but will he take them bowling next season?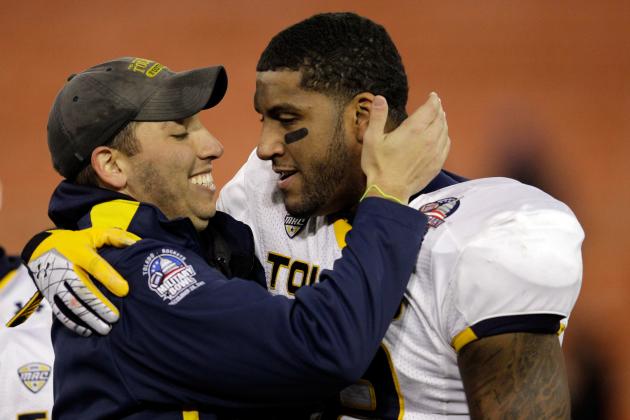 Rob Carr/Getty Images

The youngest coach in the current FBS at 32 years of age is a nice trivia to have test around the water cooler, but the Rockets are honestly thinking about future MAC titles with Matt Campbell around.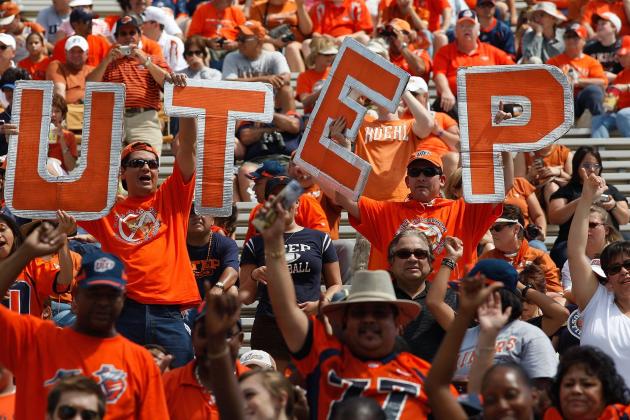 Ronald Martinez/Getty Images

Career Record: 174-174
Mike Price has not been the effective coach some anticipated (45-52 at UTEP) since two bowl appearances in seven seasons is a bit on the awful side of things.
However, Price will be 66 by next season and his time is clearly running out in the game of college football.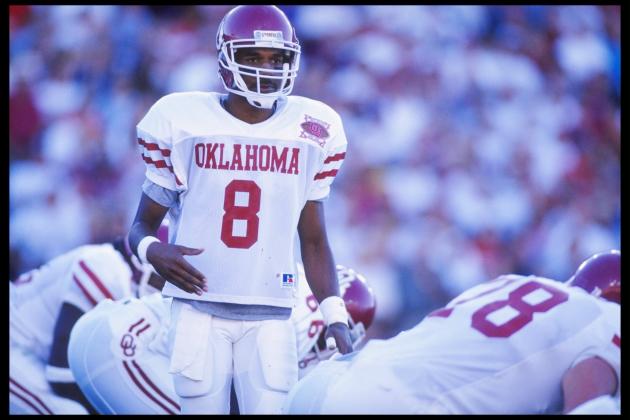 Robert Seale/Getty Images

As a former Oklahoma quarterback, Garrick McGee has since been a solid coordinator. As a co-offensive coordinator and quarterbacks coach, McGee was quietly been productive.
Now he will be expected to completely turn around an ugly situation where the Blazers have gone 18-42 over the last five seasons.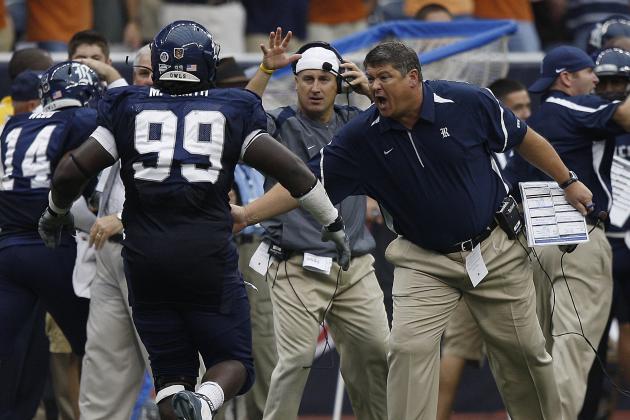 Bob Levey/Getty Images

Career Record: 23-38
The Rice Owls have been miserable in four of David Bailiff's five seasons, but he did have a 10-3 season in 2008. Still, he needs to have one of those solid seasons where Rice appears in a bowl game.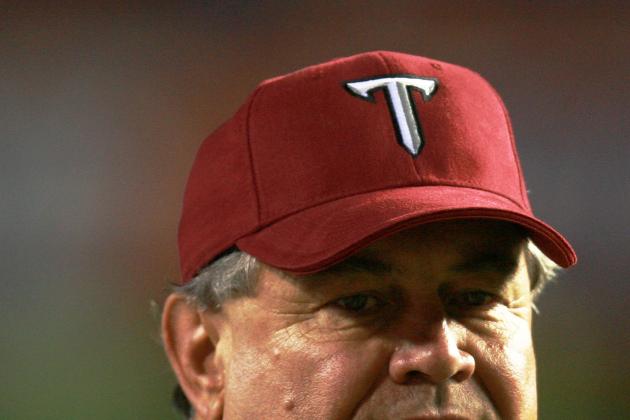 Doug Benc/Getty Images

Career Record: 163-92-1
Larry Blakeney has had a ton of success with Troy, but his career is winding down and it may not be long before he hangs up the clip board.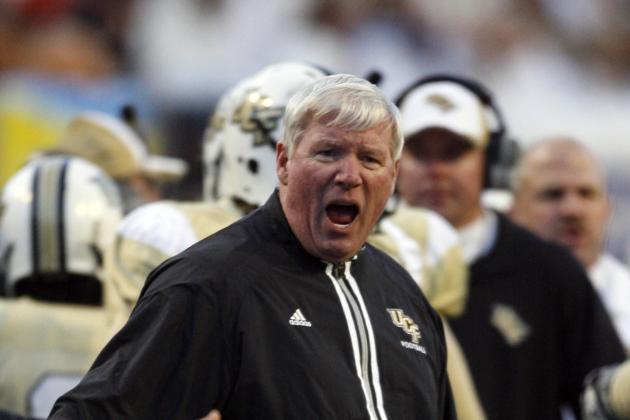 Joe Murphy/Getty Images

Career Record: 102-84
George O'Leary is on the hot seat according to some but he is also at the end of his career which is noteworthy.
His Knights were just 11-3 two seasons ago, but how quickly things can change in a season. They went 5-7 but O'Leary would like to avoid any such funk again.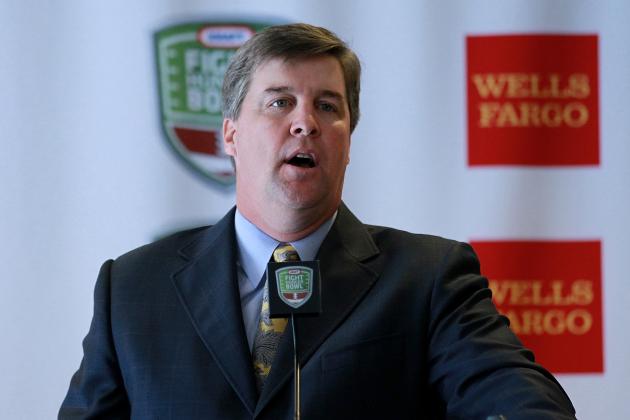 Justin Sullivan/Getty Images

Career Record: 6-19
It has been a tough two seasons for the Spartans though they did make major improvements in one season. They were just 1-12 back in 2010 and saw solid strides with a 5-7 season this past season.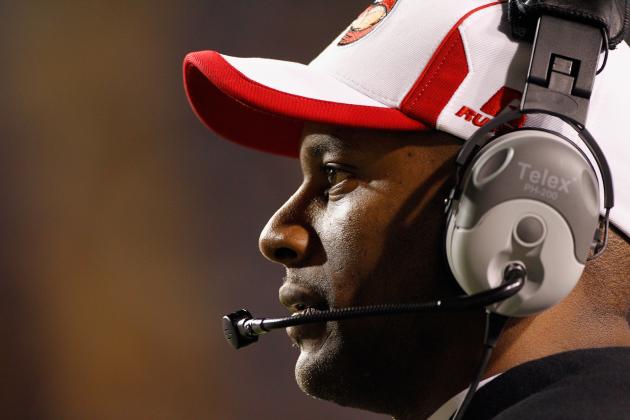 Chris Graythen/Getty Images

Career Record: 9-15
Willie Taggart has quickly turned Western Kentucky into a respectable team despite just becoming a FBS squad for two seasons.
Career Record: 19-29
The Aggies lost nearly every game this past season on the final possession, but that is not a good enough excuse for Gary Andersen. Utah State needs to take advantage of the talent they have before it becomes too late.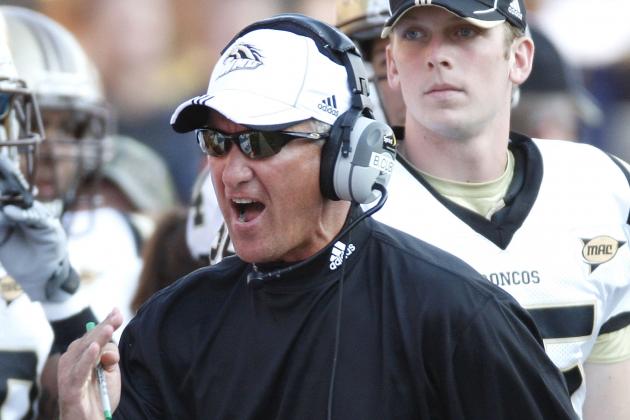 Gregory Shamus/Getty Images

Career Record: 91-57-1
Bill Cubit is still attempting to give the Broncos their first-ever bowl victory, but he has only had two losing seasons out of the seven years.
This guy has had solid offenses and playmakers, but you would still like a bowl victory and for that offense to be dominating similar to highly-regarded non-AQ schools.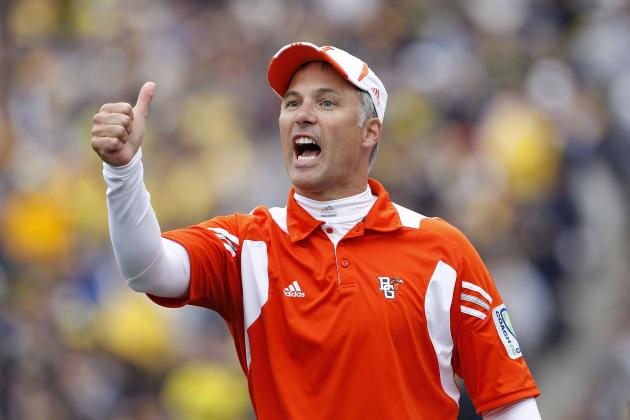 Leon Halip/Getty Images

Career Record: 72-72
Bowling Green would love to become factors in the MAC, but going 7-17 for the last two seasons is not good enough. Dave Clawson had success with Fordham and Richmond, but we are still awaiting for the results right now.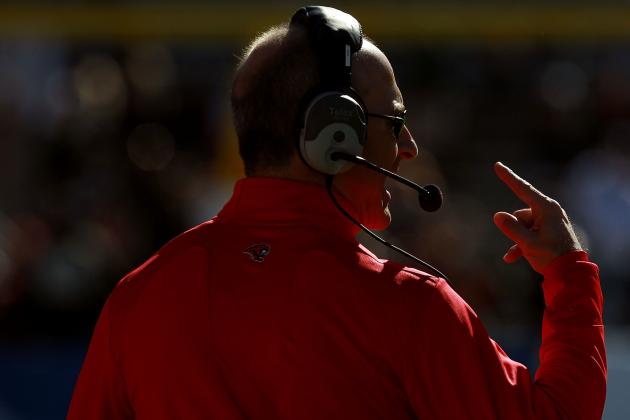 Ronald Martinez/Getty Images

Tony Levine is taking over for Kevin Sumlin and nearly all of the stars will be gone for next season. Mainly as a receiver coach for the majority of his career, Levine has a chance to maintain a consistent and successful program with the Cougars.
The experience factor knocks him down a bit, but he has enough talent in the recruiting base to make people notice.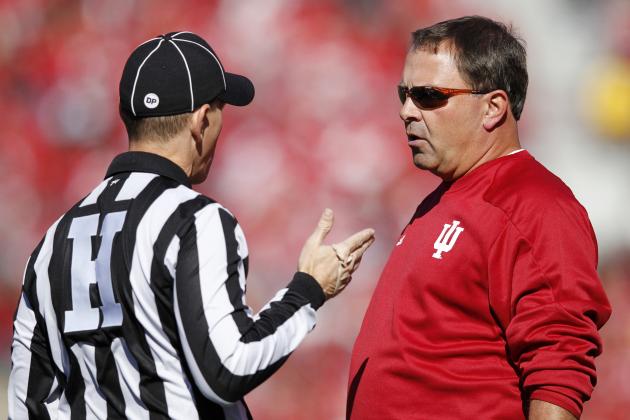 Joe Robbins/Getty Images

A tremendous offensive coordinator at Oklahoma, Kevin Wilson had a miserable first year with the Hoosiers. Results do not just happen automatically but the bleeding better stop in some facet for 2012 or Kevin Wilson may start to ponder leaving Norman to Bloomington.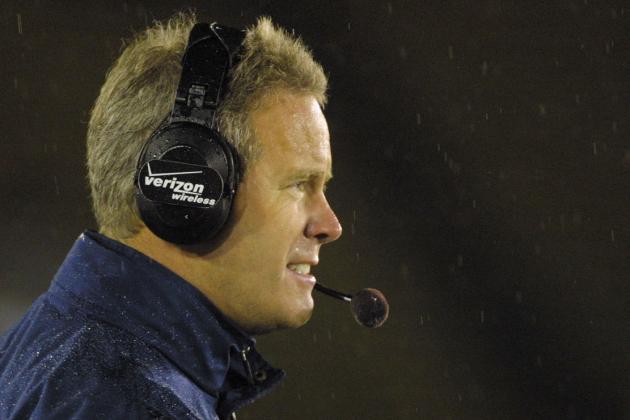 Scott Halleran/Getty Images

Career Record: 35-25
Bob Davie had a decent tenure with Notre Dame (35-25, '97-''01), but he has been away from the game for over a decade now.
Can he turn around one of the worst programs (3-33 last three seasons) in the country?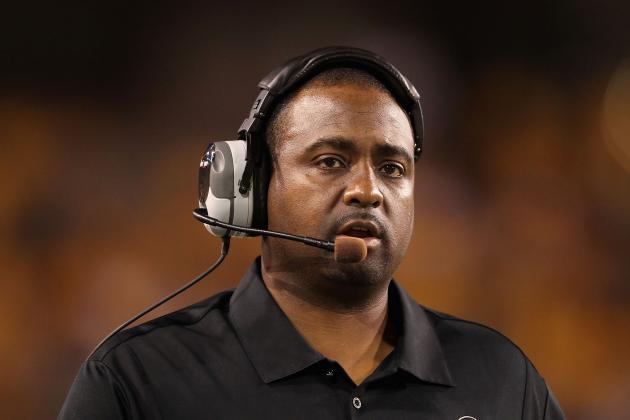 Christian Petersen/Getty Images

Going 3-10 in his first season was tough, but they did have an absolutely brutal schedule. The Buffaloes are going to still have tough stretches ahead of them, but improvements will be made.
It isn't like Embree is not good enough of a coach, but there are just so many great options ahead of him. I look for him to climb these rankings once he proves himself.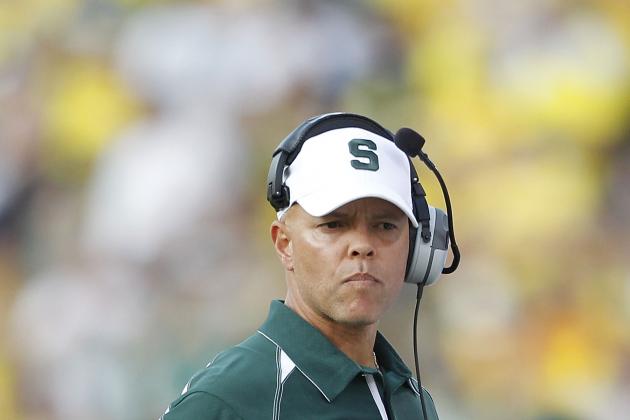 Leon Halip/Getty Images

Don Treadwell had a tough inaugural season with Miami Ohio at 4-8, but he can turn it around quickly in the MAC. After all, the Redhawks did go from 1-11 to 10-4 from 2009 to 2010.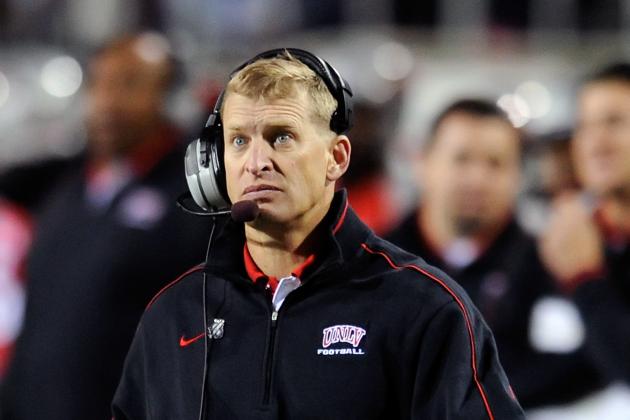 Ethan Miller/Getty Images

Career Record: 84-38
Bobby Hauck is only 4-21 at UNLV after two seasons which is dreadful, but he was so successful at Montana (80-17).
The reason he isn't lower is because this guy is still a solid coach. The Rebels have not had half the talent they need to succeed in the Mountain West, but they have to eventually turn it around before it is too late.
Another 2-10 type of season surely would put Hauck in a tough spot, though.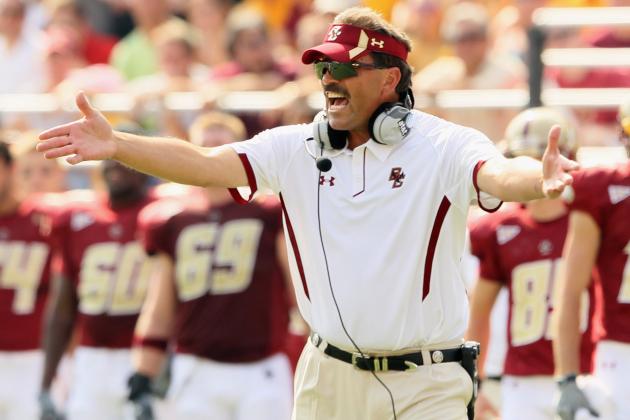 Elsa/Getty Images

Career Record: 20-19
Frank Spaziani is on the hot seat with Boston College though he has lasted three seasons already and has taken them to two bowl games while going 9-7 in the process.
Last season was a struggle at 4-8 and 3-5 in the ACC, so he needs a productive year from Montel Harris and his defense (loss of Luke Kuechly is tough).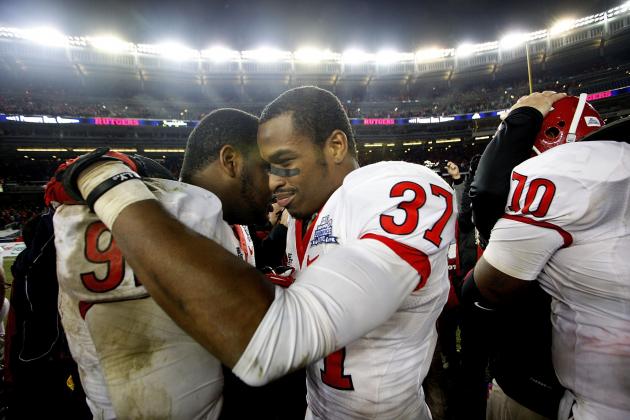 Jeff Zelevansky/Getty Images

Kyle Flood has his first head coaching job at Rutgers, but he has been with the program since 2006. Plus, he just landed one hell of a recruiting class that should put the Scarlet Knights back in the Big East upper-echelon.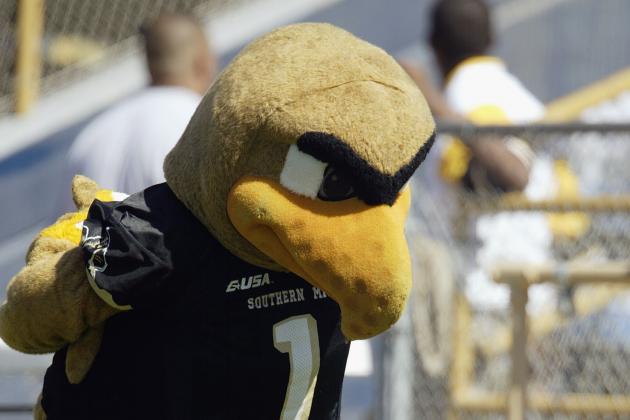 Jed Jacobsohn/Getty Images

Career Record: 17-28
Ellis Johnson was a great defensive coordinator for Steve Spurrier and South Carolina, but he was not the most successful coach in his short time with The Citadel (01-'03).
He will have some solid talent at Southern Miss and he should be fine although they may be down a notch from this past season.
I like his defensive coaching ability, but you need to put some points up on the board and they could struggle there.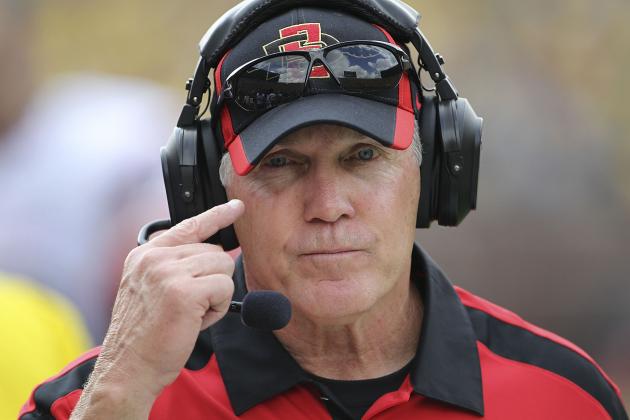 Leon Halip/Getty Images

Career Record: 73-74
Known as his time as a defensive coordinator with Oregon State, UCLA and San Diego State on top of being a head coach for New Mexico, Rocky Long has been decent.
Decent may not see the biggest complement, but his Aztecs had some solid talent last season and yet they struggled towards the end of the season.
Now losing Ronnie Hillman and Ryan Lindley, will the wheels fall off?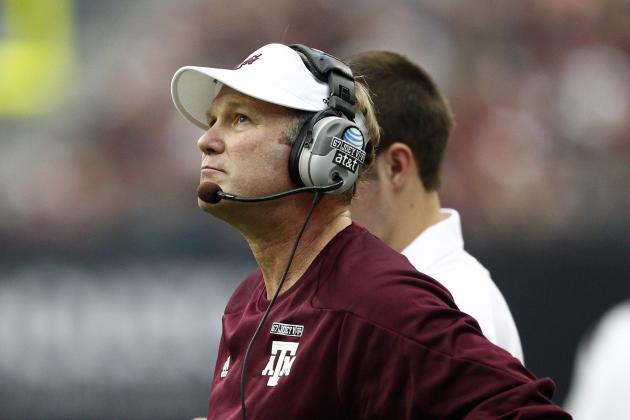 Bob Levey/Getty Images

Tim DeRuyter has been a solid coordinator for the past few seasons, but he has not coached one single game as a head coach yet.
Once we see him turn around Fresno State, he will likely sky rocket in these rankings, unfortunately winning is vital at the end of the day. The return of quarterback Derek Carr should give the Bulldogs a much needed punch on offense, but that doesn't guarantee anything.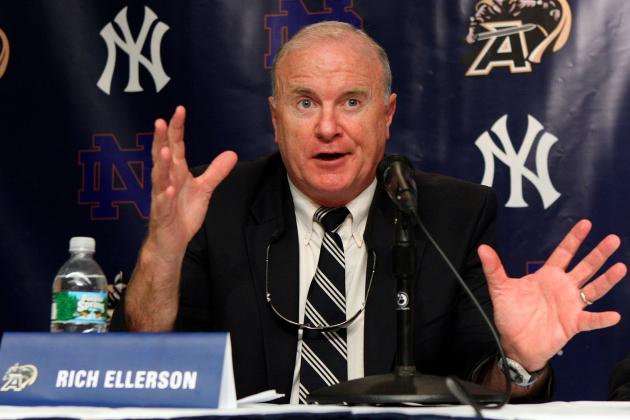 Jim McIsaac/Getty Images

Career Record: 75-62
Army has gone to one bowl game in the three seasons that Rich Ellerson has been in charge, but the latest 3-8 season put more questions in this program.
They should be going bowling in 2012, but even the success we saw Ellerson have at Cal Poly does not do enough for me to rank him too high.
Army has also been the worst Military and Independent team in the country for arguably the past decade-plus. Luckily, the Black Knights can change that with a winning season.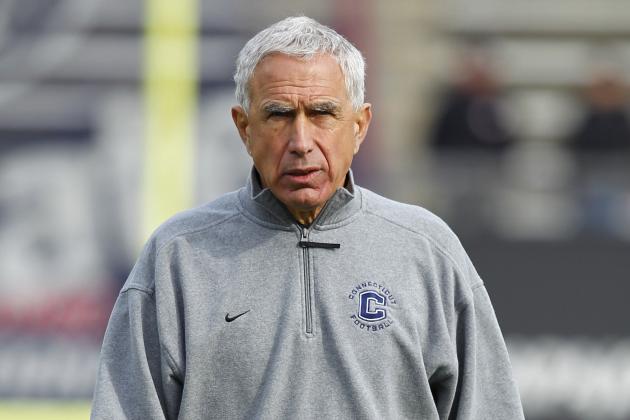 Tyler Barrick/Getty Images

Career Record: 145-84-1
Paul Pasqualoni needs another run with this Connecticut program since he once was so successful with Syracuse. Now the Huskies are desperate for more improvement since they are headed to the ACC in 2013.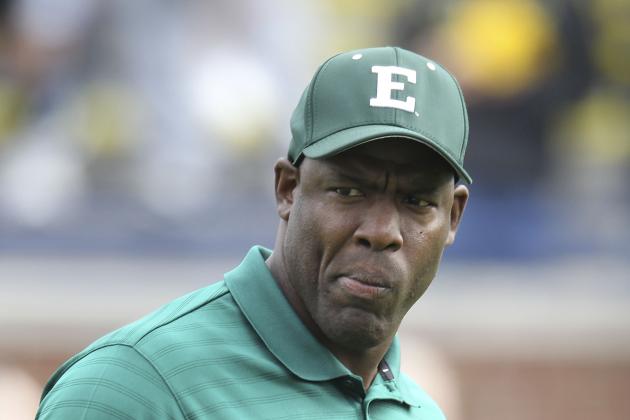 Leon Halip/Getty Images

Career Record: 8-28
Eastern Michigan has been in a funk until they just came off a 6-6 season. Ron English was a solid defensive coordinator for Michigan and was respectable with Louisville, but many still question on how good of head coach he can become.
Getting to a bowl game would end some of that speculation since winning cures everything.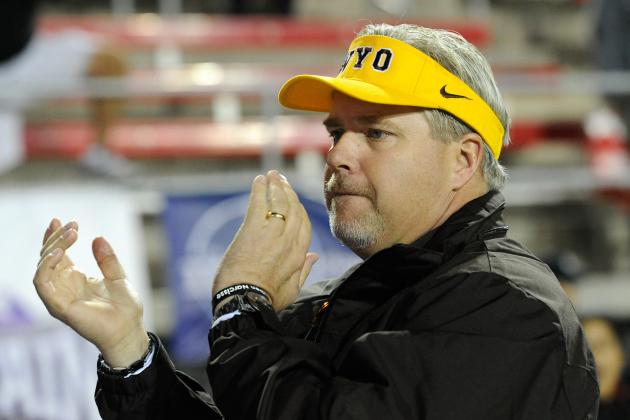 Ethan Miller/Getty Images

Career Record: 18-20
Wyoming has gone to two bowl games in three seasons and Dave Christensen is carrying this program right now. They are attempting to finish with a tad better of a regular season so they could avoid the New Mexico Bowl, but the Cowboys came from disastrous seasons back in the day.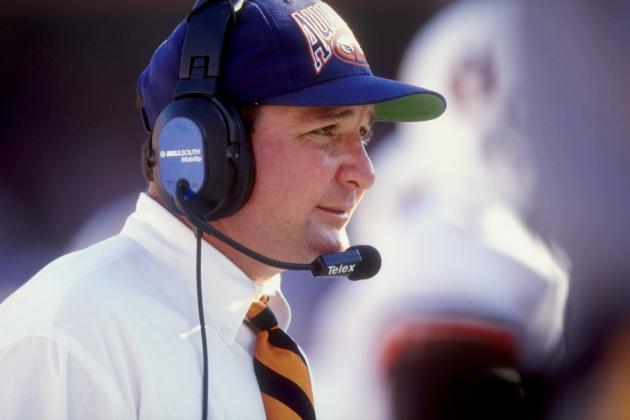 Andy Lyons/Getty Images

Career Record: 139-63-2
Terry Bowden is coming off three solid seasons at North Alabama, but Zippy wants some immediate success.
Akron has not had the most successful program in recent memory they can turn it around in the MAC where we see drastic turns and changes in a matter of one season.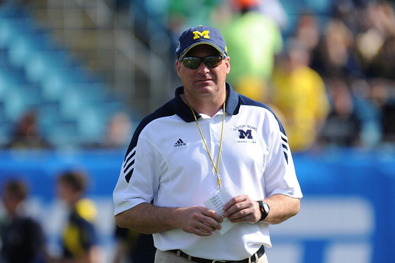 Rick Dole/Getty Images

Career Record: 120-84-2
Rich Rod has a shot to get back with an Arizona Wildcats team that is certainly capable of challenging for a bowl game within the first few seasons.
Will they ever contend for a Pac-12 title though? The disaster that happened at Michigan may not be forgotten, but it will be near history if he can turn the 'Cats into serious threats.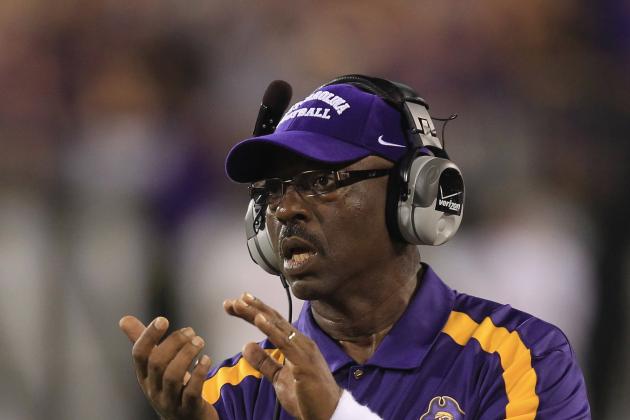 Streeter Lecka/Getty Images

Career Record: 11-14
The record may not be enticing, but McNeill's Pirates have been hanging tough in C-USA and they are still a throne for many BCS teams they see every season.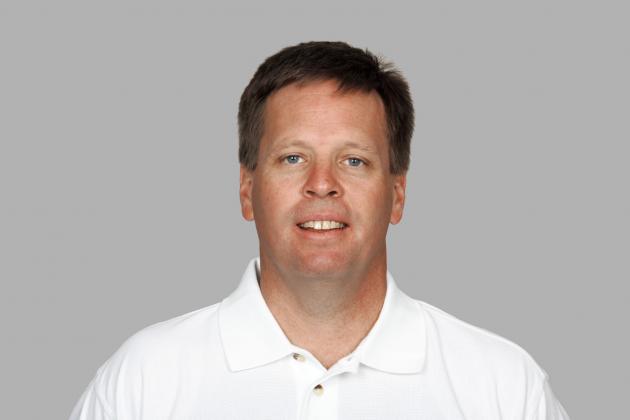 Getty Images/Getty Images

A former Eastern Michigan quarterback finally has his first head coaching job and he will likely not disappoint. He helped Alabama's offense to two BCS National titles and the Rams should be counting on some future bowl appearances with McElwain in charge.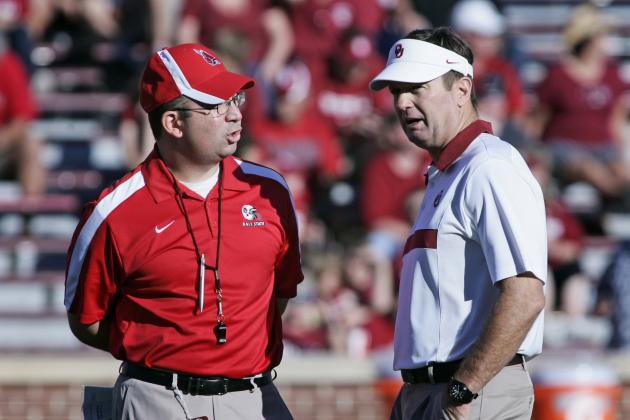 Brett Deering/Getty Images

Career Record: 84-42
Talk about the underrated and unknown coach. This guy's has won wherever he has gone (Lehigh, Elon) and I look for Ball State to become serious threats in the MAC.
Going 6-6 in your first season speaks volumes regardless of the competition and it won't be long before America takes notice.
Al Messerschmidt/Getty Images

Career Record: 24-38
The Panthers have been appearing in bowl games, but they haven't been all that impressive while doing so. However, the Panthers were awful once upon a time in 2007 and Cristobal has given them a lot to cheer about still.
Mark A. Cunningham/Getty Images

Going 11-3 in your first season is a great start for the Huskies and NIU faithful are expecting an even better season in 2012 despite opening up with Iowa at Soldier Field.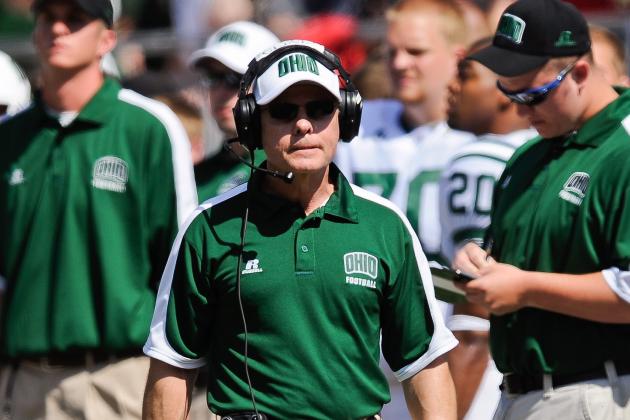 Jamie Sabau/Getty Images

Career Record: 108-59
Frank Solich had a ton of success at Nebraska, but his resurgent Bobcats have gone 19-5 in the MAC for the last three seasons.
No longer are they an easy opponent and they should remain among the upper-mid tier of the MAC with Solich aboard.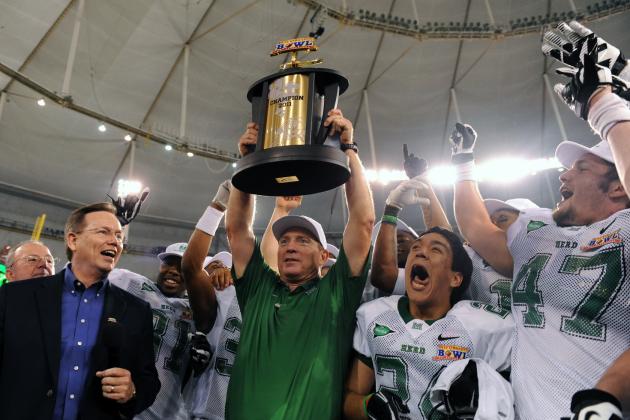 Al Messerschmidt/Getty Images

Career Record: 12-13
The former Florida and West Virginia assistant finally has Marshall in the right direction and their future should be bright with star wideout Aaron Dobson returning.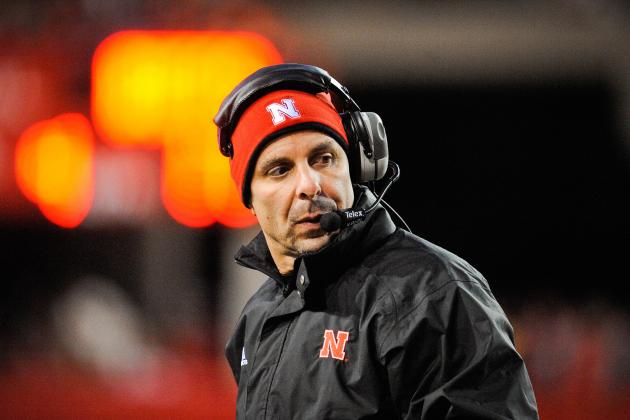 Eric Francis/Getty Images

Bo's brother Carl is ready to finally take the big stage. Maybe Florida Atlantic is just in the lowly Sun Belt, but the Owls have a guy who is ready to take the program up a notch.
He was a sensational coordinator and we may have to be a bit patient to see immediate results.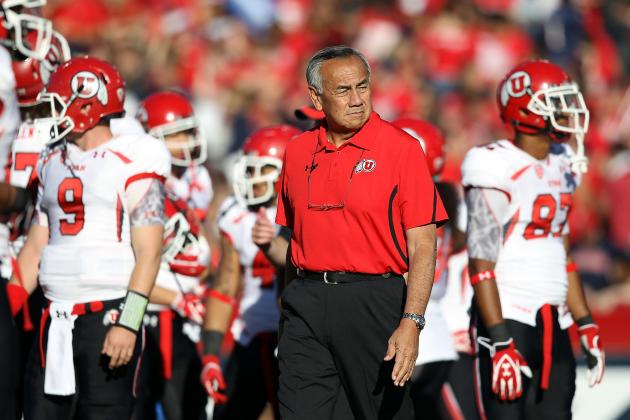 Christian Petersen/Getty Images

Norm Chow has been widely-known as one of the best offensive coordinators in the country, but can he turn around a dead program?
Hawaii has been exactly that for a few seasons and the offense needs to regain their swagger. Chow better be able to get more energy and awareness from his guys if he expects to be playing in a bowl game right away.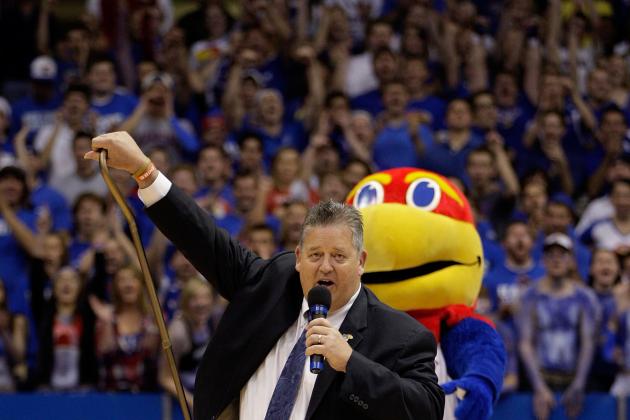 Jamie Squire/Getty Images

Career Record: 35-27
Charlie Weis had a nice start off in South Bend before he was kicked to the curb, but he will not exactly get the same type of players in Lawrence.
Plus, the competition is not getting much easier if at all. If Chuck cannot get the offense going, things will get ugly, fast.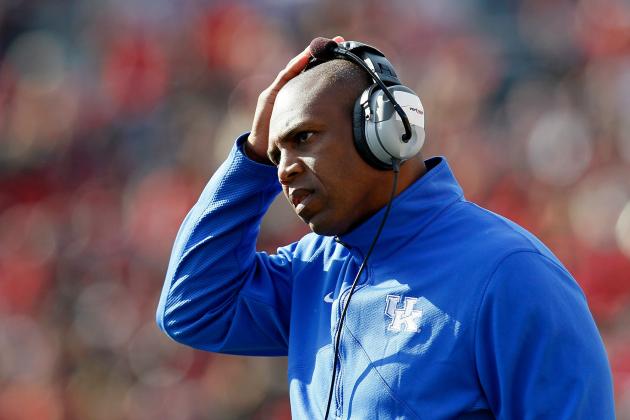 Kevin C. Cox/Getty Images

Career Record: 11-14
Kentucky has not been impressive in the SEC East since they are buried in the basement right now, and things won't be getting any easier.
Missouri goes to the East which is not great news, but the playmakers are really lacking.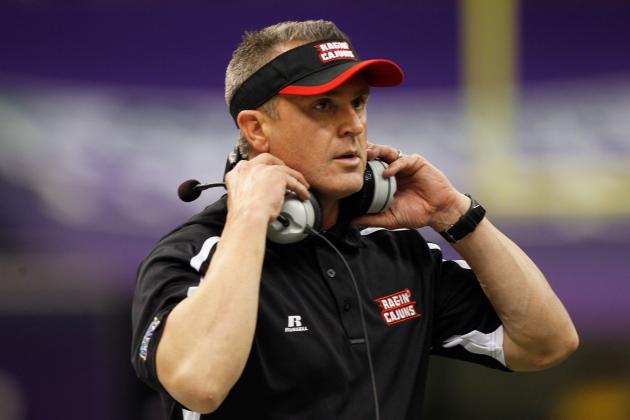 Chris Graythen/Getty Images

Career Record: 75-25
The Ragin' Cajuns would enjoy another Sun Belt run, and there are a bunch of starters expected back.
Plus, the showing against San Diego State was a great preview of what should be coming in the near future.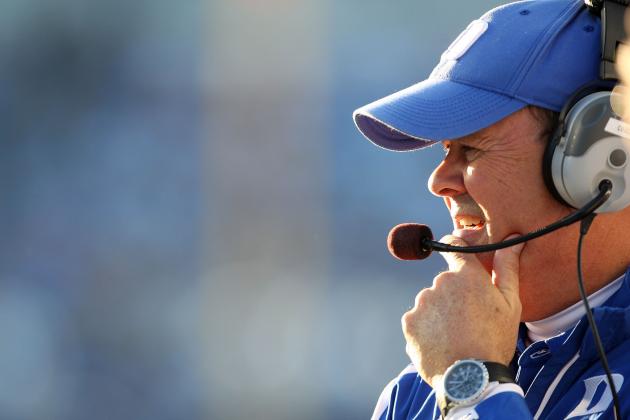 Streeter Lecka/Getty Images

Career Record: 59-62
The Dukies would love nothing better than to finally appear in a bowl game under David Cutcliffe since he has averaged four wins per season.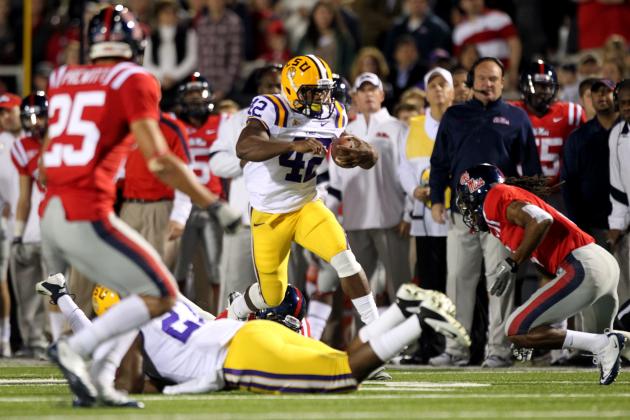 Joe Murphy/Getty Images

Career Record: 30-7
Hugh Freeze at Arkansas State became relevant with his ability to throw up a boatload of points, so hopefully he can do half as much in Oxford. The Rebels have not been even a factor in the SEC for the past few seasons when Jevan Sneed was their guy in 2009.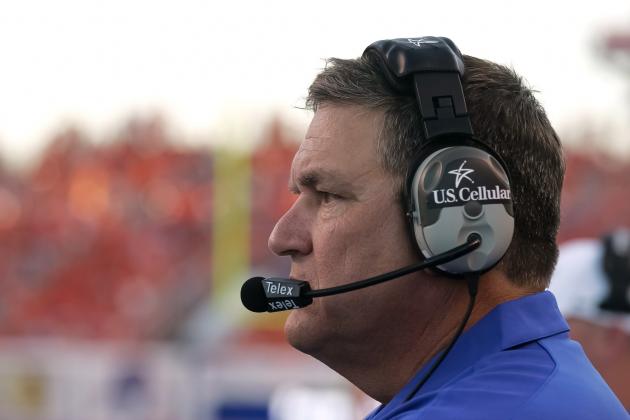 Otto Kitsinger III/Getty Images

Going 8-5 in your first season after coaching in high school for your career is not bad, but Tulsa lost to three of the best teams in the country last season (OK State, OU and Boise).
An easier schedule should allow Tulsa to at least match that and Bill Blankenship is one of those guys that will get the job done even though he is the last one talked about around the water cooler.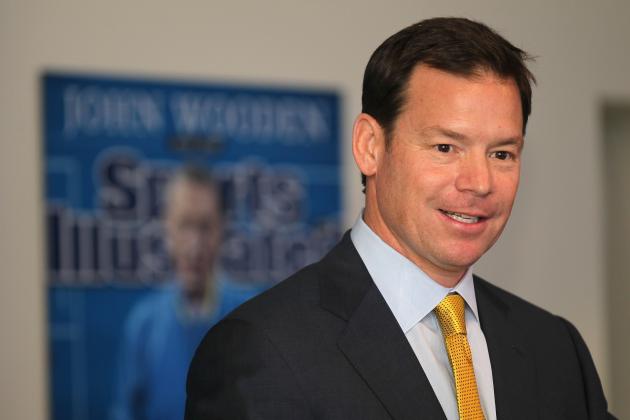 Stephen Dunn/Getty Images

Jim Mora Jr, is ready for his next challenge in life and the Bruins would love if they became a feared program. They have had some players step up but the quarterback issues have been glaring.
Whether it is the injuries piling up or the inability to bust off a few home runs, Joe the Bruin is not happy with the way things have recently ended up.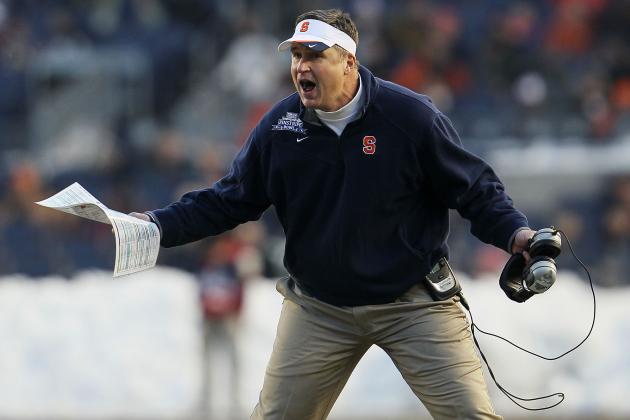 Chris McGrath/Getty Images

Career Record: 17-20
Doug Marrone has a crucial season coming up for the Orange, but it is not like the Cuse have been loaded with NFL players.
He is still working on getting the players he needs to succeed which is not great news since teams like Louisville and Rutgers are starting to notch a few away. Marrone still has work to do but did just 8-5 two seasons ago.
Brett Deering/Getty Images

Career Record: 123-72
Texas Tech is not a national powerhouse program right now, but the ""The Riverboat Gambler" is just hoping to make them a factor in the Big 12.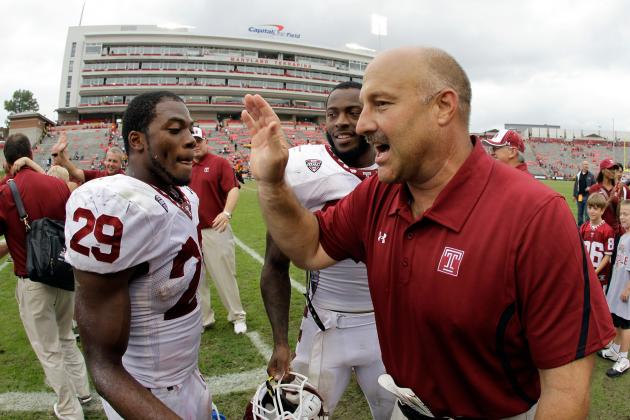 Rob Carr/Getty Images

Career Record: 9-4
A tremendous offensive line coach for Urban Meyer at Florida before turning to an offensive coordinator after he left, Addazio has Temple playing in bowl games.
That in itself is impressive and it won't be long before the Owls are winning MAC championships.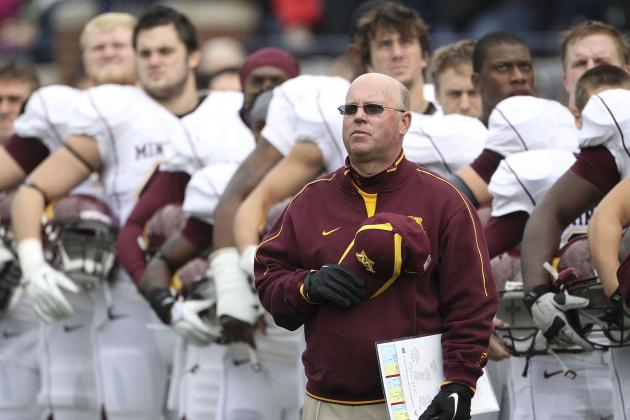 Leon Halip/Getty Images

Career Record: 130-82
A 3-9 season wasn't the best for Minnesota, but the Gophers should be on the rise for 2012 with their quarterback coming back.
Jerry Kill just needs a few more jimmy's and joe's to compete with the cream of the crop.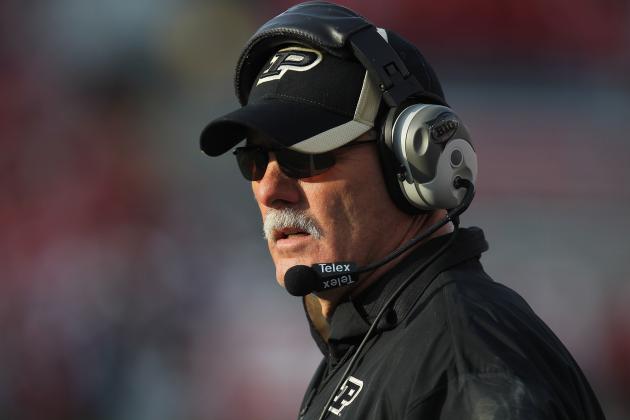 Jonathan Daniel/Getty Images

Career Record: 51-43
Danny Hope has done a fine job since taking over for Joe Tiller, but the victories need to start piling up. They have some speedster on offense, and their line play has been good enough.
However, they need a healthy and productive quarterback or else they may never reach a New Year's Day game. Hope is good enough to at least challenge for the opportunity.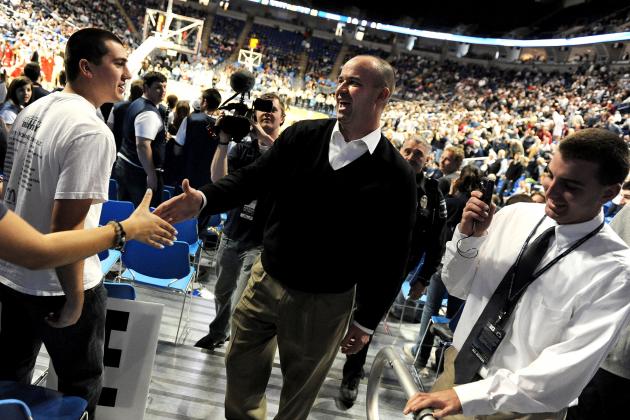 Patrick Smith/Getty Images

Bill O'Brien should be able to get Penn State back in a few years, but the expectations are not Pasadena or bust right away.
Luckily for them, Ohio State cannot play in the Big Ten title so only Wisconsin is considered to be a better team than them in the Leaders Division.
O'Brien needs to get a few more playmakers at receiver and this team could surprise a bunch.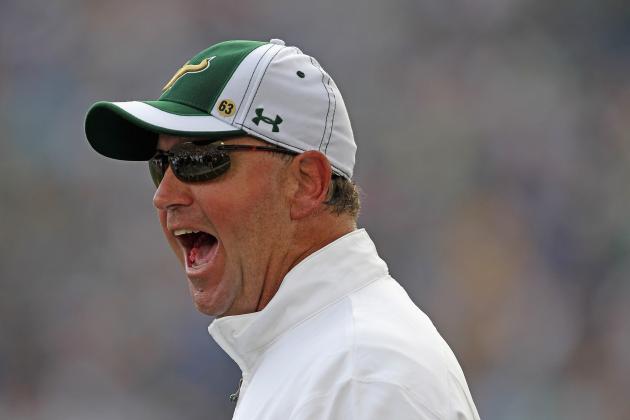 Jonathan Daniel/Getty Images

Career Record: 85-62
It would help if Skip Holtz could eventually appear in a BCS game with his Bulls, but at the moment he is stuck essentially dead in the middle of these rankings.
He is a legit coach that has given South Florida a ton of potential for the near future, but more often potential is what gets people in trouble.
Look for Holtz to continue to build this program up to where they want to be.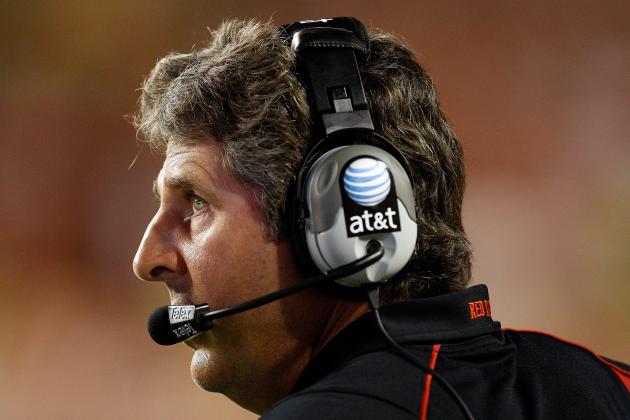 Ronald Martinez/Getty Images

Career Record: 84-43
Mike Leach had the Red Raiders on the map and it may not be long before he puts Washington State at least back in bowl contention.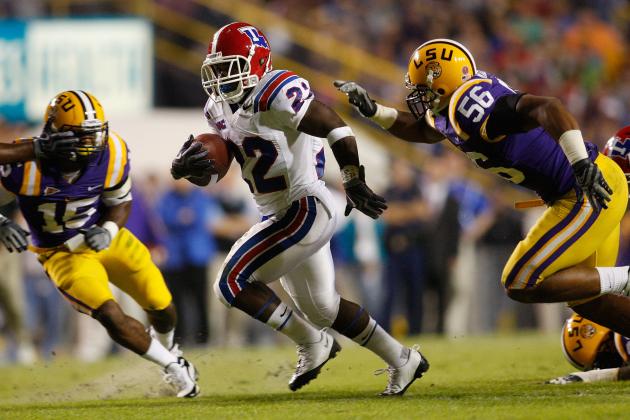 Chris Graythen/Getty Images

Career Record: 13-12
Louisiana Tech is a team on the rise in the WAC right now and Sonny Dykes is pressing all the right buttons. Their offense seems to be a juggernaut as they put a real scare into TCU during the Poinsettia Bowl, so double-digit victories looks evident.
Kirk Irwin/Getty Images

Career Record: 21-16
Tim Beckman will look to keep the Illini in contention much more often for bowl games than Ron Zook did, but there needs to be some improvement on the offensive side of the ball.
They have had a few playmakers on defense, but the inconsistency in the passing game has become an issue. Big Ten defenses have loaded the box up with extra defenders and begged Illinois to throw it, which they have been unable to do.
Beckman has had a nice track record with his offenses, so the opportunities are there.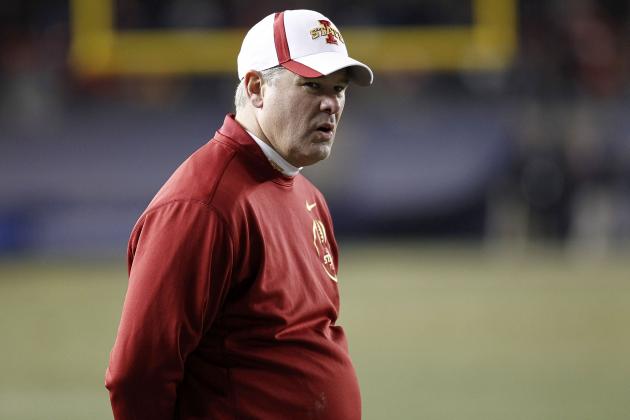 Jeff Zelevansky/Getty Images

Career Record: 18-20
The overall record isn't the most impressive you will see but for Iowa State standards, it is marvelous. The best is yet to come and I expect more improvement in Ames this season.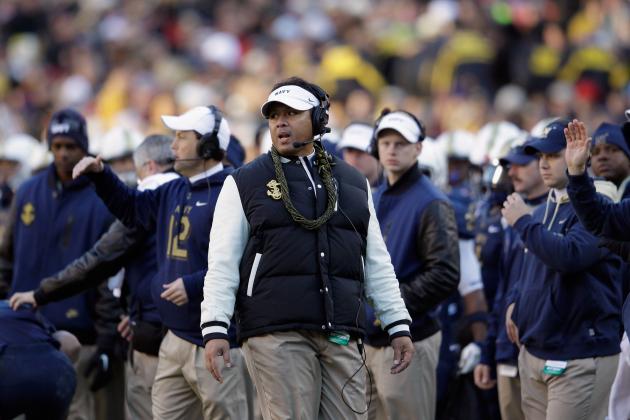 Rob Carr/Getty Images

Career Record: 32-21
Navy football has been respectable thanks to Ken Niumatalolo, but coming off a tough 5-7 season will bring some challenges.
Four bowls out of five seasons is not too shabby, but Niumatalolo expects to knock off a few BCS teams every season nowadays.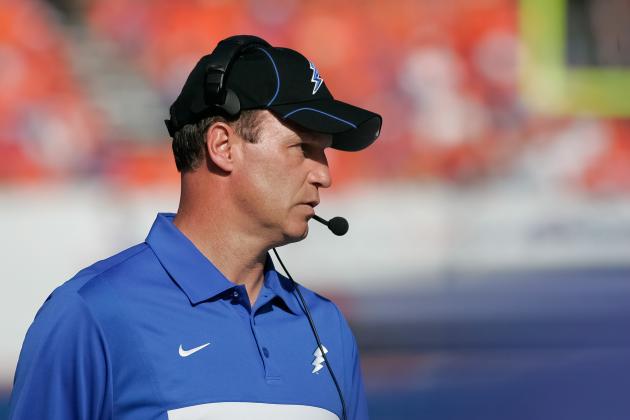 Otto Kitsinger III/Getty Images

Career Record: 41-24
In just five seasons, Air Force is averaging eight wins a season and it is because of Troy Calhoun. The Falcons have not yet made their significant stride but this man of consistency has a decent chance of doing such sooner than later.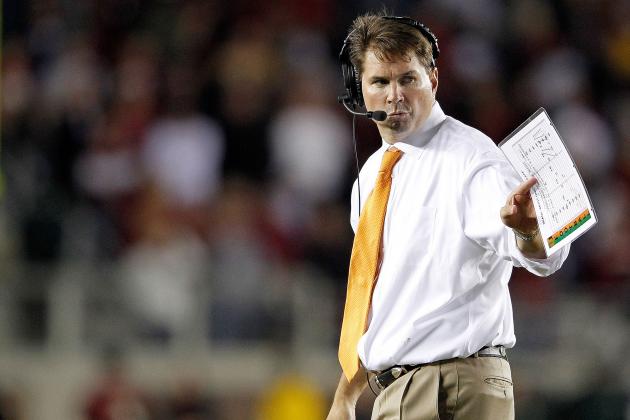 Mike Ehrmann/Getty Images

Career Record: 33-40
Forget the record, Golden built an awful Temple Owls program and is going to do the same with a Canes program that has been shell shocked for a few seasons.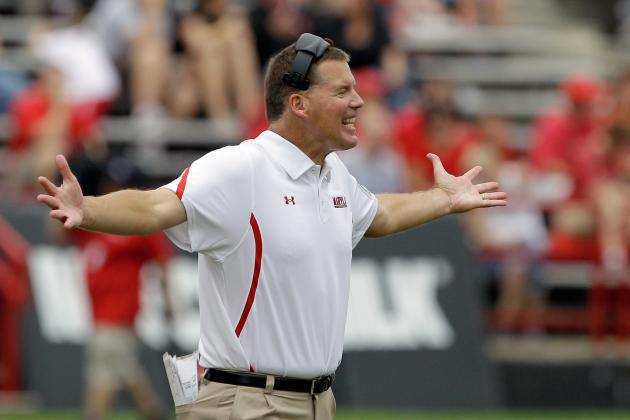 Rob Carr/Getty Images

Career Record: 76-80
A disappointing inaugural season for the Terps was disastrous with a 2-10 year, but Maryland has to improve in 2012.
If not, then College Park will not take kindly to a lack of success.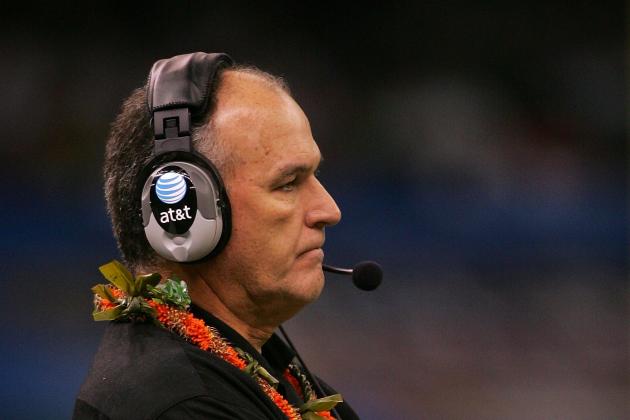 Matthew Stockman/Getty Images

Career Record: 100-69
June Jones had a good run with Hawaii and he is hoping that SMU can become a legit BCS dark-horse contender next season.
They have a few beasts on defense and their passing offense is not easy to defend. Maybe they will be the 2011 version of Houston, but like anything time will tell.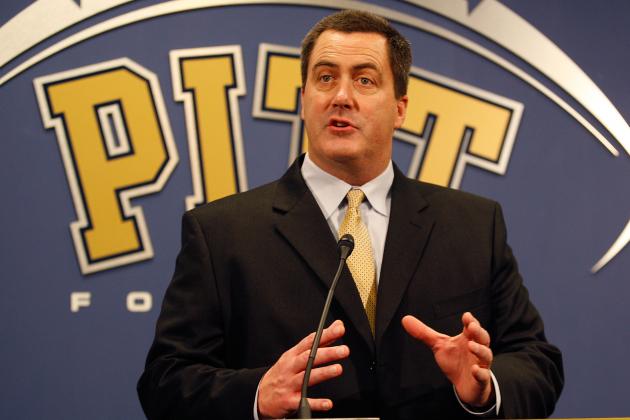 Jared Wickerham/Getty Images

Paul Chryst was a tremendous offensive coordinator with the Badgers, but now he must be able to turn around a Pitt program that is still awaiting for their first appearance in the BCS.
Despite not coaching in one game yet as the head man, he is too good of a football man to pass in your top 50 or so.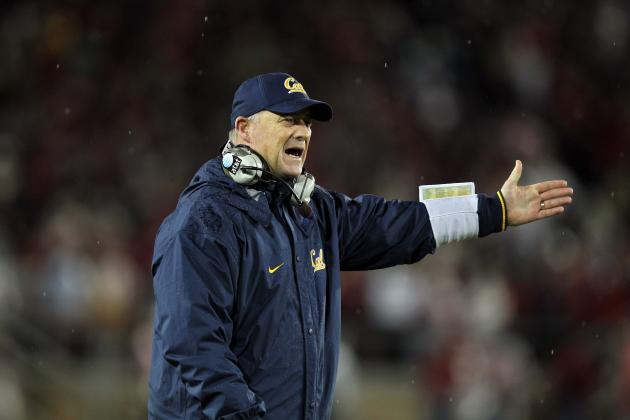 Ezra Shaw/Getty Images

Career Record: 79-48
A solid regular-season record every few seasons does not make us forget about their disappointing postseasons.
Plus, they have had a stockpile of NFL talent and yet Cal has never even appeared in a BCS bowl.
Tedford needs to get a few more horses in the offensive line or else they will need an All-American signal-caller and/or running back to see a ton of success.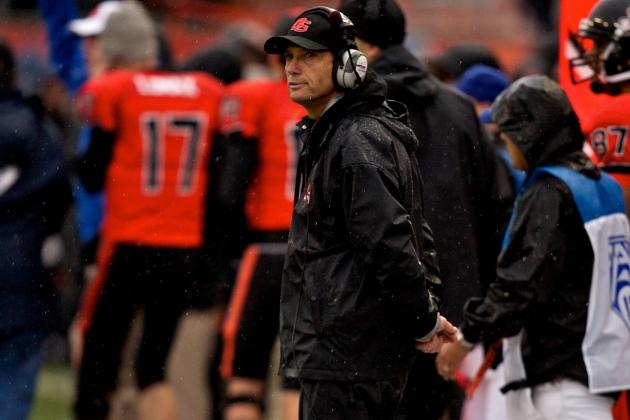 Craig Mitchelldyer/Getty Images

Career Record: 72-63
Mike Riley has been the man in Corvallis in several seasons, but his program is struggling a bit right now. When is it time to say that there needs to be a change?
Some suggest that such a thought process is crazy, but going 8-16 for the last two seasons is atrocious. Still, Riley is a legit coach that has struggled to have healthy and productive players.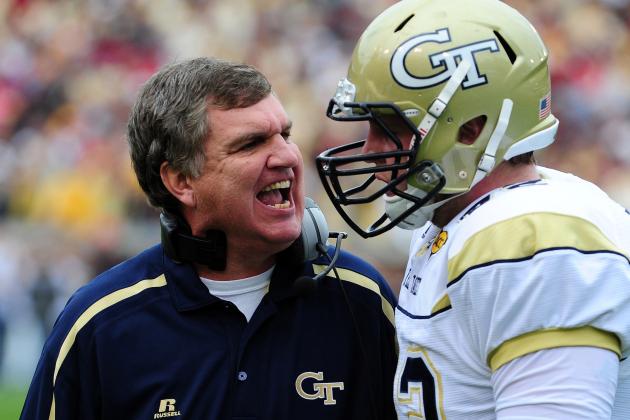 Scott Cunningham/Getty Images

Career Record: 141-38
Paul Johnson was told he had no shot of taking his triple option and making it a successful offense in a BCS conference.
He has since gone 34-19 overall and 21-11 in the ACC thanks to solid quarterback play and a bevvy of guys in the backfield.
Otto Kitsinger III/Getty Images

Career Record: 226-103-1
Nevada has never been a recognizable program, but Chris Ault and his boring 226 wins has made them consistent and noteworthy among non-AQ's.
They nearly finished the 2010 season with a top 10 finish at 13-1, but Ault still has them as a legit program in the WAC right now.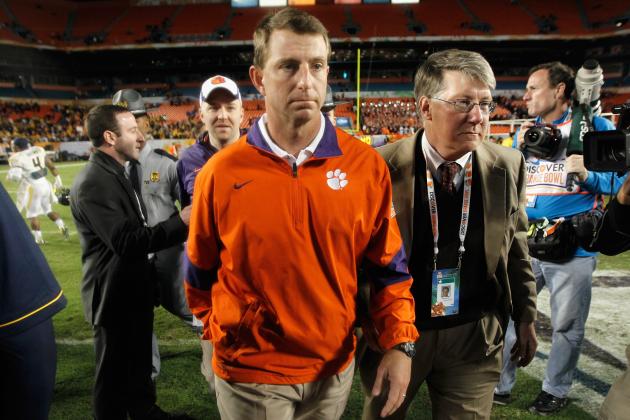 Streeter Lecka/Getty Images

Career Record: 29-19
Dabo Swinney had a roller-coaster season with the Tigers, but the cupboard is not bare. Clemson is clearly on the rise and the only question remains as to how far this program can go?
2012 may not bring an ACC or BCS title, but a top 10 finish is likely if the youngsters can live up the hype.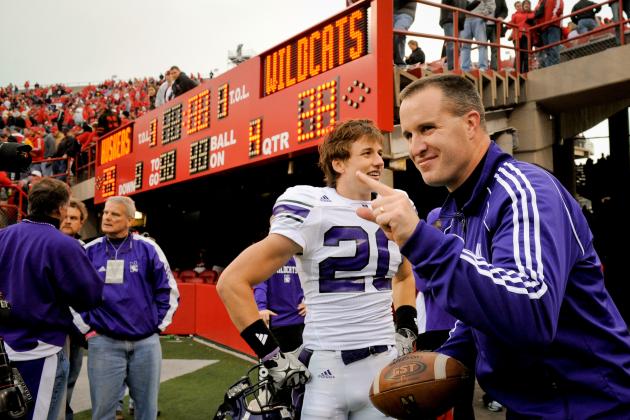 Eric Francis/Getty Images

Career Record: 40-36
Pat Fitzgerald is another underrated coach, but he would certainly like to end the bowling streak for the Cats.
Yes, it has not been since 1949 where Northwestern won a bowl game. Fitzgerald is getting players to fit his system, but going up against the suffocating Big Ten defenses has not allowed his offense to do much when it matters most.
He needs to put together a solid eight-win season or/and a bowl victory or else his seat may suddenly get hot.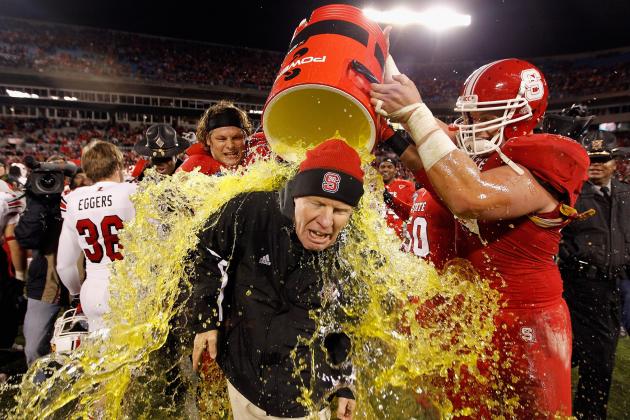 Streeter Lecka/Getty Images

Career Record: 108-75
Tom O'Brien was a Marine back in the day and his serious and yet calm demeanor has given the Pack a chance to shine.
Mike Glennon at quarterback and David Amerson (arguably the best defensive back in the country) should put the Pack back into the Top 25 next season.
O'Brien is highly regarded and he could notch a double-digit season in the near future.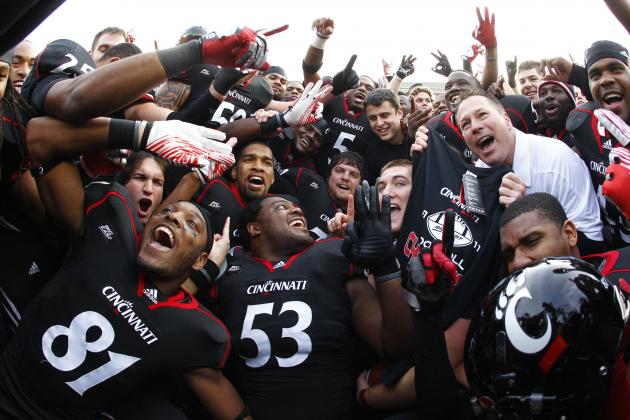 Tyler Barrick/Getty Images

Career Record: 41-24
Butch Jones went from 4-8 to 10-3 in a sensational turnaround for the Bearcats. His success at Central Michigan was evident from his two MAC titles and a share of the Big East crown is hype worthy.
Cincinnati was in deep trouble after losing Brian Kelly according to some, especially when they ended up at seventh in the Big East. Nowadays, Cincy is looking for a return trip to the BCS and Jones is the guy to take them there.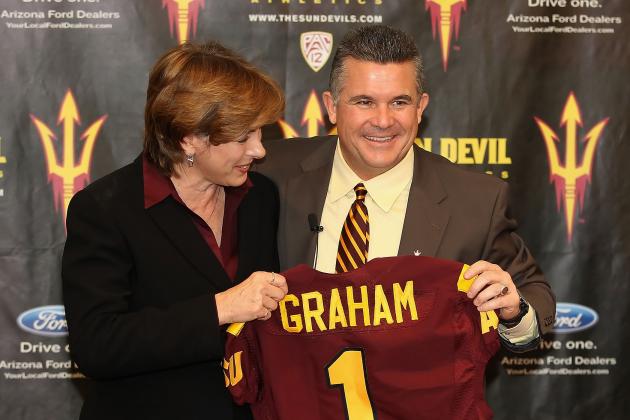 Christian Petersen/Getty Images

Career Record: 49-29
Todd Graham did not make the Pitt faithful very happy, but the Sun Devils truly are dreaming that he can allow them to reach expectations.
ASU has not lived up to any of their hype as of late and the offense that Graham had with Tulsa was impressive ('07-'10). If they can get some horses on defense that will be the key.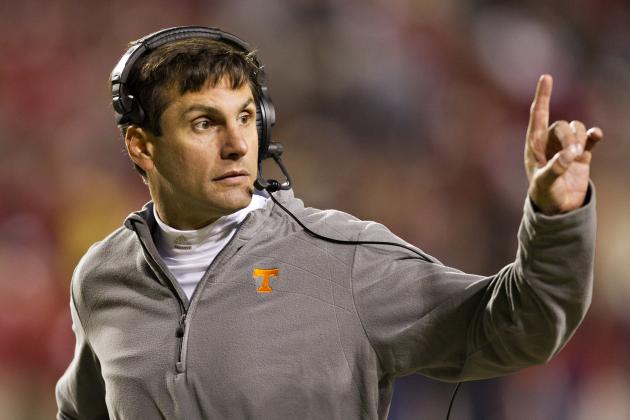 Wesley Hitt/Getty Images

Career Record: 28-34
Derek Dooley fans out there feel he is a top 20 coach in America, but consecutive disappointing seasons has notched him back a tad.
Still, this ranking is fairly generous to Dooley since he has failed to bring in the horses on both lines of scrimmage.
Throw in a gauntlet schedule every season in the SEC and it may be danger time, though he has enough tools around him to avoid that.
Before becoming elite, they just need to get back to bowl contention by late October instead of waiting for an upset or two in November when it becomes too late.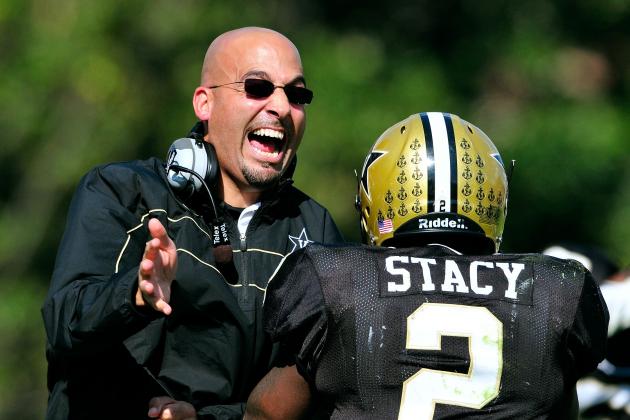 Grant Halverson/Getty Images

Career Record: 6-7
James Franklin has people watching and caring for Vandy football and the attitude he has will always keep them at bay.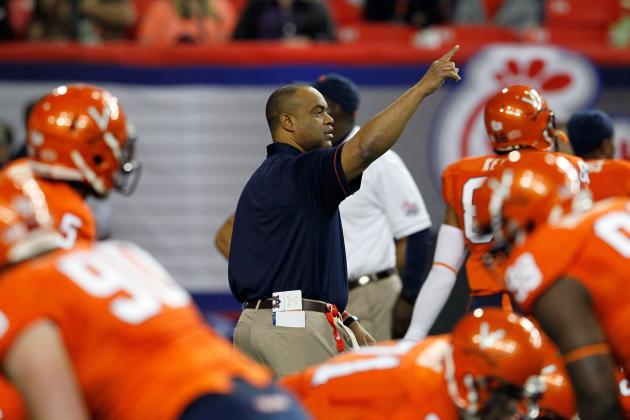 Kevin C. Cox/Getty Images

Career Record: 36-18
Winning a national title with Richmond in the FCS ranks was impressive, but many questioned how soon he would take Virginia to relevancy.
Despite getting hammered by Auburn, the Wahoos look like a solid team in the trenches. It helps to play in the ACC with a few decent programs, but London is thinking bigger things right now.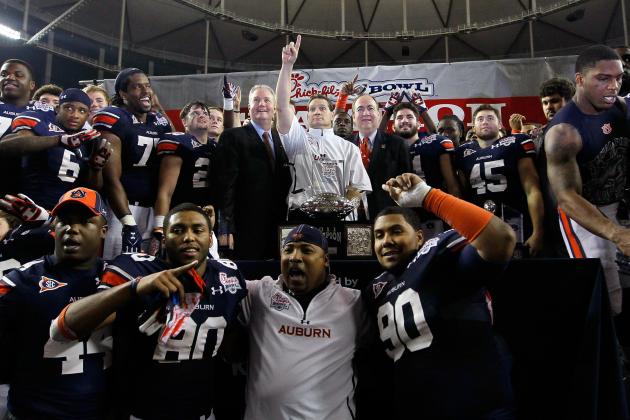 Kevin C. Cox/Getty Images

Going from Auburn to Arkansas State certainly will be a culture shock, but Gus Malzahn has what it takes to make this squad a relevant non-AQ program.
He is among the top five offensive minds in the game and Arkansas State could be in a BCS game when Michael Dyer returns to the field in 2013.
Tom Pennington/Getty Images

Career Record: 66-24
Getting a bad wrap perhaps with their move to the Independents along with a soft 2011 schedule, Bronco Mendenhall has an opportunity to put any and all doubts behind him.
BYU is still developing as a program, but their physical nature along with some underrated playmakers (Cody Hoffman) could allow them to get back to posting double-digit seasons regardless if the schedule gets tougher.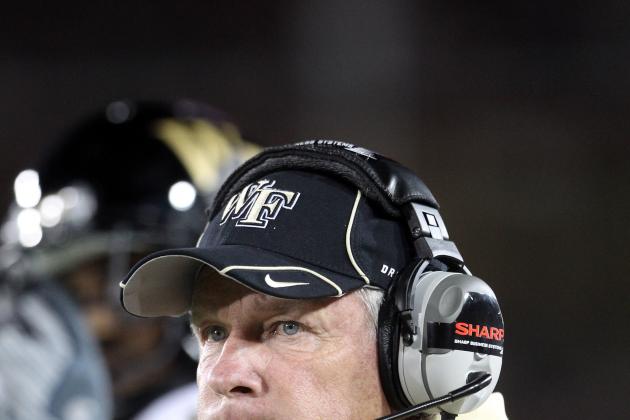 Ezra Shaw/Getty Images

Career Record: 101-100-1
Jim Grobe is arguably the most underrated coach in America with the lack of talent he has throughout his 11 seasons in Winston-Salem.
And yet he has found a way to reach five bowls. Just because your team isn't winning a boatload of game doesn't mean you're an awful coach and Grobe is one of those guys that deserves his dues.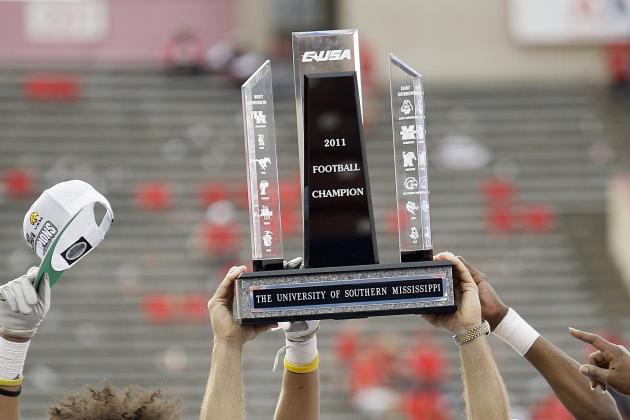 Bob Levey/Getty Images

Career Record: 34-19
It wasn't by accident that Larry Fedora received the opportunity to coach in Chapel Hill. The guy can flat out coach and it will be interesting to see how much better he makes quarterback Brynn Renner as his signal-caller.
The Heels lose a bit on defense, but they have a few pieces to build around and a recruiting base that is good enough to appear in bowl games like the Chick-fil-A or Champs Sports Bowl in the near future.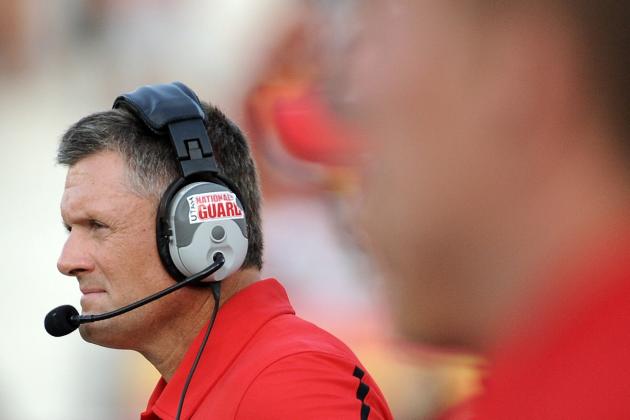 Harry How/Getty Images

Career Record: 66-25
Kyle Whittingham has been an underrated star with the Utah Utes as he has posted three 10-plus win seasons.
The move to the Pac-12 hopefully will not be the demise of Utes football since they were just 4-5 after one season, but they should be able to significantly improve upon that in the near future.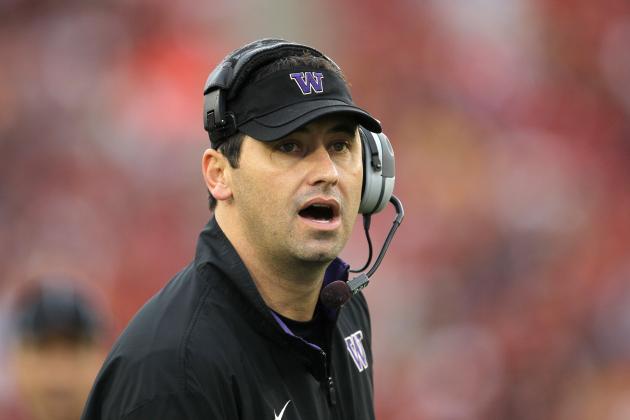 Stephen Dunn/Getty Images

Career Record: 19-19
Washington gave Baylor all they could handle in the Alamo Bowl (offensively speaking), but the defense needs a change. They hired Justin Wilcox and let go of Nick Holt (highest-paid DC at time).
The hope is that Keith Price can lead them into contention for a Pac-12 title, but they will seriously need to improve a defense that ranked just 106th in the land.
Right now UW is wavering at that good to very good mark, but Sarkisian is the guy to make the Pac-12 a top-three conference in America (some like Big 12/Big Ten more).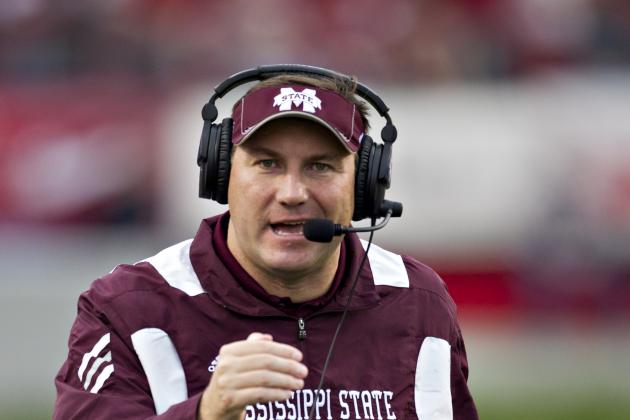 Wesley Hitt/Getty Images

Career Record: 21-17
Dan Mullen had a chance to bring the Bulldogs to national prominence sort of speak in consecutive seasons, but things did not go as planned.
Still, going 16-10 overall from the SEC West is not as easy as it may sound and the offense that the Bulldogs are capable of putting together would be a scary thought in the SEC.
However, Mullen needs a few more of those speedsters in Starkville that he had at Florida to keep some coaches up late at night.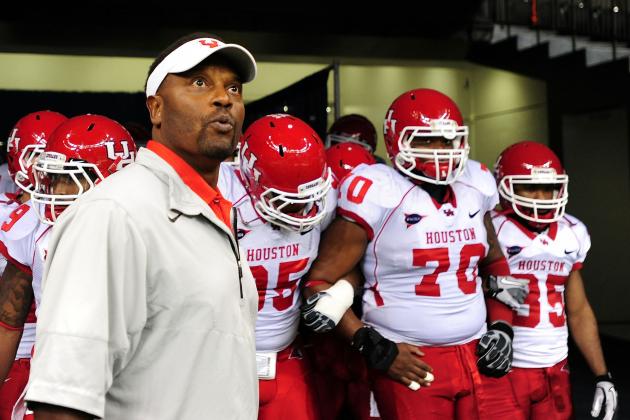 Stacy Revere/Getty Images

Career Record: 35-17
Kevin Sumlin is coming off a 12-1 season with Houston, and we will find out how great of a coach he is right away.
The Aggies are headed to the SEC, but his offense will be interesting to watch. Returning Ryan Swope and a few playmakers need to be able to stretch the field for the offense to succeed, but Sumlin has proven he can land some a few hot-shot recruits.
He needs to work his magic if he expects to get the Aggies close to sniffing a 10-win season.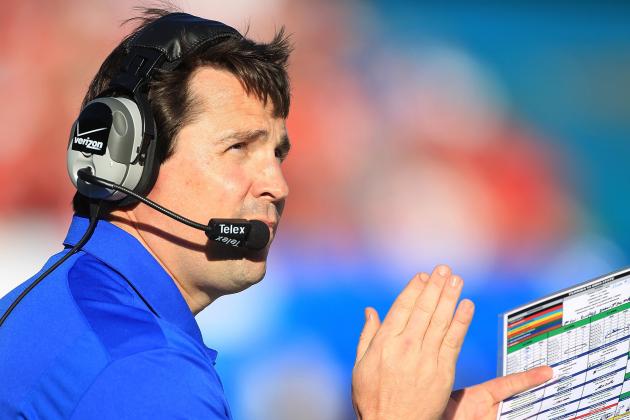 Scott Halleran/Getty Images

Career Record: 7-6
His first season did not go exactly the way he had planned, but losing John Brantley at quarterback for a few games was about disastrous as it could have gone.
Hopefully they can have some sort of a quarterback quandary next season since they have a solid defense and special teams.
This is an eight- or nine-win club in 2012, and the future will be bright if they can improve their entire backfield.
We know Will (one of best defensive minds) will continue to work his defense and that is something that has already started to show on the field.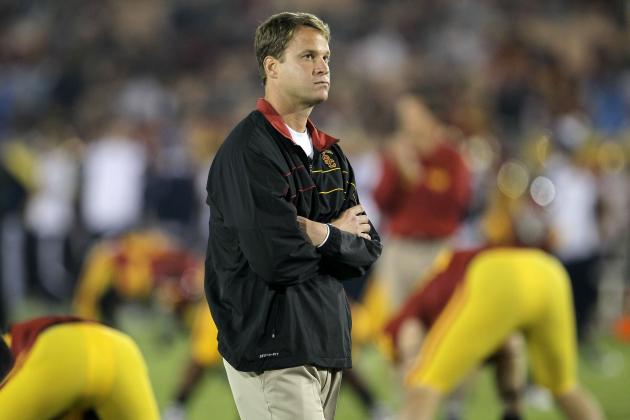 Stephen Dunn/Getty Images

Career Record: 25-13
Lane Kiffin is emerging as one of the better coaches in the country, but he needs a prime time season. That would include a Pac-12 championship and a BCS victory.
Whether we are talking about the Rose or BCS National Championship game will decide how far he climbs the coaching rankings.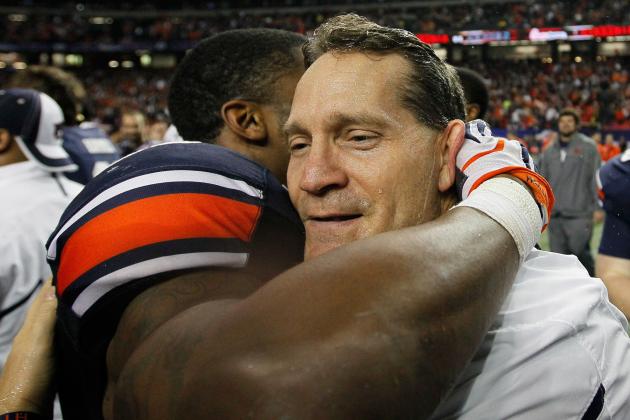 Kevin C. Cox/Getty Images

Career Record: 35-29
Forget the record because he has a national title at his disposal with Auburn. In a season where Auburn was not expected to win more than five or six games, they found a way to win eight and the head coach deserves a ton of the credit.
Chizik has a huge 2012 season on the way with a ton of highly-ranked teams on the schedule (as always, this is what SEC football is about). If Auburn reaches the double-digit plateau, look out!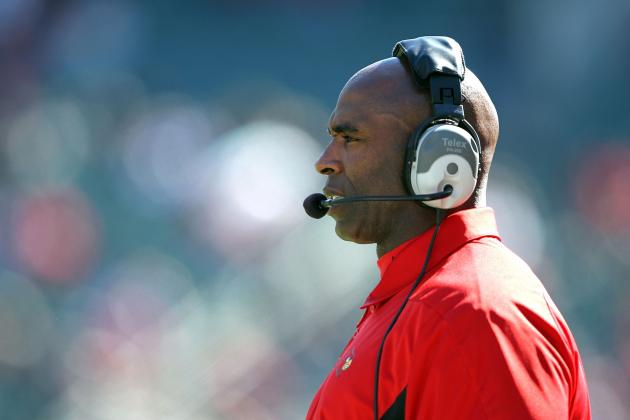 Andy Lyons/Getty Images

Career Record: 14-13
Charlie Strong is waiting for that solid season where he takes his Cardinals into the BCS and he has the defense and quarterback (Teddy Bridgewater) to do such.
Louisville is getting better by the day despite their bowl loss to NC State, but Strong and his team will be on the way up in 2012.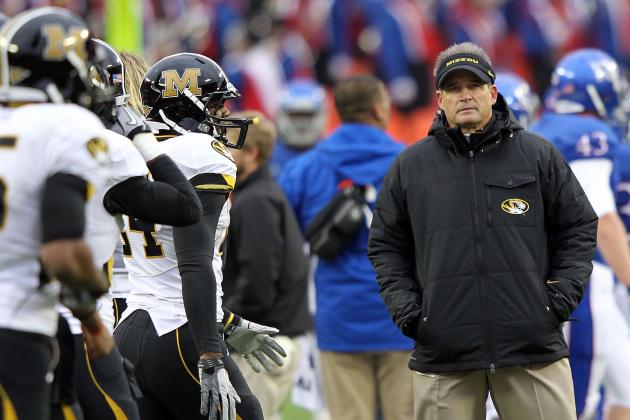 Jamie Squire/Getty Images

Career Record: 158-91-3
Gary Pinkel has been coaching since 1991 with the Toledo Rockets, but his Missouri Tigers are attempting to get back on the national relevancy map.
That has taken care of itself with the move to the SEC, but the biggest question is whether or not they will win the SEC East crown in the next five (or more) seasons?
James Franklin is his star quarterback, but they really need the defense to step its game up because the SEC is do-or-die in terms of that side of the ball.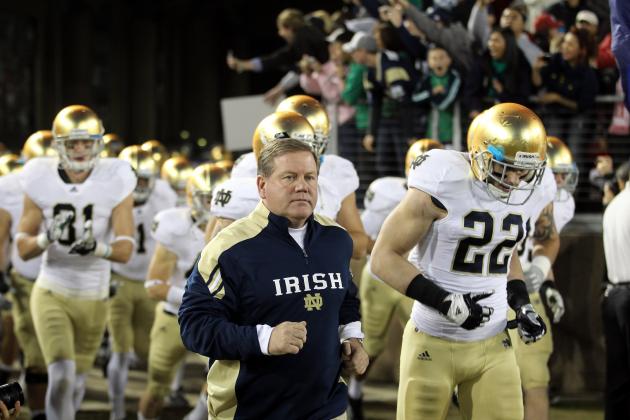 Ezra Shaw/Getty Images

Career Record: 187-66-2
Brian Kelly has been fairly disappointing with the Irish thus far because most expected him to lead the Golden Domers to at least one BCS bid by now.
Now entering his third season, the time is starting to become now or never. He doesn't need a double-digit season to save his job, but it would shut everybody up.
If he can find some consistency on offense and a quarterback to lead his team, the sky is the limit and a top 10 finish could be on the way.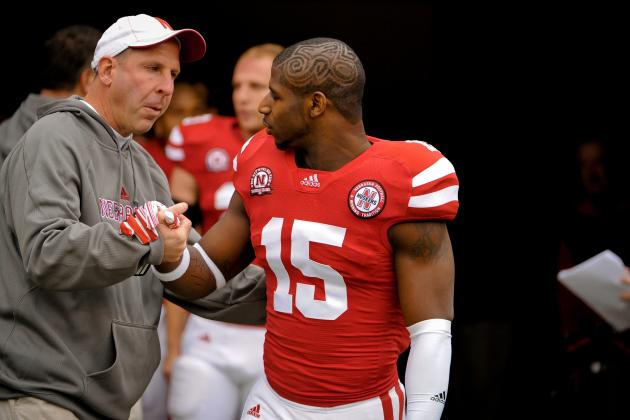 Eric Francis/Getty Images

Career Record: 39-16
Bo Pelini is a Cornhusker that is loved by most, but he still is waiting for that great season in which he can play in the BCS.
They were so close when they left the Big 12 and having lost two thriller to Texas and Oklahoma was a tough pill to swallow.
2012 could be the year for them in the Big Ten since nobody is expecting much and they have a ton of their studs coming back.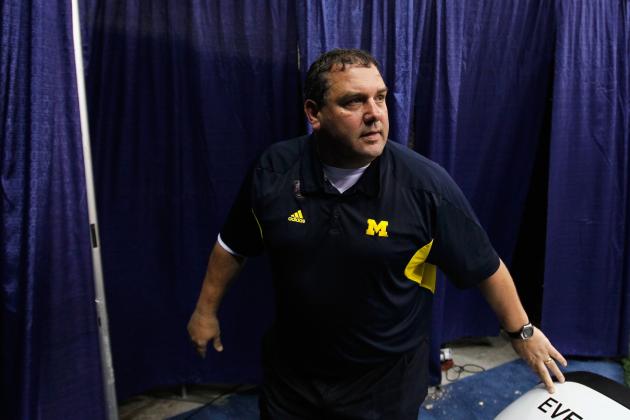 Kevin C. Cox/Getty Images

Career Record: 58-52
Brady Hoke had the first year with Michigan that Ann Arbor had dreamed about. A BCS bid in year No. 1 can put this team into the upper echelon of college football or perhaps into a tailspin if they fail to live up the hype.
Time will tell, though. Hoke is clearly getting the studs on the recruiting trail to give his Maize and Blue a legitimate chance.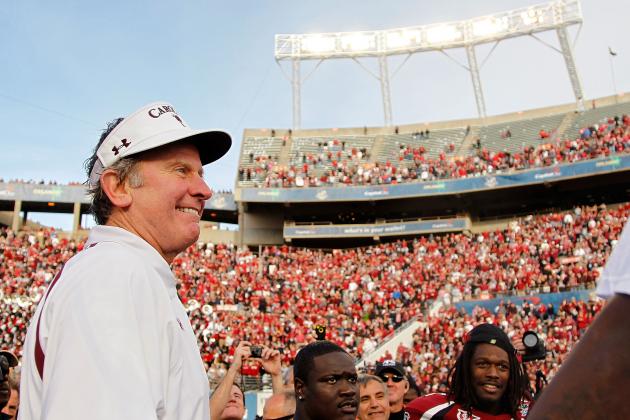 Mike Ehrmann/Getty Images

Career Record: 197-75-2
Steve Spurrier has South Carolina on the rise and if it weren't for the SEC being so dominant, his team at 10-2 (11-2 finished) would likely be playing in a BCS bowl.
Instead they had to play Nebraska in the Capital One Bowl, which was respectable even though SC wanted more.
With Marcus Lattimore returning healthy (hopefully), the Gamecocks will have another shot at the SEC East title or at least another New Year's Day bid.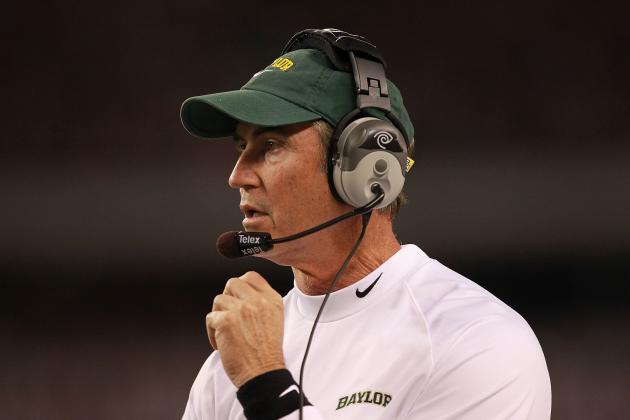 Ronald Martinez/Getty Images

Career Record: 59-53
Art Briles had Robert Griffin III win the very first Heisman in Baylor Bears history, but the offensive system has been beautiful in Waco, Tx.
The defense has made nice strides, but the playmakers that have surrounded the signal-caller has given this team a ton of success. Briles can have another eight-plus win season, even without the Heisman winner.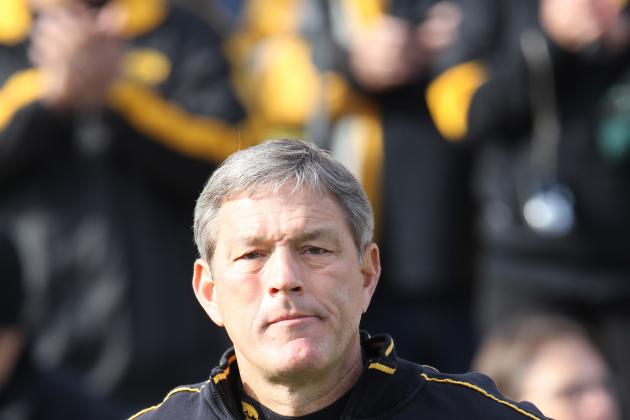 Reese Strickland/Getty Images

Career Record: 108-87
This Hawkeye does not get much credit for taking his teams to a bowl game every season, but he does it without the most talented squads.
Ten bowl appearances and four top 10 finishes is remarkable and the years of notching double-digit games should be coming back to Kinnick Stadium.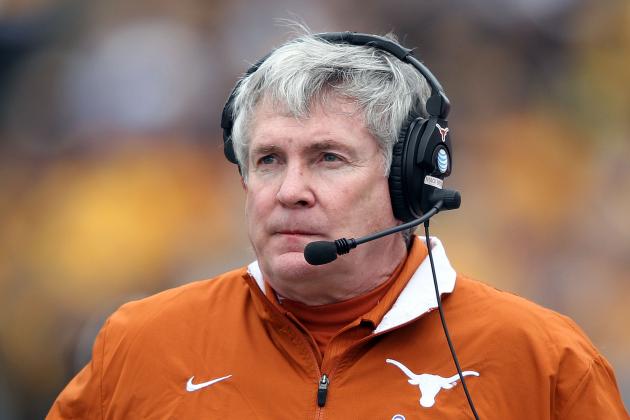 Jamie Squire/Getty Images

Career Record: 227-113-1
Mack Brown has the looks of getting Texas back on the national radar with one of the top recruiting classes in the country.
Coming off a brutal 5-7 season, he led them to a respectable 8-5 season. A top 20 preseason ranking for next season is likely and the hope is that they can at least contend for the Big 12 with TCU and West Virginia (likely) entering the league for the first time.
If the offense can grow up and mature a tad, a double-digit season is reachable.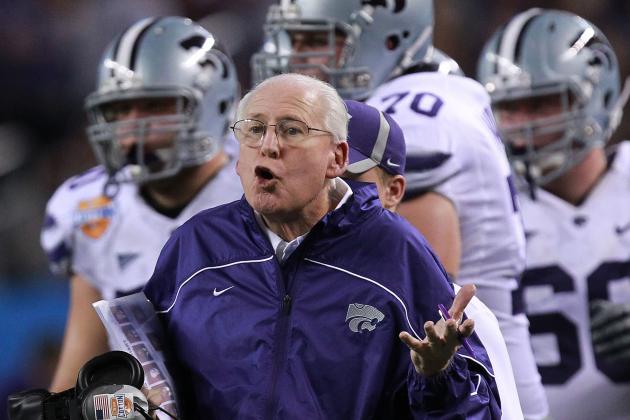 Ronald Martinez/Getty Images

Career Record: 159-82-1
Bill Snyder deserves to be high on this list because of the season he just had with his Wildcats. Although he went 10-3 (15th in AP), most experts only had Kansas State winning six or seven games this season (at best).
When he took a few years off after the 2005 season, K-State struggled until Snyder took them back basically from the doldrums of the Big 12.
Next season will be a critical year, but Snyder is truly one of the finest coaches in America.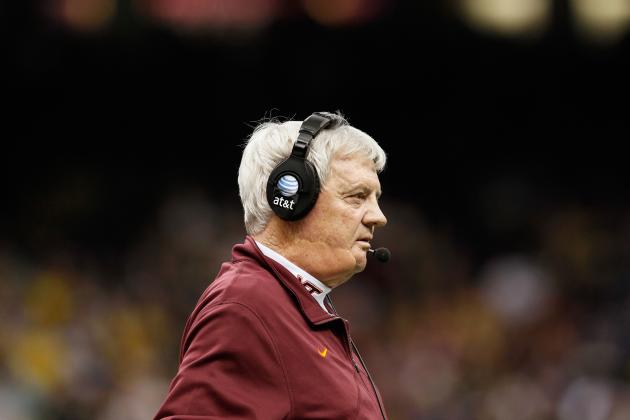 Kevin C. Cox/Getty Images

Career Record: 251-121-4 (Includes Murray St)
"Beamer Ball" in Blacksburg has worked out well with his six ACC titles in the eight seasons since moving over from the Big East.
Beamer is all about consistency and that will be tested with a team like Florida State regaining some of their swagger.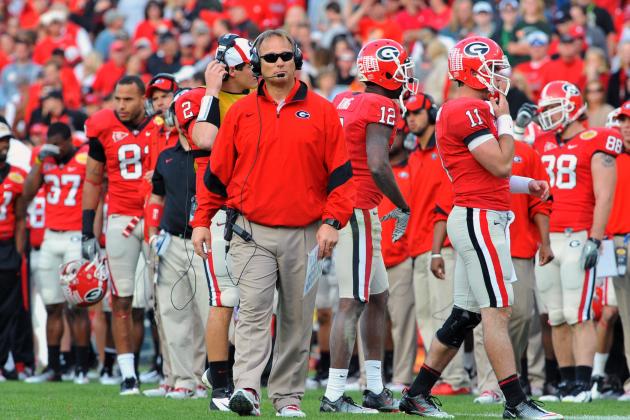 Al Messerschmidt/Getty Images

Career Record: 106-37
Georgia and Mark Richt were on the hot seat this past offseason, but the 'Dawgs won the SEC East and reached the double-digit win plateau.
Despite a tough Outback Bowl loss to Michigan State, UGA is expected to start off next season in the top 10 which gives hope for another trip to a BCS bowl.
Richt is one of the elite coaches in the game and his 60-28 in the SEC speaks volumes with most coaches unable to even stay around.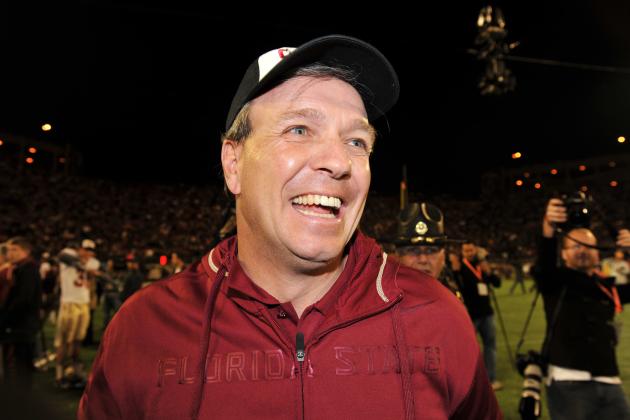 Al Messerschmidt/Getty Images

Career Record: 19-8
Florida State is on the rise after consecutive top three recruiting classes, but the Seminoles are in great hands with Jimbo.
He is building their defense like an SEC-caliber type of defense that harasses the quarterback and has the athleticism to blanket your receivers.
The 2012 season will be the one that either makes-or-breaks FSU in terms of officially coming back, but an ACC title and a BCS appearance would be a great start.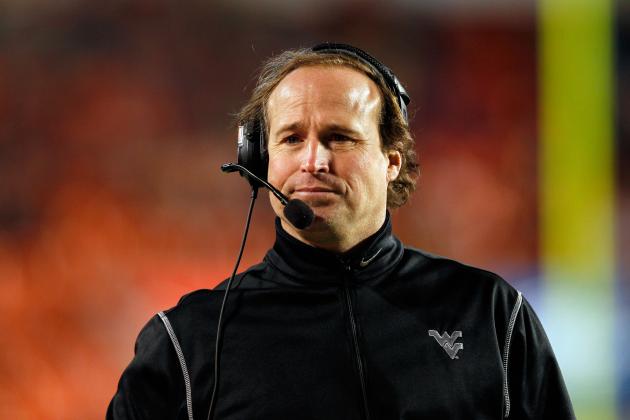 Mike Ehrmann/Getty Images

Career Record: 10-3
Known as the former offensive coordinator for Texas Tech, Oklahoma State and West Virginia, this mad scientist is one of the finest guru's.
His offenses are always sensational, but winning the Big East in your first season is not too shabby. Now his Mountaineers are headed to the Big 12, so we just need to await on how far they can go.
Christian Petersen/Getty Images

Career Record: 11-2
David Shaw was extremely impressive in his first season and I could care less that he did it with or without Andrew Luck. Shaw was prepared in nearly every game (save Oregon) and his team made me a fan.
The play selection was among the top few in the country and I am now a strong believer that Stanford can remain as a contender in the Pac-12 even without Mr. Luck.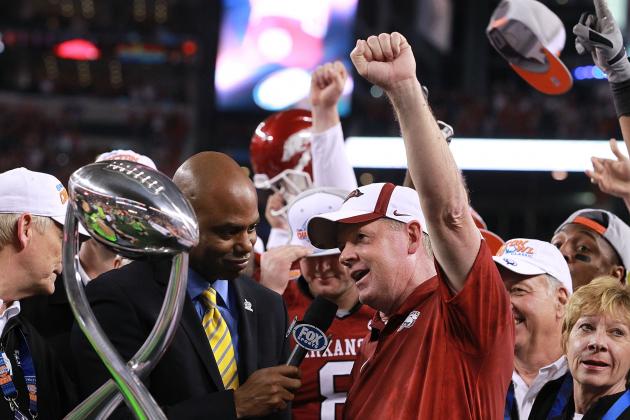 Ronald Martinez/Getty Images

Career Record: 75-26
One of the most explosive offenses in the nation for the past few seasons have been the Razorbacks and it does not matter who is threading the needle. With great quarterback play and one of the best receiving corps in the country, Petrino will continue to rise.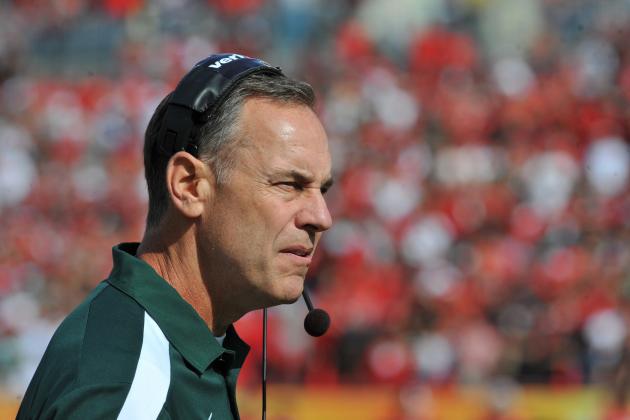 Al Messerschmidt/Getty Images

Career Record: 62-39
The Spartans are back on the national map and it has nearly everything to do with Mark Dantonio and his tremendous staff.
Consecutive 11-win seasons are unheard of in East Lansing and their victory over Georgia officially put them back on the national map.
It was one thing to get obliterated by Alabama in the 2011 Capital One Bowl, but they bounced back after trailing 16-0 to Georgia.
Now is their chance to get to Pasadena or at the very worst remain a top 15 squad.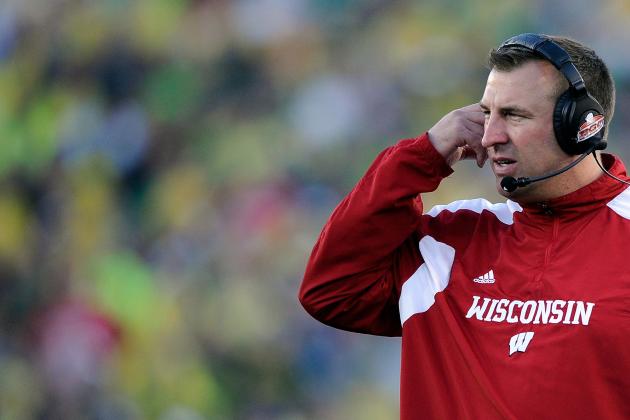 Kevork Djansezian/Getty Images

Career Record: 60-19
Two straight Rose Bowls is tremendous, but the Badgers have lost both of them. Winning Big Ten titles are still vital at the end of the day and that is the reasoning behind Bielema cracking the top 10.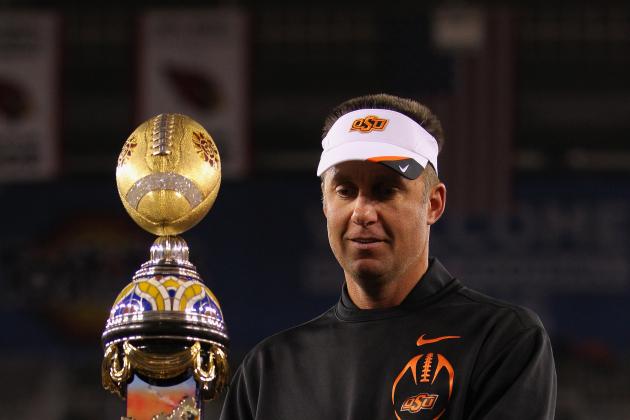 Doug Pensinger/Getty Images

Career Record: 59-30
Mike Gundy was a former Poke quarterback, but his program took the ultimate rise in the BCS this past season. He took the team to its very first BCS game and victory. Though Justin Blackmon and Brandon Weeden will be gone, Gundy should be able to prove he is worthy of this high praise at No. 8.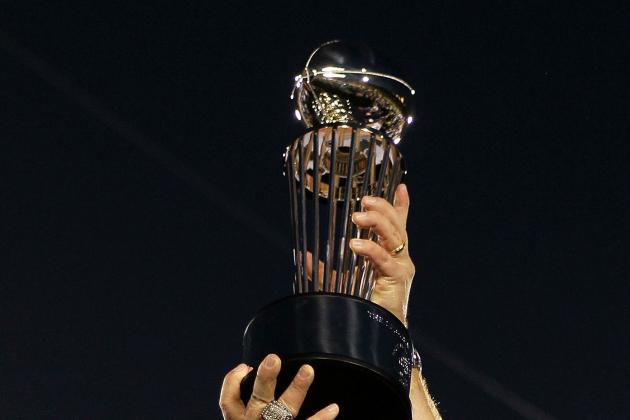 Jeff Gross/Getty Images

Career Record: 109-30
TCU had its signature 2011 Rose Bowl victory over the Big Ten (Wisconsin), but it is not like they haven't been relevant in other seasons.
Four consecutive seasons of top 15 finishes is impressive and moving to the Big 12 may put Patterson back on the map.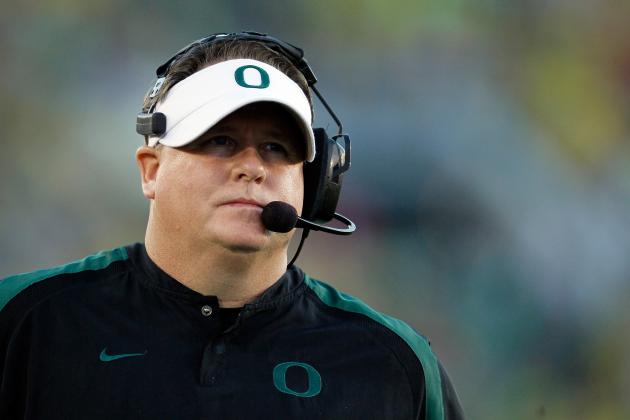 Jeff Gross/Getty Images

Career Record: 34-6 (3 Seasons)
Chip Kelly is arguably the best offensive mind in the country (Bobby Petrino) and he finally got the monkey off his back with that Rose Bowl victory over Wisconsin.
The Ducks have been that so called sexy team to watch in college football with all of their track superstars, but they have been winning a bunch in the process.
An underrate and quick defense helps, but Kelly and his offensive playmakers have proven to make a mark already.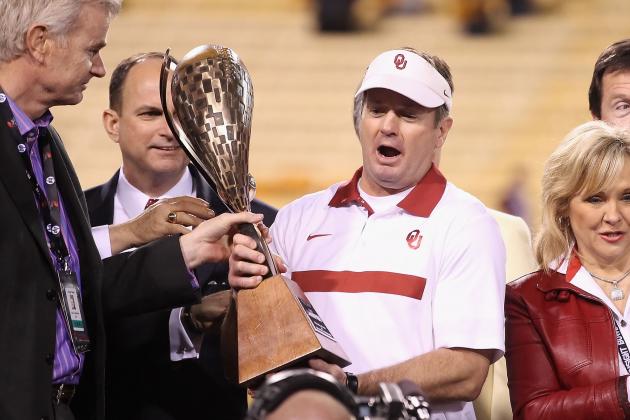 Christian Petersen/Getty Images

Career Record: 139-34
Bob Stoops has been known as "Big Game Bob" among a few other nicknames that are both positive and negative. Say what you want, this gamer can do it all.
Since taking over in Norman back in 1999, he already has eight seasons in which his Sooners have finished in the top 10. A few more will put him in elite company and Oklahoma is not shying away from being national contenders anytime soon.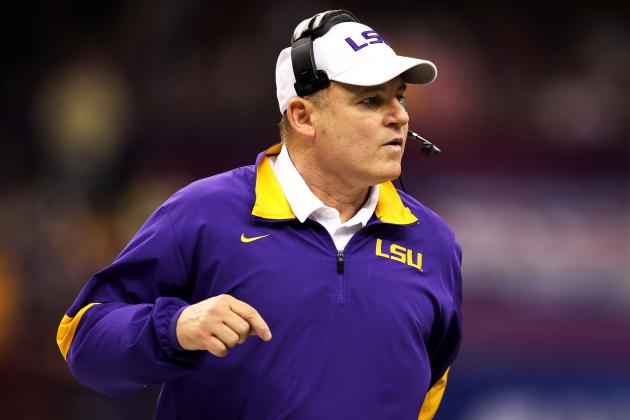 Andy Lyons/Getty Images

Career Record: 103-39
LSU and Les Miles were embarrassed by Alabama and Nick Saban, but that does not hurt him in the rankings much (if at all).
Going a combined 14-2 in the SEC for the last two seasons (best in SEC) is special and almost unimaginable, but the "Madhatter" is as calm, cool and collective as any customer in the college football.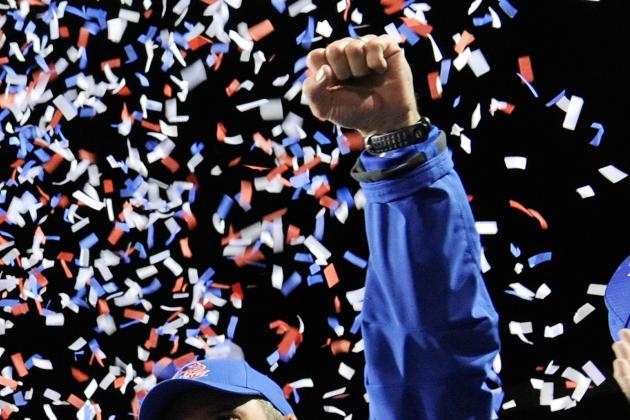 Ethan Miller/Getty Images

Career Record: 73-6
Some argue that the schedule is not very tough, but coach "Pete" takes on all challengers and hammers the opposition.
Going 44-3 even in the Sun Belt, MAC or Conference USA is impossible to do, and the Smurf head coach is the most consistent in the game.
Boise State has been on the national radar since Peterson pulled off the 2006 epic victory in the Fiesta Bowl over Oklahoma.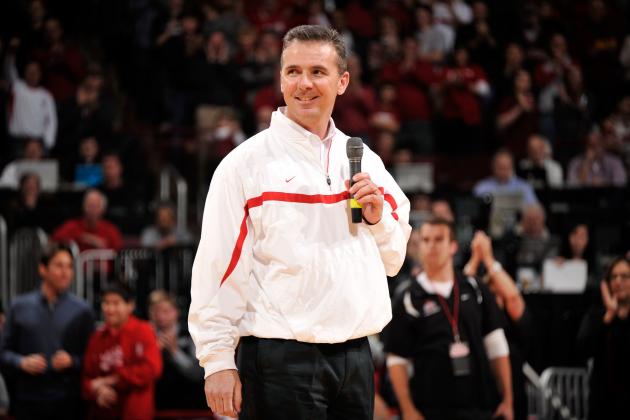 Jamie Sabau/Getty Images

Career Record: 65-15
Meyer took a full season off, but is back at it with the Ohio State Buckeyes. Time will tell how much of an impact he will have with the Buckeyes in terms of making a run for a future BCS title, but the guy is money.
Having won two BCS National Championships is a big deal and he recruits as good as any coach out there. He can win the battle of the trenches and has the knack for picking up the athletes to get him back to the top.
Some may think this is way too high, but there is only one coach in America I'd rather have for my program.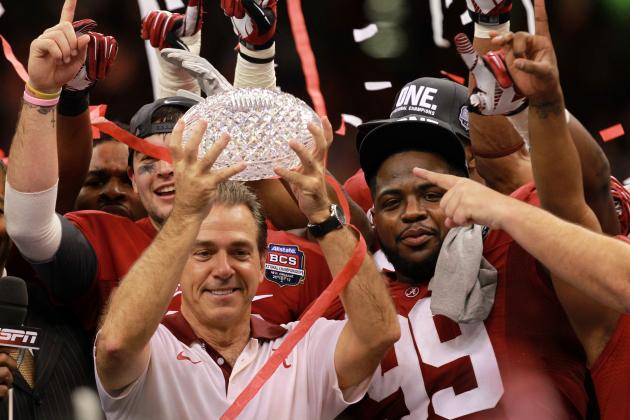 Ronald Martinez/Getty Images

Career Record: 146-54-1
Is there any doubt?
The Crimson Tide have officially become the top program in America after winning their second BCS title in the last three seasons.
Saban has been the best, and it is not even that close right now. He is 55-12 after five seasons (48-6 last four) and it does not look like he will be going empty handed in the next several years since he will likely stay at Alabama for a while.
The only remaining question for Saban and Alabama is how dominant they can become in the SEC?
If they can continue to go 7-1 or so every other season, no other team out there will be able to kick this coach or program off the top of the mountain.
That is my list, how about your very own list? There is always a personal preference on what your perception is on top of what characteristics (other than winning) makes you believe which coaches are the best.