Predicting College Football's 13 Teams Most Likely to Regress in 2012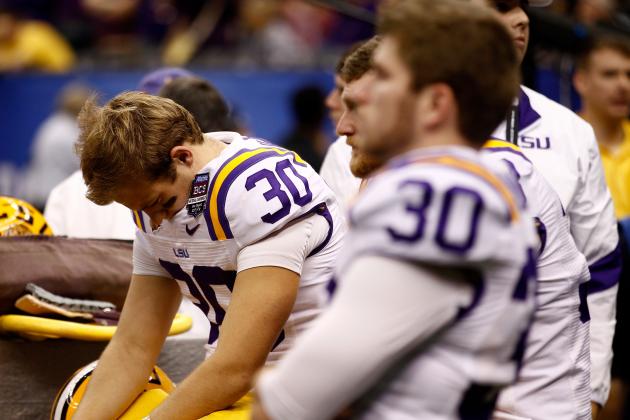 Chris Graythen/Getty Images

The nature of college football is that teams have up and down years.
That is the way it goes when players on any given team only have four years of availability.
The best programs remain competitive in "down" years, and compete for the big prizes in "up" years.
This article will look at an unlucky 13 teams that project to be down next year. Inclusion in this article does not indicate that said programs are on their way down. It simply means that said teams will take a step or three back from where they were in 2011.
Of course, many of the teams in this list will be amongst the preseason Top 25 that will come out this August. However, that is one more argument against preseason Top 25's.
Begin Slideshow

»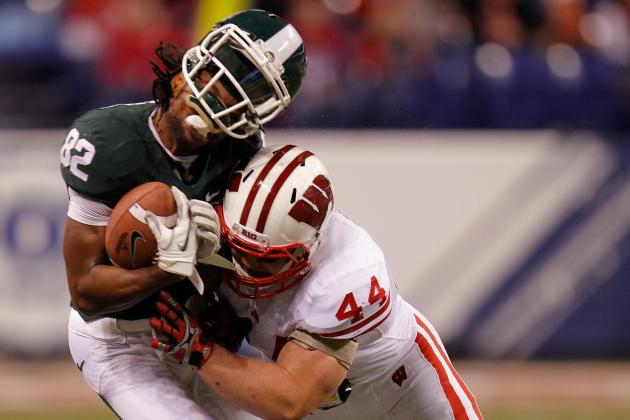 Gregory Shamus/Getty Images

2011 Record: 11-3
Wisconsin has won two Big Ten championships in a row, represented the Big Ten in two consecutive Rose Bowls and has had back-to-back-to-back double-digit win seasons for the first time in the program's history.
All of those streaks end this season.
To begin with, the Big Ten's top scoring offense only returns five players, while the fourth-best scoring defense returns six.
As for the offense, one of the returning players is Heisman finalist Montee Ball, but next season he will have much tougher sledding than he had in 2010 or 2011.
Firstly, opposing teams will load up the box against him because the Badgers will be breaking in a new, inexperienced quarterback. Secondly, the Badgers lose three offensive linemen, one an All-American and the other two were all-conference.
Yes, the Badgers tend to reload on the line, but they don't reload that easily. This is especially true given that, unlike last season, there are no experienced players ready to step in to starting roles.
Nonetheless, the bigger issue is a semi-overhaul of the coaching staff.
The Badgers lost six position coaches this offseason, including quarterback coach and offensive coordinator Paul Chryst, who has taken the head coaching position at Pitt. Chryst was arguably the best OC in the Big Ten, and his departure could take the legs out from beneath head coach Bret Bielema's program.
It will say a great deal for Bielema if he gets through this season with even nine wins, but I'm not counting on it.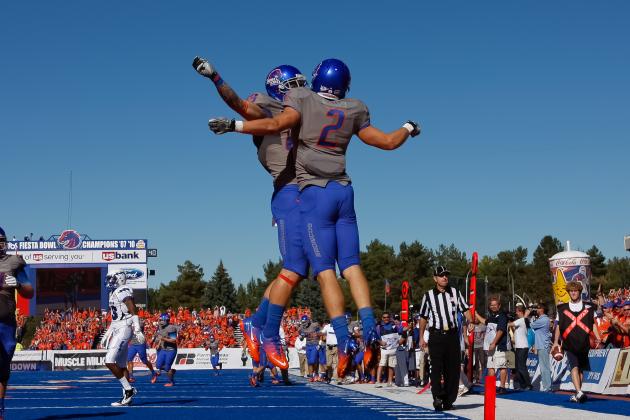 Otto Kitsinger III/Getty Images

2011 Record: 12-1
The country's winningest team over the last 10 years looks like it's finally due to take a slight tumble.
The Broncos return only five on offense and four on defense, and the biggest loss will be quarterback Kellen Moore, who holds the record for most wins by a starting quarterback in NCAA FBS/Division I football history.
Junior Joe Southwick—he of 54 career passing attempts—will likely take over under center.
On top of that, the Broncos lose their top two rushers, as well as three offensive linemen.
Meanwhile, the defense returns only one of its starting front seven. This exodus includes the top five BSU tacklers and the top three pass-rushers.
The one savings grace for Boise State is that, as usual, it plays a fairly soft schedule.
Still, while the Broncos have to be considered the favorites to win the watered-down—aka TCU-less—Mountain West Conference, they will have a tough time reaching double-digit wins. And not reaching double-digit wins would be a first for head coach Chris Petersen.
Ezra Shaw/Getty Images

2011 Record: 12-2
File this under "O" for obvious.
The Cardinal bring back six from the Pac-12's second-best scoring offense and eight from the Pac-12's second-best scoring defense. Those aren't bad numbers, but the specific players that have departed will make it near-impossible for Stanford to repeat its BCS success of the last two years.
Firstly, All-American quarterback Andrew Luck is off to be the first player picked in the 2012 NFL draft.
As if that wasn't bad enough, guard David DeCastro, a fellow All-American, is gone, as is All-Pac-12 tackle Jonathan Martin.
To add insult to injury, the Cardinal's top three pass-catchers have exhausted their eligibility.
The defense should still be formidable, but said defense was overrated to begin with. The only three top-quality offenses it faced—USC, Oregon and Oklahoma State—put up more than 40 points each on Stanford.
This season, the Cardinal will struggle to reach eight wins.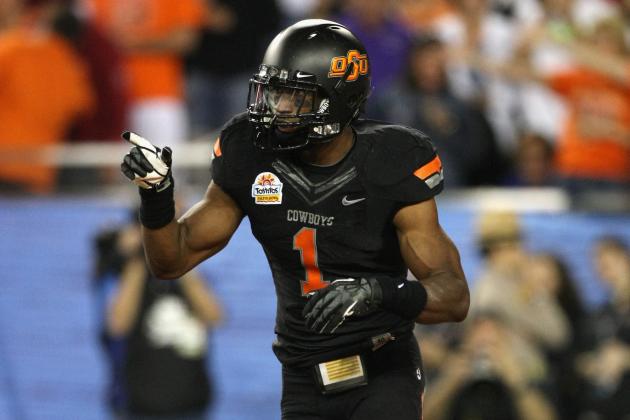 Donald Miralle/Getty Images

2011 Record: 12-1
Quarterback Brandon Weeden gone. Three of the top four receivers, including two-time Biletnikoff Award-winner Justin Blackmon, gone. Three offensive linemen gone, including one All-American and one All-Big 12 honoree. The top three pass-rushers gone.
There is still some fuel left in the tank, and head coach Mike Gundy has proved he is not a one-hit wonder.
However, OSU will have to get a number of bounces in order to reach nine wins in 2012.
As for 10 or more wins? Don't count on it.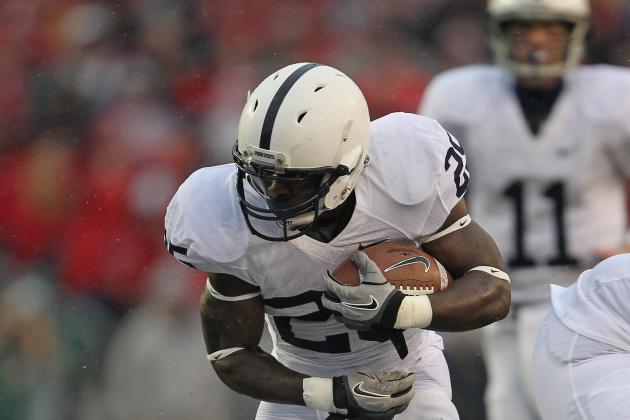 Jonathan Daniel/Getty Images

2011 Record: 9-4
Firstly, the football program, athletic department and university are carrying a boatload of bad publicity that will take years to distance themselves from. Should the football program, athletic department or university carry that shame, or are they being blamed for the despicable actions of one person? That is arguable, but all the arguments in the world won't change public opinion.
Secondly, for the first time since Lyndon B. Johnson was in the White House, Joe Paterno will not be prowling the sidelines in Happy Valley. Yes, he has arguably been little more than a figurehead for the past couple of years, but he was a figurehead that brought stability, respect and recognition to the program.
Thirdly, the man who has been hired to replace Paterno—former New England Patriots' offensive coordinator Bill O'Brien—was not exactly a popular choice. At least, not among former Nittany Lions.
Fourthly, all of these issues are doing nothing to help recruiting.
With all of that said, Penn State returns the fewest starters in the Big Ten—five on each side of the ball.
The offensive line returns one starter, and it is questionable whether the returning quarterbacks are beneficial to the offense.
PSU has typically reloaded on defense, but that was under Paterno. Who knows what O'Brien, whose specialty is the offense, will put together.
Will Penn State face some sort of sanctions for the sex abuse scandal or are sanctions in this case beyond the reach of the NCAA?
I don't know, but expect the Nits to struggle to reach seven wins.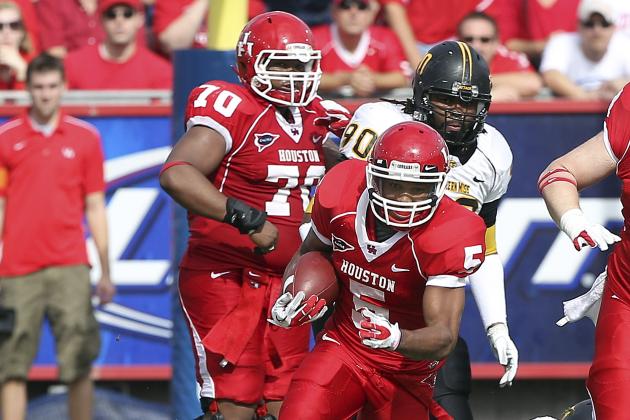 Bob Levey/Getty Images

2011 Record: 13-1
In 2011, the Cougars were one win away from a BCS bowl. In 2012, they will struggle to win Conference USA.
The first issue will be the head coach. Kevin Sumlin has moved on to Texas A&M, and Tony Levine has replaced him. Levine is a questionable hire, given that he has never even been a coordinator. Of course, that's not to say he can't be successful.
However, he will be missing record-setting quarterback Case Keenum, who has (finally) exhausted his eligibility.
The new quarterback will be without 2011's top three pass-catchers, as well as one of the Cougars' two top rushing options.
Houston does return four offensive linemen, but O-linemen aren't the backbone of a pass-heavy offense—61.9 percent of Houston's 2011 offensive plays were through the air. Also, the defense will return eight, but the Houston defense was hardly anything to fear anyway.
In the end, a soft schedule should ensure bowl eligibility.
Nevertheless, there is no way Houston will come close to its 2011 accomplishments.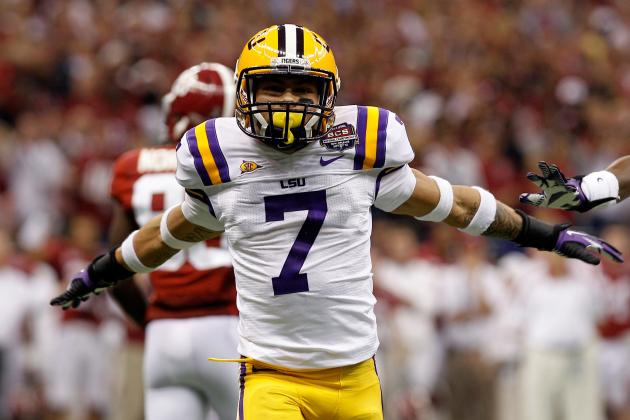 Chris Graythen/Getty Images

2011 Record: 13-1
The good news is that the Tigers still have tons of talent, return most of their offensive line as well two strong tailbacks in Spencer Ware and Michael Ford, and will still have one of the better defenses in the SEC, let alone the country.
The bad news is they are back to square one at quarterback, lose their best offensive playmaker in receiver Rueben Randle, and losing All-American cornerback Morris Claiborne means opposing offenses can pick on one side of the field.
Also, last season's schedule, while vicious, only had one tough road trip—Bama—in the conference slate. This season, they travel to Auburn, Arkansas, Florida and Texas A&M.
Don't get me wrong, LSU is still a Top 25 team. But once conference play starts, it won't spend much time in the Top 10.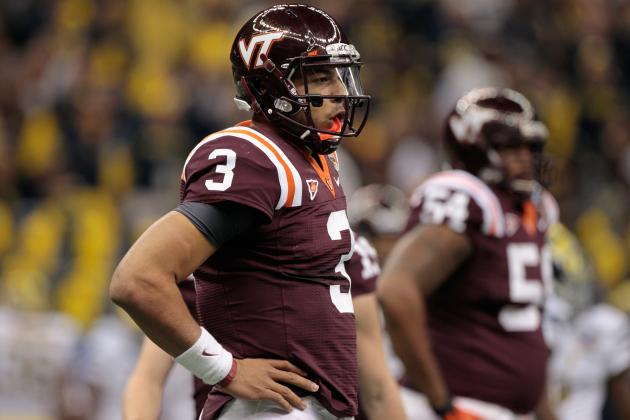 Chris Graythen/Getty Images

2011 Record: 11-3
Frank Beamer's Hokies have won at least 10 games every season since 2004, the year they joined the ACC.
So why is this the season they will finally fall short of double digits?
This is an especially pertinent question when one considers the nine returning starters from the nation's seventh-ranked scoring defense and the return of All-ACC quarterback Logan Thomas.
The reason is because only three starters return from the ACC's sixth-ranked scoring offense, and only one of those returning starters is an offensive lineman.
The Hokies' defense will be of top caliber, but let's face it—when hasn't it been?
Virginia Tech has had a top-10 scoring defense every year but one—2010—since 2004. And it hasn't mattered how many starters have returned. In effect, expect a top-10 scoring defense this year.
The variable for the Hokies is the offense, which hasn't been as dependable as the D.
This is an even bigger issue when one considers that V-Tech is a run-heavy team—59.3 percent of its 2011 plays from scrimmage were rushes—and a run-heavy team begins and ends with an experienced, physically mature offensive line.
Tech's success on the ground in 2011 shouldn't have come as a surprise—despite breaking in a new quarterback—as it had the 13th-most experienced offensive line in the country.
That won't be the case this year.
In 2012, due to a soft schedule, Virginia Tech might reach 10 wins, but it will need the bowl game to do it.
As for a third straight ACC Coastal Division Championship—that will go south this year.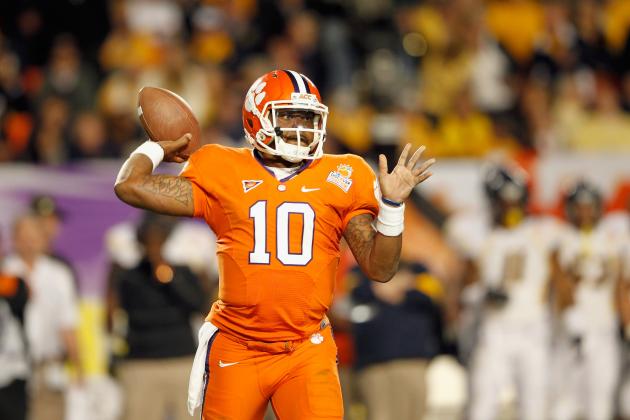 Mike Ehrmann/Getty Images

2011 Record: 10-4
The Tigers return arguably the best skill position players in the ACC, if not the country, as well as everybody from the defensive back seven.
However, the issue lies in the trenches.
The Tigers return two offensive linemen and one defensive lineman.
Unlike previously mentioned Virginia Tech, which is run-first, Clemson is balanced. In 2011, it had 530 rushing attempts to 525 passing attempts. In effect, the Tigers' experience and talent at the skill positions will do a good deal to offset the losses on the line.
But it won't do enough to repeat 2011's success.
As it is evident that Clemson's team dynamic lies in outscoring its opponents—70 points surrendered to West Virginia—it comes down to the offense.
And this season, that offense will be good enough to snag eight to nine wins, but not a division or conference championship and not a BCS bowl.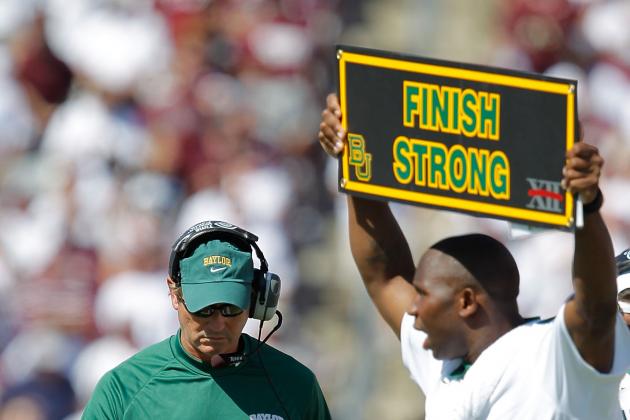 Sarah Glenn/Getty Images

2011 Record: 10-3
Eight players return on both sides of the ball, as well as both specialists.
Normally, that would indicate a pretty good situation, but it comes down to one thing.
When quarterback and Heisman Trophy-winner Robert Griffin III declared himself eligible for the NFL draft, any chance Baylor had of repeating its second-ever double-digit win season went right out the window.
There are still some good returning players, and the Bears will have a chance of reaching eight wins—no small feat in Waco—but a conference championship and a BCS bowl bid are pipe dreams at best.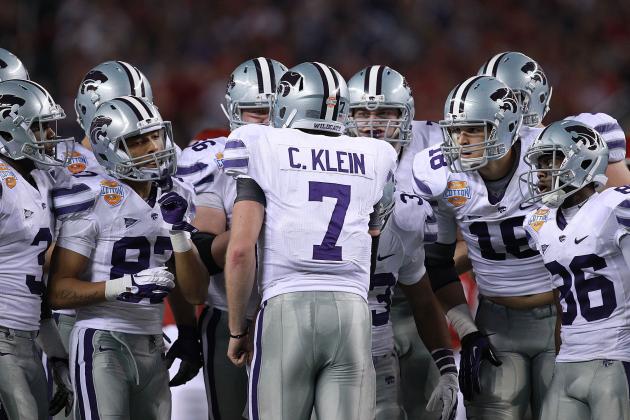 Ronald Martinez/Getty Images

2011 Record: 10-3
KSU is in much the same position as Clemson and Virginia Tech.
It has some of the best skill position players in the country, as well as one of the more dynamic returning quarterbacks in the nation in senior Collin Klein.
The problem lies with the line. The Wildcats have to replace three full-time starters, including one first-team all-conference honoree and one second-team.
This puts them in a similar position to V-Tech, as K-State is even more run-heavythan the Hokies. In 2011, the Wildcats rushed on 67.6 of their offensive plays.
On top of that, for those like me that follow Phil Steele, the close loss factor will not work in Kansas State's favor in 2012. Specifically, KSU went 3-0 in games decided by a field goal or less and 8-1 in games decided by a touchdown or less. Don't expect that Lady Luck to work for Bill Snyder's team this season.
Finally, the defense returns six players, but only two players up front.
Kansas State is back, but it won't manage another 10 wins this year.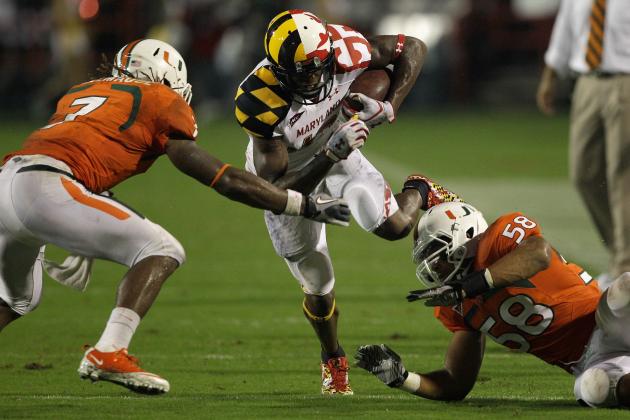 Rob Carr/Getty Images

2011 Record: 6-6
Let's just say the NCAA doesn't throw the book at the 'Canes. Given the nature of the allegations, Miami will have to at least get a slap on the wrist, but that doesn't mean the NCAA has the teeth to do anything meaningful.
In effect, let's look at what the Hurricanes are likely to field for the 2012 season.
Obviously, Miami has talent, as it always has.
The problem is a lot of the developed and experienced talent has gotten out of Dodge, given that many of them were probably amongst the players involved in the booster scandal. Specifically, the 'Canes had five early departures to the NFL, which was more than any other team in the country.
That leaves four players returning from the ACC's seventh-ranked offense, and seven players returning from the third-ranked defense.
The schedule doesn't help Miami's problems. It has out-of-conference games against Kansas State, Notre Dame and South Florida—which will all be ranked at some point next season—and plays in-conference games against Florida State, Virginia Tech and Georgia Tech—likely the three best teams in the ACC next year.
When it's all said and done, the Hurricanes may very well snag seven wins, but after almost a full decade of mediocrity, seven wins has to be considered a failure in Al Golden's second season at the helm.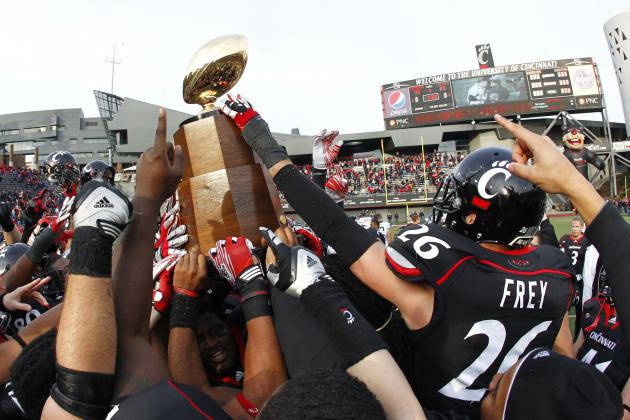 Tyler Barrick/Getty Images

2011 Record: 10-3
In 2011, Cincinnati had the second-best scoring offense in the Big East. Expect that to change in 2012.
The Bearcats only return four offensive starters.
Their quarterback, Zach Collaros, is gone. It is worth mentioning that likely 2012 starter junior Munchie Legaux got four starts under his belt when Collaros was injured in 2011. It is also worth mentioning that he completed fewer than 50 percent of his passes, and Cincinnati suffered two of its four losses during that stretch.
Also, the top rushing option—Big East Offensive Player of the Year Isaiah Pead—is gone, as are three offensive linemen, two of which were all-conference.
Seven return from the conference's third-ranked defense, but it will have trouble stopping the run, as both defensive tackles are gone.
Most notable is Big East Defensive Player of the Year defensive tackle Derek Wolfe.
The Bearcats will not fall off the map, but don't expect them to make a serious bid for a conference championship.