100 Burning Questions for the 2012 College Football Season
Andy Lyons/Getty Images

It's never too early to look ahead to the 2012 college football season, and that is what many are doing. There are already a plethora of lists that detail the Top 25, Heisman hopefuls, sleepers, dark horses and, of course, the favorites for the national championship.
Before we get ahead of ourselves, we have to realize there are several questions that need to be answered. These questions range from personnel and coaching to expectations and outside intangibles.
Here are the top 100 questions for next year. The answers are anyone's guess, but they will shape the national landscape in 2012-2013. They're ranked in a somewhat increasing order of relevance.
Begin Slideshow

»
Ronald Martinez/Getty Images

I lead with this question not because it isn't important, but because it figures to be answered the soonest.
Richardson is one of the few remaining big-name players in college football who have yet to declare whether or not they are going pro. The idea seems to be that since Richardson would be a top-five selection and plays running back, a position where you have a very limited number of years, he will be going pro, but he has not made it official as of yet.
Alabama would welcome back Richardson with open arms should he stay. The Tide will be losing three of their top four receivers on offense and are losing plenty on defense (more on this later).
Despite a 1-4 start, ECU found itself in a mini-playoff of sorts, squaring off with fellow 5-6 team Marshall the final week of the season. Marshall would win and go on to a bowl game, while ECU would be home for the holidays.
With the disappointing finish, it's time for 2012.
Ruffin McNeill was a defensive-minded coach (defensive coordinator at Texas Tech and interim coach when Mike Leach was fired), but the Pirates have been awful on defense. They allowed 44 points per game in 2010, McNeill's first season, but improved to 32.3 last season.
With eight of their top 11 tacklers back, I expect the Pirates to be even better on defense again. They'll have to replace QB Dominique Davis on offense, but there's enough coming back for some optimism in Greenville.
If they improve on defense, then they should be back in a bowl. If not, McNeill will be out.
I'll be interested to see what Dan Mullen comes up with for his team next year. The past two seasons they've used QB Chris Relf and RB Vick Ballard to be a strong rushing team.
Relf was inconsistent this season and was replaced by Tyler Russell. Russell isn't as strong of a runner as Relf, and the Bulldogs will be losing Ballard as well. With their four leading receivers coming back, I wouldn't be surprised to see MSU make a change to more of a passing team.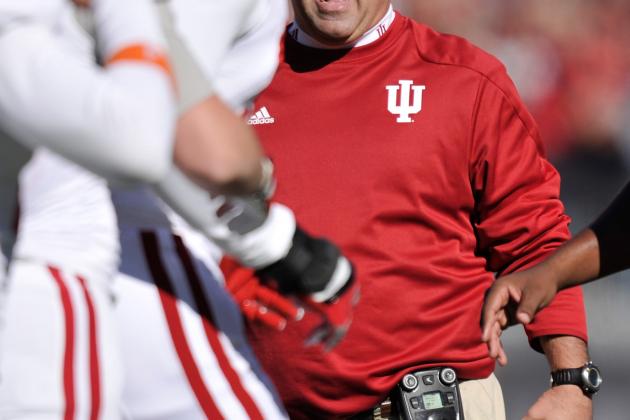 Jamie Sabau/Getty Images

I realize that this question is focused on the past rather than the future, but we can potentially use the answers to project the fate of the 2012 Hoosiers.
What happened in Bloomington this past season? Kevin Wilson came in, and there was optimism of a high-flying passing attack. Instead, the Hoosiers averaged only 21 points and finished 1-11.
Perhaps worst of all, they lost prized recruit Gunner Kiel to LSU. Kiel surprised many with his commitment to the Hoosiers, and their surprise was validated to a certain extent with his subsequent rescission.
Indiana started with Edwin Wright-Baker at quarterback, and when he was injured, the Hoosiers looked to Dusty Kiel, Gunner's older brother. Dusty did not fare well in limited action, and one has to wonder if his older brother's time at Indiana influenced Gunner's decision in any way, shape or form.
Jonathan Daniel/Getty Images

Illinois' offense struggled mightily down the stretch in 2011. The Illini averaged only 12 points per game in their final seven games.
Now they have a new head coach and a new coordinator (TBA). They'll lose their top receiver in A.J. Jenkins and their top two running backs in Jason Ford and Troy Pollard.
It may not sound like a lot, but it is. Jenkins caught 1,276 of the Illini's 2,392 yards. The lead returning receiver is Spencer Harris, who caught 26 balls for 226 yards.
Ford and Pollard combined for 1,075 yards on the ground (QB Nathan Scheelhaase was the leading rusher). This most likely leaves the door open for Donovonn Young to become the feature back. Young was OK as a freshman but struggled in pass protection.
Houston is going to have a total face lift next season: new coach, new offensive coordinator, new defensive players, and of course, it'll be replacing college football's all-time leading passer in Case Keenum.
Losing Keenum is one thing—losing a head coach is another.
So is losing five of your top six receivers and your two best defenders in Sammy Brown and Marcus McGraw.
Brown somehow went overlooked this season, but the senior tallied 30 tackles for loss! Thirty! Second place was Whitney Mercilus of Illinois with 22.5!
That seems to be a lot to replace.
LSU is going to be the No. 1 team in the preseason next year, and for good reason. It had one of the best defenses in the nation this year and will be returning several key players.
Back will be the Honey Badger, Sam Montgomery, Eric Reid, Kevin Minter, Michael Brockers, Barkevious Mingo and Bennie Logan.
One integral piece will be Morris Claiborne. Claiborne figures to be a top-10 pick and the first cornerback taken off the board, but he is only a junior. It will be big if he returns for his senior year.
With or without Claiborne, the Tigers could sport the nation's top defense—an honor Alabama held this past season.
Purdue was the definition of a roller-coaster team this year, not winning or losing consecutive games until the month of November. With the exception of Ohio State and Rice, the Boilermakers beat everyone they should have beat and lost to everyone they should have lost to (they beat OSU and lost to Rice).
With almost all of their skill back on offense and contributors like Kawann Short back on defense, can Purdue take the next step and win somewhere in the vicinity of eight games? Five of the Boilers' first six games are at home, the lone exception being a trip to Notre Dame. They also avoid Michigan State and Nebraska out of the Legends division.
Odds are the Buffaloes will be more successful in 2012 than they were in 2011 if they do.
Injuries crippled the Buffaloes all season, and they were forced to play converted receivers on defense at some points during the season (against USC, for example).
The team fought, and WR Jason Espinoza actually finished with two interceptions to become the team leader. Still, they need some major help with this unit.
Stephen Dunn/Getty Images

Marquess Wilson is an overlooked talent in Pullman. He finished sixth in the nation in yards per game as a sophomore this past season and added 12 touchdowns. He now has back-to-back 1,000-yard receiving seasons.
Now look who is coming to town.
Wazzu was already a pass-happy offense, but Wilson's production figures to increase even more with coach Mike Leach entering. Wilson could easily eclipse 100 receptions next year and put up another monster year.
This time, it will go noticed.
Christian Petersen/Getty Images

It's anyone's guess.
This season, Arizona was a pass-happy team and put up big numbers behind QB Nick Foles.
The Wildcats are losing Foles, their three top wide receivers and their top rusher. Factor in the addition of Rich Rodriguez, and Arizona could be a completely different team next year.
Grant Halverson/Getty Images

Wake Forest was very close to winning the division this season. If not for a late loss at Clemson, the Tigers would not have been in the Orange Bowl—and lost.
Wake will return QB Tanner Price, but more importantly it will return nine of its top 12 tacklers. This team improved on defense down the stretch (save for a 41-point letup against Vanderbilt), and it should be improved next year.
Don't be surprised if Wake is in the thick of things again.
Chris Graythen/Getty Images

Virginia Tech relied heavily on Wilson this season, making the back rush 290 times on the season (ninth in the nation). He was productive, totaling 1,709 yards and nine touchdowns.
Even with his production, it wasn't as if VT was lighting up scoreboards. The Hokies averaged 27.9 points per game, good for 57th in the nation.
With Wilson gone, one has to wonder where the offensive production will come from. QB Logan Thomas has shown signs of being able to run the ball, but after him, the leading returning rusher had 30 yards this season.
The Hokies are also going to lose their top two receivers, and until they prove they can run the ball, defenses will make them throw. Someone needs to step up for Wilson in a big way.
Christian Petersen/Getty Images

Landry Jones and the Sooners throw the ball over the place, and despite losing Ryan Broyles, they will have plenty of weapons back next season.
Oklahoma was No. 1 in the preseason this past year but faltered throughout the season. This had to do with injuries and turnovers.
Jones was solid at times (he did throw for 4,400 yards), but he also threw 15 interceptions. Jones had a 1-6 TD-INT ratio in the final four games of the season as the Sooners imploded.
Leaders have to step up when a team is struggling and help prevent any further damage. Jones did not do that.
Robert Woods and Marqise Lee may already be the best one-two punch in the nation. As a sophomore and freshman, respectively, the two combined to catch 184 passes for 2,435 yards and 26 touchdowns. Between the two, that's an average of 15 catches, 200 yards and nearly two TDs a game—and Woods was hurt near the end of the season.
Video-game numbers.
They'll obviously both be back this season, along with Matt Barkley. With another year of chemistry and a similar running game, there is no reason to think the two will regress. If anything, they should improve on the gaudy numbers.
I don't know if we've seen numbers like this before from two receivers on the same team. They could push 200 catches and 30 touchdowns this season (they could theoretically play in two more games this year than last if they make the Pac-12 title game and a bowl game).
They'll also still have Xavier Grimble and Randall Telfer to take some pressure off.
Offensive coordinator Jim McElwain already accepted the job at Colorado State when the Tide took the field in New Orleans. He didn't allow it to be a distraction, though, as the Tide tallied 384 yards and 21 points en route to a national championship.
Now he's gone. Three of the Tide's four top receivers will be gone, and as mentioned before, Trent Richardson will likely be gone.
With all the losses, a new coordinator coming in and helping makes an even bigger difference.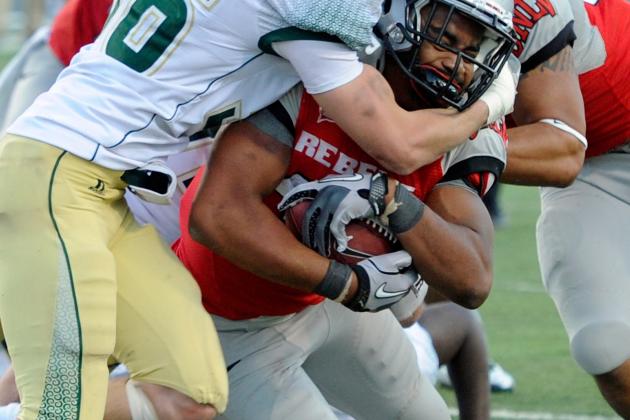 Ethan Miller/Getty Images

Colorado State suffered through another disappointing year, finishing 3-9 and winning only one conference game (the opener against New Mexico).
It'll have plenty of personnel back.
In fact, the Rams return their quarterback, running back and three of their top receivers—and only one of those individuals is a junior. Defensively, they return 16 of their top 20 tacklers, including breakout star Nordly Capi.
The ingredients seem to be there. The Mountain West may be down as a whole, and Jim McElwain will be inheriting an experienced roster. Sometimes the talent is there, and it just takes a change at the top to spark a change in attitude or motivation (this isn't to say Steve Fairchild was incompetent).
I think this could happen at CSU.
Kevin C. Cox/Getty Images

Familiar story in Atlanta this year:
Georgia Tech started hot and wowed people with its triple option offense. It then finished with a mediocre record due mostly to its inconsistent defense.
The Jackets allowed more than 30 points in each of their final four games and allowed 161 yards per game on the ground.
They should be much better as a unit next year. They'll return eight of their top nine tacklers, including Jeremiah Attaochu.
If the Jackets can slow some people down and continue to run the ball as well as they do, GT could be a sleeper pick in the ACC.
Odds are, no—what David Amerson did this season was truly remarkable.
The 6'3" sophomore intercepted 13 passes this season, one per game. That is an all-time ACC single-season record.
Amerson should be a finalist for the Jim Thorpe Award (again) and will face a decision following his junior season of whether or not to go pro. If he stays for his senior year, he will have a chance to break Al Brosky's record as the all-time career leader in interceptions (that is, if anyone throws at Amerson). Brosky had 29 picks in his time at Illinois.
Geoff Burke/Getty Images

Virginia was one of the surprise teams this season, finishing 8-5. It went 5-3 in the ACC and finished in third place.
There's no reason to think this won't continue. It'll have Michael Rocco and Perry Jones back on offense and enough key players on defense.
The team was successful for its defense, and while they lose Matt Conrath and Cam Johnson, the return of LaRoy Reynolds, Demetrious Nicholson and Steve Greer should have the Cavs competing once again.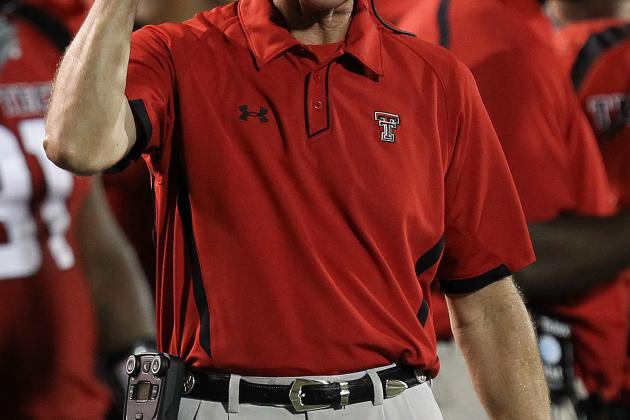 Ronald Martinez/Getty Images

The good news this year is Texas Tech beat Oklahoma on the road in a colossal upset.
The bad news is it lost every game after that and finished 5-7.
Tommy Tuberville entered Lubbock in an unenviable position, having to replace the well-liked Mike Leach. I don't think he's really captured the fans' hearts and love quite yet.
That could put him in trouble as the next season progresses. The Red Raiders will have almost their entire defense back, so it should improve (it can't get worse, really), and Seth Doege will return with nearly a full complement of receivers.
Texas Tech should be much improved and make a bowl next year. Otherwise, Lubbock will most likely have seen the end of Tuberville.
Stephen Dunn/Getty Images

Since it seems that every sport, every year needs to have one this day and age, what will be the year's Game of the Century?
My early guess? Oregon at USC on Nov. 3.
Both will be ranked highly in the preseason and will have a shot of being undefeated come early November. Oregon will only go on the road twice prior to that game, and the trips are to Pullman and Tempe.
USC has a slightly tougher schedule, having to travel to Stanford, Utah, Washington and Arizona. The Utah and Washington trips come back-to-back, and Utah is on a Thursday. If both teams are undefeated, then they could be No. 2 and No. 3 in the nation.
Expect there to be a lot more scoring in the Oregon-USC game than there was in either of the Games of the Century this year.
Notre Dame turned the ball over at the most inopportune times this season. The Irish turned the ball over inside the 5-yard line in four of their five losses. They would go on to lose those games by an average of five points; two turnovers led directly to points for the other team (USF and USC).
I don't know what this is a sign of.
Mental toughness?
Asking too much from the team?
Poor fundamentals?
A mix of all of those?
Whatever it is, Notre Dame plays a tougher schedule next year and is losing some key players. It could have won around 10 games this year but finished with eight. Next year it won't get away with it.
Craig Mitchelldyer/Getty Images

Oregon State had an awful season this year, battling injuries and inexperience. I, for one, am happy that it didn't go the route of four other Pac-12 schools and fire its coach, Mike Riley. Riley has proven he can compete in Corvallis, and it is just a matter of time until the Beavers do so again.
That isn't to say he isn't on any sort of a hot seat entering the season; Oregon State will need to make a bowl game this year for Riley to feel safe.
It has the potential to do it too.
Last year the Beavers were playing with a freshman quarterback, a freshman running back and a plethora of underclassmen receivers. They will lose James Rodgers at the receiver position, but that's about it.
The defense was just as young as the offense, and key contributors such as Scott Crichton and Jordan Poyer will be back.
Oregon State will have somewhere in the range of 16 to 19 starters back next year, and they've all dealt with a season of hardships. This team improved slightly as the season went on, and I expect that to continue into next year.
I think Oregon State will be on the brink of making a bowl and can keep Riley safe.
Otto Greule Jr/Getty Images

The Huskies were a Jekyll and Hyde type of team in 2011. They started off 5-1 and looked like a sleeper in the Pac-12 only to give up 65 to Stanford and eventually lose to Oregon State.
Then the Alamo Bowl happened, where Washington refused to play any defense and didn't cover a 9.5-point spread despite scoring 56 itself.
Washington will be hurt severely by the loss of Chris Polk. Polk put the team on his back at times in 2011, including a five-touchdown effort against Arizona.
Many have made Keith Price out to be a Heisman Trophy candidate following his Alamo Bowl performance. While he was fantastic, such accolades need to be put on hold. Those who have put Price in the elite class seem to have missed the games against Arizona, Stanford or Nebraska (he is only a sophomore, though).
They're going to lose their best linebacker, but the Huskies do have a big playmaker on defense in freshman Josh Shirley. Their entire defensive line was young this season and should be improved.
Kirk Ferentz is a very good coach and is now the longest-tenured head coach in the Big Ten.
That said, there have been plenty of troubles at Iowa the past two seasons.
First, there were allegations of a drug house run by receiver Derrell Johnson-Koulianos. As it turns out, DJK was working alone, without the aide of any teammates.
Then there have been mass suspensions and expulsions. Adam Robinson didn't return for the 2011 season, and most recently Marcus Coker has been granted a release amidst allegations of assault.
As you can imagine, Iowa hasn't been spectacular on the field as a result. The Hawkeyes are just 13-11 in the last two seasons, and their defense has dipped significantly in production. This year they allowed more than 23 points per game, up from 17.0 last year and 15.4 the year prior.
Scott Halleran/Getty Images

Braxton Miller looked great at times this season. He led the Buckeyes to an upset over Wisconsin, but it seemed as if they never took the training wheels off him.
It should be bombs away under Urban Meyer.
Miller seems to be a prototype for what Meyer wants to do with his ability to run and pass. Miller rushed for more than 100 yards in three of the final five games and completed 78 percent of his passes in a losing effort against Florida.
I feel that another year (or even a full year) under Meyer will do wonders for Miller. Look for improved numbers this season as he eventually grows into one of the better players in the nation.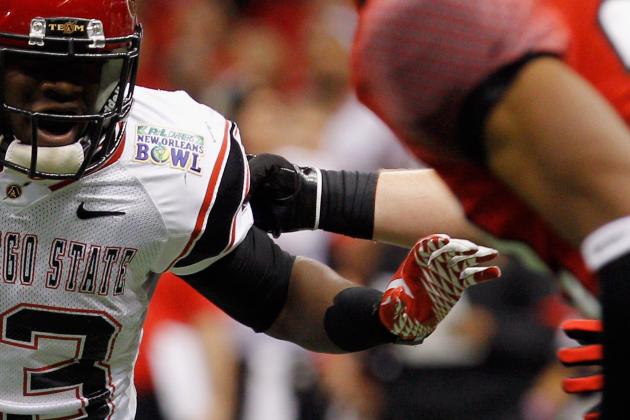 Chris Graythen/Getty Images

Hillman is leaving for the NFL after his sophomore year. With two more years of eligibility he could have threatened some all-time rushing records.
Now San Diego State finds itself in a quandary. They did well to transition between coach Brady Hoke and Rocky Long, but replacing Hillman may be more difficult. The sophomore rushed for 1700 yards and 19 touchdowns this past season.
Louisiana-Lafayette took away Hillman in the bowl game and made San Diego State beat them through the air. In the end, SDSU couldn't do it. They'll be even more hard-pressed to beat teams through the aire with the departure of Ryan Lindley to the NFL.
SMU has shown flashes of excellence and flashes of putridity over the past two years.
The good? A win over TCU and two consecutive bowl games.
The bad? Thirty-two turnovers (115th in the nation) and a combined 17 points against Houston, Southern Mississippi and Tulsa.
The offense hasn't taken flight as quickly as many had hoped under June Jones. It'll have to revert to Kyle Padron or find a new quarterback since J.J. McDermott is graduating. They have plenty of talent coming back on defense, which could keep them in games early, but the jury is still out on the Mustangs.
Martinez did not improve statistically from his freshman to sophomore year. He threw the ball 92 more times for 458 more yards. He threw three more touchdowns and one more interception. His completion percentage decreased.
Anyone who watches him throws sees there is something fundamentally wrong with his motion. Martinez jumps as he throws and throws the ball almost from his hip.
I don't know why this isn't being corrected, and if it is, why it isn't taking with Martinez. He remains a great threat on the ground, but until he puts it together, the Huskers will remain a one-dimensional team.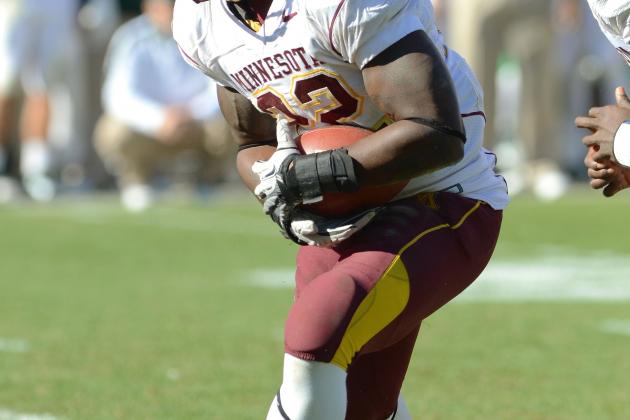 Mark A. Cunningham/Getty Images

Minnesota was not a great team this year by any stretch of the imagination. Despite this, it fought to the very end, earning victories over Iowa and Illinois and playing MSU closely.
Next year the Golden Gophers will return QB Marqueis Gray but not much skill on offense (not that there was much this season). They will return around eight starters on defense.
Don't expect a Big Ten title or anything, but with a more experienced defense, Gray and some influx of youth, the Gophers may be able to sniff a bowl game if they continue to fight and show the improvement they did in the second half of the season.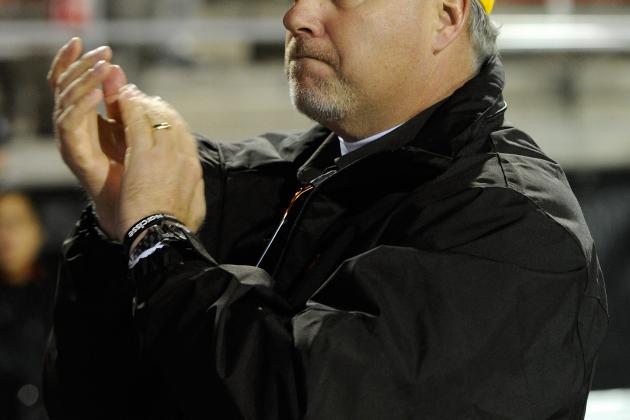 Ethan Miller/Getty Images

Okay, hear me out.
Wyoming finished third in the Mountain West this past season. The Cowboys will be returning QB Brett Smith (who was only a freshman), RB Alvester Alexander and almost all of their wide receivers. They will lose a few players along their defensive line, but overall they should be as good, if not better, as their 8-5 record this season.
The teams that finished ahead of Wyoming this year were Boise State and TCU. TCU won't be in the league next year, and Boise figures to regress significantly (more on this later).
Maybe, just maybe, Wyoming can use its experience to take a surprise MWC championship (Wyoming lost at Boise this year, 36-14).
Rob Carr/Getty Images

Same answer in 2012 as it was in 2011: No.
Jonathan Daniel/Getty Images

It sounds preposterous, given that the Irish were sleepers for the BCS this season and did play in the Champs Sports Bowl—but look at the facts.
Notre Dame will lose its best player in Michael Floyd. Additionally, it'll lose Jonas Grey and four of its top five tacklers.
Now for the kicker.
The Irish play nine teams that were in bowl games this season. This includes road trips to East Lansing, the Coliseum and Norman. Anyone will struggle with that schedule.
The Irish figure to be dogs in all three of those contests. After that, there isn't much margin for error.
Christian Petersen/Getty Images

It could be argued that no one was playing better football than Missouri down the stretch this season. The Tigers won five of their last six with their lone loss being a three-point defeat to Baylor. The Tigers also looked unstoppable against North Carolina in the bowl game.
Now they'll return two of their top receivers, all of their running backs and quarterback James Franklin, a player who improved drastically as the season went on.
Auburn offensive coordinator Gus Malzahn surprised some with his announcement that he would replace Hugh Freeze at Arkansas State. Malzahn was the offensive coordinator with the wildcat Razorbacks, Tulsa and most recently Auburn, but how will he fare as a head coach?
Malzahn will have to replace many key contributors on defense, along with leading receiver Dwayne Frampton. A repeat of a Sun Belt championship would be unreasonable, but it may not be long until Arkansas State is a national power under Malzahn.
Sarah Glenn/Getty Images

It was announced earlier this week that Heisman Trophy winner Robert Griffin III will be leaving early for the NFL draft. All of his accolades are well deserved, as will be his top-10 selection in the NFL draft.
Where does this leave Baylor?
The Bears are coming off one of their best seasons ever, finishing 10-3 with a win over Washington in the Alamo Bowl.
The Bears are going to lose Kendall Wright and Terrance Ganaway, their leading receiver and rusher, respectively. They also lose Elliot Coffey and Nicolas Jean-Baptiste on defense.
With so many losses, the Bears will be hard pressed to finish .500. A bowl game should be a major accomplishment for them.
Illinois fired head coach Ron Zook and took a while to hire Toledo coach Tim Beckman.
Now they need to find an offensive and defensive coordinator.
They went to hire Jon Tenuta for defensive coordinator, but Tenuta stated he will be staying at N.C. State. Beckman's former offensive coordinator at Toledo, Matt Campbell, refused to take the same position at Illinois, instead opting for Toledo's head coaching position.
Not to make light of the situation, but at this rate, Penn State has a better chance of filling all of its positions before Illinois does.
Al Messerschmidt/Getty Images

I don't know how South Florida will start next year, but I know that given its history, it may have trouble finishing.
The team went 1-7 in its last eight games this year, which followed its 5-4 finish in 2010 and 3-5 finish in 2009.
The Bulls will have plenty of experience back with players who have gone through the hardships of difficult Octobers and Novembers. They return B.J. Daniels, their leading rushers and all of their leading receivers. They also return eight of their top 11 tacklers on defense, including Devekeyan Lattimore and Ryne Giddins.
Maybe with so many people back they will learn from their late-season struggles and finish the season out in strong fashion.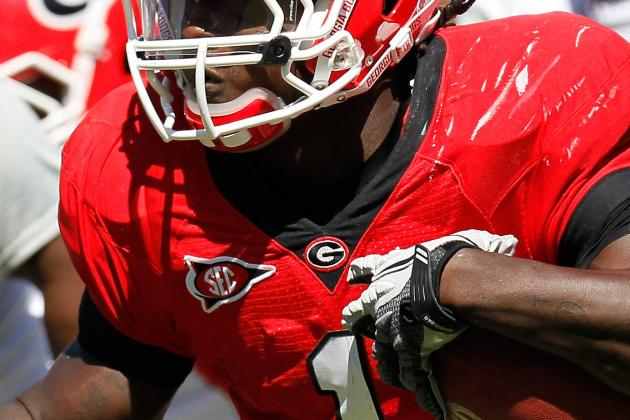 Kevin C. Cox/Getty Images

Isaiah Crowell came into Georgia as one of the nation's top recruits. He showed signs of greatness but was also suspended for testing positive for marijuana and ended up in coach Mark Richt's doghouse (pun intended).
Crowell still has plenty of time to get his head straight and become a great back. But with Carlton Thomas improving and Keith Marshall coming in from high school, UGA isn't going to wait around for Crowell.
BYU had a strange year this past season. It finished 10-4, but as a result of its independence (as is my theory), its success went virtually unnoticed.
The Cougars weren't the greatest 10-4 team of all time, but still, they have been a storied program that is used to more exposure.
With QB Riley Nelson and LB Kyle Van Noy back, the Cougars could match their 10-win total from this past season. It's anyone's guess whether or not anyone will notice.
There's a very good chance that Louisiana Tech will have a very explosive offense next season. It returns QB Colby Cameron—who took over in the second half of the season and greatly improved the team—RB Hunter Lee and most of its receivers.
This from a team that averaged 30.1 points per game.
The Bulldogs lost to Southern Mississippi by two, Houston by one, Mississippi State by six in OT and TCU by seven. They were very close to being a 10-win team this season, and their goal is to become the next Boise State (more on this later). They will have to replace a lot on defense, but next season will be integral, as they cannot regress if they want to be a perennial power.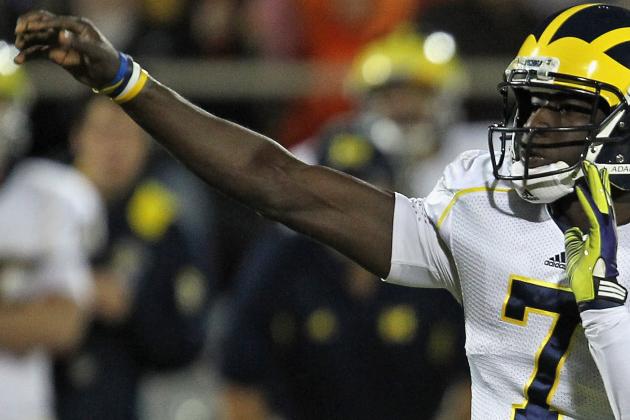 Jonathan Daniel/Getty Images

Michigan started an odd trend halfway through the season. They started running Devin Gardner onto the field to play quarterback and kept Denard Robinson in as a decoy—which was ineffective since it never used Robinson.
This was odd since Gardner has the same exact skill set as Robinson. He can run, and he isn't overly effective throwing the ball. Therefore, as good of an athlete as Gardner is, he is being wasted in his current fashion.
I'd like to see Michigan get creative with this. It didn't run any trick plays with the two and rotated them in an unimaginative, unproductive fashion. This should change next season.
Streeter Lecka/Getty Images

Odds are that I'll answer "no" to this question no matter what happens in 2012, as I disagreed strongly with O'Brien releasing Wilson, and nothing should change that.
Still, QB Mike Glennon improved as the season went on, and so did the Wolfpack. They had a monster comeback in the finale against Maryland, which led them to a bowl game they subsequently won.
They will have their entire secondary back, including record-breaking David Amerson. Glennon will have to do it next year without three of his top four receivers from this season.
North Carolina has had consecutive tumultuous seasons. At the start of 2010, suspensions against the Tar Heels' best players were announced, causing UNC to play mediocre football the entire season.
In the last second of the summer, UNC fired Butch Davis. This forced it to bring in interim coach Everett Withers. Again, this caused UNC to play inconsistent, mediocre football.
Finally, it has a coach: Southern Mississippi's Larry Fedora.
Will he bring stability to a program that so desperately needs it?
They'll have some talent back on offense for Fedora to work with, but the Heels will be hurt by the loss of some key defensive personnel such as Zach Brown and Quinton Coples.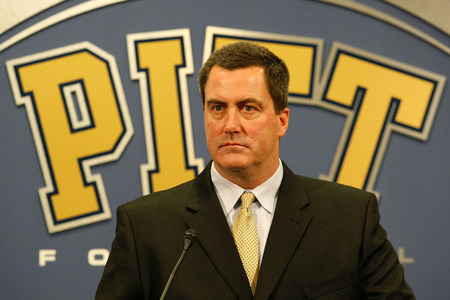 You think the situation at UNC was dire—consider the Pitt Panthers. Paul Chryst will be the fifth Panthers head coach in 14 months!
Dave Wannstedt was fired in December of 2010 and replaced in the interim with Phil Bennett coaching the Panthers in a bowl game. Mike Haywood was brought in as a replacement but was quickly fired after charges of a domestic dispute.
In came Todd Graham, who led the Panthers to a 6-6 record and the lead in the nation in sacks before he split for Tempe.
Now, it's up to Chryst. He'll have a healthy Ray Graham back for the Panthers, but surely something needs to be done with the offensive line, which allowed 63 sacks (second-worst was Miami University with 47). Wisconsin's offensive line (where Chryst is coming from) and Pitt's couldn't be further opposites.
At this point, Pitt fans are just asking for a coach they can see on the sidelines for more than one season.
Derek Carr quietly put together a solid 2011 campaign. The sophomore threw for 3,544 yards, 26 touchdowns and nine interceptions. Not bad for a 4-9 team.
The Bulldogs will be replacing longtime coach Pat Hill, but they will be returning most of their receivers and running back Robbie Rouse. If Carr continues to improve, there's no doubt he can throw for more than 4,000 yards next year.
Derek is built the same as his brother, and it will be interesting to see where he is drafted.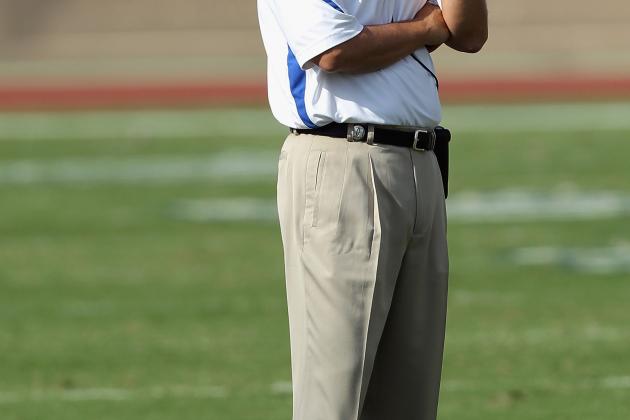 Streeter Lecka/Getty Images

David Cutcliffe probably has one more year to get Duke to a bowl game before his seat gets too hot to handle. The Blue Devils have been a trendy sleeper pick for a while now but have not been able to cash in on the lofty expectations.
They'll have QB Sean Renfree, their leading receiver and their leading rusher back on offense.
Again, this is do-or-die time for the Devils.
Akron has been awful the past few years, compiling a 5-31 record in the past three seasons. The mere mention of a bowl game should be laughed at.
That was before the Zips hired Terry Bowden to coach the team and Chuck Amato to run the defense. All of a sudden, there's life in Akron.
Don't be surprised to see this team competing in the MAC in a few years.
Bob Davie has two things working against him as he takes over at New Mexico.
The first: He hasn't coached in 10 years and has spent most of that time announcing—even announcing after he was hired by New Mexico, which should help all of the unemployed in America rest at night knowing he has two jobs.
The second: New Mexico isn't very good.
Back to the first, however. It is possible to take an extended period of time off and return and be successful. Most notably, Dick Vermeil spent years announcing college football with Brent Musburger before returning to the NFL to coach the St. Louis Rams. All in all, he didn't coach for 15 years between his stint with the Eagles and his time in St. Louis.
This certainly isn't to compare Davie to Vermeil. It's simply to state that being away from the game doesn't necessarily preclude you from being successful.
Norm Chow has been a longtime assistant in college and professional football. He was an assistant for the 1984 BYU national championship team and the 2004 USC Trojans national championship team and stopped by the Tennessee Titans, UCLA Bruins and Utah Utes along the way.
Now, he'll finally be given the keys to a program. Chow was announced as the next head coach at Hawaii.
Looking ahead, Hawaii will lose QB Bryant Moniz and leading receiver Royce Pollard. It does have plenty of youth at receiver and running back for Chow to work with, however.
Ole Miss was successful in the early 21st century with Eli Manning and David Cutcliffe. After some down years with Ed Orgeron, Houston Nutt took over and had the team successful immediately.
Then, the oddest thing happened: They started to play very badly.
The Rebels went 6-18 the last two seasons.
Enter Hugh Freeze.
Freeze went 10-2 in one season at Arkansas State and served as a TE coach and recruiter for Ole Miss in 2006. More famously, he was the high school coach for Michael Oher and was depicted in some Hollywood blockbuster known as The Blind Side.
In other words, without Freeze, Sandra Bullock wouldn't be an Oscar winner.
Christian Petersen/Getty Images

Utah quietly had a strong finish in 2011, winning five of its final six games. Although this included an ugly loss to Colorado (which cost Utah a shot at the Pac-12 title), the Utes did rebound to beat Georgia Tech in an exciting Sun Bowl.
With a healthy Jordan Wynn and John White IV, all of their receivers returning and seven starters back on defense, Utah could be a sleeper in the Pac-12.
The Utes figure to be the second-best team in the Pac-12 South, and while they are far behind the Trojans, they do get USC at home.
Jeff Zelevansky/Getty Images

Rutgers had a strong finish as well, winning four of its last five, including the bowl game against Iowa State.
It'll return in the area of 15 starters, including co-Big East Defensive Player of the Year Khaseem Greene. This also includes LB Steve Beauharnais and RB Jawan Jamison, who had just under 900 yards rushing as a freshman.
If West Virginia moves to the Big 12, then Rutgers may not even be a sleeper.It could be the favorite in the Big East.
Al Messerschmidt/Getty Images

Louisville improved dramatically as the season went on. It ended up earning a co-Big East championship despite finishing 7-5 in the regular season and then lost to North Carolina State in the Belk Bowl.
The Cardinals will return an impressive 19 starters next season, headlined by QB Teddy Bridgewater, his entire receiving corps and 10 starters on Charlie Strong's 17th-ranked scoring defense.
If it continues to improve under Strong, then Louisville is my pick to win the Big East next year—with or without West Virginia in it.
(Louisville did win in Morgantown this year.)
Stephen Dunn/Getty Images

We can all agree on one thing: The pressure and expectations for Jim L. Mora to turn UCLA around pale in comparison to the pressure and expectations Rick Neuheisel faced.
Neuheisel took over his alma mater, and many expected him to win the recruiting battle and take Los Angeles back from USC—only the best team of the decade at the time.
Neuheisel is out, Mora is in and no one seems to care.
UCLA became a punch line down the stretch, as it was included in the Pac-12 title game with a 6-6 record and subsequently went to a bowl with a 6-7 record—which it lost, becoming the first-ever 6-8 team.
Maybe lower expectations are what the team needs (avoiding injuries and coordinator changes would help too). No one is expecting UCLA to beat USC anytime soon, but we'll see what happens. The Bruins don't have to beat USC to become competitive again.
Kevin C. Cox/Getty Images

Tennessee was ravaged with injuries this season, and as a result, Derek Dooley is squarely on the hot seat.
With a healthy Tyler Bray and a more consistent running game, the Vols should be improved next season—not to mention they had freshmen and sophomores all over the defense.
A bowl berth seems to be the bare minimum requirement for Dooley to stay in Knoxville. Even a 6-6 record with a below-500 record in the SEC may not be enough...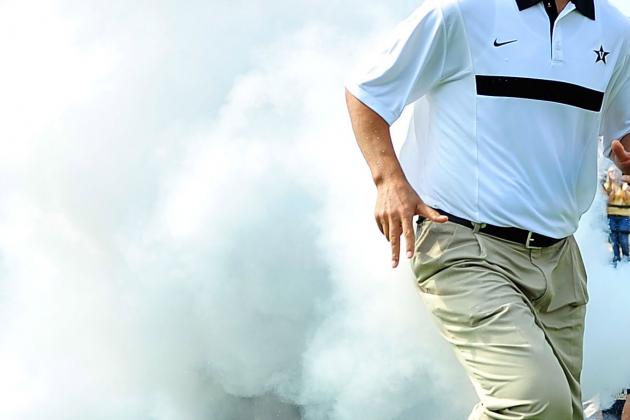 Grant Halverson/Getty Images

Vanderbilt was one of the surprise teams of the 2011 season, finishing 6-7 with a berth in the Liberty Bowl.
Given the total overhaul in attitude and philosophy that coach James Franklin has enacted in Nashville, I would guess that Vanderbilt will continue to rise.
That said, the Commodores are losing their three top tacklers and most of their secondary.
They will have most of their offense back, however.
If they continue to improve, then maybe one of their close losses (Florida, Georgia and Arkansas) goes their way next year.
There is going to be a lot of unfamiliarity in College Station next year: a new coach in Kevin Sumlin, a new offensive philosophy as the Aggies figure to throw the ball a lot more, a new quarterback making those throws and, of course, a new conference.
This is a total overhaul for the Aggies, one of unprecedented proportions. I will be very interested to see how they handle all of it.
Al Messerschmidt/Getty Images

Many early Top 25 lists have Michigan State ranked rather high (basically where it finished this season).
Apparently those lists aren't too concerned over the loss of not only longtime quarterback Kirk Cousins but also the four leading receivers for the Spartans!
They'll have to count on RB Le'Veon Bell and a solid defense to carry the team early on. The Spartans will be very strong defensively, as they figure to return eight starters (not including Jerel Worthy, who has declared for the NFL draft).
Scott Halleran/Getty Images

There are a couple of strikes against Florida's offense already.
For one, it loses John Brantley, Jeff Demps and Chris Rainey, so pretty much all of its production. It will also lose offensive coordinator Charlie Weis, who has accepted a job at Kansas.
Florida has named former Boise State coordinator Brent Pease as Weis' replacement. Call me crazy, but I think Pease will have some potential on offense. The Gators will return seven starters on offense, which includes most of the offensive line.
Brantley was inconsistent in his time at Florida, so a change could be just what the doctor ordered.
Jamie Squire/Getty Images

Speaking of Charlie Weis...how will the now well-traveled ball coach fare in Lawrence?
The Jayhawk offense was nothing to write home about this year, finishing 95th in scoring. They'll have basically everyone back on offense, including quarterback Jordan Webb, so I wouldn't be surprised if they show an immediate increase.
The defense finished dead last in the nation in both total yards and points allowed.
That's just another story altogether...
Christian Petersen/Getty Images

Todd Graham has made a name for himself for being a bit of a nomad. He has claimed that ASU is his dream job, but we've seen in the past that this might not mean much.
Could it be that Graham will be somewhere else come 2013?
Kevin C. Cox/Getty Images

Many felt the Hokies were sleepers for the national title in 2011. They had a solid defense, a good running game and a favorable schedule.
In 2012, nearly all of that will be true once again.
The Hokies will be lights out on defense, as they return nearly everyone from an already strong unit. They'll have Logan Thomas back, but they will miss RB David Wilson.
They have to travel to Clemson (a team they lost to twice) but get FSU and Georgia Tech at home. They also host Austin Peay.
Don't be surprised if you start to hear VT touted for the championship once again next year. It then could focus on not losing a game in which it outgains its opponent 377 yards to 184, like it did against Michigan.
Kevin C. Cox/Getty Images

Auburn fared pretty well for itself this season.
The Tigers finished 8-5 in a season when many picked them to miss out on a bowl game. Just when it looked like they were turning a corner with a lopsided win in the Chick-fil-A Bowl, their best player, RB Michael Dyer, announced he was following Gus Malzahn to Arkansas State (Dyer did not play in the bowl game).
With the development of QB Barrett Trotter and RB Onterio McCalebb, along with several receivers back, Auburn should be OK next season—even without its best player.
Donald Miralle/Getty Images

Oklahoma State will have eight starters back on defense, and the Cowboys are young. Therefore, they should be improved on defense.
Offense is another story.
The Pokes will lose Brandon Weeden, Justin Blackmon and Josh Cooper. They'll have their running game back, and Clint Chelf could be a suitable replacement for Weeden as the season goes on.
The main loss, however, remains to be Blackmon. This early entry in the NFL draft caught 121 passes and 18 touchdowns this past season. You don't just pull that production out of thin air.
Mike Ehrmann/Getty Images

Clemson had one of its best seasons in the past 20 years. It went 10-4, won the ACC and played in its first BCS game.
Unfortunately, it was all topped off with a 70-33 beatdown against West Virginia in the Orange Bowl.
How will this affect Clemson next year? I doubt very much. A loss is a loss, and it shouldn't matter if you lose by one or 70. The Tigers should use it as a motivating factor since it was seen as an embarrassment to many.
They'll have almost all of their offense back, but they need to replace Andre Branch, Rennie Moore and Brandon Thompson up front on defense.
Rich Rodriguez took over at Michigan in 2008 and suffered through a 15-22 record in three years.
In addition to putting the program on probation, he argued that he was not successful because he didn't have his players—and he would then argue, following the 2011 season, that he too would have won at least 10 games himself.
He's taking over an Arizona team that will be decimated with losses on both sides of the ball. All due respect to U of A, but if Rich Rod had trouble with the talent level at Michigan, then he'll be in dire straits in Tucson.
Wesley Hitt/Getty Images

It feels as if we've asked this question before, but it bears repeating.
Arkansas has been a good team the past couple of years, compiling a 21-5 record. The only problem is it's 1-3 against LSU and Alabama in that time span and lost to eventual champion Auburn in 2010.
If the Hogs want to take the next step, then they'll have to beat those who are ahead of them. They're 7-5 against ranked opponents in the past two seasons.
Matthew Stockman/Getty Images

I feel as if there is a lot of ambivalence toward Michigan right now. Sure, the Wolverines went 11-2 and won the Sugar Bowl, but they looked mediocre doing so. They beat one ranked team in the regular season (Nebraska) before beating Virginia Tech by amassing a total of 184 yards.
They'll have a solid defense once again despite losing Mike Martin and Ryan Van Bergen. With most of its skill back on offense, Michigan should be better next season.
Its success may be hard to replicate, however, as it opens at Cowboys Stadium against the Tide and follow with road games to Nebraska, Ohio State and Notre Dame.
Ethan Miller/Getty Images

Kellen Moore won 50 games in his career at Boise State—that is a record that will be very difficult to break.
It also means that Boise is going to have some unfamiliarity at quarterback.
It'll also lose Doug Martin and Tyler Shoemaker on offense, and it loses nine of its top 10 tacklers on defense. None of that bodes well for the Broncos.
Christian Petersen/Getty Images

With three losses and a stumbling finish to end the season, many may forget that OU was the preseason No. 1 team.
It won't be next year with losses including big-name players such as Ryan Broyles, Frank Alexander, Ronnell Lewis and Travis Lewis.
Still, the Sooners should be the favorites in the Big 12 with most of their offensive line back, several receivers returning and QB Landry Jones coming back.
Jones could have been the third quarterback off the board in the NFL draft, but like Matt Barkley, he decided to return to college. With lower expectations, the Sooners may be a surprise to some should they stay healthy.
A question we can ask any season, but one that never ceases to capture our imagination.
Here is an article of the players most likely to make an immediate impact at the next level. To save the suspense, Dorial Green-Beckham—a 6'6", 220-pound wide receiver who runs a 4.43 40—was projected to have the most immediate impact. DGB is still undeclared.
And maybe, just maybe, we could see the No. 1 QB recruit Gunner Kiel suit up for the LSU Tigers. Kiel originally declared his intent to go to Indiana but later changed his mind. Now he is headed to Baton Rouge and needs to replace Jarrett Lee and Jordan Jefferson.
Eric Francis/Getty Images

It seems unfathomable given that the Huskers went through a great turnaround in Pelini's first few years, compiling a 39-16 record in his first four seasons. Additionally, the Huskers have not won fewer than nine games under Pelini.
Still, look at their 2011 season a bit more, and you'll get a sense of ambivalence.
The Huskers beat two ranked teams all year: a dominating performance over Michigan State and then a win at Penn State (the first game after the Jerry Sandusky scandal broke). They were destroyed by Wisconsin and Michigan, lost at home to Northwestern and missed an early opportunity against South Carolina.
Nebraska was predicted by many to win the Big Ten in its inaugural season. Instead, it finished third in the Legends division. The Huskers will have Taylor Martinez and Rex Burkhead back, along with seven defensive starters. They'll lose Lavonte David and some of their offensive line, but we know what we're going to get with Nebraska.
But that may be the problem—another 9-4 season might not be enough for the Huskers faithful to put their full support behind Pelini.
Boise State still has one more season in the Mountain West.
So, for at least another year, the next Boise State will still be Boise State.
After that, however, Boise will be joining the Big East (not to mention it may have troubles this year). With TCU joining the Big 12 and Utah already in the Pac-12, the big-name non-AQs have graduated to the big time.
Who will fill Boise State's void as the perennial big-time power?
Potential candidates include Arkansas State with Gus Malzahn (and Michael Dyer in one year), Louisiana Tech, Southern Mississippi and Northern Illinois.
Out of those teams, La. Tech figures to be the strongest next season, as the other programs are losing significant contributors or their coach (or both). After next season, it's anyone's guess. It will be interesting to see who steps up and assumes the role as the top non-AQ.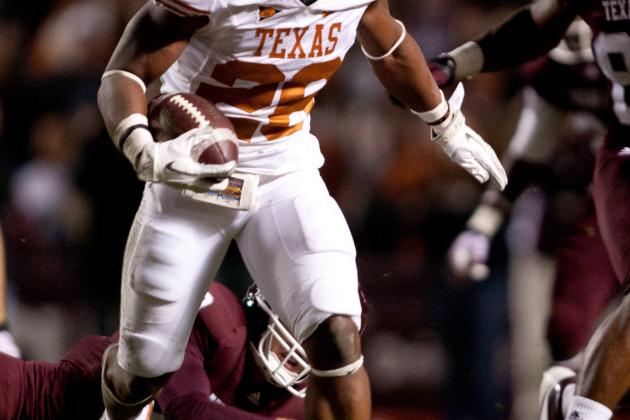 Darren Carroll/Getty Images

Texas seemed to be slightly turning the corner early this season before going through a tough string of injuries. The Longhorns lost their three top running backs and struggled with a quarterback rotation between David Ash and Case McCoy.
Next year they should start with Ash at quarterback and have Malcolm Brown and Joe Bergeron at running back. They'll also have all of their top receivers back, including a possible yearlong contribution from Marquise Goodwin.
Stephen Dunn/Getty Images

Optimists can say "not much," given that the Ducks will have Darron Thomas, Kenjon Barner and De'Anthony Thomas back on offense.
Still, you have to figure it is tough to replace a guy who rushed for more than 3,500 yards the past two seasons.
Ronald Martinez/Getty Images

Bill Snyder is in the process of turning Kansas State around once again. He did it already in the 1990s, and now he's doing it in the teens (or whatever this decade will be called).
Kansas State surprised many with a 10-3 record and a berth in the Cotton Bowl. Now, it'll return Collin Klein, John Hubert and most of its receivers on offense. Defensively, it'll return top players Arthur Brown, Meshak Williams and Adam Davis.
Don't be surprised if the old wizard is able to conjure up another 10-win season.
Mike Ehrmann/Getty Images

In 2011, South Carolina had its best season—ever. Its 11 wins were the most in program history, as it defeated Nebraska in the Capital One Bowl.
The next step has to be the SEC championship, as daunting as that may be. South Carolina has won one conference title in its history (the 1969 ACC, with a 7-4 record overall) and just one SEC East division title (2010).
It'll be loaded with talent next season, starting with a healthy Marcus Lattimore and a nice complement in Brandon Wilds. Connor Shaw got great experience this season at quarterback filling in for suspended Stephen Garcia.
If the Gamecocks can get Devin Taylor back, to go along with Jadeveon Clowney, then the defense should be stout again.
Al Messerschmidt/Getty Images

Yes, Georgia won 10 straight games to win the SEC East title.
Then LSU beat the Dawgs 42-10, and they would go on to some questionable play-calling in a loss to the Michigan State Spartans in the Outback Bowl.
Not kicking a field goal on 4th-and-1 from the 5-yard line when you're up 2-0 in the first quarter is mysterious. Taking a knee on second down and kicking a field goal on third down in overtime (a 42-yarder) was even worse. All in all, Georgia blew a 16-0 halftime lead.
Georgia finished 10-4, a season bookmarked by consecutive losses. Now it figures to be one of the favorites in the SEC East—again.
If the Dawgs come up short next year, it could be that Mark Richt is on the hot seat all over again.
Kevin C. Cox/Getty Images

A quote people like to throw around when it comes to major programs such as Alabama is that they don't replace players—they reload.
We'll see if that is true next year when it comes to the Tide, particularly on defense.
They will definitely lose Courtney Upshaw, Mark Barron, DeQuan Menzie and Nick Gentry. Additionally, they face the possibility of losing Dre Kirkpatrick and Dont'a Hightower.
Stephen Dunn/Getty Images

For whatever reason, people are always outraged when an athlete decides to return to school for another year (save for the player's fanbase).
Why this occurs makes no sense to me. Not only does it not affect our daily lives whether or not a player returns for college but it also stands in contradiction to everything we believe college sports should stand for. Somehow, we get narratives that players are "dumb" or "idiotic" when they state they are coming back.
I side with the players in every single instance, whichever decision they make. If they want to come back and play, then they are winners no matter the outcome.
Still, critics are going to look and see if the player ends up winning the Heisman Trophy or the national championship. Barkley joins an increasingly long list of players returning, which includes Peyton Manning, Sam Bradford and Andrew Luck.
None of those players won a Heisman Trophy, a National Championship or even a conference title the season following their decision to return (Bradford won a Heisman and a Big 12 title and then decided to come back).
But many will forget that all three did end up getting selected No. 1 overall.
Barkley has made the right decision, and I doubt he will ever regret it, no matter what happens. Still, he can shut a lot of people up by winning the Heisman and leading the Trojans to glory.
Doug Pensinger/Getty Images

Stanford has had unprecedented success the past two seasons, compiling a 23-3 record. The team was built with the nucleus of a solid offensive line, Andrew Luck and Jim Harbaugh.
Now Harbaugh has been gone for a year, and the team is losing Luck and at least two linemen to the NFL draft.
A drop should be expected, but perhaps not as catastrophic as many expect. The Cardinal should still have a solid defense, especially if Shayne Skov can return to full health and Chase Thomas returns.
Expect the Cardinal to still run the ball frequently with Stepfan Taylor and play solid defense. They might not be in the BCS again, but this team will still compete with anyone.
Otto Kitsinger III/Getty Images

There's no arguing that TCU has become a powerhouse in the Mountain West the past few years. The Frogs have lost five games in the past four years and have played in two BCS games, winning the 2011 Rose Bowl.
Now they'll have to do what critics of non-AQ teams say they can't do: win week in, week out, against quality opponents.
TCU will trade in Colorado State, New Mexico and UNLV for Oklahoma, Texas and Kansas State.
With so many starters returning from an 11-2 season, TCU could acclimate itself easily and win the conference, or it could take a couple of years to do so.
We can ask this question any year, but following a rematch national title that saw the original loser win, and with the BCS contract set to expire soon, talk of a playoff is more prevalent than ever.
In fact, following the BCS National Championship Game, a high-ranking BCS official stated, in regards to a playoff, "It gets done."
According to the article, there are at least 60 possibilities of how to change the postseason. That means they'll sit down, figure out which one makes the most money and go with that.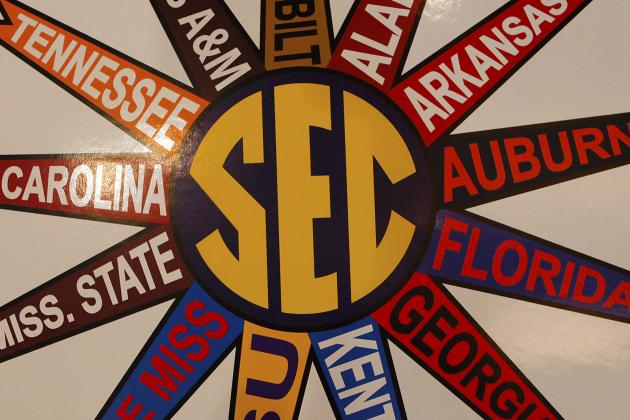 Aaron M. Sprecher/Getty Images

The SEC has won six straight titles. Even with all the great teams the SEC has to offer, if you offered up a bet of "SEC or everyone else to win the title" at the start of each season, I would take the field.
I would guess that the odds would be in my favor too. That's variance.
No, wait, I'll tell you what variance is...
Andy Lyons/Getty Images

The SEC West has now won three in a row and four of the last five. That is variance!
Especially when you consider that Ole Miss has been virtually nonexistent the past two seasons and Mississippi State, while competitive, didn't have a real shot of winning the title.
This means that LSU, Alabama, Auburn and Arkansas were the national title contenders, and they've managed to win three straight titles and four of the last five (of course, Arkansas did win zero).
Consider this.
Even if an SEC West team was a clear No. 1 or No. 2 team in the nation going into conference championship week, it would still have to win the SEC title against a solid opponent from the East and then win the national championship. This year was a rare exception where LSU probably would have made the title game with a loss to Georgia.
Figure that the SEC West team had a 70 percent chance to win the SEC title game and a 50 percent to win the national championship, and you'll see that these SEC West teams had a 35 percent chance to win the title even going into the final two weeks.
Now, multiply that 35 percent chance by three for three straight years, and you see that there was a four percent chance that the SEC West won three straight titles (again, this year was an exception since there was a 100 percent chance the SEC West was going to win).
With LSU as the overwhelming favorite (more on this later) to win, it could very well be that the national championship stays in the SEC West.
Mike Ehrmann/Getty Images

The "that" refers to the 70 points the Mountaineers hung on Clemson in the Orange Bowl. WV was a solid passing team all year, but it never reached the totals it did in the Orange Bowl.
Now the Mountaineers have another year working with Dana Holgorsen. They will have Geno Smith, Stedman Bailey and (presumably) Tavon Austin back. The sky is the limit for this offense.
West Virginia has to travel to Tallahassee early in the season next year. After that, it's anyone's guess as to what its schedule is going to look like.
In fact, that may be a more burning question...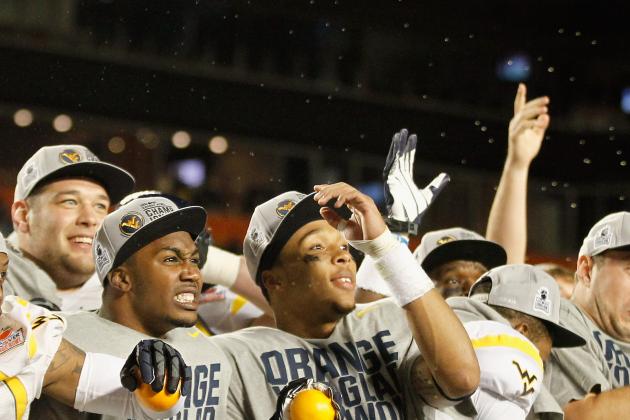 Streeter Lecka/Getty Images

I hate to break up everyone's realignment party, but doesn't it seem important for schools to know which conference they are in well in advance to their season starting?
Apparently not.
West Virginia was granted membership in the Big 12. The Big East subsequently blocked its plans to move, and the Mountaineers have found themselves in limbo.
They sued the Big East, but with a court date set for June, all bets are off for when this will be resolved. West Virginia would need to be an official member of the Big 12 by July 1 in order to be included in its scheduling.
Otherwise, I suppose it still plays in the Big East until this is resolved (the Big East has a 27-month waiting period for departing schools).
Jeff Zelevansky/Getty Images

Tyrann Mathieu accomplished something rare when he was nominated for the Heisman Trophy as a defensive player this year. This puts him alongside Charles Woodson and Ndamukong Suh as the only three defensive players to be nominated in the past quarter-century.
The thing that distinguishes Mathieu is that unlike Suh or Woodson, he will be returning the next year.
Most often defensive players are at a disadvantage because they are more obscure than offensive players, although Mathieu made a name for himself in Week 1 against Oregon. Still, Mathieu will have the advantage of having already been nominated and being a household name going into next year.
If he produces anything near the highlight reel he did this year, the Honey Badger could very easily win. Even without it, he will get more respect next season than he did this year, and he could be considered a finalist once again.
It's great to have Mike Leach back in the sport. To many people's surprise, Leach chose to head to the Pacific Northwest and Pullman, Wash., to begin the next chapter of his life.
Leach quickly dismissed any idiotic questions regarding his choice. He should enter with a fairly stocked cabinet of skill players, including wide receiver Marquess Wilson and QB Jeff Tuel. Tuel was the starter this season before being injured, and near the end of the year, freshman Connor Halliday was playing great for the Cougars.
It will be exciting to watch Leach take over another program.
Ezra Shaw/Getty Images

Brian Kelly came to Notre Dame with open arms following the Charlie Weis era.
However, Kelly hasn't produced what many Irish fans are waiting for: namely, a BCS berth.
Notre Dame is just 16-10 in two years under Kelly. Ty Willingham was 15-10 in his two first seasons and was fired after the third. Charlie Weis was 19-16 and was fired after his fifth.
Additionally, Kelly has been the subject of criticism when it comes to treatments of players. He is known for his outbursts on the sidelines and had to apologize to players after they felt he alienated those who were at Notre Dame prior to his arrival.
Notre Dame isn't going to get anywhere as a program if it fires a head coach every three or four years. But it's done it before.
Another lackluster season and Kelly's seat may be piping hot.
Kevork Djansezian/Getty Images

Wisconsin was two Hail Marys away from possibly competing in the national championship game. Then it lost to Oregon in a Rose Bowl game that could have gone either way.
The Badgers will have Montee Ball, most of their offensive line and a solid nucleus on defense back. Of course they will lose Russell Wilson and Nick Toon, but the Badgers have shown they can win without a terrific quarterback before.
Perhaps more damaging, though, Wisconsin will lose offensive coordinator Paul Chryst and several assistants.
The Badgers will have the benefit of playing in a weak division with an ineligible Ohio State. This alone should qualify them for the Big Ten championship game.
Al Messerschmidt/Getty Images

Florida State was a Top Five team this preseason. The Noles suffered through injuries and finished 9-4 with a win over Notre Dame in the Champs Sports Bowl.
All in all, a disappointing season.
Perhaps experts were one year too quick to label FSU as "back." Many fell in love with the Noles' 10 wins and a dominant win over South Carolina in the 2010 Chick-fil-A Bowl and said FSU was back.
As it turns out, they may have been one year too early.
With almost all of its skill on offense back, Brandon Jenkins, Bjoern Werner and Greg Reid back on defense and another solid recruiting class, FSU should be much improved next season.
Whether or not that means an ACC title is another story altogether, though.
We still don't know what will happen with the Miami Hurricanes following the Nevin Shapiro scandal.
In fact, we oddly haven't heard much about the scandal since it broke in mid-August.
Miami tried to help the inevitable sentence with a slap on its own wrist: a self-imposed bowl ban following its 6-6 season. This won't be all that comes at the 'Canes.
It isn't ludicrous to think that the Buckeyes can compete immediately under Urban Meyer.
Yes, they went 6-7 and looked lackluster against Florida and Purdue, but this is also a team that dealt with suspensions, injuries and inexperience—and they did beat the league champion in Wisconsin.
Meyer won eight games in his first year at Bowling Green, 10 in his first year at Utah and nine in his first season in Gainesville.
Unfortunately, the Buckeyes are ineligible for a bowl game next year. That doesn't mean we can't see a similar situation to USC this year, with a team winning a division and being ineligible for the postseason.
With close to 20 starters back next season, including Heisman front-runner Matt Barkley, USC looks poised to make a title run. If the Trojans play the way they did down the stretch this season, anything is possible.
Still, the Trojans will lose left tackle Matt Kalil to the NFL draft, along with some key contributors along the defensive line. They'll have to rebuild the lines and re-develop a chip on their shoulder, something that was prevalent all season given their sanctions.
If it can play inspired football the entire season and continue to improve, then USC will definitely have an opportunity to compete for the national title. The Pac-12 has three new coaches in the South alone, Andrew Luck is leaving Stanford and the Trojans get Oregon at home.
Chris Graythen/Getty Images

LSU had the best regular season of any team in the nation this year, beating eight ranked teams—including the No. 2 team and the No. 3 team twice. They beat the Orange and Rose Bowl champions and beat the only team that beat them.
Still, the Tigers lost in the national championship game and will be going home empty-handed.
They will need to start a new quarterback and figure to lose Morris Claiborne at cornerback, but LSU will have nearly everyone else back. This includes all of their running backs, all of their receivers, Tyrann Mathieu, Eric Reid, Sam Montgomery and Barkevious Mingo.
The Tigers should be the No. 1 preseason team next year, and I'm not the only one who thinks so. Las Vegas has released its preseason odds, and LSU is far and away the favorite.
Odds are that the most prevalent storyline in 2012 will be how Penn State handles life after Joe Paterno in the wake of the Jerry Sandusky scandal.
It won't be fully answered in the 2012 season, as the road to rebuilding will be long for Penn State, but Bill O'Brien can put many people to ease with a strong campaign next year.
Everything PSU does next season will be under a microscope. Season-ticket sales, alumni contributions, attendance, performance, recruiting, student enrollment—nothing will be left off the menu for discussion.
Outlooks on how Penn State is recovering will unfairly be judged not by the football team's performance, but by hour-to-hour, knee-jerk reactions to every happening.
For me, this is the No. 1 question in all of sports.
It is my belief that college football was and is the greatest sport in the world.
It also has a major image problem that stems from some serious structural problems.
I'm not going to get on a soapbox and write an essay here, but let's quickly review the 2011 season.
Alabama and LSU squared off in a game that was supposed to be the Game of the Century. LSU won, and under the old adage of "every game counts," this should have meant something.
What did this mean?
It meant LSU was rewarded with having to play Georgia in the Georgia Dome while Alabama rested. Alabama got back to the championship game regardless, beat LSU and was crowned undisputed the champion.
Michigan and Virginia Tech made the Sugar Bowl, making them the lowest- and second-lowest-ranked at-large teams in the history of the BCS. Boise State and Kansas State were passed over, two teams that would have produced a much better game than what we ended up seeing in New Orleans (Arkansas and South Carolina were passed over too, but theoretically couldn't be in).
We can sit here and find flaws in the selection process and proclaim, "It's all about money!"
It is.
And Sally Jenkins can write an excellent piece damning the executives such as Paul Hoolahan who gobble up all the cash, but until we as the viewing public do something about it (i.e. turn it off and stop giving them money), it isn't going to stop.
Bowl week, brought to you by some insurance company with musical interludes by Nelly and Pitbull, was a total fraud. A one hundred percent total fraud. The Sugar Bowl, BCS National Championship Game and Orange Bowl operated under the guise of tradition and pageantry that the sport once represented.
Miami was hit with another bombshell of a scandal when convicted criminal Nevin Shapiro ratted out the program for years of impropriety that he provided.
Miami athletic director Paul Dee could get promoted to President of Hypocrisy, as Dee was the chairman of the NCAA's Committee on Infractions when he levied a two-year ban on USC. He was quoted in 2010 as saying, "High-profile players demand high-profile compliance."
As it turns out, his program was much, much worse; he served as the athletic director for the U from 1993-2008.
And then there is Penn State.
In November, one week after Joe Paterno set the record for all-time wins, longtime assistant coach Jerry Sandusky was indicted for sex crimes against underage boys.
To make matters worse (if that's possible), it was reported that then-assistant Mike McQueary witnessed Sandusky anally raping a young boy in 2002 and reported it to Paterno. Paterno reported it to athletic director Tim Curley and then did nothing—for nearly 10 years.
Penn State cleaned house in the week following the outbreak. Curley, president Graham Spanier and Paterno were all fired. Now, the all-time winningest coach in college football will forever be linked to a scandal of pedophilia. The school put the image of a football powerhouse before the welfare of young boys.
It's not as if the NCAA could have used any of this. All of these incidents add to the already growing list of concerns that involves player safety, shoddy recruiting methods that have likened the sport to the Wild West, a comical number of bowl games and sponsorships, a new transfer rule for graduates that many have compared to free agency and last but not least, the issue of whether or not to pay players for their services.
Yet the BCS and everything it stands for takes the attention away from all of this. It is a lightning rod for criticism, and that is what it wants to be.
The NCAA would like you to believe that the only thing wrong with the sport is whether or not we need a playoff and if Oklahoma State should have played in the championship. It's something that is easy to understand and something we can all talk about at holiday parties, but it's also something that keeps us interested in watching.
As it turns out, those concerns pale in comparison to everything listed above.
So they'll dangle this idea of an impending playoff in front of us like the carrot in front of a horse. More likely than not, we'll chase it, ignoring all the problems that surround us. It is my hope that we forget about the playoff and postseason and focus on the more important things first.