2011 Bridgepoint Education Holiday Bowl Preview from the Sports Mac
December 27, 2011
Ezra Shaw/Getty Images
These must be interesting times for the folks who run the Bridgepoint Education Holiday Bowl.  In the past, this matchup usually had paired two of the top teams from the Big 12 and Pac-12 and it was one of the bowls to watch in between Christmas and New Year's Day. 
But then a couple of years ago, a lot of the BCS conferences started to shift when their respective teams would end the season and, unfortunately, the Holiday Bowl was one of the bowls that got the short straw.  While they still have teams from the Big 12 and Pac-12 participating, the teams are further down each conference's pecking order.  For this year, the Holiday Bowl features two teams that had up and down seasons.
California certainly got 2011 off to a great start winning their first three games, including a three-point overtime win in their Pac-12 opener on the road at Colorado.  Then the rough patch came and the Golden Bears lost four of their next five with blowout conference losses at Pac-12 champion Oregon, home against USC and at Pac-12 South champion UCLA.  But California was able to right the ship and finish strong, winning three of their last four games with the only loss being on the road at rival Stanford.  That finish allowed the Golden Bears to finish the season with seven wins and participate in the Holiday Bowl for the third time and the first time since 2006.
It's been a rough couple of years for the University of Texas.  After playing in the 2010 BCS Championship Game, the Longhorns had a big letdown the following season, winning only five games and missing bowl eligibility. 
This season got off to a fine start as they won their first four games.  Then came the Red River Shootout with Oklahoma.  It turned into a nightmare as the Sooners ran all over the Cotton Bowl and destroyed Texas by 38 points.  As the Longhorns were reeling from that loss, red hot Oklahoma State came to Austin and walked out with a 12-point victory.  That set the tone for the second half of the season as Texas was a mediocre 3-3 and capped the regular season by getting blown out again, this time at Baylor. 
Regardless, the Longhorns won seven games and are back in the postseason.  This will be the Longhorns fifth Holiday Bowl and first visit here since 2007.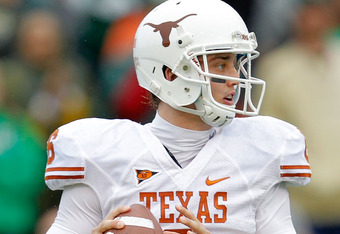 Sarah Glenn/Getty Images
So, who will win their eighth game of the season and carry momentum into 2012?  Read on for the preview of the 2011 Bridgepoint Education Holiday Bowl.
California Offense vs. Texas Defense
California's offense has been fairly good all season long.  They have been able to move the ball and score points, averaging almost 420 yards and just under 30 points per game this season.  But they did struggle in that bad stretch in the middle of the year mentioned above, when they scored just 38 points in those three defeats.  Zach Maynard is the man under center and he has been fairly effective, accounting for 245 yards of total offense per game, which was 41st nationally.  He has help from RB Isi Sofele, who ran for over 105 yards per game, and WR Keenan Allen, who had 105 receiving yards per game.  They'll be facing a Texas defense that has been very good all season.  They finished in the top 15 in rushing defense, pass efficiency defense and scoring defense.  They have had bad outings this year, including the regular season finale.  They'll be looking for redemption and will want to prove that this is one of the better defenses in the country.
Edge: Texas
Texas Offense vs. California Defense
The Longhorns have been well balanced all season, but that can be deceiving.  They averaged just over 400 yards per game and while they ran for over 210 yards per game, they were only able to throw for 194 yards per contest, which was only 85th nationally.  David Ash and Case McCoy have both had shots at quarterback and McCoy seems to have become the man to lead the offense and there have been growing pains.  The Longhorns have had a running back by committee this season led by Malcolm Brown and Joe Bergeron.  Jaxon Shipley is the leading receiver, but he has under five receptions per game.  California's defense has been fairly good finishing just outside the top 25 in total defense.  But they have had a tendency to give up points, as the Golden Bears have given up more the 30 points seven times this season.  This matchup is too close to call as both units have been OK and nothing more.
Edge: Even
Special Teams
Each team has an area of strength here that they'll be looking to exploit in San Diego.  For California, they have had one of the stronger kicking games in the nation this year.  P Bryan Anger averaged over 44 yards per kick and K Giorgio Tavecchio finished tied for 11th in FG per game.  For Texas, they finished eighth in the nation in punt returns and 18th in kickoff returns.  Either unit has a chance to make a big impact in what should be a tight contest.
Edge: Even
Coaching
Jeff Tedford has California back to his winning ways after a down year in 2010 and he has now guided the Golden Bears to their eighth bowl game in his 10 seasons, winning five of them.  Mack Brown has got Texas back to a winning season after suffering his first losing one in his 13 seasons as the head Longhorn.  He is still 100 games over .500 in Austin and has won two-thirds of the games in his career.
Edge: Texas
This and That
Both teams should be motivated as they are back in the postseason after missing out last year.  While California fans have the shorter trip, the Longhorns might have the crowd advantage as Texas fans will show up in droves no matter where the team plays.  Texas might also have motivation because with a good performance here, they could end the season in the final Top 25, something they could not say last season.
Edge: Texas
So, What Will Happen in the 2011 Bridgepoint Education Holiday Bowl
While California won three of its last four and Texas lost three of its last four, the Longhorns are the better team here this night.  While it won't be an easy victory, Texas will continue its climb back toward the top of the Big 12 and use this game as a springboard for 2012.
Line: Texas by 3
The Sports Mac Prediction: Texas 24, California 17